6 Best Domain Registrars for Great Websites in 2023
[EXPERT REVIEWS]
If you're a professional with a website, chances are you'd like a custom domain name for it. By doing this, you can boost your website's google search rankings. But what's the best way to go about it?
To help you get started, we've compiled a list of some of the best domain registrars on the market. So, continue scrolling to find the ideal solution for your site!
Published: April 29, 2022
Affiliate Disclosure
We aim to provide you with the best tech news and reviews. To sustain our site, we may earn a commission when you buy from our affiliate links. Read our full Affiliate Disclosure.
Top Domain Registrar Companies of 2023
6 Expert Domain Registrar Reviews
Network Solutions
MOST SUITED FOR
Any business looking to get online quickly
Visit Website
Rating: 10
Pricing: From $5.99/registration
Domain security included: Yes
Custom emails: Yes
Website builder option available: Yes
Network Solutions is a tech company founded in 1979, and is by far the oldest on our list. In fact, it began developing domain name registration services as far back as the early 90s!
As a subsidiary of Web.com, it can also help you build a website from scratch. It's easy and only takes a few minutes to get started. Once you have your site built, you can simply choose a domain name that will best suit the specifics of your business.
This platform can efficiently connect you to any top-level domain you choose. There are also niche domains used for various business subcategories, blogs, or those that differ based on their location.
Every good domain registrar provides clients with custom email addresses for their business, and Network Solutions is no exception. You can solidify your online presence and add an extra layer of professionalism to your brand with just a few simple clicks.
Overall, we believe that using Network Solutions can help your business in the long run, especially if you're just beginning to build an online presence.
| | |
| --- | --- |
| Pros | Cons |
| Easy to use | Emails to clients may end up in the spam folder |
| Affordable prices | No notifications about server crashes |
| Coupons and bundles | |
| Very customizable | |
NameCheap
MOST SUITED FOR
Businesses looking for affordable and flexible domain name solutions
Visit Website
Rating: 10
Pricing: From $0.98/registration
Domain security included: Yes
Custom emails: Yes
Website builder option available: Yes
NameCheap is another top pick for what we consider to be the best domain registrar and hosting solutions. It also offers some of the best dedicated servers in the industry.
So, whether you're an individual that needs to create a personal website quickly or a less tech-savvy business owner looking for domain registration and other related services—this company's got you covered.
Its mission is to provide users with an affordable top-level domain hassle-free. Plus, if you're struggling to develop a name for your site, or the one you wanted is already taken, just use its name generator tool for inspiration.
NameCheap provides you with a fully custom email address like many other registrars. Moreover, its domain services are protected with low-cost SSL certificates and VPNs to strengthen your site's security further.
It also offers tools to boost your business and sweeten the deal further. These include a logo maker and a high-quality site maker to help you create a site and build your brand.
This company strives to provide a straightforward and top-notch user experience, making it one of, if not the best domain registrars for small businesses. Aside from the most popular domain suffixes, you'll also find thousands of others in NameSpace's catalog.
| | |
| --- | --- |
| Pros | Cons |
| Easy to use | Some add-ons are tricky to use |
| Affordable | Logo and Site makers are a bit limited |
| Top-tier customer support | |
| Helpful and reliable | |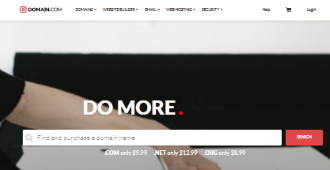 Domain.com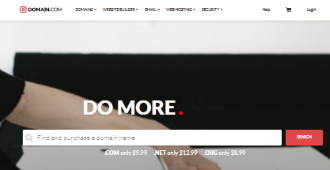 MOST SUITED FOR
Businesses looking for WordPress integration
Visit Website
Rating: 9.8
Pricing: From $3.99/registration
Domain security included: Yes
Custom emails: Yes
Website builder option available: Yes

Domain.com was established in 1998 and has since grown to become one of the most popular domain name and web hosting providers.
You won't need to worry about your domain name's security with this company. Moreover, you can also choose to transfer any existing domains that you may own. It's easy, and you can host and maintain it from their platform.
Domain.com prides itself on building a relationship with all of its customers to help them reach their goals and share their ideas with the world. Therefore, it offers affordable prices for everyone, regardless of the business size.
Like other top domain registrar companies, its free service includes email and URL forwarding, transfer lock, and complete DNS management.
Remember that you'll only get one domain for hosting with the Basic plan. However, Domain.com offers an unlimited number of hosted domain names and fully customized email addresses with any premium tier.
Overall, Domain.com is an all-in-one service that lets you design, host, and manage your website from one centralized place. It also integrates seamlessly with WordPress, which is a tremendous advantage as almost one-third of all websites are powered by WordPress.
| | |
| --- | --- |
| Pros | Cons |
| Easy to use | The control panel is a bit complicated |
| Secure and accessible | Some plans are pricey |
| Unlimited domains and subdomains | |
| WordPress integrations | |
Dynadot
MOST SUITED FOR
Businesses looking for a marketplace to buy and sell domains
Visit Website
Rating: 9.9
Pricing: From $0.99/registration
Domain security included: Yes
Custom emails: Yes
Website builder option available: Yes
A good domain registrar with email customization has become pretty standard. With Dynadot, it's no different, but there's a lot more to this platform and its services.
For instance, it's not just a registrar; it also serves as a marketplace for domains. You can get top-level domain names for low prices, especially regarding registration fees. The service also offers domain privacy protection and a free website builder.
You can build pretty solid websites with their builder, despite its limitations. Simply choose a template and customize it to make it your own. It's an excellent solution for those looking to get started quickly, simplifying the web development process.
The platform also offers state-of-the-art domain management tools. Aside from the Marketplace with great acquisition and selling opportunities, these tools include bulk savings, domain watchlists, and two-step authentication.
What sets Dynadot apart from other domain registrar companies is that it has apps for both iOS and Android, which dramatically increases the accessibility of the platform and makes it mobile.
| | |
| --- | --- |
| Pros | Cons |
| Easy to use | There have been reports of their DNS being down |
| Affordable | No confirmation messages when withdrawing from bidding |
| Secure | |
| Mobile apps | |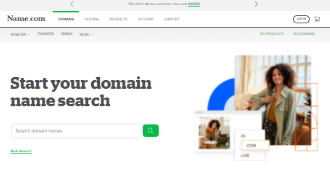 Name.com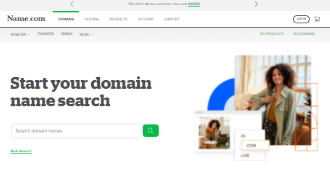 MOST SUITED FOR
Businesses with demanding projects
Visit Website
Rating: 9.8
Pricing: From $0.00/registration
Domain security included: Yes (you can add Advanced Security)
Custom emails: Yes, with Titan Email
Website builder option available: Yes
What sets this brand apart when making domain registrar comparisons, are its free products and perks. For example, Name.com offers free URL and email forwarding features, DNS templates, and two-step verification.
The platform is very open to domain transfers, and those who wish to do so can get their registration extended by one year. It provides a dozen different domain name suffixes and extensions, ranging from top-level to niche for specific purposes and locations.
Another great thing about Name.com is that its prices are clearly displayed, and you can even filter the extension list to find the specific one you're looking for.
Once you've selected your domain, every step of building your brand is accomplished in a centralized way, including web building, hosting, and emails.
Like many good domain registrar companies, Name.com also offers premium domain names. However, these can be a lot more expensive! They usually contain trendy words and commonly searched phrases, are shorter, and have valuable word combinations.
| | |
| --- | --- |
| Pros | Cons |
| Easy to use | Some users have had troubles with customer support |
| Simple domain transfer | Live chat unavailable |
| Fair pricing | |
| Great domain editing options | |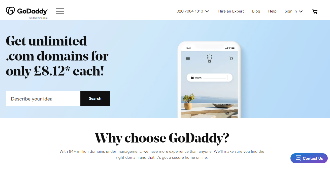 GoDaddy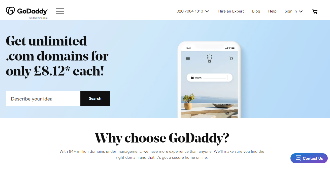 MOST SUITED FOR
Anyone looking for a quick and efficient domain registrar
Visit Website
Rating: 10
Pricing: From $0.99/registration
Domain security included: Yes
Custom emails: Yes (available separately)
Website builder option available: Yes

GoDaddy is a powerful hosting service and a free website builder to support its customers fully. Ensuring that every step of the process is straightforward and user-friendly.
In addition to that, its top–rated domain registrar functionality is stellar! It truly ticks all the boxes of the highest industry standards. You can find top-level domain extensions for very affordable prices and unique ones if you're trying to fill a specific niche.
GoDaddy has implemented completely free privacy protection to enhance your domain's security further. It's also an excellent tool for filtering spam emails for domain inquiries. What's more, an upgraded version of this feature prevents hijackers and unauthorized access.
GoDaddy also offers a great domain name generator to help you get started if you're having trouble. With just a few words describing your business, you can quickly get some great suggestions and complete the registration.
As one of the best domain hosting services, GoDaddy offers a free domain name. However, you can only acquire it after purchasing either an annual Web Hosting plan or any annual Managed WordPress plan. 
| | |
| --- | --- |
| Pros | Cons |
| Easy to use | Customer support can be slow |
| Affordable with frequent discounts | Heavy emphasis on purchasing annual plans |
| An all-in-one solution | |
| Top-notch customer support | |
Choosing the Best Domain Registrars –  A Quick Guide
Now that you're aware of some great options, let's talk a bit more about what makes a domain registrar suitable. We'll cover a few crucial factors to consider when deciding which service to use.
Domain List
First and foremost, it's essential to check the list of domain names offered. Not everyone wants that shiny ".com" extension. What's most important is to find the one that best suits your niche.
Security
It's vital to check whether the platform you're researching guarantees the security of your domain. Be aware that it comes included with the plan you're interested in or if you'll have to pay extra.
Features
Having just a domain registrar by itself is good. Still, you'll often need additional features for maintaining and managing your online presence.
Luckily, many registrars offer various tools to help, and most of them are even all-in-one solutions.
Price
When looking for the best domain registrars, it's important not to get lost in the features and completely disregard the cost, especially if you're on a tight budget!
Fortunately, as you probably noticed from our reviews, there are quite a few affordable solutions available on the market to fit within most peoples' price range.
Expired Domains
Keep in mind that companies will have different policies on what happens with expired domain names. Some will offer you auto-renewal so you won't need to worry about it.
Others provide a grace period to help their customers keep their domains after their official agreed-upon deadline. And while some brands won't offer that, it's important to find one that does.
You should also beware of registrars that capitalize on expired domain names.
Transfer Fees
Transferring domains to another domain registrar company doesn't have to be a tedious affair. All you need to do to avoid unpleasant surprises and hidden fees is to check the registrar's policy and ideally go with the one that has minimal to no transfer fees whatsoever.
Verdict
Domain registrars are a very valuable tool in today's world, where the internet dictates the fate of brands. For that reason, we hope our list helped you find an affordable option that's suitable for you and your business.
FAQ
Is Google Domains a good registrar?
Based on its many positive customer reviews, Google Domains seems to be a solid domain registrar. It has proven to be an easy-to-use solution for just about anyone to use.
Who is the best domain registrar in the US?
Although this is highly subjective, as every customer from the US has different business needs, there certainly are some brands that stand out from the crowd. For example, according to Forbes' review, the best solution for 2022 is NameCheap, which we agree, along with Network Solutions.
What is the best domain registrar?
Although there are many great options, there is no clear-cut answer to what is the best domain registrar. Therefore, you'll need to weigh out the pros and cons of each and see which one would be the best fit for you and your brand.