8 Best Cheap VPS Hosting Solutions in 2023
If you're here, chances are you've got a big idea and a small budget. And one of the things standing between you and your vision is the expensiveness of dedicated servers. 
The good news is that there's a solution for this. You can simulate a dedicated server on a virtual private server for a fraction of the price. 
So, we compiled the top-of-the-line cheap VPS hosting options for you to browse. 
Let's get right into them!
Published: January 17, 2021
Affiliate Disclosure
We aim to provide you with the best tech news and reviews. To sustain our site, we may earn a commission when you buy from our affiliate links. Read our full Affiliate Disclosure.
Cheap VPS Hosting Options for 2023
Cheap VPS Hosting Reviews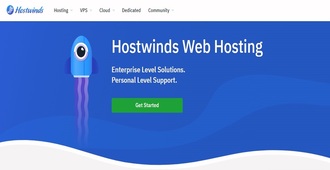 Hostwinds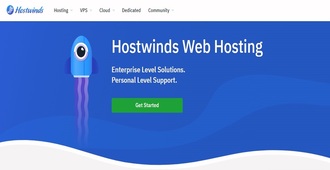 MOST SUITED FOR
Windows and Linux users
Visit Website
Rating: 10
Pricing: From $4.99/month
RAM: From 1 GB
Storage: From 30 GB SSD
Monthly Transfer: From 1 TB
Domains: Unlimited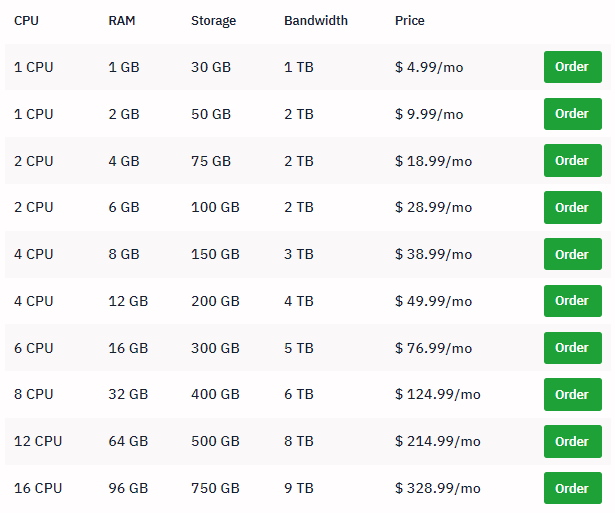 If you're looking for the best cheap VPS hosting, you should consider Hostwinds. The brand has accrued many awards for its services over the year, and they're well-deserved. That's one of the reasons why it's the overall best cloud hosting provider on our list.
All Hostwinds plans offer 99.99% uptime, free website transfers, 1Gbps ports, and a slew of other features: 
Redundant networks

—Hostwinds' networks have built-in redundancies with no single failure point. 

Instantly scalable

—If you need to increase your resources, you can quickly do it through the Hostwinds Cloud Portal. 

24/7/365 server monitoring

—Hostwinds monitors its servers continuously. If any issues arise, you'll receive instant notifications. 

Nightly backups

—All plans have the option of receiving nightly cloud backups to preserve data integrity. 
Hostwinds' impressive feature set applies to both major server operating systems. It offers cheap VPS hosting for Linux and Windows users without sacrificing quality. 
| | |
| --- | --- |
| Pros | Cons |
| 24/7 expert support on managed plans | Few data centers |
| 99.9999% uptime guaranteed | |
| Instant scaling as needed | |
| Enterprise-level firewall | |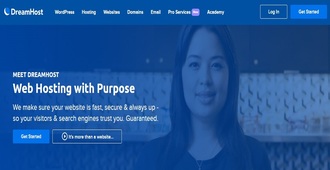 Dreamhost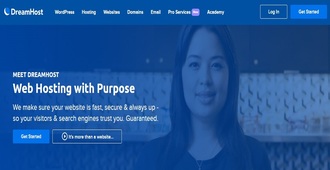 MOST SUITED FOR
Tech-savvy users
Visit Website
Rating: 10
Pricing: From $10/month
RAM: From 1 GB
Storage: From 30 GB SSD
Monthly Transfer: Unlimited
Domains: Unlimited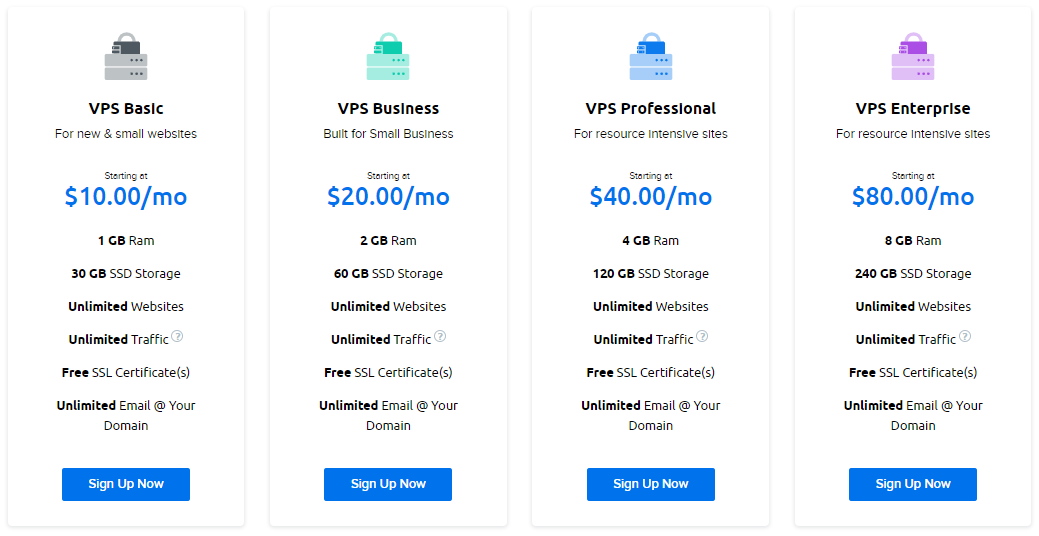 Dreamhost is a well-known name in the website hosting world, and many consider it Bluehost's biggest rival. However, Dreamhost pulls ahead easily in the cheap virtual server hosting domain. 
Here are some of the highlights of Dreamhost's VPS:
Supercharged MySQL

—You can include an additional service to get dedicated resources for your MySQL database that enables lightning-fast page loading. 

Unlimited bandwidth

—

Cheap VPS hosting

with

unlimited bandwidth

isn't typical, so DreamHost scores many points here. 

24/7 support

—Unlimited technical support from Dreamhost's support team in a managed server environment. 

Automated WordPress Installation

—Install WordPress and many other popular web applications with simple installation wizards. 

Automatic updates

—Your VPS will always have the latest versions of Ubuntu OS, WordPress, PHP, and any other technologies you employ. 
Dreamhost is among some of the best Linux VPS hosting solutions. That and a glut of advanced developer options make it one of the best and cheapest VPS hosting providers on the market. 
The only things holding it back are a lack of Windows servers and unmanaged hosting through DreamCompute, DreamHost's proprietary cloud platform. 
Unless you're comfortable with that platform already, you'll have a relatively steep learning curve before you're smoothly navigating the unmanaged VPS. 
| | |
| --- | --- |
| Pros  | Cons |
| 100% uptime guaranteed | No Windows servers |
| Unlimited domains, emails, and bandwidth | Unmanaged options are limiting |
| Supercharged MySQL and unlimited databases | |
| Free security certificates | |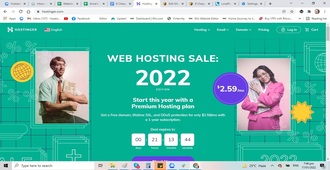 Hostinger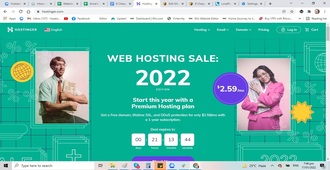 MOST SUITED FOR
Beginners
Visit Website
Rating: 9.8
Pricing: From $3.49/month
RAM: From 1 GB
Storage: From 20 GB SSD
Monthly Transfer: From 1 TB
Domains: Unlimited

Hostinger is a US-based hosting provider that focuses on niche applications, such as cheap VPS servers and Minecraft server hosting. Such narrow focus allows it to provide an excellent service at an affordable price by not competing on too many fronts.
This provider is also our top choice for Windows VPS hosting in 2021.
Here's what you get in terms of VPS hosting:  
100 Mbps network

—Every server has a dedicated 100 Mbps connection line with unrestricted access. 

IPv4 and IPv6

—Every Hostinger VPS plan includes dedicated IPv4 and IPv6 protocols.

Root access

—Hostinger's VPS gives you full root access, which is rare among VPS hosting providers. 

30-day money-back

—If you're not satisfied after 30 days, Hostinger promises a complete refund. 
But this is just the icing on the cake. Its cheapest VPS hosting plan is precisely that—cheap, costing only $3.95/month. And even if you go for the highest plan for $77.99/month, you'll still get great value for your money.
The plan includes eight cores vCPU, 16 GB RAM, 250 GB SSD, 12 TB bandwidth, and more.
However, Hostinger underperforms a bit on uptime testing compared to many other names on this list.
| | |
| --- | --- |
| Pros | Cons |
| 30-day money-back guarantee | Inconsistent uptime |
| Install almost any Linux OS | The bigger plans may be expensive for some |
| Dedicated IPv4 and IPv6 | |
| 24/7 live chat support | |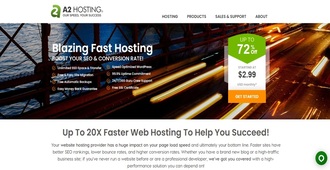 A2 Hosting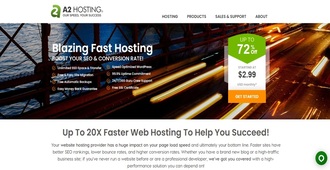 MOST SUITED FOR
Users looking for a fast VPS
Visit Website
Rating: 9.7
Pricing: From $4.99/month
RAM: From 1 GB
Storage: From 150 GB SSD
Monthly Transfer: From 2 TB
Domains: Unlimited
A2 Hosting is a one-stop shop for all your hosting needs. If you just need affordable VPS hosting, you'll undoubtedly find it here. But this provider also offers managed WordPress hosting, reseller hosting, cloud hosting, dedicated server hosting, etc. 
Here's what A2 Hosting's unmanaged VPS plans offer:  
Speed-optimized servers

—A2 hosting claims its servers are 20 times faster than the competition, which would easily make them the

best cheap VPS

in terms of speed. 
It outperforms many competitors by minimizing the number of users per server and using various caching systems. 
Full tech support

—You get 24/7 access to A2's ticket system, live chat, and phone support. 

Server control

—All plans receive full root access and the option to install the Linux OS of your choice. Plus, you have complete reboot and shutdown control over your VPS. 

Unlimited email

—All plans come with an unlimited email storage limit.       
Overall, A2 is an excellent VPS hosting provider, and one of its most appealing elements is the geographic diversity of its data centers. 
Currently, there are data centers in Michigan, Arizona, Amsterdam, and Singapore. For a low-cost VPS, that's a good spread, and you can freely choose where to host your server.   
| | |
| --- | --- |
| Pros | Cons |
| Excellent tech support | cPanel costs extra on unmanaged plans |
| International data centers | No email accounts |
| Outstanding speed performance | |
| Full boot, reboot, shutdown, and root access control | |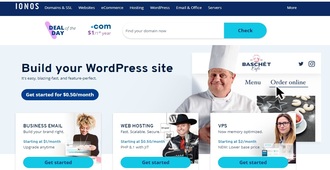 Ionos by 1&1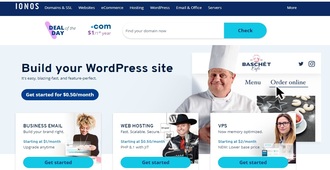 MOST SUITED FOR
Small businesses
Visit Website
Rating: 9.8
Pricing: From $2.00/month
RAM: From 512 MB
Storage: From 10 GB SSD
Monthly Transfer: Unlimited
Domains: One included, unlimited external
Ionos by 1&1 is among the best cheap VPS hosting solutions for small businesses. So if you're running a small online business, you'll find Ionos's wildcard SSL encryption and affordable scaling options exceptionally attractive.
Here's what you're getting with the basic plan:
Choice of OS

—Choose between Linux or Windows OS. Ionos offers Windows 2016 and 2019 in addition to Linux OS's Cent, Debian, and Ubuntu. However, you'll have to pay an additional $10 per month for a Windows license. 

Data Centers

— Ionos has four data centers, which is decent. But they're not as well laid out as they could be. It only has servers in Europe and the US. However, all data centers are ISO 27001 certified (international standard for infosec management).

SSL encryption

—Every VPS hosting plan from Ionos includes a wildcard SSL certificate, which is great if you're hosting sites on multiple subdomains. 

Fast setup

—Ionos has a target time of 55 seconds for setting up virtual servers. 
The few problems Ionos has are all pretty much minor. For one, if you're looking for cheap VPS with cPanel, you're out of luck. Ionos uses the proprietary custom backend. 
It also claims to provide DDoS protection on all VPS plans, but independent testing suggests that protection is tenuous at best. 
Moreover, you have to pay an additional fee if you want cloud backup. While it's only a small ($0.12 /GB/month), it's an often-included feature with cheap VPS server hosting providers. 
| | |
| --- | --- |
| Pros | Cons |
| Simple control panel | Paid backups |
| Linux and Windows servers | Poor DDoS protection |
| Unlimited email inboxes (2GB each) | |
| IPv6 network included with all plans | |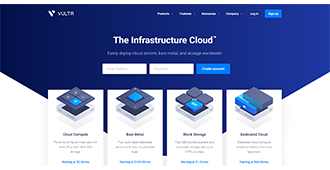 Vultr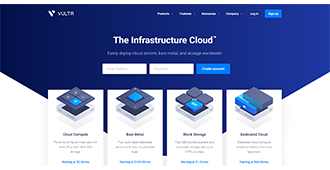 MOST SUITED FOR
Advanced users
Visit Website
Rating: 9.7
Pricing: From $2.50/month
RAM: From 512 MB
Storage: From 10 GB SSD
Monthly Transfer: From 500 GB
Domains: Unlimited external
Vultr is built for professionals from top to bottom as it offers excellent but cheap VPS hosting with cPanel. Advanced users will find the breadth and scope of pricing options and nuanced features highly beneficial. 
Less adept users may not need that much customization, but that hardly matters. Vultr is still an inexpensive VPS service offering great value. 
Here's a concise list of Vultr's most prominent features:
Choose your OS

—Vultr has a comprehensive OS library, including Windows and several Linux server OS options. Moreover, it allows custom ISOs, so you can create any combination of operating systems you want.  

One-click app deployment

—In addition to the extensive OS library, Vultr includes various apps you can deploy with just one click. Deploy fully-licensed cPanel, Minecraft, and other popular apps in minutes with Vultr's cloud orchestration.  

Datacenter locations

—Vultr has one of the best cloud networks globally, with 17 locations currently available across all continents. 

Hourly rates

—If you want to tinker with web applications or play around with a single website, Vultr's hourly server rates are the

best and cheapest VPS hosting

you'll find. 
Some of the things we didn't love about Vultr include the relative opacity of its CPU models. All but the highest-tier plans have hidden CPU models, which doesn't inspire confidence. Vulture also makes backups available for a fee. And automatic backups are even more expensive. 
| | |
| --- | --- |
| Pros | Cons |
| A wide array of data centers | Paid backups |
| Mobile-friendly UI | Relatively small SSD storage |
| Accepts bitcoin payments | |
| One-click cPanel deployment | |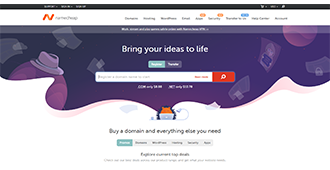 Namecheap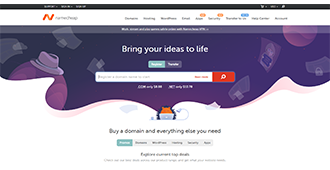 MOST SUITED FOR
Basic VPS hosting
Visit Website
Rating: 9.5
Pricing: From $9.88/month
RAM: From 2 GB
Storage: From 40 GB SSD
Monthly Transfer: From 1 TB
Domains: One
Namecheap does justice to its name, offering cheap and reliable VPS hosting with a decent set of features. It's not the least expensive option on this list, but it makes up for it with more power than you'd expect for the price. 
Specifically, you get 2 GB RAM and two dedicated cores for your VPS with the lowest unmanaged plan. Other salient features include:
Backup storage

—Managed VPS hosting plans include 100 GB of backup storage. However, the managed plan will set you back $30 per month. If that's too steep for you, you can always opt for their

cheap unmanaged VPS hosting

. 

Root and reseller access

—You can customize your VPS from the ground up with root access and even brand your server with reseller access if needed.    

cPanel and Intwerworx

—Choose between the Interworx control panel for CentOS or cPanel for CentOS and CloudLinux. 

Money-back guarantee

—if you aren't satisfied after 30 days, Namecheap will grant you a refund. 
The problem with Namecheap is that none of its plans scale particularly well. It's a great choice if you need bare-bones VPS hosting for a year. Otherwise, there are better options. 
Namecheap does offer a lot of extraordinary features, but few of them are included in the unmanaged basic plan. However, if that basic plan covers your needs, Namecheap is a stellar choice for budget VPS hosting as it's one of the cheapest dedicated servers, too.
| | |
| --- | --- |
| Pros | Cons |
| Fast website load times | Managed plans are expensive |
| Money-back guarantee | No Windows servers |
| Excellent managed plan | |
| Free domain transfer | |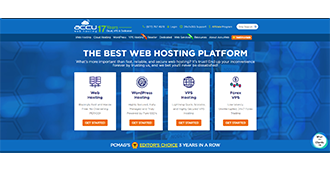 Accu Web Hosting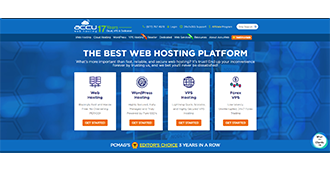 MOST SUITED FOR
Users who need affordable VPS hosting
Visit Website
Rating: 9.4
Pricing: From $7.99/month
RAM: From 1 GB
Storage: From 20 GB SSD
Monthly Transfer: From 150 GB
Domains: One
AccuWeb's defining feature is well-balanced hosting packages. Put another way, every plan offers excellent value for the price and appeals to various users. However, its most salient characteristic is that it's one of the cheapest Windows VPS providers out there.
Besides a pre-activated Windows OS license, AccuWeb gets you some other features like:
Complementary backup

—All plans hosted in AccuWeb's Denver, CO facility receive free backups with unlimited restorations. More comprehensive paid backup options are also available. 

Advanced control panels

—Advanced users can pick between Solid CP and the Plesk control panel. Unfortunately, cPanel is not an option on AccuWeb.     

Free MySQL setup

—AccuWeb will configure your SQL server at no additional cost and provides unlimited Microsoft SQL and MySQL databases.  

Easy scaling

—You can upgrade any segment

of your plan individually. Additional storage space, RAM, bandwidth, vCPUs, and more can be added piecemeal as needed.  
24/7 expert support—AccuWeb support staff is well-versed in all the services it offers, as well as broad hosting issues.                                
| | |
| --- | --- |
| Pros  | Cons |
| Affordable Windows VPS hosting prices | Email inboxes not included on Windows hosting |
| Outstanding uptime at Denver, CO data center | Best prices require an annual commitment |
| Stellar customer service | |
| Straightforward scaling options | |
How to Pick Cheap VPS Hosting That Works
There's nothing wrong with being thrifty. It only makes sense to get the most bang for your buck. But when it comes to VPS, low cost isn't everything.
To help you get value without missing out on features, we put together a detailed guide. Below, you'll learn what to look for in a VPS hosting provider to find one that meets your needs. 
Consider The Resources You Need
Start by analyzing your use cases and determine how much computing power and storage you'll realistically need. 
If you intend to work exclusively on one project and are comfortable with a Linux OS, you can get away with paying for only 1 GB RAM. Several concurrent projects, media-intensive projects, or Windows OS setups will likely require more. 
But that's not all. You also need to think about your CPU requirements. Like RAM, one CPU core should be enough to allow fast and easy manipulation of a single web application or website. 
More cores are better, but it's not only the number of cores that matters. You also have to think about the core architecture. 
Xeon and Broadwell Intel processors are the most popular for virtual server hosting on a budget. So it's a good idea to pick a VPS provider that's open about CPU branding and architecture.
Also, think about how much storage you'll need. There's no rule of thumb here—you'll just need to consider your project requirements. 
All this may be a lot to digest, so let's make things a little easier.
If you're unsure about any of these parameters, don't get too worked up about figuring it out. Choose the best cheap managed VPS provider with instant scaling options and work out what's the perfect setup for you as you go. 
Operating System Options
You'll have two broad options for your VPS's operating system, low cost or not. There are Linux-based systems and Windows-based ones. 
So what's the difference, you may wonder? Linux OSs are open-source and, therefore, cheaper. 
Windows OSs will require a license and typically carry an additional charge as a result. Even extraordinarily cheap VPS Windows options are more expensive than Linux ones. Pricing aside, there are a few other considerations. 
If you develop in .NET or have a Microsoft SQL database, you'll want Windows OS. Linux servers are appropriate for open-source options, such as MySQL, PHP, and the like. And Windows is a more straightforward OS overall. 
If you don't have much experience with Linux distros, Windows is a safe bet. 
Data Center Location
The location of the virtual server hosting provider's data centers also comes into the equation. And there are two main reasons why this matters. 
First, the closer you are to your server, the better your connectivity will be. That's pretty standard fare, but you're not the only one accessing the server. 
You should also consider the server's proximity to your website's intended audience. If you're hosting a site for the Asia-Pacific market, it hardly makes sense to host it in Europe, even if you find a cheap VPS host there.
Second, location plays an essential role in your data privacy. Data on the servers is subject to the privacy laws of the jurisdiction where it resides. In the US, for instance, government agencies have relatively unfettered access to data. 
If your data is highly sensitive, you may have to find the best affordable VPS hosting with data centers in GDPR-regulated countries. 
Server Uptime
You'll find it challenging to run a business with any degree of success on an unreliable VPS host. Most hosting providers will guarantee some obscene percentage of uptime, generally 99.99% and higher. And we note these guarantees in our cheap VPS hosting reviews.
But that doesn't mean as much as you may think. If a provider fails to miss that mark, there's very little consequence. So you should always seek out independent tests to confirm their actual uptime. 
For some purposes, such as a Minecraft server, uptime isn't mission-critical and bears less weight. However, an uptime lower than 99.95% is generally grounds for avoiding it. 
Managed Vs. Unmanaged VPS Price Comparison
There's a lot that goes into managing a server. You have to take care of various maintenance tasks, core updates, installations, and other things to keep it running smoothly. 
If you don't want to or can't deal with server management yourself, consider managed VPS hosting—the hosting provider is responsible for any critical updates, security features, and other server responsibilities at an additional cost. The obverse is true for unmanaged plans.
Unmanaged plans are less expensive as a rule, but you need the resources and technical know-how to keep your server healthy. How much technical know-how? If you need this guide, you're probably better off with a managed plan.  
Conclusion
Virtual private servers are a happy middle ground between shared hosting and a dedicated server. You can get the most out of a dedicated server at the expense of a few neighbors you're never going to see or hear. 
We tried to be as inclusive as possible in the list above, but some good options still remain. Still, 99% of users will find the perfect cheap VPS service here. But remember, you'll have to settle for modest features to get the best price. 
FAQ
Where can I get free VPS?
The best place to start looking is large corporations looking to expand their technology adoption rates. Good examples include AWS, Microsoft Azure, and Google Cloud. Amazon Lightsail is an excellent choice with a free tier. 
If you only need free VPS hosting for a limited time, you have even more options. Several VPS hosting companies, such as AccuWeb Hosting and DigitalOcean, offer limited free trials. 
Why is VPS so expensive?
A VPS doesn't have to be expensive if you can get by on a few resources. But meeting high project requirements will be costly no matter how you slice it. 
Generally speaking, most VPS hosting providers have to invest continually in their service to remain competitive. High-security server farms, state-of-the-art processors, gobs of SSD storage, and other expenses tend to stack up rather quickly. 
But a more pragmatic response is that some VPS hosts are expensive because there's a high demand for them.  
Are there free VPS?
There are, but you'll need to accept a significant amount of limitations. Most are only free for a limited time, and those with free-forever plans are usually tied to another subscription account. 
Broadly speaking, a cheap VPS server is a better idea in most instances than bending over backward to get it free.
Microsoft Azure and Amazon Web Services offer year-long free plans, and several smaller providers have shorter trials. Notably, AccuWeb, DigitalOcean, and WoomHost offer 30- to 60-day trials of their VPS hosting. 
What is the cheapest VPS?
In absolute terms, Ionos by 1&1 has the cheapest-possible VPS hosting options. But you'll get a basic feature set on an unmanaged server running a Linux OS. That said, it's difficult to argue with only $2 per month and no long-term commitment. 
A more reasonable option for cheap VPS hosting is our top pick, Hostwinds. It starts at only $4.49 a month for a Linux unmanaged server and scales very reasonably if you need more features or a Windows OS.