11 Best Cheap Hosting Providers in 2021
[EXPERT REVIEWS]
Costs can accumulate quickly when you start a new online project. That's why it's so important to find the best cheap hosting partner out there.
To narrow things down, we put a price cap of $5/mo for introductory and $10/mo for renewal pricing. This caused some early crowd favorites to fall short from the final cut.
Now, don't get us wrong, we won't just focus on the price tag. The word "cheap" is often associated with "low quality", and we certainly don't want that for your business.
Our mission is to deliver an in-depth analysis of hosting companies that are not only affordable but prove good value for your money. Be it with a rich set of features, lightning-fast servers, or impressive support — any of the names on this list has some bragging rights.
Last Updated: November 25, 2020
Advertiser disclosure
This page may contain links to our partners' products and services, which allows us to keep our website sustainable. This means that websitebuilder.org may receive a compensation when you sign up and / or purchase a product or a service using our links. However, all opinions expressed in this article are solely ours, and this content is in no way provided or influenced by any of our partners.
Cheap Hosting Providers 2021

Litespeed server caching
Premium features for enhanced speed
Try the service for 30 days risk-free
Try Now
Full Review

Great space allocation
Visitor-friendly performance
Over 400 apps to choose from
Try Now
Full Review

Stress-free website transfers
Simplified web hosting management
Get support via live chat, phone, or ticket
Try Now
Full Review
Our Methodology
Selecting the chosen few companies from such a large pool of hosting providers is no walk in the park. We had to go through 50+ names and perform tests for several months to get the most accurate results.
After searching around Google for the best cheap web hosting, we made a list of 58 hosts.
We applied our introductory and renewal price caps.
We excluded the companies with little to no mentions in user reviews or any trustworthy company information.
We then signed up with the shortlisted hosts and tested their checkout process.
Navigating around the backend and control panel was another key element.
We put up a WordPress page online and tested its speed and performance.
We took the time to check the support response times and knowledgeability.
Customer reviews played an important role in our research and helped sift out the final contenders.
This is how you get a list of 58 names down to 11.
Luckily, you don't have to invest as much manpower and resources to find the best and cheapest web hosting deals, that's why you have us!
So let's not waste any more precious time and find out which hosts offer the most budget-friendly services on the market.
The 11 Best Cheap Hosting Providers
If you want a real bang for your buck, here are the best providers you can hope for.
Detailed Reviews
MOST SUITED FOR
Novice users
Visit Website
Premium features for enhanced speed
Litespeed server caching
Try the service for 30 days risk-free
Choose a domain name from hundreds of extensions
Hostinger was founded in Lithuania, back in 2004. The company quickly sought international coverage by adding subsidiaries all around the world.
Today, the provider hosts over 29 million clients in 178 countries. An average of 15,000 users join Hostinger every day, making this roughly a newcomer every six seconds.
See, two new people joined the Lithuanian provider by the time I wrote that last sentence.
Hostinger has been getting fame for its fast servers and super-low prices, so let's just see how good they really are.
| | |
| --- | --- |
| Pros | Cons |
| Most affordable startup rates | Not great under load |
| WordPress-optimized | Limited support |
| Excellent speeds | Low SSD storage caps |
Hostinger Data Center Locations
UK
USA
Netherlands
Lithuania
Singapore
India
Indonesia
Brazil
Hostinger Features
Starting off with Hostinger, you have three different shared plans at your disposal — Single, Premium, and Business. The best thing is, our budget fits all package tiers.
There isn't much to say about the cheapest hosting deal. It is suitable for only one website and judging by the limitations in SSD space, bandwidth, email accounts, and MYSQL databases — a pretty small one.
Moving upwards, things are looking significantly better.
The limitation for the number of websites is gone, and you can utilize 2x-4x more server power and resources. Both the Premium and Business plans offer a free domain for the first year, but only the latter throws in a no-cost SSL certificate in the mix.
Other useful features with Hostinger include:
WordPress Optimizations
If you are looking to start a blogging website, Hostinger might just have the thing for you.
Even the cheap shared hosting deals offer WordPress speed customizations, a 1-click installer, and custom-built caching plugins. The lightning-fast SSD ensures your WP project will run at optimal speeds.
All in all, an excellent choice for bloggers who need a low-cost, reliable platform to start their online ventures.
Cheap Domains
Hostinger is a certified ICANN registrar, which means it can register and sell domain names of its own accord. Such registrars can also afford to tinker with the prices so their clients can often secure sweet deals on cheap domain hosting.
With Hostinger, you can register .com names for as low as $8.99 and popular new extensions like .xyz, .online, and .store for just $0.99 for the first year. Knowing that a single .com domain often comes at $14.95 or more, that's heaps you can save in the long run, especially if you host multiple projects.
Hostinger offers a convenient domain name checker, so you can see what's available and the associated costs.
Hostinger Support
Even though there is a live chat button on the company website, the option just takes you to an online form that goes to the support team. There is no phone line either, leaving you with email and ticketing support.
The promise of 24/7/365 assistance still somehow rings true, though.
We contacted sales and tech support at different times of day, and their responses were always quick enough and on point. Truth be told, we did not experience any notable issues during our tests and our intentional tries to "break" our website were discovered and fixed in due time.
If you want to have immediate assistance at all times, you can opt-in for Premium Support for an additional $1.99/mo.
An overall solid performance, especially coming from such cheap hosting services.
Hostinger Reviews
Trustpilot score: 4.7 / 5 (from 1,387 reviews)
HostAdvice score: 9.3 / 10 (from 1,422 reviews)
WebHostingGeeks score: 4.4 / 5 (from 65 reviews)
It's safe to say that most clients are very fond of Hostinger's services.
Excellent scores around the client review websites are a great sign that the provider is not just empty promises. Existing customers reinforced our impressions — Hostinger's client support is fast, efficient, and able to meet the expectations. The server performance is impressive, and first-time users are happy with how easy it is to start a website.
Still, long-time Hostinger users report an increased waiting time for support replies, something the company reluctantly agrees with but promises to improve as soon as possible.
Hostinger Plans and Pricing
Single — starting from $0.99/mo
Premium — starting from $2.89/mo
Business — starting from $3.99/mo
There isn't any other company on our list that can offer $1 web hosting, especially with all the extras involved.
Be prepared, though.
In hosting, the standard business practice is to offer very low introductory prices, and up the rates significantly come renewal. Hostinger is no different. The good news is, with prices so cheap, even when you raise them 2-3 times, the deal is still worth it.
There is another thing to keep in mind.
Lowest promo discounts often tie you to a long contract, and Hostinger asks for a whopping 4-year subscription to get its $0.99/mo rate. Sounds risky, but the provider also offers a 30-day money-back policy so you can test the waters and see if you are ready to commit long-term.
Hostinger Verdict
The amazing prices are the first thing that catches the eye when you're looking at the Hostinger web hosting deals. But the company is so much more than that. The provider is keen on following the latest technologies and always seeks to innovate while keeping its services more than affordable.
Hostinger has a local presence in more than a hundred countries worldwide, offering suitable solutions no matter where you are.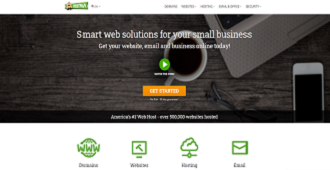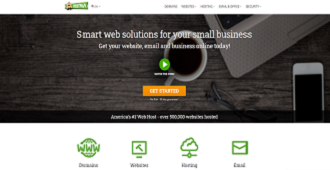 MOST SUITED FOR
Growing a business
Visit Website
Great space allocation
Visitor-friendly performance
Over 400 apps to choose from
Transfer an existing website for free
HostPapa is a true-blue Canadian provider that has been tinkering with hosting since 2006. Today, the company has expanded its portfolio with domain names, email services, marketing, and site-building solutions.
Even though the HostPapa servers reside in North American data centers, more than 500,000 clients already utilize its affordable website hosting packages.
There is more than one good reason for that.
| | |
| --- | --- |
| Pros | Cons |
| Beginner-friendly | Long commitment for good discounts |
| Green provider | Automatic upsells |
| Cloudflare CDN | No choice of data centers |
HostPapa Data Center Locations
HostPapa Features
The Canadian provider knows web hosting inside and out and makes sure new clients don't miss out on anything essential:
There is a great introductory promo for the Business accounts, but our budget best fits the Starter deal here.
Unlike many competitors that only allow a single website on the entry-level packages, here you can host two. HostPapa pampers all clients with some great default features — free SSL certificate, a drag-and-drop builder, and a no-cost website transfer if you're coming from another provider.
You won't have to worry about running out of space with HostPapa — even their cheapest website hosting comes with 100GB SSD space. That's enough to host even 10-20 websites without affecting their optimal performance.
The value-added benefits don't stop there:
One-on-one Training Sessions
HostPapa wants to ensure you're all equipped to start your first online business. This includes some specialized help with a hosting specialist.
Every customer can book a 30-minute training session with a HostPapa expert at a time of their convenience.
How to best manage your account?
How to build your first website?
How to properly secure it?
Those are all ideas of possible topics you can discuss with HostPapa. The entire 30 minutes are for you and your project alone, so make them count.
HostPapa Support
You might say that politeness is a stereotype for Canadians, but HostPapa really takes that to heart.
The support operators we had the pleasure to work with were all very kind and trying to understand our issues before offering any solutions.
Who said cheap web hosting providers offered no support?
The best thing is, reaching out for assistance is extremely easy with HostPapa. You can see the phone, live chat, and ticketing options on every page on the company website. The Customer Care Center hides a bunch more surprises — a knowledge base of 2,500+ articles, video tutorials, and live network status updates.
An excellent choice if you need more hands-on assistance.
HostPapa Reviews
Trustpilot score: 4.3 / 5 (from 251 reviews)
HostAdvice score: 9.0 / 10 (from 447 reviews)
WebHostingGeeks score: 4.4 / 5 (from 65 reviews)
Existing clients seem to love HostPapa's prices and hosting solutions. We saw plenty of excellent reviews across different platforms, praising the cost-effectiveness and level of customer support.
You can't keep everyone happy, though, and some unhappy HostPapa clients definitely have something to say.
The most recent cheap hosting reviews reveal problems with refunds and price increases due to the latest cPanel license fee hikes. Luckily, HostPapa's reps don't leave any complaints unnoticed and actively try to resolve client issues, even if a review website is not the proper way to seek support.
HostPapa Plans and Pricing
Starter — from $3.95/mo
Business — from $2.95/mo
Business Pro — from $12.95/mo
You might have noticed that HostPapa's second-tier package is cheaper than the entry-level deal. No, that's not a typo, just the provider's way of welcoming startups and SMBs with a mouthwatering 77% discount. The deal comes with a 3-year billing plan.
Annual and biennial packages come with a discounted price as well and month-to-month web hosting options are not available.
Come renewal, the rate reverts to the standard $7.99/mo, but you can still negotiate a better deal with a longer subscription plan.
There are a few extras you can add upon checkout:
Advanced website security for $19.95/year
Automated site backups for $19.95/year
Premium SSL certificate for $14.95/year
A couple of those features are pre-selected so make sure to uncheck their boxes if you don't plan on using them.
HostPapa Verdict
HostPapa is a great host to start your first website and get helpful assistance in making it better. The Canadian-provider offers some inexpensive web hosting with a green-friendly attitude. The company makes sure that all its processing power gets back to nature in the form of renewable energy, thus reducing the carbon footprint.
A wise idea for first-time users and growing businesses.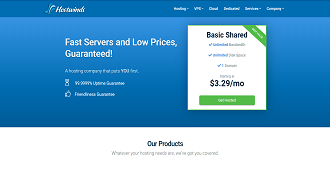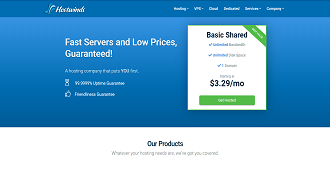 MOST SUITED FOR
Startup businesses
Visit Website
Stress-free website transfers
Simplified web hosting management
Get support via live chat, phone, or ticket
Instant account setup
There isn't a lot of info surrounding Hostwinds — we know the company first popped up around 2010 and chose Seattle, WA as its headquarters.
That doesn't inspire trust usually, but the provider lets its services speak for them — we are talking about a full range of shared, reseller, VPS, dedicated, and cloud solutions, all a few clicks away.
Hostwinds proudly shows off a bunch of awards:
2018 Best of the Year by PCMag
2018 Great User Experience by FinancesOnline
Editors' Choice by FindMyHost
But is that enough to make Hostwinds the best cheap hosting provider?
| | |
| --- | --- |
| Pros | Cons |
| Weebly site builder | Limited number of domains/websites |
| Friendly and helpful support | Hidden limitations |
| Free SSL and dedicated IP | Average performance tests |
Hostwinds Data Center Locations
Seattle, WA (US)
Dallas, TX (US)
Amsterdam (NL)
Hostwinds Features
Out of the three Hostwinds shared choices our budget is good for the Basic plan (or maybe the Advanced one if you can spare a dollar more for renewals).
All packages are actually quite similar feature-wise — their only difference is the number of websites you can host within your account. The Basic one is good for a single site, the Advanced can accommodate four, and the Business one has absolutely no limits in that aspect.
Speaking of no limits, even the entry-level web hosting deal comes with unlimited storage space, bandwidth, subdomains, email addresses, and databases.
And that's not even half of it.
Weebly Site Builder
Almost every provider that offers cheap web hosting in 2020 throws in some website builder. It can be quite helpful for first-timers and inexperienced users to have a way of designing and publishing a page quickly and with zero effort. Still, such site-building tools often prove rudimentary and hard to customize.
Weebly is something else, though.
Hostwinds gives you access to one of the most popular and well-liked site builders. Weebly combines stunning visuals and advanced functionalities in an intuitive drag-and-drop solution that makes website development easy like Sunday morning.
The tool is ideal if you're looking for cheap website design — who would've thought you could play with video backgrounds, custom headers, and full-width images on a free platform.
Over 30 million people worldwide already built their websites using Weebly — you can be the next one.
Free Dedicated IP
Having your own IP address brings in a bunch of benefits — easy site access, added security, smooth email processing. No more suffering because of bad IP reputation or reckless neighbors — your website will be the only one using this specific address.
Plus, a dedicated IP is an essential part of SSL certificates, so if you're looking to secure your page, you'd definitely need one.
Hostwinds offers this extra for free, keeping your overall web hosting cost to a minimum.
Hostwinds Support
You can easily tell the companies that are proud of their support team — they extensively talk about their training, show them off in a working environment, even put their names and faces on the business website.
The others just give a few words of how great their operators are and how you can reach them.
Hostwinds seemed to fall in the latter category, boasting a 100% client satisfaction rate and 24/7 immediate assistance via chat, phone, and ticketing. There is a knowledge base as well, but it looks pretty barren, and many articles lead to a 404 Not Found page.
We were in for a big surprise, though.
This affordable web hosting provider spared no effort when it came to helping its clients. We tried the chat and ticketing on several occasions, only to find prompt and friendly operators, well-versed in the subject. We even went as far as scratching more delicate topics like the company billing policies, but the reps were always open and ready to share detailed insights.
Hostwinds Reviews
Trustpilot score: 4.3 / 5 (from 81 reviews)
HostAdvice score: 9.2 / 10 (from 659 reviews)
SiteJabber score: 4.8 / 5 (from 781 reviews)
Clients seem very generous when it comes to praising Hostwinds — the company holds very high satisfaction scores in all major review platforms. HostAdvice's rating is particularly impressive, making the Seattle provider 7th out of 4200 reviewed hosts.
Not all is perfect, though.
Trustpilot, one of the best-moderated platforms, signals that their system detected a lot of fake reviews about the company.
Many cheap hosting companies realize that the low price alone won't be enough, especially if they are new to the market. So they resort to some sneaky tactics to boost their image and inspire more trust.
Of course, there's the other side of the coin — a rival can easily target a host and tarnish its reputation with bad reviews.
This is why client reviews should be just one of many factors when choosing a new host.
Hostwinds Plans and Pricing
Basic — from $3.29/mo
Advanced — from $4.23/mo
Ultimate — from $5.17/mo
Hostwinds' feature set is quite rich across the board, making the cost of hosting a website all the more reasonable.
If you are working on a single project, the Basic plan will be more than enough — starting from $3.29/mo, it comes with unlimited server space and traffic. The $8.99/mo renewal for this package is still quite affordable. Both rates are available with a yearly contract, two and three-year deals carry an even bigger discount.
During checkout, you can also add advanced server monitoring (for $2/mo) and cloud backups (for $3/mo).
Hostwinds Verdict
HostWinds is rightfully among the best cheap hosting providers on the market. The company offers a solid service with an optimized setup without any overselling or server overcrowding. Its support assistance is of the highest standards and available at all times.
Perfect choice if you don't want to risk it with a long-term commitment.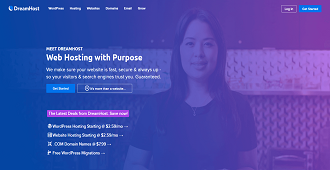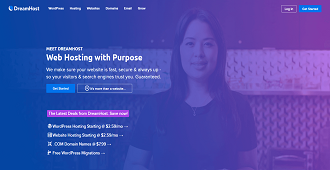 MOST SUITED FOR
WordPress websites
Visit Website
WordPress-based website builder
Automated WP website migration
Personalized email addresses
Free SSL security for data encryption
DreamHost is every tech entrepreneur's dream success story — started by a few undergrad students and grown to a multimillion-dollar company with 200 employees and over 400,000 clients.
DH is more than just a host — the team tinkers with technology a lot and came up with great solutions for open-source network virtualization and distributed object storage in recent years.
Even though the company offers fantastic managed WordPress and cloud services, our goal here is the best cheap website hosting. So does DreamHost have what it takes?
| | |
| --- | --- |
| Pros | Cons |
| Great speed and uptime results | No phone assistance |
| Instant WordPress setup | Limited support |
| Domain ID privacy | Proprietary control panel is confusing at times |
DreamHost Data Center Locations
Ashburn, VA (US)
Hillsboro, OR (US)
DreamHost Features
DreamHost makes it pretty easy to choose a hosting deal — just determine if you'd wish to host one or more websites and you're good to go:
Both plans come with SSD storage and a free SSL certificate. You can easily register a free domain through DreamHost as well — you have all the popular extensions like .com, .net, .org, and a bunch more. As with similar companies in our cheap hosting comparison, the domain promo is valid for the first year, and the customer is responsible for renewing it afterward.
It's worth noting that the Starter package does not include email services, you can only add them as an extra, at $1.67/mo.
There are a few more limitations on the entry-level deal:
50 GB space
five subdomains
six FTP accounts
six databases
The Unlimited plan removes all those caps, letting you grow indefinitely.
DreamHost shows great intuition when it comes to figuring out the essential features anyone might need.
WordPress Site Builder
It's not hard to learn and get more experience with WordPress — the most popular CMS is no rocket science. Yet, some themes and advanced modifications require more than a basic understanding of site builders.
This is why DreamHost makes things even easier.
You can build the best budget websites with the free site building tool, which is based on WP but simplified beyond recognition. Inside, you have a drag-and-drop editor, free templates, and a step-by-step wizard to walk you through the process.
Still, if you are willing to go for the full WordPress experience, DreamHost has the CMS preinstalled and waiting for you.
97-day Money-Back Guarantee
Let's be honest, as great as our prospective host seems, it's always good to have a backup plan. Most of the time, it comes in the form of a trial period or money-back guarantee.
More often than not, hosts give you 30 days to test their service. Some even go as far as extending that to 45 days.
DreamHost is so confident it offers top cheap hosting, that the provider is prepared to give you a full three months to test it out, tweak around, and measure its performance.
The offer is only applicable to clients who used the credit card payment method.
DreamHost Support
Reaching a live DreamHost representative might be harder than you'd expect.
For starters, there is no phone contact. We decided to test the messenger popup on the website. It turned out to be a chatbot:
Bot: Anything I can help you with?
Me: clicks "I'm looking to find the right cheap hosting product."
Bot: Exciting! How should we go about that?
Me: clicks "Put me in touch with a member of the Sales Team."
Bot: Our Sales team is currently not available. If you give us your email address…
So much for that 24/7 option. Let's try the ticketing:
Logging in your account greets you with a bunch of ads and extra services you can purchase with DreamHost. Finding the Support section is far from the last step — you have to avoid several attempts to redirect you to some support article before you can finally reach a DreamHost tech operator.
We actually enjoyed the overall level of support, which makes us wonder why the host doesn't make its assistance more accessible.
DreamHost Reviews
Trustpilot score: 4.6 / 5 (from 1,021 reviews)
HostAdvice score: 8.8 / 10 (from 272 reviews)
WebHostingGeeks score: 3.7 / 5 (from 162 reviews)
DreamHost's cheap hosting ratings are fairly high. Clients often mention the reliable service and competitive price as good reasons to join DH. Another great sign is the fact that both new and long-time customers are happy to share a kind word.
Things could be better, though.
Just as we noticed, many other users report that reaching support and getting adequate assistance might not be the easiest thing with DreamHost. By the looks of it, more than half of client issues are not that complex and a live person could easily resolve them.
DreamHost Plans and Pricing
Shared Starter — from $2.59/mo
Shared Unlimited — from $4.59/mo
Keeping things tied within two similar packages makes it pretty easy to make a choice. You can purchase a cheap web hosting for as low as $2.59/mo, valid with a three-year contract. Short-term deals still fall within our budget — the yearly plan comes at $3.95/mo, and the monthly accounts don't go over $4.95/mo.
A bunch more features await at checkout — the WP site builder, advanced security, email accounts (for the Starter plan), and a GSuite option. The latter comes with a 30-day free trial.
Renewals are also quite affordable with DreamHost, with the two packages valued at $4.95/mo and $10.95/mo respectively.
DreamHost Verdict
DreamHost is one of the best cheap hosting providers today, packing long experience in a great hardware and software environment. Even though all DH servers are in the US, the performance is impressive from any point in the world.
Some unique WordPress-related features make the host a preferred solution from bloggers and WP enthusiasts.
MOST SUITED FOR
Global projects
Visit Website
Proprietary monitoring system
Transfer your domain name for free
Advanced brute-force protection
Friendly and knowledgeable support operators
FastComet has been on the market since 2013, but already on the way to surpassing long-established competitors.
How can that be?
It turns out you don't have to promise the impossible, just as long as you treat your clients fairly and be open about your policies.
This kind of attitude helped FastComet grow to 70 employees and 50,000 clients in 11 data center locations.
FC often runs lucrative promotions for cheap reliable hosting, so let's see what they currently have in store.
| | |
| --- | --- |
| Pros | Cons |
| Excellent support | Big renewal price jump |
| Clear usage policies | Low space allocation |
| BitNinja security | Cheapest plan good for one domain only |
FastComet Data Center Locations
Chicago, IL (US)
Dallas, TX (US)
Newark, NJ (US)
Frankfurt (DE)
Amsterdam (NL)
London (UK)
Singapore (SG)
Tokyo (JP)
Toronto (CA)
Mumbai (IN)
Sydney (AU)
FastComet Features
FastComet offers three robust shared hosting packages, but only the first one fits within our budget.
Most of the all-unlimited affordable website hosting deals hide unexpected limitations in the fine print. After all, how can a server come with unlimited web space, for example?
FastComet prefers to be completely honest and has fixed values for storage and traffic. This is due to the provider's setup, where every client account is isolated and safe from neighboring attacks. So you can utilize:
– 15GB to 35GB SSD space
– 2 to 6 CPU cores
– 2GB to 6GB RAM
This can help you service between 25,000 and 100,000 visits per month.
Next, the list of features is also noteworthy.
FastComet offers every client a free SSL certificate, Cloudflare CDN, website and domain transfer, making it one of the best cheap web hosting providers. As if that's not enough, the provider throws some added-value perks:
BitNinja Security
Security is a critical aspect of your hosting experience. That's why, among other things, FastComet makes sure your account is as strong as they come.
Partnering with server security company BitNinja, FC fixes you up with a stellar platform that catches DDoS, XSS, and brute-force attacks before they can do any harm. Additionally, all your websites get advanced protection from malware and script injections.
But that's certainly not all FastComet can come up with security-wise.
Free Daily and Weekly Backups
Daily backups (and especially their restore) are an essential safety feature but often come at an additional web hosting cost. Sure, you can back up your data own through your cPanel or Plesk, but an automated and professional solution is always better.
FastComet keeps offsite backups of your account from 7/30 days back, and you get a 1-click restore manager to revert to an old copy when needed.
No more worries that your next app or plugin update will break your site (again) — backup is on the way.
FastComet Support
FastComet's support is a prime reason for the company's excellent reputation.
FC offers 24/7/365 support via live chat, email, and ticketing. The company contact page shows a helpful chart and comparison that reveals just how far your requests can go with FastComet's low price hosting.
Not satisfied with your case resolution? There are three levels of escalation to guarantee your issue will find a proper outcome.
We tested both chat and ticketing a couple of times and understood what the fuss is all about with FastComet. Fast responses, detailed answers, on-point tips and suggestions, no upsells — everything you can ask from a hosting partner.
According to FastComet, 83% of its last 10,000 support requests saw a successful resolution within 15-minutes.
After trying them out — we can believe that!
FastComet Reviews
Trustpilot score: 4.7 / 5 (from 816 reviews)
HostAdvice score: 9.6 / 10 (from 824 reviews)
WebHostingGeeks score — 4.7 / 5 (from 53 reviews)
If any among the best cheap hosting in 2020 can come close to perfect review scores, that's Fastcomet.
The company holds a whopping 91% positive ratings in Trustpilot, with plaudits often praising the first-class support and excellent server performance. The broad international coverage gets its fair share of appreciation as well — even clients from Africa report high speeds and availability on their websites.
Not everyone is that happy, though.
The recent negative reviews mention a price increase and some technical issues that did not find proper resolution.
Still, FastComet tries to be active on such platforms and address any concerns that might leave the customer with a bad taste.
FastComet Plans and Pricing
FastCloud — from $3.45/mo
FastCloud Plus — from $5.19/mo
FastCloud Extra — from $6.93/mo
Is FastComet the cheapest website host? Probably not. But it's perhaps the most honest and clear about its billing.
As with many other providers, new clients get a sweet introductory discount, and the prices jump a bit upon renewal. The big difference is — you don't have to prepay for 2-3 years to take advantage of the discounted rate, as it's available on all shared packages.
If you only have one website to host, the $3.45/mo intro and $9.95/mo renewal rate should fit your budget quite nicely.
Regarding add-ons, FastComet offers some great options at checkout — search engine submission ($5.95 one time), SEO audit ($9.95 one time), and Google sitemap ($14.95 one time). None of the features is pre-checked, like other providers tend to do "for your convenience."
FastComet Verdict
FastComet is an excellent example that you don't have to be in the business for decades to make things right. The company offers robust plans, able to accommodate small and growing businesses, while keeping your website hosting cost down to a minimum.
FastComet's support assistance is of the highest standards, making clients with less site-building experience feel right at home.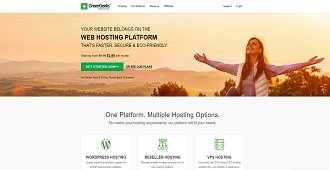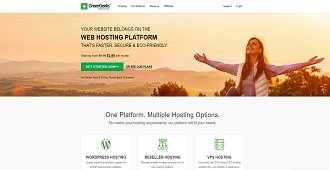 MOST SUITED FOR
Startups and SMBs
Visit Website
Easily add more memory or RAM to your account
Free shopping cart installation with one click
Container-based technology for maximum security
Get access to the latest developer tools
If you're looking for a host that's also mindful about the environment, then it's time to check out GreenGeeks.
Many hosting providers label themselves "green," but few are making a significant effort to deserve that title. In light of that, GreenGeeks is doing heaps — 300% of its power consumption returns in the form of renewable energy, making it one of the few carbon-negative providers on the market.
That, and a bunch of other factors, like the cheap web hosting services, helped GreenGeeks attract 40,000+ clients with their 500,000+ websites.
| | |
| --- | --- |
| Pros | Cons |
| Free wildcard SSL | User backend a bit clunky |
| PowerCacher tool | Big renewal price hike |
| Green-friendly | Entry deal limited in server resources |
GreenGeeks Data Center Location
Chicago, IL (US)
Phoenix, AZ (US)
Montreal (CA)
Toronto (CA)
Amsterdam (NL)
GreenGeeks Features
Right off the bat, we can choose between three shared hosting plans with GreenGeeks — Lite, Pro, and Premium:
The deals can house businesses of various sizes and guarantee an enhanced performance as you grow. Our speed tests confirmed this is one of the best cheap hosting providers in terms of server connectivity and page load times.
On the other hand, stress tests were much less flattering, showing GreenGeeks as one of the worst performers under load.
Every GG shared client gets plenty to work with — there are no limits on the space and monthly traffic, plus the CDN and daily backups are also part of the deal. Your domain name is free for the first year, lowering your costs even more.
More great stuff is just around the corner:
Wildcard SSL Certificate
You may have noticed that a lot of the cheap hosting companies give you a free SSL certificate as part of their deals. That's neat, because the SSL adds an extra layer of encryption over your data, making your visitors feel secure when visiting your website.
Now, the SSL is good for protecting your domain name only, making it accessible via the secure HTTPS protocol. This means your homepage will open like:
https://yourdomain.com
But bigger websites have many pages, and you often need them all secured. This is where a wildcard SSL comes into play.
It offers enhanced security not only to your domain but all its associated subdomains. This means you can have the SSL on:
store.yourdomain.com
login.yourdomain.com
payments.yourdomain.com
An SSL certificate inspires trust and even helps your SEO efforts — there's just no reason not to have one.
PowerCacher
GreenGeeks fully realizes the importance of speed. You could easily see that by the server setup and the number of performance-related optimizations on its affordable web hosting packages.
One of them is the PowerCacher.
GreenGeeks developed this dynamic caching tool in-house and has it preinstalled on all client accounts. The PowerCacher works like a charm with WordPress, Joomla, and other popular web builders, reducing page load times and serving content with the blink of an eye.
GreenGeeks Support
GreenGeeks might offer inexpensive web hosting but makes sure that doesn't affect the level of its support assistance. The company tries to support various methods of communication, although not all of them are available 24/7. The phone lines, for example, are open Mon-Fri, from 9 am to 12 am.
The email option promises a 15-20min reply, but according to our tests, that's a little far-fetched. Half the time, we did get a prompt answer, but the information was unclear, so we had to go back and forth a few times, before reaching a successful resolution.
Luckily, the live chat is 24/7, and this is where we managed to get the most assistance. All three operators we worked with seemed up to our challenges and proved you can get more than adequate support with GreenGeeks.
GreenGeeks Reviews
Trustpilot score: 4.6 / 5 (from 266 reviews)
HostAdvice score: 8.2 / 10 (from 148 reviews)
WebHostingGeeks score: 4.2 / 5 (from 619 reviews)
At first glance, GreenGeeks seems to be scoring high in the cheap hosting rankings. A lot of clients praise the customer service and value for money they are getting with the green host.
But look more carefully, and you can see some alarming signs.
Many of the Bad ratings with GreenGeeks are very recent, especially in HostAdvice, where the last few months have brought nothing but negative reviews. And it's not just billing misunderstandings and lack of support — some users reveal much more alarming issues like payment glitches, blacklisted IPs, and insufficient platform knowledge.
On top of all that, GreenGeeks doesn't seem to address any of the bad reviews, making us wonder — do they care enough?
GreenGeeks Plans and Pricing
Lite — from $2.95/mo
Pro — from $5.95/mo
Premium — from $11.95/mo
Valued at $2.95, GreenGeeks' welcomes newcomers with some of the cheapest hosting services for a new website. That exclusive rate comes with some conditions, in this case — a three-year contract.
The regular renewal fee on that package is $9.99/mo, making the price hike quite steep.
There is no list of add-ons upon checkout, nor were we able to find enough info in our client account. But a little digging revealed there are a few useful extras you can buy:
Dedicated IP — $48/year
Premium Alpha SSL — $99.95/year
WHMCS licenses — from $9.95/mo
Manual backup requests — $5/cPanel
All in all, GreenGeeks likes to keep prices affordable and doesn't bother you with constant upsells or ads.
GreenGeeks Verdict
GreenGeeks is deservedly in the race for the cheapest web hosting. The low prices haven't put a toll on the service quality, and GG is still one of the most feature-packed and well-liked hosts out there.
The best possible choice if you're looking for an eco-friendly provider for your next project.
MOST SUITED FOR
Domain registrations
Visit Website
Safeguard your registrar data with domain ID protection
Move your existing website in under 24 hours
Detailed website statistics
Optimized environment for uninterrupted uptime
You've probably already heard the NameCheap name in another context — the technology giant started as a domain name registrar back in 2000. While it is still a main part of the business, the NC services quickly reached new niches — shared and reseller hosting, VPS servers, WordPress solutions, design tools, security add-ons.
With over 10 million domains under its belt, let's see how well NameCheap stacks as a cheap hosting provider.
| | |
| --- | --- |
| Pros | Cons |
| Incredibly-low prices | Support could improve |
| Great domain features | Free domain only for the first year |
| Automatic backup tool | Lots of hidden limitations |
NameCheap Data Center Locations
Phoenix, AZ (US)
Nottingham (UK)
NameCheap Features
NameCheap certainly lives up to its name. Even though we're on a tight budget, all three shared packages fit our financial pan:
Even the cheapest website hosting solutions let you have three sites, which is two more than what you can get with other competitors on this list. All of the deals come with unmetered bandwidth, but there are a few RAM and CPU limits to watch out for in the acceptable usage policy (AUP).
Feature-wise, things are looking solid.
You get a free SSL certificate and a comprehensive site-building tool with over 200 free templates for quickly bringing a page online.
Clients on the Stellar Business plan have recently gotten another bonus — cloud storage. The technology guarantees true stability and zero downtimes for hosted data.
You can check out our list of the best cloud hosting providers for more information about this emerging tech.
Other noteworthy NameCheap hosting features include:
AutoBackup Tool
Uh-oh! Your website is down! But what happened?
Was it something to do with that last update?
A malicious attack?
Or maybe a result of human error?
No matter the reason, you cannot afford this downtime for long.
Usually, NameCheap runs automated backups twice a week, but that's far from enough. With the AutoBackup tool (available on Plus and Business plans), you can set up daily backups for your site content, emails, databases, and more.
Restoring a backup is just as easy as creating one — one click and you can revert to a copy from the previous day, week, even month.
Free Domain + Privacy Protection
It's not unusual to snatch a free domain along with your cheap web hosting deal. After all, the two services are almost inseparable for any online business.
The unique perk here is the domain ID protection.
What does it do?
There are a lot of public whois searches online. So, when someone looks for yourdomain.com, they would see your registrant details — names, company name, phone, email. Such delicate information should not be exposed, especially with the growing number of cases of identity theft and other cybercrimes.
You can check just how severe a situation is with our latest set of cyber security statistics.
The domain privacy protection masks all that. So the next time someone searches yourdomain.com they would see something like:
Name: John Doe
Organization: Bogus Co.
Phone: 1-234-567-890
Fax: 1-234-567-890
Email: [email protected]
A great way to protect your data and hide it from prying eyes.
NameCheap Support
NameCheap offers some of the cheapest domain hosting packages, but how does it stack in terms of support?
The company representatives are pretty easy to reach — there is a live chat popup and a quick link to the internal ticketing.
Once in contact, things, unfortunately, start taking a U-turn.
The operators seem very limited in their scope of expertise, and even simple sales queries were often left unresolved. The chat staff claims the ticketing assistance is much more in-depth, but how can you trust such a claim before becoming a client?
NameCheap makes the same mistake as other corporations — once they grow enough, the personal attitude steps aside and cold indifference ensues.
NameCheap Reviews
Trustpilot score: 2.4 / 5 (from 481 reviews)
HostAdvice score: 5.9 / 10 (from 79 reviews)
Sitejabber score: 4.6 / 5 (from 1,575,452 reviews)
Existing NameCheap customers are on the fence with the quality of services they get with their discount web hosting.
A lot of negative reviews are floating around the Web, revealing horror stories of incorrect billing, hidden limits, and lack of support with the host.
This is why the high Sitejabber scores seemed a bit suspicious. Other popular providers get a few hundred, maybe around a thousand reviews. NameCheap has more than 1.5 million!
Once you read a bunch of comments, you will notice how generic and similar they all sound. They say nothing specific, just general praises of excellent service and support.
Thread with care.
NameCheap Plans and Prices
Stellar — from $1.44/mo
Stellar Plus — from $2.44/mo
Stellar Business — from $4.44/mo
The numbers don't lie — NameCheap offers the cheapest web hosting per year, especially for long-term projects.
All shared accounts come with a 50% discount on the initial billing term, activated with an annual contract. But even come renewal, your price rates are more than budget-friendly — the Business package, for example, is just $8.88/mo.
There are plenty of extras to add upon account registration. You have PremiumDNS ($4.88/year), VPN ($34.56/year), and SSL certificate ($3.88/year) just to name a few.
NameCheap Verdict
If costs are a pressing matter for you, NameCheap lets you save heaps on your hosting bill. The company offers some of the best web hosting prices, especially for renewing customers. The accounts pack enough features, but the level of support is not one to brag about.
A smart choice for students and businesses with low-demand projects.
MOST SUITED FOR
High-traffic websites
Visit Website
Intershield protection for extra website security
Machine learning firewall
Several content caching layers for optimal performance
Cleanup services for hacked and infected websites
InterServer's journey in hosting began in 1999. The company was founded by two high-school students, Mike Lavrik and John Quaglieri, and grew from a single VPS to hundreds of servers in three US data centers.
Twenty-one years later, InterServer supports the full range of hosting solutions, housing both individual freelancers and Fortune 500 companies.
Speaking of freelancers – we've got some great facts and stats about the office-free life here.
The provider is also keen on offering cheap hosting for WordPress users, but is it powerful enough for your particular project?
Let's have a look.
| | |
| --- | --- |
| Pros | Cons |
| Fixed rates | Very slow under load |
| Windows and Linux options | US-only datacenters |
| In-house security solutions | No free domain |
InterServer Data Center Locations
Secaucus, NJ (US)
Los Angeles, CA (US)
InterServer Features
InterServer clients have their work cut out when it's time to pick a shared hosting plan — there is a single fit-all solution for everyone interested in the service:
The package itself is not too shabby — fast SSD storage, unlimited bandwidth, global CDN, a user-friendly site builder. The only thing missing at first glance is the free domain name.
Building a successful online shop is a piece of cake with InterServer — you have access to all the popular tools like Magento, WooCommerce, PrestaShop, OpenCart, and many more.
If you're looking for the cheapest email hosting, this US provider can handle your online communication as well. InterServer lets you create unlimited accounts and benefit from a ton of perks like spam filtering, SSL encryption, and webmail access.
That's all great, but hang on, because we've got a bunch more surprises coming:
InterShield Security
InterServer's proprietary website protection tool is something else. This powerful solution utilizes machine learning to collect data from thousands of servers and websites and teach itself about the most efficient way to avoid cyber attacks.
InterShield stops malware and viruses in their tracks, blocking all paths to your website, even on the cheap shared hosting plan.
It works a bit like this:
Step 1 — User sends a request to open your page
Step 2 — InterShield checks the IP for known bad activity and blacklisting.
Step 3 — System filters the request for known hacking streams.
Step 4 — Platform examines post content, if any.
Step 5 — If there are no alarms — the server processes the request. Otherwise, it reexamines it or saves it for later.
The beauty is — all those steps happen in the blink of an eye, so your website performance won't suffer.
Windows Hosting Plan
Linux-based servers and operating systems are much more prevalent among hosting providers, because of their flexibility, customizability, and… well… price.
But there are clients who find the open-source operating system insufficient.
Technologies like Asp.net, MSSQL, and Exchange servers are all developed as Microsoft products, and they are not really compatible with a Linux server.
Luckily, Interserver offers cheap Windows hosting for anyone who wants to use a .NET framework to build their website. Features and prices are very much the same as with the Linux packages, which is unusually generous.
InterServer Support
We thoroughly enjoyed how easy it was to contact the InterServer support operators. You can find 24/7 assistance through the company website and pick live chat, email, or phone as your "weapon of choice."
There are separate phone lines for different countries, including:
United States
United Kingdom
Brazil
Mexico
Israel
Judging by the live chat support, InterServer has a rightful place among the best cheap hosting providers. The customer care operators were always quick enough and took good care of us.
Sure, we did hit a few bumps along the way, where the company rep seemed confused with our questions, but once our request got escalated, another operator quickly found a solution.
In short, support is not yet perfect but getting there.
InterServer Reviews
Trustpilot score: 4 / 5 (from 20 reviews)
HostAdvice score: 9.1 / 10 (from 337 reviews)
WebHostingGeeks score: 3.8 / 5 (from 11 reviews)
You can quickly tell InterServer is not a huge host with millions of customers. The low number of client testimonials often means the company is either new, small, or not too popular.
InterServer keeps its cheap hosting ratings relatively high. The provider does so with the help of its reliable servers, configuration optimizations, and stellar support.
The rare negative reviews do reveal some problems with billing and website migration, but they are all too dated to take in serious account.
We saw an InterServer representative trying to resolve the bad comments in TrustPilot a couple of times, but it seems they stopped this practice a while ago.
InterServer Plans and Pricing
Standard Web Hosting — from $4.00/mo
The US provider keeps it plain and simple — prepay for a year and benefit from a $4.50/mo rate, pay for three in advance, and this goes down to $4.00/mo.
Here's the real kicker.
InterServer gives you one of the best value web hosting deals because of its price lock feature. Forget about costly renewals, hidden fees, and unexpected bills — you choose your price and stick with it for good.
InterServer Verdict
InterServer bets on simplicity and stellar performance when it comes to its shared hosting deals. The provider offers a fine balance between reliable technology and easily-accessible client support, especially if you are looking for a US-based host and servers.
Worth considering if you have a project that requires a Windows environment.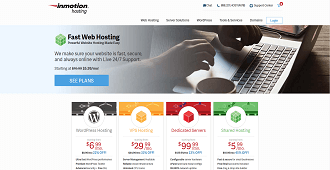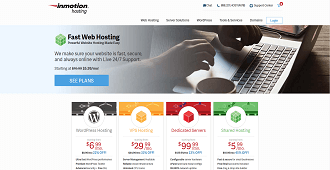 MOST SUITED FOR
Establishing a new brand
Visit Website
Get a professional 1-page website in just 2 days
Business-class hardware
Spam Safe mailbox protection
Easy-to-use control panel
The InMotion Hosting team has been working tirelessly since 2001 to provide first-class web services to clients worldwide. This persistence has put IM among the best cheap hosting providers in terms of market share.
Today, InMotion is a 300+ employee company with thousands of servers in two US datacenters.
Customer satisfaction is a core value for this provider and the main drive for its success, according to CEOs Todd Robinson and Sunil Saxena.
Time to put this to the test.
| | |
| --- | --- |
| Pros | Cons |
| Advanced malware protection | Low uptime scores |
| Performs well under stress | Average server speed results |
| Great knowledge base | Support is hit and miss |
InMotion Data Center Locations
Los Angeles, CA (US)
Ashburn, VA (US)
InMotion Features
InMotion offers us three affordable web hosting packages, but given our budget limitations, we can only cover the first one. Let's see what this gives us:

Once we got an account with InMotion, it was time to test the server speed and uptime. Sadly, we got some of the worst scores, compared to its niche rivals:
11th in time-to-first-byte with 0.64s
10th in onload time with 1.24s
6th in under stress load with 0.80s
11th in uptime with 98.70%
Not a great start, but InMotion tries to balance out its cheap webhosting deals with the feature set.
Unlimited SSD space and bandwidth are ready to serve up to two websites on the Launch plan. It also includes a free domain name, a comprehensive site builder, and a 1-click backup and restore tool.
Security-wise, you can count a free SSL certificate, email filtering, and advanced malware protection.
Need more? Sure thing.
SSH Access
SSH stands for Secure Shell and is a very neat feature for Linux users.
This is a protocol that allows command-line access to the server, letting you fine-tune and customize your account and website. You can transfer files, run remote applications, or enhance your security — it's like a file manager on steroids.
Still, keep in mind that operating with an SSH client requires some technical knowledge, so if you're a newbie, you'll be safer using FTP or the in-built cPanel tool for most file operations.
Web Design Services
InMotion tries to dip its toes in the cheap website design niche and doing a pretty good job at it too.
You can save a ton of time and nerves by hiring the company's trained professionals, and have a beautiful website up and running in no time.
The procedure is as simple as they come:
– have a chat with a designer to share your vision and ideas
– prepare your content and send it to the IM team
– review their work upon completion
– publish your website
If you're looking for something even cheaper and faster, InMotion has a $99 service called QuickStarter. It gets you a one-pager website, which will be up and ready to go in less than 48 hours.
We checked a couple of the existing websites that utilized this service and, we have to say, they look impressive. That only confirms once again that cheap web hosting in 2020 doesn't have to be of low quality.
For more interesting facts about web design – check out this stat-packed article.
InMotion Support
Reaching InMotion for assistance is possible at any time of day or week — the company Contact Us page duly shares phone and email contacts not just for Sales and Tech Support, but for Billing and Web Design as well.
The option for Skype support is worth noting, as competitive providers rarely pay attention to that communication channel.
As for the level of assistance, we've had our ups and downs with InMotion.
The chat connection and response times were good, but we couldn't get much out of the operators. Sales support was pushing links, even when we told them we are looking at the same content he tried to give us. The technical staff seemed to be more helpful, though we didn't bug them with anything significant.
There are better providers in our cheap hosting comparison in terms of customer care, but InMotion is putting enough effort to keep track for now.
InMotion Reviews
Trustpilot score: 3.1 / 5 (from 208 reviews)
HostAdvice score: 8.2 / 10 (from 220 reviews)
WebHostingGeeks score: 4.5 / 5 (from 1,497 reviews)
There is no visible trend when it comes to InMotion's client testimonials. There are good and bad reviews across all review platforms, and there is no visible tendency that reveals if the company is going forward or backward.
Just as we noticed, customer support is the aspect with most contradictory comments — some clients love the help they get, others are stuck with the same problems for days.
Provider and Clients are a bit like Rachel and Ross from Friends — a love-hate relationship that can take a turn at any moment.
InMotion Plans and Pricing
Launch — from $3.99/mo
Power — from $5.99/mo
Pro — from $13.99/mo
Taking advantage of InMotion's cheapest hosting offers means you are tying yourself to a two-year contract. The other available option is for one year, adding a dollar to your monthly bill.
Upon signup, you can choose your data center location and even opt-in for a free WordPress installation.
After that, you can select some add-on features like a backup manager ($24/year) and dedicated IP ($48/year).
Renewals should easily fit your budget as well, starting at just $7.99/mo for the Launch package.
InMotion Verdict
InMotion is one of those affordable hosts that offer plenty of features for businesses of all sizes and needs. The company puts a strong focus on security and makes sure every shared account is properly isolated and safe against outside breaches.
InMotion Hosting is especially well-suited for static websites, database-driven CMSs, and custom apps.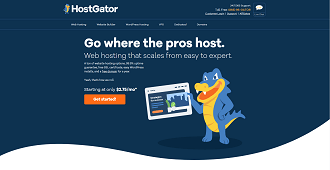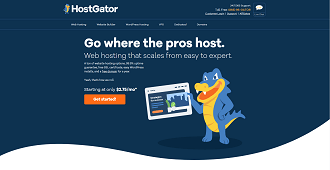 MOST SUITED FOR
Personal websites
Visit Website
Flexible and user-friendly dashboard
Access your emails from multiple devices
No caps on monthly traffic
Free domain to start your brand
HostGator is the brainchild of college dropout Brent Oxley. A bright example that you don't need a fancy degree to succeed, HG flourished under his command. So much so, that HostGator's fame resulted in a $300 million acquisition by tech conglomerate EIG, one of the most significant deals in hosting to this day.
How is the company stacking up today?
With over 10 million hosted domains and 12th place in terms of global market share, we'd say the Gator is doing cheap web hosting pretty good.
| | |
| --- | --- |
| Pros | Cons |
| Stellar uptime | Below average speeds |
| Free ad credits | Paid basic extras |
| Good for beginners | Poor support |
HostGator Data Center Locations
HostGator Features
HostGator, like many competitors, divides its shared hosting solution into three packages. This time, our $5/$10 budget easily covers the first two tiers:
The main difference between the Hatchling and Baby plans is the number of websites you can host — you get one with the former and unlimited addon domains with the latter.
Apart from that, the HostGator's cheap hosting services are pretty standard — even though space and traffic are unlimited, your storage is not SSD-based and inferior in speed. The SSL certificate seems to be the only notable free extra.
Or is it?
Free Domain Transfer
If you already have a website and want to switch hosts, your new provider will most probably take care of your data migration. The procedure is relatively easy — you make a copy of your cPanel files and databases and extract it in your new control panel.
Transferring a domain is a whole other deal.
It involves nameserver changes, authorization codes, and a bit of patience, as the whole operation can take a few days. It's often easier to keep your domain where it is, so your web hosting deal rarely includes this service.
HostGator is an exception to the rule, letting you bring in your domain name for free and manage it along with your website.
Advertising Credits
Getting your website online is just one of the many steps to bring success to your business.
Promotion is another one.
HostGator gives you a head start when it comes to getting the word out. All HG clients get $100 worth in Google Adwords credit and another $100 in Bing Ads. This way, once you think your design and content are ready to go public, you can quickly boost your exposure and welcome its new visitors.
Still, if you think you can up the cost of having a website a little, HostGator's Business shared plan looks much better, with a free dedicated IP, SEO tools, and anonymous FTP.
HostGator Support
Becoming a part of the EIG group of companies, HostGator has inevitably lost its personal touch. What was once a prime example of quality support, is now a subject of far too many horror stories.
What did our research reveal?
Finding a HostGator operator on chat or phone is no big deal. The problem is, they aren't really that useful. All the links and basic information is available on the company website, and the chat assistants rarely add anything extra.
We called the toll-free number a couple of times and, while better, the whole experience was still below-par.
So many cheap hosting providers realize how important customer care is today, but EIG has other plans for its hosts.
HostGator Reviews
Trustpilot score: 2.9 / 5 (from 646 reviews)
HostAdvice score: 5.2 / 10 (from 81 reviews)
WebHostingGeeks score: 1.9 / 5 (from 585 reviews)
There are heaps of bad reviews about HostGator, and yet the company continues to grow and house more clients.
This is what a famous name and stable financial backing can give you.
Still, as a prospective customer, you have to be wary when the negative feedback far exceeds the positive:
"One of the worst hosting experiences…"
"Worst experience with the support…"
"Customer service is very polite, but utterly useless…"
These are just a few of the negative cheap hosting reviews about HostGator in Trustpilot from last week alone.
To its credit, the company has a Customer Advocate on the review platforms, who, oddly enough, often admits HG's fault in the issues reported.
HostGator Plans and Pricing
Hatchling — from $2.75/mo
Baby — from $3.95/mo
Business — from $5.95/mo
HostGator can easily afford to tinker with its pricing. This is why new clients can often benefit from extremely low introductory prices and service discounts.
Starting off with a single website on HG's platform today means you have to prepare at least $2.75/mo or $3.95/mo if you're looking to host multiple projects. Both rates apply to the three-year contract.
As for extras, there are a bunch of features you can purchase additionally:
– Positive SSL certificate — $39.99/year
– SiteLock security — $23.88/year
– Office 365 email — $4.99/license
– CodeGuard daily backups — $23.95/year
– SEO tools — $35.40/year
HostGator Verdict
HostGator holds a place in our best cheap hosting list because of its reliability and long experience in web services. Even though the basic shared packages don't contain much, most of the essentials are there. This makes HG mostly suitable for personal and small business projects.
MOST SUITED FOR
Blog websites
Visit Website
One domain name included
24/7 application support
Restrict access to different areas of your account
Easy verification on Google My Business
Matt Heaton was one of the pioneers of the web hosting craze. He founded a couple of hosts in the late '90s, but 2003 is where he made his big move — Bluehost came to the spotlights.
A rapid expansion in the next few years put the company among the big names in the industry. This was enough for tech service conglomerate Endurance International Group (EIG) to see Bluehost as a good investment, and they acquired the host in 2011.
Along with 30+ other EIG subsidiaries, BH operates a massive 50,000 sq. feet infrastructure and provides cheap hosting services for 2+ million domain names.
| | |
| --- | --- |
| Pros | Cons |
| Top choice for WordPress projects | Steep renewals |
| Excellent uptime | Best rates apply to long-term accounts only |
| Isolated resources | Sub-par support |
Bluehost Data Center Locations
Bluehost Features
Bluehost tries to give shared clients more choices, introducing four deals that offer a suitable environment for both startups and SMBs. Given our tight budget, though, we can only afford the first one.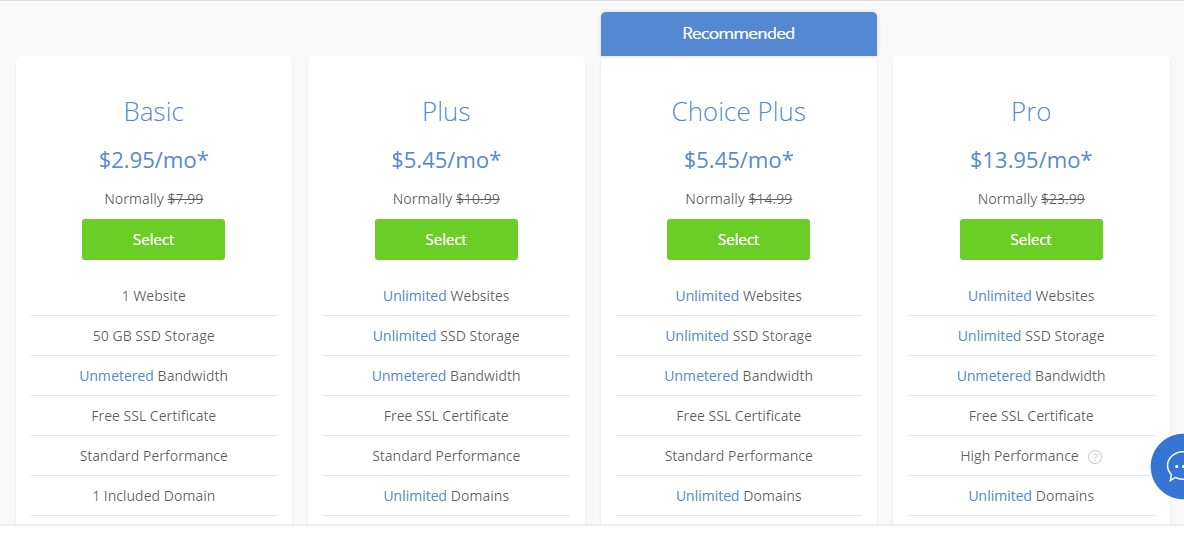 Bluehost's Basic plan gives you a sweet enough home for a single website — you got 50GB SSD space, unmetered bandwidth, free SSL, five parked domains, and 25 subdomains.
Here's a little-known secret — BH is one of the best providers for cheap blog hosting. The company was one of the first backers of the WordPress project and remained a trusted partner of the first-class CMS to this day.
Cloudflare is also a part of the deal. You can easily activate the CDN with a few clicks from your cPanel, optimizing the security and availability of your content.
If you have some coding knowledge, you will appreciate the easy SSH access with Bluehost. Connect to your console and modify your config files for the best performance.
Some of the other things that stand out include:
Isolated Resources
Cheap monthly hosting on shared servers comes with its fair share of limitations and risks. Hosts raise efficiency and revenue by cramming hundreds of users on one server, but from a client's perspective, that can only mean trouble.
Slow speeds.
Weakened security.
Crashes and downtimes.
The worst thing is — there is no way of knowing if your server is overcrowded before you make the jump.
With Bluehost's setup, all accounts are isolated and independent from each other. The configuration even lets you utilize more resources in times of need.
No more bad neighbors messing up with your property — BH makes sure you are all protected.
Scalability
Being able to secure the best cheap hosting is great, but future growth should always be in the back of your mind. After all, you are looking for more visitors or sales, right?
Virtual private servers and cloud services are the ones that typically offer resource scalability, but that doesn't mean the process is impossible on a shared account.
Bluehost lets you not only boost your account on-the-go, but also delivers enough upgrade options to prevent you from hitting the upper limits of your hosting deal.
Bluehost Support
Bluehost, just like HostGator and other EIG hosts, puts very little focus on its support services.
The provider makes sure you can find them easy enough — there is a toll-free and international phone line, live chat, and email options.
Once you get to an operator, though, the enthusiasm quickly fades.
BlueHost representatives are rarely helpful, plus they have to multitask by supporting all EIG brands simultaneously. This often results in slow response times, unhelpful links, and miscalculated upselling attempts.
We've also tried the email support, but the 1.5 days it took to get a reply was less than impressive.
Bluehost Reviews
Trustpilot score: 1.4 / 5 (from 326 reviews)
HostAdvice score: 4.5 / 10 (from 156 reviews)
WebHostingGeeks score: 2.4 / 5 (from 792 reviews)
When you have been among the best website hosts for years and suddenly start getting heaps of bad reviews, it means something has gone terribly wrong.
In Bluehost's case, it was EIG.
So many customers are reporting problems with the tech, billing, and customer service, that it makes you wonder how come this company is still getting new business.
Funny thing is, there is a Bluehost rep that replies to positive comments from time to time, but never addresses the negative ones. Logic dictates it should be the other way around, but who are we to judge…
Bluehost Plans and Pricing
Basic — from $2.95/mo
Plus — from $5.45/mo
Choice Plus — from $5.45/mo
Pro — from $13.95/mo
Bluehost offers one of the cheapest blog hosting deals, especially if you are a new client. The Basic plan starts at just $2.95/mo, but the best-value option is currently the Choice Plus plan, discounted as low as $5.45/mo.
Both rates are available with a three-year contract only.
When you sign up for an account with Bluehost, you can choose a few extras — CodeGuard Basic ($2.99/mo), SEO tools ($1.99/mo), and SiteLock Security ($2.08/mo).
All in all reasonable pricing, but we would've like to see more basic features included for free with the BH deals.
BlueHost Verdict
BlueHost offers cheap reliable hosting with one of the best uptimes among all tested companies — 99.99%. The EIG host lacks adequate support assistance but tries to compensate with solid hardware and fail-safe setup.
You might want to check this provider out if you're looking to house a WordPress-based project.
All of the above companies hold some great advantages and offer solutions that can support a growing business. But these are certainly not all of the best names. With thousands of existing hosting providers and more spawning each day, we are sure to miss a lot of worthy contenders.
Here are a few that almost made our cut… almost.
Notable Cheap Hosting Mentions
SG is an industry-leading provider that utilizes the latest technologies to bring us fast-performing servers in a highly secured environment.
SiteGround is well known among WordPress fans, actively working with the CMS devs, organizing WP events, and taking part in the ever-growing community. The company reps have the reputation of one most helpful support crews and rightfully so.
The only reason SiteGround failed to secure a spot in our cheap web hosting list, is their standard renewal price — priced at $11.95/mo it goes over our max budget just slightly.
GoDaddy is the father of them all. Founded way back in 1997, GD is now the biggest domain registrar and hosting provider in the world. We are talking about a company with over 17 million clients and 75 million registered domains. With such massive experience and scope of operations, you can be sure this provider isn't going anywhere soon.
But how can any list of best hosts go without GoDaddy? The industry giant fell just short of our five-dollar introductory price limit — the GD Economy package comes at $5.99/mo.
Another company with decades of experience, 1&1 has managed to keep its web hosting prices very welcoming to this day. The company recently merged with cloud experts ProfitBricks and rebranded itself as 1&1 IONOS. You can always trust this provider to deliver robust solutions in tune with the latest technology trends.
1&1's shaky reputation and recent server outages tipped the scales too much, and the German host just missed out on the top ranks.
A2 Hosting is putting its super-fast servers and guru support team as one of its most significant competitive advantages. The company offers a full range of solutions — from shared and WordPress hosting to VPS and dedicated servers, plus some lucrative affiliate and reseller programs.
By the way, if you are into selling your own hosting as well – check out our extensive reseller host reviews.
A2's hosting services are worth checking out, and if our list was bigger, they would've probably made it. But many similarities with other hosts like GreenGeeks and HostPapa prevented the company from making the final cut… for now.
JustHost was one of EIG's many acquisitions in the hosting world. The company focuses on shared services alone, trying to accommodate and grow small to mid-sized businesses.
EIG hosts often rely on cheap hosting prices to distract the attention of their bad rep, but JustHost's reviews were particularly alarming. The company doesn't appear very trustworthy, with a staggering 88% negative comments on Trustpilot. The last review that wasn't rated Bad dated back to September 2018. Plus, we already got two major EIG contenders in the likes of HostGator and Bluehost.
By now, you've probably noticed a few common denominators that we always consider when checking out a host — the essentials you should never overlook when you're searching for cheap, but reliable hosting.
Just in case you missed it, let's go over them one more time.
How to Choose the Best Cheap Hosting Provider
As our main goal here is to compare budget-friendly hosts only, we can safely take price out of the equation. That leaves us with:
Hardware — your smooth online experience starts with a great web server. It is your website's home and center of operations. You can make the fastest and most functional site out there, but if your server is not up to par, your efforts will be largely wasteful.
Even though many hosts offer standard servers that are similar in capability, some go way beyond the basic setup and optimize the environment to perfection. Make sure to also check speed and uptime stats before committing long-term.
Features — the salt and pepper of your hosting platform. Clients have very different needs, so hosts have to react with applicable solutions. It's good to look for features you can directly make use of, either now or in the foreseeable future.
As you would expect, "low-cost web hosting" and "lots of features" don't often go together, but there are plenty of providers that would give you a good bang for your buck with free extras like a domain name, site builder, CDN, SSL certificate, and more.
Security — one of the biggest problems with shared hosting is how to keep everyone safe. You have hundreds of clients on one server, each with its own setup and security vulnerabilities. The top providers find different ways to tackle cyber threats — from an isolated account environment to automated software updates or advanced malware and DDoS protection.
Check with your potential provider about the security measures they have in place, and if they have any tips on how to secure your account and website.
Support — they say you'll never need help if you are with a quality host, but let's be honest, the majority of clients often seek assistance for more than server issues. That's when affordable hosts have to shine. People don't expect much from a low-cost provider, but some are fully prepared to go the extra mile for every client, regardless of their hosting investment.
A sales chat (if available) is a great place to start and test the scope of expertise of your host's support. If you can get a hold of a technical person — even better. Ask as many questions as you can think of until you feel confident that assistance will be there when needed.
Reviews — naturally, you should trust your gut when choosing a host for your new business, but some outside opinions couldn't hurt. And what could be better than the reviews of existing clients of the said company?
There are many big aggregators like TrustPilot, where you can find verified reviews about hosting providers (or any businesses, for that matter). Go through recent stories and see what's the overall state of the company and what surprises might pop around the corner.
If you do your homework and your research is meticulous enough — you are sure to find the best cheap hosting to start a business.
Still, keep in mind that low prices can often hide some unexpected setbacks. It's always good to know when you can safely go on a minimal budget and when it's time to invest more.
Advantages and Disadvantages of Cheap Hosting
Even though there are some obvious benefits to it, It's not all fun and games when it comes to cheap hosting. Let's see both sides of the coin and outline the main pros and cons of cheap server hosting.
Advantages
Cost-effective — a great way to go online or start a business with minimum investments.
Simplicity — no previous experience and coding knowledge needed to build your first website.
Round-the-clock support — it's good to have a backup when needed, The best providers can assist every client equally, no matter if they pay $2/mo or $200/mo.
Disadvantages
Less security — shared hosting, as affordable as it can be, is not very secure. Keeping your own account safe might not be good enough.
Fewer resources — the cheapest hosting sites often come with severe limitations — number of websites, storage space, inodes, email accounts — many things that might hinder your growth.
Limited performance — as fast as your server might be, sharing resources with hundreds of other clients means you're not getting much.
To summarize things, you can safely choose a cheap host if you are launching a personal project or just starting your new online business. But if your website is already growing and you need to more than the ordinary setup — maybe it's time to look for a more premium solution.
Conclusion
There's no shame in trying to find hosting services at the lowest possible cost. And you shouldn't settle with a sub-par service just because you're not paying heaps to your provider.
There are plenty of hosts out there that will happily take you on board and show you that quality does not always come with a hefty cost.
At this point, we should be well-versed in the art of budget-friendly hosting and answer the following:
How can I host my own website?
What are the pros and cons of opting for cheap web hosting?
Which are the best affordable providers on the market?
How to test and analyze your potential hosting picks?
See? Building a website for the first time shouldn't be hard nor costly. As long as you know your needs, you can find plenty of good providers to satisfy them…on a budget.
What about you — who is your #1?
FAQ
Does free web hosting exist?
Even a couple of dollars per month might be too much if you're looking to put up a simple personal website and don't expect more than a few friends to visit it. This is why you have free hosting.
A few things to keep in mind here — no-cost deals often include severe limitations, so they're mostly suitable for very small and non-commercial projects. While the majority of free providers will give you paid options for upgrade, those solutions often lack the freedom and capabilities of a premium host.
Still, if you are looking to start a website with zero investment, you can try one among AwardSpace, InfinityFree, and 000webhost.
Where can I buy a cheap domain name?
It's good to have a distinction between hosting provider and domain registrar. You can register a domain name with almost every host, but that doesn't make them an accredited registrar.
Companies like GoDaddy and NameCheap operate in both fields and can afford to speculate with prices a bit more. Such registrars often run promotions on domain names, so depending on your desired extension, you can secure a pretty sweet deal.
Which is the cheapest WordPress hosting?
The term WordPress hosting has been used rather loosely by many hosting providers. Slapping the word "WordPress" on the shared packages does not make them WP-optimized. So don't just look at the price tag — figure out if your hosting pick is doing anything specific to power up the most popular CMS.
Bluehost and SiteGround are two companies, well-known for their close ties with the WordPress project. Both are official partners of the CMS and have been helping the software and community push forward for years.
What is a good price for web hosting?
Prices for web hosting services vary greatly. Depending on the server setup, support, and pricing strategies, you can find anything between $0/mo to $50-$60/mo.
That said, the best cheap hosting providers can combine impressive performance and helpful support without drilling deep into your pockets. Such hosts prove that you can grow and be successful without having to raise your prices.
Judging by their offers, anything between $2/mo and $7-8/mo is a reasonable rate to start, and you can easily keep renewals below the $15/mo mark. Still, should your project require a specific setup or feature, do not hesitate to spend a little more but ensure its optimal performance.