Affiliate Disclosure
We aim to provide you with the best tech news and reviews. To sustain our site, we may earn a commission when you buy from our affiliate links. Read our full Affiliate Disclosure.
Anonymous searches: Yes
Basic information available: Yes
Contact information available: Yes
Criminal records and background checks: Yes
Free to use: No
works on:
Chrome
Firefox
Android
Apple
Finding basic information and performing background checks for just about anyone
STRENGTHS
Easy to use
Affordable
Comprehensive screening results
Graphical reports
WEAKNESSES
Occasional incomplete reports
Confusing pricing policy
PRICING PLANS:
People Search
$24.86 per month
Reverse Phone Lookup
$31.95 every month
Criminal Records Search
$24.86 per month
Background Check
$24.86 per month
Public Records Search
$24.86 per month
Reverse Address Lookup
$29.78 per month
Our Intelius review will provide you with pertinent info to get the most out of its services. So, whether you want to reconnect with an old friend or perform a background check on a potential date, we're certain this article can help you!
Keep reading to learn more about Intelius's services and features!
What Is Intelius?
Intelius is a popular public records business founded in 2003 and headquartered in Seattle, Washington. It's proven to be a reliable service by helping Americans obtain accurate information while performing background checks for nearly 20 years.
Moreover, the company's services offer insight into more than 20 billion public records. You can search for just about anything, such as basic information, phone numbers, addresses, criminal records, and even extensive background data.
All you need to do is simply input a person of interest's name (and city and state, if you know it). Intelius will then browse through millions of public records and instantly provide you with a comprehensive report.
Features and Services
In this next section, we'll discuss the features and services that the Intelius people search engine offers.
Reverse Phone Lookup
If you've ever missed or rejected a call from an unfamiliar number and wanted to know more detail about it, this feature can help. Simply input the phone number, and Intelius will do the rest.
The report will include the personal or business name, age, location, possible relatives, phone carrier, and more.
People Search
The people search service does precisely what its name suggests — it provides information about people based solely on their name and location.
The searches are completely anonymous, and when data is available, you can learn the person's name, age, phone number, past and present addresses, relatives, aliases, and more.
Background Check
Intelius is one of the best background check platforms on the internet. Its service is excellent for anyone looking for more information about someone. For example, employers often use this service to screen job candidates.
When you run a background check with Intelius, you'll get a report with useful data such as criminal records, marriage and divorce history, lawsuits, bankruptcies, and more.
Public Records Search
This Intelius service can provide a full report of valuable data on almost anyone. Furthermore, the info it returns is one of, if not the most comprehensive Intelius has to offer, as it includes basic information, marriage, and divorce status, and even social media profiles.
Criminal Records Search
If you're wondering whether someone has a criminal record, it's actually quite simple to find out. With this feature, you can easily conduct a quick screening. The report will show the types of felonies, court names, the outcome of the charges, and more.
Reverse Address Lookup
Info we attained during our Intelius review reveals that the platform can also help those looking for details about a who lives at a specific address. The data in this report includes location details, ownership history, possible neighbors and past residents, census information, and more.
Pricing and Plans
Now that you know a little about the features and services let's talk about the prices. Intelius's price plans can be quite confusing. However, we'll do our best to break them down so that you can understand the costs involved.
People Search
With this feature, you can find all the basic information about a person, including their contact information. The People Search feature on the platform offers two price plans:
Most Popular — $24.86 per month
Power User — $42.25 every two months (or $21.13/month)
Reverse Phone Lookup
With the Reverse Phone Lookup service, you can find information on someone or a business solely based on their phone number. The Intelius cost for this is as follows:
Single Report — $0.95 (one-time)
Monthly Subscription — $31.95 every month
Criminal Records Search
This service offers an easy way to check if someone has a  criminal record. The tier comes in two billing cycles standard for Intelius:
Most Popular — $24.86 per month
Power User — $42.25 every two months (or $21.13/month)
Background Check
Background Check is another one of Intelius's main features. You can get a thorough report with data such as marriage and divorce history, criminal records, and many other details. The Intelius Background Check cost is also divided into two separate packages:
Most Popular — $24.86 per month
Power User — $42.25 every two months (or $21.13/month)
Public Records Search
Public records can provide valuable information about nearly anyone in America. Intelius takes this service very seriously and offers two billing tiers:
Most Popular — $24.86 per month
Power User — $42.25 every two months (or $21.13/month)
Reverse Address Lookup
The Reverse Address Lookup service offers information on property owners, building residents, or business owners. The prices are as follows:
Special 7-Day Intelius free trial (with Unlimited Background Reports) — $0.95
Monthly Subscription — $29.78 per month
Customer Support
While using this platform, chances are some questions or issues will arise. Some Intelius reviews indicate that customer support is both professional and helpful. Although there were also some complaints, we didn't experience any issues.
User testimonials are vital to Intelius, as according to online review statistics, these are often up to 12 times more trusted than product descriptions.
If you need to contact their support team, you can do so via phone at (888) 245-1655 between 7 AM and 5 PM PT, Monday through Friday. Alternatively, you can also send them an email at [email protected].
Ease of Use
We found many benefits to using Intelius as a people-searching service. For example, we liked how the interface was structured. We were able to easily navigate the platform as everything is beginner-friendly.
While there are some examples of the platform providing outdated information, we didn't come across this problem. In fact, the data we found was up-to-date and very accurate — from basic information, contact information, criminal records, and even down to social media profiles.
As we already mentioned, our biggest issue with the platform is that Intelius price plans aren't openly displayed on a dedicated site page. Unfortunately, this can scare away around 61% of customers curious about that info.
Instead, the prices vary and are often unclear. For example, you have to wait on the checkout page for a bit before a popup appears, informing you of any special offers regarding the service you've chosen.
In addition, it would also be much more comfortable if there were fewer unnecessary warnings on the loading screen during almost every step of the data collection process.
These warnings are generic and are displayed to everyone, and we think that aside from the ones asking you to verify certain info, they're overkill.
All in all, despite the minor flaws we mentioned, we enjoyed using the Intelius background check app. It's a great solution, especially if you don't need overly detailed reports. The search can take a while, depending on which type of reports you're after, but it's worth the wait in the end.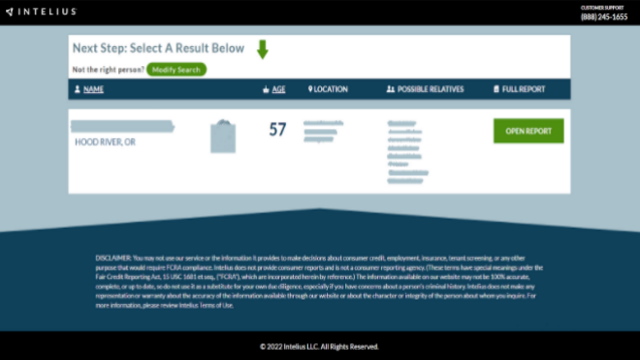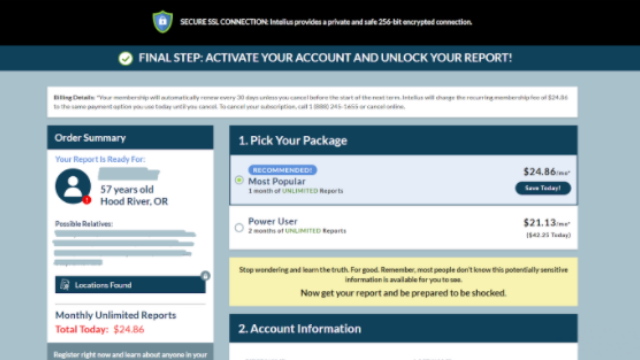 Intelius Alternatives
Almost every product on the market has alternatives, no matter how good it is. Since Intelius is no exception to this rule, we'll use the section below to look at some of its most popular alternatives and see how it performs compared to them.
Intelius vs. TruthFinder
When it comes to using a public search engine, TruthFinder is often considered the staple in the industry. But, at their core, the interfaces and features of both companies are very similar.
Plus, both platforms perform very well and offer accurate and up-to-date information. However, even though it's a bit more expensive, TruthFinder has a more upfront pricing system than Intelius.
Overall, if you're looking for a one-time report, we think Intelius would be a better choice for you, as its catalog does recognize single reports as a separate entity.
Intelius vs. BeenVerified
BeenVerified is another contender among the best people search websites on the market. It's a platform that offers extensive reports, and it's a very popular direct alternative to Intelius.
When compared to Intelius, BeenVerified offers very similar information, with the addition of Unclaimed Money and Vehicle Lookup features. Aside from that, BeenVerified is usually meant for casual users, while Intelius is more for those familiar with people searching.
In terms of pricing, BeenVerified provides cheaper monthly plans, which also puts it at a slight advantage over Intelius.
Intelius vs. Spokeo
As a company with more industry experience, Spokeo has been featured in media houses such as CNBC, Forbes, and The New York Times.
Both platforms provide similar services that let you access public records to find whatever information you need about anyone — from basic data to social media and criminal records.
However, Spokeo's strength lies in compiling visually appealing reports and having a more approachable UI overall. However, the best way to decide which would be a better option for you is to look at Intelius reviews and compare them to Spokeo ones.
Verdict
All in all, we enjoyed using Intelius! Although we think the platform could use a little work, it's a reliable service that provides accurate information. So, whether you're looking for a long-lost pal or are curious about a new neighbor, this public search engine can help.
FAQ
Is Intelius free and legit?
While Intelius is a legitimate service, it, unfortunately, isn't free. Their service relies on accessing public records, which usually comes at a cost. Because of this, Intelius needs to charge for its services.
How much does Intelius cost?
Intelius pricing plans range from around $21 to $25 per month. They also offer a one-time reverse phone lookup for $0.95. Unfortunately, the company's plans can be a bit confusing and even misleading.
Can you cancel your Intelius subscription?
Yes, If you no longer want or need to use Intelius, you can cancel the subscription through your online account settings or call (888) 245-1655 between 7 AM and 7 PM Pacific Time.
Does Intelius notify the other person?
As mentioned at the beginning of our Intelius review, their services are completely anonymous. Therefore, whoever you made inquiries about won't be notified that you searched for them.