Published: February 3, 2022
Affiliate Disclosure
We aim to provide you with the best tech news and reviews. To sustain our site, we may earn a commission when you buy from our affiliate links. Read our full Affiliate Disclosure.
Fully customizable: Yes
Cloud-based saving: Yes
Free templates: Over 10,000
Free tier available: Yes
Fonts & icons available: Yes
File formats: PNG and SVG
works on:
Windows
Mac OS
Android
Chrome
Freelancers and small business owners
STRENGTHS
Free tier available
Easy to use
Fully customizable
10,000+ available templates
WEAKNESSES
The free plan is limited
The website and the app are independent
A professional logo is a visual element that can help your specific product or service stand out in the sea of other brands. Think Nike's swoosh or Macdonald's golden arches!
There are many ways to create a logo for your brand, and while freelancing platforms are a pretty decent option, we would like to propose an even better one with the following DesignEvo review. 
If this sparked your attention, keep reading for a unique opportunity!
What is DesignEvo?
DesignEvo (developed by PearlMountain) is a free online tool for creating professional-looking logos. With over 10,000 free templates to choose from, their service has everything you need to bring your branding ideas to life within minutes. 
Whether you're a freelancer starting out or a small business owner creating your first website, everything starts with a good logo. And this platform can help you make one fast!
DesignEvo offers more than 30 different categories of logo templates, depending on your personal needs. These include Art & Entertainment, Business & Consulting, Fashion & Beauty, Finance & Insurance, Music, and Science & Technology — just to name a few.
Additionally, the platform offers you plenty of tips to help make a logo that's sure to leave a lasting impression on your potential customers.
Features and Services
With our brief overview out of the way, we'll now focus on the individual features and services DesignEvo offers. So, grab a notepad and keep reading! 
Logo colors:

This feature lets you learn more about each color combination, further helping you choose suitable schemes for your logo and the overall vibe of the brand itself.
Logo fonts:

This section gives you information about the 100+ free fonts

DesignEvo

currently offers and helps you choose the best one that fits your brand's aesthetic.
The platform currently offers modern fonts, handwriting fonts, and word art, meeting every possible design demand you may have.
Logo backgrounds:

Whether your design needs a transparent background or, perhaps, some golden gradient, this feature has what you need to build the

best quality logo

for your brand.
The extensive catalog of transparent and highly customizable solid and gradient backgrounds is available to help you unleash your imagination and bring your ideas to life. 
Logo icons:

This feature comes equipped with a rich library of icons (all in SVG format), along with an online editor with various options to modify your design. You can resize it, flip it, change its color and transparency with just a few clicks.
Logo editor:

Whether you're a novice or an experienced designer looking for a shortcut, this platform's logo editor offers excellent flexibility in customizing your work.
Managing the layout and undoing/redoing any of the progress you've made has never been easier. Plus, you can preview your work in multiple scenarios (i.e., website, business card, or T-shirt) to ensure you'll get the final product you were hoping for.
Logo templates:

This feature provides you with a great starting point. It's an extensive library of

ready-made logo

templates created by professional graphic designers. The templates are made in different styles, sorted into categories, and are easily searchable.
Plus, DesignEvo lets you mark your favorites, so you can just flip through them later on and narrow your options further.
Save to Cloud:

It allows you to easily save your logo online, revisit it later on and re-edit it without any limitations whatsoever.
Download logos:

Finally, after creating and editing your

high-definition logo

to perfection, it's time to save it. This logo-maker allows you to download the graphics using PNG, JPG, and vector formats for different purposes.
Moreover, exporting your work is effortless, and you can also choose between low resolution, which may be acceptable in some cases, or a high-resolution logo, for large format prints.
Plans and Pricing
Now that we've gone through all the features provided by this web-based logo maker, let's talk about DesignEvo's pricing. There are three different plans available — Free, Basic, and Plus.
Free Plan
As the name suggests, this plan won't cost you a thing. And as one might expect, since it's free, it has some limitations. For instance, there's no problem downloading your logo as a low-resolution file, but the high-resolution logo option is limited to 300px.
Furthermore, you can't download vector and font files with the DesignEvo free logo maker, and, sadly, you won't get any copyright ownership of the designs you make using it. 
Nonetheless, if you can work with these limitations, you can still get a professional-looking logo  —  for free!
Basic Plan
Compared to the free option, this one provides you with higher resolution, print-ready JPG and PNG files. It also comes with unlimited editing and lifetime support. 
However, the Basic plan requires a one-time payment of $24.99. You don't need to give credit with this tier, but you still won't be protected by copyright.
That's because other designers will likely use the same template as you and put their own twist on it. So, while you own your high-definition logo and don't need to give anyone any credit for it, the template itself isn't exclusive to you.
Plus Plan
The plus plan gives you unlimited access to all features for a one-time payment of $49.99. Although the free package offers plenty of functionalities to help you create an ideal logo, you get the full experience once you purchase this plan.
This plan unlocks just about any previously mentioned features without any limitations. It grants you many perks regarding file formats and resolutions. And yes, with this plan, you're also getting full copyright ownership over whatever design you create.
Customer Support
As previously mentioned, DesignEvo offers lifetime support for their Basic and Plus plans. This feature has you covered for any type of inquiry you may have, as it provides an extensive FAQ page, a contact form, and even a separate section for inspiration and design ideas.
In case you don't find what you're looking for in the FAQ section, reaching their customer support team through email is your best bet.
Although we spotted a couple of mixed DesignEvo reviews regarding delays in customer support's replies, we had no trouble receiving help. In fact, we found their service to be both professional and helpful.
Ease of Use
After discussing the features and pricing, we'll share our overall personal experience with the platform.
Was the DesignEvo logo maker easy to use? Yes, we purchased the Plus plan and spent some time getting used to it and exploring some of the templates in their catalog. 
Every category had dozens of different templates to choose from, but we decided to try something a bit more challenging and less constricting. So, we tried recreating our current logo using only their online editor. As you can see, the result was pretty spot on!
Overall, our experience with DesignEvo was very positive. It was easy to navigate through the sections, and the colors and backgrounds were effortless to incorporate into our design.
The starting gradient options are limited, but it's easy to customize your own later. There are plenty of fonts to choose from and options to add shadows and outer glow to your text.
The only few issues we experienced with DesignEvo dealt with layers and colors. It took a few clicks to bring the object to the front or send it backward, which kind of disrupted the otherwise seamless design flow.
As for the colors, the DesignEvo editor doesn't support using multiple fill colors on one object, nor does it have any brush/paint bucket tool that would make the process of using various colors on one surface easier.
However, that's where our issues stopped. Ultimately, the pros definitely outweigh the cons on the user experience end, and it's a really intuitive platform for anyone, regardless of your experience level.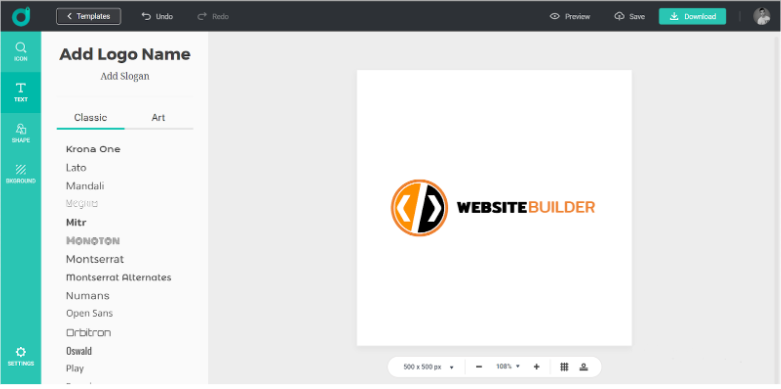 Alternatives to DesignEvo
Every product on the market has its competitors. These alternative options will likely differ in price and features, so it's essential to find that perfect balance between performance and affordability when making a choice.
In the next section, we'll be pitting the DesignEvo free logo maker up against its current contenders on the market to see how well it stands up to the competition.
DesignEvo vs. Logo Maker
Logo Maker is currently one of the leading software solutions for creating logos online. Millions of businesses around the world use it. It has many templates and an editor to modify them to suit your needs, much like DesignEvo.
Logo Maker reviews available online are pretty good overall. The platform is straightforward, and it's reasonably simple to adapt your designs to different color palettes.
However, although it's possible to order merchandise with this service, many customers have complained about shipping problems. Therefore, just using their online logo maker might be the safest bet.
So, just how did the two compare? In our opinion, the DesignEvo outshined Logo Maker. The platform is sleeker, and the templates are much more customizable. Plus, bringing your ideas to life is a breeze with all the icon choices, text settings, shapes, and backgrounds.
DesignEvo vs. Graphicsprings
Graphicsprings is another relatively popular name in the logo design market. It may not be as trendy as some, but it's a decent option for a quick logo.
However, there's a specific reason that we said "quick," as this platform is quite limited! Basically, you can input the name of your business and select an image. And that's about it — you really can't modify much else.
Furthermore, reviews available online are pretty mixed. Although some say that the platform is useful, many cite various mild-to-severe issues.
Needless to say, in our opinion, DesignEvo is the better option. You get far more freedom regarding customization, and the end product closely follows the WYSIWYG standard, which is crucial in graphic design, especially if your end goal is print.
DesignEvo vs. Canva
Canva is another celebrity in the design community. It's not exclusively a logo maker, as you can create other designs such as book covers, movie posters, or even make a professional-looking CV.
Although it's a terrific graphic design platform, there are some disadvantages of Canva when using it strictly as a logo maker.
Some of its features are pretty similar to DesignEvo's. For example, you get an extensive library of graphics and templates to choose from, but with a slight catch — not all templates are free to use. There are many more Pro (paid) graphics than free ones.
The designs also tend to become repetitive after some time, no matter what combinations you come up with because the platform itself offers little vector-editing freedom. The app version also has way fewer features compared to the online/desktop version.
In the end, we think Canva is a practical graphic design platform. But if your goal is to make a logo, DesignEvo is the way to go.
Verdict
Now that we've reached the end of our DesignEvo review, we can honestly say that we enjoyed working with the platform. The design process was smooth and intuitive, and it offers a compelling and extensive library of templates to speed up the creative process.
So, is it worth purchasing either of the premium plans? We definitely think so! Plus, it's suitable for all experience levels. Therefore, whether you're a novice or a seasoned pro, you can quickly and efficiently make a professional logo.
Happy creating!
FAQ
Is Evo legit?
Yes, DesignEvo is most undoubtedly legitimate. It's a top-quality online logo maker that basically helps you develop your brand in a matter of minutes. The sheer amount of positive DesignEvo reviews online only further solidifies this claim.
Plus, most experts agree that having a clever, professionally made logo can make or break a brand.
Is DesignEvo free?
DesignEvo is a freemium online service. It does offer a free plan, although it is pretty limited compared to its two paid plans.
How can I cancel my subscription?
According to our DesignEvo review, its pricing plans are one-time charges for your current project. You don't need to cancel anything, as you won't be charged again unless you decide to start a completely different design project.