Colorcinch Review
Colorcinch Review
Published: March 28, 2022
Affiliate Disclosure
We aim to provide you with the best tech news and reviews. To sustain our site, we may earn a commission when you buy from our affiliate links. Read our full Affiliate Disclosure.
Free graphics and templates: Yes
Available offline: Yes
Multiple layer support: Yes
Filters available: Yes
Format converter included: Yes
Essential editing tools: Yes
works on:
Windows
Mac OS
Linux
Chrome
STRENGTHS
An intuitive interface
No signup required
Extensive stock media library
Available online and offline
WEAKNESSES
Limited features compared to other photo editors
PRICING PLANS:
Colorcinch Plus
$3.99/month
Digital photo editing is a highly useful and lucrative skill, and Photoshop has been one of the leading graphics software companies for many years. However, numerous online solutions have similar functions but don't require downloads or licenses.
Therefore, we've evaluated and tested one of the newer web-based photo editors to present you with our comprehensive Colorcinch review. 
Keep scrolling to find out if Colorcinch is right for you!
What is Colorcinch?
Colorcinch, formerly known as Cartoonize, was founded in 2019. It's a powerful web-based editing program with the primary focus of making the process simple while still yielding stunning results. 
This program offers basic editing, masks, overlays, effects, filters, text, vectors, and drawings. Moreover, unlike editing software that requires downloading, Colorcinch can be accessed directly from your web browser.
Features and Services
Now that you know what this company is and what it can do, let's take a more detailed look at some of Colorcinch's main features.
Essential Photo Editing Tools
This feature provides all the essential editing tools that you'd expect, including resizing, cropping, freehand drawing, color settings, sharpness, text editing, and more.
Plus, a Photo layer editor allows you to add multiple layers and organize them using its unique intelligent layers panel. Although the edit controls are pretty basic, they're easy to use and offer an excellent quick touch-up for those in a rush.
Effects, Filters, and Overlays
Effects, filters, and overlays are the main features that set Colorcinch apart from its competition. Moreover, since it's primarily a platform used to cartoonize images, its filters are AI-powered and seamless.
Cartoonizer is a powerful effect. If you decide to use it, you can rest assured your pictures will look like they just popped out of a comic book. Aside from Cartoonizer, Colorcinch also offers painting, sketching, and digital art effects.
Filters can give your pictures extra dimension by tweaking specific settings to accentuate certain hues or simply by turning them into vintage photos. At the same time, overlays can add rain, snowfall, or specks of light.
Stock Libraries and Collections
Colorcinch photo editor is a unique solution that doesn't just let you edit your photos. It also provides you with an extensive library of stock images to choose from.
Colorcinch's collection of stock photos is pervasive, with over 2.5 million options available for personal and commercial use. The library of vectors is also robust, with over 50,000 hand-picked graphics and icons available.
Additional Features
Along with the primary features mentioned above, Colorcinch also offers an additional set of features. Most of which deal with the editor itself to further customize your experience.
This cartoon photo converter allows you to expand the size of the editing window and work offline, using the PWA app for when you're on the go and away from your desk.
Each of the filters, effects, and overlays comes equipped with an opacity modifier to make your picture look as natural or as avant-garde as you'd like.
The dynamic color picker and custom color overlays can help change the atmosphere of your photo. Adding shadow overlays can make the picture more somber or eerie, while the dust particles and light effects add vibrance and comfort.
Plus, you can add filters to your favorites list, undo and redo any changes, and leave the tedious pixel-searching to the built-in AI. Colorcinch photo editor also offers you a way to suggest a feature, which really makes it stand out from other available platforms.
Plans and Pricing
Perhaps at this point of our review, you're interested in using Colorcinch but are curious about how much it will cost you? Continue reading to find out just how affordable this platform is!
Colorcinch Basic — Free
If you decide on the Basic plan, you should know that the free version only gives you access to the essential features and effects. However, you can use it to get familiar with the program and certainly get some creative work done.
Colorcinch Plus — $3.99/month (billed annually) or $5.99/month (billed monthly)
Choosing to purchase the Plus plan for as little as a few dollars per month will get you access to all the editing tools and their entire library of stock photos, vectors, and icons.
Furthermore, most Colorcinch reviews claim that it's not only easy-to-use but extremely affordable compared to other industry staples such as Adobe.
Customer Support
The Support page is well-equipped with answers to various frequently asked questions. You'll also find an archive of helpful Colorcinch tips, as well as tutorials to get you started.
Plus, if you have trouble finding help using the options above, you can contact the Support team via their online form. From our experience and according to other Colorcinch reviews, the team is very professional, helpful, and timely when resolving issues.
However, our one small suggestion would be for the platform to implement a live chat option for those who need immediate assistance since the average response time for live chats is only two minutes.
Ease of Use
Now that you're more familiar with Colorcinch, we'll use this section to tell you more about our own experience with the platform.
Generally, we found the homepage straightforward to navigate. All of the necessary buttons to get started are properly accentuated so that anyone can find their way to the editor in no time.
The editor is also extremely easy to use, with all the settings put on a clear display on the left side of the interface. Every option is immediately available under its specific category, and each tab on the far left shows the appropriate fine settings.
Choosing the proper effects and filters is as easy as clicking on the corresponding icon. The only slight downside is that the filters are numbered and don't have descriptive names. However, the thumbnail provides a pretty decent preview of the effect.
Like every great web browser image editing software, Colorcinch offers an undo/redo tool that allowed us to experiment without concern for making mistakes. We were also able to save our project and go back to it later, thanks to Colorcinch's cloud, where all the unfinished projects are stored.
Considering that over 90% of businesses use social media to stay relevant and gain followers, Colorcinch can help you get your photos Instagram and Facebook-ready in no time.
It truly lives up to its reputation of being among the best photo-to-painting and cartoonizer editors on the market. Although there are some limitations, Colorcinch and its features are quite satisfactory and perfect for beginners.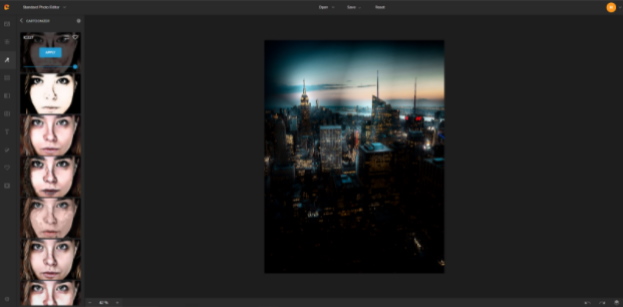 Colorcinch Alternatives
Despite it being a great solution overall, there are alternatives. In this section, we'll look at a few of Colorcinch's competitors to see how well it performs in comparison.
Colorcinch vs. Canva
Canva is a well-known photo editor with other handy features for graphic design, illustration, and creating CVs.
Canva's main advantage is its support for many different formats — you can equally edit images, documents, and videos. It offers templates for many document formats — from book covers to Facebook ad campaigns.
Pricewise, in terms of paid plans, Colorcinch offers a more affordable solution than Canva. However, if you need more complex editing or formatting, Canva could be what you're looking for.
Overall, these are both good photo editing programs. As with most choices, it will depend on your needs and expectations.
Colorcinch vs. Picmonkey Photo Editor
Picmonkey is another beginner-friendly photo editor available as an in-browser tool. It's also a good solution with an intuitive interface.
Both platforms pride themselves on being easy to use and exceptionally great for less complex editing processes. Picmonkey is, kind of like Canva, also suitable for creating and editing social media content and ad campaigns.
However, it's the price point that could be a deal-breaker for some. For example, when comparing Colorcinch and Picmonkey reviews, the latter tend to mention the price as one of the main cons.
Colorcinch vs. Pixlr
As one of the oldest online photo editors, dating back to 2008, Pixlr is still one of the best and the most popular cloud-based editors on the internet.
Pixlr is a direct alternative to photoshop. There are two versions available—Pixlr X and Pixlr E—the latter is intended for professional use. Moreover, it offers an extensive list of tools similar to Photoshop.
The price plans for Pixlr are pretty affordable compared to licenses such as those for Adobe Photoshop and Lightroom.
Ultimately, choosing the right option between these two will come down to your personal preference. If you need some quick and simple fine-tuning for your photos, Colorcinch is a better option, as Pixlr would be a bit of an overkill.
Verdict
All in all, Colorcinch is the leading photo to cartoon converter on the market. And although it may not be chock-full of features like Photoshop or Pixlr, it certainly does what it can do flawlessly.
Plus, It's simple, efficient, and perfect for helping beginners turn photos into stunning pieces of art.
FAQ
How good is Colorcinch?
From our experience with the platform, using Colorcinch is effortless, and you do a lot with a few simple settings. Tweaking exposure settings, combined with a good digital art effect and the proper color-correcting filter, for example, can help you create digital art within minutes.
Is Colorcinch free?
Yes, Colorcinch offers a free Basic plan that doesn't even require registration to the platform. However, to get the whole experience and access to all the features and effects, you'll need to invest in the Colorcinch Plus plan.
Can you download Colorcinch for mac for free?
According to our Colorcinch review, there is no need to download anything, as it's an entirely in-browser tool. Therefore, it will work for free on Mac, Windows, or Linux systems with the proper internet connection.