Affiliate Disclosure
We aim to provide you with the best tech news and reviews. To sustain our site, we may earn a commission when you buy from our affiliate links. Read our full Affiliate Disclosure.
Website templates available: Yes
Domain name registration: Yes
Built-in analytics tools: Yes
Free HTTPS available: Yes, automatically
E-commerce functionality available: Yes
Social media feed integration: Yes
works on:
Chrome
Firefox
Android
Apple
Budget-conscious new business owners
STRENGTHS
Easy to use
Good free plan
Free HTTPS
Visually-appealing responsive templates
WEAKNESSES
Fairly limited customizations
Some plans don't allow multi-page sites
If you're an entrepreneur or artist in need of a simple yet effective website to build an online presence, we have some good news!
Our Strikingly review below will explain everything you need to know about using this website builder. Moreover, we'll discuss both its pros and cons and compare it to a few alternatives.
So, keep scrolling to find out if Strikingly is right for you!
What is Strikingly?
Strikingly launched in 2012 and is a simple but powerful website builder. Its main mission is to provide its users with the tools and the power to "unleash their individuality."
By using its powerful editor, and visually appealing pre-made templates, you'll be able to begin building an online presence in around 30 minutes.
This website builder is ideal for new business owners and artists without previous web design experience watching their budget and those who want to quickly set up an eCommerce shop.
Features and Services
Below, we'll explain most of Strinkingly's key features. So, continue reading to learn if it's the correct solution for your website requirements!
Website Editor
One of the highlights of building a Strikingly website is its straightforward editor.
It provides modern, high-quality templates and allows you to modify their sections individually. You can click on any element and change it on the spot, including essential features.
E-commerce features
If you're a business owner, Strikingly can also help you sell your products online. It's as easy as adding their Simple Store and connecting with a prominent checkout service, like PayPal or Stripe.
In fact, this feature is perfectly optimized and capable of supporting the entire sales process. You can even add shipping, coupons, memberships, and more.
Domain Names
Like most website builders for artists or entrepreneurs, all of Strikingly's paid plans will provide you with a custom domain name. But please keep in mind that if you only use the free version it will be a Strikingly.com domain.
Alternatively, you could always employ the services of a quality domain registrar to create a costume name or use a pre-existing one.
Simple Store
The Strikingly website builder allows you to build an e-commerce store and start selling fast and seamlessly. You'll be able to implement all the essential functions an online store needs to work — including digital goods, coupons, shipping, and much more.
Simple Blog
You can also take advantage of Strikingly's fabulous blogging features. Blogs are exceptionally useful from a business standpoint, as blogging is the top lead generation tool for about 67% of marketers.
Analytics
Analytics tools are essential for accurately tracking your business ventures and quantifying them for later use. Fortunately, Strikingly offers built-in analytics tools and easy-to-read charts.
Sign Up and Contact Forms
Sign Up and Contact forms add an extra layer of connectedness with your visitors and customers. For example, they can provide a way to easily subscribe to any new services or send you constructive feedback.
Social Feed
This Strikingly website feature enables you to connect your social media pages to your site, making your feeds easily accessible to visitors and paying customers at all times.
Built-in HTTPS
Having your website run on HTTPS will boost your overall security, SEO, and help you gain the trust of your visitors. The developers of Strikingly are aware of this and therefore all websites are HTTPS.
Additional Features
And the features don't stop there!  Strikingly also offers media galleries, video backgrounds, sliders, custom color choices, password protection, and more.
Plans and Pricing
Now it's time to take a look at the Strikingly pricing plans. There are quite a few payment options. You can choose to pay monthly, yearly, or even a 5-year option.
Below, we'll discuss the cost of the one-year plan that will save you $48.00 from signing up with a package billed monthly.
Free Plan — $0.00/month
Compared to its competitors, Strikingly's Free tier provides some pretty terrific features. However, like most free plans, there are still some apparent limitations.
You'll get unlimited free sites, 5 GB of monthly bandwidth, and 500 MB of total storage per website. Plus, you can create a Simple Store with one product per site, invite collaborators, and get 24/7 support.
Limited — $8.00/month (billed annually)
This Strikingly price plan is highly recommended if you only need a quick one-page design and a custom domain name.
For just $8.00 a month, you'll get up to two websites with limited features, and you can publish as many sites as you like with free features. You'll also receive SSL for your free custom domain.
As far as the storage and bandwidth go, this plan offers 1 GB of storage per site and up to 50 GB in bandwidth. You'll be able to sell up to five products in your store with a 5% fee, and you'll get 24/7 customer support.
Pro — $16.00/month (billed annually)
The Pro plan offers you all of the features of the Limited plan and much more. For instance, you're allowed up to 3 sites, 20 GB of storage space per website, and unlimited bandwidth.
Moreover, you can sell up to 300 different products in your store, add product variations, pre-orders, shipping regions, and more. Additionally, this plan offers a lot of perks in terms of customizations, password protection, memberships, pop-ups, and product reviews.
VIP — $49.00/month (billed annually)
If you purchase the VIP Strikingly login you'll have all of the platform's features and services at your disposal. Including up to 5 websites and as much as 100 GB worth of storage memory per site.
Furthermore, you can sell unlimited products without any transaction fees and set up multiple membership tiers and multi-language support.
This plan also enables you to send out newsletters and grants you access to top-tier customer support and a dedicated account manager.
As a website owner, you'll also be able to use the Live Chat widget on your page, a customer favorite and known to boost total conversions by as much as 20%.
Disclaimer: All the prices above are based on the company's current offerings. Strikingly may change them without prior notice.
Customer Support
According to many Strikingly reviews, this software company is famous for its superb customer support. We also found it fast, friendly and efficient. Not only do they have a thorough FAQ section, but you can also reach a representative via live chat, email, or telephone.
Ease of Use
We'll use this next section to talk about our own experience with the platform. First off, we were able to set up our account in just a few minutes.
Choosing a Strikingly website builder template was quite simple, and editing it was a breeze. Almost all sections are customizable and possible to move around using the drag and drop option.
But we should warn you that the editor isn't as intuitive or flexible as some other website builders. And although the premade sections are easy to add, it can be a little tricky, as there aren't any clear "Add image" buttons.
However, you can swap out template designs without losing the added content. Plus, there are customizable gallery sections that you can use to add your own images directly to your site.
For the sake of this review, we used one of the Strikingly templates to redesign our site. As you can see below, our results were minimalistic, yet quite effective and attractive!
All in all, we think Strikingly is a simple yet powerful website builder! Especially if your goal is to create a sleek one-page site. It's really hassle-free, fun to work with, and delivers professional-looking results.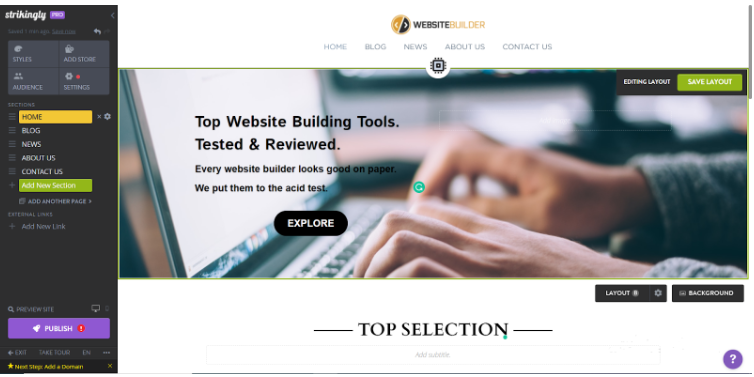 Strikingly Alternatives
In this next section, we'll discuss Strikingly's three prominent competitors and see how they compare.
Strikingly vs. Squarespace
Squarespace is one of the most popular website builders available. It's a powerful online tool that can help you create any site, from smaller blogs to larger e-commerce shops.
However, when it comes to the comparison with Strikingly, we think that choosing one over the other primarily depends on your personal needs. If you're trying to build a simple website quickly and don't need any advanced customizations, Strikingly can get the job done.
However, if you want to create an attractive website rich in more advanced features and integrations, Squarespace is a great option. But, you should be mindful of your budget, as Strikingly ultimately could be the more affordable solution for you.
Strikingly vs. Wix
Wix is another powerful builder that's quite common in today's market, as it currently powers over 22 million websites. It also offers way more templates and a powerful editor to customize them to your liking.
You'll also get many professional integrations from the app store. What's more, it provides more pricing plans that are also more affordable than Strikingly.
On the other hand, Strikingly is excellent for more minimalist one-page websites. Although its editor has some limitations, it still offers plenty of settings that allow you to modify design elements with ease.
Strikingly vs. Weebly
Weebly is another famous website builder, especially for people looking to start an online business and those who already have some web design and development experience.
Both platforms offer responsive website templates, along with top-tier customer support. When it comes to pricing, you get a greater bang for your buck, especially if you're looking to create a microsite for content marketing purposes or start an online store.
Overall, there seems to be no clear winner. Therefore, we suggest that you research reviews of both companies to decide which one will suit your personal needs.
Verdict
There are many great website builders out there, but if you're looking for a quick and easy solution without any super-advanced settings, we think that Strikingly can help you get the results that you need.
We hope our review provided you with the info that you needed to build a website and a successful online presence. As always, thanks for reading, and happy web-developing!
FAQ
Is Strikingly safe?
Yes, Strikingly is incredibly safe! In fact, according to many Strikingly reviews, it's a website builder that offers great quality at affordable prices.
Is Strikingly good for blogging?
Strikingly is a good blogging platform. You can either create an entire website just for blogging or simply choose to include your blog as a section on a website of another type.
Is Strikingly free?
As we mentioned earlier in our Strikingly review, the platform does offer a free plan. It's by no means without its limitations, as you would expect, but it's perfect for getting you started. It'll introduce you to how the platform works before buying a premium subscription.