7 Best Graphic Design Software with Free Plans or Trials for 2023
[EXPERT REVIEWS]
Finding the right design software tool for your business or personal needs can be hard in today's competitive market. So, we searched the web for optimal solutions to help you.
In this article, we'll look at the seven best graphic design software with free plans or trials that will be upping the graphic design market in 2022.
So, continue scrolling to learn which ones attracted our attention the most. 
Published: August 27, 2022
Affiliate Disclosure
We aim to provide you with the best tech news and reviews. To sustain our site, we may earn a commission when you buy from our affiliate links. Read our full Affiliate Disclosure.
Top 7 Graphic Design Apps for Free in 2023
In-depth Free Online Graphic Design Software Reviews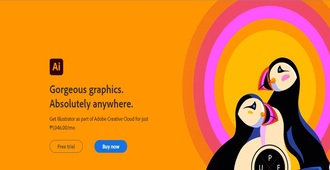 Adobe Illustrator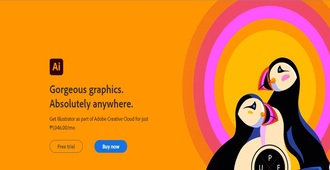 MOST SUITED FOR
Professional vector graphics
Visit Website
Rating: 9.9
Pricing: From $0.00/week
Customer Support: Via tutorials, user guide, blog, an online chat, online help center, Twitter support
Customer Reviews: Excellent
Free Trial: Yes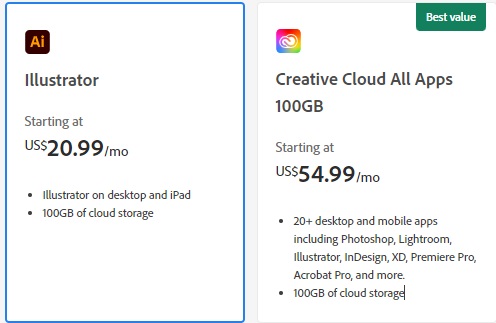 We'll start over our graphic design software list with Adobe Illustrator. 
From the same company that owns Adobe Commerce (formerly Magento), it's one of the most highly recommended tools for creating and editing vector graphics and laying out graphic design elements with multiple layers. 
Most users praised the number of advanced tools, calling it the most flexible, efficient, and complete program you might need for designing vector art. For example, the "puppet warp" feature allows you to transform only a portion of your image.
A huge plus is also the fact that it's easy to install and compatible with most OS.
In addition, its integration with other Adobe projects is fantastic, making it simple to open and export to other Adobe products with a single click. Users also appreciate that Adobe continues to add new features and enhancements to the software with every new update.
Keep in mind that it's not straightforward software. So, even though there are numerous video tutorials, if you're looking for free graphic design software for beginners, this is not the best choice. 
You can get Adobe Illustrator on desktop and iPad for $20.99 a month. The entire Adobe suite of over 20 apps costs $54.99 per month. A free 30-day trial allows you to test the software without providing credit or debit card information.
| | |
| --- | --- |
| Pros | Cons |
| Numerous advanced tools | High specification requirements for smoother operation |
| Integration with all other Adobe Suite products | High pricing |
| Simple free transform tool | |
| Continuous improvements with every update | |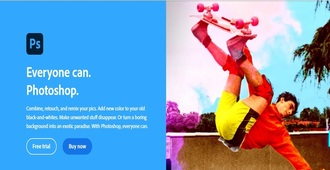 Adobe Photoshop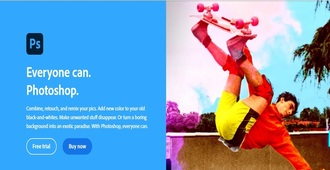 MOST SUITED FOR
Photographers
Visit Website
Rating: 9.9
Pricing: From $0.00/week
Customer Support: Via video tutorials, user guide, blog, online help center
Customer Reviews: Excellent
Free Trial: Yes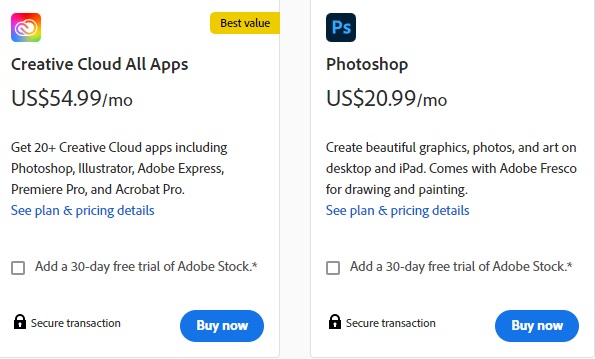 Adobe Photoshop is one of the best-known photo editing software on the design market, offering drawing, typography, editing, and various photo-altering effects. This design wizard provides photographers and designers with everything they might need. 
In addition, Adobe is constantly adding new AI-powered tools, such as the fantastic Sky Replacement, Color Transfer, Neural Filters, and Landscape Mixer. More practical tools, such as pattern preview, live shapes, and cloud-stored files, have also recently appeared. 
Some of the most impressive things you can do with Photoshop is adding color to your old black-and-white pictures or combining different photos into one and creating completely unique scenery. 
However, just like Adobe Illustrator, it's not the most user-friendly tool, and some people might find the interface overwhelming. Similarly, it requires stronger machines to run smoothly, though it is compatible with most OS.
You can get Adobe Photoshop for $20.99 monthly. However, to get over 20 creative Cloud apps in this good graphic design app, you need to pay $54.99 monthly.
| | |
| --- | --- |
| Pros | Cons |
| Various features and plugins | No perpetual license option |
| High versatility and adaptability | The interface can be overwhelming at times |
| Frequent improvements | |
| Advanced color effects | |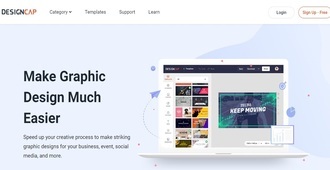 DesignCap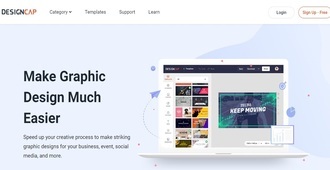 MOST SUITED FOR
Beginners
Visit Website
Rating: 9.8
Pricing: From $0.00/month
Customer Support: Via tutorials, FAQs, contact form
Customer Reviews: Excellent
Free Trial: Yes

DesignCap is an excellent option for creating professional-looking graphic design solutions. Users can make logos, flyers, charts, reports, menus, business cards, and any graphic design they need.
What we'd like to emphasize is that no advanced graphic skills are required, as many users praise the simplicity of the software. So, it's one of the best free graphic design software for beginners. 
Moreover, its premium prices are lower than those of other graphic design software on the list, putting less pressure on you to stick with it if it happens not to fit your needs.
That being said, even if you're not a beginner, you should still be able to create both simple and advanced designs with the features this product offers. 
DesignCap gives access to an extensive built-in database with thousands of high-quality templates and a large collection of shapes, illustrations, and fonts. This makes it a great choice for those looking for graphic design apps with free resources included.
DesignCap has a free plan where you can upload five images, save five designs, and all exported images will be in JPG format. With the basic plan, which is $4.99 a month ($59.88 billed annually), you'll get unlimited templates, modules, and stock icons. 
In addition, you can get 100 image uploads and save 100 designs while gaining access to export formats in both PNG and PDF. 
The Plus plan, which costs $5.99 monthly ($71.88 billed annually), gives you complete access to all the platform's features and services. 
| | |
| --- | --- |
| Pros | Cons |
| Good value for money | Lack of measurement points, ruler, and gridlines |
| Simple interface | Very limited free version |
| Easily customizable template elements | |
| Web-based | |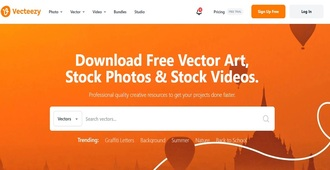 Vecteezy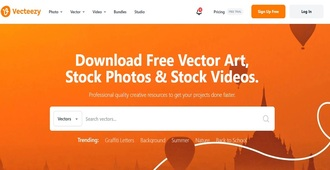 MOST SUITED FOR
Users that need cloud-based SVG editing solutions
Visit Website
Rating: 9.7
Pricing: From $0.00/month
Customer Support: Via blogs, FAQs, tutorials, contact form, and phone
Customer Reviews: Excellent
Free Trial: Yes

Vecteezy is a web-based SVG editing software with a variety of graphics tools. It enables you to create, edit, and customize original vector designs with custom color, font, size, and more before downloading.
You can find photos, videos, and fantastic vector illustrations for personal and commercial use. According to reviews we've read, many of them are quite impressive and of high quality. Plus, considering the size of their database, you are guaranteed to find what you need.
In addition, their network of contributors is constantly adding fresh content. Many users praised the search option, as it allows them to find what they need in no time. So, it's safe to say that their database is well organized.
This creator community online is trusted by designers at the world's top brands like Amazon, whose value reached $683.85 billion in 2021, Facebook, Google, Microsoft, and many others.
The simplicity of Vecteezy's graphic design toolkit is what makes this software fantastic. Quickly changing shapes and colors is one of the most useful features. A nice touch is the predefined graphics you can apply to your photos.
The monthly unlimited subscription is $14.00. You get unlimited downloads, full commercial rights, exclusive access to bundles, editor access, and more. However, you can save 36% if you choose the yearly subscription – you'll be billed $9.00 monthly.
| | |
| --- | --- |
| Pros | Cons |
| Simple licensing | Not the best accuracy for complex designs |
| 30-day money-back guarantee | Doesn't support all file types |
| Large database with templates, stock photos, and videos | |
| Unlimited downloads | |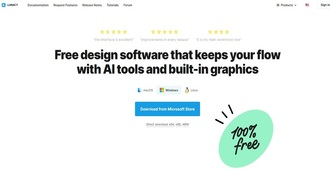 Lunacy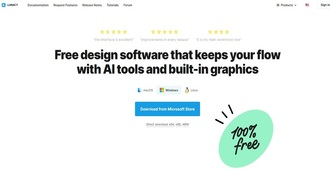 MOST SUITED FOR
Those interested in prototyping
Visit Website
Rating: 9.7
Pricing: From $0.00/month
Customer Support: Via blog, FAQs, online chat, forum, and tutorials
Customer Reviews: Excellent
Free Trial: Yes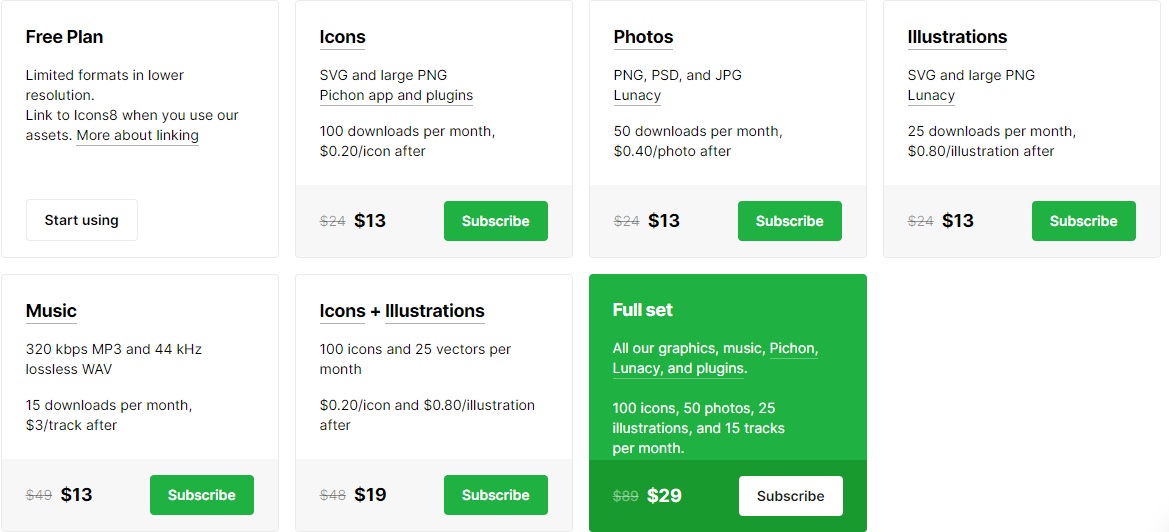 Lunacy is a free designing software for Mac, Linux, and Windows. It's next-gen vector graphic software for UI, UX, and web design. 
Navigating the interface, drawing complex shapes, and exporting objects is straightforward with Lunacy. It's free for personal and commercial use and works online and offline. In addition, the software includes built-in free graphics (illustrations, icons, and photos).
You'll also get AI-powered tools like image upscale, background remover, and text and avatar generators. Lunacy can also handle dusty kits from Sketchappsources and the latest versions of .sketch files. But there's no need to buy a Sketch or Mac license. 
This free online graphic design software is easy to use, mainly thanks to its intro tutorial. They offer free and paid licenses with no time limit. With the free plan, you get limited formats in lower resolution, and you have to link to Icons8 whenever you use their assets.
For the complete set of all the graphics, music, Pichon, Lunacy, and plugins, you have to pay $29, and you won't have to credit them. If you want to buy them separately, they cost $13, but you can get the icons and illustrations together for only $19. 
| | |
| --- | --- |
| Pros | Cons |
| Frequent updates | Some users wished for more export options |
| Available in 21 languages | Possible performance issues when opening large files |
| Compatible with Windows, macOS, and Linux | |
| Low memory consumption | |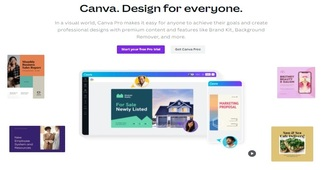 Canva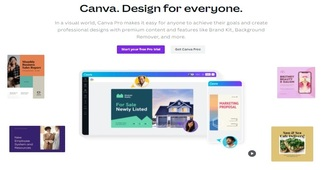 MOST SUITED FOR
Marketers and brands
Visit Website
Rating: 9.7
Pricing: From $0.00/month
Customer Support: Via email, Twitter, Facebook, FAQ, and the Canva Customer Happiness Team
Customer Reviews: Excellent
Free Trial:

Canva is one of the best tools for graphic designers. Users can create different types of visual content — social media posts, brochures, invitations, graphics, logos, etc. on desktop and mobile. 
It's considered one of the easiest-to-use logo-making tools, which is also why we consider it the best for those in the marketing field.
The free plan is suitable for people who work on small projects. Free users get over 250,000 free templates and 100+ design types for social media graphics, presentations, etc. However, some elements will come with a watermark if you're a free user.
If you're looking for more customization options and improved productivity, you should choose the Canva Pro package, which costs $9.99 per user monthly if billed annually. There's also an Enterprise plan available for $30 per user per month if paid for the whole year. 
With premium content and features like Background Remover, Brand Kit, and more, Canva Pro makes it simple for you to achieve your desired professional designs.
All in all, Canva is a graphic design software that is free to download and allows you to create visual materials even without extensive graphic design experience. And if you really like it, there is also a phone app, allowing you to work on the go.
| | |
| --- | --- |
| Pros | Cons |
| Extremely popular | No phone support nor live chat |
| One-click background remover | Files can't be exported to PSD format |
| Great tools for creating branded content | |
| User-friendly | |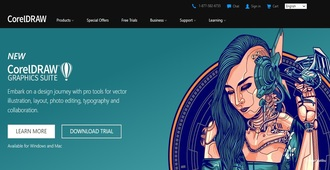 CorelDRAW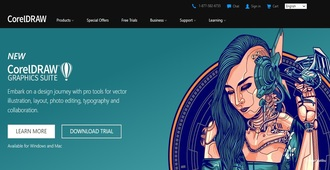 MOST SUITED FOR
Print advertising businesses
Visit Website
Rating: 9.5
Pricing: From $0.00/15 days
Customer Support: Via phone, online chat, email
Customer Reviews: Excellent
Free Trial: Yes

CorelDRAW is a top free graphic design software that includes modern and professional features, some of which are quite unique in the field. For example, it has customizable brushes, shape blending, and many advanced-fill options.
You can easily work with different sheets in a single CDR file. Bitmap trace is its best feature, allowing you to convert any image to a vector by just tracing them. It helps in creating any type of vector shapes and logos.
This marketing design software is versatile enough to meet any creative requirement. You can use it for engraving, signage, product demand development, and catalogs. It works for more than just drawings; you can develop certificates, pamphlets, business cards, forms, and signs. 
You can try this complete graphic design suite free for 15 days with no credit card required. Or you can subscribe to any of their special offers right now at $269.00/year, $1,199/year, $29.99/year, or $69.99/year.
The subscription offers fantastic ongoing value by providing instant access to new features and content, support for cutting-edge technologies, and optimal performance. 
| | |
| --- | --- |
| Pros | Cons |
| Highly customizable interface | Takes a lot of memory space |
| Many unique features | Not the most user-friendly |
| Subscription and perpetual licenses available | |
| Engraving layout | |
How to Choose the Best Graphic Design Software
A Buyer's Guide
There are numerous factors to consider when selecting the best graphic design software. Here are some to keep in mind:
Price
Because the graphic design market is so competitive these days, it's critical to be aware of the prices. The price typically depends on service quality — the more advanced the graphic design software, the more expensive it becomes.
Though the top graphic design programs mentioned above offer free plans, most software programs require paid services to get high-quality features. However, as some of them can be quite costly, you want to know that you're getting your money's worth.
For that, it's essential to consider the features too.
Features
Having a feature-equipped graphic design software tool can be handy to any designer, photographer, or business no matter how big or small. However, there is no point in breaking the bank on a software with endless features if you only need a specific few.
In other words, fewer features is not always a bad thing if those features can fit all your needs. So, consider what different programs offer you, and choose one that can do everything you need for your work or hobby.
Ease of Use
As you've probably noticed, not every software is easy to use. Some of them have a steep learning curve and require either previous experience or tutorials. Fortunately, most of them have plenty of tutorials that can help you.
Nevertheless, we've made sure to include free design software for beginners as well. After all, 90% of users will stop using an app due to poor performance, so we wanted to make sure it won't happen here.
Customer Reviews
Customer comments and reviews are invaluable no matter what you're buying, and apps are not an exception. So, if you're still unsure, look at what others have to say about the options you're interested in. 
They might point out some details that will make a difference to you, or they might confirm your thoughts and make you feel more certain about your purchase.  
Verdict
Numerous excellent graphic design software programs are available, so determining the best for you can be challenging. Consider the things mentioned in this article before deciding, and let your creativity run wild!
FAQ
What is graphic design software?
A program or collection of programs allowing users to manipulate images or models visually on a computer is referred to as graphics software. Many different kinds of graphic design software are available, each with its features and tools. 
Graphic design software is used for graphic design, image editing, multimedia development, technical illustration, stylized image development, or simply gaining access to graphical files.
What tools do graphic designers use?
Graphic designers rely on software to make their visions a reality. Besides the graphic design software programs, the graphic designers use computers, stylus and graphics tablets, storage devices, and cameras.
What software do most graphic designers use?
Graphic Designers mostly use graphic design software. We've listed the best graphic design software that are free and among the most used ones by graphic designers.