Published: October 24, 2022
Affiliate Disclosure
We aim to provide you with the best tech news and reviews. To sustain our site, we may earn a commission when you buy from our affiliate links. Read our full Affiliate Disclosure.
Keyword database: 22.3 billion keywords
Domain profiles: 808 million
Number of projects: 5–40 (depending on the plan)
Tracked keywords: 500–5,000 (depending on the plan)
Geo databases: 142
Free trial: Yes
works on:
Mac OS
Windows
Apple
Android
Chrome
Firefox
Small businesses and enterprises
STRENGTHS
Effective keyword research
Unique SEO and PPC features
Reliable, up-to-date data
Thorough traffic analysis
WEAKNESSES
Most of the tools work only with Google SE
Not the best mobile app
PRICING PLANS:
Semrush Pro
$99.95/month/year
Semrush Guru
$191.62/month/year
Semrush Business
$374..95/month/year
If you're looking for a comprehensive SEO toolset, look no further than Semrush. In this Semrush review, we'll take a close look at everything this tool has to offer, from its in-depth keyword research capabilities to its backlink analysis features. 
We'll also compare Semrush to its biggest competitors.
So, let's get started.
What Is Semrush?
Semrush is a tool that helps businesses stay on track with current digital marketing trends and execute SEO, pay-per-click (PPC), and social media advertising campaigns. It can also assist you in predicting future business trends in your field of interest.
By providing valuable insights and data, Semrush helps you improve your on-page SEO, making it easier to optimize your pages for better lead generation.
Not only does it give you an edge by helping you find lucrative keywords for your campaigns, but it also lets you see what keywords your competition is using and how they rank in comparison to you. 
As a matter of fact, Semrush is widely thought of as one of the top rank tracking software applications around.
The company was launched in 2008 and, so far, has had over 10 million users worldwide.
Semrush Features and Services
We've mentioned that Semrush offers a range of useful features, so let's have a closer look at some of them.
Organic Research
The organic research tool analyses a website's traffic volume from Google and how it has evolved over time.
However, what makes this tool valuable for businesses is its frequently updated list of keywords. Namely, you may filter keywords based on intent, SERP position, traffic, CPC, and other factors.
You may also view the month-by-month history of each URL and determine your rivals' best subdomains based on keywords and traffic.
Reverse engineering competitors' keyword strategy is one of the most efficient keyword research techniques, and this Semrush tool is one of the finest SEO audit tools for it due to its enormous database (22.3 billion keywords). 
Backlink Analytics
With this feature, you can classify competitors' backlinks by attribute and type (text, form, image, frame) to find the most promising prospects in your field.
Plus, you can monitor a domain's link building progress, find new backlinks, check how many backlinks come from one IP address, or be alerted when your backlinks are deleted.
Advertising Research
What makes tools like Semrush stand out from the competition is its advertising research feature.
With this tool, you can:
keep track of your competition's PPC activities and ad expenditures

analyze what emotional triggers they use in their ad copy

analyze their Google Ads strategy

look at their examples of live ads

find out which paid keywords generate the most traffic
Keyword Gap
The point of this feature is to allow you to see how your ranking for specific keywords compares to that of a few chosen competitors.
By doing this, you can see which keywords your competitors are ranking in Google for and, more importantly, which ones you should be going after.
In fact, when it comes to analyzing keywords, you won't find an SEO tool better than Semrush. Its Keyword Gap feature lets you provide your domain and the domains of up to four competitors, and it categorizes the discovered keywords into one of the following groups:
Shared

—

Keywords that all of the entered domains (including yours) are ranking for 

Missing

— All of your competitors are ranking for these keywords, but you are not

Weak

— All of your competitors are outranking you for these keywords

Strong

— The keywords for which you currently rank higher than all of your competitors

Untapped

— Keywords that you aren't ranking for, but at least one competitor is 

Unique

— Keywords that you rank for, but none of your competitors do
Semrush SEO Content Template
SEO Content Template is a tool that allows you to scan Google's organic search top 10 results for the keyword you wish to rank for.  
Basically, it finds words and phrases that your competitors use on their pages ranking for the target keyword. The general idea is that ranking pages contain in-depth information about a chosen topic. 
Furthermore, these types of ranking pages utilize the type of LSI keywords that Google algorithms are designed to recognize and appreciate.
However, SEO Content Template doesn't just provide you with an LSI keyword list. It also enables you to see your content's SEO-friendliness in real-time. This includes readability, broken links, missing alt attributes, lack or overabundance of keywords, etc.
Link Building Tool
Like most of the other Semrush reviews we came across, we also have nothing but good things to say about this tool. The Link Building Tool compiles a list of link building opportunities for your domain and gives you a management interface to reach out and acquire links.
This tool allows you to do two things at once — analyze your SEO competition and conduct an outreach campaign. Thanks to its features, aside from helping you improve your SEO performance, this tool could also boost your email marketing stats.
Plus, you can use this tool to:
make a list of prospects

examine all of the domains that you may use in your link building campaign

keep your email outreach organized

keep track of your progress
Semrush Pricing Plans
Semrush offers three subscription plans — Pro, Guru, and Business. 
The most popular subscription among small businesses is the Guru plan, while Business is the premium plan for organizations with a large online presence. Finally, the Pro subscription is the most basic plan ideal for freelancers. 
If you're not sure which paid plan to choose, you can open two types of accounts for free — a free sign-up account and a free trial account.
With the first one, you get limited access to certain Semrush tools and features. For example, you can create and manage only one project and track 10 keywords. 
On the other hand, the free trial account gives you full access to all Pro and Guru features and tools, but you can only use it for a limited time (seven days).
While these options have their purpose (mainly revolving around allowing you to familiarize yourself with the tool), the true value of Semrush lies in its paid plans, so let's have a look at them.
Semrush Pro
The Pro plan costs $119.95/month if billed monthly and $99.95/month if billed annually. 
It's perfect for marketers and freelancers on a tight budget as it offers an extensive range of SEO, social, and PPC tools helping you with keyword research, competitor analysis, website audit, and advertising.
This plan allows you to create 5 projects, track 500 keywords, crawl 100,000 pages, monitor 50 social profiles, and get 10,000 results per report.  
Semrush Guru
As mentioned above, this is one of the most popular Semrush subscription plans. It costs $229.95/month if you're going to be making monthly payments or $191.62/month if you pay annually.
The Guru plan is ideal for small businesses. It gives you access to everything you get with the Pro plan, plus additional features, such as Historical Data, Google Data Studio integration, and Content Effectiveness Audit. 
Like other packages, Guru also offers a range of competitor research features. Since we know that competition from bigger companies is the primary concern among small business owners, opportunities to learn more about your competitors shouldn't be passed up easily.
Guru plan lets you create 15 projects, track 1,500 keywords, crawl 300,000 pages, monitor 100 social profiles, and receive 30,000 results per report. 
Semrush Business
This Semrush subscription is the most expensive option. With it, you get all the features from the Pro and Guru plans, in addition to API access, PLA analytics, AMP pages audit, and Share of Voice metric.
The Business plan is ideal for large businesses and ecommerce projects. It costs $449.95/month if you choose monthly payments or $374.95/month if you prefer being billed annually.
With this plan, you can create 40 projects, track 5,000 words, crawl a million pages, monitor 300 social profiles, and receive 50,000 results per report.
Disclaimer: All the prices above are based on the company's current offerings. Semrush may change them without prior notice.
Customer Support
Semrush reviews frequently point out the efficacy and promptness of the customer service you get when you sign up for this tool, and our experience has been just as positive.
Semrush offers customer support via live chat, email, and phone. US citizens can contact customer support via phone at 1-800-815–9959. Customer support is available from 10:00 a.m. to 6:00 p.m. (EST/EDT), Monday to Friday.  
You can also reach them by phone if you live in Canada, Italy, France, the UK, Germany, Spain, and Australia, and there's also an option to request a demo and enroll in free digital marketing courses.
Ease of Use
Semrush is one of the most user-friendly SEO tools, especially for beginners who may not be familiar with standard SEO practices. The tool's design is clear and straightforward. 
Even if you're not tech-savvy, the domain analysis and site auditing features are still easy to understand.
On a negative note, if you use Semrush on a mobile phone, you might have difficulty maneuvering the interface.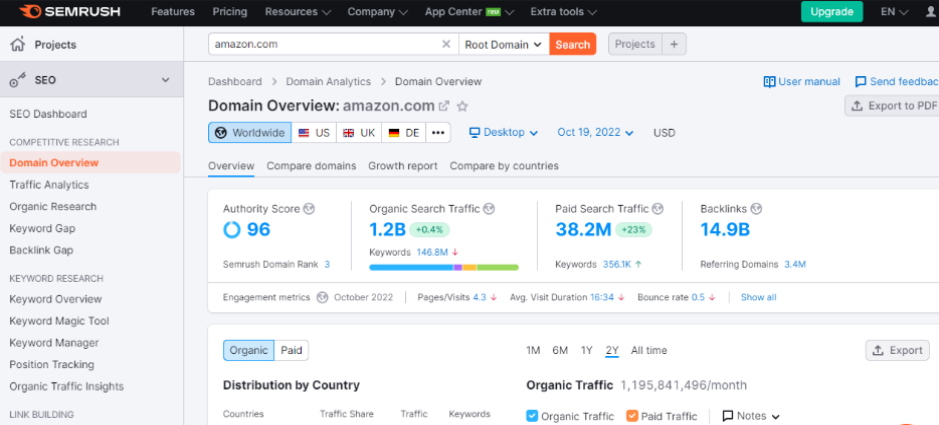 Semrush Alternatives
Semrush isn't the only SEO toolkit on the market. In fact, you'll find over a dozen similar toolkits to choose from. Some of them are free, while others come at a cost. 
There are a few alternatives to Semrush that offer similar features. These include Ahrefs, Moz, SpyFu, and Similarweb.
To find out which one is the best fit for you, we'll compare the features of each toolkit.
Semrush vs. Ahrefs
Semrush boasts a domain database nearly four times the size of Ahrefs's, with 808 million domains to Ahrefs's 215.4 million, which means that Semrush offers more in-depth domain and backlink analysis.
On the other hand, Ahrefs' Link Intersect tool provides more detailed information enabling you to compare up to 10 URLs. With Semrush, you can only compare five websites, but seeing how you can run multiple intersect analyses, this is not really an issue.
Finally, Semrush boasts more features related to paid search, and users like the fact that it contextualizes the information it presents. Regarding prices, both tools are similarly priced, with Ahrefs having an almost negligible advantage.
Semrush vs. Moz
Moz is another popular SEO toolkit; however, it doesn't offer as many features as Semrush.
For example, Semrush has a couple of nifty options that you won't find with Moz, such as the Competitive Positioning Map. This feature will help you see how your website is performing compared to your competitors.
Another thing that makes Semrush better than Moz is its Keywords by Intent feature. Semrush provides a table with data specifying why people click on search results for domains, whether it's to find a specific page or make a purchase. 
Since Google processes over 40,000 search queries every second, features like this are invaluable in helping marketers make sense of all that data. 
On the other hand, Moz provides a free 30-day trial, whereas Semrush's trial is shorter, and Moz has slightly more affordable pricing plans.
Semrush vs. SpyFu
The biggest difference between the two is that SpyFu focuses mostly on competitor analysis, whereas Semrush offers a comprehensive marketing toolkit.
SpyFu allows you to monitor the online practices and analytics of your competition. You can use it to gain insights into your organic and paid rivals.
Although SpyFu provides many competitor research features, it falls short in vital areas such as brand monitoring and social media tracking. Additionally, Semrush's reports tend to be much more accurate.
While SpyFu has a more limited range of features, its paid plans are also much cheaper, so if you are only looking for a competition research tool, it might serve you well enough. Fortunately, both tools have free trials and free plans, so giving them both a try is probably the best option.
Semrush vs. Similarweb
The most significant distinction between Semrush and Similarweb is that the former provides an all-inclusive Traffic Analytics package with social media and PPC info, while the latter focuses only on website data.
If you're only looking for a deeper understanding of your competitor's web pages and organic traffic, Similarweb might be all that you need.
However, aside from offering some of the info available in Similarweb, Semrush will also provide you with rank tracking and insights into competitors' ad expenditures and social media marketing tactics.
Similarweb, like many other Semrush competitors, also offers a free plan with limited functionalities, but its paid plans are quite a bit more expensive than those offered by Semrush.
Verdict
Overall, Semrush is an excellent tool for small businesses and freelancers looking to take their SEO game to the next level. Naturally, this is not to say that larger enterprises wouldn't be well-served by one of the higher-tier packages.
However, there are some limitations you should be aware of before signing up. For example, the free trial lasts only seven days, and some features are only available on paid subscription plans.
That said, we think Semrush is definitely worth the investment if you're serious about improving your website's ranking on search engines.
FAQ
Is Semrush free?
Semrush offers two main types of free accounts. The first one is the simple sign-up account. With this type of account, you will be limited to one project and 10 tracked keywords.
The second type of free account is the free trial account. This option gives you access to Pro and Guru plans. The trial lasts for seven days.
What is Semrush used for?
The main purpose of Semrush is to help you improve your website's SEO so you can rank higher on SERPs, get more organic traffic, and improve your overall online visibility. 
However, you can also use Semrush for other digital marketing purposes, such as social media management, advertising research, and content marketing.
How much is Semrush going to cost you?
Semrush offers three subscription plans: Pro, Guru, and Business.  
The Pro plan costs $119.95/month if paid monthly and $99.95/month if paid annually; the Guru plan costs $229.95/month with monthly payments or $191.62/month if you pay annually, and the Business plan costs $449.95/month if billed monthly or $374.95/month if billed annually.
Is Semrush worth it?
Yes, Semrush is definitely worth it, especially if you're serious about improving your website's SEO. This comprehensive tool offers a wide range of features that can help you with every aspect of your SEO campaigns.
Plus, as we already mentioned in our Semrush review, you can always start with a free trial to see if the tool meets your needs before committing to a paid subscription.