10 Cheap Dedicated Servers and a Buyer's Guide for 2021
Many website owners launched their sites with shared hosting. After all, it's the cheapest option you can find when you're still on a budget for your new site. However, you will have to upgrade to a dedicated server eventually as your site grows. But what is a dedicated server?
A dedicated server means your website owns a server all to itself. If you get dedicated server hosting, your site will become powerful and flexible, but it usually comes with a high cost. It pays to research first before buying one. But don't fret! We've already done it for you and arrived at the 10 finest but cheap dedicated servers for this year.
Last Updated: December 17, 2020
Advertiser disclosure
This page may contain links to our partners' products and services, which allows us to keep our website sustainable. This means that websitebuilder.org may receive a compensation when you sign up and / or purchase a product or a service using our links. However, all opinions expressed in this article are solely ours, and this content is in no way provided or influenced by any of our partners.
Cheap Dedicated Servers for 2021
10 Extensive Dedicated Server Reviews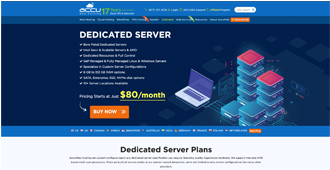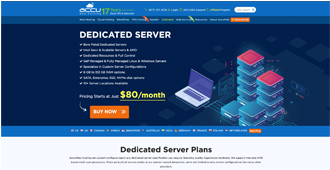 MOST SUITED FOR
Gaming
Visit Website
Rating: 10
Pricing: From $80.00
Reviews: Above average
Support: Email, phone, or live chat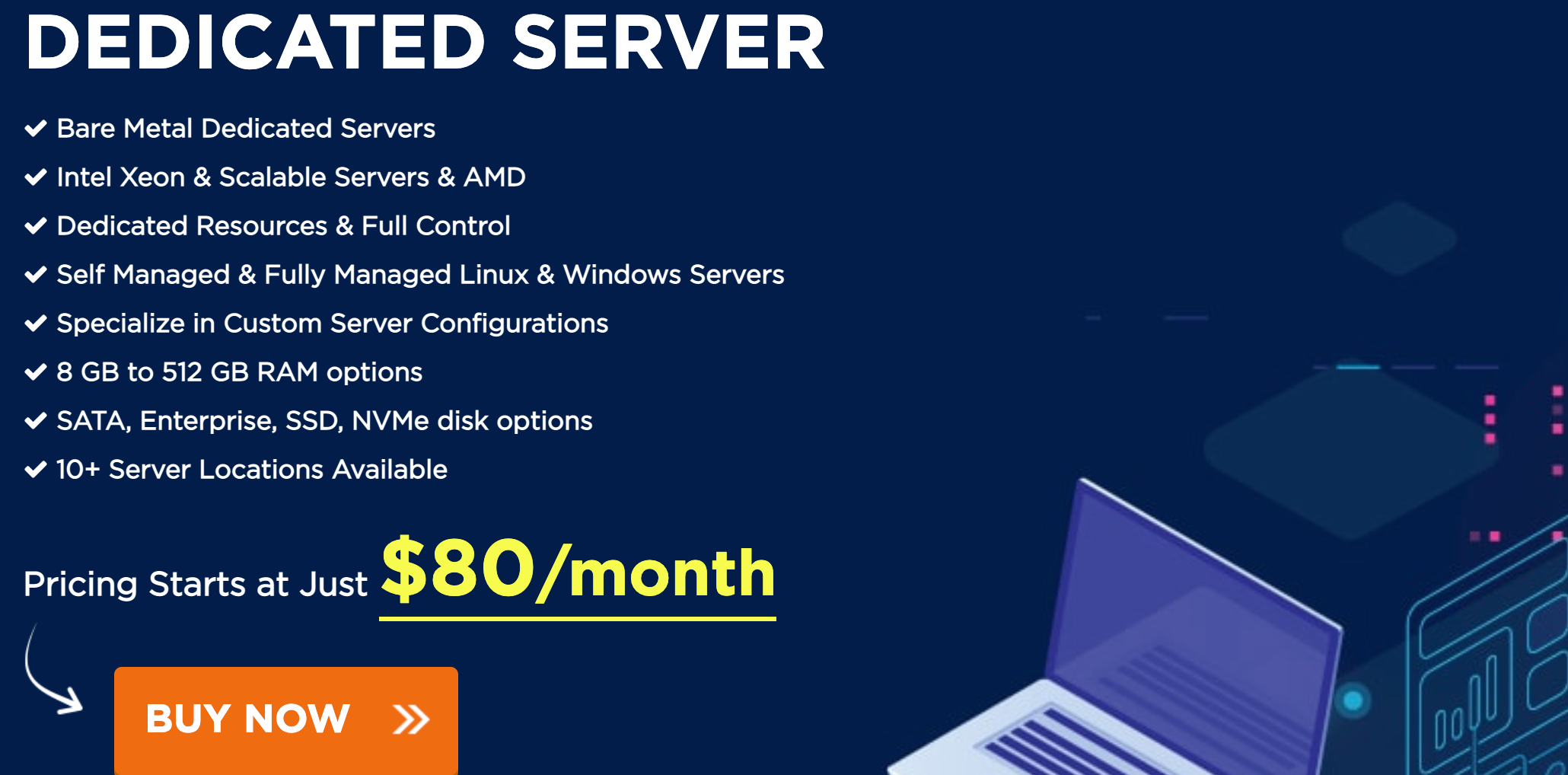 AccuWeb's 17 years of industry experience was truly well spent looking at the vast array of hosting services it offers—a staggering 39 of them. It also offers some of the best cheap dedicated server hosting services around. 
What's even more impressive is that AccuWeb has 948 dedicated servers in stock as of writing time. While other hosting providers offer 10 or 20 different dedicated server solutions, AccuWeb has almost a thousand of them. Isn't that incredible? 
They have classic and advanced servers, as well as cheap dedicated game servers with reliable infrastructure, secure storage, and high-availability. This company indeed lives up to its claims of being a one-stop-shop for all things hosting. And don't be intimidated by the sheer amount of functionalities as these servers are cheap despite their complexity. 
You can have one of AccuWeb's cheap dedicated servers for as low as $80.00/mo, or go up to more than $300.00, depending on the specs. But most of them are really affordable, ranging from $80.00 to a little over $100.00. And believe it or not, AccuWeb has data centers in 11 countries. 
There are two in the US and one each in the UK, Canada, Africa, Singapore, Australia, India, Germany, France, Poland, and the Netherlands. Each server in all locations comes with one IP address except the cheap dedicated servers in Denver, USA. They also come with your choice of an operating system, such as Windows, CentOS, CloudLinux, Ubuntu, and more, plus many other excellent features.
| | |
| --- | --- |
| Pros | Cons |
| Tons of features included in the plans | Setup for new clients is not free |
| Has a global reach | |
|  Full control over configurations | |
MOST SUITED FOR
Budget-conscious website owners
Visit Website
Rating: 9.8
Pricing: From $41.65
Reviews: Excellent
Support: Phone, email, live chat, online form

KnownHost has over 16 years of industry experience and has become a go-to brand for cheap dedicated servers in 2020 due to its hosting services at incredibly low prices. Don't worry, cheap doesn't mean low-quality. You'll be surprised by the quality of the server packages it offers, and there are a lot of them, too.
The unmanaged dedicated servers start at $41.65, the lowest price we've ever seen so far. It comes with dual Intel Xeon E5620 2.4GHz and a plethora of specs and features. There are two more unmanaged cheap dedicated server packages at $87.20 and $175.20 that come with Intel Xeon E-2224 and Dual Intel Xeon Silver 4208, respectively.
If you don't want to have the hassle of managing your server yourself, KnownHost has many managed server packages—nine of them, as a matter of fact. They are a bit pricier than the unmanaged servers, of course, but still very affordable, starting at $158.00. Note that all of its cheapest dedicated server hosting packages are fully customizable.
But you know what else is great about KnownHost? It has excellent customer reviews. It has a 4.6/5 rating out of 57 reviews on Facebook, 9.8/10 out of 274 reviews on HostAdvice, 9.4/10 out of 34 reviews on WHTop, and 3.3/5 out of 22 reviews on Trustpilot. That certainly speaks volumes about how KnownHost is one of the finest but cheapest dedicated server providers on the market today. 
| | |
| --- | --- |
| Pros | Cons |
| Free control panel installation | Live chat is not always available |
| Great value for money | |
| Excellent customer reviews | |
MOST SUITED FOR
SEO specialists
Visit Website
Rating: 9.9
Pricing: From $99.59
Reviews: Above average
Support: Online ticket and knowledge base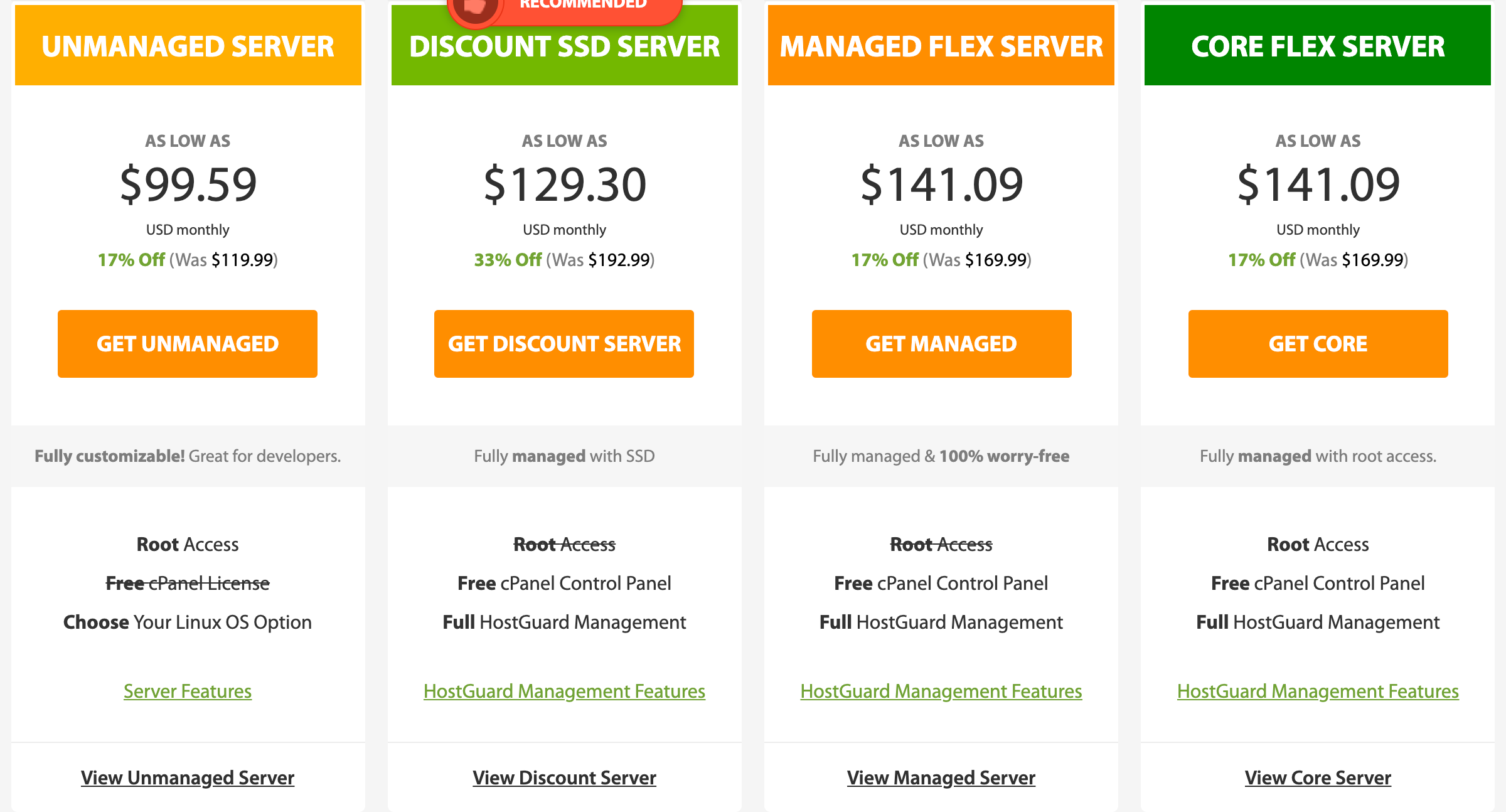 A2 Hosting is a privately-held hosting firm with an unquestionable reputation. Founded in 2001, what used to be only a hobby became one of the world's leading hosting providers. It started with only shared hosting services, but it now offers reseller, VPS, and affordable dedicated servers.
A2 Hosting has four categories of dedicated servers: Unmanaged, Discount SSD, Managed Flex, and Core Flex. Each has three packages that come with very affordable prices starting from $99.59. 
But what sets A2 Hosting apart from the rest is that it uses turbo servers that are excellent for SEO, among other things. With that feature alone, we're confident that A2 Hosting has some of the cheapest dedicated servers in the world that are also extremely fast and reliable. 
We were also impressed with A2 Hosting's excellent customer reviews. You will see most of them on its website and many other credible review sites, such as Better Business Bureau, Trustpilot, Facebook, and Glassdoor. In fact, the company is BBB-accredited with an A+ rating. What more can you ask for from a cheap dedicated server hosting provider?
| | |
| --- | --- |
| Pros | Cons |
| Excellent customer reviews | cPanel license not free in the basic plan |
| Turbo Boost | |
| Multiple awards | |
MOST SUITED FOR
DDoS protection
Visit Website
Rating: 9.8
Pricing: From $80.00
Reviews: Mostly positive
Support: Phone, email, or online form
With over two decades of industry experience, you can never underestimate the power of InterServer's commitment to helping businesses reach their goals. The company has grown massively over the years and now offers a magnitude of hosting services, including cheap DDoS-protected dedicated servers. 
InterServer has nine dedicated server plans, starting from as low as $80.00 and going up to $270.00. But they are all fully customizable, so prices may vary depending on your configuration. Of course, you can always use a preset configuration if you're not very tech-savvy. 
One good thing that we find about InterServer's configurations is that the dedicated server price automatically changes every time you add a part. You can also see the price of each part on the InterServer website, which is an indication of the company's transparency.
In terms of operating systems, aside from the widely used CentOS, you can also go for either Ubuntu, Gentoo, RedHat Fedora, Cloud Linux, or Windows 8 or 12. The CPUs start at 2-cores and go up to 24. All of InterServer's best cheap dedicated servers come with a ton of free features, including DDoS protection, 4-hour provisioning, managed support, 24/7 uptime monitoring, etc.
| | |
| --- | --- |
| Pros | Cons |
| Free professional managed support | Confusing configuration |
| Choice of 1GB or 10GB port for free | |
| Expert data migration | |
MOST SUITED FOR
Small businesses
Visit Website
Rating: 9.8
Pricing: From $89.98
Reviews: Average
Support: Phone, fax, or live chat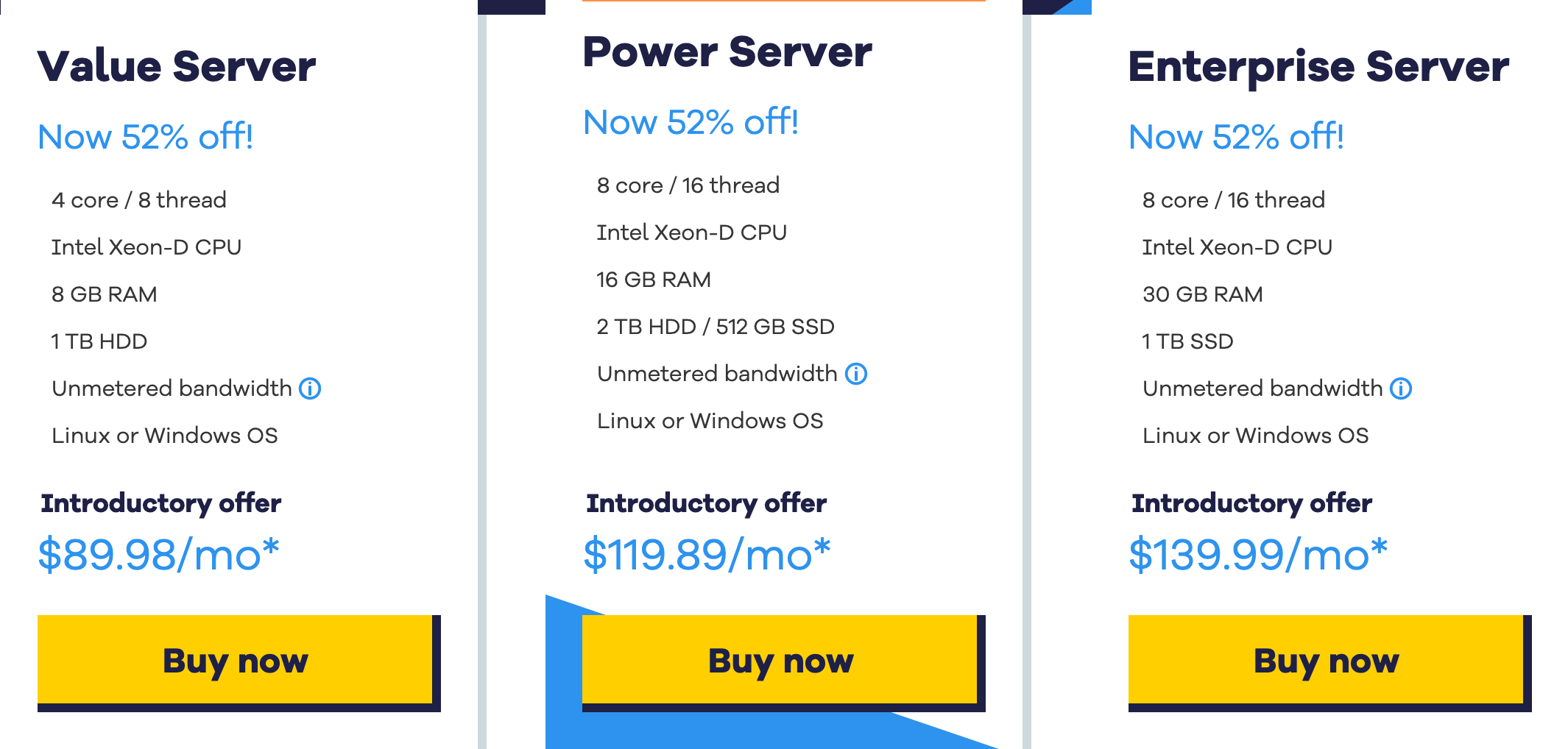 How does HostGator fare on cheap unmetered dedicated server hosting compared to its competitors?  This question arises because HostGator is a famous name in the world of hosting. Founded in a dorm room in 2002, the company has grown rapidly. It now has seven offices strategically located in Houston, Austin, and Burlington in the US, Florianópolis and São Paulo in Brazil, and Mumbai and Bangalore in India. HostGator appears to be one of the largest hosting services in the world.
But let's investigate whether its inexpensive dedicated servers are quite as good as its shared ones.
Unlike most hosting providers on our list, HostGator has only three sets of plans. The prices are at $89.98/mo, $119.89/mo, and $139.99/mo. Cheap? Yes! Each of them comes with unmetered bandwidth, unlimited MySQL, unlimited maximum outgoing emails, Maximum POP/IMAP connections, advanced DDoS protection, network uptime guarantee, and so much more.
All of this makes it an excellent, if not the best, cheap dedicated server with Cpanel.
| | |
| --- | --- |
| Pros | Cons |
| Full root access | A limited number of packages |
| 24/7 server monitoring | |
| Linux or Windows OS | |
MOST SUITED FOR
Windows server hosting
Visit Website
Rating: 9.6
Pricing: From $75.00
Reviews: Above average
Support: Live chat, phone, email, or online ticket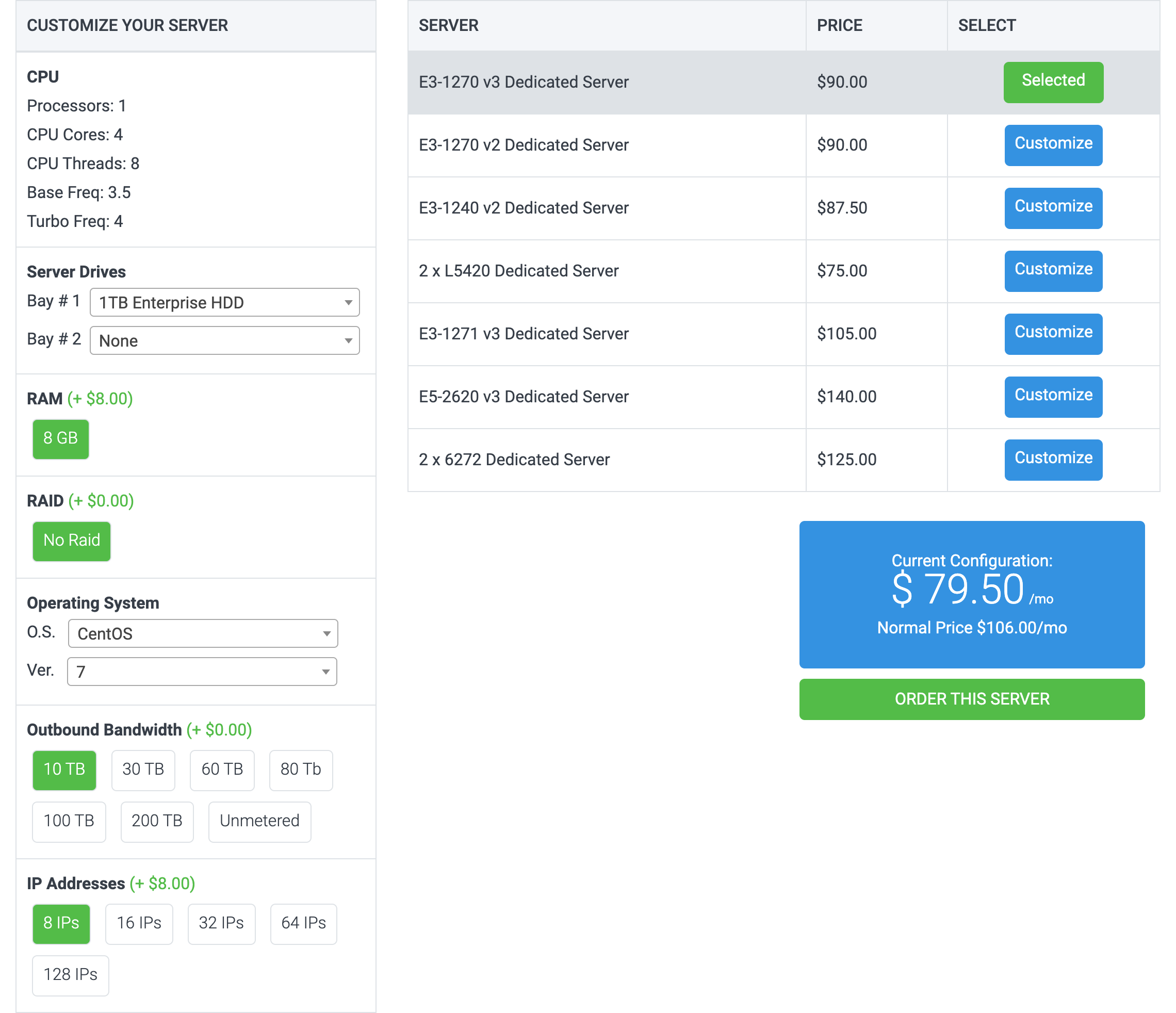 HostWinds was founded in 2010, and this large amount of experience earned it a good reputation in the industry. Every time we searched for the best cheap windows dedicated server, HostWinds would always pop-up. They also offer Centos, Debian, Fedora, and Ubuntu. The choice is yours to make since all configurations are fully customizable.
HostWinds has only six packages, but that doesn't mean that they are of lesser quality than those of its competitors. In fact, its unique and user-friendly tool will let you replace the standard fixed deals so you can mix and match the configurations and see how the price changes. 
Of course, it made it on our list as one of the best and cheapest dedicated servers because it is just that. It's probably not the cheapest all-around, but it's absolutely affordable, with the plans ranging from only $75.00 to $105.00. All servers are fully managed and come with 1Gbps ports, nightly backups, and 24/7 tech support. 
HostWinds' customer reviews are impressive too. It has a 4.3/5 rating out of 222 reviews on Facebook, 4/5 out of 290 reviews on TrustPilot, 9.3/10 out of 965 reviews in HostAdvice, 4.73/5 out of 3,325 reviews in SiteJabber, and 4.8/5 out of 235 reviews in G2. These are based on users' actual experiences, so we knew right off the bat that HostWinds deserves to be included in our list of the best cheap dedicated server hosting providers.
| | |
| --- | --- |
| Pros | Cons |
| Great value for money | No significant freebies |
| Excellent customer reviews | |
| Attentive support | |
MOST SUITED FOR
Domain management
Visit Website
Rating: 9.7
Pricing: From $39.88
Reviews: Above average
Support: Live chat and online ticket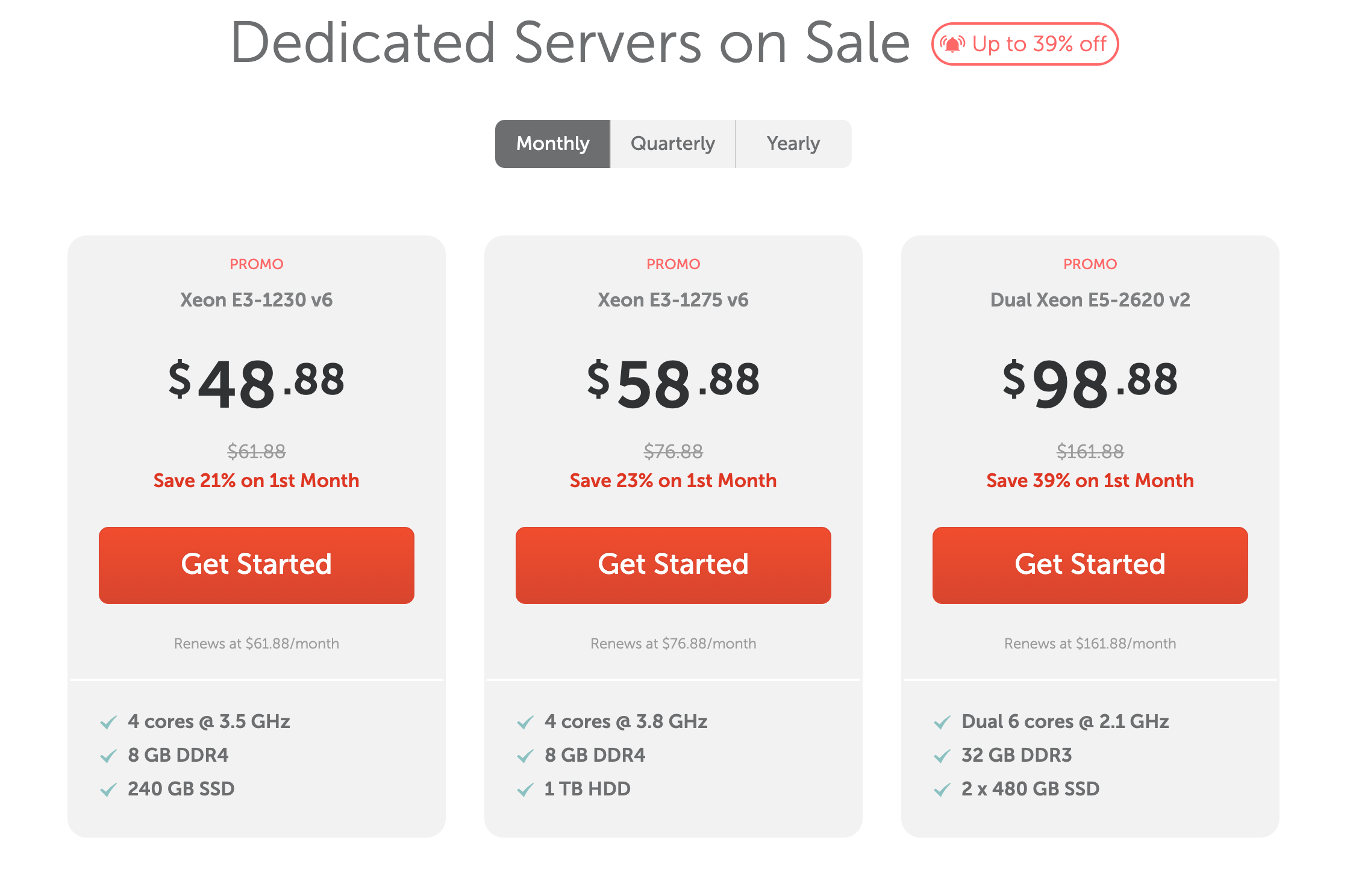 Namecheap was founded in 2000, and with over 10 million domains under its management and accreditation from ICANN, it was first known as the best in domain registrations. Today, it offers a plethora of everything about hosting, including the best cheap dedicated server hosting services.
Namecheap has 46 dedicated servers pricing plans, with the lowest one at $39.88 and the highest one at $319.88. The server already comes with a Dual Xeon Gold 5218, so it's still a relatively good value for your money. 
The company is too generous that discounts can go as high as 39% or more. Of course, all of these configurations are fully customizable and are often listed among cheap dedicated hosting providers.
You can have your subscription on a monthly, quarterly, or yearly basis. Migration is free, set-up happens the same day, while Namecheap guarantees 99.99% uptime. There's more—Namecheap's dedicated servers are hosted in the world-renowned PhoenixNAP datacenter in the US. That means you can expect that its dedicated server solutions are of the highest quality. 
| | |
| --- | --- |
| Pros | Cons |
| Free migrations | No unmanaged dedicated servers  |
| 24/7 technical support | |
| Budget-friendly options for any website size | |
MOST SUITED FOR
Beginners
Visit Website
Rating: 9.7
Pricing: From $139.00
Reviews: Excellent
Support: Phone, email, live chat, and online ticket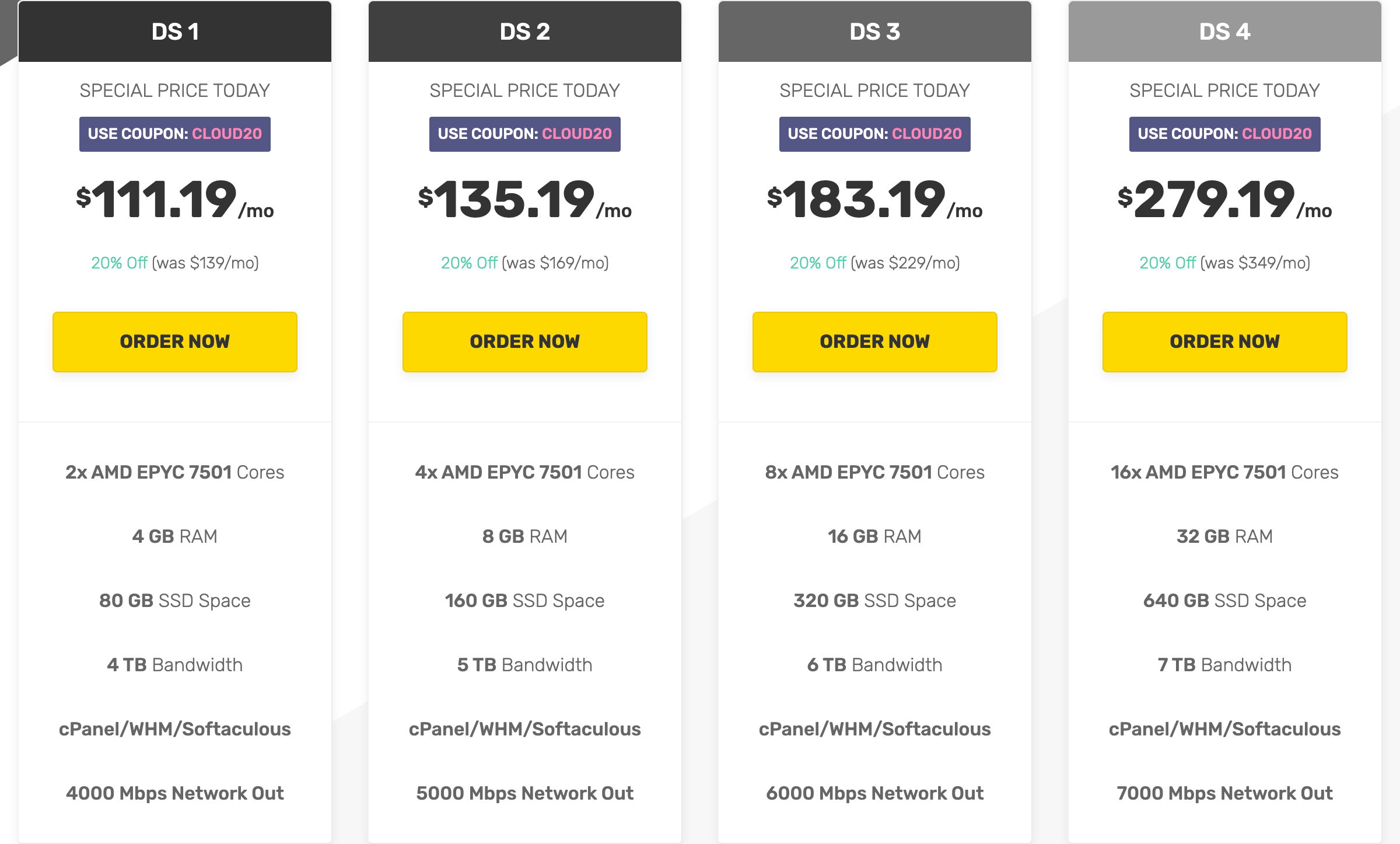 With only seven years of experience since it was established in 2013, FastComet had quickly made its way to the top of the dedicated hosting game. Of course, it also offers other hosting solutions, such as web, Cloud VPS, WordPress, Magento, WooCommerce hosting, and more.
FastComet offers four fully managed dedicated servers with pricing at $139.00/mo, $169.00, $229.00, and $349. But if you're wondering why we included it here when it's not that cheap, well, it's because they always offer generous discounts. Right now, each of these plans has a 20% discount, so they become $111.19, $135.19, $183.19. If only because of these dedicated server deals, then it deserves a spot here.
But is it one of the best? Let's check it out.
Aside from the preset specs, these packages come with rapid provisioning, SSD-only Cloud, cPanel, backup and snapshots, 24/365 support for infrastructure and apps, and a 7-day money-back guarantee. 
Additionally, they are all completely scalable, meaning you can resize them anytime you want. Beginners will enjoy this feature because they can start with the basic plan first and upgrade it once they've already learned their way through. So is it one of the best cheap dedicated servers? A big yes!
| | |
| --- | --- |
| Pros | Cons |
| Nine data centers across the globe | Money-back guarantee for only seven days |
| Excellent hardware specs | |
| Excellent customer service | |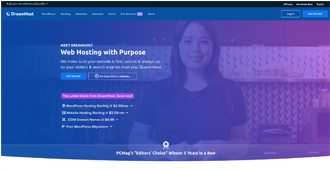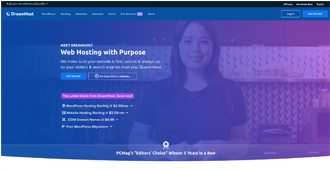 MOST SUITED FOR
Web designers
Visit Website
Rating: 9.7
Pricing: From $149.00
Reviews: Above average
Support: Chatbot, live chat, and social media
Founded in 1997, DreamHost is one of the leading providers of different hosting services with over 400k customers from 100 countries. It's been hosting over 1.5 million websites, including WordPress blogs and applications for website designing, development, small businesses, and more. And not to forget, it also offers low-cost dedicated servers.
DreamHost offers nine configurations starting at $149.00/mo up to $379.00/mo. Probably not the cheapest, but with all the inclusions, they are still a big bang for the buck. 
Each plan comes with either HDD or SSD hard drives for lightning-fast loading times, 24/7 DDoS protection, 100% uptime guarantee, 24/7/365 expert support, full root and shell access, unlimited bandwidth, and the list goes on. If you see it, you'll know that DreamHost offers one of the finest but cheap dedicated servers packages.
Although it may be difficult to get a hold of a customer support agent unless you sign up, DreamHost customer reviews are some of the best we've seen. Most satisfied customers reiterated on excellent customer service they received, especially when they were having technical difficulties. For this reason alone, we're happy to include it here in our dedicated server reviews of the cheapest options. 
| | |
| --- | --- |
| Pros | Cons |
| Has tons of inclusions in the packages | No phone support available |
| Outstanding customer reviews | |
| Great customer service | |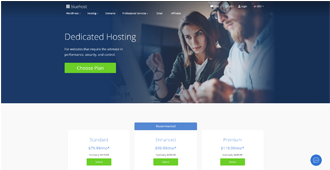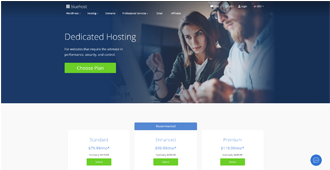 MOST SUITED FOR
WordPress sites
Visit Website
Rating: 9.7
Pricing: From $119.99
Reviews: Below average
Support: Phone, live chat, and email
BlueHost is quite a veteran in the industry with over 17 years of experience. It has over 2 million clients across the globe and thousands more coming in every day. But do they deserve to be on our list of the finest but cheapest dedicated servers in the world? There's only one way to find out.
BlueHost has only three dedicated server plans, a small number compared to most of its competitors. But as the saying goes, go for quality over quantity, so let's see. Depending on the server you choose, you'll get anywhere from 5TB bandwidth up to 15TB, from 3 IP addresses up to 5, from 4GB RAM up to 16GB, but all plans come with a 4-core CPU only. 
We're not entirely convinced yet at this point if BlueHost is indeed a leading dedicated server hosting provider, as they claim.
But the price is great. You can have the standard plan for only $119.99/mo, the enhanced plan for $159.99/mo, and the Premium plan for $209.99. They all come with a free domain for one year, a free SSL certificate, and a 30-day money-back guarantee. The plans are also often on a discount. 
So we still think BlueHost deserves a spot on our list of the best cheapest dedicated servers.
| | |
| --- | --- |
| Pros | Cons |
| Has multi-server hosting capacity | Below average customer reviews |
| Good uptime of 99.99$ | No managed servers available |
| Free SSL certificate | |
What to Look for in a Cheap Dedicated Server
We know that choosing the best one among the plethora of dedicated servers out there can be a daunting task. It becomes even more difficult if you're on a budget and think that it might not be able to perform the way you want. 
But now that we've provided you with the ten finest and the cheapest dedicated servers out there, we'll take out the price from the equation of this quick buyer's guide we've created especially for you.
So what are the other factors to consider when choosing the best but cheap dedicated servers?
Read on.
Technology
Tech is the bread and butter of your server. Check how powerful the processor is versus what you need. Do you need a Xeon or Dual Xeon? Also, check the bandwidth. The higher your website's traffic is, the higher bandwidth you need. 
Memory is also essential since it affects the speed of your website. In a nutshell, more RAM means better speed. Also, a dedicated server offers either Windows or Linux operating systems, so decide which one will work for your website better.
Server Uptime
While server uptime still falls under technology, we've decided to give it its own space here to emphasize its importance. Your website's reliability is the cornerstone of your business, and as such, it must be up all the time. Go for a server with at least 99.8% uptime. However, our dedicated server reviews here provide you with servers that have a 99.9% uptime guarantee.
Security
While dedicated servers are much safer than shared ones, it doesn't mean that they are 100% secure. So to ensure your site's safety and security, go for the best cheap dedicated server that comes with built-in security features.
Hosting Provider
Of course, your choice of a hosting provider matters too. Go for the one that offers customer support 24/7/365 because you'll never know when you'll need an expert's assistance in managing your servers. 
Check the customer reviews, too, so you can determine the company's credibility and reputation. How about some additional free services like DDoS protection? It would be great to look out for these and more factors when trying to find the best and cheapest dedicated server hosting provider.
Wrapping Up
Finding a top-of-the-line dedicated server and hosting provider that fits your budget without compromising quality doesn't happen overnight. It takes a lot of research, testing, and comparisons before you can arrive at the right decision. We've done those for you already, so we hope that you can find one among our selection of the finest and cheapest dedicated servers and hosting providers. 
FAQ
What is dedicated server hosting?
Dedicated server hosting is a type of hosting service where a physical server is dedicated to only a single client. He has full control over the machine, so he can customize and optimize it according to his business' requirements, such as security and performance.
What can I do with a dedicated server?
There's a lot of things you can do with a dedicated server. For example, many gamers use cheap dedicated gaming servers to maximize performance and quality. You can also host a website, host company emails, create a VPN, and backup your data. These are only a few examples of what you can do with a dedicated server. Of course, there are many more uses for it, but they may be too many to mention.
Is a dedicated server worth it?
First of all, we've already busted the myth that all dedicated servers are expensive with our list of the best but cheapest dedicated servers. And although they are still pricier than other servers, a dedicated server brings a lot of benefits. For one, it's known to be more secure than shared servers. 
Dedicated servers give full control to the business owners, avoiding any artificial intelligence or automation from taking control of their sites. Plus, this ensures that you're the only one using it, giving you absolute privacy and control. So yes, it's worth the extra buck.
How much does it cost to have a dedicated server?
Although we've found the cheapest dedicated servers in the world, it's a general rule of thumb that they are more costly than the rest. The cost varies depending on your service provider, the contract's length, the server's specs, etc. Generally speaking, it could cost anywhere around $75.00 a month or higher.
Is cloud cheaper than a dedicated server?
Even if you choose cheap dedicated servers, cloud servers are generally cheaper because you don't have to pay for the unused resources. Cloud servers are also post-paid, unlike dedicated servers.