Web.com Review
Web.com Review
Published: March 24, 2022
Affiliate Disclosure
We aim to provide you with the best tech news and reviews. To sustain our site, we may earn a commission when you buy from our affiliate links. Read our full Affiliate Disclosure.
Free stock image gallery included: Yes
Professionally designed templates: Yes
Drag and drop website editor: Yes
Built-in website hosting: Yes
Business email accounts: Yes, up to five
Expert support available: Yes
works on:
Chrome
Firefox
Reliable and affordable DIY website building
STRENGTHS
Easy to use
A drag and drop editor
Great customer support
Professional expert support
WEAKNESSES
It doesn't offer a Free plan
It lacks more advanced settings
If you're looking for a reliable and affordable way to create an online store or promote your business, check out the Web.com DIY Website Builder review below. We'll explore some of the features of this online tool to help you determine if it's right for you.
Let's get to it!
What Is Web.com?
Web.com is a straightforward website builder that provides domain name registration, design services, and marketing solutions. The company was founded in 1999 and has since served more than 3 million active users.
Moreover, it currently manages over 9 million registered domain names worldwide.
The main focus of our review will be the company's DIY Website Builder. This tool allows users to create professional-looking websites simply and efficiently by using one of their fully customizable templates.
Like other available solutions, Web.com allows anyone to create and manage a site, regardless of their experience level or knowledge of computer coding.
Features and Services
We'll explore some of Web.com's DIY Website Builder features in the section below. Although it's straightforward to use, it has everything you need to design a great site.
Website Builder Design Features
This DIY Website Builder prides itself on its simplicity. It uses a flexible drag and drop editor to reduce the time it usually takes to get a website up and running. All templates are fully responsive and customizable to help users achieve a modern professional design.
Pre-designed Content Blocks
You can quickly assemble professional Web.com websites without writing a single line of CSS. The tool incorporates different types of customizable pre-made blocks. These blocks include menus, covers, testimonials, contacts, footers, and more.
Photos and Videos
Web.com is aware of the importance of multimedia content. Therefore, users can embed videos directly from YouTube or Vimeo. Plus, this website builder provides an extensive library of over two million cropable and resizable stock images.
Social Media
This feature can help you improve your online presence and connect with your visitors by adding customizable buttons, embedding feeds, and other social media sharing features.
Forms and Maps
Web.com site builder can help you embed custom contact forms and location widgets, such as Google Maps. That way, you can help your customers contact you easier and find the physical location of your business with a single click.
Analytics
After building your website, it's essential to monitor its progress. Therefore, this company's data dashboard allows you to track web traffic stats in real-time, displays trend charts and offers Google Analytics integrations to help you chart your website's performance.
Custom Domain Name
One of the features that makes Web.com a strong contender among its competitors is that it provides custom domain names. You can choose the name that best fits your brand and get it completely free of charge for the first year.
Built-in Website Hosting
Web.com website builder offers a built-in hosting service. This tool can immensely help the website load faster and provides backup features.
Business Email
Web.com provides its customers with business emails corresponding to the chosen domain name. Users can have up to five accounts, each with 2 GB of storage.
Technical Support
This website builder offers excellent technical support! Its users can communicate by phone (7am until 12am) or live chat with a support team member 24/7, no matter what part of the world they're in.
Plans and Pricing
When it comes to Web.com pricing plans, they're relatively affordable and simple to understand. The company offers both monthly and yearly billing cycles. If you choose to go with an annual plan, you'll get 50% off.
Starter — $1.95 for the first month, then $10/month
The starter plan comes with the DIY editor, thousands of stock images, and hundreds of unique design layouts. Moreover, the pricing for the first billing cycle of the annual alternative for this plan is $50.00, and then $100.00/year afterward.
Marketing — $2.95 for the first month, then $15/month
For this Web.com monthly fee, this tier combines all the benefits of the Starter plan plus offers business profiles in many different local directories and search engine submission to all the major ones on the market, such as Google and Bing.
The annual price point sits at $75 for the first billing cycle and $150.00/year afterward.
eCommerce — $3.95 for the first month, then $20/month
The eCommerce plan offers all of the features of the previous two plans with the addition of being able to sell up to 500 products, a secure shopping cart, and robust email marketing tools.
The alternative annual price is $100.00 for the first year and $200.00 for each following year.
Disclaimer: All the above prices are discounted based on the company's current offerings. Web.com may change them without prior notice.
Customer Support
In the next part of our Web.com DIY website builder review, we'll briefly look at their Customer Support team.
First off, the company's site has an excellent "help and support" page that can solve many common problems. Also, if you can't find what you're looking for on the help page, you can receive a prompt response by sending an email.
Plus, Web.com offers a great 24/7 live chat service for quick answers to questions regarding pricing, product features, and more.
Finally, if you still haven't gotten the help you need, you can speak with one of their award-winning support members by calling 866-923-8821 from 7am until 12am ET.
Ease of Use
We're happy to say that we had the opportunity to test the platform out for ourselves. Therefore, we'll discuss our experiences and what we liked and disliked about using its services below.
For starters, when prompted, we chose to build our site with the help of Artificial Design Intelligence instead of on our own. We then decided on a domain name, which was incredibly easy and accomplished within seconds.
Once we did this, we selected a theme from the Web.com theme gallery. Although there were quite a few choices, it was easy to navigate the categories to find one that best suited our brand.
Now, onto the editor itself. Long story short — it was great! All the individual blocks and settings were classified in the menu bar on the left and were easily accessible. Plus, adding additional elements using the drag-and-drop functionality was incredibly easy.
You can delete all the elements from the Web.com template gallery and start from scratch or simply replace the ones you don't like. Additional settings for the selected element appear in a pop-up menu next to it once selected, which was also a handy feature.
However, we must admit that the editor is quite limited. In fact, some Web.com reviews also pointed out that there aren't many advanced features compared to the basic ones.
For example, you can't just drop an element wherever you want. Plus, you're limited with where you can move certain elements on the site, and resizing can be a problem. These actions depend on the type of template you've chosen.
However, since their gallery has plenty of templates, you could solve this problem by picking a different one and trying again.
Overall, aside from its limitations, we enjoyed using this platform. It's quick and efficient, comfortable on the eyes, and provides an excellent solution for non-developers without hiring a professional.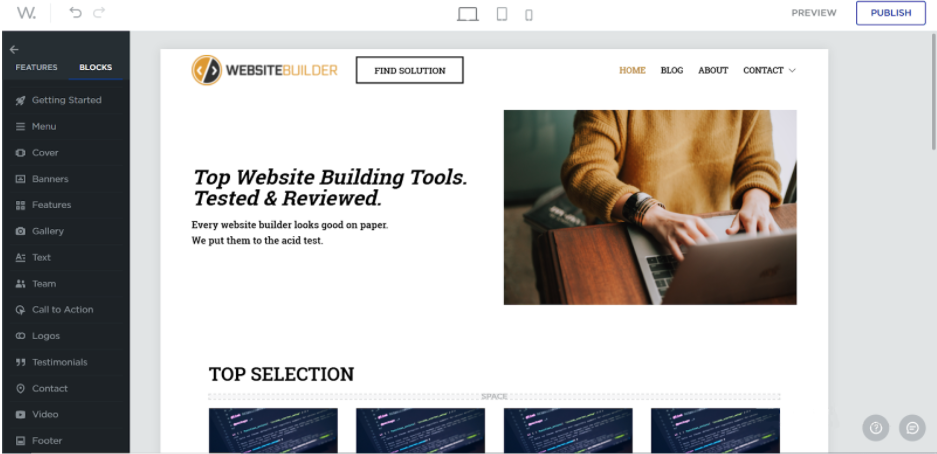 Web.com Alternatives
Now, we'll look at some of the Web.com competitors on the market and see how its DIY Website Builder stands up to the competition.
Web.com vs. GoDaddy  
GoDaddy is one of the biggest companies in web domains and hosting. For instance, it currently hosts more than 5 million websites across 35,000 servers.
It also makes migration processes as hassle-free and straightforward as possible and offers a free website builder. 
In terms of hosting, GoDaddy provides a larger disk space than Web.com, but this isn't particularly important if you're looking to create a smaller website or a smaller eCommerce site.
All in all, these two platforms are, in our opinion, equally as good. Choosing which one to use ultimately comes down to your specific needs and expectations.
Web.com vs. Wix  
Being one of the best web design software solutions on today's market, Wix is indeed a formidable competitor. Today, the platform has over 200 million active users worldwide.
Moreover, it's a popular solution for portfolio websites and blogs, making it a great website builder for photographers and other types of creators. 
Web.com's DIY builder has substantially fewer templates and many limited functionalities than Wix. Overall, Wix is a global leader and has more features, and Web.com is a more traditional website builder that focuses on SEO and online marketing for small businesses.
Web.com vs. WordPress
WordPress is undoubtedly the most popular website builder out there. In fact, it powers over one-third of all the sites on the internet and provides users with tens of thousands of website templates.
Compared with Web.com, the most significant advantage of WordPress is the extensive library of templates, both free and paid. Alongside that, WordPress also provides a free plan. 
However, if you're looking for a basic website and aren't interested in plug-ins or coding, Web.com could be perfect.
Ultimately, like with any other competitor, it's always beneficial to look up user reviews and compare price points to ensure you're getting the best deal. Plus, it also depends on your personal preferences and expectations.
Verdict
There are many terrific website builders out there offering great features and services. One of the best things about Web.com is its simplicity. Everything about it is very straightforward, and you can create a professional-looking website without doing any coding whatsoever.
Plus, its starting prices are cheap enough to at least give it a try to see if it's the best option for you to promote yourself or your business online.
FAQ
Is Web.com free?
No. Unfortunately, Web.com doesn't offer a Free plan. However, its monthly plans are quite affordable, especially during the first billing cycle.
Is Web.com good?
Web.com is a good website builder! It has some limitations compared to some of the best website builders on the market. However, according to many Web.com reviews, it's easy to get your site up and running. So, it could be worth overlooking these limitations.
Is Web.com legit?
Web.com is a legit website-building and domain name registering service. As we mentioned in our Web.com DIY Website Builder review, it's quite simple to use and can help you design a professional-looking site to promote your business and sell your product or services.