5 Best Free Password Managers for 2023
[EXPERT REVIEWS]
Forgetting your password can tempt you to change it to something simple that you won't forget. But data breaches and password cracking are becoming more common. So, if you want to keep your data safe, a better solution is a password manager.    
Any free one will keep you safe from the risks of using weak passwords, but the best free password managers offer powerful password security and extra features. Read about them below.
Affiliate Disclosure
We aim to provide you with the best tech news and reviews. To sustain our site, we may earn a commission when you buy from our affiliate links. Read our full Affiliate Disclosure.
5 Top Password Managers 2023
In-Depth Best Free Password Manager Reviews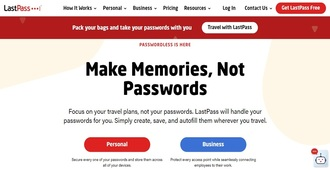 LastPass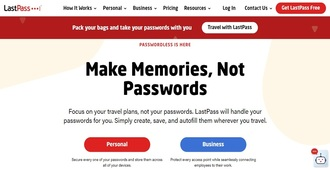 MOST SUITED FOR
Budget-conscious users
Visit Website
Rating: 9.8
Device compatibility: iOS, Windows, Mac, Android, Linux
Pricing: From $0.00/month
Customer Support: Via phone for sales, community forum, Twitter, or website
Customer Reviews: Above average
As so many of the in-depth LastPass reviews are positive, it's safe to say that most people consider LastPass to be one of the quality password managers.
LastPass has an excellent 30-day trial that includes premium features — unlimited passwords across your mobile devices or computers, emergency access, save and autofill passwords, password generator, dark web scanning, and much more. 
With LastPass, you need to worry only about your master password. It would be best not to share it with LastPass — nor with anybody else. 
LastPass safeguards your data at every stage. It uses military-grade encryption (256-bit AES) to protect all user data and offers a zero-knowledge policy, multiple two-factor authentication options, and biometric logins. 
LastPass Premium costs $3 monthly, and the Families plan costs $4 monthly, so they're both excellent buys, with many extra features that elevate LastPass to the top password managers.
There are also two Business plans — for teams and for businesses, costing $4 and $6, respectively. Both of them include a 14-day trial, if you'd like to test them out.
| | |
| --- | --- |
| Pros | Cons |
| Easy to use and understand | Importing passwords isn't very intuitive |
| Multiple account recovery options | The automatic password changer supports fewer sites than other changers |
| Secure password sharing | |
| Zero-knowledge policy | |
1Password
MOST SUITED FOR
Companies looking for impeccable security features
Visit Website
Rating: 9.9
Device compatibility: iOS, Windows, Mac, Android, Linux
Pricing: From $0.00/14 days
Customer Support: Via email, website, or Twitter
Customer Reviews: Excellent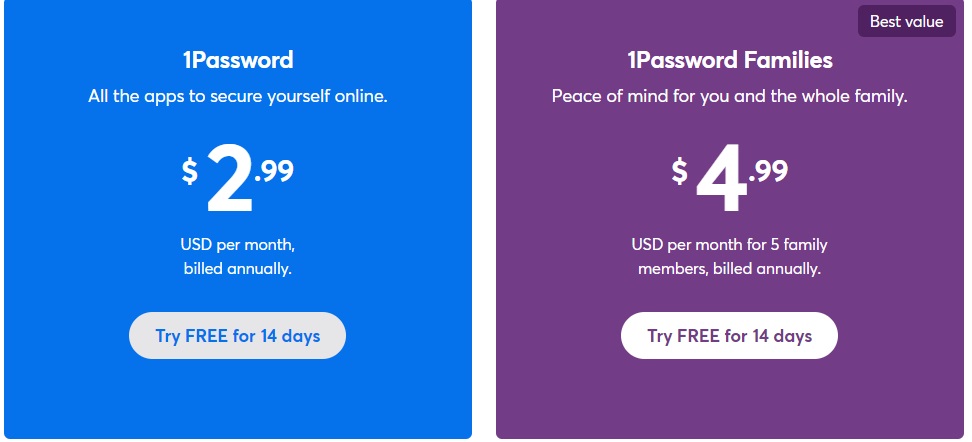 This password manager is one of the best password managers for 2022. 1Password's Personal plan is ideal for single users since it offers unlimited passwords you can share, an extra layer of account protection, and 1 GB of document storage. 
It employs strong encryption and exceptional security practices. Although the default security setting asks you to reenter the master password or unlock the app with face or fingerprint recognition more frequently than you would want, this is a simple setting to change.
As a result, it provides the best balance of ease of use, features, security, and compatibility. The Watchtower feature, for example, identifies and helps you change passwords that are reused, compromised, or weak. 
The Personal plan costs $2.99 a month, while the Family plan costs $4.99 a month. If you want to go for the Business plan, which costs $7.99 a month, reading some of the extensive 1Password reviews can help you make an informed decision. 
The Team version is a bit more expensive, $19.95, but it might be perfect for smaller teams.
| | |
| --- | --- |
| Pros | Cons |
| Plain-language security recommendations | Not required to have numbers or special characters in the master password |
| AES 256-bit encryption to protect your data | Not many account recovery options |
| Zero-knowledge policy | |
| Customizable vaults | |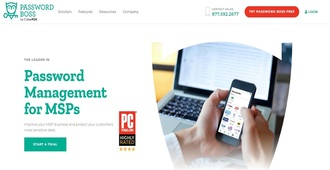 Password Boss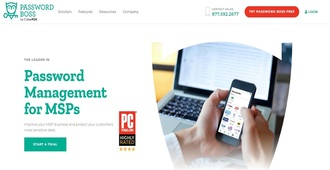 MOST SUITED FOR
Small business or personal use
Visit Website
Rating: 9.7
Device compatibility: iOS, Windows, Mac, Android
Pricing: From $0.00/month
Customer Support: Via knowledge base, email, and phone for sales
Customer Reviews: Above average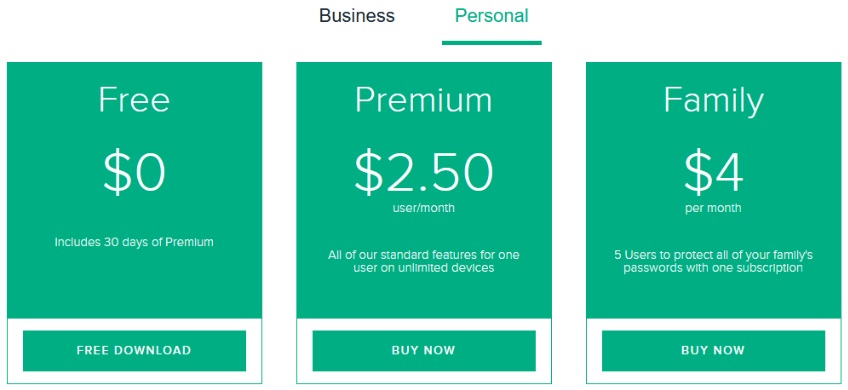 Password Boss includes all features you'd expect from a high-quality password management solution. Password generation, password sharing, one-touch login, and secure cloud storage and backup are among them.
It also allows you to create separate storage areas for business and personal use, making it more secure than many top–rated password managers with comparable features.
It provides a free plan for storing your passwords locally on one device. Furthermore, its premium plans allow users to sync passwords across as many devices as they want, and they are flexible enough for both technical and non-technical users. 
The Premium plan costs $2.50 a month, while the Family plan is $4. The business plans cost $3 a month for the Standard version and $4 for the Advanced one. 
The business plans contain all the features of the personal plan, plus an unlimited number of users, admin platform, advanced security policies, backup of password vaults for all users, and other excellent features. 
There are many thorough Password Boss reviews you can turn to to find in-depth information about this password manager. You can also test its premium features during a 30-day free trial.
| | |
| --- | --- |
| Pros | Cons |
| Business priority support | Some customers wished for more innovative features |
| Simple platform for easy management | Email support isn't particularly fast |
| Multi-layered security | |
| Unlimited secure sharing | |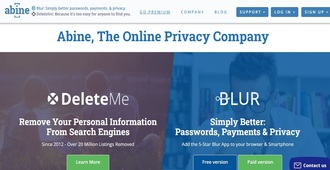 Blur Password Manager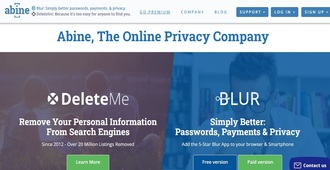 MOST SUITED FOR
Customers looking for masking features
Visit Website
Rating: 9.7
Device compatibility: Linux, Windows, Mac (via browsers); iOS, Android
Pricing: From $0.00/month
Customer Support: Via website
Customer Reviews: Above average
Blur is among the popular password managers. It provides everything a typical user requires, plus a little more than most free or low-cost password managers.
You'll need to subscribe to the paid service to use the masking feature. However, this service is definitely worth a few dollars per year. Its masking service is divided into three parts — email masking, which is included in the free plan, credit card masking, and phone masking. 
The email masking feature is simple to apply to all your email addresses and functions by forwarding a fake email address, ensuring that potential scammers or spammers can't access your actual email. 
The Blur dashboard includes all masking features, each with its button or icon. 
The Yearly Premium basic plan costs $39.00, while the Premium Unlimited plan costs $99.00. If you want to go for a paid plan, we recommend reading some of the extensive Blur password reviews so you can make a decision more easily.
| | |
| --- | --- |
| Pros | Cons |
| Strong autofill support | The mobile app experience could be improved |
| Anti-tracking feature | Some users reported issues with password import |
| Unique privacy-protecting features | |
| Block hidden trackers | |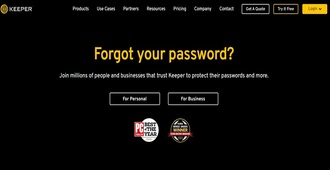 Keeper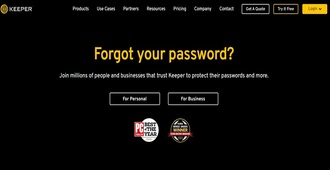 MOST SUITED FOR
Families
Visit Website
Rating: 9.8
Device compatibility: iOS, Windows, Mac, Android, Linux
Pricing: From $0.00/month
Customer Support: Via phone or website
Customer Reviews: Excellent
Keeper is a user-friendly, highly secure password manager with many useful features. It offers superior security and more cloud storage than any other password manager. 
You can choose from a few bundles and plans, with its Family plan being one of the best-value options for multiple users, making it the best family password manager.
In addition, Keeper secures all user passwords and data with the industry-standard 256-bit AES encryption. This encryption is the same as used by governments and banks, and it is nearly impossible to crack.
Keeper is independently audited and follows all the required security practices. It supports a variety of 2FA methods, allowing you to log into your account securely. 
Moreover, according to free password manager reviews, there is also a self-destruct timer, allowing you to send messages via KeeperChat app and ensure they are permanently deleted after the set time period.
Keeper has a free plan and the paid plans are ––Personal plan for $2.92 a month, Family plan is $6.25 a month, and the business plan is $3.75 a month. They also offer 50% off to students, and 30% off to military and medical personnel.
| | |
| --- | --- |
| Pros | Cons |
| Special discount programs | Some features cost extra |
| 24/7 customer support | Password sharing function could be improved |
| Self-destruct options | |
| Offline mode | |
How to Choose the Best Free Password Managers — A Quick Guide
When it comes to password managers, there are a lot of choices out there. So, how do you decide which one is the best for you? Here are some things to consider:
Security 
Password managers store your passwords in the company's cloud-based server or your device's vault. 
The best way to store passwords is on your cloud because it can be accessed from any device. Plus, the cloud will keep your passwords intact even if your computer breaks down or gets stolen.
Compatibility
Personal information is stored on tablets, phones, laptops, and desktops, so your password manager must work everywhere. 
Make sure it works on all your operating systems, including iOS, Windows, Mac, Android, and Linux. Don't forget to check whether it has a browser extension, too. If you use multiple devices, look into the syncing capabilities.
Price
Although digital security is worth every penny, many people are on a budget. While good password managers can be free — and many of them are — paid options provide better features and greater protection. 
For a single person, the paid options vary from around $10 to $60 per year, with family plans adding value. All in all, you should always compare the various services' prices to determine the best value for your needs.
Features Offered
All the best password manager systems should use simple language, and browser extensions should function automatically. Biometric logins make it easier to use password managers on mobile devices. 
With that in mind, you should choose password managers that include additional security features. For example, some detect weak or duplicate passwords and prompt you to change them, while others change passwords regularly.
Customer Reviews
Reading reviews from people who have used the password manager you're interested in trying is the best way to determine if it is right for you. Many people make purchasing decisions based on online reviews, and you can find many good reviews online.
Wrapping Up
With a password manager, you'll only need to remember one password to access a secure location where all your other passwords are stored. A fantastic advantage of free password managers is that you can experiment and try several before you make your final choice.
After all, password managers are in charge of your most private information, so we hope our article helps you find the best one for your needs.
FAQ
Are password managers safe?
Yes, they are.
They offer strong encryption, acting as a strong deterrent to cybercriminals. Most password managers use strong encryption, such as AES, the industry standard for protecting sensitive data used by the US government.
Do I really need a password manager?
If you're bad at memorizing things, you definitely need a password manager. It helps you keep track of all of your passwords without having to remember them. 
In addition, some password vaults can change your passwords with a single click and securely store sensitive data such as credit card information.
Which is better,1Password or LastPass?
Both of them are among the best free password managers. LastPass offers perfect multi-factor security. However, 1Password's data storage options are excellent. Both are very simple to use and have great customer support.
So, it depends on your needs, but you can't go wrong with either of them.