9 Best Grammar Checkers to Perfect Your Writing in 2021
Mistakes happen even to the best of us, and no matter how hard you try, you'll never catch all those sneaky little typos and errors. That's why we compiled a list of the best grammar checker tools on the market based on their reliability, usability, features, and pricing.
These tools can make your writing sound more credible and professional. Read on to find one that suits your needs best.
Last Updated: July 19, 2021
Advertiser disclosure
This page may contain links to our partners' products and services, which allows us to keep our website sustainable. This means that websitebuilder.org may receive a compensation when you sign up and / or purchase a product or a service using our links. However, all opinions expressed in this article are solely ours, and this content is in no way provided or influenced by any of our partners.
Top 9 Best Grammar Checkers for 2021
Our Top-Rated Grammar Checker Reviews
Grammarly Review
BEST FOR
Online content creators
Visit Website
Real-time grammar check
Syncs with Google Docs
Checks plagiarism
Integrates with MS Word & Outlook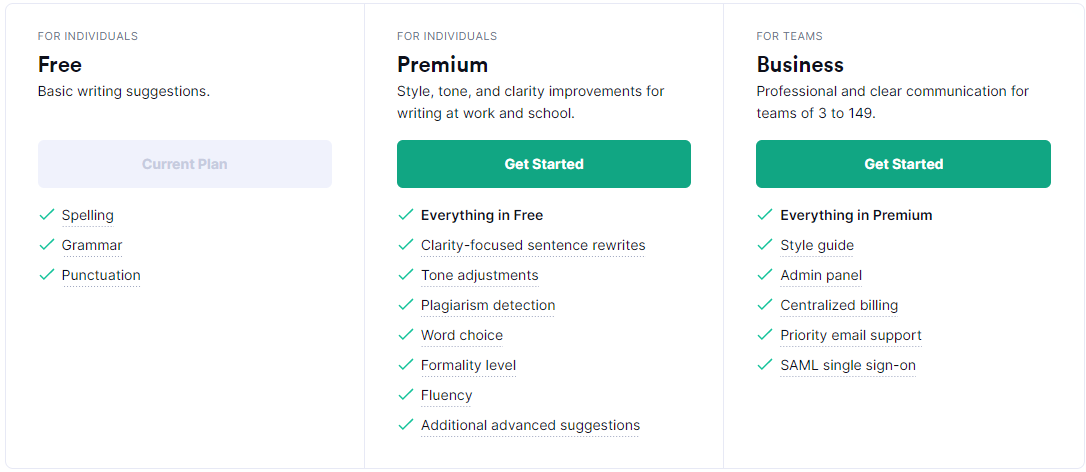 Plagiarism checker: Yes
Writing assistant: Yes
Language preferences: Yes
Dictionary: Available
Pricing plans: Free, Premium ($11.66–$29.95/month), Business ($25/member/month)
Grammarly is one of the best-known and best overall online grammar checkers. It's probably the best grammar checker of 2020 based on the online reviews alone. And according to most of the detailed Grammarly reviews found online, it's especially useful for online content creators.
You can choose the Free, Premium, or Business plan. The Free plan will check your writing for grammar and spelling mistakes. However, both the Premium and the Business plan offer a more advanced grammar check. 
The paid version gives tips on clarity, engagement, and delivery. The checker will underline lengthy sentences, repetitive words, and miswritten phrases, giving you suggestions for improving your style and tone. Furthermore, both plans come with a plagiarism checker.
Grammarly will also provide you with a personal dictionary. You can store industry-specific words and phrases and prevent Grammarly from detecting correct words as incorrect.
What's even better about Grammarly is that it integrates with Google Docs via an extension. The extension is still in beta and doesn't offer all the options of the browser app. However, it detects grammar and spelling mistakes and is now able to correct entire sentences. 
Online grammar checker reviews praise Grammarly for its ability to integrate with MS Word and Outlook, as well as the majority of browsers.
You can choose between American, British, Canadian, and Australian English, and adjust your spelling accordingly. You can also download the Grammarly phone app and use it on the go.
| | |
| --- | --- |
| Pros | Cons |
| Real-time grammar check | Sometimes offers incorrect suggestions |
| Syncs with Google Docs | Premium plan has no trial |
| Checks plagiarism | |
| Integrates with MS Word & Outlook | |
Ginger Review
BEST FOR
Non-native speakers
Visit Website
Free grammar check and translator
Real-time correction
Text reader
Personalized training sessions
Plagiarism checker: Not included
Writing assistant: Yes
Language preferences: Yes
Dictionary: Available
Pricing plans: Free, Premium ($3.99–$11.98/month)
Ginger is quite possibly the best grammar checker software for non-native speakers. It's one of the oldest grammar checkers around, and it's available in Free and Premium versions.
The Free plan will provide you with grammar and spell-check. As a bonus, you get a translator that allows you to translate your work into more than 40 languages. It comes with a weekly auto-correction limit, after which you'll have to correct your errors manually. Moreover, Ginger will correct your work offline as well as online. 
The premium version offers fantastic features, as well. Ginger will suggest style and sentence changes that enhance your writing. Furthermore, it provides a unique feature—a personal trainer. This feature detects your most common errors and creates personalized training sessions, concentrating on your weak points. It's especially handy for non-native speakers. 
Ginger also has a text reader. Hearing what you wrote puts your writing into a new perspective. You can listen to frequently repeated words, detect strange sentence constructions, and correct any other weak points you might have. 
Most of the online Ginger reviews are quite positive. We recommend this software to writers who self-edit, but anyone can benefit from it. Ginger works in practically all browsers. It also has a desktop app that integrates with Microsoft Office and Libre Office. 
Unfortunately, the desktop app isn't compatible with macOS, and there's no Google Docs integration. Still, the majority of the paid and free grammar checker reviews expect the next update to solve this issue.
| | |
| --- | --- |
| Pros | Cons |
| Free grammar check and translator | No plagiarism checker |
| Real-time correction | Not compatible with macOS |
| Text reader | No Google Docs integration |
| Personalized training sessions | |
WhiteSmoke Review
BEST FOR
Academics, editors, and marketers
Visit Website
Works on all devices
Translation for 50+ natural languages
Dictionary and thesaurus
Over 100 writing templates
Plagiarism checker: Yes
Writing assistant: Yes
Language preferences: Yes
Dictionary: Available
Pricing plans: Web ($3.47), Premium ($5.55), and Business ($8.82) 
Unfortunately, WhiteSmoke doesn't offer a free plan with features like a grammar or spelling checker. And even though there's no free trial either, the paid features alone make WhiteSmoke a serious contender for the best grammar checker app on the market. 
Besides being on par with some of the best spell check software out there, WhiteSmoke will also give you proper punctuation suggestions. This app will recommend alternatives to your writing style to make your text appear even more professional.
WhiteSmoke detects plagiarism with great accuracy and allows you to translate your text into over 50 natural languages, while hundreds of pre-made writing templates will make your life easier. Moreover, Whitesmoke's video tutorials can help you create high-quality and engaging content for your readers.
The app works nicely in all browsers, and it also integrates with WordPress, LibreOffice, and Microsoft Word. All these brilliant features are worth every penny and make WhiteSmoke one of the best online grammar checkers. It's suitable for academics, editors, writers, businesses, and marketers.
As evident in any in-depth WhiteSmoke review, there is a 10,000-character limit for grammar checking. Also, the checker sometimes shows false positives, but this rarely happens.
As far as the pricing goes, you can choose between the annual or three-year plan and get their excellent iOS and Android apps for grammar correction on the go.
| | |
| --- | --- |
| Pros | Cons |
| Works on all devices | No free basic features or trial |
| Translation for 50+ natural languages | 10,000-character limit |
| Dictionary and thesaurus | |
| Over 100 writing templates | |
ProWritingAid Review
BEST FOR
Blog writers
Visit Website
Writing mentor
Video tutorials and quizzes
Self-editing guide
Accurate anti-plagiarism software
Plagiarism checker: Yes
Writing assistant: Yes
Language preferences: Yes
Dictionary: Available
Pricing plans: Free, Monthly ($20), Annual ($79), Lifetime ($399)
Whether you're an established author or a student, ProWritingAid just might be the best proofreading software for you. Still, reading a thorough ProWritingAid review is advisable, as it may help you make an informed decision. 
You can choose between the free and paid versions, though a lifetime license is the best option for blog writers and online content creators.
The free grammar and punctuation checker and corrector works only in a browser. Conversely, the paid version works across most platforms, including browsers, desktop computers, and word processors.
ProWritingAid integrates with Google Docs and supports you in writing essays, articles, tweets, emails, business proposals, etc. Unfortunately, it doesn't have a smartphone app. The checker excels at spotting and correcting grammar, spelling, and punctuation mistakes.
Additionally, it offers writing style suggestions and a word explorer that can help you avoid clichés and write captivating material. The plagiarism checker ensures your writing is honest and authentic, while the article checker provides data visualization.
You'll be able to see charts and graphs regarding your writing progress and visualize and understand your mistakes better, as well as work on your weak points. This feature is useful for English language students and non-native speakers who want to benefit from detailed explanations, suggestions, and progress visualizations.
| | |
| --- | --- |
| Pros | Cons |
| Writing mentor | No smartphone app |
| Video tutorials and quizzes | Plagiarism checker costs extra |
| Self-editing guide | |
| Accurate anti-plagiarism program | |
AutoCrit Review
BEST FOR
Authors
Visit Website
Online book editor
Genre-specific analysis
Detailed reports
Chapter-by-chapter editing
Plagiarism checker: Not available
Writing assistant: Yes
Language preferences: Not available
Dictionary: Available
Pricing plans: Free, Professional ($30/mo), Annual Professional ($297)
AutoCrit may lack some features that most grammar checkers offer, but its characteristics are still nearly perfect. It works on an algorithm based on best-selling books, making it arguably the best grammar and spell checker for literary authors.
While you may not find it useful for everyday email, Twitter, or checking reports, novelists, non-fiction writers, and screenwriters will love it.
Besides the basic grammar and spelling check, AutoCrit provides writing guidance and secure online storage for your writing. Even though it doesn't have the best grammar check ever, it can help you master the art of writing. AutoCrit covers the following areas:
Pacing and momentum

—no other grammar checker will test the pacing of your writing. This feature analyzes your manuscript and points out sentences, paragraphs, and chapters that are slow and could lower your reader's attention and interest.

Dialogue

—AutoCrit analyzes your dialogue's flow. It'll point out if it sounds unnatural or if certain words repeat too often, and it will give you replacement suggestions.

Strong writing

—this feature makes sure your writing is loud and clear. It'll break down each sentence and point out an excessive number of adverbs, passive voice, cliches, and unnecessary filler words.

Word choice

—according to numerous

grammar checker reviews

, this feature helps you choose the right word for the context or gives you an idea of how to start a sentence.

Repetition

—this option will detect if some words repeat too frequently and make a suggestion for their replacement.

Fiction comparison

—this unique feature will allow you to choose a writer or a book from AutoCrit's database and compare your writing with theirs. 

Readability

—the tool will analyze how hard it is to read your text and suggest improvements.

Grammar

—AutoCrit is also a

good grammar checker

. However, it doesn't recognize company and brand names or modern acronyms, such as Pinterest, FOMO, WeChat, etc. 
AutoCrit will analyze your entire book chapter by chapter. It'll then give you reports that you can export and open in MS Word or store online in its database. Unfortunately, it only runs on browsers, so it doesn't support offline document editing.
| | |
| --- | --- |
| Pros | Cons |
| Online book editor | No smartphone app |
| Genre-specific analysis | |
| Detailed reports | |
| Chapter-by-chapter editing | |
Sapling Review
BEST FOR
Customer-facing teams
Visit Website
Free trial available
Works across all platforms
High-quality grammar and spell-checker
Secure and efficient

Plagiarism checker: Not available
Writing assistant: Yes
Language preferences: Not available
Dictionary: Not available
Pricing plans: Free, Pro ($25), Enterprise (contact Sapling for price)
Sapling isn't meant to be used strictly as a grammar checker, so students, writers, authors, or English language learners won't benefit from it much. However, if you or your team frequently communicate with customers, pay closer attention to this online grammar check review.
Sapling is an artificial intelligence writing assistant. It integrates with a CMR and makes sure that the entire team has the same tone and writing style across all channels.
It works across all browsers and integrates with the majority of work platforms, including Gmail, Outlook, Slack, MailChimp, LinkedIn, Dropbox, and Microsoft Teams. Moreover, it adds new platforms every week, making it one of the best free online grammar checker software for business professionals. 
What's best about this AI assistant is that it catches spelling and grammar mistakes while you're typing and acts as a proofreader. It also suggests personalized responses and offers a one-click autoresponse.
This online editor for grammar and spelling will also check the tone of your writing and ensure that all sentences are correctly formatted and contain no repetitive or monotonous passages. Sadly,
Sapling won't offer you synonyms, replacement words, or check for plagiarism, but the features it offers are great enough. Sapling is one of the best grammar apps for businesses and individuals who want to make sure nothing will go unapproved.
It will ensure faster communication with no typos or grammar mistakes. This, in turn, results in increased customer satisfaction and engagement, as well as better CX metrics.
| | |
| --- | --- |
| Pros | Cons |
| Free trial available | Not suitable for students |
| Works across all platforms | |
| Good quality grammar and spell-checker | |
| Secure and efficient | |
Linguix Review
BEST FOR
Students
Visit Website
Real-time editing and suggestions
Language-learning handbook
Template library
Context-based recommendations
Plagiarism checker: Not available
Writing assistant: Yes
Language preferences: Not available
Dictionary: Yes
Pricing plans: Free, Monthly ($18.95), Quarterly ($12/mo), Annual ($8/mo)
Linguix is an AI-based grammar and spelling checker that gives recommendations based on context. It makes sure your sentences are clear and correct, and it also enhances your writing and helps you make it more readable. This makes Linguix the best online grammar checker for English students. 
The free version only provides grammar and spell-checks. However, the paid version is one of the best grammar checkers if you're an English learner, non-native speaker, or simply want to perfect your language skills. Linguix will help you polish your skills with its language handbook that's packed with tips, suggestions, and recommendations.
You can also forget about getting writer's block, as Linguix's templates will provide you with inspiration, advice, and examples of how to write an email, essay, CV, blog post, newsletter, press release, and so much more. You'll never get stuck or run out of ideas while writing ever again. 
Besides having arguably the best online spell check software, grammar tips, and templates, Linguix will also save you time with the use of snippets.
Just write a snippet, assign it a keyboard shortcut, and insert it in a text when you need it. This way, you'll speed up your writing process and increase productivity. Moreover, snippets will automate your writing and enhance its consistency.
You can paste a text in Linguix or use the browser extension that checks the writing in real-time on any website. Additionally, you can use the secret mode that won't store any content. Overall, this is a great grammar checker with lots of useful features.
However, our online grammar checker review does reveal a couple of downsides. Namely, Linguix doesn't offer a smartphone app or a plagiarism checker. Still, the features it provides are excellent.
| | |
| --- | --- |
| Pros | Cons |
| Real-time editing and suggestions | No plagiarism checker |
| Language-learning handbook | Limited features with the free version |
| Template library | No smartphone app or offline version |
| Context-based recommendations | |
Scrivener Review
BEST FOR
Long-form writing
Visit Website
Best for writers and novelists
Available for Mac, iOS, and Windows
Multifunctional software
One-time purchase
Plagiarism checker: Not available
Writing assistant: Yes
Language preferences: Not available
Dictionary: Not available
Pricing plans: $19.99–$80
Scrivener may seem like any other word processor, but it's so much more than that. Similarly to AutoCrit, it's a contender for the best grammar checker software for long-form writing. It's perfect for authors, fiction and non-fiction writers, students, lawyers, novelists, screenwriters, etc.
It offers so much more than the more basic grammar checkers and word processors. It combines the best from both worlds and offers the ultimate writing companion.
It works on Mac, Windows, and has an iPad app version as well. The overall functionality is the same, but users claim that the Mac version is better, making it a contender for the best grammar checker for Mac. 
Scrivener will let you draft ideas and write, edit, organize, preview, and export your manuscript. You can create an organized flow of documents and put them on a board or bind them together.
Apart from in-depth grammar and spelling check and correction, Scrivener will allow you to color-code your writing and keep notes. You can also set targets and get data and statistics on your writing and editing progress.
By making a grammar checker comparison, we can notice that Scrivener lacks some features that other apps have. Namely, you won't get a plagiarism checker, a personal dictionary, or a smartphone app. Still, it offers great templates based on genre, style, or type of writing.
The templates and suggestions will help your writing stay consistent and engaging. They'll also help you improve your writing style or develop a better one. It also allows you to work on multiple docs at the same time.
| | |
| --- | --- |
| Pros | Cons |
| Best for writers and novelists | No web or smartphone app |
| Available for Mac, iOS, and Windows | |
| Multifunctional software | |
| One-time purchase | |
WP Spell Check Review
BEST FOR
Developers, bloggers, and marketers
Visit Website
Corrects grammar
Checks spelling
Free trial available
30-day money-back guarantee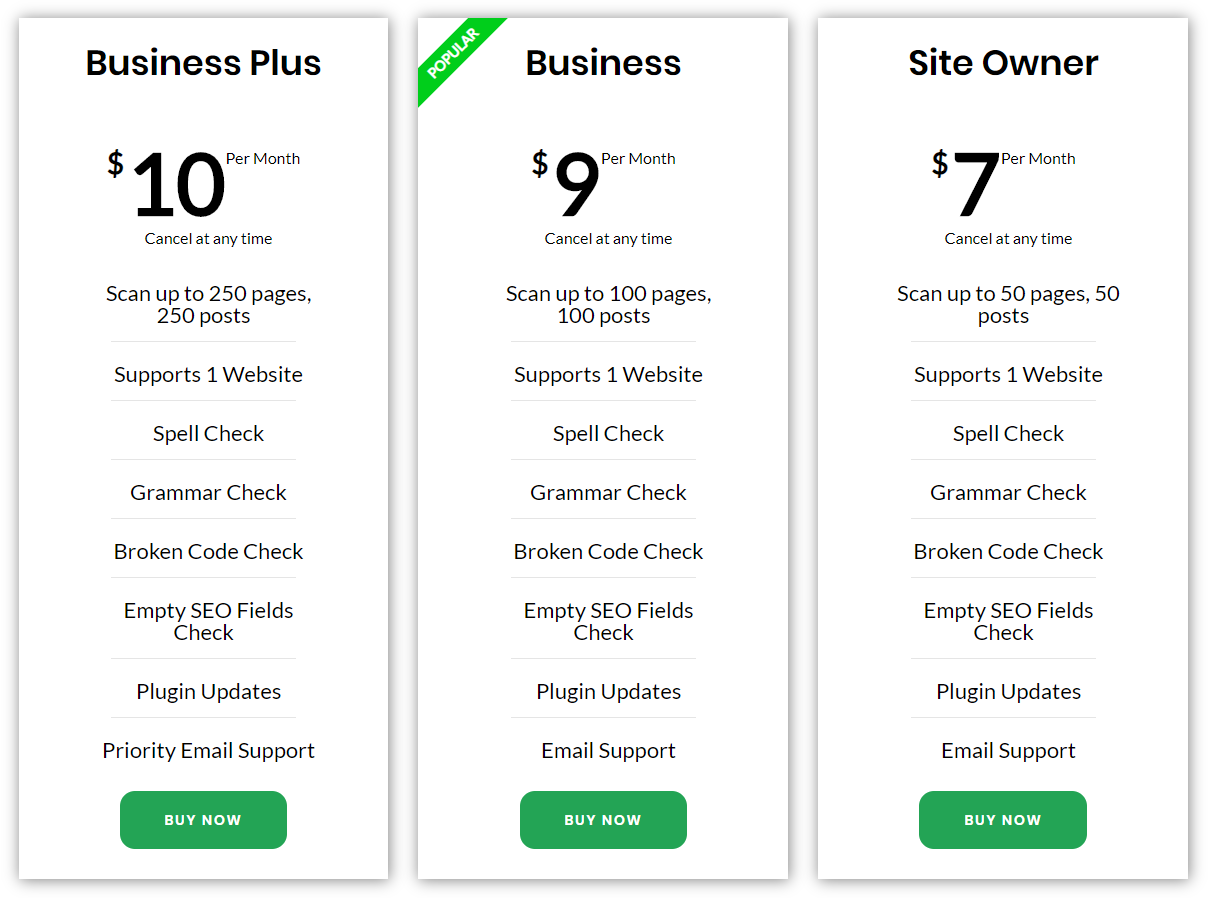 Plagiarism checker: Not available
Writing assistant: Yes
Language preferences: Not available
Dictionary: Not available
Pricing plans: $7–$149 per month
The name may suggest that this plugin is a simple spell-checker, but it's much more than that. It offers the best grammar check for websites built on WordPress.
The plugin is aimed at marketers, project managers, and business owners, but we believe that developers and bloggers can benefit from it, too.
It'll check your website for grammar and spelling errors in one click. It also identifies punctuation errors and broken HTML codes.
WP Spell Check is the best grammar app for proofreading and improving your content's quality and readability for a better Google rank. It will optimize your copy quickly and generate a report so you can visualize all the issues in one place.
It's great for personal projects and small businesses alike. You can try it for free or get a monthly plan to scan your website, report, and fix any grammar or spelling errors.
If you find that WP Spell Check is not the best spell checker for your WordPress website, you can get your money back within 30 days of purchase.
| | |
| --- | --- |
| Pros | Cons |
| Corrects grammar | No plagiarism checker |
| Checks spelling | Available only for English |
| Free trial available | |
| 30-day money-back guarantee | |
How to Choose the Best Grammar Checker
Nowadays, almost any writing program comes with a grammar checker and spelling tool. So using a third-party online checker or software may seem redundant. However, using a specialized grammar checker is more reliable and accurate, but finding the right one for you may take some time. 
Here's a complete guide that'll make finding the best grammar corrector easy.
What Are Grammar Checkers? 
A grammar checker is a software or an online tool that checks your writing for grammatical errors, spelling mistakes, sentence structure, and correct punctuation. There are also more advanced ones that can check your syntax, writing style, and tone.
Who Can Benefit From a Grammar Checker?
Anyone who's writing can benefit from a grammar checker, including:
Students writing essays

Teachers checking for plagiarism

Bloggers looking for writing style improvement

Social media influencers in need of a

sentence quality checker

Professional writers needing help with style or tone

Editors who want to improve the readability and SEO for their audiences

Job applicants who wish to polish their CVs
Advantages of Using a Grammar Checker
Using a reliable grammar checker can simplify your writing and editing process. The benefits are numerous, and what follows are just some of them. 
Writing Without Mistakes
Maybe you're in a hurry or too tired to notice a typo or grammar slip, but a good grammar checker will catch most of the errors. Native speakers and English learners alike can fix mistakes they're frequently making, polish up their language skills, and avoid any future errors.
Learning New Words
Repeatedly using the same words happens even to the best of writers. Some of the more advanced grammar checkers have dictionaries that suggest replacing those words with synonyms, giving you the chance to enrich your vocabulary.
Improving Readability
Grammar checkers can recognize misused words and increase the accuracy of your writing. The best grammar checking tools usually check your syntax and writing style, give suggestions for fixing errors, and improve your tone and style.
Creating Credibility, Attention, and Interest
Writing mistakes can lead to low grades, distrust, misunderstanding, wrong impressions, and even failed deals. Whether you're a student, writer, business owner, or employee, a grammar checker can prevent people from doubting you.
If you're a writer, you want your readers' attention to be focused on your story or news, not on your grammar and spelling mistakes. A professional grammar check software can help you a lot with that.
Correcting Common Errors Easily
Typos can happen when you're in a hurry, typing fast, or aren't concentrated enough. Luckily, a grammar checker can immediately point out any errors so you can fix them on the spot.
Using passive voice isn't a significant mistake. Still, it's generally better to use active voice when explaining your ideas, and it's better for SEO. A grammar checker can help you transform passive into active sentences and stop overusing passive voice.
Punctuation can be a tricky thing to master. It can change the meaning of an entire sentence. Using a top grammar checker can help you place punctuation marks in just the right places. 
Saving Time
Lengthy articles, essays, and reports can sometimes take hours to check for grammar, spelling mistakes, punctuation, style, and syntax. However, a grammar checker can point out all the errors, typos, and overused words so you can correct them in a couple of clicks.
Types of Mistakes
A basic grammar checker can detect and help you correct grammatical and spelling mistakes. Conversely, an advanced grammar checker can help you with word misuse, proper punctuation, passive voice overuse, writing style, syntax, tone, etc.
Using a Grammar Checker
It depends on the type of grammar checker you need. Some have browser plugins that give you feedback while writing an essay, article, email, or a social media post. Others require you to copy and paste your text into the article checker or upload a file to check for any errors.
What to Look for in the Best Grammar Checker
What follows are some of the most important qualities and features to look for in a high-quality grammar checker. 
Grammar Correction 
You may know the English grammar perfectly and still need some help with the tiniest details. The checkers from our list have different levels of accuracy, so choose depending on your needs. You need a smart grammar checker that'll pick up the right context to offer accurate suggestions.
A great grammar checker should do more than point out a mistake. It should correct the sentence with answers, explain why something is a mistake, help you understand grammar, and prevent you from making any future mistakes.
Ease of Use, Integrations, and Compatibility
Trying to proofread and edit a text is stressful enough, and you don't need a grammar tool that's complicated to use. Choose a grammar tool or software with a clean interface and labeled features.
If you write, choose a grammar checker that has browser extensions and plugin integrations for word processors and popular apps such as Chrome, Firefox, Edge, Gmail, Google Docs, and so on. Add an iOS and Android app, and you'll have the world's best grammar checker that'll be available to you anywhere.
Premium Features
The majority of grammar checkers come with some additional features. Think about what you need most — proofreading, essay checker, sentence checker, writing stats, and choose the grammar checker that suits your needs best.
Multi-Language Support
Multi-language or translation option is exceptionally useful to non-native or writers who need to translate a short piece into another language.
Plagiarism Checker
This option is most useful for teachers grading essays, bloggers, writers, and editors. Sometimes we unintentionally copy a sentence we saw somewhere on the internet. Still, a built-in plagiarism checker can help spot and correct this mistake.
Dictionary and Autosuggest 
The best grammar and punctuation checker will have a personal dictionary feature that'll allow you to build your customized vocabulary list. Autosuggest It's the latest trend in the grammar checker software world. The most advanced checkers will suggest a word that fits the sentence's context while you're writing it.
Support and Cost
No matter if you're using a paid or free version, a grammar checker should have a support team that can help you with any issues. If you want to subscribe to a grammar checker or buy software, choose the one that'll offer you the best value for money.
Offline vs. Online Grammar Checkers
The best grammar checker for online use will always be far more popular than its offline counterpart. There are some excellent offline grammar checkers in our reviews, but the web-based ones are generally more reliable. Artificial intelligence (AI) and open-source libraries allow for almost perfect error correction and constant improvement.
However, offline grammar checkers have their advantages as well. They're great if you can't connect to the internet, and they usually require a one-time payment. In contrast, the majority of online checkers require a monthly subscription.
Monthly vs. Annual Subscription
Some of the best grammar and punctuation software out there usually offer monthly and yearly subscription plans, but choosing a pricing plan depends on your budget and work length.
If you have a short-term assignment or work project and won't need a grammar checker once you finish it, go for the monthly subscription. That way, you'll get all the benefits of a grammar checker without breaking the bank. 
However, if you're going to need a grammar checker for several months, it's best to invest in an annual subscription. Most checkers offer discounts and deals. 
Bottom Line
Using the best online grammar and spelling checker can make your writing more credible, readable, and professional-looking. Finding the right grammar checker can be complicated, as there are lots of companies claiming they're the best solution on the market. 
Luckily, your search can be quick and straightforward if you follow our guide or choose one of the apps we reviewed. Whether you're a student, author, blogger, or marketer, you'll find what you need in our reviews. We have the best app, software, or plugin that'll enrich your writing and allow you to present it in the best light.
FAQ
What is the best grammar checker?
It depends on your needs. If you need a grammar checker for basic proofreading, you might need something simple. However, if you're a writer, editor, teacher, etc., you'll probably need a checker with advanced features.
How can I check my grammar mistakes?
Depending on your grammar checker, you may need to upload a text file or copy your text into it or enable the plugin. The checker will show all the mistakes and suggestions for style improvement. Then, click on the errors and choose the best solution the checker has offered.
What's the best free grammar checker?
We have reviewed the best free and paid grammar checkers, and you won't go wrong choosing any of them.
How do I check my grammar on Google?
If you're in a pinch or can't splurge on a grammar checker, Google Docs can come in handy. Write or paste your text into a Google Doc. Then, go to "Tools, Spelling, and Grammar," and select whether you want a grammar and spelling check, spelling suggestions, or grammar suggestions, and the tool will do its magic.
What is the best essay checker?
Except for Sapling, WP Spell Checker, and Jetpack that aim at developers, marketers, or businesses, any other software from our reviews can be the best grammar checker for your essays.
They're all equipped with great features; you just need to choose the one that's best suited for your needs.