5 Best Grammar Checkers for Great Content in 2023
We've compiled a list of the best grammar checkers on the market today based on their reliability, usability, features, and pricing because we know that mistakes happen even to the best of us. And no matter how hard you try, you'll never catch all those sneaky little typos and errors.
Read on to find the one that suits your needs best.
Published: January 12, 2022
Affiliate Disclosure
We aim to provide you with the best tech news and reviews. To sustain our site, we may earn a commission when you buy from our affiliate links. Read our full Affiliate Disclosure.
Best Grammar Checkers for 2023
Detailed Grammar Checker Reviews
Grammarly
MOST SUITED FOR
Online content creators
Visit Website
Rating: 10
Plagiarism Checker: Yes
Writing Assistant: Yes
Language Preference:: Yes
Dictionary: Available
Pricing: From $0.00/month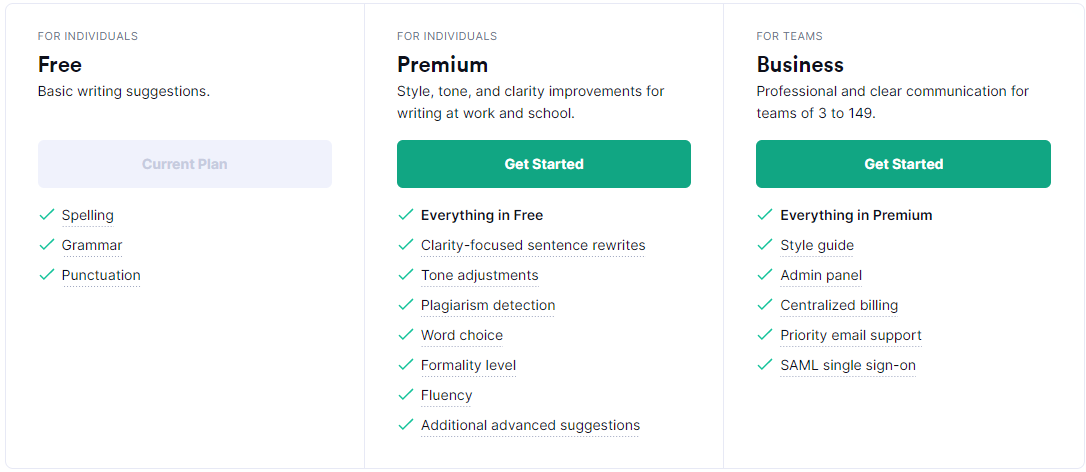 Grammarly is one of the best-known and best overall online grammar checkers. It's probably the best free grammar checker today based on the online reviews alone. And according to most of the detailed Grammarly reviews found online, it's particularly beneficial for online content creators.
You can choose between the Free, Premium, or Business plan. The Free package will check your writing for grammar and spelling mistakes. However, both the Premium and the Business plan offer a more advanced grammar check. 
The paid version gives tips on clarity, engagement, and delivery. The checker will underline lengthy sentences, repetitive words, and miswritten phrases, giving you suggestions for improving your style and tone. Furthermore, both paid plans come with a plagiarism checker.
Grammarly will also provide you with a personal dictionary. You can store industry-specific words and phrases and prevent Grammarly from detecting correct words as incorrect.
Online grammar checker reviews praise Grammarly for its ability to integrate with MS Word, Outlook, and most browsers. You can also choose between American, British, Canadian, and Australian English and adjust your spelling accordingly.
Finally, you can download the Grammarly phone app and use it on the go.
| | |
| --- | --- |
| Pros | Cons |
| Forever free account available | Sometimes shows incorrect suggestions |
| Quick and easy to use | Premium plan has no trial |
| Instant grammar check | |
| iOS and Android app available | |
ProWritingAid
MOST SUITED FOR
Blog writers
Visit Website
Rating: 9.7
Plagiarism Checker: Yes
Writing Assistant: Yes
Language Preference:: Yes
Dictionary: Available
Pricing: From $0.00/month
If you're an author, an academic writer, or an English language student, ProWritingAid might be the best proofreading software for you. As we mention in our thorough ProWritingAid review, this grammar checker is a great way to improve your writing.
You can choose between the free and paid version, though a lifetime license is the best option for blog writers and online content creators. The free version works only in a browser. On the other hand, the paid version works across most platforms, including browsers, desktops, and word processors.
ProWritingAid integrates with Google Docs and supports you in writing essays, articles, tweets, emails, business proposals, etc. Unfortunately, there's no smartphone app.
The checker excels at spotting and correcting grammar, spelling, and punctuation mistakes. Additionally, it offers writing style suggestions, whereas the word explorer will help you avoid clichés and create a captivating read.
The plagiarism checker ensures your writing is honest and authentic. Furthermore, the article checker also provides data visualization. You'll be able to see charts and graphs on your writing progress, visualize and understand your mistakes better, and work on your weak points. 
This feature can be particularly beneficial for English language students and non-native speakers who benefit from detailed explanations, suggestions, and progress visualizations.
| | |
| --- | --- |
| Pros | Cons |
| Accurate anti-plagiarism program | No smartphone app |
| Data visualization of mistakes | Plagiarism checker costs extra |
| Real-time scoring and editing | |
| Flexible payments and free trial | |
Sapling
MOST SUITED FOR
Customer-facing teams
Visit Website
Rating: 9.5
Plagiarism Checker: No
Writing Assistant: Yes
Language Preference:: No
Dictionary: No
Pricing: From $0.00/month

Sapling isn't meant to be used strictly as a grammar checker, so students, writers, authors, or English language learners won't benefit from it. However, if you or your team frequently communicate with customers, you should pay closer attention to this online grammar check review.
Sapling is an AI writing assistant. It integrates with a CMR and ensures the entire team has the same tone and writing style across all channels. It works across all browsers and integrates with most work platforms, including G-mail, Outlook, Slack, MailChimp, LinkedIn, Dropbox, and Microsoft Teams. 
What's best about this AI assistant is that it catches spelling and grammar mistakes while you're typing and acts as a proofreader. It also suggests personalized responses and offers a one-click auto response. 
This online editor for grammar and spelling will also check the tone and ensure that all sentences are correctly formatted and contain no repetitive or monotonous passages.
Sadly, Sapling won't offer you synonyms, replacement words, or check for plagiarism. Still, its other features mentioned above make it good enough for anyone in constant communication with clients.
Sapling is most suited for businesses and individuals who want to ensure nothing goes unapproved. It provides faster communication with no typos or grammar mistakes. This, in turn, results in increased customer satisfaction, engagement, and better CX metrics.
| | |
| --- | --- |
| Pros | Cons |
| Free trial available | Not suitable for students |
| Built-in autoresponse | No plagiarism checker |
| Good quality grammar and spell-checker | |
| Works across all platforms | |
Linguix
MOST SUITED FOR
Students
Visit Website
Rating: 9.4
Plagiarism Checker: No
Writing Assistant: Yes
Language Preference:: No
Dictionary: Yes
Pricing: From $0.00/month
Linguix is an AI-based grammar and spelling checker that gives recommendations based on context. It ensures your sentences are clear and correct. It also enhances your writing to make it more readable, making it the best online grammar checker for students. 
The free version provides only grammar and spell-check. However, the paid version is excellent if you're an English learner, a non-native speaker, or someone looking to perfect their language skills.
Linguix will help you polish your skills with its language handbook packed with tips, suggestions, and recommendations. Templates will provide you with inspiration, advice, and examples of how to write an email, essay, CV, blog post, and so much more. 
Linguix will also save you time with snippets. Write a snippet, assign it a keyboard shortcut, and insert it in a text when you need it. This way, you'll speed up writing and increase your productivity. Moreover, snippets will automate your writing and enhance its consistency.
Overall, this is a great grammar checker with lots of beneficial features. However, our online grammar checker review also noted a couple of downsides. Linguix doesn't offer a smartphone app or a plagiarism checker. Still, the features it provides are excellent.
| | |
| --- | --- |
| Pros | Cons |
| Browser plugin available | No plagiarism checker |
| Checks grammar, spelling, and punctuation | No smartphone app or offline version |
| Enhances text readability | |
| Provides recommendations and suggestions | |
WP Spell Check
MOST SUITED FOR
Developers, bloggers, and marketers
Visit Website
Rating: 9.1
Plagiarism Checker: No
Writing Assistant: Yes
Language Preference:: No
Dictionary: No
Pricing: $0.00/month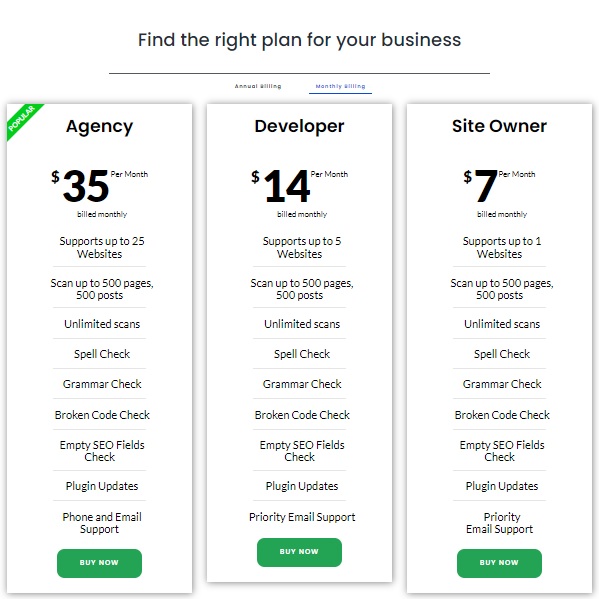 The name may suggest that this plugin is a simple spell-checker, but it's much more than that. It offers the best grammar check for websites built on WordPress. 
The plugin is aimed at marketers, project managers, and business owners, but developers and bloggers can also benefit from it.
It can check your website for grammar and spelling errors in one click. It can also identify punctuation errors and broken HTML codes.
WP Spell Check is excellent for proofreading and improving your content quality and readability for better Google ranking.
Furthermore, this grammar checker can optimize your copy quickly and generate a report so you can visualize all the issues in one place. It's great for personal projects and small businesses alike. 
You can try it for free or get a monthly plan that'll scan your website, report, and fix any grammar or spelling errors. If you don't find WP Spell Check the best spell checker for your WordPress website, you can get your money back within 30 days of purchase.
| | |
| --- | --- |
| Pros | Cons |
| Detects spelling and grammar errors | No plagiarism checker |
| Sends reports containing all issues | Available only for the English language |
| Improves text quality and readability | |
| Free trial available | |
How to Choose the Best Grammar Checker
The following section will tackle some of the essential qualities and features to look for in a high-quality grammar checker. 
Read on and find the best and most suited option for your grammar correction needs.
Grammar Correction With Explanations
You may know the English grammar perfectly and still need some help with the tiniest details. The checkers from our list have different levels of accuracy, so choose depending on your needs. 
A great grammar checker should do more than point out a mistake. It should correct the sentence with answers, explain why something is a mistake, help you understand grammar, and prevent you from making any future mistakes. 
It should also pick up the proper context to offer accurate suggestions.
Ease of Use, Integrations, and Compatibility
Trying to proofread and edit a text is stressful enough, so you don't need a grammar tool that's complicated to use. Choose software with a clean interface and labeled features.
If you're a writer, choose a grammar checker with browser extensions and plugin integrations for word processors and popular apps such as Chrome, Firefox, Edge, Gmail, Google Docs, etc. 
Add an iOS and Android app, and you'll have the world's best grammar checker that'll be available to you anywhere.
Multi-Language Support
The multi-language or translation option is exceptionally useful to non-native or writers who need to translate a short piece into another language.
Plagiarism Checker
This option is most useful for teachers grading essays, bloggers, writers, and editors. Sometimes we unintentionally copy a sentence we saw somewhere on the internet. That's where a built-in plagiarism checker comes into play, as it can help spot and correct this mistake.
Premium Features
Most grammar checkers come with some additional features. Think about what you need most — proofreading, essay checker, writing stats, sentence checker, and choose the grammar checker that suits your needs best.
Dictionary and Autosuggest 
An excellent grammar checker will have a personal dictionary feature that'll allow you to build your customized vocabulary list. 
Autosuggest is the latest trend in the grammar checker software world. The most advanced checkers will suggest a word that fits the sentence's context while you're writing it.
Support and Cost
Whether you're using a paid or free version, a grammar checker should have a support team ready to help you with any issue you may encounter.
If you want to subscribe to a grammar checker or buy software, choose the one that'll offer you the best value for money.
Offline vs. Online Grammar Checkers
The best grammar checker for online use will always be far more popular than its offline counterpart. Our reviews listed some excellent offline grammar checkers, but the web-based ones are generally more reliable. 
Artificial intelligence (AI) and open-source libraries allow for almost perfect error correction and constant improvement.
But offline grammar checkers have their advantages too. They're great if you can't connect to the internet, and they usually require a one-time payment. In contrast, the majority of online checkers require a monthly subscription.
Monthly vs. Annual Subscription
Some of the best grammar and punctuation software options out there usually offer monthly and yearly subscription plans.
But choosing a pricing plan often depends on your budget and work length.
If you have a short-term assignment or work project and won't need a grammar checker once you finish it, go for the monthly subscription. That way, you'll get all the benefits of a grammar checker without breaking the bank. 
However, if you're going to need a grammar checker for several months, it's best to invest in an annual subscription. Most checkers also offer discounts and deals. 
The Bottom Line
A good grammar checker can make your writing more credible, readable, and professional-looking. However, finding the right one can be complicated, as many companies claim they're the best solution on the market. 
Luckily, your search can be quick and straightforward if you follow our guide or choose one of our reviewed apps. Whether you're a student, author, blogger, or marketer, you'll find what you need in our reviews. 
FAQ
What is the best grammar checker?
It depends on your needs. If you need a grammar checker for basic proofreading, you might need something simple. However, if you're a writer, editor, teacher, etc., you'll probably need a checker with advanced features.
How can I check my grammar mistakes?
Depending on your grammar checker, you may need to upload a text file, copy your text into it, or enable the plugin. The checker will then show all the mistakes and suggestions for style improvement. Then, click on the errors and choose the best solution the checker has offered.
What's the best free grammar checker?
We have reviewed the best free and paid grammar checkers, and you won't go wrong choosing any of them from our list here.
How do I check my grammar on Google?
If you're in a pinch or can't splurge on a grammar checker, Google Docs can come in handy. Write or paste your text into a Google Doc. 
Then, go to "Tools, Spelling, and Grammar," and select whether you want a grammar and spelling check, spelling suggestions, or grammar suggestions, and the tool will do its magic.
What is the best essay checker?
Except for Sapling, WP Spell Checker, and Jetpack, that aim at developers, marketers, or businesses, any other software from our reviews can be the best grammar checker for your essays.
They're all equipped with great features. So, choose the one that's best suited for your needs, and you'll be ready to go.