7 Best Registered Agent Service Providers to Hire in 2021
If you've started a company or are starting one, congratulations! You're on a path few dare to tread, and it's not going to be an easy one. But you can make it easier if you partner with the right service providers. 
One of the many legal hoops you'll have to jump through is choosing a registered agent. And to make that a lot easier, we sifted through all the options and put together this list of the best registered agent service providers. 
Let's start with a bird's-eye view of the options.
Last Updated: January 5, 2021
Advertiser disclosure
This page may contain links to our partners' products and services, which allows us to keep our website sustainable. This means that websitebuilder.org may receive a compensation when you sign up and / or purchase a product or a service using our links. However, all opinions expressed in this article are solely ours, and this content is in no way provided or influenced by any of our partners.
Top 7 Registered Agent Services for 2021
Registered Agent Service Reviews
ZenBusiness Review
BEST FOR
LLC formation
Visit Website
Rating: 10
Price: $99/year
Correspondence processing: Same-day
Mail forwarding: Yes
ZenBusiness isn't the most experienced registered agent service in this bunch. But it has made a significant splash in the short time it's been around. Some reviewers even go as far as dubbing it the best registered agent service in 2020. 
Aside from top-notch registered agent services, ZenBusiness also provides one of the best LLC formation service packages around. Read an extensive ZenBusiness review for more information if you're starting a company. 
Some of the features that set ZenBusiness apart include:
24/7 document access

—ZenBusiness gives you access to a personal dashboard where you can view and print your documents and track orders. 

Worry-free compliance

—For an additional cost, ZenBusiness can process filings related to your business, such as annual reports. This add-on is an excellent value and can save you hundreds of dollars in reinstatement fees for failing to file reports on time. ZenBusiness will also proactively alert you of upcoming deadlines and help you get back in good standing if you fall out of compliance. 

Track record

—ZenBusiness, as a whole, has the best-rated

registered agent services

, bar none. But its customer support is even more highly rated. The team at ZenBusiness is happy to provide advice, support, and recommendations specifically tailored to your needs. 
| | |
| --- | --- |
| Pros | Cons |
| Excellent customer support | The cancellation process is complex |
| Worry-free compliance guarantee | |
| Personalized dashboard | |
| No hidden fees | |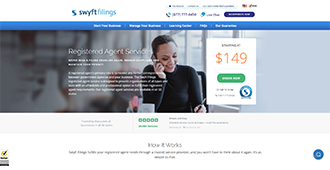 Swyft Filings Review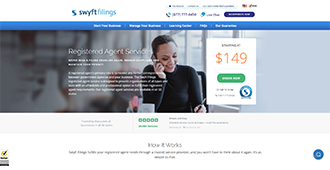 BEST FOR
High-budget business projects
Visit Website
Rating: 10
Price: $149/year
Correspondence Processing: Same-day
Mail Forwarding: Yes
SwyftFilings's biggest claim to fame is a glut of positive reviews from every corner of the web. It's famed as the best online registered agent with full-package pricing. And it's not shy about flaunting its approval ratings. 
Unfortunately, it's hard to say how many of those ratings specifically relate to the registered agent service it provides. Swyft Filings is primarily an LLC formation company.
That said, it's undoubtedly one of the best registered agent providers based on what it offers. The only apparent drawback is the price point. But you'll find that it aligns with other services in terms of cost to value.  
Here's what Swyft Filings provides as a registered agent:
Online dashboard

—Whether you incorporate with Swyft Filings or not, you'll have a secure account to view documents as soon as they're available. 

Norton security

—The Swyft Filings website and services are secured with Norton's shopping guarantee. This feature gives you $10,000 identity theft protection, a purchase guarantee, and price protection. 

Compliance reminders

—You'll receive notifications in advance when you need to file essential state documents. Plus, you can have them handle your paperwork as well to avoid the hassle. 
Unfortunately, Swyft Filings doesn't offer a package deal if you choose to incorporate with them. Even if you choose them to help start your company, the cost of registered agent services remains the same.  
| | |
| --- | --- |
| Pros | Cons |
| All-inclusive pricing | Registered agent service provided by third-party |
| Outstanding customer reviews | |
| 24/7 online access to documents | |
| Helps you switch registered agent if needed | |
Northwest Registered Agent Review
BEST FOR
Small businesses
Visit Website
Rating: 9.8
Price: $125/year
Correspondence Processing: Same-day
Mail Forwarding: Yes, some fees
Unlike most other companies on this list, Northwest is entirely dedicated to providing registered agent services. It's not the fanciest option, but barring a couple of minor details, it's a strong contender for the best registered agent in the United States. 
Northwest's whole image is one of transparency and directness. Its slogan is "We're Just Not Annoying," and it mostly lives up to that. It's also probably the best registered agent service for businesses not looking to expand greatly.  
The Northwest team takes great pride in its customer service, and for a good reason. Phone support staff are highly trained, they answer emails within a day, and if you can't reach phone support, they promise a call back within two hours. 
Here's what you get for the annual price:
Privacy by default ®

—

Northwest tries its best to minimize how much of your data is available. Your data will be as limited as possible on any public documents and whenever filings are submitted on your behalf. 

Streamlined change of agent

—

If you want to switch from your current agent to Northwest, it takes care of the filing for you and covers the change-of-agent filing fee. 

Free document checks

—

If you're getting ready to file official documents related to your company, you can send them to Northwest. Its team of experts will look them over and let you know if you missed anything. 

No third-party agents

—Your contract for registered agent services is with Northwest and never other companies. Northwest has officially registered agent addresses in every state.
Northwest's data protection policies, customer service, and overall down-to-earth feel place it among the best registered agent companies for small businesses.
Pros
Cons

Best-in-class customer support

Not a

cheap registered agent

service

Free document review

Corporate guides

Will never sell your data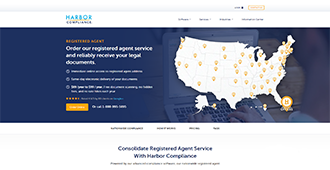 Harbor Compliance Review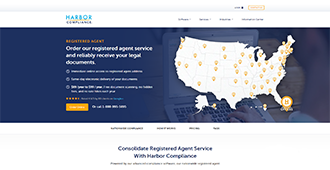 BEST FOR
Medium-sized businesses
Visit Website
Rating: 9.7
Price: From $99/year
Correspondence Processing: Same-day
Mail Forwarding: Yes, for items under state statutes
Harbor Compliance is an excellent no-frills option if you need a registered agent to form your LLC fast. It's the best registered agent service for the price and has enough features to keep you worry-free. 
It's also one of the best registered agents when you need to get everything set up quickly. As soon as you complete your order, you'll get pre-filled state forms that only require your signature for finalization.
Here are some of the key features you get with Harbor Compliance as your registered agent:
Annual report reminders

—Harbor Compliance's software has automatic alerts that will remind you to file annual reports on time.  

Same-day access to documents

—As soon as documents arrive, they're scanned and uploaded for online viewing. Harbor Compliance will also call the primary contact listed on the account before forwarding court documents.  

Volume discounts

—If you pay for multiple years in advance, you can get up to a 10% discount on the service. Moreover, if you're registering agents in several states, Harbor Compliance offers bulk rates for multiple entities. 
As you can see, nothing too elaborate, but it gets the job done if you need a cheap commercial registered agent address. If you need additional assistance filing with the state, Harbor Compliance can take care of the filing for a flat fee. 
| | |
| --- | --- |
| Pros | Cons |
| Great starting price | No legal or tax advice |
| Volume discounts | Third-party subcontracting in some states |
| Same-day document access | |
| Fast and simple process | |
Rocket Lawyer Registered Agent Service Review
BEST FOR
Complex legal matters
Visit Website
Rating: 9.7
Price: $149/year
Correspondence Processing: Next-day at the latest
Mail Forwarding: Yes
Rocket Lawyer is a veteran of the legal documents space, and it has hundreds of thousands of satisfied customers to prove it. It's also the best registered agent service for complex legal matters with an ace up its sleeve. 
Namely, if you register for Rocket Lawyer's premium membership, you get 25% off the registered agent services. However, it's worth mentioning that the premium membership is not exactly cheap. 
So if you expect you'll file a lot of documentation and you need a registered agent for your business, it's a good value. Otherwise, there are more straightforward options for less money. 
Aside from the excellent package deal, there's nothing that stands out too much about Rocket Lawyer's agent service. You'll get the standard services you can expect from a registered agent with maybe a tad bit more legal support thrown your way. 
Rocket Lawyer does provide registered agent services directly, but not always. According to its terms of service, "Rocket Lawyer occasionally partners with other companies to fulfill business formation, registered agent, or other business filing orders." 
For more information, it's worth reading an in-depth review of Rocket Lawyer to make an informed purchase decision. 
| | |
| --- | --- |
| Pros | Cons |
| Discount with Rocket Lawyer premium plan | Not a great value without discount |
| Consultation with licensed attorneys | |
| Excellent customer support | |
| 100% satisfaction guarantee | |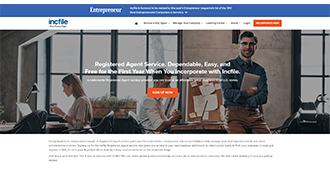 Incfile Registered Agent Service Review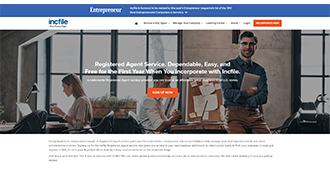 BEST FOR
Startups
Visit Website
Rating: 9.5
Price: $119/year
Correspondence Processing: Same-day
Mail Forwarding: Yes
Incfile is arguably the best registered agent service for startups, and like many other options, it sells registered agent services through a partner. In the case of Incfile, that partner is Legalinc. 
That's not necessarily a bad thing, and there's a big incentive to work with Incfile. If you incorporate your business with Incfile, you'll get a free year of registered agent services. 
Here's what those services entail:
Registered agent dashboard

—You get 24/7 access to an online dashboard where you can view and manage information received on behalf of your company. If you use Incfile to incorporate your business, you'll also be able to manage other elements about your company. 

Instant notifications

—Every time Incfile receives court correspondence on your behalf, you'll get an SMS alert and an email notification.   

Monthly compliance checks

—Legalinc's software checks your company's status and notifies you of any status changes automatically. 
The one big drawback of this type of service is that your information gets passed on to another company. 
However, a year of free service is a great value, especially if you're just starting, and you need to make every penny count. 
| | |
| --- | --- |
| Pros | Cons |
| The first year is free when forming with Incfile | No automatic renewal |
| Easy-to-use dashboard | |
| SMS notification when you receive mail | |
| Great pricing options | |
InCorp Registered Agent Service Review
BEST FOR
Businesses on a tight budget
Visit Website
Rating: 10
Price: From $99/year
Correspondence Processing: Same-day
Mail Forwarding: Yes
If you're trying to find the best registered agent service in terms of pricing options, you'll be pleased to know this is InCorp's most salient feature. A year of registered agent service will set you back a relatively low $99. 
However, for every year you pay in advance, you receive a discount. If you order five years of service, you'll end up paying only $66.56 per year. That's easily the least expensive option on this list. 
And here is what you get from InCorp for your money:
Entity monitoring

—InCorp's EntityWatch software combs through state databases to check your company's status and report it back. You'll know immediately if any changes occur. 

Management dashboard

—InCorp calls this the Entity Management System. It's a relatively comprehensive dashboard where you can check your compliance calendar, view documents, pay invoices, etc.   

Direct service

—InCorp provides registered agent services directly, so your information won't get passed on to a third-party provider.  
In addition to registered agent services, InCorp is among the best online LLC formation one-stop-shops. Unlike most other providers, InCorp can act as your registered agent in the US Virgin Islands. It's not a massive game-changer, but it could be relevant for some business owners. 
The one big drawback comes from InCorp's Terms of Service. The cancellation conditions are strictly enforced. Unless you meet cancellation conditions to the satisfaction of InCorp, it will continue to act as your registered agent and charge you for the service and any late penalties. 
Aside from that, InCorp offers cheap registered agent services with good features. 
| | |
| --- | --- |
| Pros | Cons |
| Access dashboard through a mobile app | Cancellation policy |
| Class A business address in Nevada | |
| Expedited business document filing service | |
| Express Mail service of process forwarding | |
How to Choose the Best Registered Agent Service for Your Company
At some point in the formation process of your business, you're going to come across the term "registered agent."
If you're like most people, that's the first time you will have heard it. But there's nothing complicated about it. 
If you're here, chances are you've already found the best online LLC formation service for your company, or you're close to it. So keep reading to learn why you need a registered agent. 
What Is a Registered Agent?
In a nutshell, a registered agent is any person or entity responsible for receiving official correspondence in an LLC or corporation. 
A registered agent's point is to help states minimize the time it takes to get documents to their rightful recipient. 
Specifically, a registered agent receives tax documents, annual reports, court documents, and service of process. Service of process is especially important because it initiates lawsuits and tends to be highly time-sensitive.
Advantages of Registered Agent Services
When people find out about registered agents, the next question is almost always: "Do I need a registered agent?"The answer is yes, but it doesn't need to be a corporation. 
Legally, you can be your own registered agent in most cases. However, there are numerous benefits to paying for a professional service provider. 
Having third-party registered agent legal services adds a layer of privacy. Your business's registered agent is a matter of public record. If you do it yourself, marketers will freely bombard you with promotional material at your address. Moreover, anyone trying to sue your business will have easy access to your information. 
Also, a registered agent needs to be available to receive correspondence during business hours. You're free to set your business hours, but that means you'll always have to be available at that time. Or, you can pass on that responsibility to your service provider. 
Agent services remove a lot of the inconvenience associated with running a business. Filing deadlines and document submissions tend to fly under the radar when you're in the thick of it. A registered agent can keep you on track so you don't miss any important dates.
Essential Features of a Registered Agent Service
Above, we covered the basics of what a registered agent is and why you need one. Now, let's go over what to look for to get the best registered agent service for your LLC. 
Service Area
Ideally, a registered agent service will have addresses in every state. 
It goes without saying that you need an agent with a registered address in the state where you formed your company. However, that's not the only criterium. Any registered agent service cost comparison and review should take into account where it has available business addresses.
You may need to do business in other states, or your business might expand. Even if you don't plan on doing so now, you should give yourself the option. 
As soon as you start moving into other states, you'll need to get a registered agent in each one. It's smart to ensure nationwide coverage from the start, so you don't need to pay for several registered agent services. 
Selling Service vs. Direct Contract
Very few companies are dedicated to being registered agent service providers. Most sell the services of a dedicated provider or at least partially rely on partners. 
The drawback of this kind of setup is that your information gets shared with the company's partners. So, in essence, you're not only exposed through the company you buy services from but also the ultimate provider. 
We included both types in our registered agent service reviews since the information sharing may not be an issue for you. Typically, the companies that sell these services have some sort of discounts or incentives baked into the deal. 
If you need other services from the company, such as LLC filing, it usually makes sense to take advantage of the deals. However, if you only need a registered agent and nothing else, it makes sense to find one with direct service. 
So if you find the best LLC formation services provider and it also happens to provide registered agent service, it's often a good idea to take it. 
One of the most notable providers that don't farm out your contract is Northwest Registered Agent. It has addresses in every state and doesn't use partners to cover any part of the country. 
You'll find information about your contract in each company's terms of service.
Compliance Monitoring
In the main, all you really need from a registered agent is to receive state documents and get them to you promptly. Everything else is a bonus. 
But those bonuses can be hugely beneficial. And one of the most useful is compliance monitoring. 
The top registered agent services will all have a monitoring system to ensure your company is in good standing with the state.   
Additionally, they'll notify you when important dates are coming. It's common for business owners to miss filing deadlines. And missing annual report deadlines can cost you hundreds of dollars in reinstatement fees. 
Value
Prices vary widely from one registered agent to the next. And since the differentiators are so specific, it's more appropriate to talk about value than registered agent cost. 
If you're just interested in having a registered agent in a particular state and not much else, go for the cheapest option. 
Otherwise, pay close attention to the ancillary benefits when you compare registered agent services. It may very well be worth paying a little more for the value you receive from some. 
The options on this list are all nationwide providers. If you're sure you'll stay within state lines forever, it may be more affordable to find a registered agent restricted to your state. 
Conclusion
At this point, you should easily be able to choose the right registered agent service for your needs. The best national registered agent services choices are all pretty close, so it comes down to a few basic questions:
Do you need to protect your information?

Will you ever need to register your business in other states?

How much are you willing to pay for peace of mind?
A registered agent service may be a needless expense for a small business with no intention of ever moving past its storefront. In most other scenarios, you'll be glad you invested in a quality service. 
FAQ
How do I choose a registered agent?
If the service you used to form your business also offers a registered agent resource, it's simplest to choose it for both. 
In most other cases, you're best off going with the least expensive service. Just make sure it has these three features:
It's a

national registered agent

service rather than local to your state. 

It provides free or low-price mail forwarding. 

It notifies you instantly about service of process correspondence. 
For instance, some registered agent services offer identity theft protection or filing assistance. Take a look at the options on this list to find the one that suits you best.
Do I need to pay a registered agent for my LLC?
No. If you hire a registered agent service, you'll be paying for that company to receive official correspondence on your behalf. 
The LLC incorporation process is entirely separate, and you'll pay for it independently of your registered agent.
Should I act as my own registered agent?
It's certainly possible. However, it's not a good idea for many business owners. Using a registered agent service provides a host of advantages. 
You're going to be busy running your business. So having to think about when this or that document is due only serves to distract you. Having a registered agent service lets you rest easy, knowing you'll never miss anything important. 
A registered agent service also shields your address and personal information from becoming public.
What is the best registered agent service?
For most business owners, ZenBusiness has the best price-to-value ratio and the most attractive offers. In addition to registered agent services, you can use ZenBusiness to incorporate your business and receive filing assistance for your annual reports and compliance documents. 
If you're willing to pay a little extra for a more personalized service, Northwest Registered Agent is potentially the best registered agent service for you.