4 Best Virtual Assistant Companies to Help You Hire a VA in 2023
It's possible to improve a work-life balance while still running your business successfully, and there's no secret sauce to it. All you have to do is hire a virtual assistant.
But we know that finding one that's a great fit isn't easy. Hence, we've taken a step forward and reviewed ten best virtual assistant companies that can help your search.
Read on to find out more.
Published: November 11, 2021
Affiliate Disclosure
We aim to provide you with the best tech news and reviews. To sustain our site, we may earn a commission when you buy from our affiliate links. Read our full Affiliate Disclosure.
Top Virtual Assistant Companies in 2023
Detailed Virtual Assistant Reviews
Time etc
MOST SUITED FOR
Someone with multiple companies/organizations
Visit Website
Rating: 9.9
Pricing: From $31/hour
Customer support: Via phone, email, snail mail, and online form
Customer reviews: Excellent
If you're starting an online business and considering hiring a virtual assistant for the first time, Time etc could be a good fit as it offers a free trial for your first task. 
Naturally, you can also go ahead and pick a plan right away if you already know what you want and need. Note that you can cancel or change plans at any time.
Time etc only hires veteran virtual assistants from the US with at least 12 years of experience that then undergo its unique 10-step hiring process. So, you can rest assured that your would-be dedicated virtual assistant is among the best ones out there. 
Time etc provides a wide range of services, such as administrative tasks, social media management, writing, marketing, etc. Additionally, it's an excellent platform for owners of multiple companies. 
The company has an overall rating of 4.7/5 stars based on over 144 reviews on Glassdoor and 4.7/5 stars based on over 39 reviews on TrustPilot.
It was also rated as the best company on a Top Ten Reviews list, getting awarded the Best Virtual Assistant Service by Fit Small Business, and rated 4.92/5 on Virtual Assistant Assistant. 
Time etc provides US-based Virtual Assistants only, meaning its pricing tends to get higher, especially compared to the companies that provide VAs from other countries. However, its VAs are highly-skilled and college-educated, so they're definitely worth the price.
| | |
| --- | --- |
| Pros | Cons |
| Mobile app available | Doesn't offer VAs outside the US |
| Highly-reputed | A bit pricey |
| Offers only US-based VAs | |
| Free trial available | |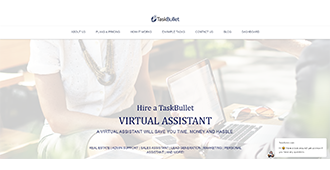 TaskBullet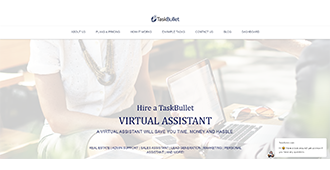 MOST SUITED FOR
Hourly tasks
Visit Website
Rating: 9.8
Pricing: From $6.50/hour
Customer support: Via email, phone, and live chat
Customer reviews: Average

Founded in 2013, TaskBullet is relatively experienced and is one of the top virtual assistant companies in the United States today. They provide services of both US- and Philippines-based virtual assistants. 
TaskBullet offers packages called buckets, starting at $6.50/hour or $1,560.00 for 240 hours of VA services. 
What's great about the company is that they won't bill you monthly, as the VA works based on the bucket you choose. The unused hours in the bucket are refundable within 60 days. 
The company emphasizes effective communication. Hence, all their VAs, both Filipinos and Americans, have excellent communication skills they'd polished to perfection during training.
VAs also go through a weekly skill-training program that enables them to become multi-skilled. And this is why TaskBullet is one of the best virtual assistant companies with training. 
As far as services are concerned, TaskBullet VAs can provide a lot, including marketing, admin support, real estate tasks, and more.
TaskBullet claims to be a company that cares. Hence the unique bucket system that includes no contracts or monthly fees works well for both the company and the clients. 
TaskBullet is also proud to have US-based VAs and the best virtual assistants from the Philippines known for their outstanding work ethics.
Pros 
Cons

Provides a dedicated project manager

Few

personal assistant reviews

Excellent English-speaking VAs

The website is a bit outdated

60-day money-back guarantee

Hours in the bucket are good for 90 days
Priority VA
MOST SUITED FOR
Thought-leaders and entrepreneurs
Visit Website
Rating: 9.6
Pricing: From $1,600.00/month
Customer support: Via email, online form, and live chat
Customer reviews: Average
Priority VA has three straightforward plans, and the pricing is based on the number of hours the VA will work for you in a month. And, yes, you can have more than one VA in a month. 
Priority VA was founded in 2013 by Trivinia Barber, well-known among the world-renowned entrepreneurs and thought-leaders, such as Michael Hyatt, Amy Porterfield, Ray Edwards, etc. 
So, it's no wonder that most Priority VA's clients come from within the world-renowned thought-leader circle. Another thing that sets the company apart is its unique proprietary Momentum Method™, created by the company founder. 
This method allows all Priority VA clients to have access to the program forever, along with a dedicated email coaching of 100 days.
The company's services are all customized to match you with the best virtual personal assistant who'll be able to deliver the services you need. 
All you have to do is schedule a call with Priority VA, and someone will walk you through the company's unique hiring and matching process. 
Each online personal assistant is fully equipped with all the tools and technologies necessary for them to deliver excellent services, so choosing Priority VA services is unlikely to disappoint.
| | |
| --- | --- |
| Pros | Cons |
| A lot of resources for both clients and VAs | Pricey |
| Excellent for influencers | Very few customer reviews |
| Customized services plans | |
| Highly trained VAs | |
Upwork
MOST SUITED FOR
Entrepreneurs with multiple projects
Visit Website
Rating: 9.1
Pricing: From $10.00/hour
Customer support: Via phone and help center
Customer reviews: Above average
Upwork has four straightforward pricing plans—Basic, Plus, Business, and Enterprise. They all provide you access to their over 12 million registered freelancers, placing it among some of the top–rated virtual assistant companies today. 
Upwork has been incredibly popular for over two decades now, especially among entrepreneurs and solopreneurs with multiple projects. It operates similarly to Freelancer, where you post your projects and wait for bidders. 
However, UpWork has a stricter policy for accepting freelancers. It has an effective vetting process where they perform rigid virtual assistant reviews before welcoming any VA on the platform. 
Due to its global reach, Upwork has become one of the most sought-after virtual assistant firms both for VAs and clients. However, it's started to lose popularity lately. 
And the reason for this is more than evident. There was a recent change in its pricing model, and fees became much higher than before. Therefore, many of its users have shifted to other VA companies that don't charge as much.
| | |
| --- | --- |
| Pros  | Cons |
| An in-house payment system | High fees for both the clients and the freelancers |
| User-friendly interface | Many unskilled VAs |
| A downloadable app | |
| Highly flexible | |
How to Find the Finest Virtual Assistant Sites
There are a plethora of virtual assistant companies out there today, and we know that finding the best one is like looking for a needle in a haystack. That's why we created this quick guide—to make it easier for you to find the assistant that fits your needs. 
Type of Company
When looking for services from a virtual assistant company, the first step is to identify the type of VA company you need based on your specific business needs. 
For example, if you're in the sales industry, it's best to choose one of the virtual sales assistant companies that provide VAs with a proven track record in sales, marketing, and so on.
Consider if the company offers the services of offshore or onshore VAs (most offer both). Also, bear in mind that some brands provide dedicated virtual assistant services, while others are task-based only.
Service Diversity
You can never know how many types of services you'll need in the future. Therefore, it's best to go for a virtual assistant company that offers diverse sets of services. 
The companies on our list offer the most diverse types of VA services you'll ever need.
Vetting Process
You also have to think about whether you want to hire a pre-vetted virtual personal assistant or prefer to do the background check yourself. 
Some companies have rigorous hiring processes, while others don't whatsoever. Still, both offer high-quality VAs that'll suit your specific needs. 
Your Budget
Of course, your budget matters too. And, naturally, pricing plans and payment methods differ from one company to the other. The goal is to find the one that gives you the best bang for your buck without compromising the quality of the services. 
You can always find an affordable virtual assistant on platforms offering high-quality VAs from all around the world. But if you want to hire a native English speaker, expect it to get a bit more pricey.
Final Thoughts
In this day and age where everything happens online, running your business without physical employees is no longer an issue. You can always build a virtual team that'll deliver the same (or better!) quality of work employees in a physical office would.
You just need to find a VA company that can provide you with the best virtual assistants for your needs. Pick one from our list, and start improving your work-life balance.
FAQ
What skills should a virtual assistant have?
To beat the fierce competition, the best VAs should possess an array of both soft and hard skills. 
Here are the most critical ones:
Computer skills—It's an online job, so everything is done on a computer. Therefore, an

online personal assistant

must have at least basic computer skills.

Communication skills—A VA's job involves a lot of talking and writing, such as making phone calls, writing emails, sending reports, attending meetings, etc.

Microsoft or Google Docs skills—Especially word processing, since most VAs do data entry and typing.

Attention to detail—Everything that a VA does represents the person or company they're working for. Therefore, any error would reflect the performance of the business.
Integrity and discipline—Remember that being an online assistant means working away from the eyes of the bosses. Being able to do the right thing even when no one's looking is the first soft skill an employer looks for in a VA.
Are virtual assistants worth it?
Generally, yes. 
VAs are worth it because you don't have to provide them with the necessary tools they need, such as computers, electricity, internet, and an office. Imagine how much you can save on overhead expenses with them. 
But most importantly, getting the best virtual assistant possible will also save you time. It'll give you more time to deal with the more essential aspects of your business and spend quality time with yourself, family, and friends. So, yes, they're all worth it.
What businesses need virtual assistants?
Almost all businesses need virtual assistants, especially during the global pandemic when most people are obligated to work from home. 
The top industries that have been hiring VAs for the longest time are real estate, law, IT, financial firms, and, more recently, digital marketing firms.
What is the best virtual assistant?
The best VA should be reliable, trustworthy, eloquent, resourceful, accurate, professional, and, most of all, add value to you and your business. 
There's plenty of them on our list of the best virtual assistant companies. Check it out, find one today and see how it can make all the difference.