5 Best Windows Backup Software to Safeguard Your Data in 2023
[EXPERT REVIEWS]
Finding the right backup tool for your business can be hard in today's vastly saturated market. So, we searched the web for optimal solutions and created a list of the best Windows backup software out there to assist you with your search.
Keep scrolling to find out which ones attracted our attention and learn more about them.
Published: August 12, 2022
Affiliate Disclosure
We aim to provide you with the best tech news and reviews. To sustain our site, we may earn a commission when you buy from our affiliate links. Read our full Affiliate Disclosure.
Top Windows Backup Software of 2023
Windows Backup Software Reviews
AOMEI Backupper
MOST SUITED FOR
IT technicians
Visit Website
Rating: 10
Pricing: From $0.00/month
Customer support: Via FAQ, email, online forums, and an online form
Customer reviews: Above average
Malware protection: No
Free trial: Yes
We'll start our backup software comparison with AOMEI Backupper, a great data backup software designed specifically for Windows users' needs. 
This software allows you to backup, store, clone, and migrate your data (from specific files and folders to entire disk images) efficiently. 
Users can safely move their OS to external memory or clone an MBR disk to a GPT one with the system remaining completely bootable. Its fast file sync feature will also ensure the files are synced between two locations, making it ideal for transfers between two computers.
And if you're an IT technician in need of a portable version of the software that'll allow you to service an unlimited number of PCs, this is the right backup software for you. The interface is simple to navigate, and the actual process of creating backups is quick.
The software can be installed on Windows servers as well.
To get started, you can go for the standard version for free. But if you really want to make the most of this software, you can opt for some of AOMEI's premium backup plans. There are five of them (Professional, Workstation, Server, Technician, and Technician Plus), and their prices range from $49.95 to $999.00. 
Each of the plans has different features, giving you the chance to find the perfect solution for you based on the size of your computer network and other relevant factors.
| | |
| --- | --- |
| Pros | Cons |
| Easy to use | Relatively few features compared to competing solutions |
| Affordable | Slightly outdated user interface design |
| A good free version | |
| Highly reliable | |
Zoolz
MOST SUITED FOR
Extensive cloud storage
Visit Website
Rating: 10
Pricing: From $199.99/year
Customer support: Via Help Center, phone, and online form
Customer reviews: Average
Malware protection: Yes (ransomware-resistant)
Free trial: Yes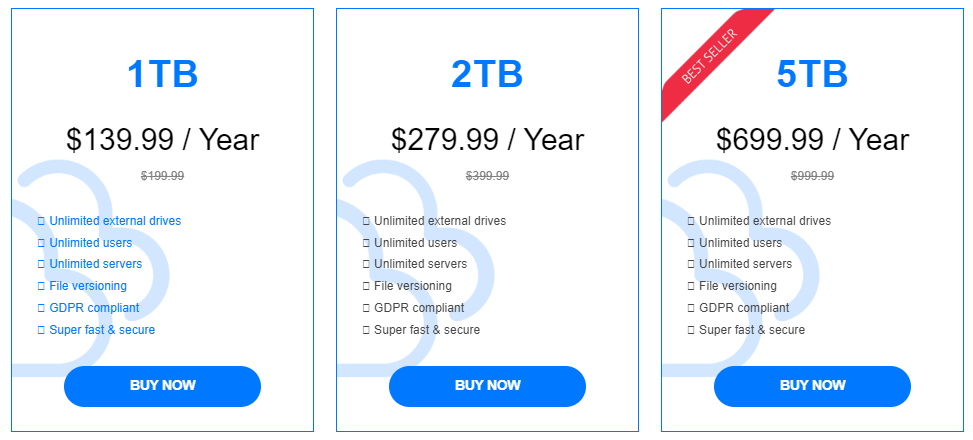 Zoolz provides businesses with extensive and secure cloud-based storage. That's why it's a perfect solution if you're looking for a backup as a service solution that'll allow you to back up data and restore it if losses occur.
Zoolz prides itself on being an Amazon Web Solutions Advanced Technology partner. This means Zoolz offers a reliable and extremely secure cloud infrastructure. 
The software has a user-friendly yet lightweight file browser that ensures better data organization, sharing and previewing. And thanks to its centralized control, the data can be restored at any time to any computer with a single click.
This backup manager also offers fast backups with deduplication, block-level uploads, specific file retention, as well as full control over data and users. You can configure specific policies for different user accounts and control various options and user privileges.
Finally, we'll discuss Zoolz's pricing.
Zoolz offers three relatively affordable plans:
1 TB plan ($199.99/year)

2 TB plan ($399.99/year)

5 TB plan ($999.99/year)
At the time of the writing, the plans were generously discounted to $139.99/year, $279.99/year, and $699.99/year.
| | |
| --- | --- |
| Pros | Cons |
| Easy file organization | Steeper learning curve |
| Good file security | Sometimes uses up CPU and storage for less important logs |
| Scheduled and manual backup options | |
| Lots of storage space | |
Acronis Cyber Protect Home Office
MOST SUITED FOR
Top-security data backup requirements
Visit Website
Rating: 9.9
Pricing: From $83.99/year
Customer support: Via Help Center, phone, forums, and live chat
Customer reviews: Excellent
Malware protection: Yes
Free trial: Yes

If you're after a secure space for your data, look no further than Acronis backup software. This backup solution will certainly provide you with exactly that. It's a perfect solution for just about any scenario — from system failures to cyberattacks.
It lets you create entire disk image backups, which you can then store wherever it's the most convenient for you — locally, on the network, or in the cloud. And, besides entire systems, you'll be able to recover specific files too. 
The software comes with integrated anti-ransomware and antivirus tools designed to keep your data safe. It can detect and block malicious software by using behavioral analysis and machine learning built to recognize malicious behavior.
Acronis provides you with flexible monitoring options, allowing you to create custom widgets, notifications, reports and alerts. It also comes with end-to-end high-grade disk-level encryption, which is guaranteed to keep your data safe from unauthorized eyes.
This secure backup provider offers three plans, ranging from $49.99 to $124.99. Expectedly, the tiers greatly differ in terms of features. Plans range from the ones with limited backup features (for those with more modest needs) to advanced data protection (for large IT entities).
So, you can choose the right one for you depending on your needs and business size.
| | |
| --- | --- |
| Pros | Cons |
| Easy to set up and use | A steep learning curve at first |
| Highly secure and reliable | Google Workspace and M365 backups could be more frequent |
| Professional and responsive support | |
| Performs well and searches through large data | |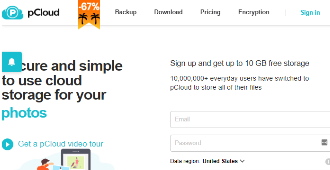 pCloud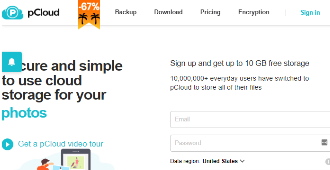 MOST SUITED FOR
Budget-conscious customers
Visit Website
Rating: 9.9
Pricing: From $59.88/year
Customer support: Via FAQ, phone, email, and online ticket
Customer reviews: Excellent
Malware protection: No
Free trial: Yes
There are many reasons why pCloud is a great backup solution. This backup service provider is affordable (you only have to pay for it once), it provides good security and data encryption, and it possesses a plethora of other valuable qualities. 
It's a tool with almost no learning curve whatsoever, and it's accessible to you from any device you choose.
pCloud's servers are secured following the strict data security standards established by Swiss law. It provides users with 256-bit AES encryption during file transfers and uses TLS/SSL protocols to further secure the channels.
The tool also provides client-side encryption, which, unlike the server-side one, allows the data to be encrypted, with only the end user having the keys for decryption.
To make the most of this Windows backup service, it's best to purchase one of the paid plans. They range from $59.88 to $119.88/year and are currently discounted to $49.99 and $99.99/year. 
You can also choose one of the lifetime plans for $500.00, $980.00, or $4,900.00. They're also currently discounted to $175.00, $350.00, and $990.00.
| | |
| --- | --- |
| Pros | Cons |
| Solid free version | Free accounts get deleted after six months of inactivity |
| Excellent security | Some encryption features cost extra to implement |
| Multi-device compatibility | |
| Unlimited file size | |
Carbonite
MOST SUITED FOR
Personal use or small businesses
Visit Website
Rating: 9.8
Pricing: From $83.99/year
Customer support: Via Help Center, phone, and email
Customer reviews: Average
Malware protection: Webroot antivirus (with Plus and Prime plans)
Free trial: Yes
Carbonite is one of the best data backup options that can help keep your data secure for a relatively low price. It's designed to provide protection against different types of data loss, from accidental deletion to device theft. It's ideal for personal use or small businesses.
The software allows automatic backups, continuous updates to existing backups, and increased accessibility using the Carbonite mobile app. It's easy to set up and use, and it does a great job at keeping files on servers protected and easily recoverable.
Carbonite is also an external hard drive backup software. It allows you to back up files on compatible external hard drives. It'll back up the files on the drive every 30 days as long as the hard drive remains plugged in. 
When it comes to plans, you can choose one of the Carbonite home backup plans or one of the business or professional tiers. 
For home backups, the prices range from $83.99 to $149.99 a year. 
Currently, there's a limited-time offer of $49.99/year instead of $83.99/year for a Basic plan, $71.99/year instead of $119.99/year for a Plus plan, and $89.99/year instead of $149.99/year for a Prime plan.
If you're more interested in securing your business data, getting backup storage for computers will cost you between $6.00 and $50.00 per month (billed annually), depending on your requirements.
| | |
| --- | --- |
| Pros | Cons |
| Simple implementation and use | In some cases, it may not install properly on macOS |
| Helpful customer support team | It's occasionally slow and may take up a high percentage of CPU |
| Reliable and secure | |
| Multi-device compatibility | |
How to Pick the Best Windows Backup Software in 2022
There are many factors you should take into consideration when picking the ideal software for backing up your valuable data. 
Two stand out as the most crucial ones that can help narrow down your options — the software's price and features. Let's see why!
Price
The backup service market is highly saturated nowadays, so being mindful of the prices (especially in comparison with the quality of service you're receiving) is very important. 
Expectedly, the price typically depends on the quality of service — the more advanced the service, the more expensive it gets (more advanced data backup plans may cost hundreds of dollars per year). 
Though there are free options, most businesses require paid services. And, truth be told, this investment usually pays off, as the consequences of losing data are typically more financially damaging. 
So, gather up the offers, compare them, and find the ones that fit your business's budget best. 
Features
It's equally as important to check the feature list of the software solution you're considering. 
Some of the core features to pay attention to when choosing a backup software include: 
The size of data storage

Security protocols

The ease of data restoration, etc.
Conclusion
Backing up your data is of vital importance in the modern world. Choosing the proper backup software can save your business a lot of time and money while keeping the security and up-time of your servers at maximum efficiency.
Hopefully, you found the right one for you in our detailed Windows backup software review above.
FAQ
What is online backup?
Online backup entails copying your data and storing it in an off-site location for preservation. In case of a system failure, a cyberattack or any other emergency, this data can easily be pulled from the storage and restored onto your device.
Can you move Windows from an HDD to an SSD?
Yes, and doing so may bring considerable benefits to the system's overall performance. However, this isn't an easy task, and it can take quite a bit of time and effort to do everything properly.
What are the 3 types of backups?
The main types of backup are full, differential, and incremental backup. 
The best Windows backup software typically provides more than one type of backup to their customers.