6 Best Cybersecurity Companies to Protect Your Business in 2023
Whether you're simply browsing the web or conducting business online, staying safe should be your top priority. Therefore, we've researched and evaluated many quality services to compile a list of the seven best cybersecurity companies on the market — just for you.
So, keep scrolling to find the most suitable online protection service for your particular needs!
Published: February 22, 2022
Affiliate Disclosure
We aim to provide you with the best tech news and reviews. To sustain our site, we may earn a commission when you buy from our affiliate links. Read our full Affiliate Disclosure.
Top Cybersecurity Companies in 2023
Cybersecurity Companies Reviews
Lookout
MOST SUITED FOR
Individual users and small businesses
Visit Website
Rating: 9.9
Pricing: From $2.99/month
Free Trial Available: Yes
Accessibility: Windows, macOS, Android app, iOS app
Customer Support: Via email
Customer Reviews: Excellent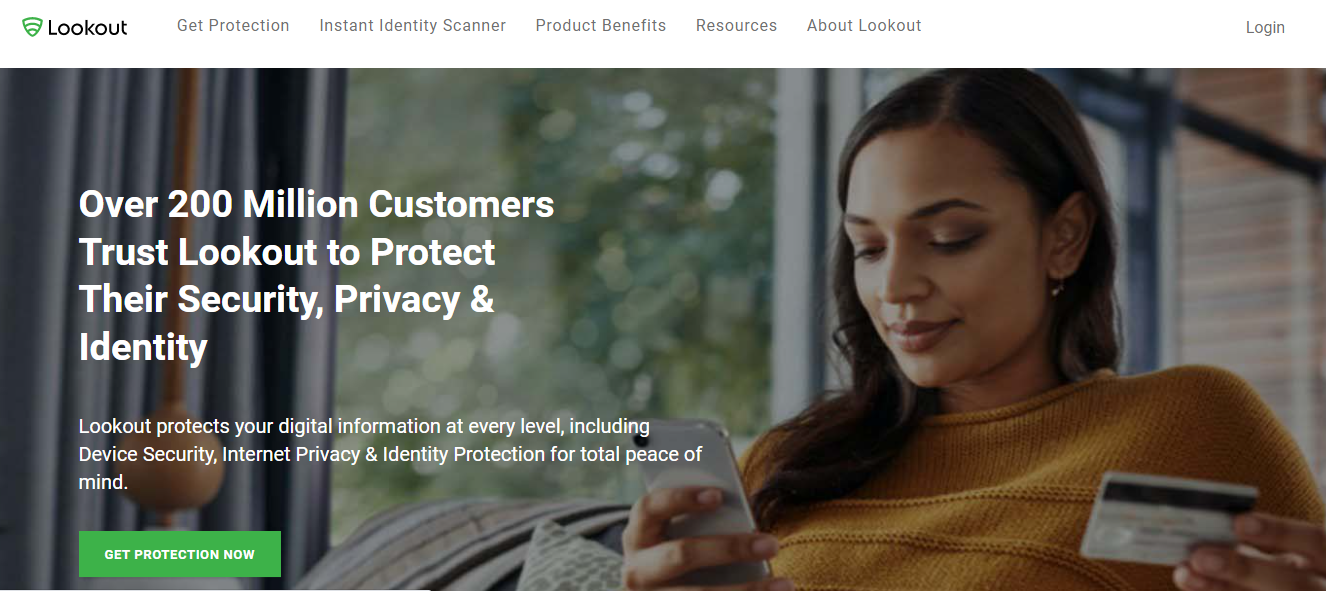 The first on our list of cybersecurity companies is Lookout, which is one of the leading platforms that provides integrated endpoint-to-cloud security.
Lookout has many offerings to meet all of your digital security needs. For example, as an individual user, you'll get benefits such as financial and social media monitoring, lost wallet assistance, and data breach alerts, among other great security benefits.
This security service also includes 24/7 identity restoration support, with professionals ready to help you restore any lost data. Besides that, you'll be eligible for an attractive insurance plan that will cover the costs associated with data loss.
Like many other popular security software companies, Lookout understands that most cyberattacks are aimed at businesses. Therefore, their goal is to help your company prepare for any online threats with their extensive list of business security features.
These features offer complete protection and insight into your data, quick threat detection, and precise controls for businesses. Lookout also provides a way for you to classify and encrypt data on the go.
Many small businesses have turned to Lookout for their cybersecurity needs, as the platform is both easy to use and maintain.
| | |
| --- | --- |
| Pros | Cons |
| Runs in the background | It can quickly consume battery life |
| Easy to use | Location tracking is only available on desktop |
| $1 million in insurance for data losses | |
| Free Premium trial available | |
Web.com
MOST SUITED FOR
Small businesses
Visit Website
Rating: 9.8
Pricing: $4.99/month
Free Trial Available: No
Accessibility: Mobile devices (Android app, iOS app)
Customer Support: Via online form or email
Customer Reviews: Above average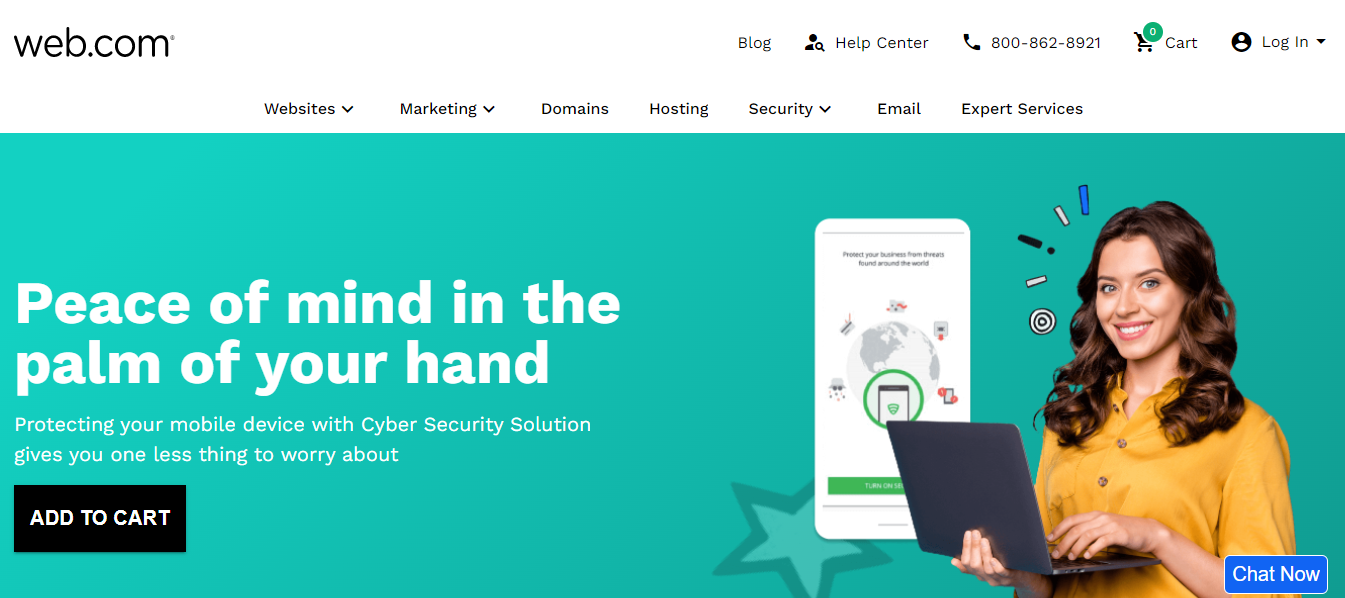 Web.com is primarily a website builder. However, unlike most of its competitors, such as the industry giant Wix, it offers excellent mobile device security.
Although it's not strictly a data security company, Web.com's services are pretty amazing. It's available for $49.90 per year (or 4.99/month), and it includes everything you need to maintain a healthy and secure mobile device.
Its features include device monitoring, identity protection, theft prevention, and constant expert security assistance.  Plus, it's equipped with a built-in mobile VPN client and provides remote access to your data, photo and call log, and contact backup.
To ensure that your website is secure, you need continuous security monitoring. And while many companies might offer this, not many website-building platforms have a solution for mobile device security. But Web.com does, along with 24/7 customer support!
All in all, we feel that Web.com's security package is on par with many cybersecurity services companies. Especially for small businesses with a limited budget for creating and keeping a website secure.
Pros
Cons

Easy to navigate

Some users reported a lack of customization

Well-documented

Not as flexible as other

internet security companies

24/7 security expert assistance

Built-in mobile VPN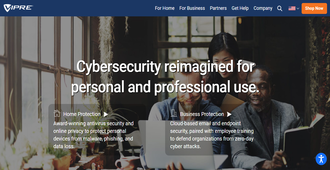 Vipre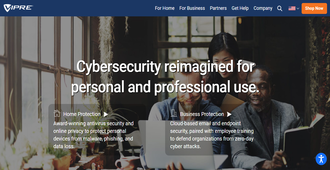 MOST SUITED FOR
Individual users and businesses
Visit Website
Rating: 9.7
Pricing: From $54.99/year
Free Trial Available: Yes
Accessibility: Windows, macOS, Android app, iOS app
Customer Support: Via email or phone
Customer Reviews: Above average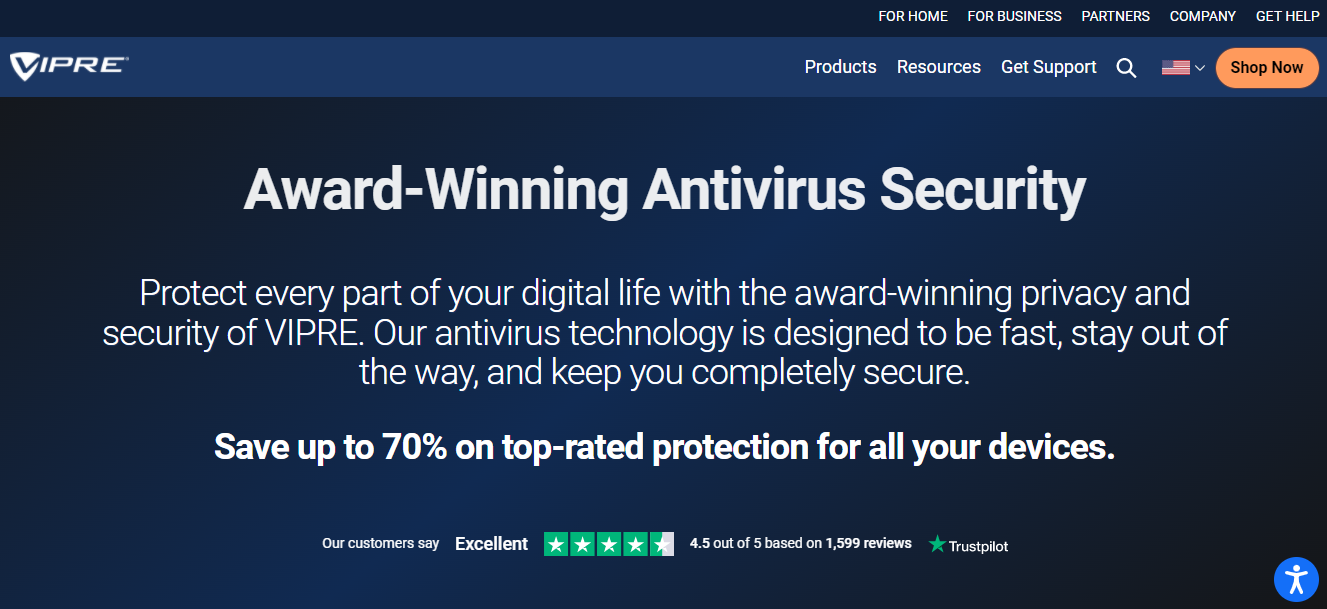 Vipre is yet another great service on our list. This award-winning global privacy and data protection company has a slew of products just as extensive as its list of satisfied customers. Moreover, it's trusted by popular tech brands like Samsung and EPSON.
As one of the largest cybersecurity companies, Vipre offers numerous home and business cybersecurity services. Namely, those include VPNs, antivirus programs, and everything else you might need to protect your system from online threats.
With the Antivirus Plus plan, you'll get top-quality antivirus protection that scans apps and files in real-time with automatic updates and a 30-day money-back guarantee for $54.99/year.
In addition to antivirus protection, their other two plans offer protection against the rising threats of phishing, ransomware, and spyware. Plus, you'll receive an additional Firewall layer of protection, advanced behavioral analysis, and snooping prevention features.
Like other top cybersecurity companies, Vipre offers different plans for businesses — Core Defense, Edge Defense, and Complete Defense. These plans provide every feature your business needs for high-level security protection. 
| | |
| --- | --- |
| Pros | Cons |
| Scans emails, files, and apps | It may send unwanted email notifications |
| Reliable and easy-to-use | You can only import one antivirus exclusion at a time |
| Email notifications upon finding contaminated files | |
| Blocks malicious background processes without interruptions | |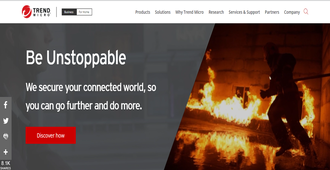 Trend Micro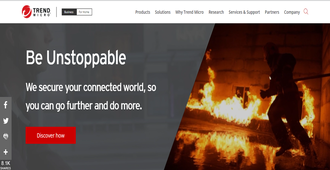 MOST SUITED FOR
Ransomware protection
Visit Website
Rating: 9.7
Pricing: From $39.95/year
Free Trial Available: Yes
Accessibility: Windows, Linux, macOS, Linux, Android app, iOS app
Customer Support: Via phone, contact form, or email
Customer Reviews: Excellent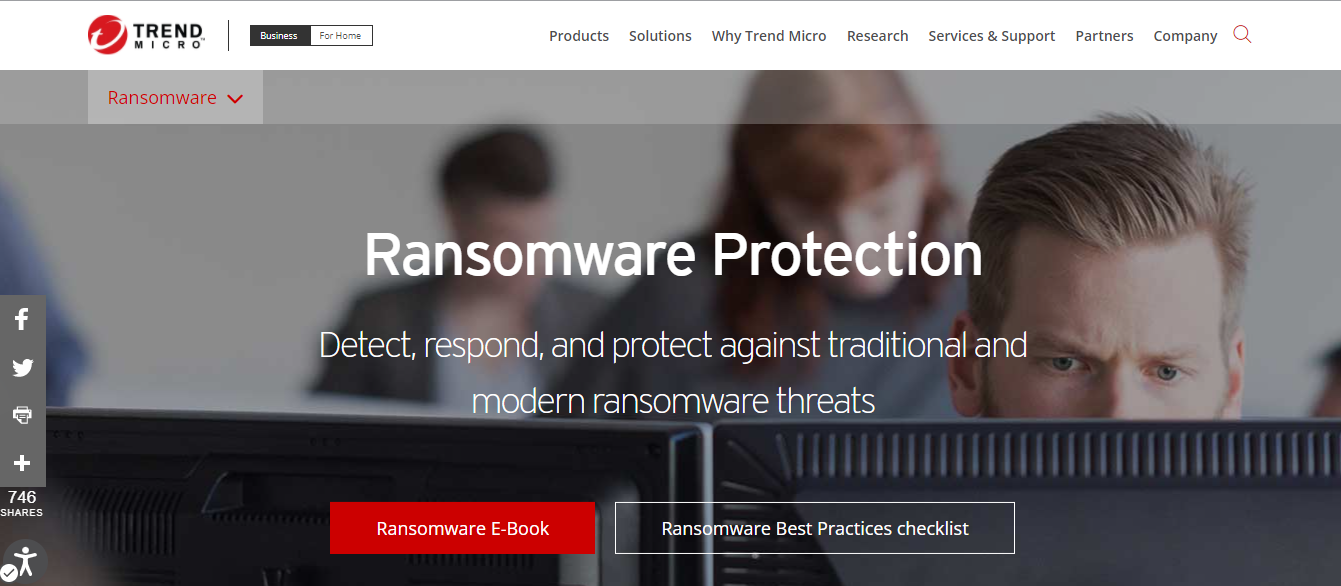 If you're searching for one of the leading cybersecurity companies, especially for your personal devices, Trend Micro is one definitely worth checking out.
Since its humble beginnings in 1988, Trend Micro has grown to become one of the leaders in hybrid cloud security, network defense, and endpoint security. It's also ideal for small businesses to quickly and efficiently secure their data.
They offer protection for all kinds of operating systems, so it doesn't matter whether you prefer Windows, Linux, or Mac. 
The company's basic Antivirus + Security plan provides security features for one device and shields it against ransomware and internet scams. It also has advanced AI learning features and Trend Micro Pay Guard for additional safety.
The Maximum Security plan of this data security company consists of the same features with a few additions. It allows five devices instead of three, protects and manages passwords, and provides security for mobile devices.
Internet Security includes all Antivirus+ features and provides safety for children online while giving you privacy on social media, optimizing your system, and repairing it when necessary.
Premium Security Suite is Trend Micro's most comprehensive plan. It encompasses all features and truly delivers the whole experience of using this powerful cybersecurity company.
| | |
| --- | --- |
| Pros | Cons |
| Easy to install and use | A few customers received false-positive scan reports |
| Useful reports across multiple devices | A bit pricey |
| Blocks online threats | |
| Free version available | |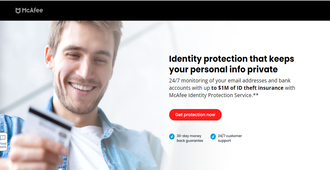 McAfee Enterprise Solutions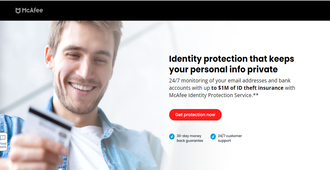 MOST SUITED FOR
Personal use
Visit Website
Rating: 9.6
Pricing: From $34.99/year
Free Trial Available: Yes
Accessibility: Windows, Linux, macOS, Linux, Android app, iOS app
Customer Support: Via phone, free online chat (AI virtual assistant)
Customer Reviews: Excellent

McAfee Enterprise Solutions is a cybersecurity company with an extensive history and an equally extensive list of satisfied customers, backed by a 100% guarantee.
It's among the most popular top cybersecurity companies in the world, and it's all thanks to its ability to continually stay a few steps ahead of online and malware threats. Plus, its antivirus software has many options to scan your system for threats and irregularities.
Has this company's success in the global market sparked your interest? McAfee has three different plans in store for you — Single Device, Individuals, and Family.
McAfee's plans include award-winning antivirus software, a secure VPN, a password manager, and the McAfee Shredder, which completely deletes sensitive files.
Moreover, like all great security firms, its software ensures optimized web browsing by preventing auto-play from online videos. Plus, you can browse the Web confidently, as it will automatically block all dodgy websites.
What's more, the Individual and Family plans offer multi-device compatibility. So, all connected devices are protected (five for Individuals and up to ten for Family), regardless of which operating system they're using.
If you have children, then you know how important it is to keep them safe while they're surfing the web. Well, have no fear! McAfee's Family plan offers superb online security for both you and your kids.
| | |
| --- | --- |
| Pros | Cons |
| Interface is easy to use and navigate | Product renewal is a bit pricey |
| The software runs in the background without interruptions | The installation process can be difficult |
| Price is comparable to other cybersecurity solutions companies | |
| Provides a significant layer of protection for browsing the Web | |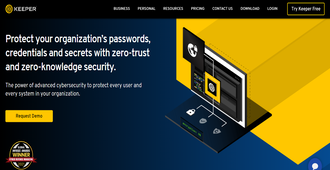 Keeper Security Inc.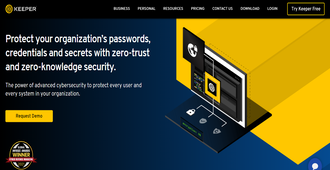 MOST SUITED FOR
Personal use and businesses
Visit Website
Rating: 9.6
Pricing: From $3.37/month
Free Trial Available: Yes
Accessibility: Windows, Linux, macOS, Android app, iOS app, Kindle, Nook
Customer Support: Via online form or email
Customer Reviews: Above average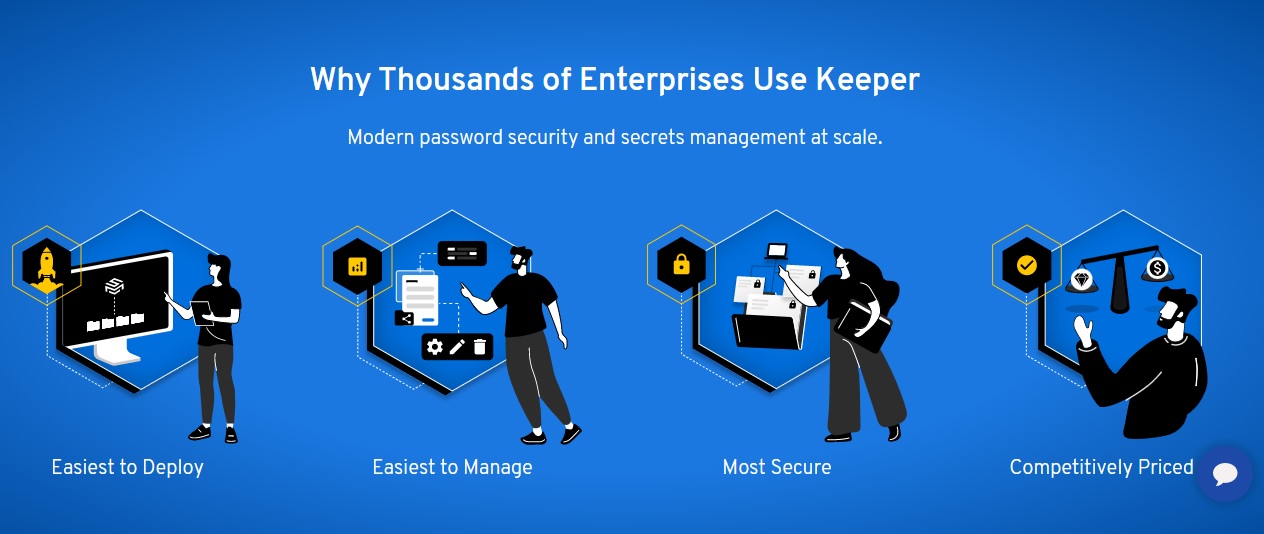 Coming up next on our list is Keeper Security Inc. It's one of the top cybersecurity companies in the USA, providing excellent service to thousands of businesses and millions of individual customers — both nationally and globally.
If you're a business owner, you'll be happy to know that Keeper's software is flexible and able to meet your company's specific needs. It can also greatly improve employee productivity and cut help desk costs.
Keeper is aware of the ever-increasing global interest in the Dark Web and its dangers. Because of that, they offer great tools for personal and business dark web scans. 
As far as pricing is concerned, let's talk about the Business tier first. It will only cost you $3.75 per month to get an encrypted vault for each user, along with access from unlimited devices and basic two-factor authentication.
The Personal plan is just $2.91 per month, and with it, you'll get unlimited password storage, secure record sharing, fingerprint and facial recognition ID login, unlimited devices, and more.
| | |
| --- | --- |
| Pros | Cons |
| Free tools and a Free plan available | The Free plan works on only one device and is quite limited |
| The software is extremely adaptable | Some users reported delays in customer support's response |
| Multi-factor authentication | |
| Cross-platform sync available for all paid plans | |
Cybersecurity Companies Reviews — A Buyer's Guide
In order to make the right choice when choosing a cybersecurity company, it's essential to look into a few key factors beforehand. Therefore, we'll go over a few in the section below.
Security Features Included
Whether you're looking for antivirus software for your personal computer or protection for your business network, it's essential to research the features provided in the pricing plan.
Moreover, making the correct choice means picking the software with the most exhaustive list of features. A company that offers antivirus software, a VPN service, protection against ransomware and spyware, combined with frequently available customer support, is usually a safe bet.
History and a Diverse Client Base
Working with a data security company requires a certain amount of trust. Therefore, it would be wise to put your faith in a reputable provider that has been around for many years and has an extensive list of satisfied customers.
Excellent Customer Service
Sometimes, unforeseen events can happen, and your cybersecurity defense can malfunction. In such cases, it's vital to work with a service that is well-supported by industry experts 24/7/365.
Price
Another significant factor to consider when choosing an optimal security solution is the cost. All top cybersecurity firms on the market today have diverse catalogs. And while some are high-end, there are many affordable services out there as well.
Your specific needs will also play an important role in determining the final price. For instance, if you're an individual user, you'll most likely pay less than a business owner purchasing the software for their company.
Conclusion
Hopefully, these reviews of some of the best cybersecurity companies available and our buyer's guide will put you on the right path towards finding efficient protection for all of your web surfing devices.
Our comprehensive research and testing allow us to confidently recommend any of the services from our seven offerings. However, it's important to remember that choosing the correct one will mostly depend on your personal needs and expectations.
FAQ
How many cybersecurity companies are there?
According to CyberDB, there are over 3,500 registered cybersecurity vendors in the US. Moreover, as global internet usage increases, new privacy and data protection companies are constantly being developed to meet the current demands.
How much do companies spend on cybersecurity?
The total spending on cybersecurity and risk management in 2021 was estimated to be $155 billion.
Furthermore, this number is expected to increase in 2022. Some predictions state it will be $172 billion by the end of this year.
Why is cybersecurity important for companies?
Simply put, it can protect your business. 
Regardless of its size or the industry in which it operates, nearly every company accumulates data. This data can be confidential and valuable. Therefore, in order to keep your hardware, software, and information safe, it's essential to search for the best cybersecurity companies.