10 Best Ecommerce Website Builders for Selling More in 2023
It's never been easier to start selling products and services online. 
You can find all the tools needed to start an online store in a matter of hours, even if you're a complete beginner. 
The only challenge remaining is to pick the right tool for the job. And that's what you'll find here. 
We did an in-depth analysis to find the best ecommerce website builder. No matter what kind of store you want to build, one of these builders will provide the perfect toolset to do it. 
Right below, you'll find a chart with our choices for easy browsing. 
Published: January 20, 2022
Affiliate Disclosure
We aim to provide you with the best tech news and reviews. To sustain our site, we may earn a commission when you buy from our affiliate links. Read our full Affiliate Disclosure.
Top Ecommerce Website Builders of 2023
Best Ecommerce Website Builders Reviewed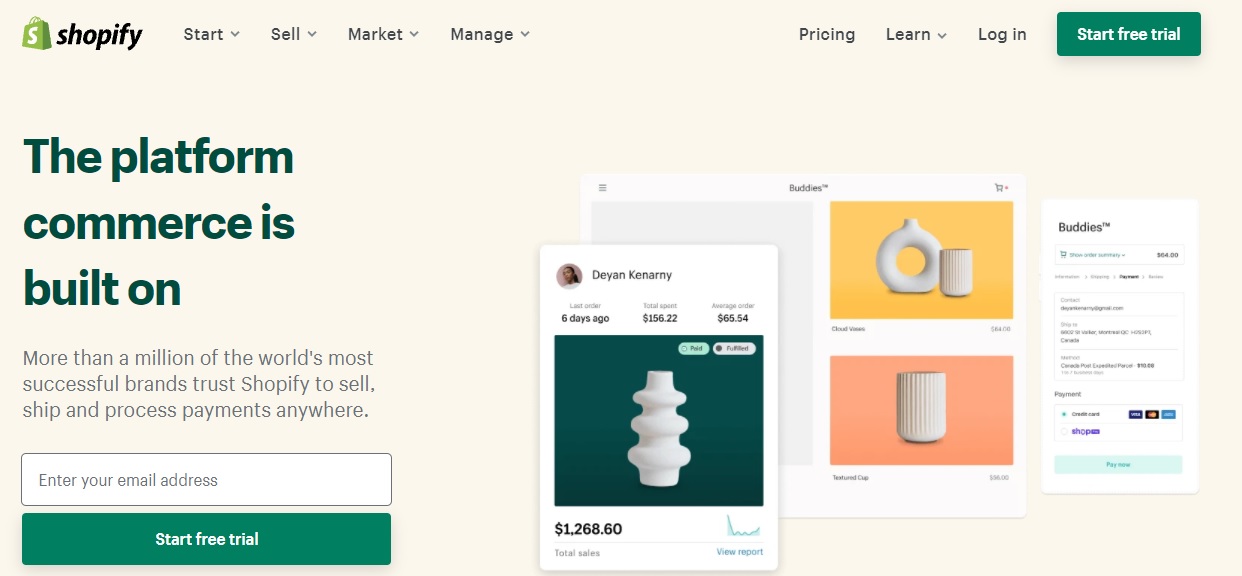 Shopify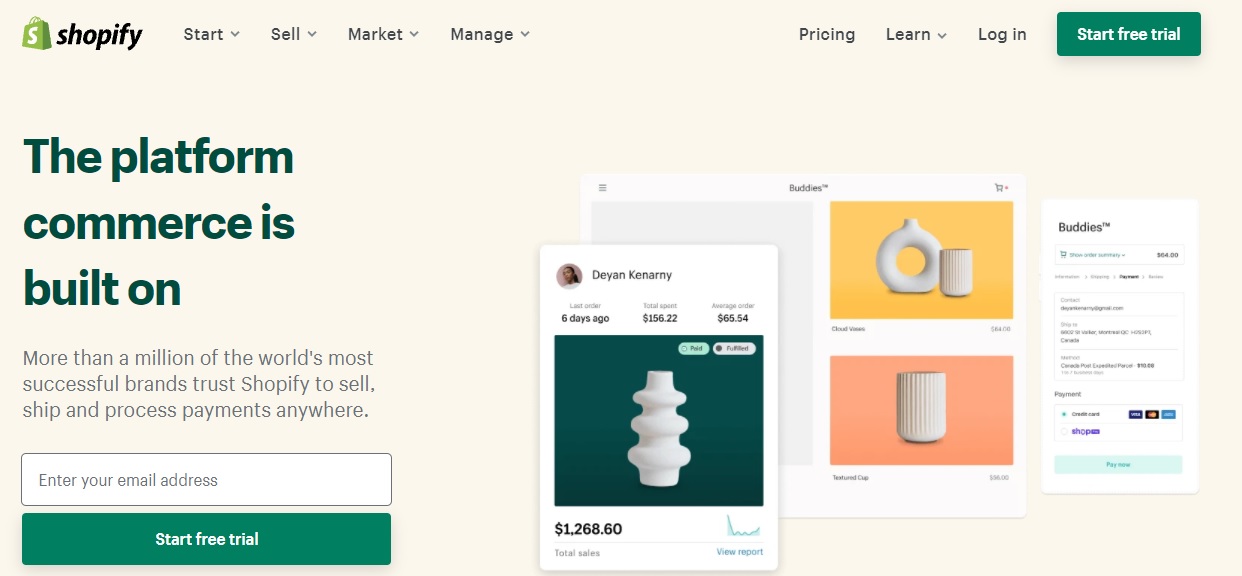 MOST SUITED FOR
Comprehensive ecommerce solutions
Visit Website
Rating: 10
Price: From $29.00/month
Number of products: Unlimited
Transaction fees: 0.5–2.0%
Templates: 100+
Shopify is our top choice for 2021. It's also one of the most popular website builders that are dedicated to ecommerce. 
Shopify isn't perfect, and some other options on this list are certainly easier to use. But the folks at Shopify know ecommerce from top to bottom. Everything you need to start and run a store is under one roof. 
The platform's 100+ templates are excellent and fully customizable. Additionally, Shopify has an app store where you can find most ecommerce functions in the form of apps. You can integrate all the features your store needs without a single line of code. 
Shopify also has its own payment processing gateway, Shopify Payments. You can also choose one of the hundreds of other payment options, but you can avoid some transaction fees if you work with Shopify Payments. 
Need more proof that Shopify is worth your consideration? Notably, Heinz chose to partner with Shopify for its first-ever direct-to-consumer offering, Heinz to Home. 
Shopify is a 100% turnkey option for an online store. All the plans include web hosting, SEO tools, customer engagement tools, and even POS software. 
| | |
| --- | --- |
| Pros | Cons |
| Wide range of website building tools | Transaction fees unless you use Shopify Payments |
| Simple multi-channel selling | Expensive for tiny stores |
| Top-notch SEO and analytics | |
| Built-in checkout with Shopify Payments | |
| Excellent templates and easy customization | |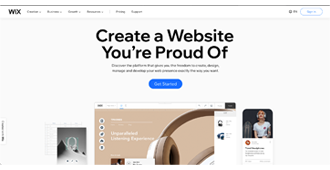 Wix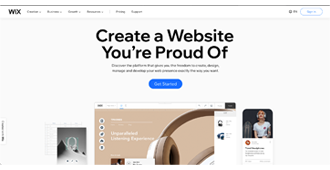 MOST SUITED FOR
Creating custom ecommerce sites
Visit Website
Rating: 10
Price: From $23.00/month
Number of products: Unlimited
Transaction fees: Differ by region
Templates: 800+
By and large, Wix is a comprehensive ecommerce solution. It's a fantastic site builder with a lot of customization that leaves little to be desired in terms of ecommerce functionality. 
Wix's most significant selling point is how easy it is to use. A complete beginner can have a basic store ready to go in less than an hour with Wix. Yet, it retains all the versatility and depth of a full-fledged drag-and-drop builder. 
Like Shopify, Wix has a payment gateway you can use right out of the gates. Additionally, you can use just about any significant payment processing service instead of Wix Payments. 
All of Wix's ecommerce tools are designed to be used by anyone. The simplicity also extends to the SEO and optimization tools. And it's packed with small features that make a big difference, such as ribbons to highlight new products. 
What's more, for anything you can't fix directly from the Wix ecommerce builder, you'll probably find a solution in the app market. Wix supports many excellent tools, such as Mailchimp, Google AdSense, and rankingCoach.  
The one complaint that plagues Wix in user feedback is loading speed. Wix has a reputation for creating sites with less than optimal load speeds. 
| | |
| --- | --- |
| Pros | Cons |
| Excellent value for money | Relatively small storage space |
| Exceptionally easy to use | Slow load speeds |
| Numerous minor features to improve your store | |
| Outstanding app market | |
| 800+ templates to choose from | |
Web.com
MOST SUITED FOR
Quick and easy online store set up
Visit Website
Rating: 10
Pricing: From $13.95/month
Number of products: Unlimited
Transaction fees: None
Templates: 18
Web.com is a solid website builder – among everything else in its catalog. It makes perfect sense to be used as an e-commerce tool as well. Thus Web.com recently introduced its e-commerce website builder.
It works by letting you customize one of its templates to fit your needs as closely as possible. With its intuitiveness as one of the best e-commerce solutions for small businesses, Web.com is also great for creating online store sites.
Setting up a website is pretty straightforward. However, while its editor is powerful and can deliver quality results in the end, the actual number of customizations is quite limited, depending on the template you choose. 
But if you're looking for a basic website, it isn't a problem at all. Once your e-commerce website is set up, you can start adding products. The product info is extensive; all it takes is to fill out a form on the product page. 
Creating orders is easy, and they're centralized in their own tab along with shipments, so once you have your shipment channels set up, you're ready to sell. Additionally, you can even have your e-commerce website created for you.
| | |
| --- | --- |
| Pros | Cons |
| Unlimited number of products | Price points can increase significantly after the first billing cycle |
| Very helpful customer support | Limited customizations in the editor |
| Option to have your e-commerce website built for you | |
| Good marketplace selling features | |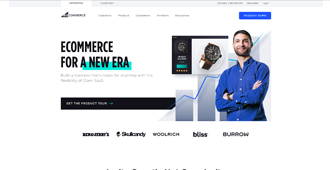 BigCommerce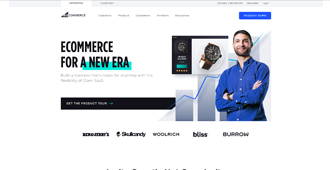 MOST SUITED FOR
Growing stores
Visit Website
Rating: 10
Price: From $29.95/month
Number of products: Unlimited
Transaction fees: None
Templates: 150+
BigCommerce is the best ecommerce website builder for growing stores. It's highly optimized to accommodate product line expansions, product categories, sales channels, and more. 
BigCommerce's selling point is the sheer number of features it has. To list a few, BigCommerce supports:
In-depth SEO customization

Multi-channel selling

Inventory management tools

Customer group targeting

Multiple currencies

Product ratings
And that doesn't even include the hundreds of app integrations available on BigCommerce. 
It's fair to say that BigCommerce offers a range of features. But very small stores that want to remain small won't get as much value out of that feature variety. 
Like Wix, BigCommerce does not charge transaction fees on top of payment processing fees. To top it all off, it's unlimited across the board — unlimited storage, bandwidth, and products. 
BigCommerce has a simple drag-and-drop builder on par with other options in the same class in terms of customization. It has a more than adequate template library as well, but some of the templates are paid options. And they're quite pricey, some as high as $300.   
All this is to say that BigCommerce is not a cheap ecommerce website builder. But if you have a growth mindset and aren't a complete beginner to online sales, you'll get your money's worth. 
| | |
| --- | --- |
| Pros | Cons |
| Massive number of features | Paid templates |
| Great scaling options | Not ideal for beginners |
| Advanced SEO tools | |
| Excellent templates | |
| Simple multi-channel sales | |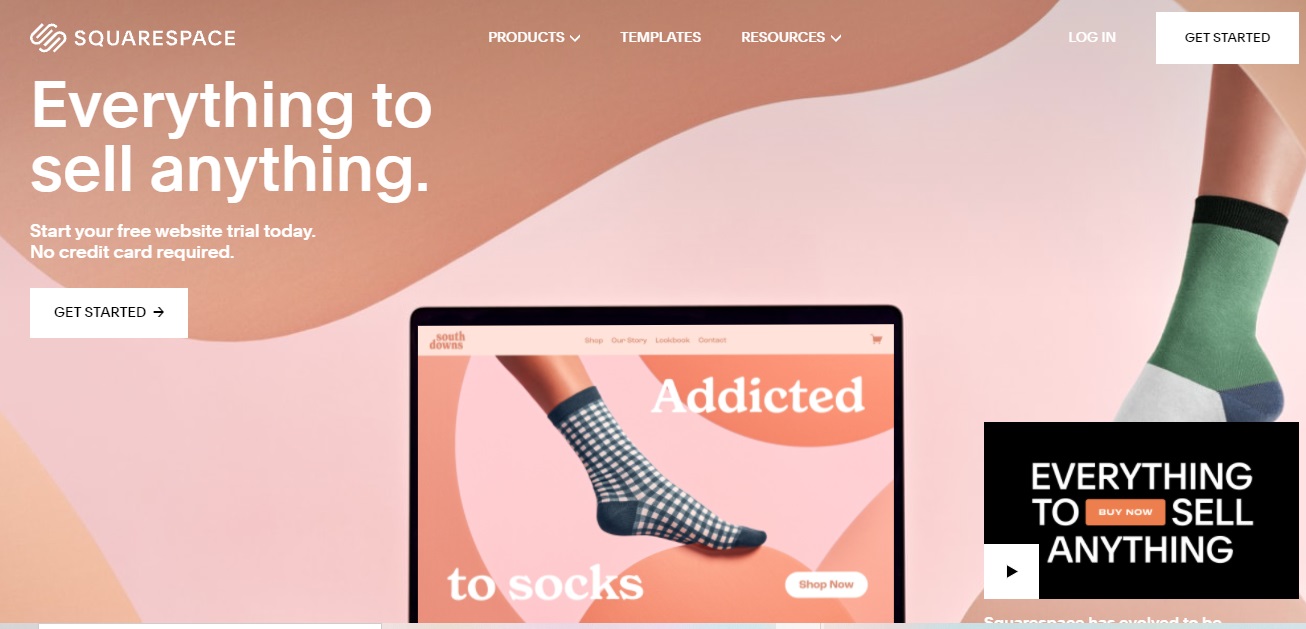 Squarespace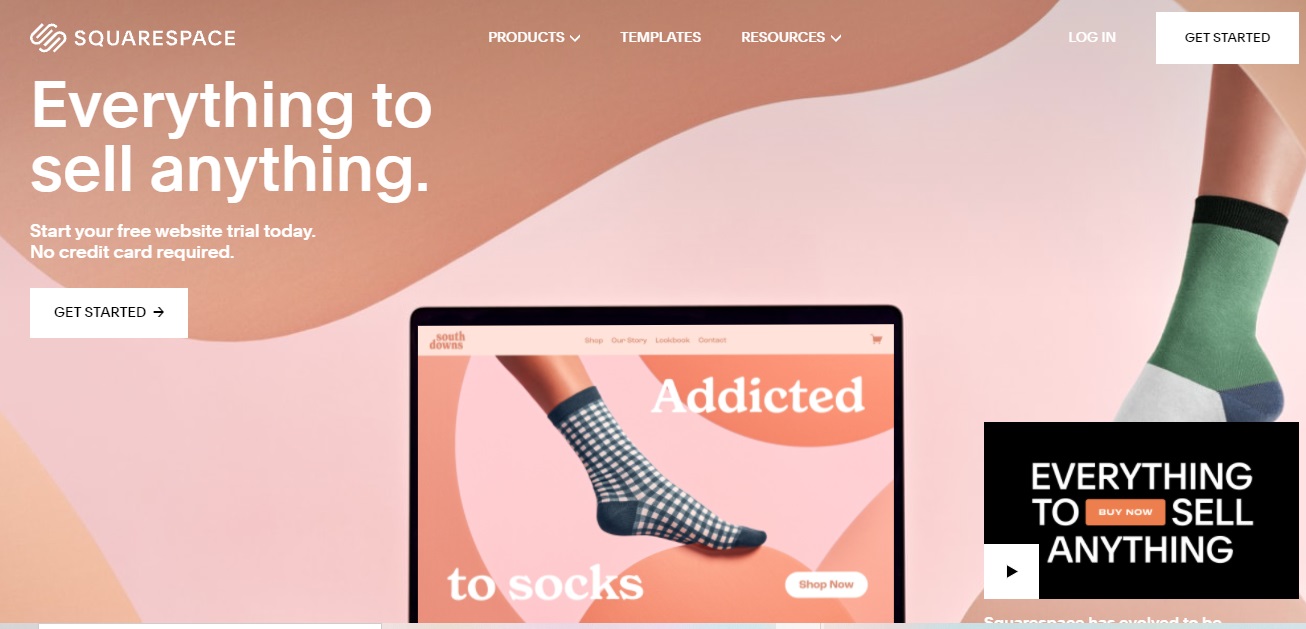 MOST SUITED FOR
Small businesses
Visit Website
Rating: 9.9
Price: From $26.00/month
Number of products: Unlimited
Transaction fees: None on basic and advanced ecommerce plans
Templates: 110+
Like Wix, Squarespace is primarily a website builder rather than an ecommerce platform. That said, its top-tier toolset for websites also makes it an excellent choice for an ecommerce store. 
Squarespace's order, inventory, and catalog management are all comparable to services focused mainly on ecommerce. It even supports discount codes, gift cards, and other types of sale incentives. 
However, Squarespace doesn't have its own payment gateway like some other options. That means you're limited to third-party providers, which is hardly a drawback given that it supports most of the major options. 
Squarespace also falls short when it comes to selling on multiple channels. It doesn't integrate with Amazon, Facebook, or Google Shopping. 
And, while SEO tools are present, they're a little challenging to access and implement. You'll have to examine the advanced settings to figure out how to get all the SEO tools to work right. 
Overall, Squarespace has an easy ecommerce website builder well-suited for people who want to showcase their products in a beautiful online space. It may lack a little functionality, but it more than makes up for it in style.
| | |
| --- | --- |
| Pros | Cons |
| Superb website builder | Not a lot of integrations |
| Award-winning templates | Transaction fees on the basic plan |
| Ideal for product showcases | |
| Good inventory and catalog management | |
| Customizable checkout | |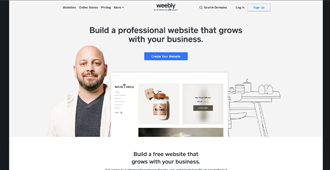 Weebly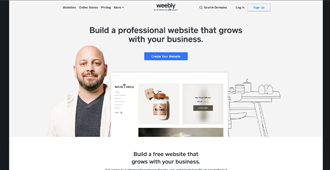 MOST SUITED FOR
Beginners
Visit Website
Rating: 9.9
Price: Starts at $0.00/month
Number of products: Unlimited
Transaction fees: 3% on Free and Personal plans, none on the other two
Templates: 60+
Square, the merchant services giant, acquired Weebly in 2018 and recently started to shake things up. Weebly remains the easiest ecommerce website builder, but it has not the most straightforward pricing, probably due to ongoing internal changes.
All of Weebly's plans include some ecommerce options. But realistically, you don't get a shopping cart with any plan below the Pro one. In other words, anything below the Pro plan isn't worth considering if you're serious about ecommerce.  
Weebly's biggest selling point is simplicity. It's widely considered to be the top commerce website builder for beginners. Unfortunately, that simplicity comes at the expense of customization. You can't customize checkout pages, and changes to templates are limited. 
Another reason why Weebly is beginner-friendly is its free plan. But keep in mind that while you can sell on the free plan, it lacks many of the features you'll need to be successful. On the right plan, though, Weebly offers excellent tools, including discounts, tax calculators, etc.
Overall, if you commit to Weebly's truly viable ecommerce plan (Business Plus), you'll find both an accessible website builder and all the tools to create a booming ecommerce business.  
| | |
| --- | --- |
| Pros | Cons |
| Excellent for stores with blogs | Only top-tier plans are viable for ecommerce |
| You can start selling for free | Few themes for online stores |
| Super user-friendly and straightforward builder | |
| Has all the crucial ecommerce tools | |
| Seamless integration with Square for payment processing | |
Shift4Shop
MOST SUITED FOR
SEO purposes
Visit Website
Rating: 9.8
Price: From $29.00/month
Number of products: Unlimited
Transaction fees: None
Templates: 100+
Shift4Shop used to be 3dcart and, for all intents and purposes, has kept the most sought-after features of 3dcart and updated it with some industry-leading practices. 
The main gripe with 3dcart was that it was getting outdated, but Shift4Shop has no such issues. The only thing it's missing is market share, which it's been increasing rapidly. 
The selling point of Shift4Shop is its value. It's not the cheapest ecommerce builder by a long shot, but you'll get your money's worth regardless of the performance plan you choose. 
Every pricing tier includes domain registration, a shopping cart, unlimited orders, a built-in blog, a Facebook store, and everything else you'd expect from the highest-paid plan. 
On top of that, US merchants can try out Shift4Shop free for 30 days. That's a $229 value, and you pay nothing if you cancel within 30 days. 
There are many customization options for its themes, and everything from store design to cart actions can be modified with a few clicks. 
| | |
| --- | --- |
| Pros | Cons |
| Easy customization across all store aspects | Minor issues with payment gateways |
| Top-tier SEO tools and implementation | |
| All plans include a Facebook store | |
| Highly responsive themes | |
| Easily customizable shopping cart | |
Zyro
MOST SUITED FOR
Small- and medium-sized businesses
Visit Website
Rating: 9.8
Price: From $24.49/month
Number of products: 100 on Ecommerce plan, 2,500 on Ecommerce Plus
Transaction fees: None
Templates: 17 for ecommerce
Zyro is a relative newcomer to the website building game. Its singular focus on branding makes it a good fit for a small business that needs a store. 
Zyro's building capabilities are comparable to others in the category. Our extensive Zyro overview reveals great features, such as snap-to-grid elements that make it easier for beginners to build an elegant site. 
There aren't many templates to play with, especially for ecommerce, but the ones available are exceptionally designed. Unfortunately, once you choose a template, you're stuck with it unless you want to start all over. 
In terms of ecommerce tools, Zyro has everything you'd expect from a website builder for selling products or services. Users get access to excellent inventory management tools, shipping calculators, and end-to-end order tracking. 
It also supports multi-channel selling, abandoned cart tracking and recovery, and multi-language sites. 
A nifty feature that Zyro includes is an AI copy generator. Just by selecting a few categories, Zyro's AI will produce a paragraph of SEO-friendly copy to help you populate your store and blog. You'll need to tweak it a bit, but it can save you a lot of time if writing is a bottleneck for you. 
One of Zyro's only glaring omissions is the lack of product filters, which website builders for ecommerce typically include. 
| | |
| --- | --- |
| Pros | Cons |
| 30-day money-back guarantee | Only the highest plan has full SEO features |
| AI copy generator | You can't switch templates |
| Good SEO tools | |
| Multi-language support | |
| Very user-friendly builder | |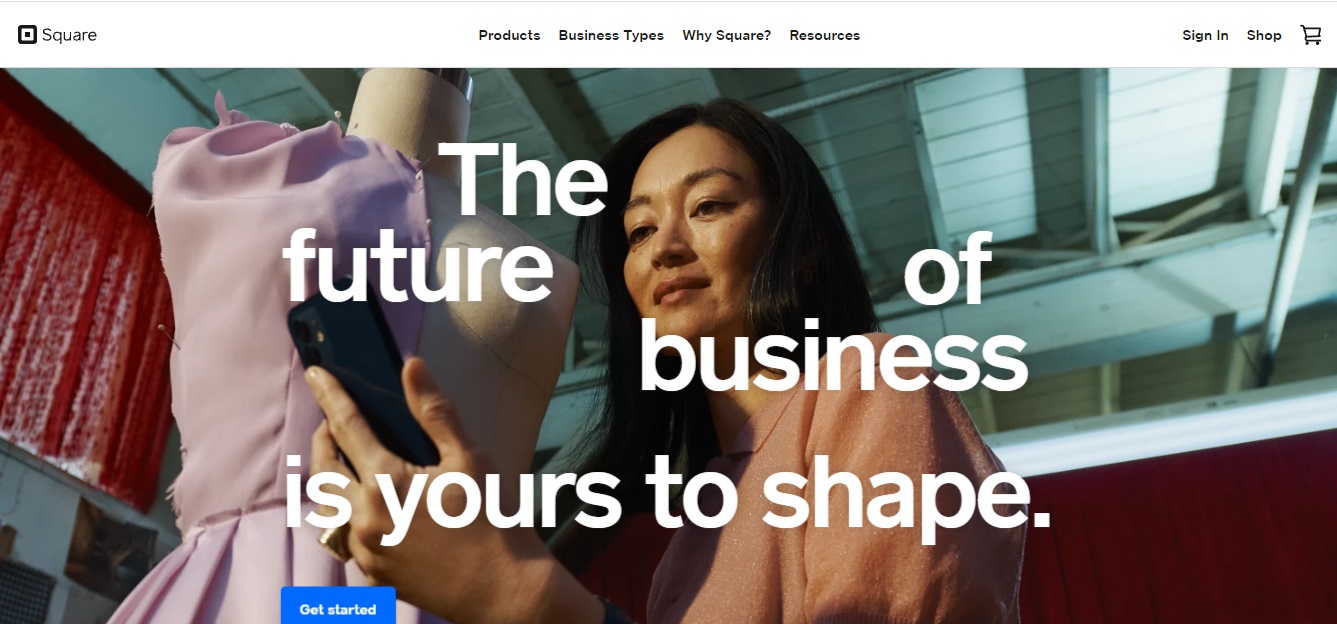 Square Online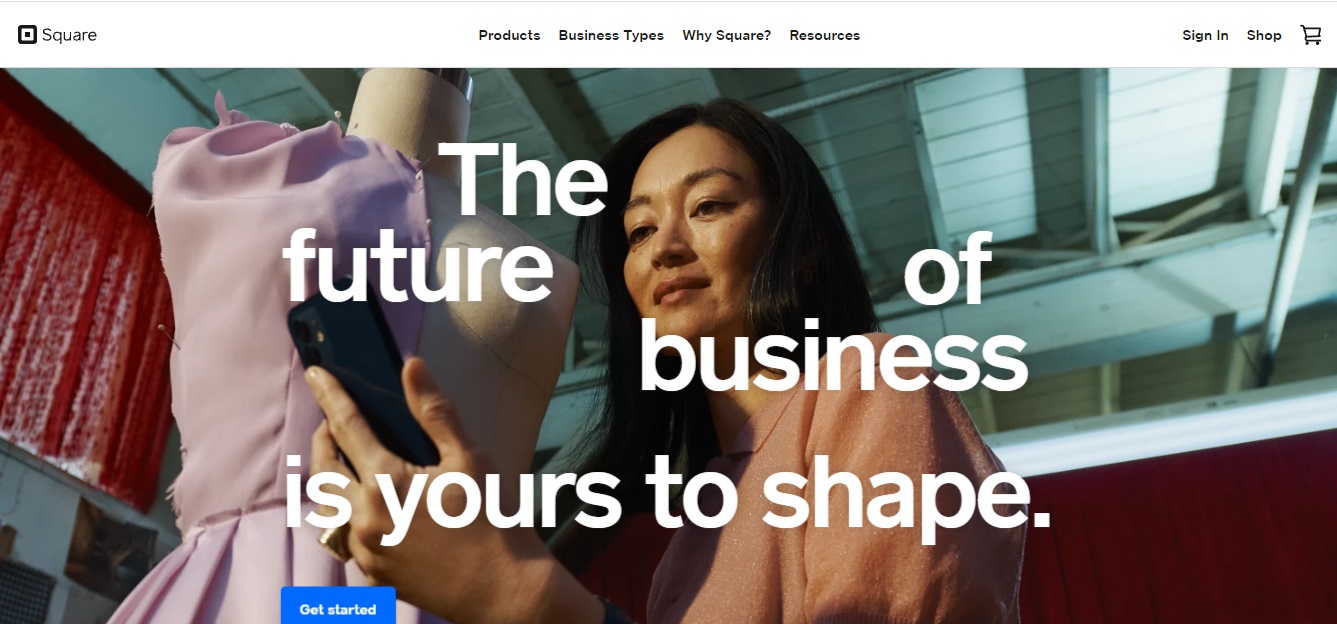 MOST SUITED FOR
Quick website creation
Visit Website
Rating: 9.8
Price: From $0.00/month
Number of products: Unlimited
Transaction fees: From 2.6% + 30¢ to 2.9% + 30¢ per transaction
Templates: 10+
If you've read the ecommerce website builder reviews above, you might already know that Square bought Weebly some time ago. And while Weebly still operates as a separate entity, Square Online is its branded ecommerce website builder. 
If you think the free builder sounds too good to be true, you should know it comes with a couple of caveats. First, you'll have to use a branded Square domain for your store; and second, you'll be using Square to process payments regardless of the plan you choose. 
Square's ecommerce builder also integrates with the Square POS systems. If you're already its user, Square Online is a perfect way to stake your claim in the online space. 
Now, how does this ecommerce website builder perform in comparison with Weebly? Predictably, Square Online's builder is extremely similar to Weebly's. But it takes a detour in the template variety. Instead of offering a wide range of templates, Square Online provides only five, categorized by the industry they're made for. 
This approach cuts back on the customization options but makes it a great offer for beginners who don't want to spend hours designing a store. Some users will find that the lack of options makes decisions easier. 
| | |
| --- | --- |
| Pros | Cons |
| Excellent free ecommerce plan | Only a handful of templates |
| Intuitive dashboard for all store functions | Extra processing fees unless you use Square's pay gate |
| Integrates with Square POS system | |
| Good marketing features on paid plans | |
| Based on Weebly's user-friendly design | |
GoDaddy
MOST SUITED FOR
User-friendliness
Visit Website
Rating: 9.7
Price: $24.99/month (billed annually)
Number of products: Unlimited
Transaction fees: Starting at 2.3%
Templates: 35 for ecommerce
GoDaddy is one of the most recognizable names in the web hosting arena, thanks in no small part to its aggressive advertising in the early aughts. Nowadays, GoDaddy is still an excellent web hosting provider with amazing ecommerce website builders. 
GoDaddy only has one ecommerce plan, and it's not the cheapest ecommerce website builder you'll come across. But don't let that deter you; GoDaddy has some unique features that may well be worth the price for you.
All the standard features are there, including abandoned cart notifications, stock management, coupons, and discounts. And it also has some not-so-standard features, such as revenue tracking. GoDaddy even lets you sell on most major online marketplaces, including eBay and Etsy.
GoDaddy's main feature that makes it stand out as a top ecommerce website builder for beginners is its assisted design intelligence (ADI). With the ADI builder, you answer a series of questions and get a full-built website based on your answers. 
You'll probably still want to do a little tweaking, but it's a fantastic way to get started quickly and painlessly. And if you get stuck at any point, GoDaddy has a system that produces customized advice for what to do next in your business.  
| | |
| --- | --- |
| Pros | Cons |
| AI-assisted builder | Won't scale well for large organizations |
| Good marketing and SEO tools | The features fall short of justifying the price |
| GoDaddy Insights provides goal-based guidance | |
| Great option to get started fast | |
Buyer's Guide to Selecting an Ecommerce Website Builder
There's almost no incentive for the average business to build an ecommerce platform from the ground up. Today's highly polished builders are so feature-rich that even big-name brands use them to create online stores. 
And you should know from the start that the differences between the top 9 ecommerce website builders listed here aren't huge. So you'll need some guidance to make sure you invest in the one that suits your needs. 
This section will show you the critical features you should keep in mind when you compare ecommerce website builders. 
Budget and Scaling
The price of your website builder is closely tied to how well it can scale with your store. Even if you don't need thousands of SKUs right now, you should keep in mind how your business will evolve. 
Templates
Generally, the more templates, the better. However, that's not always the case. Sometimes too much choice makes it more difficult to make a final decision. 
Luckily, most top ecommerce builders let you see their templates in action before you decide. Look through their template libraries and try to pinpoint at least five that you'd be happy with. 
Also, look at the fine print to see if the templates are free or paid. Paid templates can make a big dent in your budget. 
Transaction Fees
The rule of thumb for transaction fees is this — they'd better be worth it. 
That is to say, if you pick a builder with transaction fees, make sure you're getting your money's worth. Our top choice for 2021, Shopify, is one of the few on the list with transaction fees. But it more than makes up for it in features and user experience. 
Note that transaction fees, in this case, mean an additional charge on top of the processing fee you'll incur from payment gateways like PayPal. 
Types of Products
Most ecommerce builders these days support digital and physical sales as well as subscriptions and services. In our examination, we mostly avoid builders that can't support a full product and service suite. 
You may not have any plans to start selling (say) subscriptions anytime soon. But it's always better to keep your options open, if at all possible. 
In short, make sure your chosen builder can handle what you're selling before you commit. 
Accessibility and Ease of Use
In a perfect world, a solid website builder would allow even a complete layperson to create a beautiful online store. In practice, that's rarely the case. 
Nevertheless, the builder should have enough tools to let you build at least a bare-bones store mostly by yourself. Hiring a developer may be a stretch goal, but most builders aim to get you up and running without professional assistance. 
Make a checklist with the ecommerce solutions for your small business (or a much bigger enterprise), and look for the builder that delivers on those. Look for things like:
Abandoned cart reengagement

SSL certificate (you don't want to pay for this)

Automatic shipping rates from major carriers

Various payment gateways

Support for multiple languages
And anything else your store needs. 
Integrations
If your goal is to find ecommerce solutions for small businesses or large-scale enterprises, a good way to do that is to find one that works with services you already use. 
Identify essential software that you depend on when you're choosing a builder. Try to find the one that can easily tie in with that software. Otherwise, you'll be stuck doing a lot of manual work or hiring someone to build an integration for you.
Support
Round-the-clock chat support is pretty much the industry standard, so use that as a benchmark when looking for builders. Anything in addition to that is great, but avoid services that lack it.  
Also, look into advanced support options, such as help with SEO optimization and HTML customization. It may cost extra, but those are essential parts of ecommerce website design, and it's good to know you won't have to fly solo. 
Conclusion
It's hard to imagine a business nowadays without a robust online presence. And with how easy it is to build an online store, there's really no excuse for not having one. 
Even if you choose the cheapest option money can buy, you can start selling online within a few hours. 
You can't go wrong with any one of our top ecommerce website builders. However, use the buyer's guide above to help you find one that checks all the boxes before buying. 
FAQ
Which free ecommerce website builder is worth considering?
Square Online has a wide array of features for a free builder, and it's the top ecommerce website builder for free right now. 
Maybe it's because Square is just now breaking into the website builder market. But whatever the reason, enjoy it while you can. 
Which website builder for ecommerce does our team recommend?
If you just want a simple online store to sell a few items, Wix, BigCommerce, and Squarespace are all great options. They also scale well when you're ready to grow.
If you're looking for a lot of features and scaling potential, Shopify should be your pick, with Shift4Shop presenting a great alternative.