5 Best Online Background Check Services to Utilize in 2023
Today, we present to you our top picks for the best online background check companies in 2022.
When meeting someone new (a potential nanny, employee, business partner, household helper, or just about anybody you want to know more about), it pays to have their background checked for your safety.
Fortunately, you don't have to do this yourself. You can always hire a background check company to do the legwork for you.
Read on and find the one that matches your needs.
Published: January 19, 2022
Affiliate Disclosure
We aim to provide you with the best tech news and reviews. To sustain our site, we may earn a commission when you buy from our affiliate links. Read our full Affiliate Disclosure.
Top Background Check Sites in 2023
Best Online Background Check Reviews
Intelius Background Check
MOST SUITED FOR
One-off reports
Visit Website
Most suited for: One-off reports
Rating: 9.8
Pricing: From $39.95/20–30 checks
Customer reviews: Average
Customer service: Via phone or email
Accuracy: Above average
Intelius is an industry leader offering a plethora of services that can help you find people and check their backgrounds, be they someone you just met or your old friends and relatives.
Intelius' background check services include people search, public records, criminal records, reverse phone lookup, identity protection, people directory, and phone directory.
Intelius charges $39.95 for a one-time individual search of up to 30 checks. It includes various reports, such as criminal records, marriage and divorce history, lawsuits, etc.
However, its pricing isn't displayed on the site. You have to perform actual background checks online to see how much you're going to pay.
Despite the extra time you need to spend waiting for the search results, Intelius' platform is simple, straightforward, and very easy to use.
All you have to do is enter the information of the person you're checking, such as the first and last name, city, and state, and click search.
| | |
| --- | --- |
| Pros | Cons |
| Free basic search | Pricing isn't readily available |
| Accurate reports | |
| Individual report or subscription | |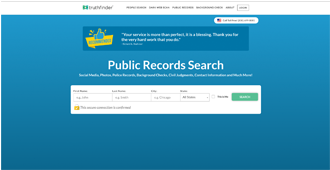 TruthFinder Background Check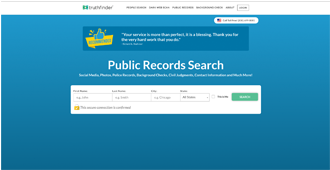 MOST SUITED FOR
Conducting frequent checks
Visit Website
Most suited for: Conducting frequent checks
Rating: 9.8
Price: $27.78/month
Customer reviews: Above average
Customer service: Phone and email
Accuracy: Above average

TruthFinder is relatively new in the industry, founded only in 2015. But we find it to be one of the good background check services online in 2021 due to the excellent customer reviews that speak volumes about its credibility.
As for the pricing, it's not the cheapest of all the products on this list. But it's reasonably decent, offering an abundance of different reports in the package.
The reports include an online criminal background check, job history search, education history check, social media accounts, photos, civil judgments, police records, contact information, etc.
Like Intelius, Truthfinder doesn't have its pricing displayed upfront. You have to conduct a search before knowing how much you'll have to pay.
We find it quite time-consuming and not very user-friendly. Still, it's a trusted brand by many, and for that, we consider it one of the best background check sites today.
| | |
| --- | --- |
| Pros | Cons |
| Offers dark web search | Doesn't show the pricing upfront |
| Includes social media accounts check | Tedious cancellation process |
| Unlimited reports | |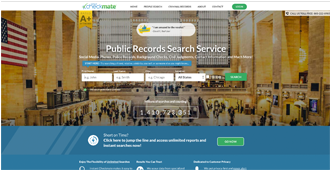 Instant Checkmate Background Check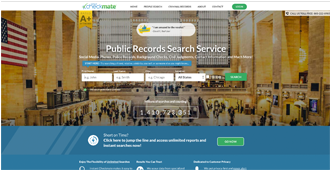 MOST SUITED FOR
Accurate reports
Visit Website
Most suited for: Accurate reports
Rating: 9.8
Price: From $1.00/5 days
Customer reviews: Average
Customer service: Via phone, email, snail mail, and social media
Accuracy: Above average
Instant Checkmate boasts extreme accuracy in their data reports, and some would even say it's the best background check app out there. So, we tested it and found only very little inaccuracy.
However, we did get some outdated telephone numbers, but this isn't really a deal-breaker.
The good thing about it is that you can try it for five days for only $1.00. If you decide this is a good fit for you after the trial period, you can opt for the 30-day membership at the cost of $35.12.
Either way, you'll get a thorough background check of online records, including criminal and arrest records, personal information, contact details, location history, social media profiles, etc.
Instant Checkmate proudly claims that they have over 70,000 5-star ratings from actual users and an A+ rating from the Better Business Bureau.
Their website is pleasurable to browse and very easy to navigate. It's one of the best background check sites when it comes to design.
| | |
| --- | --- |
| Pros | Cons |
| Easy-to-navigate interface | You have to run a search to see the price |
| Unlimited accurate reports | |
| Excellent search engine tools | |
PeopleFinders Background Check
MOST SUITED FOR
Small to medium-sized businesses
Visit Website
Most suited for: Small to medium-sized businesses
Rating: 9.7
Price: From $9.95/month
Customer reviews: Above average
Customer service: Via phone, snail mail, and help center
Accuracy: Above average
Launched in 1999, PeopleFinder is a veteran in the background check industry. However, you can't use it for an employment background check, as it isn't a consumer reporting agency.
Also, PeopleFinder doesn't provide an employment history report, but they do have access to over 43 billion records in the US.
The monthly subscription fee isn't bad at all and stands at $24.95 for the basic plan.
However, if you have a small to medium-sized business that needs to do background checks frequently, it's best to go for the Enterprise Light plan at $72.00 a month for 1,000 searches or the Enterprise Power plan at $159.00 for 5,000 searches.
Both plans boast some of the best online background check services out there.
They include criminal reports, background reports, property records, business data, reverse phone search, old and new addresses, old and new mobile and landlines, business data, and live customer care support.
| | |
| --- | --- |
| Pros | Cons |
| User-friendly platform | No social media report |
| Comprehensive reports | |
| Affordable | |
Choosing the Best Online Background Check Service
With so many online background check services out there, choosing the best one can be stressful. So, we created this quick guide to make it a bit easier for you.
Identify What Information You Need 
Different background check companies offer different packages. And while it's great to get as much information as possible about the person you're screening, it pays to identify what you need to know about them first.
You can then choose the best background search website that includes all those pieces of information in the package.
For example, some may include social media account records or a vehicle report, while others may not, so it's useful to think about which types of information you need in advance.
Determine the Purpose of Your Background Check
Picking the best online background check site also depends on the purpose of the background check. So, think well about why you need it.
Is it for hiring purposes? Do you want to check the background of the person you met on an online dating site? Are you looking for a long-lost relative or friend?
Once you determine the purpose, pick the one that offers information that suits your needs.
Compliance
If you're after the pre-employment screening, you must choose the top background check websites that are FCRA-compliant. You certainly don't want to take the risk of a lawsuit for performing an illegal employment background check.
Most of the time, websites will immediately tell you whether you can or can't use their services for pre-employment screening, credit checks, and the like.
Nevertheless, the best background check service online must be bound by all applicable laws and confidentiality policies, whether for hiring or any other purposes.
Pricing and Budget
Naturally, pricing and budget are critical in choosing the right background check company. The starting point of your decision is how much budget you are willing to shell out on the reports.
The pricing structures vary among companies. Some may have subscriptions or membership, while others may charge per report.
The number and type of reports included in the pricing may also vary. If you need to run large numbers for an extended period, it'll be worth looking for or asking for a discount.
In any case, if you can't decide which plan is right for you, don't hesitate to ask for assistance from the company's customer support team.
Customer Support
Customer support is also an essential factor to consider when choosing a background check services provider. While it's quite rare to find one that's available 24/7, many of them have extended service hours.
Consider whether you want to speak to a customer support member over the phone, live chat with them, or send them an email.
The top online background check services have all contact details listed on their website. And, it's always a plus if the person you interact with is helpful, supportive, and pleasant.
Bottom Line
In today's day and age, it pays to perform a background check on the new people in your life, as they may not be who they appear to be or tell you. And what better way to do it than get the services of the top-of-the-line background search sites.
We narrowed your search down to only seven best of them all, and we hope that our quick guide and reviews can help you find one to fit your requirements.
FAQ
Can I get my background check online?
Of course. Most, if not all, online background check websites will allow you to do your own background check. People usually do that if they're applying for a job, looking for a new apartment, or for any other reason. 
It's as easy as ABC. All you have to do is choose one of the good background check websites and enter your information just as you would for other people, and you'll get the results in minutes. 
It should give you a better idea of what your potential employer or landlord will see about you.
What background check do most employers use?
Employers often use background checks to screen an applicant or check someone's background whenever they deem necessary. Some do it semi-annually or annually to ensure their workplace environment's safety. 
They use background check services companies compliant with the Fair Credit Reporting Act (FCRA) to make it legal to use the information obtained from the reports with their hiring decisions. 
Some of those are on our list here—TransUnion Shareable and GoodHire, for example.
How do I conduct a background check?
Typically, when conducting a background check for any other purposes besides pre-employment screening, all you have to do is go to the background check website of your choice and enter the information of the person you're checking.
However, the process is very different when you're doing the background check for a potential employee. You need to do it with the FCRA-approved company, as mentioned above. 
And if you decide not to hire that person based on the information you've found in the background check, you must notify them and provide them with a copy of the report.
What is the best background check website?
Each of the companies on our list is among the best online background check websites out there, providing the cream of the crop services. 
But if we had to choose the best one, we would go for the TransUnion Shareable for Hires. It's a direct product of the TransUnion credit bureau, and it's guaranteed its reports are accurate. 
Plus, their website is simple, straightforward, and easy to use.