5 Best Online Bookkeeping Services in 2023
Bookkeeping can be a challenging task, especially for growing businesses. Luckily, gone are the days of old-fashioned manual accountancy with pen and paper. 
Nowadays, there are online tools for almost every day-to-day business task, and bookkeeping is no exception. To help you with finding the right one for you, we searched the internet and compiled a list of some excellent online bookkeeping services on the market.
Interested to know more? Keep scrolling!
Affiliate Disclosure
We aim to provide you with the best tech news and reviews. To sustain our site, we may earn a commission when you buy from our affiliate links. Read our full Affiliate Disclosure.
5 Leading Online Bookkeeping Services in 2023
Virtual Bookkeeping Services - Expert Reviews
Xendoo
MOST SUITED FOR
Small businesses looking for more flexibility
Visit Website
Rating: 10
Pricing: From $275.00/month
Customer support Via FAQ, phone, and email (online form)
Customer reviews: Above average
Tax support included: Yes
Free trial: Yes
Xendoo lets you hire experts in the field of bookkeeping, making sure your documents are always up-to-date and that your business is compliant and fully tax-ready. 
Getting started takes no longer than an hour, and the platform integrates well with other software, such as Xero and Quickbooks Online, some of the best accounting software today, making the process hassle-free. 
Your designated Specialist will set everything up and connect your accounts in view-only mode. The portal is available 24/7 and your business's entire financial visibility is just a few clicks away.
Xendoo's experts reconcile books weekly, maintaining clear and consistent communication with you. This structure is clearly confirmed by numerous positive comments made by satisfied users.
As a provider of bookkeeping services for a small business, Xendoo is a company whose experts make it their top priority to keep your records organized, as well as compliant to all the latest reporting requirements. 
The platform offers plenty of options depending on your individual needs, including a free monthly trial. The prices range from $275.00/month to $900.00/month annually for bigger expenses.
Aside from plenty of options, what also makes it especially great for smaller businesses that need a bit more flexibility is the fact that you will not be tied to any long-term contract — you can cancel at any time.
| | |
| --- | --- |
| Pros | Cons |
| Easy to get started | Not for complex accounting issues |
| Intuitive customer portal UI | Some users may experience invoicing delays |
| Top-quality support | |
| Tax consulting available | |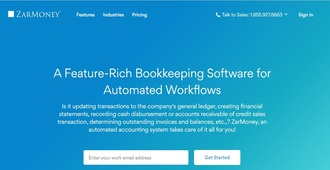 ZarMoney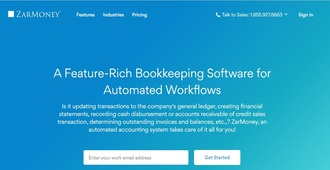 MOST SUITED FOR
Budget-conscious companies
Visit Website
Rating: 10
Pricing: From $15.00/month
Customer support Via Help Center, User Community, phone, and online form (email)
Customer reviews: Excellent
Tax support included: Yes
Free trial: Yes

ZarMoney provides all business-owners with the ability to update their financial data completely in real-time. It creates dynamic statements and reports, taking third-party stakeholders into account as well.
As a service for online bookkeeping, the platform ensures the safety and accessibility of your books at all times, as well as closing them in an efficient manner. It lets you create financial statements, analyze them, and constantly be tax-ready.
Aside from those, ZarMoney also deals with online invoicing and automated billing, online payments, global inventory management, as well as purchase orders and general online order management. You can even import your bank transactions completely automatically.
The platform is multi-user and is perfect for those looking for a more affordable option. It also offers different ways to contact support, ensuring that you'll get all the help you need to keep everything organized. 
The only thing missing is a live chat option, which is the fastest way to get a response from a support representative.
In case you'd like to try out ZarMoney's virtual bookkeeper, you can do so in one of three price plans, ranging between $15.00 and $350.00 per month for a single user. The prices will increase further along with the number of users.
| | |
| --- | --- |
| Pros | Cons |
| Easy to use and set up | Not every bank has its integration |
| Responsive customer support | Some calculations can be challenging at times |
| Highly helpful automations | |
| Secure bank setup | |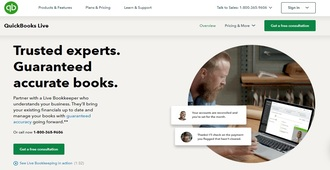 QuickBooks Live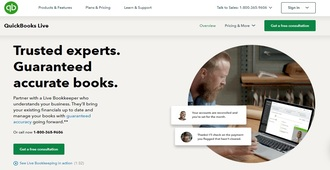 MOST SUITED FOR
Small to medium-sized businesses
Visit Website
Rating: 9.9
Pricing: From $200.00/month
Customer support Via Help Center, Community, and phone
Customer reviews: Excellent
Tax support included: Yes
Free Trial: Yes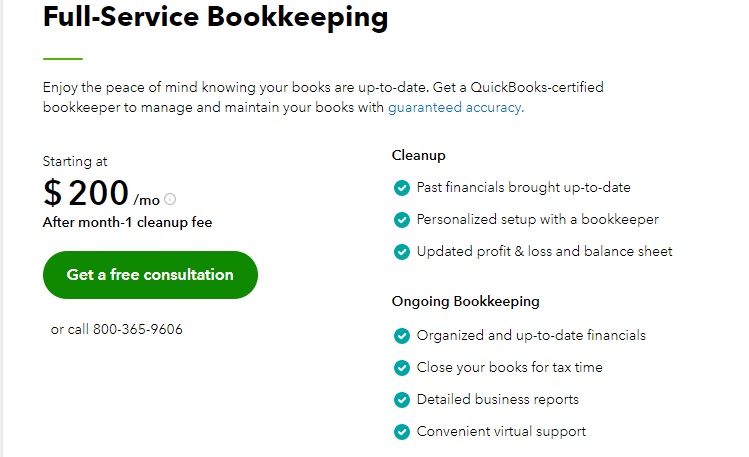 QuickBooks Live is an easy-to-use solution for online bookkeeping for small and medium-sized businesses. Like many professional accounting and bookkeeping platforms, it outsources experienced bookkeepers and lets business owners without in-house accountants hire them.
Paying for professional bookkeepers services by someone with years of experience in the industry can help you cut the daunting hours of dealing with books yourself. They will also ensure your books are all up-to-date and properly closed once it's time for dealing with taxes.
To start off the process, the bookkeeper will go through your books and perform a cleanup, thereby updating them wherever needed. After the initial cleanup, you'll secure ongoing support that will take this time-consuming task off of your schedule.
With QuickBooks Live's bookkeepers, you'll receive timely and fully personalized insights into important data, such as your profit, losses and balance sheet. Using these easy-to-digest reports can help you make better business decisions and give you more time for other things.
Should you decide to opt for this solution for bookkeeping as a service, your starting price would be $500.00 for the first billing cycle to cover the first-month cleanup fee. Afterwards, the price will go back to being $200.00/month.
| | |
| --- | --- |
| Pros | Cons |
| Easy and fully supported setup | The starting fee could be too high for some |
| Highly professional and pleasant bookkeepers | Occasional delay in the bookkeeper's response |
| One-on-one interaction with the bookkeeper | |
| Straightforward live bookkeeping interfaces | |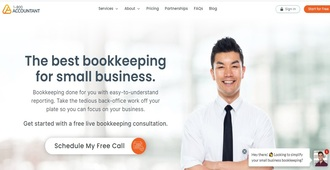 1-800 Accountant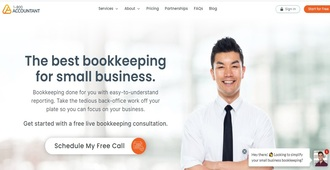 MOST SUITED FOR
Startups looking for a free start in business
Visit Website
Rating: 9.8
Pricing: From $0.00/month
Customer support Via email, phone, and live chat
Customer reviews: Above average
Tax support included: Yes
Free trial: No

1-800 Accountant is one of the rare all-in-one solutions for not just bookkeeping, but business in general. From starting a business to dealing with bookkeeping and payrolls, this platform's team is here to guide you.
With 1-800 Accountant's virtual bookkeeping services in particular, you can rest assured you'll have all the freedom to focus on your business instead of keeping your books. 
Their certified US-based accountants will make sure all of your books are done in an accurate manner and as detailed as necessary. Your transactions will be categorized and your account reconciled. That being said, you'll always be able to make decisions based on real-time data.
The platform also comes with very useful automations, such as connecting your bank account, sending invoices, tracking mileage and uploading receipts. You'll have a dedicated bookkeeper that'll provide you with unlimited support as you're getting started.
If you'd like to get started with this online bookkeeper, you can do so by choosing one of their price plans. Aside from the free one, the rest range between $125.00 and $375.00 per month and are billed annually.
| | |
| --- | --- |
| Pros | Cons |
| Timely and professional team of specialists | Less intuitive dashboard |
| Live chat support option | Occasional delayed response |
| Free plan for startups | |
| Accounting for everything | |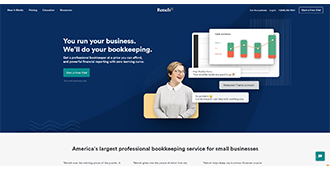 Bench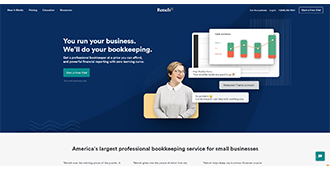 MOST SUITED FOR
Loan applicants
Visit Website
Rating: 9.8
Pricing: From $249.00/month
Customer support Via phone and chatbot
Customer reviews: Above average
Tax support included: Yes
Free trial: Yes

Whether you're a startup with less than $1K monthly expenses or an enterprise with up to $1 million in spending, Bench has your back. It'll provide you with a customized monthly plan and a dedicated bookkeeper.
It's arguably one of the best bookkeeping firms, providing excellent service for businesses that already use other tools for managing payroll, taxes, and invoicing.
The proprietary in-house software syncs smoothly with most major banks and payment platforms like Gusto, FreshBooks, and Stripe for effortless data transfer.
Their list of bookkeeping services is long and includes account reconciliation, tax bookkeeping, tax preparation and filing, expense overviews, etc.
No matter which pricing plan you select, you'll get a dedicated, highly-skilled bookkeeper who'll import bank statements, categorize transactions, prepare monthly financial statements, and work with your CPA or tax professional.
Historical bookkeeping and Bench's Catch Up Bookkeeping Plan will organize your past months' books and keep everything in order and ready for a loan application.
Online bookkeeping services reviews also love that Bench allows you to see your cash flow and prepare your tax forms. In addition, you can try out Bench services for one month for free and cancel at any time, no strings attached.
Pricing starts at $249.00/month, paid annually for the Essential plan and $399.00/month for the Premium plan. You can also pay as you go for the Essential plan for $349.00/month.
| | |
| --- | --- |
| Pros  | Cons |
| BenchTax | Separate software for payroll, invoicing, and bill payment |
| Specialized bookkeeping | A bit pricey |
| Account reconciliation | |
| User-friendly interface | |
Choosing the Best Bookkeeping Companies
To make your final purchase decision, ultimately, it all comes down to taking into account two essential factors.
We've listed some of them to help you be guided accordingly. So go ahead and take a look.
Price
Regardless of the size of your business, your budget is likely to be limited, especially if you're just starting out. Therefore, it's important to look at every option's Pricing section before you choose one.
Features
Having a feature-equipped bookkeeping tool can be extremely useful to any business, no matter if it's steadily growing or just starting out. 
From well-sorted-out invoicing and tax management to just overall professional teams of specialists, finding the most feature-rich solution, while remaining mindful about the price, can save you and your business a lot of time and money in the long run.
Customer Support
Ideally, hiring a bookkeeping online service means you don't have to worry about that aspect of your business. 
However, you might have some questions, so a customer support team you can reach via email, phone, live chat, or even a chatbot where you can leave a message so someone can get back to you quickly is essential.
Ease of Use
The bookkeeping company's platform or app should be simple and easy to use. You want to access your account info and business funds quickly and without hassle. Statistics show that 67% of users will leave a site if they can't find what they are looking for quickly.
Customer Reviews
Almost 100% of consumers say that customer reviews influence their purchasing decision. So, it pays to check what other people say before choosing a bookkeeping company to trust your business with.
Verdict
Ultimately, choosing the best solution for your business isn't as black-or-white as it may seem. However, after checking out every virtual bookkeeping services review listed here, we hope you ended up finding what you're looking for.
FAQ
Can I do my own bookkeeping?
If you know how to, you absolutely can! However, that can take a lot of time of your day and, as a business owner, you will often want to focus on something else.
Is QuickBooks good for bookkeeping?
QuickBooks is one of the best bookkeeping solutions on the market today. QuickBooks Live, as mentioned on our top online bookkeeping services list, although pricier, provides a solid all-inclusive solution.
How much does virtual bookkeeping cost?
It all depends on the platform. The usual price tag can range from completely free to hundreds of dollars per month.