8 Best Online Bookkeeping Services to Simplify Work in 2022
We've gathered ten best online bookkeeping services for freelancers, small businesses, and individuals that can save you precious time and money.
So, if you cringe at the thought of going through dozens of bookkeeping companies looking for services best suited for your business, you're at the right place. Our reviews will make your decision-making easier.
So, let's see what each of them offers.
Published: December 6, 2020
Affiliate Disclosure
We aim to provide you with the best tech news and reviews. To sustain our site, we may earn a commission when you buy from our affiliate links. Read our full Affiliate Disclosure.
Top Online Bookkeeping Services for 2022
Best Online Bookkeeping Services Reviews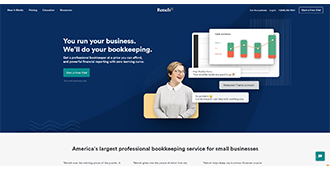 Bench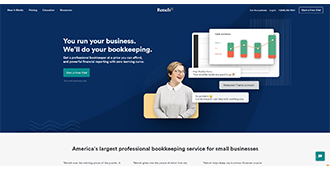 MOST SUITED FOR
Loan Applicants
Visit Website
Rating: 10
Accounting Software: Bench software
Cash and Accrual Accounting: Available/On-demand
Services: Historical and specialized bookkeeping; tax prep and filing
Pricing: From $249.00/month
Customer support: Via phone, email, and live chat
Whether you're a startup with less than $1K of monthly expenses or an enterprise with up to $1 million in spendings, Bench has got your back. It'll provide you with a customized monthly plan and a dedicated bookkeeper.
It's arguably the best online bookkeeping service, and it provides excellent service for businesses that already use other tools for managing payroll, taxes, and invoicing. 
The proprietary in-house software syncs smoothly with most major banks and payment platforms like Gusto, FreshBooks, and Stripe for effortless data transfer.
Their list of bookkeeping services is long and includes account reconciliation, tax bookkeeping, tax preparation and filing, expense overviews, etc.
No matter which pricing plan you select, you'll get a dedicated, highly-skilled bookkeeper who'll import bank statements, categorize transactions, prepare monthly financial statements, and work with your CPA or tax professional.
Historical bookkeeping and Bench's Catch Up Bookkeeping Plan will organize your past months' books and keep everything in order and ready for a loan application.
Virtual bookkeeping services reviews also love that Bench allows you to see your cash flow and prepare your tax forms. You can try out Bench services for one month for free and cancel any time, no strings attached.
All pricing plans are customizable, and packages are flexible. You can contact your bookkeeper or support service at any time for any issues and questions.
| | |
| --- | --- |
| Pros | Cons |
| BenchTax | Separate software for payroll, invoicing, and bill payment |
| Specialized bookkeeping | |
| Account reconciliation | |
Bookkeeper360
MOST SUITED FOR
E-commerce startups
Visit Website
Rating: 9.9
Accounting Software: Xero, QuickBooks, Gusto, etc.
Cash and Accrual Accounting: Available
Free Trial: 14 days
Services: Bookkeeping, CFO advisory, payroll, tax
Pricing: From $125.00/hour
With a dedicated team of CPAs, CFOs, advisors, and tech experts, Bookkeeper360 is one of the best bookkeeping services that'll make sure your e-commerce startup grows steadily.
You can try out its services for free for two weeks and decide on a weekly or monthly payment plan later. Depending on your preference, you'll either get a dedicated accountant or a whole team to take care of your business' finances.
No matter the payment choice, you'll get the best online accounting services, including accurate and timely financial insights; monthly reconciliation; monthly profit, loss, and balance reports; weekly and monthly reports, etc.
The best thing about Bookkeeper360 is that it also allows you to add services to your package. That way, you can create a customized package that fits your business perfectly.
Additional services include CFO and comptroller advisory, tax prep and planning, HR and payroll, revenue recognition, etc.
The cost of accounting services will, naturally, vary depending on the additional services you choose.
Bookkeeper360 integrates with some of the best accounting software like QuickBooks, Gusto, Shopify, Amazon, Xero, and many others. There's also a smartphone app available for Xero accounting.
| | |
| --- | --- |
| Pros | Cons |
| Lots of additional services | Getting started takes between one and two weeks |
| Business coaching available | |
| Helpful customer support | |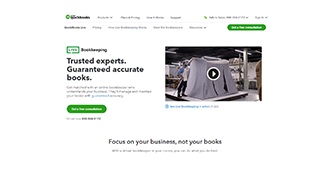 QuickBooks Live Bookkeeping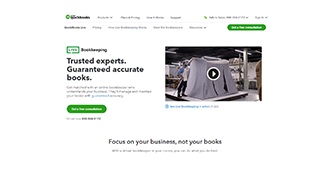 MOST SUITED FOR
Small businesses
Visit Website
Rating: 9.8
Accounting Software: QuickBooks
Cash and Accrual Accounting: Available
Services: Setup, ongoing bookkeeping, month-end close
Pricing: From $12.50/month
Customer support: Via phone, email, and help center
If your business already uses the QuickBooks accounting software (or you want to transfer to it), you'll be happy to know that QuickBooks Live Bookkeeping offers some of the best bookkeeping for small business owners.
Especially knowing 82% of them fail precisely because of poor cash flow management.
You can get a free consultation before committing to the service, but even when you choose a pricing plan, you'll be able to change or cancel it at any time. Moreover, there's no contract required, so you can easily move on to another service if this one doesn't suit your needs.
QuickBooks Live Bookkeeping offers some of the best professional bookkeeping services in the USA. They're divided into three phases:
Setup

—A certified QuickBooks ProAdvisor with years of experience will set up your account, connect it to your banks, and guide you through QuickBooks basics.

Ongoing bookkeeping

—Each month, the bookkeeper will categorize your transactions and reconcile accounts.

Month-end close—The bookkeeper will close the books and confirm they're accurate at the end of the month. They'll also send you financial reports in PDF, including a profit and loss statement and a balance sheet.
The list of accounting and bookkeeping services QuickBooks Live offers is quite long, and some of them include tracking income and expenses, invoicing, billing and inventory management, tax filing, etc.
The pricing is based on your business's monthly expenses and doesn't include the QuickBooks Online subscription that you also need.
| | |
| --- | --- |
| Pros | Cons |
| A dedicated bookkeeping team | No income tax support |
| QuickBooks ProAdvisors and CPAs | Requires a QuickBooks Online subscription |
| Personalized, real-time support | |
Botkeeper
MOST SUITED FOR
Outsourcing
Visit Website
Rating: 9.7
Accounting Software: Botkeeper software
Cash and Accrual Accounting: Available
Services: Balance sheet, cash flow, transaction categorization, reconciliation
Pricing: From $55.00/month
Customer support: Via phone, email, and snail mail
With machine learning and artificial intelligence (AI), Botkeeper provides the best outsourced accounting services to accounting companies, startups, and small businesses.
Botkeeper's software created the perfect "pre-accounting" solution that eliminates the need for almost all data entry and delivers books with the majority of bookkeeping ready.
The cost of outsourcing accounting services that Botkeeper provides is pretty high, but it'll pay out quickly if you have a large client base. You can pay per client or for the entire platform on a monthly or annual basis.
Botkeeper may be software, but you'll also be in touch with a dedicated team of financial experts, deployment specialists, and an accounting team. They'll help and guide you through the platform.
Botkeeper offers custom-tailored onboarding and cleanup. It connects to your or your client's bank and credit card accounts. Then, it runs a comprehensive health assessment of the books and sets you up with the platform.
Finally, it takes care of any necessary cleanup and starts the daily bookkeeping operations. A dedicated team will make the integration to the platform effortless. They'll provide you with platform training, create personalized playbooks, and assist you in managing accounts.
Furthermore, expert CPAs and accountants will take care of managing and paying bills, payroll administration, financial reporting, invoicing, and much more.
However, it can sometimes get a bit glitchy. Luckily, our virtual bookkeeping services review finds it easy to navigate. It also offers excellent services, and the bookkeepers and accountants are helpful, friendly, and highly competent.
| | |
| --- | --- |
| Pros | Cons |
| An innovative way of bookkeeping | Annual plans only |
| Efficient tax reports | Occasional glitches |
| Connects with PayPal, Stripe, Amazon, etc.  | |
Xendoo
MOST SUITED FOR
Startups
Visit Website
Rating: 9.6
Accounting Software: QuickBooks, Xero, Xendoo
Cash and Accrual Accounting: Available
Services: Bookkeeping, catch up, taxes
Pricing: From $195.00/month
Customer Support: Via phone and email
Xendoo is perfect for startups as it provides multiple teams of professional bookkeepers and CPAs who'll work with you on improving and growing your business, making sure you don't fall into the category of the 75% of venture investors that inevitably fail.
The cost will depend on the business' monthly expenses. You can try out one of Xendoo's numerous plans for free for a whole month and decide if that's what you need. Depending on the plan you choose, you can opt for cash, modified accrual, or both.
Xendoo works with some of the best accounting services—QuickBooks, Xero, Amazon, etc. Their dedicated team of CPAs and bookkeepers will smoothly transfer your data or integrate it with their proprietary Xendoo software.
Whichever you select, you'll get real-time access and metrics. They'll work with you based on your schedule, and you can also contact them via phone or email.
The team will take care of the categorization and reconciliation of monthly business transactions, personal monthly reports, files for tax returns and savings, etc. They'll also provide you with weekly bookkeeping and month-end financials.
| | |
| --- | --- |
| Pros  | Cons |
| Personal and corporate tax returns | Only basic bookkeeping |
| Fast, responsive, and helpful customer service | |
| Connects with A2X, Veem, Fattmerchant | |
Bean Ninjas
MOST SUITED FOR
Online Sellers
Visit Website
Rating: 9.5
Accounting Software: Xero
Cash and Accrual Accounting: Available
Services: Bookkeeping, catch up, payroll
Pricing: From $995.00/month
Customer Support: Via phone and online form
Bean Ninjas is an online accounting and bookkeeping service that offers the best bookkeeping for online sellers, freelancers, bloggers, digital agencies, entrepreneurs, coaches, consultants, and e-commerce stores.
Bean Ninjas integrates with Xero and transfers all your data onto their platform. Every pricing plan comes with a Xero account, so you won't have additional expenses.
Moreover, as soon as you sign up for Bean Ninjas, a team of financial experts will perform a Xero health check to ensure your bookkeeping is fit and up to date.
What makes Bean Ninjas one of the best online accounting services for freelancers and online sellers is the A2X integration that works perfectly with Amazon and Shopify. Moreover, each client also gets financial training and coaching to lift their business skills to another level.
Besides all features mentioned above, Bean Ninjas also offers other popular online bookkeeping services, such as transaction categorizing, receipt and expense management, bank accounts reconciliation, quarterly financial reports, etc.
| | |
| --- | --- |
| Pros | Cons |
| Free Xero account | Very expensive |
| EOFY tax package | |
| Integrates with TaxJar, Gusto, A2X | |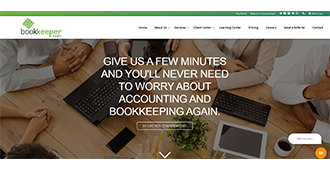 Bookkeeper.com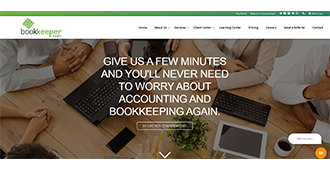 MOST SUITED FOR
Law Firms
Visit Website
Rating: 9.4
Accounting Software: QuickBooks
Cash and Accrual Accounting: Available
Services: Bookkeeping, tax preparation and planning, payroll
Pricing: From $399.00/month
Customer Support: Via live chat and online form
If you're looking for the best online bookkeeping services for law firms, Bookkeeper.com offers an all-in-one solution—detailed bookkeeping and accounting services.
Even though it offers both accrual and cash accounting, tax preparation and payroll services are Bookkeeper.com's strongest points. Combine that with their focus on data security, and you get excellent online bookkeeping services for businesses that need a high level of data protection.
Besides tax preparation, Bookkeeper.com will also provide financial training, so you'll develop even better tax-saving strategies. You can choose a plan and add different services to create a custom package for your business.
Each plan includes account reconciliation and data transfer to QuickBooks, monthly profit and loss and balance sheets, cash flow statements, general ledger, CFO and business advisory, etc.
Now, these are all excellent services provided by Bookkeeper.com financial professionals and QuickBooks Online Pro Advisors.
However, if you compare accounting services online, you'll notice that Bookkeeper.com can be a bit expensive for a tiny business or a startup, especially compared to other options.
| | |
| --- | --- |
| Pros | Cons |
| Business, tax, and financial planning advisory included | No free trial or consultations |
| Detailed payroll management | No smartphone app |
| Many services and features | |
Flatworld Solutions
MOST SUITED FOR
Real Estate Companies
Visit Website
Rating: 9.3
Accounting Software: QuickBooks
Cash and Accrual Accounting: Available
Services: Real estate bookkeeping, CFO services, tax processing, financial analysis
Pricing: From $12-$15/hour
Customer support: Via phone and email
Flatworld Solutions takes bookkeeping and accounting outsourcing to a whole new level. If you need cheap bookkeeping services, they're the perfect solution.
The company offers all types of bookkeeping and accounting services and bills by the hour or project. You can hire a full-time or a part-time accountant, too, if that's what you need.
The platform uses several pieces of accounting software, QuickBooks being the best-known. They have financial professionals offering the best online bookkeeping services for real estate businesses.
They also offer regular bookkeeping and accounting, forensic accounting, cash flow management, tax processing and returns, financial analysis, payroll processing and management, etc.
Moreover, you can get Flatworld Solutions' best online personal bookkeeping services for a small price, too.
| | |
| --- | --- |
| Pros | Cons |
| Budget-friendly, no plan required | Off-shore company |
| Secure data servers | No iOS app |
| Part-time and full-time bookkeepers | |
How to Choose the Best Online Bookkeeping Services 
Decided to start your own business and leave the bookkeeping to more experienced people? Smart move! 
Many small businesses don't have a monthly budget or need an in-house bookkeeper and accountant. Still, That doesn't mean that you should do your taxes, track expenses, and payroll on your own.
After all, you'd leave taking care of legal documents to a service like Rocket Lawyer, taking legal advice from LegalZoom, and registering your business with Northwest.
But, how to find the top accounting websites to take care of your finances?
Here's an in-depth guide that'll teach you everything you need to know.
What's an Online Bookkeeping Service?
An online bookkeeping service does everything that an in-house bookkeeper or accountant would do—anything from payroll to accounting setup. It can manage taxes, pay your employees, provide reports and statements such as income and balance reports, etc.
Why Do You Need an Online Bookkeeping Service?
Small business owners and freelancers face many challenges, bookkeeping being one of the hardest. Enter professional bookkeeping services that take care of your finances and let you focus on the growth aspect of your business.
Online bookkeeping will allow you to access your financial statements and funds anytime and anywhere. Moreover, most online services will provide you with a personal bookkeeper dedicated to your account.
Bookkeeping VS. Accounting Services
People tend to use these two terms interchangeably. And while they both help keep your business running and flourishing, they differ in some aspects.
Namely, bookkeeping services help run the daily financial tasks of a business. Bookkeepers manage incomes, business expenses, send invoices, and process payments. They can also provide help with payroll or manage your accounting software.
Conversely, outsourced accounting services are responsible for creating long-term plans and strategies. They'll help you plan your taxes and tax returns or even improve your cash flow. Most companies on our list offer both bookkeeping and accounting services.
Benefits of Using Online Bookkeeping Services
Not having to deal with your finances and taxes isn't the only benefit of hiring an online bookkeeping service. You'll also:
Save time and money

—Bookkeeping and accounting are complex processes that take up a lot of time. The

best online bookkeeping

companies will spare you from this responsibility, leaving you with more time you can dedicate to your business. Moreover, you won

'

t have to hire in-house accountants and bookkeepers, which will, in turn, also save you some money.

Get top skills and experience

—Professional bookkeepers and accountants are educated, experienced, and skilled in dealing with your business

'

finances. They

'

ll take good care of your account and leave you with one less thing to worry about.

Be ready for the tax season

—

Online business bookkeeping services

will keep your documentation organized, fill quarterly and annual taxes, manage your tax returns, and make sure your business is ready for an IRS audit at any given time.

Pay your employees and get paid on time

—An online bookkeeping service can organize and schedule payroll for your employees. If you

'

re a freelancer, it can also send you invoices and payment reminders.
Cash Basis VS. Accrual Basis Accounting
Before you decide on hiring one of the professional bookkeeping services from our list, think about whether you need cash basis or accrual accounting.
Cash basis accounting recognizes revenue when cash is received and expenses when they're paid. Many small businesses decide on this option because it's effortless to maintain. It's easy to determine when there's a transaction, and there's no need to track payables and receivables.
Virtual accounting firms can track how much money your business has at any time, and the income is taxed when in the bank.
Conversely, accrual accounting records revenue and expense when earned, whether the money is received or paid.
It allows for a long-term prediction for your business. However, they can't provide awareness of cash flow, as your business may seem profitable even if your bank is empty.
Evaluating the Best Bookkeeping Firm in the Online World
Before choosing a bookkeeping company for your business, make sure it offers both core and advanced services.
Basic services should include:
Income and expense categorization

Monthly reconciliations and reporting

Monthly statements

Tracking bills and issuing payments

Cash and accrual accounting
Advanced services should include tools that manage:
Employee payroll

Tax preparation and return

Partnership and corporation returns

Time tracking

Medical benefits

Workers' compensation insurance
Dedicated Bookkeeper
Just because you're hiring an online bookkeeping service, it doesn't mean a computer has to run your business. Compare small business accounting services online, and go for one that'll assign a dedicated human bookkeeper to your account.
That way, you'll be able to talk to them and ask them questions, as they'll know and understand your business.
Business Size-Specific Services
You should go for a bookkeeping company that offers specific services tailored to the size of your business. A bookkeeper should be skilled at managing a freelancing, small, large business, or enterprise.
Accounting Software Compatibility
Before getting bookkeeping services for your small business, you should also check which accounting software the company uses. You want to integrate the service or migration of your documentation so it goes smoothly, quickly, and painlessly.
Certification
Make sure the bookkeeping service of your choice is certified and skilled in dealing with your business. Hiring an experienced service also guarantees a good experience.
Ease of Use
The platform or app the bookkeeping company provides should be simple and easy to use. You want to access your account info and business funds quickly and without hassle.
Security
It goes without saying that the best online accountants should keep your information safe and limit access to your account.
Customer Support
Ideally, hiring a bookkeeping service means that you don't have to worry about that aspect of your business. However, you might have some questions, so a customer support team you can reach via email, phone, or chat is essential.
Value for Money
Make sure you're getting the best bookkeeping service for the money you pay. Spending less sounds great, but it's better to splurge and hire skilled professionals than save a couple of bucks when it comes to your business and finances.
The Bottom Line
No matter if you're a freelancer on a tight budget or an enterprise with $500k monthly expenses, our online bookkeeping services review list has a solution for your needs.
We have everything from very affordable, project and hourly-based pricing to full-time bookkeepers and accounting platforms.
All you have to do is choose one service that suits your business model the best. And then let the financial professionals do the bookkeeping for you while you concentrate on what you love—doing your job.
FAQ
Is virtual bookkeeping legit?
Absolutely! Virtual bookkeeping will provide you with the same services as an in-house bookkeeper or accountant would for a lot less. You'll be able to access your account and funds anytime and anywhere you are without the need to schedule a meeting with your accountant.
What is the best program for bookkeeping?
It depends on your needs. We have reviewed online bookkeeping companies that are great for small businesses, freelancers, and individuals. Each of them offers a variety of high-quality services, as well as skilled and professional bookkeepers, so you'll indeed find what's best for you.
Is a certified bookkeeper worth it?
Yes! A certified, skilled, and experienced bookkeeper is worth every penny. They'll make sure your business runs properly and are always ready for an IRS audit.
Why should I use a bookkeeping service?
A professional bookkeeping service will help your business grow. A skilled bookkeeper will take care of your account, manage payments, invoices, bills, track your business expenses, and so much more.
What services do bookkeepers provide?
Bookkeepers may provide some essential services like income and expense categorization and monthly reports. However, the best online bookkeeping services provide so much more. They'll manage your taxes and tax returns, employee payroll, issue payments, track bills, and provide accounting services, as well.