Published: September 30, 2022
Affiliate Disclosure
We aim to provide you with the best tech news and reviews. To sustain our site, we may earn a commission when you buy from our affiliate links. Read our full Affiliate Disclosure.
Uptime guarantee: 99.95%
Free SSL available: Yes
Local storage: 10 GB–50 GB
Number of sites: 1–30
Visits per month: 25,000–400,000
Money-back guarantee: 60 days
works on:
Chrome
Firefox
Windows
Website developers, designers and fast-growing startups
STRENGTHS
Advanced security (GES)
10 premium WordPress templates with each plan
Impressive page speeds
60-day money-back guarantee
WEAKNESSES
No email hosting or domains
You can't use some popular WordPress plugins
PRICING PLANS:
Managed Hosting Plans
From $25.00/month/year
Managed Hosting Plus Plans
From $28.33/month/year
Secure Hosting Plans
From $44.17/month/year
Ecommerce Hosting Plans
From $30.00/month/year
If you're running a WordPress website, this WP Engine review will help you find a reliable and fast web hosting solution that can handle the traffic and keep your site running smoothly. WP Engine is one of the most popular WordPress hosting providers, and for a good reason.
To help you decide if it's right for you, we'll take an in-depth look at WP Engine's features, pricing, and performance.
So, without further ado, let's get started!
What Is WP Engine? 
WP Engine was founded in 2010 by Ben Metcalfe, Cullen Wilson, and Jason Cohen. Their idea was to create a WordPress hosting platform that provides users with a fully managed environment for developing, deploying, and managing WordPress websites. 
On that note, WP Engine automates mundane tasks such as plugin updates and daily backups, while its proprietary EverCache technology speeds up loading times. At the same time, their support and resources will greatly benefit those who are still learning how to use WordPress. 
WP Engine is also a great option for professional developers and designers, since it provides an abundance of tools to help with website building, testing, and deployment. 
This hosting provider is also a fantastic choice for medium to large publishers, ecommerce businesses, or fast-growing startups. Essentially, WP Engine is ideal for people who want to use WordPress but don't want the hassle of managing web hosting.
Features and Services
What does WP Engine do? 
It takes care of all the technical aspects of running WordPress for you. On that note, you'll find numerous features and services designed to make using WordPress easy, even for beginners, especially considering that 455 million websites use WordPress.
Some of the features that come with WP Engine are:
Free WordPress Migrations
WP Engine offers free automated migrations of your WordPress site with its plugin.
To use the plugin, you first need to create a WP Engine account. After you sign up, you should find the plugin that you'll have to install and activate on your website.
To do that, set up the plugin with your current hosting account's credentials and your new account details.  
Premium WordPress Themes  
With each WP Engine plan, you'll get access to free WordPress plugins, themes, and block editor tools. 
All themes are Gutenberg-ready, SEO-friendly, and optimized for performance on mobile devices, which is especially important if you know that the average consumer spends over five hours a day on their smartphone. They also include security features.
You can sort the themes by:
category

(business,

ecommerce

, enterprise, magazine style)

features

(accessibility-ready, color styles, custom header, HTML5 markup, mobile responsiveness)

layouts

(one, two, or three columns)
Advanced Security Features
There's a reason that most WP Engine reviews are full of praise for the security features offered by this provider. Namely, WP Engine protects your website against cyberattacks through automated updates, continuous monitoring, edge protection, and proactive threat detection. 
WP Engine is also SOC-2 compliant and ISO 27001-2013 certified. While this should be enough for most websites, if you are dealing with really sensitive info, you might also want to look into hiring a reputable cybersecurity company.
In addition, WP Engine offers a high-quality add-on called GES (Global Edge Security). This add-on provides a web application firewall (WAF), Cloudflare CDN, automatic SSL installation, and advanced DDoS mitigation.
Multiple Data Centers
WP engine data centers are located all around the world, from North America to Europe and Asia-Pacific. Your website will load faster for users who are closer to your server. You can even select which data center you want to use.
Most Google Cloud servers are accessible to all users, whereas Amazon Web Servers and Microsoft Azure are only available to premium users.
Website Backups
WP Engine offers hosting with automated and manual backups. The company backs up your data to Amazon S3 and encrypts it as it moves through the network.
What's best, you can see your backups for up to 60 days. Any of them may be restored at any time, and they're all downloadable. However, if you want to retrieve older backups, you need to contact the company's customer service.
60-Day Money-Back Guarantee
While most WP Engine competitors offer a 30-day money-back guarantee (such as Bluehost and SiteGround), WP Engine goes further by offering a 60-day money-back guarantee.
Namely, if you're unhappy with their service for any reason, notify them within the first 60 days, and they'll refund your subscription fee. Just remember to include a request for a refund when you cancel your subscription.
WP Engine Plans and Pricing
WP Engine is not exactly the cheapest WordPress hosting provider out there. You can choose between a number of different solutions, including those aimed at agencies, people who need to manage headless websites, or those interested in using WooCommerce.
Instead of covering their entire offer, we'll focus on their most versatile plans, i.e., those intended for small businesses — Managed Hosting, Managed Hosting Plus, Secure Hosting, and Ecommerce Hosting.
Each of the four plans is subdivided into tiers: Startup, Professional, Growth, or Scale. 
You also get the option of having your website hosted on a dedicated server, but you have to contact the provider to set this up. While they don't disclose the pricing for this kind of service in advance, we all know that cheap dedicated servers are not easy to find. 
But maybe you can ask for a WP engine discount if they have any.
Managed Hosting Plans
Managed Hosting plans are designed to provide your website with the best performance, security, and stability. They can be divided into:
Managed Hosting Startup plan:

The Startup plan is ideal for small businesses and bloggers. It starts at

$30.00/month

(or $25.00/month if you pay annually). You get one website with up to 25,000 visits per month, 10 GB of storage, and 50 GB of bandwidth.
Managed Hosting Professional plan

: This service by

WP Engine costs

$59.00/month

(or $49.17/month if you pay annually). It's ideal for growing businesses, allowing for three websites, 75,000 monthly visits, 15 GB of storage, and 125 GB of bandwidth. 

Managed Hosting Growth plan

: This plan is perfect for fast-growing startups. It costs

$115.00/month

($95.83 if billed annually) and lets you have up to 10 websites, 100,000 visits monthly, 20 GB of storage space, and 200 GB of bandwidth.

Managed Hosting Scale plan

:

One of the most expensive

WP Engine hosting plans,

designed for mid to large-scale businesses. It's

$290.00/month

($241.67 annually) and supports 30 websites, 400,000 visits, 50 GB of storage, and 500 GB of bandwidth.
All Managed Hosting plans include the following features:
24/7 support

free SSL and SSH

free automated migrations

daily backups

one-click staging site

10 premium themes
Managed Hosting Plus Plans
With Managed Hosting Plus, you don't have to worry about your website going down when updating plugins. Again, this WP Engine pricing plan can be divided into:
Startup plan

: $34.00/month (or $28.33 if billed annually)

Professional plan

: $63.00/month ($52.50 if billed annually)

Growth plan

: $125.00 ($104.17 if billed annually)

Scale plan

: $310.00 ($258.33 if billed annually)
All Managed Hosting Plus Plans include the following features:
automated plugin updates

free SSL and SSH

plugin updates tested with AI

auto-rollbacks for issues  

free automated migrations

24/7 support

10 premium themes

daily backups

the option to choose which plugins are auto updated

one-click staging site
Secure Hosting Plan
With this plan, you get all of the features from the Managed Hosting Plus plan, along with extra layers of protection.
As we are already used to with WP Engine, the cost of the Secure Hosting plans is not negligible, but it's also far from unreasonable:
Startup plan

: $53.00/month (or $44.17 if billed annually)

Professional plan

: $90.00/month ($75.00 if billed annually)

Growth plan

: $150.00 ($125.00 if billed annually)

Scale plan

: $350.00 ($291.67 if billed annually)
All Secure Hosting plans include the same features as the Managed Hosting Plus plans, with the addition of DDoS protection and WAF.
Ecommerce Hosting Plan
Next, we'll discuss the plan created for developing, launching, or migrating WooCommerce stores — which make up 93.7% of WordPress online stores. Most WP Engine reviews point out this plan as especially interesting.
You can choose between four Ecommerce Hosting plans: 
Startup plan

: $36.00/month (or $30.00 if billed annually)

Professional plan

: $75.00/month ($62.50 if billed annually)

Growth plan

: $140.00 ($116.67 if billed annually)

Scale plan

: $350.00 ($291.67 if billed annually)
Some of the features that come with this plan include:
up to 90% more caching for WooCommerce

automated plugin updates

optimized store theme

WooCommerce template

one-click store creation
Disclaimer: All the prices above are based on the company's current offerings. WP Engine may change them without prior notice. 
Customer Support
WordPress Engine provides 24/7 customer support via live chat, phone (not available with the Startup plans), and email. The support team is very responsive. They will typically reply to your inquiry in under two minutes.
In fact, its world-class customer service has led WP Engine to win the Stevie Award 13 times.
Ease of Use
WP Engine's interface pretty much mimics that of WordPress. It's designed to be intuitive and easy to use for both beginners and experienced users. It has plenty of customization and scalability options, making it perfect for any website owner.
For example, those who are just starting out can create a basic WordPress site with the add-ons they want. Meanwhile, businesses with broader requirements can use open-source software to add any extra features they need.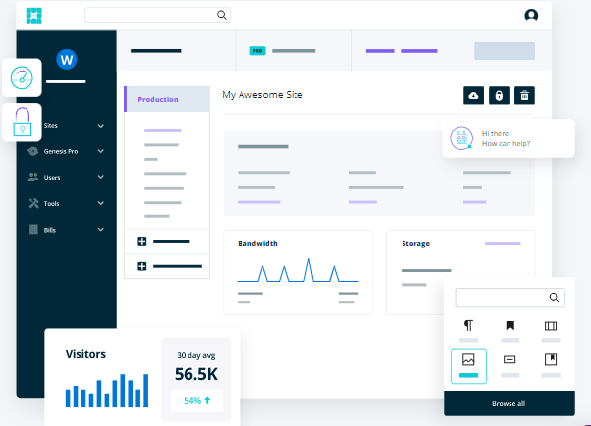 Speed
When it comes to comparing WP Engine pros and cons, speed is one of its biggest advantages. Due to its EverCache technology, WP Engine can deliver lightning-fast speeds, and you can easily check this on your own with any reliable SEO audit tool. 
With impressive average response times and a 99.95% uptime guarantee, you can rest assured that your site will be up and running smoothly. 
Additionally, WP Engine offers a free CDN service with every plan to further improve your website speed. 
WP Engine Alternatives
Although WP Engine is a great hosting provider, it's not the only option out there. Here are some other popular choices:
Bluehost

SiteGround

GoDaddy
On that note, let's take a quick look at these three hosting platforms.
WP Engine vs. Bluehost
While both WP Engine and Bluehost cater to customers in need of WordPress hosting, they are poles apart. 
The main difference between the two is in the backend. WP Engine offers managed hosting, whereas Bluehost specializes in shared hosting with a focus on WordPress websites. Bluehost is also much cheaper and considered one of the best VPS hosting solutions in the market.
On the other hand, WP Engine offers significantly better performance statistics and is more sophisticated, faster, and more reliable. 
WP Engine vs. SiteGround
Although both hosts make it a breeze to get WordPress up and running, WP Engine provides a more user-friendly experience. In short, it will allow you to launch your website quicker and with fewer hiccups than SiteGround.
However, if you're on a budget and are looking for an affordable host, SiteGround should be your go-to. It's also easily one of the best cloud hosting providers.
But it's worth noting that WP Engine has a slightly better uptime guarantee, and you get to use ten premium WordPress themes. Unfortunately, premium themes aren't included in the SiteGround plans.
WP Engine vs. GoDaddy
Regarding speed, WP Engine has left GoDaddy in the dust due to its EverCache tech and a built-in CDN. GoDaddy hasn't invested much in increasing speeds, although it has load-balanced servers, SSD storage, and PHP 7.
GoDaddy only provides limited additional features despite having unmetered bandwidth. It also mostly focuses on reseller hosting, hence one of the best in that arena.
On the other hand, WP Engine also provides more WordPress-centric features, such as free themes and access to the Genesis Framework. Hence, it can be considered excellent in any type of hosting.
Verdict
So, is WP Engine worth it? We can confidently say that it's definitely a good option if you're looking for a reliable and fast WordPress hosting provider.
It offers great features, top-notch security, and excellent customer support. Plus, it comes with a 60-day money-back guarantee, so you can try it out risk-free.
However, WP Engine is not the cheapest option out there. If you're on a tight budget, you might want to consider other options.
FAQ
Is WP Engine owned by WordPress?
No, WP Engine is not owned by WordPress. WordPress is a CMS (Content Management System), i.e., a tool web developers use to create sites, while WP Engine specializes in hosting and supporting WordPress websites.
Is WP Engine shared hosting?
Even though most of their plans come with shared servers, WP Engine is not shared hosting. Instead, WP Engine is a managed WordPress hosting provider that offers versatile plans to suit the needs of different customers. 
What is WP Engine used for?
WP Engine is used for hosting, managing, and customizing WordPress websites. This provider offers security features, performance optimization, and other tools to help you run your website smoothly. 
As you can see from our WP Engine review, the company offers various plans that can support any website type, from small businesses to enterprises with substantial traffic.