9 Cheapest Website Builder Tools to Make Use of in 2022
Finding the cheapest website builder for your site that still has the features you need is challenging. There are many good options, but most force you to give up important things to bring down the price. 
That's why we compared all the lower-priced website builders to find the ones with the best overall offering. We looked at the features each has, their pros and cons, and who they're best for.  Find out how they stack up in the comparison table below.
Published: January 7, 2021
Advertiser disclosure
This page may contain links to our partners' products and services, which allows us to keep our website sustainable. This means that websitebuilder.org may receive a compensation when you sign up and / or purchase a product or a service using our links. However, all opinions expressed in this article are solely ours, and this content is in no way provided or influenced by any of our partners.
Cheapest Website Builders for 2022
Detailed Reviews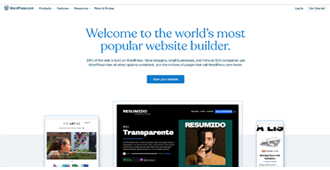 WordPress.com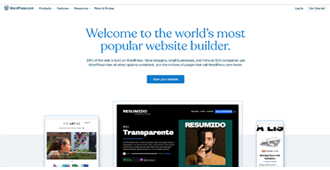 MOST SUITED FOR
Bloggers
Visit Website
Rating: 9.9
Price: $4.00/month
Storage: 6 GB
Free Domain: Yes, for the first year
WordPress.com needs little introduction since it runs almost half a billion websites worldwide. And its reputation as the best cheap website builder is well-deserved. 
Originally a blogging platform, WordPress is the best cheap website builder that still retains some of its blog-focused roots. Its Personal plan is best for just that: personal blogs. 
The plan includes a domain for a year, and it will automatically renew after that at its regular price. Plus, it has some of the most generous storage of all the options in this list.
You'll also get a pre-installed SSL certificate and unlimited email support. The support is average at best, but it's what you can reasonably expect for such a cheap plan. 
In terms of features, the WordPress website builder allows unparalleled control and customization of your site. 
However, it does have a bit of a learning curve, so complete novices will have a rough start. But once you get the hang of it, the flexibility you get is worth the trouble.
| | |
| --- | --- |
| Pros | Cons |
| Excellent customization | Doesn't support drag-and-drop building |
| Serves as a platform to over a third of the web | Quality support limited to high-tier plans |
| Integrates numerous third-party plugins | |
| Fast and simple setup | |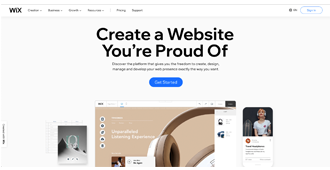 Wix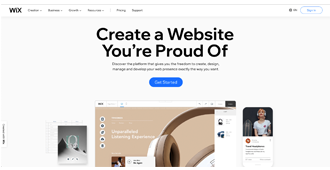 MOST SUITED FOR
Ecommerce brands
Visit Website
Rating: 9.8
Price: $4.50/month
Storage: 500 MB
Free domain: No
Wix is genuinely an exceptional case. It's fair to say that it does everything exceedingly well — It's easy to use, has fantastic design options, and great customer support. It's arguably the best affordable website builder with eCommerce scaling. 
It even has outstanding eCommerce features that rival dedicated eCommerce platforms. 
The Wix website builder is effortless to learn and gives you a ton of control without a significant time commitment. Perhaps the only drawback is that you can't change templates on the fly, so you'll need to start your website over if you're unhappy with the one you picked. 
However, it's worth noting that Wix's most basic plan is quite limited. It's cheap by any standards at only $4.50 per month, but it's not a great value. The storage is quite limited on the basic plan, and you'll have to bring your own domain. 
For most people, it makes sense to use the second-lowest price tier of $8.50 per month. You'll get six times the storage and a free domain for a year. That still amounts to a low-cost website builder with excellent value for money.
| | |
| --- | --- |
| Pros | Cons |
| Most user-friendly builder software | The basic plan doesn't include a domain |
| Excellent plans designed for businesses | Wix sites load slower than some competitors |
| Hundreds of professionally designed themes | |
| 14-day money-back guarantee | |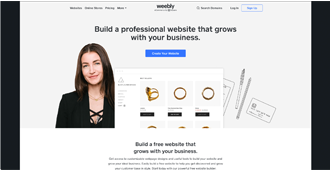 Weebly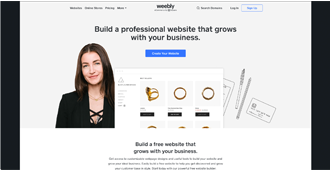 MOST SUITED FOR
SMBs
Visit Website
Rating: 9.9
Price: $5.00/month (billed annually)
Storage: 500 MB
Free Domain: No
What Weebly lacks in fancy features, it makes up for with functionality and price. Plus, it's the cheapest website builder for small business owners. 
If you need a cheap website creator without a lot of the bells and whistles that you probably won't use anyway, Weebly is the choice for you. It has drag-and-drop functionality, a decent template library, and builds responsive websites. 
You won't find as many options as some other builders in terms of templates, widgets, and plugins. But that's not necessarily a bad thing. 
The somewhat limited options are great if you just need to create a web presence for your business fast. You can quickly build an attractive website without spending too much money or time, making it the best low-cost website builder for brick-and-mortar stores. 
You can even build a bare-bones online store with Weebly for a lot less than you'd pay at an eCommerce platform.
But any Weebly review would be remiss if it didn't mention you need to bring your own domain. Weebly can help you host your site, but that will come at an additional cost.
| | |
| --- | --- |
| Pros | Cons |
| Super-simple website editor | Not great for blogging |
| Good mobile app  | Ecommerce plans are expensive |
| Allows you to export your site | |
| Fast site loading | |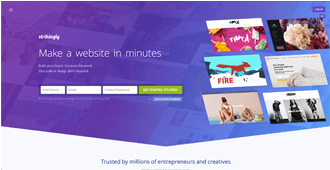 Strikingly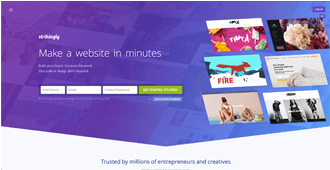 MOST SUITED FOR
Single-page sites
Visit Website
Rating: 9.8
Price: $8/month (billed annually)
Storage: 1 GB
Free Domain: Yes, for the first year
Strikingly's (almost) singular focus as one of the best-value website builder tools out there is one-page layouts. In other words, its tools, themes, and features are all geared toward making a single-page masterpiece. 
If you think a single-page design is limiting, you'd probably be surprised. There are many examples of single-page layouts that get their point across much better than multiple pages. 
Within that scope, Strikingly is a cheap website builder and hosting provider that's hard to beat. You'll get a free domain for the first year, and you can publish up to two sites on the most basic plan. 
Moreover, you can try out some small-scale merchandising with Strikingly. On the basic plan, you can sell up to five products on your website with no transaction fees from Strikingly. But if you're planning on starting a dedicated Ecommerce endeavor, there are better options. 
Strikingly really only has problems in two areas. One is SEO optimization, and it's that you can only optimize the most fundamental aspects of your site. 
The other is advertising. To get rid of the "made with Strikingly" ad, you'll have to at least spring for the Pro plan, which puts it squarely in the not-so-cheap category of cheap website builders. 
| | |
| --- | --- |
| Pros | Cons |
| 24/7 live chat support on all plans | SEO optimization is limited |
| Ideal for single-page layouts | Advertising even on paid plans |
| Excellent value for money | |
| Swap themes without building a new site | |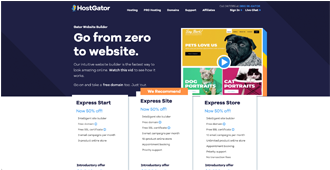 HostGator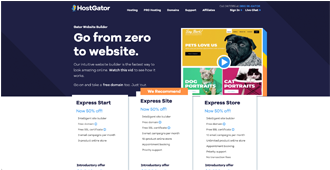 MOST SUITED FOR
Building sites quickly
Visit Website
Rating: 9.7
Price: $7.68/month (billed annually)
Storage: Unlimited
Free Domain: Yes, for the first year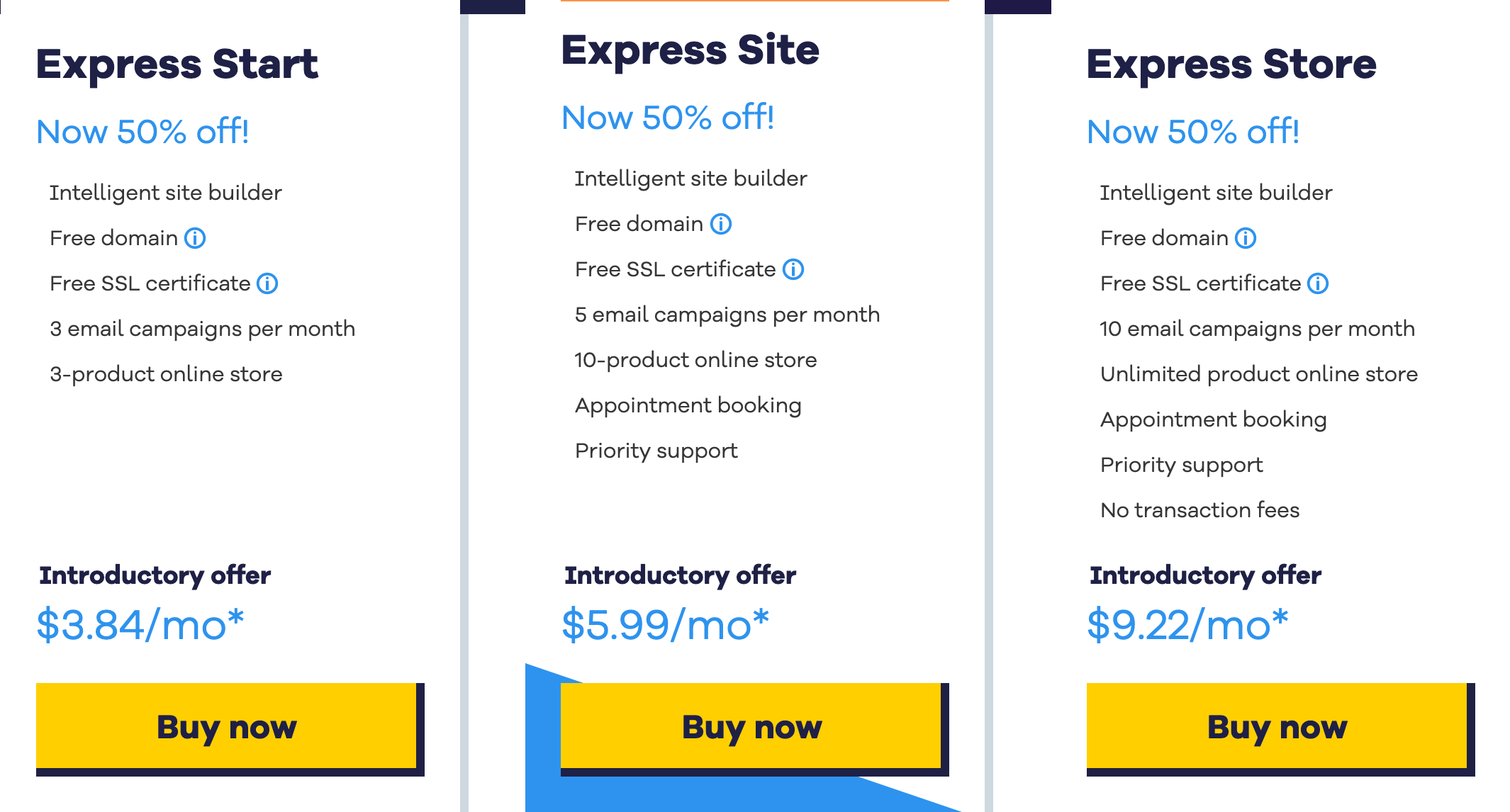 You may already know HostGator as one of the cheapest website builders and hosting providers. And that's probably why its website builder tends to fly under the radar. 
But if you need a simple website and domain name ASAP, you could do a lot worse than HostGator. When you sign up for a hosting plan from HostGator, you'll get a free domain registration for the first year. 
And here's the kicker:
All Gator website builder plans include unlimited storage and bandwidth. 
Despite already being among the cheapest website builders, Gator Builder frequently has introductory pricing. At any given time, you're likely to run into a great deal. 
As far as functionality goes, Gator Builder is incredibly simple and straightforward to use. Plus, it has a brief tutorial that goes over everything you need to start putting together your site. 
And it has streamlined social media integration, making it perfect for piggybacking off your already-active social accounts. 
The only gripe you might have is that the features are too rudimentary for some applications. But if you want to start a blog or make a quick site to advertise your business or service, this is the best and cheapest website builder for you. 
| | |
| --- | --- |
| Pros | Cons |
| Easy social media integration | Missing some advanced building features |
| Responsive site design | |
| Decent analytics included on all plans | |
| Unlimited bandwidth and storage on all plans | |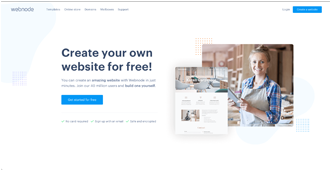 Webnode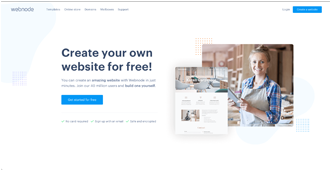 MOST SUITED FOR
Begginers
Visit Website
Rating: 9.8
Price: From $3.90/month
Storage: 100 MB
Free Domain: No
Webnode is not a niche website builder by any stretch. Over 40 million websites use it, and it has a feature set that aims for broad appeal. It's actually the most-affordable website builder for multilingual sites.
If your goal is to pay as little as possible for Webnode, its Limited plan is undoubtedly affordable. But it really does justice to its name — it's limited in some crucial ways. 
You'll only get 100 MB of storage and a gigabyte of bandwidth allowance. And you'll need to bring your own domain. 
If those limitations aren't an issue, you can get to work with the easiest and cheapest website builder you're likely to find with this feature-set. 
Like most mass-market website builders, it will fall short when it comes to complex design elements. 
If you want a little more functionality, you can get it on the Standard plan for $12.50 per month. If you buy into the Standard pricing plan, you'll find that Webnode is close to being the cheapest online store builder available.
And it's biggest claim to fame is multilingual support. You can create your site in up to two languages on the Standard plan, and more on higher price tiers.
| | |
| --- | --- |
| Pros | Cons |
| Multi-lingual support | The basic plan is severely limiting |
| In-depth SEO optimization | Premium support with higher plans only |
| Solid blogging platform | |
| 15-day money-back guarantee | |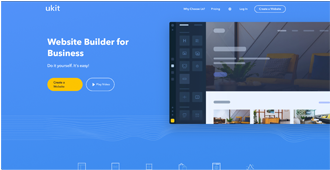 uKit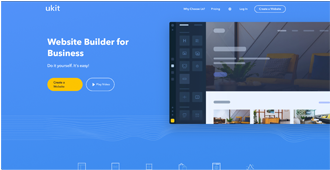 MOST SUITED FOR
SEO purposes
Visit Website
Rating: 9.5
Price: From $2.50/month
Storage: Unlimited
Free Domain: No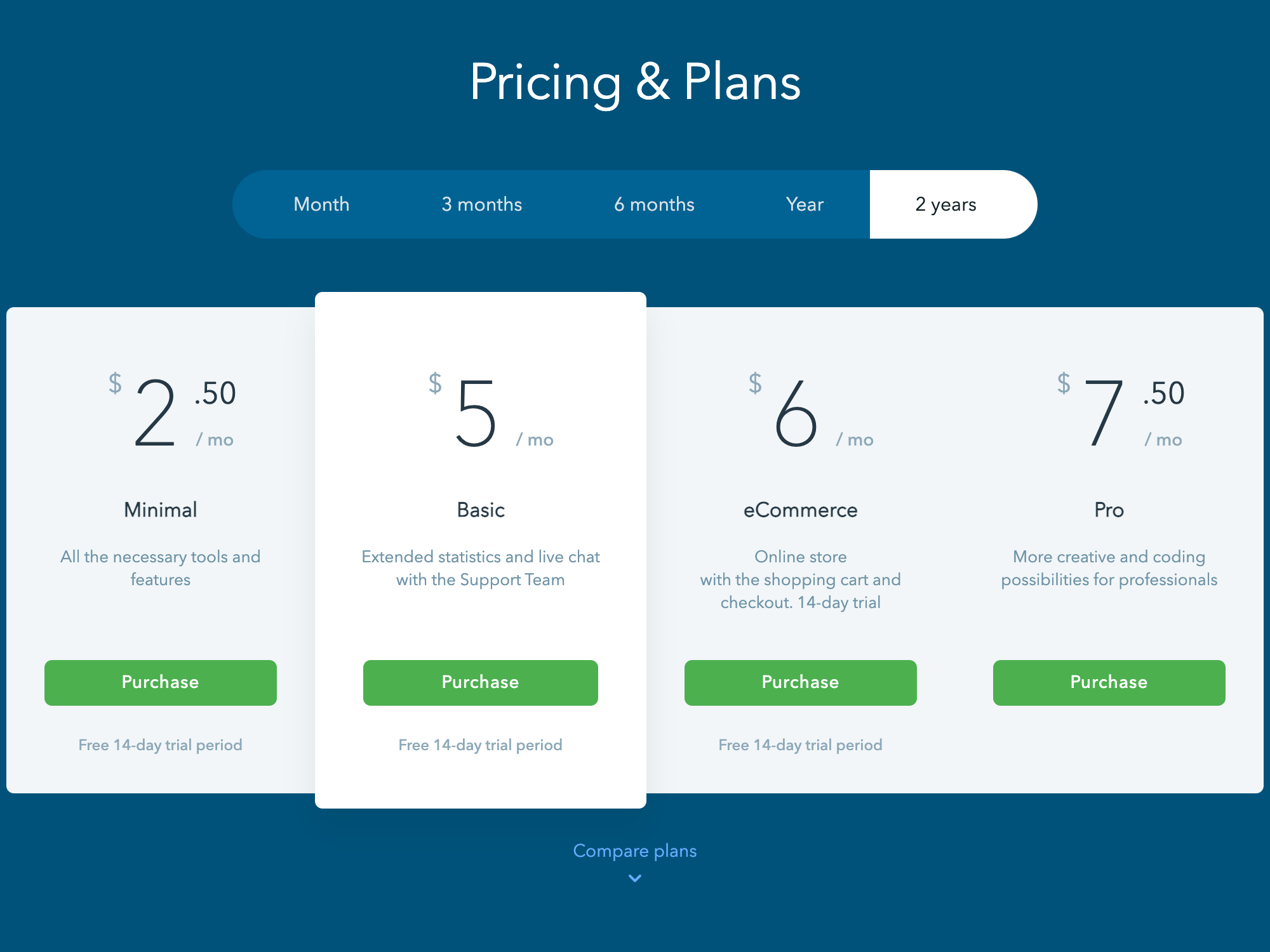 uKit is the cheapest website builder in 2021, and it's a full-fledged website builder that still offers a modicum of range and options despite its rock-bottom pricing. 
However, that low price is only available if you're willing to pay for two full years of uKit. Otherwise, it's still an affordable website builder. But you may have better options if you're unwilling or unable to do so.  
The issue with uKit is that it's pretty good at most things and spectacular at a few of them. 
It has a big selection of themes, but they're relatively homogenized. So you get a vast selection of very similar themes. 
The elements and themes are built to be responsive almost to a fault. Your website will look ideal on any screen, but that responsiveness comes at the cost of customization. 
And uKit's customization options, while good, fall short of other inexpensive website builder choices. 
The one gem in uKit's crown is the options to turn your Facebook page into a website. If you have an established Facebook presence, you can have uKit turn its content into a website. And with a few minor editing decisions, you can have a website done in minutes. 
| | |
| --- | --- |
| Pros | Cons |
| Easy app integration | Strictly responsive options hinder customization |
| Great theme library | Premium support exclusive to higher-tier plans |
| Highly responsive design options | |
| Excellent blogging platform | |
Zoho Sites
MOST SUITED FOR
Customer Relationship Management
Visit Website
Rating: 9.5
Price: From $4.80/month (billed annually)
Storage: 500 MB
Free Domain: No
Zoho Sites falls into a similar bucket as HostGator's Gator Builder. Which is to say, it's technically an ancillary service to Zoho's primary focus, which is business management software. And it's also the most affordable website builder with CRM integration.
But don't let that fool you; Zoho Sites is still an excellent and cheap website maker with a fully streamlined process to get your site up quickly. 
It shouldn't take more than 20 minutes to get a functional site up and running.
In terms of functionality, Zoho Sites is a pretty straightforward drag-and-drop website builder. Adding and removing elements is a cinch, even for complete beginners. 
The biggest drawback about Zoho Sites is a five-page limit on the starter plan. In our experience, five pages is a sort of no man's land. It's often not enough to fully develop a multi-page site, while there are better options for single-page sites. 
Overall, it's a good website builder for the price. But if you're already a Zoho software user, it's a no-brainer. Zoho Sites allows streamlined integration with Zoho software, making it an ideal choice in that case.  
| | |
| --- | --- |
| Pros  | Cons |
| Your site can be up in a few minutes | Relatively few plugins to choose from |
| High quality, responsive templates | Basic plan limited to only five pages |
| 15-day free trial with full features | |
| Custom CSS and HTML customization | |
Big Cartel
MOST SUITED FOR
Big eCommerce brands
Visit Website
Rating: 9.9
Price: From $9.99/month
Storage: Unlimited
Free Domain: No
Big Cartel is an eCommerce-focused platform ideal for makers and artists. However, the name is a bit of a misnomer since it's not appropriate for large-scale eCommerce operations. 
That said, it's the cheapest eCommerce website builder, bar none. It even has a (limited) free plan for people who just want to sell a few items with no aspirations to expand. 
If you're new to eCommerce, Big Cartel has a smooth onboarding process. You'll learn what as you go, and by the end, you'll have a serviceable online store.
As you create your store, you'll get useful tips and hints on what you need to do next.
However, the store will be rudimentary. 
The available themes aren't all that exciting, so you'll want to make considerable changes. And that's where the most significant problem arises with Big Cartel. 
To perform any advanced design operations, you'll need some knowledge of back-end coding. 
Overall, it's the cheapest website builder for an online store, but it's certainly not the simplest to use.  
| | |
| --- | --- |
| Pros  | Cons |
| Start with a free store before you commit | Little customization without coding |
| Works with major payment gateways | No real growth potential for your store |
| Excellent for selling unique items | |
| Straightforward onboarding  | |
How to Choose the Cheapest Website Builder That Still Delivers
There are a lot of great website builders available, with more entering the market frequently. And the overarching theme you'll notice is that they mostly offer similar features. 
So choosing one that fits your needs is a lot like choosing a pair of jeans:
The little details count!
Although it may seem reasonable, picking the builder that costs the least is not the cheapest way to build a website that's functional. Taking value into account will net you much better results, so here are the features you should look for: 
Design Features
Before you even start looking for a website builder, try to create a mock-up of a site. Even if it's just on paper. 
That will give you an idea of what design features are most important. After all, what good is a cheap website builder if it can't make the site you want?
These are some of the key elements you should look for:
Themes and templates

. The main point of a website builder is to start the building process halfway done with a template. So one of the first things you want to do is check the templates available to find one that makes sense for your site. Most display them prominently on their sites. 
In-depth customization.

Do you need (or want) custom CSS or HTML elements? Not all builders support that degree of control. 
Ecommerce functionality.

A

cheap Ecommerce website builder

is likely to have limited functionality and little room for growth. 
Ease of Use 
Even if you're the most experienced web developer in the world, an easy-to-use builder is generally better. 
There's no point in choosing a complicated option unless it provides useful features in return. Think about what your goals are for your site and how the builder helps you accomplish them. 
You may find the cheapest online website builder, but it won't be worth the savings if it requires a lot of coding and editing.  
In the main, stick to drag-and-drop builders unless there are massive benefits not to do so. And usually, more plugins and integrations are better since they make certain operations a lot easier. 
Set a Realistic Budget
Believe it or not, a free website builder can often end up being more costly than an inexpensive one. 
How?
Because free builders always include a few big asterisks, and the main one tends to be advertisements and a branded domain. Those sorts of things are a massive problem for most business websites and immediately break trust with visitors. 
So, an unbranded webpage free from advertisements is often well worth the investment.
And here are a couple of other things to look out for in terms of pricing:
Annual billing is always cheaper. The longer you commit for, the better deal you're likely to get. 

Beware of introductory

site builder pricing

offers. You want to make sure the great price you find stays great in future billing periods.

Ecommerce functionality always carries a heftier price tag than a plain website with no online store. There's no practical way of getting around that.  
Hosting and Domain Name
Keep in mind that there's more to a website than just lines of code. That code has to live somewhere, and that somewhere can add a substantial cost. 
Even the best website builder software can't save you from hosting charges. So it's a good idea to look for bundle deals. 
Many website builders, such as the Wix site builder and Gator builder, include the price of hosting and a free domain on certain price tiers. You'll often find these bundles end up costing less than unbundled options, even when the alternative has a lower sticker price.
SEO Features
No one makes websites to store them on a hard drive and put them on a shelf. The point is to get your site seen. 
To do that, you'll need to work on search engine optimization, at least a bit. 
Ideally, the cheap website maker you choose is already SEO-optimized to an extent. But you'll also want to make sure it allows you to control some or all of these on-site optimization features:
Meta elements.

Things like page meta descriptions, image alt tags, and other metadata make a big difference for SEO purposes. 

Sitemaps.

XML sitemaps give browsers the ability to scan and index your site, which is crucial for SEO.
Customer Support
Just because you're settling for the least expensive website builder doesn't mean you're not entitled to decent customer support. 
However, a lot of website builder services scale their support options based on the price tier. Unfortunately, those are the ground rules, and part of getting a website builder for a low price is going without a degree of service. 
The main takeaway is this:
If you need less help and support, you can probably get away with paying less for the builder. So, weigh that into your calculations when you're reading through these website builder reviews. 
Conclusion
It's always difficult to check all the boxes for an item when you're trying to be frugal. And that's valid for finding the best inexpensive website builder. 
You'll have the greatest chance of finding the perfect builder for your needs by adhering to these three principles:
Consider the full value of what you're getting for the price, including hosting, domains, etc. 

Be realistic about your needs. Ultimately, some features are just worth paying for, even if they're pricey.

Reputation is important. If a website builder has widespread adoption, it's usually for good reasons. 
FAQ
What is the best and cheapest website builder?
For people with a little bit of web development experience, it's WordPress.com. For those entirely unfamiliar with web design, it's Wix. 
There are cheaper options out there, but being overly thrifty in a website builder price comparison can end up costing you money by missing out on useful features. 
If you're dead set on getting the cheapest one, uKit is the most economical option with all the trappings of a full website builder. Carrd is even cheaper, but it's extremely limited in functionality.
Which free website builder is best?
Wix's free plan is the best free website builder for the majority of users. It almost seems like Wix can do no wrong when it comes to building websites. It has vast template and plugin libraries, a foolproof drag-and-drop interface, and highly responsive design elements. 
Wix's only real drawback is that if you choose it, you're locked in for life. It doesn't let you export your website to any other service. 
However, if you're only interested in a website builder software with no strings attached, WordPress.org is the most popular and best option.
Which is the easiest website builder?
Weebly is the website builder that best marries ease of use and price. 
Weebly's onboarding process is quick and straightforward. With a short introduction and tutorial, you'll be ready to access its full potential in no time. 
It's also not limited to simple functions. If you ever need advanced customization, Weebly allows CSS and HTML code editing in all its themes. So besides being among the cheapest website builder tools on the market, Weebly is also very straightforward.