10 Best Cloud Hosting Providers for 2023
[EXPERT REVIEWS]
Тhe hosting industry is certainly at the forefront of tech trends. Leading providers have set the stage for cloud hosting — a decisive move that paved the way for the best cloud hosting of the decade.
We've scrutinized the best cloud hosting providers to make it easier for you to find the one for your business needs this year.
Published: September 8, 2021
Affiliate Disclosure
We aim to provide you with the best tech news and reviews. To sustain our site, we may earn a commission when you buy from our affiliate links. Read our full Affiliate Disclosure.
Top Cloud Hosting Companies 2023
The Best Cloud Hosting Detailed Reviews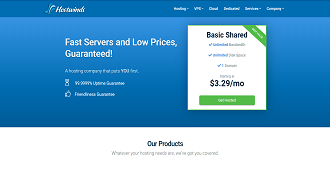 Hostwinds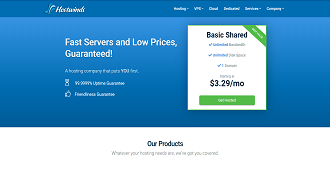 MOST SUITED FOR
Growing businesses
Visit Website
Rating:: 10
Pricing: From $0.006931/hour
Customer Reviews: Excellent
Customer Support: Via phone. live chat, email, and online ticket
Located in the heart of Seattle, WA, Hostwinds follows a straightforward principle — the customer comes first. Personal attention does not go unnoticed in this business, especially if you provide quality service to match. 
Being one of the top cloud hosting providers in the industry, Hostwinds has three data centers in prime locations — Seattle, Dallas, and Amsterdam.
The company offers a storage-based system for all cloud clients. It is convenient for projects that accumulate and utilize a lot of data. Instead of reading your information in a complex file hierarchy, its object-based system manages your data in convenient blocks. The blocks come in sectors, and the sectors are on tracks.
You can't compete with the top cloud hosting companies without a strong focus on security. Since hackers are getting more and more inventive, you have to ensure your host is doing its part in protecting you. 
Hostwinds offers a unique enterprise-grade firewall solution to watch over all incoming and outgoing traffic. You can even create profiles and set custom rules based on your specific preferences.
Another great thing about Hostwinds — all support channels are available 24/7. In addition, you can contact its agents via live chat, online ticket, phone, or email. 
For the sake of cloud hosting comparison, we tested both the live chat and support tickets, and we were delighted with the result. The answers were swift and yet far from the templated feel you get with most cloud hosting providers. 
User reviews for Hostwinds are looking great across the board, even after reading more than a hundred client testimonials on many reputable review sites, such as Trustpilot, Sitejabber, Serchen, and G2. 
All claim that it's the best cloud server for a small business. A few negative reviews concern billing and refund problems — a prevalent issue with automatic renewal policies.
Flexibility is an understatement with Hostwinds' plans and pricing. The cheapest plan is $0.006931/hr, with 1 CPU, 1GB RAM, 30GB storage, and 1TB bandwidth. In comparison, the highest-priced package is $0.456931/hr, with 16 CPUs, 96GB RAM, 750GB storage, and 9TB bandwidth.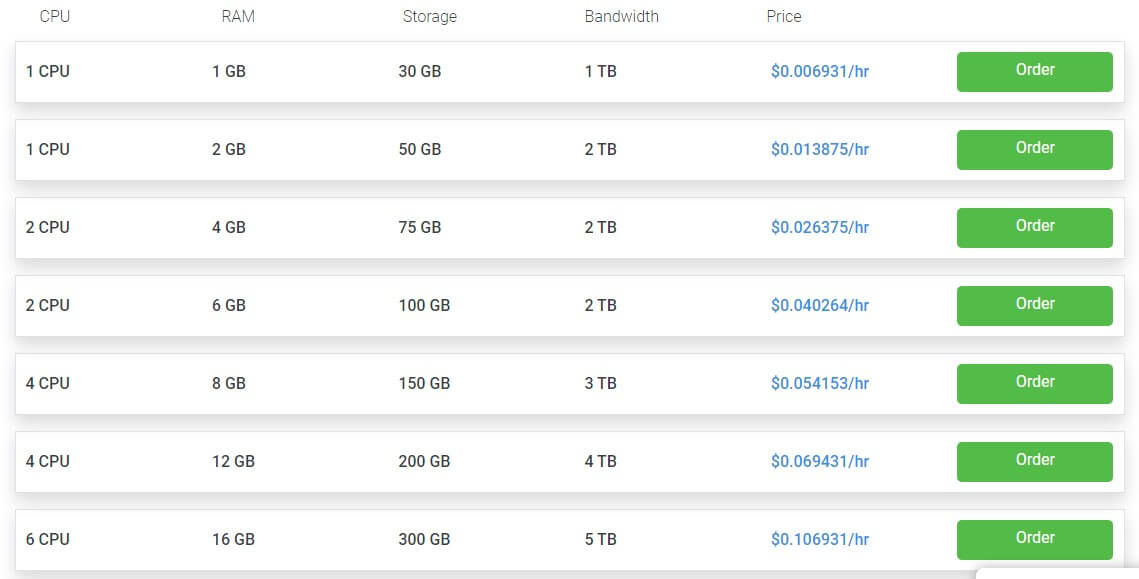 Overall, Hostwinds tops our list of the best cloud hosting primarily for its flexibility, superb customer service, and affordability.
Pros
Cons
Great storage options
Low resources in entry plans
Extensive plan variety
User complaints about billing policies

Enter

prise

 firewall
Excellent customer service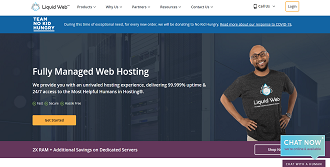 Liquid Web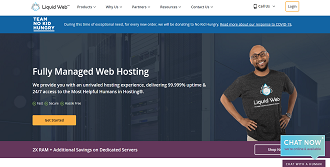 MOST SUITED FOR
Large Enterprises
Visit Website
Rating:: 10
Pricing: From $149/month
Customer Reviews: Excellent
Customer Support: Via phone, email, live chat, and online ticket
Liquid Web has been operating in the hosting market for over two decades now. According to our cloud hosting review, the company is now among some of the best VPS hosting solutions, with dedicated servers, managed WordPress, private cloud, etc. This time, our focus will be on the next best thing — cloud servers.
Our cloud hosting review confirms that, unlike other operators, Liquid Web offers both Linux and Windows cloud hosting solutions. In addition, it lets you pick between cPanel, Plesk, and Interworx while configuring your new cloud platform. 
Liquid Web shields its servers with 24/7 DDoS protection. It works wonders against low- and mid-volume attacks by assessing vulnerabilities and balancing the server load. Furthermore, you can find additional options that provide state-of-the-art DDoS attack prevention and mitigation.
Our conversations with Liquid Web's support made up for a pleasant user experience. Cloud hosting reviews agree that you could quickly tell that an agent on the other end was trying to find a comprehensive solution. While we did not dive into too many technicalities, we received sufficient information that helped us understand what we were getting with the cloud storage service.
However, some user reviews say otherwise. Online testimonials reveal that getting a knowledgeable and helpful operator is far from a sure shot. That said, negative comments about the Liquid Web support are few and far between. 
Overall, positive user reviews outweigh the negative ones. Many large enterprises praise Liquid Web as the best cloud hosting for developers. They appreciate that the provider combines feature-packed deals with a blazing-fast hardware setup and SaaS and PaaS infrastructure solutions.
But quality comes for a price, and that is certainly the case with Liquid Web. The provider offers premium services — the cost of a standard cloud starts at $149. 
The pricing might be a deal-breaker for those looking for a simpler and more affordable solution. Still, if you can afford it, Liquid Web is sure to deliver as one of the best cloud platforms on the market, as confirmed in our cloud hosting review.
Pros
Cons
Wide range of solutions
Not suitable for beginners
Excellent support

Prices on the high side

Robust

 infrastructure
Hostinger
MOST SUITED FOR
Handling multiple projects
Visit Website
Rating:: 9.9
Pricing: From $9.99/month
Customer Reviews: Excellent
Customer Support: Via online ticket and email
Hostinger's success story started back in 2004 in Kaunas, Lithuania. Notably, the provider has located its data centers in strategic locations: UK, US, Netherlands, Lithuania, Singapore, Indonesia, and Brazil.
We'll cover three fixed packages for this cloud hosting pricing comparison — Startup, Professional, and Enterprise. They cost $9.99, $18.99, and $69.99 a month, respectively. All plans are suitable for up to 300 websites and differ only by server resources you can get. The packages are a good fit for both SMBs and larger enterprises.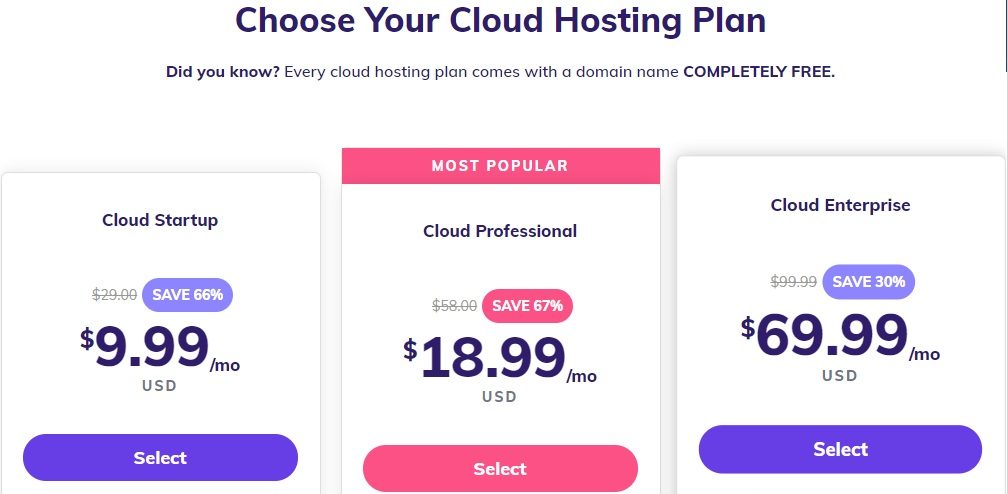 Unfortunately, you won't be able to chat with Hostinger's support agents live. That can certainly lead to frustrations with one of the best cloud hosting companies since you might need prompt help during downtimes, breaches, or other issues.
The only way to access its 24/7 assistance is via support tickets and emails. Unsurprisingly, we've had much more luck with Hostinger's ticketing — we've gotten responses within an hour on several occasions.
Following that, it comes as no surprise the Lithuanian company, deemed the best cloud hosting by many, consistently impresses both new- and long-term clients. Positive mentions are consistent across review platforms, and its ratings are relatively high.
On the other hand, most negative testimonials seem to revolve around one thing only — customer support. Serving millions of users certainly takes its toll on Hostinger's level of assistance. To its credit, though, the company's representatives are actively reading client reviews, trying to assist any disgruntled customer.
To conclude, despite the issues with the customer support highlighted above, Hostinger is still among the most popular cloud services out there. 
| | |
| --- | --- |
| Pros | Cons |
| Affordable | High renewal rates |
| Isolated resources | Limited support |
| Free dedicated IP | |
| Years of experience | |
Kamatera
MOST SUITED FOR
Any-budget business
Visit Website
Rating:: 9.9
Pricing: From $4.00/month
Customer Reviews: Excellent
Customer Support: Via phone, live chat, and email
Founded in 1995, Kamatera has been tinkering with VPS and cloud services for more than two decades now. Kamatera's services span well beyond the standard hosting offerings. As a result, it has been one of the best cloud hosting providers for a while now when it comes to customization.
Kamatera's interface is very intuitive. You can easily adjust your add-ons to see how they change the final price. Extra services include dedicated IPs, extended daily backups, and burstable traffic. 
Now, resource control is what Kamatera excels in the most. You can build practically anything — from a small server for personal purposes to a massive supercomputer. Thanks to its unmetered bandwidth, up to 72 CPU cores, and up to 384GB RAM, your possibilities are countless.
Our cloud hosting review can confirm that Kamatera's hosting is highly affordable. You can go for the following CPU types: 
Type A (Availability)

— A non-dedicated physical CPU thread. Starts at as low as $0.0005/hour or $4.00/month.

Type B (General Purpose)

— A dedicated physical CPU thread. Starts at $0.0123/hour or $9.00/month.

Type T (Burstable)

— A dedicated physical CPU thread. Ideal when CPU usage requirements are burstable during a short period of the time used. Starts at $0.0123/hour plus $0.041/hour/CPU (only charged if an average of 10% of CPU usage has been exceeded).

Type D (Dedicated)

— A dedicated physical CPU core (two threads).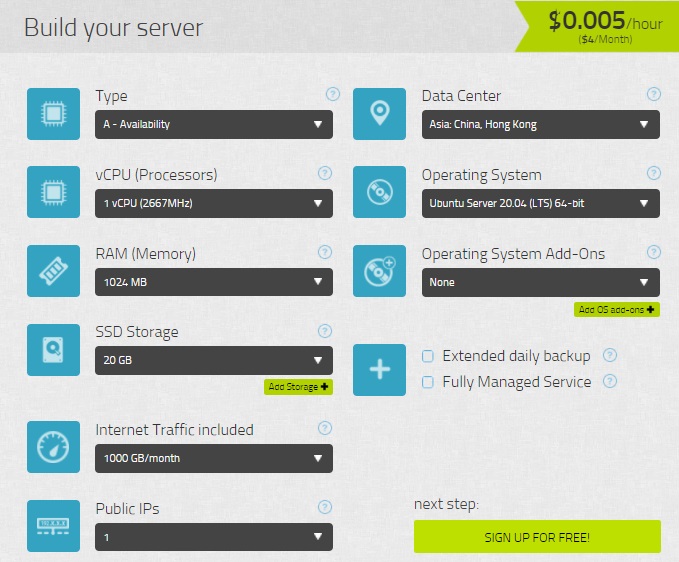 Now, we are moving on to Kamatera's support. Its agents performed well for this cloud hosting providers' comparison. All in all, its chat operators are knowledgeable about the service, making Kamatera a great cloud hosting choice for those who need more assistance.
Kamatera offers its clients various support channels. You can reach both Sales and Technical teams via phone. Tech agents are available 24/7, while the sales lines are open Monday–Friday from 8:00 A.M. to 6:00 P.M. EST. Both live chat and emails are viable options.
Online user reviews confirm that we are dealing with a highly reliable cloud provider that offers excellent technical assistance. A pretty spotless online presence so far. Let's hope Kamatera keeps it that way for our next cloud hosting review.
| | |
| --- | --- |
| Pros | Cons |
| Blazing-fast performance | Not entirely beginner-friendly |
| Scalability | No free extras |
| Large resource capacity | |
| Allows full control | |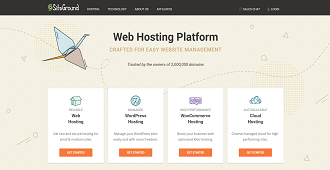 SiteGround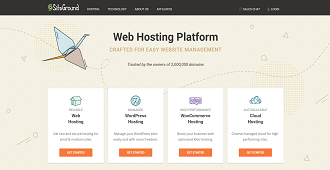 MOST SUITED FOR
WordPress websites
Visit Website
Rating:: 9.8
Pricing: From $100.00/month
Customer Reviews: Excellent
Customer Support: Via phone, email, live chat, and online ticket
SiteGround first appeared on the hosting radar in 2004, promising to deliver exceptional service, and it has kept that promise.
SiteGround is the best cloud hosting for WordPress websites. In fact, the company is one of the two officially recognized WP hosting partners, helping develop and promote the most prominent CMS.
SiteGround offers four fixed packages and one custom deal, ranging from $100.00/month to $400.00+/month. While SiteGround's plans are among the costlier options on our list, you can take up its 14-day risk-free money-back guarantee if need be.  
Now, let's talk about the perks you will get by signing up with the provider. Firstly, SiteGround ensures a secure environment and optimal server setup, which guarantees complete isolation of your system resources. Secondly, you can trust SiteGround's experienced administrators with the management of your hosting infrastructure.
One of the significant advantages of cloud hosting vs. shared hosting is account isolation. That means all system resources are at your disposal, and you're fully responsible for your data security.
You can contact SiteGround's sales support 24/7 via live chat, phone, and email to get almost immediate responses. As for tech support and billing questions, you can turn to internal ticketing.
Judging by user reviews alone, SiteGround is one of the most popular cloud services out there. Its high scores are consistent with thousands of happy campers.
If an occasional complaint pops up, the provider's team is quick to react. SiteGround is not afraid to handle matters publicly instead of dealing with issues behind curtains.
| | |
| --- | --- |
| Pros | Cons |
| Industry-leading support | Speeds could be better |
| Automatic scalability | Low space/bandwidth limits |
| Advance WordPress features | |
| Secure environment | |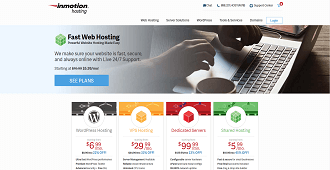 InMotion Hosting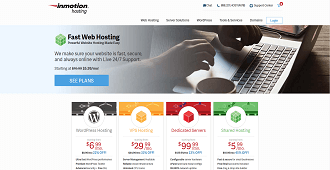 MOST SUITED FOR
High-performance websites
Visit Website
Rating:: 9.8
Pricing: From $5.00/month
Customer Reviews: Average
Customer Support: Via email, live chat, phone, and Skype
InMotion Hosting is a web service provider dating back to 2001. Today, according to our cloud hosting review, the company is in the top 20 US hosting providers, accommodating hundreds of thousands of customers worldwide. It's also one of the cheapest WordPress hosting providers. 
InMotion is still entirely US-based, operating with three offices and two data centers in the States — Los Angeles and Ashburn.
Next in our cloud hosting review are offers by the prominent US host. Similar to Liquid Web, InMotion combines a virtual private server and cloud. The entry-level cloud VPS package costs $5.00 a month — 1GB RAM, 25GB SSD storage, and 1TB bandwidth.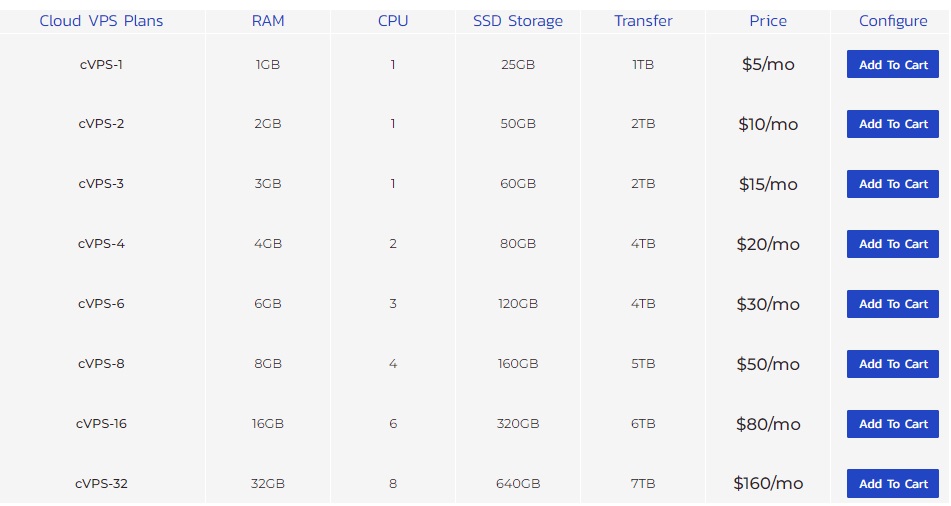 On top of that, you could adopt the provider's cloud infrastructure solutions — Flex Metal Cloud IaaS and Hosted Private Cloud. Private cloud pricing is calculated by hardware unit for self-managed. 
Clients can reach sales, technical, and even billing assistance 24/7 via phone and tickets — a distinguishing feature of the top cloud hosting services. Reviews left by satisfied customers also rave about a Skype call option. It is indeed an excellent addition and a rare feature among hosts. 
Unfortunately, the InMotion live chat provides limited assistance. Most technical queries will end up with the operator explaining how to submit a ticket.
Online reviews about InMotion are generally on the positive side. The underlying hardware gets the job done, keeping both speed and uptime on a consistently high level. Clients also tend to praise this good cloud hosting provider's reliability, performance, and ease of use.
That being said, InMotion's weak spot seems to be customer support. The company is as good as it can be until you need hands-on assistance. A few clients complained about the lack of assistance when experiencing server outages and website downtimes.
Overall, InMotion is the best cloud hosting for established enterprises, where business continuity is a sure thing.
| | |
| --- | --- |
| Pros | Cons |
| Excellent speed and uptime | User complaints about the support availability |
| Three dedicated IPs | Occasional renewal issues |
| Enterprise-grade security | |
| Support via Skype | |
KnownHost
MOST SUITED FOR
Ecommerce websites
Visit Website
Rating:: 9.8
Pricing: From $50.00/month
Customer Reviews: Excellent
Customer Support: Via phone, email, and live chat
KnownHost is a US-based company that started as a shared provider but gradually expanded its portfolio with VPS, cloud hosting, dedicated servers, and reseller services. Its data centers are located in Seattle, Atlanta, and Amsterdam.
KnownHost is the best cloud hosting for eCommerce that offers both managed and unmanaged cloud hosting.
There are four distinct managed hosting options to choose from:
Basic

— $50.00/month

Standard

— $70.00/month

Professional

— $90.00/month

Premium

— $120.00/month
The entry-level deal gives more than enough resources to get your project on the road — 4GB RAM, 60GB cloud storage, and 2TB bandwidth is a pretty solid deal. 
Apart from the free DDoS protection, every account comes with no-cost daily backups. KnownHost's platform copies your sensitive data and stores it in a secure offline location.
KnownHost, cited as one of the best cloud hosting providers in 2021, assists its loyal customers through a number of communication channels:
The

sales

team is available 7 A.M. – 7 P.M. CST via chat, phone, and email.

Tech support

is reachable 24/7 via an internal ticketing system.

The

billing

department can be reached at 7 A.M. – 7 P.M. CST by email.
On top of that, KnownHost has one of the most comprehensive knowledge bases out there.
The live assistance we got was more than satisfactory on several occasions. The operator's replies were often within a minute. KnownHost is undoubtedly one of the best cloud server choices when it comes to customer support.
KnownHost's clients leave mostly positive reviews about the company. Fast server provision and incredible support are the two often-mentioned reasons for the high customer satisfaction. As for the negative feedback, most of it is very outdated, often going years back. 
The lack of recent complaints indicates that KH might have found the recipe for success. All of the above makes KnownHost worthy of a spot on the best cloud hosting list.
Pros
Cons

99.99% proven

uptime

A bit pricey
Free DDoS protection
Not for first-timers
Enterprise-grade hardware
Round-the-clock customer support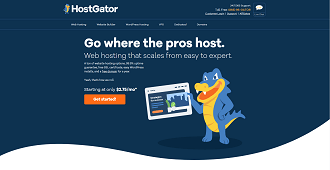 HostGator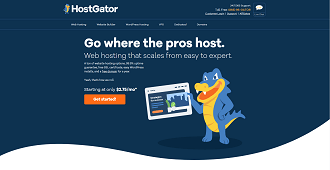 MOST SUITED FOR
Small-scale projects
Visit Website
Rating:: 9.7
Pricing: From $4.95/month
Customer Reviews: Above average
Customer Support: Via phone, live chat, and email
HostGator is one of the largest hosting providers on the market. Its story began back in 2002. Today, HG handles over ten million domain names.
Cloud web hosting has recently been added to its rich service portfolio. Notably, it comes with a generous 45-day free trial, making it the best free trial cloud hosting on this list.
There are three cloud plans to choose from:
Hatchling

— from $4.95/month

Baby

— from $6.57/month

Business

— from $9.95/month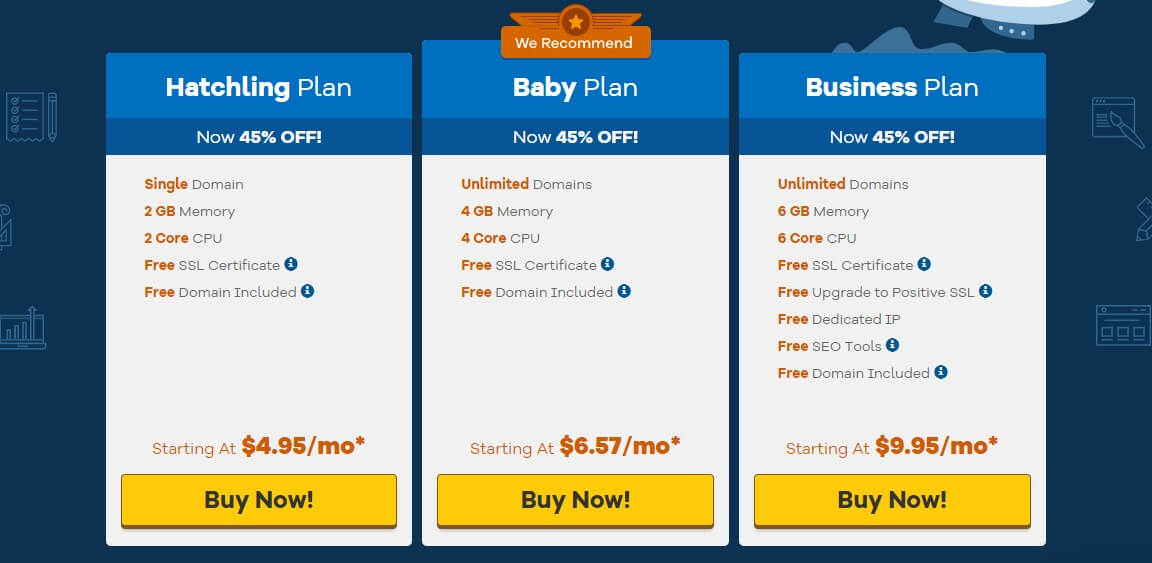 The first two packages aren't feature-packed. In fact, HostGator cloud hosting reviews agree that Business cloud hosting is where things get interesting. 
It comes with useful features like dedicated IPs, SEO tools, and the freedom to host unlimited websites. All other HostGator extras are available as paid add-ons only — daily backups, site security, privacy protection, and web apps.
You can reach HostGator 24/7 with your questions. There are a toll-free phone line, a one-click live chat, and an internal ticketing system via email. 
Our best cloud server hosting review can confirm that the agents are quick to respond. However, in some cases, we reached a dead-end if our questions were unique.
That being said, there were instances when the agent's knowledge was adequate. But if consistent support is a critical aspect for you, you might want to look into other options on this list. 
HostGator cloud hosting reviews aren't left unattended. The company representatives respond to user reviews within 24 hours or less.
All in all, HostGator's extensive experience and fair prices make it our top recommendation for the best cloud hosting for a small business.
| | |
| --- | --- |
| Pros | Cons |
| Fair pricing | User complaints about customer support |
| Flexible terms | Server speed could be better |
| Unmetered space and bandwidth | |
| Good uptime | |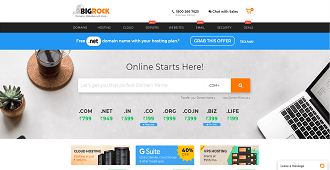 BigRock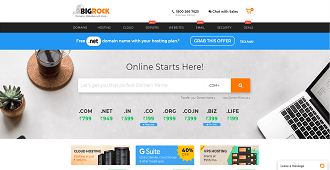 MOST SUITED FOR
India-based clients
Visit Website
Rating:: 9.7
Pricing: From $5.69/month
Customer Reviews: Average
Customer Support: Via email, phone, live chat, and online ticket
BigRock is an ICANN-accredited registrar with over a decade of experience in web hosting. Today, BR is still among the best cloud server hosting companies in India. It has expanded its operation to serve customers worldwide while retaining its data centers in Provo, Utah, and Mumbai.
BigRock's cloud deals cater mostly to individuals and smaller businesses. Interestingly, despite serving clients from 130+ countries, BigRock's focus is still on the Indian market. 
The three cloud deals are scalable. They are the following:
Starter

SSD— from $5.69

/month

Advanced

SSD— from $7.89

/month

Business

SSD — from $9.49

/month
Next in our best cloud hosting service review is the breakdown of features. 
Starter SSD comes with 2 CPU cores, 2GB RAM, and 1GB disc space. Advanced SSD lets you scale up with 4 CPU cores, 4GB RAM, and unmetered disc space. Finally, Business SSD grants you 6 CPU cores, 6GB RAM, and unmetered disc space.
The resources above should suit small- to mid-scale projects, but anything more resource-hungry is out of the question. All in all, BigRock is counting on other perks, such as instant and varnish scaling.  
Then, there's customer support. Being an all EIG-owned company and one of the biggest cloud hosting companies, BR shares the resources of its parent company, including customer support. However, sharing customer support with over 50 companies carries the inevitable risk of messing information up. 
BR's assistance wasn't for our liking. The support we were provided with was rudimentary. That being said, the effort to give us satisfactory answers didn't go unnoticed.
Now, let's talk about cloud hosting reviews from users. The company seems to garner mostly negative publicity due to its relatively complicated billing policies and insufficient support. 
That being said, while many hosts apply automatic renewal by default, BigRock lets you choose between manual and auto-billing. What's more, the automatic option is switched off by default, ensuring there won't be any unpleasant surprises. 
To conclude, BigRock is a household name in Indian cloud hosting that offers low-cost solutions, making it one of the best cloud hosting services in the eyes of many.
| | |
| --- | --- |
| Pros | Cons |
| Great for Indian customers | Customer support needs improvement |
| Instant scalability | Relative lack of features |
| Cheap and easy to start | |
| Automatic failover | |
Cloudways
MOST SUITED FOR
Digital agencies
Visit Website
Rating:: 9.6
Pricing: From $10.00/month
Customer Reviews: Excellent
Customer Support: Via email, phone, live chat, and Slack (premium)
Cloudways is one of the top cloud hosting providers out there. It partners with some of the biggest names in cloud computing to offer practical and highly scalable virtual servers. 
Cloudways has over 65 data centers worldwide. The company configures the server to your specifications. You can ask for a range of popular setups, and the tech team will likely be able to set it up for you.
It's also excellent for hosting CMS websites, such as Joomla, Magento, or even WordPress, where it has a migration plugin. 
Our best cloud hosting review found out that you also get managed security patches, a dedicated firewall, SSL, monitoring, and a few other security features.  
The price depends on the cloud platform and the size of the server you choose. For example, the smallest DigitalOcean server has 1 CPU core, 2GB RAM, 25GB storage, and 1TB bandwidth. It would cost you $10.00/month, which is relatively affordable for one of the biggest cloud hosting companies. 
AWS, on the other hand, is more expensive since its infrastructure is pricier. The largest AWS server would get you four vCPUs and 16GB RAM for $274.33/month.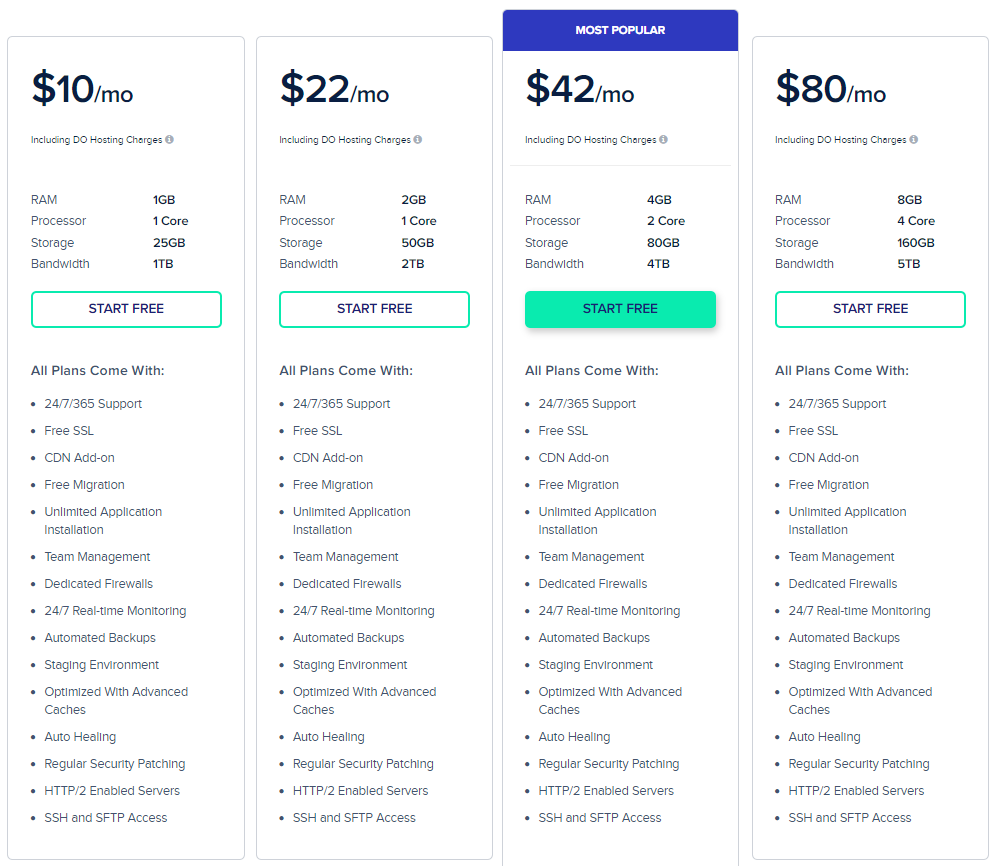 Cloudways has an excellent customer support system. Its agents will help you resolve any issues with plugins, databases, etc. Overall, queries get quick and accurate responses, and the agents go above and beyond to assist the customers.
Cloudways sports solid cloud hosting reviews from users. Hundreds of clients love the scalability of the cloud combined with the ease of use of managed hosting. 
There are few legitimate negative reviews. Namely, some users found the platform a bit difficult. Cloudways is indeed more advanced than your average hosting provider. Otherwise, it's positive reactions all the way.
All in all, Cloudways is one of the best cloud hosting companies providing managed cloud hosting on some of the most robust and flexible cloud platforms.
| | |
| --- | --- |
| Pros | Cons |
| Very flexible cloud infrastructure | Not the best for simpler projects |
| Excellent features | Few 1-click installers |
| Developer-friendly | |
| Stellar support | |
How to Choose the Best Cloud Hosting
Setting up a virtual server in 2021 is no big deal, but offering first-class cloud services is a different ball game.
Which cloud hosting service is the best? 
Here are a few things that can help separate the best from the rest:
Features

— They are the primary indicator of cost-efficiency. Start by ticking the boxes on your mission-critical requirements and see what you have left.

Ease of Use

— An excellent cloud platform should be easily accessible by newbies and seasoned professionals alike. If you don't have much experience, it's always best to choose managed hosting, leaving all the technicalities to your host.

Security

— The infrastructure of the

top cloud hosting providers

comes with security benefits. Advanced

DDoS protection

, spam & virus detection and removal, offsite backups — there are more than enough ways to solidify your online defenses.

Support

— Look for companies that know what they're doing and are willing to share their expertise to help your business.

Reviews

— Online client reviews might raise alerts you could've missed otherwise.

Price

— The hosting market is versatile enough. You just need to find the

best cloud hosting provider

that offers value for money.
Conclusion
The future is looking bright for both public and private cloud hosting companies.
Cloud tech is still evolving in leaps and bounds — docker containers, configuration frameworks, and microservices are just a few of the many exciting trends.
Overall, the cards will stack perfectly for any provider that can offer solutions for:
better speed and

uptime

more server resources

enhanced security

maximized

scalability

optimized budgeting
It goes without saying that cloud hosting is here to stay. So let's utilize it to the fullest today!
FAQ
What is cloud hosting?
Cloud technology utilizes a network of interconnected virtual servers instead of one physical machine. Eliminating the single point of contact gives you much more flexibility and security when storing and serving your data.
The only thing you need to run a cloud project is an internet connection. The service utilizes a process called virtualization. It lets the server administrator operate the CPU load, scale resources, and manage virtual machines effortlessly.
Which websites can be hosted in a cloud?
One of the great things about cloud services is their applicability to any type of project. So it doesn't matter if you are looking to host an online shop, a new web app, or a complex project that utilizes a custom-built framework — there is a cloud solution for pretty much anything. 
In that sense, any individual, SMB, or large enterprise can find a suitable environment for their online project. Even some of the biggest websites like Facebook and YouTube are doing it.
What is the cheapest cloud hosting service?
Finding the cheapest cloud hosting service out there is easy. But identifying which one is not only cheap but also the best is daunting. That's why we've done the legwork for you and listed the ones here that give you the best of both worlds. 
Our top three are:
Hostwinds

—

$4.99/month

HostGator

—

$4.95/month

Kamatera

—

$4.00/month
What is a cloud host?
A cloud host is a server that provides hosting services to clients. It does so through multiple servers interconnected in a transmission line.  Unlike other servers, such as standalone or virtual servers, a cloud host provides scalability, reliability, accessibility, and cost-efficiency.
When should you use cloud hosting?
Since cloud hosting is flexible, you can use it anytime, whether you're an individual or an enterprise. If you're a website owner who has relatively good traffic but experiences spikes that slow down your site, then it's time to use cloud hosting. 
Organizations that need almost perfect uptime and want to grow their servers without having to experience any delay should also use cloud hosting.
Is there any free cloud server?
Yes, there is. But to set your expectations right, a free cloud server most of the time means a free trial. You can get free trials anywhere from three days to 30 days. Most offers on our list offer the latter.
Is cloud cheaper than a dedicated server?
Technically, yes, the cloud is cheaper than a dedicated server because you only have to pay for your current needs and just upgrade later when the need arises.
In most cases, the plans are postpaid, so you only have to pay for the resources you used, unlike dedicated servers, which are prepaid.
Depending on your business needs, it may be a good idea to choose any of the best cloud hosting options we have here, so you don't have to pay for anything you haven't used.