7 Best Freelancing Sites to Hire or Get Hired in 2023
[EXPERT REVIEWS]
Freelancing has become extremely popular in recent years. For most, it's often just a side gig, while others with more experience do it full-time.
We know that starting out can be intimidating, especially when considering the right platform to use. Therefore, we've compiled a list of the seven best freelancing sites available to help you get started.
Keep scrolling to find out more!
Published: April 22, 2022
Affiliate Disclosure
We aim to provide you with the best tech news and reviews. To sustain our site, we may earn a commission when you buy from our affiliate links. Read our full Affiliate Disclosure.
The 7 Top Freelancing Sites of 2023
Best Freelancing Sites - Detailed Reviews
Upwork
MOST SUITED FOR
Freelancers of all levels looking for high-quality projects
Visit Website
Rating: 10
Pricing: From $0.00/month
Full-time job listings: Only ongoing freelance projects
Job categories: 12 main categories
Mobile version: Yes
With over 12 million active users and a staggering number of new projects posted daily, Upwork is the most popular freelancing platform on the market.
Plus, with its intuitive and straightforward design, people of all professional experiences and backgrounds are guaranteed to find something that will fit their personal preferences.
Upwork is client-oriented, meaning that only employers can post projects to which freelancers will respond. Furthermore, there are 12 categories, ranging from low-paying jobs to high-paying long-term projects in the thousands.
Upwork is also one of the best freelancing sites for beginners! It's an excellent way for those just starting to learn how freelancing works and gain valuable experience.
Its internal tools are handy for keeping track of time and progress for each project. Upwork also makes it easy to create professional invoices for freelancers to send to their clients and provides global payment options to minimize any difficulties.
We also found this platform's fees to be more than fair. Namely, after you've made your first $500, they start decreasing — from 10% on earnings up to $10,000 to 5% once you exceed that limit.
| | |
| --- | --- |
| Pros | Cons |
| Easy to use | Fees are high |
| Screening freelancers | Stiff competition |
| Built-in messaging | |
| Global payments | |
Time etc
MOST SUITED FOR
Experienced virtual assistants
Visit Website
Rating: 10
Pricing: From $310/month
Full-time opportunities: No
Job categories: 5 main categories
Mobile version: Yes
If you've been searching through good freelancing sites to find a virtual assistant, Time etc might be just what you need. It's one of the most popular services for highly professional virtual assistants with years of experience.
The assistants you can hire on this platform can help you with almost anything, from basic data entry and research to scheduling and social media management. All of them are very experienced and go through a rigorous 10-stage evaluation.
Moreover, all freelancers are US-based and follow a flexible working schedule. Plus, they're available through most communication channels, including email and phone.
Although Time etc is one of the best freelancing sites for executives to find a skilled assistant, it certainly isn't the cheapest one on our list by a long shot. In fact, aside from its free trial, you'll pay a minimum of $310/month.
If you decide to pick a different plan or simply need more hours to be covered by the assistants, you can always choose one of the remaining three tiers, with prices ranging from $600.00 to $1,680.00 per month.
| | |
| --- | --- |
| Pros | Cons |
| Highly professional virtual assistants | High-end price point |
| Straightforward platform | The assistant might have multiple clients |
| Extremely flexible for both parties | |
| Increased productivity and high-quality work | |
Fiverr
MOST SUITED FOR
Freelancers of all experience levels with specific skill sets
Visit Website
Rating: 9.9
Pricing: From $5.00/project
Full-time opportunities: No
Job categories: 9 main categories
Mobile app: Yes
Fiverr is certainly another top freelancing site worth mentioning. It's a trendy platform similar to Upwork at its core but more freelancer-centered than client-oriented.
It means that on Fiverr, the freelancers create job listings for jobs. Those jobs are called gigs and can vary in size. Clients can search through the gigs and find the right assistant for a particular task.
Fiverr also provides insight into the quality of a seller's projects by having public reviews and ratings displayed on their profile. The gigs are very diverse and often so specific that clients are almost guaranteed to find what they're looking for.
This platform is truly a great solution for both parties involved. Individuals and businesses of all sizes can find precisely the services they need. Whereas, Freelancers have a lot of work opportunities and can create up to seven different gigs.
However, there aren't any defined pricing plans, as each gig can cost anywhere between roughly $5.00 and $995.00. At the same time, freelancers keep 80% of the transaction.
You should also be aware that the platform takes a 20% fee per transaction. Additionally, like most popular freelancing sites, it supports secure payment gateways in multiple currencies.
| | |
| --- | --- |
| Pros | Cons |
| Easy to use | Some sellers can be unprofessional |
| Affordable | Some users experienced issues with customer support |
| Custom projects | |
| Professional sellers | |
99Designs
MOST SUITED FOR
Visual designers and anyone looking for professional designs
Visit Website
Rating: 9.9
Pricing: From $49.00/project
Full-time opportunities: No
Job categories: 47 categories
Mobile app: No
If you want to hire a freelancer but don't want to deal with general platforms like Upwork, 99Designs might be the perfect solution for you. In fact, working with creative professionals from across the globe has never been easier.
It's one of the top freelancing sites for graphic designers. And with its 47 different categories, this platform offers just about any type of work that a client may be searching for, from simple logo designs to intricate book covers.
99Designs also provides a unique way to get the best possible designs from its platform — through contests. As a client, you can start a contest for whichever design category you need and choose the best one from competing freelancers. 
Moreover, you can start the contest at any time and end it when you find an entry you like. After that, you can contact the freelancer and discuss further details to refine the design if needed.
According to our research, while creating this freelancing sites review, its price points are diverse. Almost anyone looking for a designer can find something that fits their budget. 
For instance, if you're a client and want to start a contest with 99Designs, you can choose between four different tiers, ranging from $299.00 for Bronze and $1,299.00 for Platinum.
| | |
| --- | --- |
| Pros | Cons |
| Easy to use | Contests can be unfair to designers |
| Designer contests | You can't review the freelancers' portfolios |
| High-quality designs | |
| Designers highly responsive to feedback | |
JustRemote
MOST SUITED FOR
Professionals looking for all sorts of remote work
Visit Website
Rating: 9.8
Pricing: $189.00/month
Full-time opportunities: Yes
Job categories: 14 main categories
Mobile app: No
When it comes to the best freelancing sites, our list wouldn't be complete without JustRemote. This remote jobs board was founded in 2018 and is known for being straightforward with sophisticated search and filter functions.
It's a platform that lets companies post job listings for partially or entirely remote positions. Moreover, it emphasizes more hidden and less popular job ads, pushing them into the front lines.
Posting a job listing on this platform is quick, easy, and guaranteed to reach the right people. There are no chances of your listing getting lost in irrelevant listings either.
Regarding pricing, JustRemote charges $189.00 for a 30-day job listing if you want to find freelance workers. However, if you are a freelancer, you can access thousands of job listings for just $6 for the first month and then $14 per month after that.
When it comes to freelancing sites comparisons, JustRemote is well priced compared to many of its competitors. It also provides valuable career and industry tips to ensure its freelancers are always at their best when seeking a job.
| | |
| --- | --- |
| Pros | Cons |
| Easy to use | Not primarily a freelancing platform |
| No irrelevant listings | Job posting packages are limited |
| Excellent user engagement | |
| Listings always reach the right people | |
FlexJobs
MOST SUITED FOR
People looking for remote job opportunities and career guidance
Visit Website
Rating: 9.7
Pricing: From $9.95/week
Full-time opportunities: Yes
Job categories: 5 main types (52 in total)
Mobile app: Yes, only for iOS
Another one of our picks for the best freelancing sites for software developers is FlexJobs. While its primary focus isn't on finding freelance opportunities, those listings are also quite prevalent on this platform.
FlexJobs is highly reputable and featured in various press giants like GMA, CNN, USA Today, CNBC, and Fox Business. Along with that, big names in multiple industries often post job listings on this site, including Apple, SAP, Dell, and Salesforce, to name a few.
It's an excellent way for job-seekers of all experience levels to find work quickly. What's more, it provides freelancers with unique career coaching and reviews to help them stay on top of their game while job-hunting.
FlexJobs is one of the most popular freelancing sites and is loved by communities of all industries, from marketing and finance to IT and writing. 
This platform enables its users to filter their searches while browsing thousands of job listings and sort them based on various criteria. For example, you can search jobs by location to find remote and flexible full-time, part-time, and freelance opportunities.
The platform also offers three more tiers for its fellow job seekers. These differ in billing cycles and include $24.95 for one month, $39.95 for three months, and $69.95 for an entire year.
| | |
| --- | --- |
| Pros | Cons |
| Easy to use | Not free for job seekers |
| Career guidance | Can be a bit tricky for beginners |
| Top-notch customer support | |
| Flexible and customizable job searches | |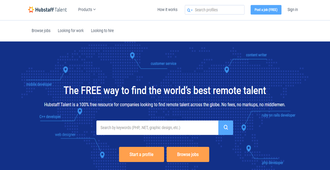 Hubstaff Talent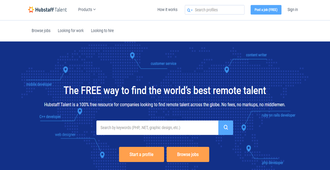 MOST SUITED FOR
Companies looking to find remote talent without mediators or fees
Visit Website
Rating: 9.9
Pricing: From $0.00/month
Full-time opportunities: Yes
Job categories: 7 main categories
Mobile app: No
Last but certainly not the least, we would like to introduce a unique free service used by many employers and freelancers worldwide — Hubstaff Talent.
As a top freelancing site, it simplifies the job-seeking process by giving companies complete control over who they can hire and how they'll do it. 
Aside from regular, individual talents, the platform also hosts various agencies that clients can search through to find a team if they're working on a larger project.
Hubstaff Talent has proven to be a strong contender compared to other freelancing sites. As a client, it lets you search for talent and filter the results based on various criteria, such as location, skill, and category.
After finding a good fit, you can directly contact them and disclose your work terms. If they agree to them, you can later move on to any platform of your choosing and get whatever you need quickly and easily.
You can easily create a profile and add team members if you own an agency. The companies that eventually find your agency will receive all the contact information they need to get in touch with their member of interest.
In addition to its benefits, Hubstaff Talent is one of the popular freelancing sites that are entirely free to use for both clients and job seekers.
| | |
| --- | --- |
| Pros | Cons |
| Easy to use | Fewer job listings than its competitors |
| No fees, markups or mediators | Sometimes, there are fewer opportunities for rising talents |
| Agency-friendly | |
| Email notifications | |
Choosing the Right Freelancing Site For You
Now that we've introduced you to seven of the best freelancing sites, we would also like to help you choose one that will cater to your personal needs.
Therefore, we have listed a few factors that can help you decide which option will be the perfect fit for your business or individual endeavors. 
Prices and Fees
Although all of the sites on our list can help your business find talent or, as a freelancer — find work, there are some differences in features, pricing, and fees.
As a client, it's crucial to check the pricing and fee policies to determine whether they're a good fit for your budget. And as a freelancer, it's vital to be aware of any fees and how they might impact your overall earnings.
Job Categories
Most job sites have their listings sorted into categories.
For example, the best freelancing sites for developers will likely offer other categories as well. If you're a freelancer whose particular skill set doesn't meet any current demands, a more customizable solution like Fiverr could be what you need.
Direct Contact
In the busy world of technology and fast transactions, it's essential to establish contact with clients that's both concise and direct.
Many freelancing platforms offer direct messaging or other types of contact features that make things easier for both sides to communicate, rather than using third-party platforms or emails.
Terms and Conditions
When you sign up for any top freelancing sites for beginners or any experience level, the terms and conditions are basically the contracts you're signing with that platform.
A few things to look for are that there are no misunderstandings, you're protected under the law, and the terms and conditions comply with labor laws.
Customer Support
No matter your experience level, issues or questions will likely arise. Those questions will sometimes be outside the scope of what's previously answered in the FAQ section or other site resources. 
Therefore, the platform you choose must have good customer support. Most sites have an email contact or a phone number. However, it's even better if the site offers a live chat option or a 24-hour chatbot service to avoid delays in receiving crucial info.
Verdict
When beginning to work in a new sector, it's completely understandable to be intimidated by the number of competitors and sites available. But if you know you have the skills, a great portfolio, and most of all, you use the right freelancing site, you'll be fine.
Hopefully, our reviews and guide have given you the proper insight to start or further your freelancing career.
FAQ
Which freelancing job is the best for beginners?
Although the answer to this question depends on your specific skill set and background, some jobs are great for beginners. 
Finding the best freelancing sites for data entry, for example, would be a great way to help you get started. Data entry is often a straightforward task; therefore, it's a perfect way for beginners to start their professional careers.
What are some good freelancing sites for musicians?
Musicians typically have to find freelancing platforms that deal specifically with artistic job listings. More general ones often don't have a sustainable amount of niche listings. Fiverr is one of the most popular choices for freelance musicians.
What are the best freelancing sites out there?
Finding the best freelancing sites is a personal journey. Some platforms will offer you something that others won't, and some will be more affordable than others. Therefore, it's essential to research each job category, listings, and terms and conditions. But you'll find seven of the best ones right here.