5 Best Property Management Software for 2023
Finding the best property management software is necessary, as it can make your work a whole lot easier. 
Property management involves keeping track of many things at once. And as your portfolio grows, more and more admin gets involved in your daily life. There are many different options available, which is why you need all the information available to choose the right tool. 
We selected the best ones for 2022 and reviewed each one to simplify your decision-making.
Published: January 18, 2022
Affiliate Disclosure
We aim to provide you with the best tech news and reviews. To sustain our site, we may earn a commission when you buy from our affiliate links. Read our full Affiliate Disclosure.
Top Property Management Software Companies in 2023
Top Six Property Management Software Reviews
Buildium
MOST SUITED FOR
All-inclusive property management
Visit Website
Rating: 9.9
Type: Cloud-based
Free trial: 14-day free trial
Pricing: From $50.00/month
Customer reviews: Above average
Customer support: Via phone, support ticket, and live chat
Buildium is our top choice for the best cloud property management software this year, mainly due to its ability to handle virtually every aspect of your business. 
It streamlines each process so you can deal with any issues at the click of a mouse. Moreover, you can use it anywhere on any device. 
It also gives you access to a free marketing website, which can help you advertise any properties available for rent. Additionally, you can purchase new client leads on all plans, which is powered by All Property Management. 
Buildium is a top property management software that offers affordable yet high-quality solutions. You can draw up eSignature at $5 per lease on Essential and unlimited on Growth and Premium. 
Online payments are charged differently (according to your plan), while incoming EFT fees are waived on the Growth and Premium plans. 
The Essential plan will cost you from $50.00/month, Growth starts at $160/month, and Premium starts at $460.00/month.
But the free standard reporting and ticket support made us place Buildium among the best rental management software on the market. We also like that it has live chat support, which can provide the quickest answer in critical situations about the property.
| | |
| --- | --- |
| Pros | Cons |
| Efficient expense tracking | Difficult to add tenants mid-lease |
| Responsive customer support | |
| Affordable | |
RentRedi
MOST SUITED FOR
Small to medium landlords
Visit Website
Rating: 9.8
Type: Web-based
Free trial: No free trial
Pricing plans: From $9.00/month/pa
Customer reviews: Above average
Customer support: Via phone and email
RentRedi is another excellent choice of property management software. 
It's likely the best landlord software for managing your entire relationship with renters, from start to finish. Namely, it helps you find tenants through websites like Doorsteps, HotPads, Zillow, Trulia, etc. 
Moreover, it'll help you screen potential tenants and choose the best ones to rent your property. After that, you'll have access to features related to e-leases, maintenance, and rent collection. 
RentRedi is also perfect for landlords after simplicity as it essentially has only one plan. But, you can choose how you want to pay—monthly, annually, or every six months for $19.95/month, $9.00/month, or $15.00/month, respectively. 
No matter which option you choose, you get excellent 24/7 customer service with your RentRedi subscription. The company consists of dedicated professionals ready to help you with all aspects of their software. 
This professional property management software also gets you free listings on popular rental websites, the ability to track and manage applicants, streamlined communication through the app with tenants and your team, lease management, simple and effective payment methods, etc. 
Most importantly, RentRedi doesn't limit your number of listings, tenants, teammates, or properties.  
| | |
| --- | --- |
| Pros | Cons |
| Good value for money | Not for short-term rentals |
| Notification system for sending messages to tenants quickly | |
| Live chat available | |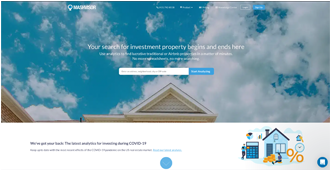 Mashvisor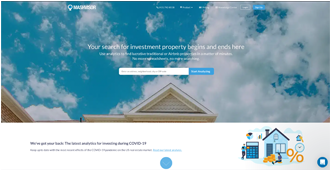 MOST SUITED FOR
Long distance property investors
Visit Website
Rating: 9.8
Type: Web-based
Free trial: 7-day free trial
Pricing: From $17.99/month
Customer reviews: Excellent
Customer support: Via live chat, email, phone, and Twitter
Whether you're an established real-estate investor or an amateur looking to invest in rental properties, Mashvisor offers you a way to make smarter decisions based on real-time information and analyses. 
The tools this software provides are extensive and give you insights that can help you turn over a profit, whether you're focusing on long- or short-term rentals.
If you choose the Lite plan, this real estate management software can help you estimate potential earnings from long-term and short-term Airbnb rentals. 
The Standard plan offers you the benefits of Lite ($17.99/month) and helps you find the properties and markets with the highest profit margins for only $49.99/month. It allows you to view the difference in long- and short-term rental rates and the ability to export 20 monthly searches. 
Finally, the Professional plan gives you all the above benefits and additional features that help you find foreclosure and multi-family properties to invest in for $$74.99. You'll also be able to export 40 more searches per month.
Mashvisor is also a strong contender for the best residential property management software with machine learning functionalities, a type of artificial intelligence that uses algorithms to learn and improve from experience.
| | |
| --- | --- |
| Pros | Cons |
| Multiple analytic tools | Not for active management  |
| Reasonably priced | |
| Airbnb listing | |
TenantCloud
MOST SUITED FOR
Small Landlords
Visit Website
Rating: 9.7
Type: Cloud-based
Free version: Forever
Pricing: From $0.00/month
Customer reviews: Above average
Customer support: Via phone, online ticket, email, and help center
TenantCloud is the best property management software for small landlords because it gives you all the basic services for free forever. It's a cloud-based tool that helps landlords manage their properties and tenants through an integrative dashboard that's super easy to navigate.
You get to manage an unlimited number of properties and units and 512 MB of file storage with a single admin account. You also get one free template to use.
The Starter plan lets you manage an unlimited number of properties and units with a single admin account, and you also get 30 GB of file storage for $12.00/month when paid annually. Additionally, you get 10 templates. 
The Growth plan costs $40.00.month and lets you manage an unlimited number of properties and units with 25 GB of storage and grants you a whopping 30 templates instead of 10.
The Business plan gives you the most options and can be used as an effective commercial property management software. You can manage an unlimited number of properties and units with 100 GB of file storage. 
Additionally, you get unlimited templates. But you have to call them for a customized pricing. In essence, you get all the benefits of the Standard plan, a property message board, priority support, and QuickBooks sync, one of the best accounting software today.
| | |
| --- | --- |
| Pros | Cons |
| Manage unlimited properties | The free version has limited functionality |
| Easy to use | |
| Competitive pricing | |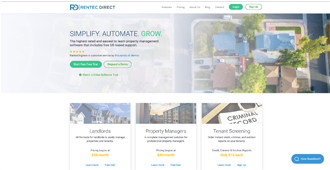 Rentec Direct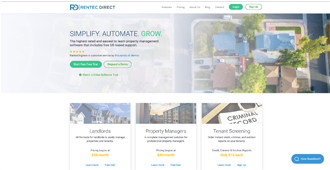 MOST SUITED FOR
Automating management processes
Visit Website
Rating: 9.6
Type: Web-based
Free version: Two weeks
Pricing: From $35.00/month
Customer reviews: Excellent
Customer support: Via email, phone, and live chat
Rentec Direct is our choice for the best web–based property management software that can automate most of the processes needed in the daily operation of your business. 
This web-based software is meant to grow with your business and is fully scalable, so you'll easily be able to increase the number of units you manage. 
Besides accounting and financial reporting tools, you also get a custom website along with hosting. You'll be able to track every transaction, deal with applications, sign leases and legal documents with electronic signatures, etc. 
Rentec Direct comes in two plans. The first is for landlords starting at $35.00/month and the second for property managers starting at $40.00/month. The price goes up depending on the number of units to manage.
With Rentec Pro for landlords, you'll get a mobile app specifically for tenants, help with screening potential tenants, tools to aid you in marketing your properties, and tools to track expenses and income. 
Property management software reviews suggest that the Rentec Property Manager plan's key features include full accounting, online payment features for rent payers, and a mobile app designed for renters.
Just like with the Rentec Pro for landlords, you'll also get help with screening tenants, marketing tools, and programs for tracking expenses and income. However, if you need more in-depth screening, it's best to take full background check services.
| | |
| --- | --- |
| Pros | Cons |
| Excellent customer service | It can become quite expensive |
| Simple set up | |
| Great blog tutorials | |
How to Make a Comparison of Property Management Software Options
There are many different property management tools on the market, so deciding which one to invest your time and money in can get challenging.
That's why we've come up with a buying guide that'll help you compare the options and choose the one that best suits your needs.
Let's take a look at the factors to bear in mind while browsing.
Is it cloud- or web-based?
When shopping for the best software for property management, you want to make sure that the one you choose is either cloud- or web-based.
This way, you'll be able to access all the information you need from anywhere. You also don't want all your data saved on your device or computer, as it can crash and make you unable to recover everything.
Is the software easy to navigate?
Another quality to look for is ease of use. It shouldn't take hours to figure out how to go through the processes. This software is meant to make your life easier and doesn't require you to figure out new ways of doing simple things. After all, a seamless experience is what B2B visitors look for first.
Is there training or onboarding?
There's no point in having access to the software you don't know how to use. That's why top property management software providers will provide you with training or onboarding to help you get comfortable with the product.
Since this kind of software is there to help you manage all your properties from end to end, you should be able to make full use of all the essential features.
Are there marketing tools included?
Marketing is a vital part of property management, so you want to ensure that there are never any long-term vacancies on any of your rental properties.
That's why many of these tools include features that help market your properties. Some of them even assist with creating and hosting a custom website.
What's customer service like?
No matter how great the training or onboarding process is, there will likely come a time when you need to troubleshoot an issue. That's where customer service comes in.
You should check property management software reviews to make sure that a company has reliable technical support you can contact whenever you're having any problems.
Wrapping Up
The right property management software can make all the difference when it comes to being a landlord and running your business smoothly. However, there are so many options on the market that it can be challenging to decide which one is best for you.
We hope that our list of property management software helps you find the right one that can take your property management to the next level.
FAQ
What software do leasing agents use?
Leasing agents use a variety of property management software to do their job. Four of the five software options in our reviews list could be an excellent choice for leasing agents and they include Buildium, RentRedi, TenantCloud, and Rentec Direct.
What is the best property management software?
Our choice for currently the best out of all the property management software options is Buildium. It's an excellent software that makes managing tenants and properties super simple and offers a number of tools that help you run your business smoothly.
How do I choose property management software?
To choose the best property management software, you should look at the key features:
Whether it's easy to navigate 

Whether it's cloud-based or web-based

If there's training and onboarding available

What the customer service is like