7 Best Website Builders for Photographers in 2022
If you're on the lookout for the best website builder for photographers, then you're probably aware that finding the right one can be tough. Therefore, we've researched and reviewed some of the top companies and created a buyer's guide to get you up and running.
So, continue reading to find which of our top picks can help your work stand out from the crowd!
Affiliate Disclosure
We aim to provide you with the best tech news and reviews. To sustain our site, we may earn a commission when you buy from our affiliate links. Read our full Affiliate Disclosure.
Top Website Builders for Photographers 2022
Best Website Builder for Photographers Reviews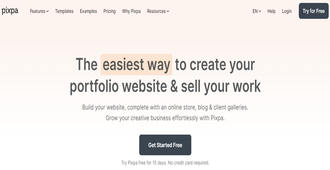 Pixpa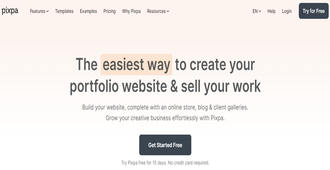 MOST SUITED FOR
All types of photographers
Visit Website
Rating:10
Pricing: From $3.00/month
Templates: 100+ templates
Customer Support: Via email, live chat, or a contact form on the website
Free Trial: Yes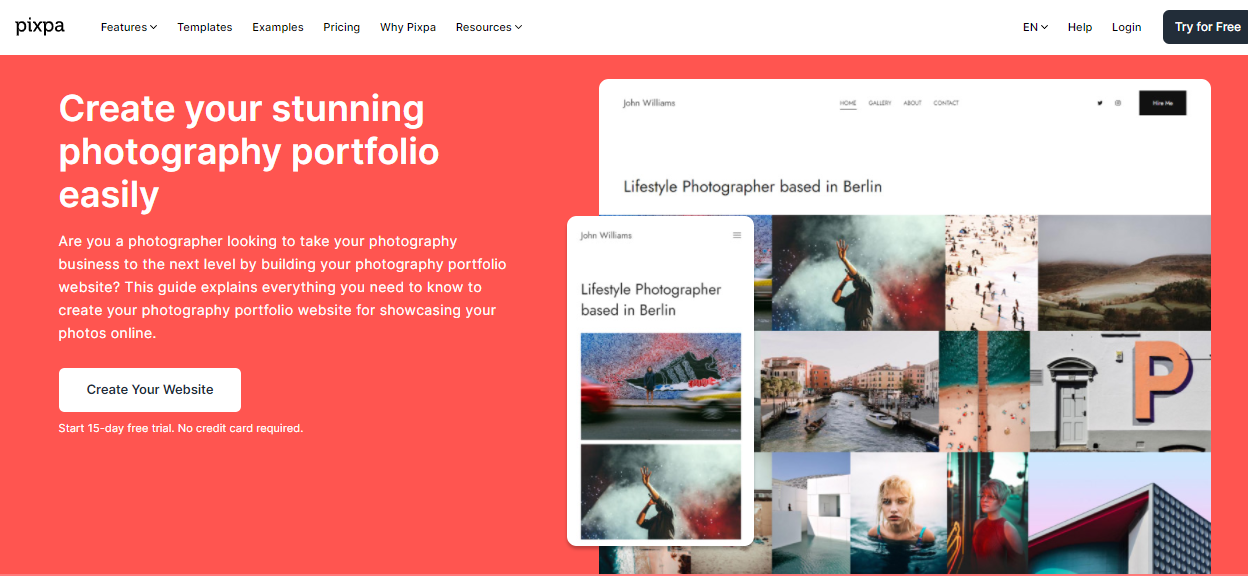 Pixpa is an affordable all-in-one portfolio website builder, specifically designed with photographers and other creators in mind. Its services and features make it quick and easy to create a terrific portfolio website with a built-in online store, blog, and client galleries.
This company offers four different payment options ranging from $3 to $16 a month: Light, Personal, Expert, and Business. 
All plans come with customizable templates, SSL security, a mobile-optimized website, a 15-day free trial period (No credit card required), and a 30-day money-back guarantee. 
As usual, the services and features increase with the price. However, Pixpa's Expert plan is the most popular subscription for just $10 per month.
This website builder for photographers has made eCommerce simple. Depending on the chosen tier, its users can sell between 5 and 1000 products. 
Furthermore, Pixpa's dashboard is easy to use, and it has four categories: Website, Design, Store, and Client Galleries. This feature allows you to swiftly add a page, change the fonts, sell images, or manage albums.
Overall, we feel this website builder's affordability, variety of themes and tools, and eCommerce functionality make it a great choice for photographers and other creators.
| | |
| --- | --- |
| Pros | Cons |
| Affordable plans | Lack of customization |
| Simple dashboard | Not many font options |
| Custom CSS and HTML editing | |
| SEO support | |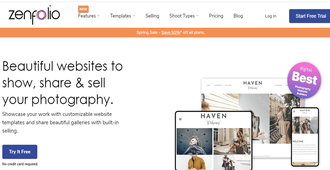 Zenfolio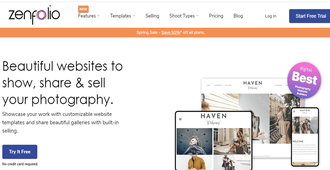 MOST SUITED FOR
Beginner Photographers
Visit Website
Rating: 9.8
Pricing: From $6.00/month
Templates: 12 templates
Customer Support: Via email
Free Trial: Yes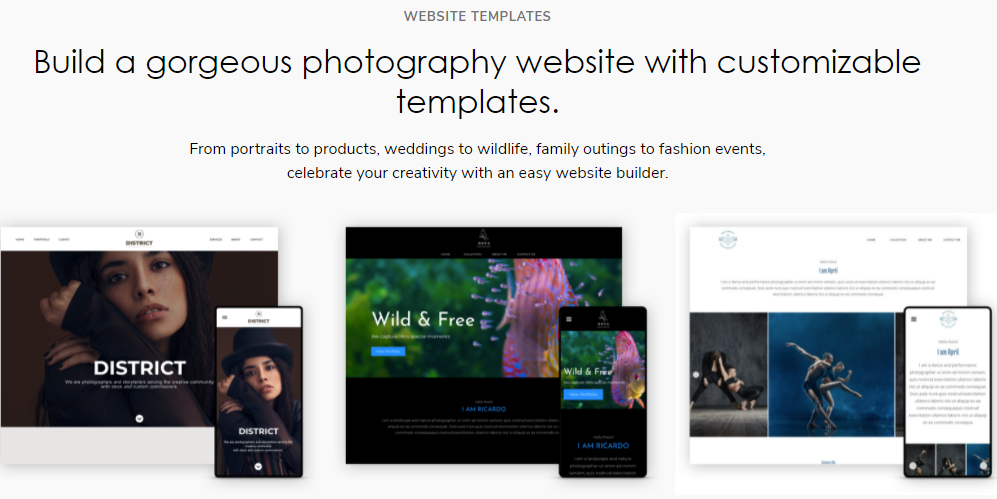 Depending on which of its plans you choose, this easy website builder for photographers offers a variety of features and services. You'll get access to free photography templates, a drop and drag editor, online store capabilities, and even SEO tools to increase your organic web traffic.
Zenfolio's pricing plans range from $6 to $30 per month. Its "Portfolio" option is ideal if you're looking for a simple way to showcase your photos. However, if you want a multi-page website, the "PortfolioPlus" is your best bet. Plus, it provides email marketing and eCommerce tools. 
"ProSuite" is Zenfolio's most comprehensive plan. It has all of the features of the other plans, plus it allows you to book clients and sell packages. 
Once you've signed up with this service, your website setup will begin with a simple four-step process. First, you'll choose the type of site you want, then select a design, upload a few photos, and finally input some SEO information.
After you've completed the four-step setup process, Zenfolio makes it easy to manage and build your media content in order to showcase your work to prospective buyers.
| | |
| --- | --- |
| Pros | Cons |
| Terrific photo-specific tools | Not many templates |
| Easy to set-up | Simplistic designs |
| Excellent business features | |
| Beginner-friendly editor | |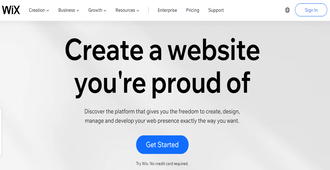 Wix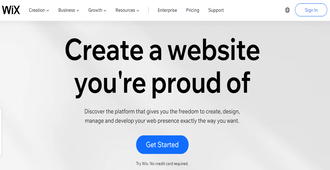 MOST SUITED FOR
Photographers of small businesses
Visit Website
Rating: 9.7
Pricing: From $4.50/month
Templates: 800+ templates
Customer Support: Via live chat, phone, and forum
Free Trial: Yes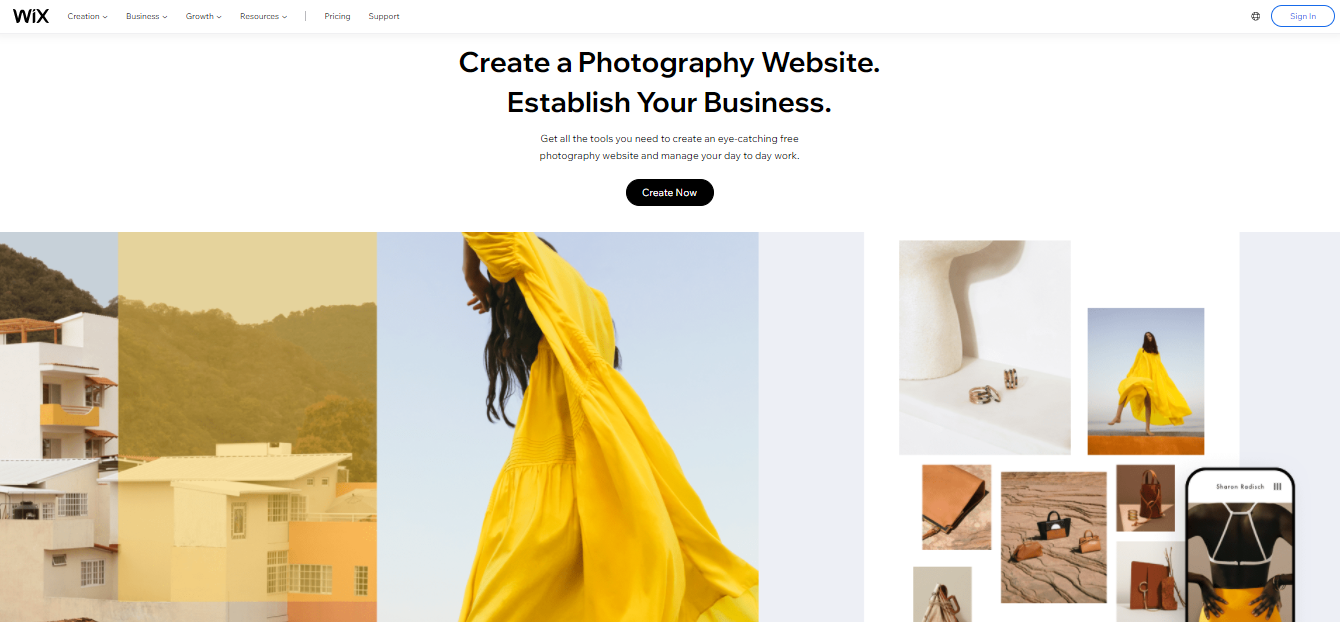 Wix's popularity, and reputation have placed it towards the top of many Best website builders for photographers' reviews and lists—including ours! Below, we'll explore some of the reasons why this is so and why it's also considered one of the best website builders for small businesses.
First off, Wix offers over 800 fully customizable templates, easy-to-use drag and drop functionality, and an amazing eCommerce platform with advanced business features.
But what really sets this company apart is that it's extremely beginner-friendly and offers creative freedom and flexibility. In fact, you can make use of its Artificial Design Intelligence (ADI) function and build a completely personal and unique website in a matter of minutes.
However, suppose you want more control over your designs. In that case, we suggest using the classic Wix editor, as it's still easy to use but offers more creative freedom than the ADI feature.
Another reason that Wix is a great website builder for photographers is because its SEO tools can help you customize your meta tags and bring in more potential fans and customers. This is one company that truly lives up to its reputation.
| | |
| --- | --- |
| Pros | Cons |
| Highly customizable | Difficult to switch between templates |
| Flexible templates | Not the cheapest option |
| Automatic site backup | |
| Professional-looking templates | |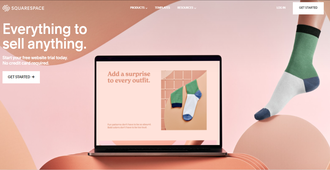 Squarespace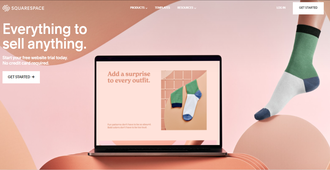 MOST SUITED FOR
Creative photographers
Visit Website
Rating: 9.8
Pricing: From $14.00/month
Templates: 100+ templates
Customer Support: Via live chat
Free Trial: Yes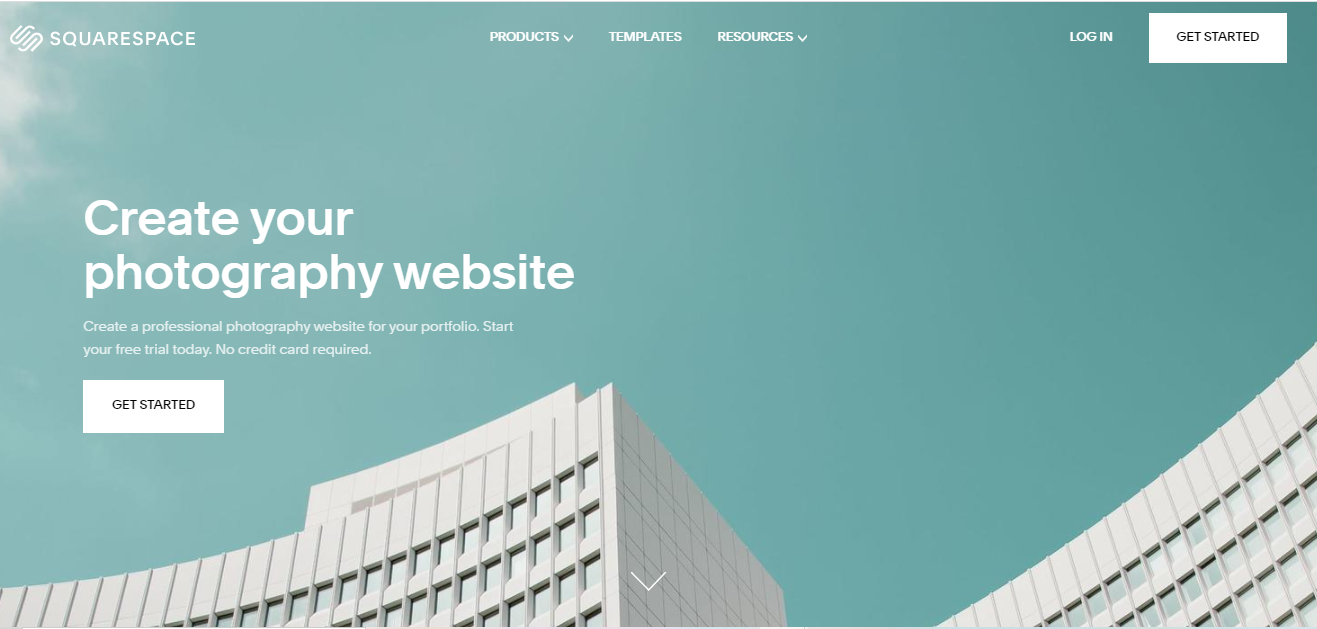 If you are looking for the best DIY website builders for photographers, Squarespace's ingenious features might just win you over. In fact, this platform was designed for visual artists and is best suited for showing off high-quality images rather than a text-heavy site.
Squarespace's interface is neat, clean, and easy to navigate. One of the first things we noticed is that it uses dialog boxes instead of a sidebar. Therefore, The first time you begin to edit something, a help box will appear to guide you through the process. 
We found Squarespace's ability to change designs incredible, as you can edit things like the lock screen, the checkout page, the 404 error page, and many other features that your site may have.
All plans are ad-free, offer unlimited storage, and come with a large array of widgets available through the Squarespace Extensions marketplace. Plus, its eCommerce service features ad marketing tools to help you set up a great online store and find prospective buyers.
Overall, this is possibly the best website builder for photographers if you want to start selling your work right away.
| | |
| --- | --- |
| Pros | Cons |
| Fast live chat support | Limited customizability |
| Up to 1,000 pages | No autosaving |
| Unlimited storage space | |
| Five different mobile apps | |
Zyro
MOST SUITED FOR
Minimalistic photographers
Visit Website
Rating: 10
Pricing: From $2.90/month
Templates: 130+ templates
Customer Support: Via live chat, and email
Free Trial: No
Compared to other website builders' features on our list, Zyro's are a bit minimalistic. However, this isn't such a bad thing, as the company's main focus is getting its customers' businesses up and running both simply and quickly.
Zyro has four different price plans (Website, Business, Online Store, and Advanced Store) ranging from $2.90 to $15.90 per month. 
Furthermore, each one comes with unlimited bandwidth and storage, Free domain for one year, SEO tools, SSL, access to Zyro's AI tools, 24/7 customer support, and more.
Plus, like many other website builders for photographers, this one offers eCommerce options. However, what we liked about Zyro is that it can generate automatic shipping estimates based on the customers' IP addresses.
Additionally, your customers can purchase your merchandise using popular services like 2checkout, PayPal, or Stripe.
| | |
| --- | --- |
| Pros | Cons |
| Drag-and-drop features | Difficulty switching between templates |
| Incredible eCommerce tools | Limited editing options |
| Unlimited bandwidth | |
| Free SSL certificate | |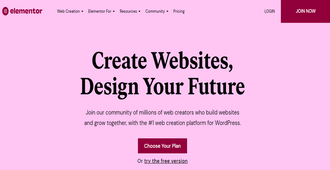 Elementor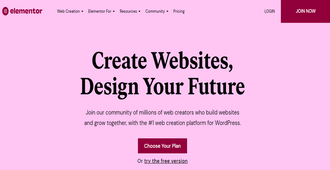 MOST SUITED FOR
Detail-oriented Photographers
Visit Website
Rating: 9.7
Pricing: From $49.00/year
Templates: 300+ templates
Customer Support: Via online ticket or live chat (just for PRO users)
Free Trial: No

Elementor is a website builder for people from different professions besides photography who rave about its live editing option. You see the changes you make on your site come to life as you make them.
Additionally, the interface is simple, and you won't need to be an expert in coding or website building to get a flawless-looking site. 
Elementor gives you access to many other tools, allowing you to even use motion effects on your site, making it one of the best-rated website builders for photographers.
If you are a photographer building a portfolio, as we pretended to be while testing, we found it impressive that you get total control over any template and the layout. You'll be able to place any photo or text exactly where you intend.
Except for the "Essential" one, all the pricing plans let you access Elementor's Experts Network Profile. With the "Studio" and "Agency" plans, you also get VIP support.
| | |
| --- | --- |
| Pros | Cons |
| Live page editor | Not the simplest for beginners |
| Everything is customizable | Not the fastest customer support |
| Very easy to use | |
| Lots of widgets and SEO tools | |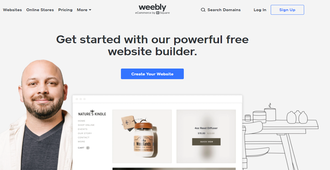 Weebly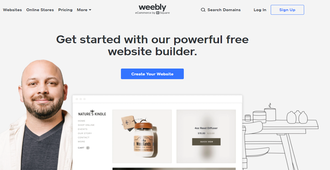 MOST SUITED FOR
Beginner photographers looking to sell
Visit Website
Rating:9.5
Pricing: From $0.00/month
Templates: 50+ templates
Customer Support: Via email, phone (only for Pro or Performance plans), or live chat (only for customers in the US)
Free Trial: Yes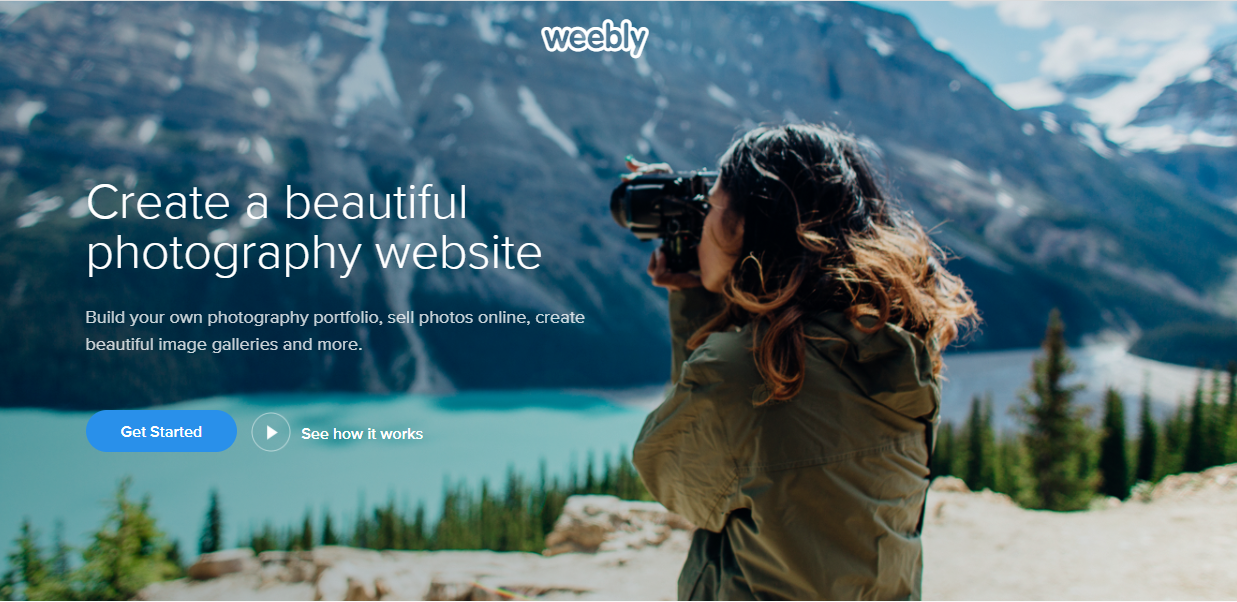 If you're on a tight budget and looking for the best free website builder for photographers, you need to check our last offering! It's a free plan with an SSL certificate, 500MB storage space, and a domain with Weebly branding.
Even though most free plans don't offer the services that you'll find with a paid service, amazingly, Weebly even provides SEO tools. 
Weebly's platform is simple enough that even a new online store owner can easily navigate their way through it. And you don't have to pay anything to sell your products. However, it's important to mention that it doesn't offer a custom-branded storefront as many paid plans do. 
As a photographer, you may not get too excited about the built-in photo editor, but it gets the job done nicely. Additionally, Weebly offers custom fonts, video backgrounds, and even animation effects.
| | |
| --- | --- |
| Pros | Cons |
| Great free plan | Outdated designs |
| Customizable templates | Drag-and-drop feature is limited |
| SEO guides | |
| Lots of storage space | |
The Best Website Builder for Photographers – Buyer's Guide 
Before you choose one of these website builders, it's important to consider your expectations. Some photographers prefer to use a website to showcase their work, while others intend to sell prints and other merchandise. 
Below, we'll look at some factors that may influence your decision.
Storage
If you want to upload all your photos in high resolution, you'll most likely have to invest in a paid plan. Most free or basic plans usually only offer enough storage space for standard resolution photos. 
Domain Name
If you've investigated some professional-looking sites, then you're probably aware that a ".com" domain name appears more professional than something like Myphotography.wordpress.com.
Therefore, If you want to take your site to the next level, it's best to find a website builder that offers a custom domain name. However, keep in mind that this is something most free website builders for photographers won't provide, so you'll probably have to pay extra.
Alternatively, there is always the option to purchase a custom domain name from an affordable web hosting service. 
Time
Before settling on a plan, first think about how much time you're willing to spend building your website. It's a good idea to employ a website builder that has AI features and ranks higher on the "ease of use" scale, so you'll be able to develop your site efficiently and quickly.
Design
As a photographer, you may want complete control of the design of your website. Be aware that not all website builders will let you customize everything. Most builders have a variety of templates you can choose from.
Also, keep in mind that the majority of first impressions on a website are based on visuals and designs. Therefore, it pays to ensure that you choose a website builder that offers designs specifically for photographers.
Size
If you are building a portfolio-like site, an online website builder for photographers like Squarespace will do the trick in this case.
But if you're after an eCommerce site to sell your photos or services, you'll likely need multiple navigation levels.
So if you want your online shop to have sub-categories, you'll need a website builder that can accommodate this size. 
SEO Tools
If it's a portfolio you just like sending, maybe you won't care about SEO. But, if you want prospective clients and employers to find your site, SEO tools are invaluable. Fortunately, most new website builders have built-in features.
They let you add, update, and remove meta descriptions and alt-tags.
Purpose
Decide what the purpose of your website is. You may not need complex eCommerce or SEO tools if you are just showing your work. 
But, if your website is a store you want people to find, you may need advanced tools that help you gain new clients.
Wrapping Up
Hopefully, our reviews and in-depth guide will help you on your quest to find the best website builder for photographers. 
Although we believe that the companies we listed above are all top choices, we recommend that you check out some professional-looking sites and do your own research before deciding on a plan!
FAQ
Is Wix a good site for photographers?
Yes! Wix gives you tons of customizing options, meaning you can move, add, and tweak all of the small moving parts of your website, making it an excellent choice for photographers!
What website builder do professional photographers use?
We found Pixpa to be the website builder used by most professional photographers. However, we also feel that it is suitable for creators of any experience level. But then again, anything from this list is great for both professional photographers and newbies.
What is the best website builder for photographers?
We felt that Pixpa performed incredibly well as it had all the tools a photographer may need from what we saw while testing! However, we'd say Zyro, Squarespace, and Wix are also incredible choices and among the best website builders for photographers.