8 Best Website Builders for Small Business - Top Picks for 2021
Looking for the best website builder for small business? Finding the best solution can be a challenge, but it's OK. To help you out, we, at WebsiteBuilder.org, tried out a range of popular platforms.
In our testing, we discovered the best website builders for:
beginners
marketers
ecommerce
creatives
… plus a lot more.
Read on to find the top site building solution for your business.
Last Updated: November 25, 2020
Advertiser disclosure
This page may contain links to our partners' products and services, which allows us to keep our website sustainable. This means that websitebuilder.org may receive a compensation when you sign up and / or purchase a product or a service using our links. However, all opinions expressed in this article are solely ours, and this content is in no way provided or influenced by any of our partners.
Website Builders for Small Business 2021

Very beginner-friendly
All the essential tools
Highly customizable templates
Try Now
Full Review

Free version available
Beginner-friendly
Regular updates
Try Now
Full Review

Gorgeous templates
Very beginner-friendly
A transaction fee applies on some plans
Try Now
Full Review
How We Ranked the Best Website Builders for Small Business – Our Review Process
Website builders are complicated and come with a lot of functions. This means there are numerous things to check to ensure the platform is worth your time and money. Here's how we went about our testing.
Shortlist the website builders—It's good practice to separate the wheat from the chaff as early on as possible. We checked out which available platforms can work well for small businesses. Once we had our list, we singled out a range of the most promising solutions for in-depth testing.
Read user reviews—An excellent way to know if a site builder works well is to see what real business owners have to say. User reviews are an excellent resource if you want to see what a platform gets right and what – less-than-right.
Check out designs—This is where you can see a lot of variety among website builder software. Each one comes with its own set of templates and unique design tools. We checked what kind of designs you can achieve with each builder and if it was easy enough to do so.
Analyze the features—Website builders specialize in different things. A site builder might be a fantastic solution for community forums, but utterly useless for small businesses. We made sure the site builders have features that work well and can benefit business owners, especially in important areas like marketing and ecommerce.
What about user-friendliness—Website builders are usually built for non-technical users, i.e., your average Joe. Still, you'd be surprised how many site creators stumble here. Clunky interfaces and limited design options ruin lots of site builders. We ensured the website builders for small business we reviewed have no such issues.
Pester the support—Support is the thing many people overlook. Still, if something breaks or you need help using a specific function, the support should be there to assist you. We contacted each support team multiple times and checked how fast and how accurately they respond.
Compare the prices—Doing a bit of price shopping can be a good idea. We checked what was included in each pricing plan and whether the price was fair for the goods you get. The builders with the best deals made it to our top list. You'll find the top website builder reviews just below.
Detailed Reviews
MOST SUITED FOR
Complete beginners
Visit Website
Very beginner-friendly
Highly customizable templates
All the essential tools
Includes ecommerce capabilities

WiX is one of the most popular solutions out there. It's a small wonder too, since the builder looks to appeal to everyone, businesses included.
This is how business owners can put it to good use.
Features
WiX is more a general-use platform, but it still makes a decent business website builder.
One handy tool for businesses is WiX's email management capabilities. Instead of just having a simple email tool, the builder lets you run full-on marketing campaigns. This way, you can use email to build more rapport with potential customers, which is always good for business.
You can send out up to 5,000 newsletter emails per month for free. This is quite generous and can take you surprisingly far. If you need more, though, paid add-ons can allow you up to 1,000,000 emails per month, which is way beyond the small-business range.
WiX is also fairly SEO-friendly. It has an SEO suite more comprehensive than that of many other website builders. WiX-based sites usually have little trouble ranking.
The only thing WiX has issues with is speed. Slow pages are neither good for SEO nor customer engagement. If you do opt for it, you should take extra care to optimize images and not go overboard on demanding tools.
WiX also includes analytics. This can help you track visitor behavior and get the best results for your small business website.
Naturally, WiX offers ecommerce functionality. You can sell digital or physical products, do dropshipping, calculate VAT, and accept multiple currencies, choose from an array of payment gateways, and more.
All that said, WiX isn't the most scalable ecommerce software. You can use it to sell products, but it can get a bit clunky if you need to process more than six figures.
It's better to use WiX to build an online hub for your business (and possibly sell some products along the way). If you need a site that's primarily an online store, a website building platform like Shopify or BigCommerce would likely work better.
Design Tools
WiX lets you create some decent designs.
For starters, there are 500+ templates, and all are entirely free and available on all price tiers. You don't miss out on the value in this regard by going for a lower-end plan – or even a free one.
Most templates are sleek and attractive. Many of them are designed to fit specific niches. As a consequence, you are likely to find at least a couple of designs that work well for your business.
Keep in mind you can't change a template once you publish a website. The only option is to start over and transfer whatever you can. That's why it's a good idea to take your time and choose the best fit for you on your first try.
Getting a unique layout is relatively easy as well. You can use the drag-and-drop WYSIWYG web builder to move elements around and get any setup you want (unlike when using a section-based editor). This makes WiX designs much more customizable than those of dozens of other editors.
WiX also includes advanced effects like parallax scrolling and animations. Animations can dramatically increase web page size, though, and WiX doesn't have an excellent track record with speed. That's why you should at least hook up a speed testing tool like GTMetrix and see how those animations affect your load times.
You can also implement your own code into the designs if you use WiX Corvid. Corvid is a developer-friendly mode, which adds a lot of options for advanced users.
Most small business owners won't use this straight away (or might just enable it to set up custom CSS). That said, it can be a powerful asset if you want a developer to do some custom work down the road.
All in all, WiX gets you everything beginners need to create a fully custom and attractive design, plus a few advanced tools.
Ease of Use
WiX makes it relatively easy to create a website.
For one, you can use the WiX ADI to set up all the basics for you. This saves you a bit of time going through all the options.
If you decide to set everything up yourself, though, WiX remains a relatively easy website builder. All the options are laid out clearly so you can pick out what suits you best.
The templates are categorized by industry, so you can easily pick the right one. The categories include fashion, tech, wellness, consulting, and dozens of other niches.
The page editor is also really straightforward and intuitive.
WiX features a true drag-and-drop WYSIWYG editor. In other words, you move the elements around the way you want and see what the page looks like as you're editing. This is just the most beginner-friendly way of website creation, and WiX saves you a ton of time with it.
WiX takes this even further and offers extra help in creating layouts. The editor displays many guiding lines that can help you line up the elements perfectly. In other words, you can get a pixel-perfect design without manually optimizing margins and padding for each component.
From there, it's also relatively easy to use all the features. The menus are all well-designed, so you should have no trouble finding what you want and implementing it on your site.
WiX might just be the easiest website builder out there.
Pricing
WiX comes with seven different price tiers.
The free plan can seem attractive, but it charges you extra to connect a domain name and displays WiX ads on your site. This doesn't really look professional, so it's better to stay away from the free tier.
The paid plans are decent, but some of the standard plans have somewhat limited resources.
Generally, the most optimal are the "Business and Ecommerce" plans. These let you accept payments online, add more storage, and they come with tools like analytics and performance optimization. All are relatively useful for marketing and selling products, so you can get substantial value out of them.
The Business and Ecommerce plans start at $17/month for 20GB SSD storage, and all include free domain registration. If this is a bit pricey, you can go for the standard plans at $8.50/month. They let you create a robust website for small business, but you won't be able to use all the features.
| | |
| --- | --- |
| Pros | Cons |
| Extremely straightforward and intuitive | Kind of slow |
| Comprehensive design tools | Some plans are limited |
| Solid features | |
| Fantastic for marketing | |
Verdict
WiX is one of the best website builders for small business if you want to engage with your customers. You can also sell a decent number of products through it, but the platform's primary benefit is still marketing. It's a top-notch choice for growing your business.
MOST SUITED FOR
Affordable website creation
Visit Website
Very fast
Intuitive user interface
Useful grid system
AI Writer
Zyro is a relatively new and hassle-free website builder developed by Hostinger, and it's perfect for creating simple digital experiences. However, after consulting a few of the extensive Zyro reviews, you may find that it's not entirely suitable for complex projects. 
So let's take a look at some of Zyro's core features and how they can help you create your next website. 
Features 
One of the best things about Zyro is that it boasts outstanding site performance. Its servers are reliable, stable, and easily accessible from any location. The servers also have a near-perfect availability rate, measured at 99.9% over one month. 
Another great feature of this website builder is that it automatically includes Cloudflare. Most site builders give you the option of integrating a CDN. Zyro, on the other hand, already has Cloudflare up and running on all websites. This feature is especially useful for users who aren't familiar with CDNs, making Zyro the best website builder for business owners with limited experience. 
Zyro also takes the trouble out of installing and verifying SSL certificates. This is another great feature for beginners and website owners alike. Having an SSL certificate in place is one of the many factors that may positively influence rankings. 
Another important ranking factor is responsiveness, but making your site look decent across multiple devices is challenging. That's why Zyro allows users to create responsive websites without having to code. 
Design Tools 
Having an attractive but cohesive design is something of a requirement in the digital world. What's great about Zyro's website builder is that the company lets users choose from a wide selection of well-optimized and fully customizable premade templates. Users can use the original design or alter the templates to suit their needs. 
The Zyro website builder also has a transparent grid that becomes "active" when a user interacts with a website element. The grid also significantly reduces the chance of a misalignment of certain design elements. 
Zyro is a great option for content-creators and people working with digital media. The website builder even has an AI writer—another great tool in the arsenal of this website building platform, and it's especially useful if you figure out how to set up the bot correctly. However, it's worth noting that the text it generates cannot come close to that of a professional writer.
Speaking of artificial intelligence, Zyro's AI Heatmap is another great tool of this kind. The heatmap represents how users interact with a website, generating data that can be used in all kinds of ways, e.g., increasing dwell time and CTR.    
Ease of Use 
Zyro is geared towards beginners, and it makes the whole process of building a website very straightforward. For starters, it offers a wide array of high-quality premade templates that are ready to use and can be fully customized. 
Furthermore, Zyro's web page builder offers a streamlined workflow, as you can make use of its seamless drag-and-drop system in combination with the subtle but essential grid line. 
Zyro also makes things easy for users who have trouble with content management. Namely, the website builder has an AI writer to help you add content to your pages. As artificial intelligence is on the rise, we expect this feature to be more helpful in the near future. 
Aside from the robot writer, you can also use Zyro's logo and slogan maker to truly streamline your content creation.  
The company also simplifies adding images and other visual elements to your content. Zyro is connected with Unsplash, a stock image site, so you don't have to leave the website builder to find images. You don't have to use this option—you can also upload images or other media items yourself, making Zyro a strong contender for the best online website builder that includes such features. 
Pricing 
Zyro has three pricing plans: 
Free

—  500MB of bandwidth and 500MB of storage space 

Basic —

10GB of bandwidth and 10GB of storage space for $1.90 per month 

Unleashed —

Unlimited bandwidth and storage space for $3.49 per month 
Right now, you can use our special Zyro Black Friday discount code and get up to 86% off Zyro!
Zyro lets users take advantage of its website builder completely free of charge. However, making use of its Basic plan is highly recommended. It's affordable, and you can further lower the price by redeeming a Zyro coupon, or by taking advantage of another type of deal the company currently offers. 
However, if you opt for the Unleashed plan, that's where the real fun begins, as you get an unlimited amount of bandwidth and storage space. This plan is especially useful for the more important business applications that require a high level of stability. 
Now let's take a look at some of the pros and cons of Zyro's website builder.
| | |
| --- | --- |
| Pros | Cons |
| Free version available | Complicated domain handling |
| Beginner-friendly | Slow customer service |
| Regular updates | |
| Useful tools | |
Verdict 
Zyro is an excellent option for beginners who are just getting acquainted with the world of website building and management. It has several neat features and useful tools to help you create a professional website. If you're looking to venture into the world of web design, we recommend Zyro as a starting point.
MOST SUITED FOR
Creatives and entrepreneurs with flashy products
Visit Website
Fantastic for marketing visually attractive products
Gorgeous templates
Very beginner-friendly
A transaction fee applies on some plans
If you follow any YouTube channels even remotely associated with creativity, you've likely heard of Squarespace.
In fact, the site builder is something of a patron of the arts. Squarespace sponsors just about every art influencer it can get its hands on.
Unsurprisingly, creatives tend to get the most out of Squarespace, and it's the most popular website builder for them. Here's why.
Features
Squarespace comes with numerous features, so let's dig right in.
For starters, you can use a bunch of widgets like maps or carousels (the former being convenient for any brick-and-mortar business). You can also add YouTube video backgrounds, which can yield impressive results.
You can also do image editing in-app. Squarespace relies on images heavily, so you'll likely use these features a lot.
The solution also creates responsive sites, which is simply a must-have. It also follows the best SEO practices, so you should have no obstructions when trying to get ranked in SERP.
There are also website builder tools handy for any business, like analytics, promotional pop-ups, and email. Much like SEO, this will let you reach out to potential customers.
You can also sell unlimited products, with higher-tier plans adding advanced features like abandoned shopping cart recovery. All the tools here help you get the best conversion rates possible.
Higher-tier plans also let you integrate Squarespace with brick-and-mortar shops. This lets you sync inventories with your ecommerce site, and process payments through the same channel.
Squarespace partnered with Square to make this point-of-sale feature. Square is actually one of the best services in this department, and it offers decent hardware, so this is an excellent functionality. It's not a unique feature, though, since Square has a similar deal with many of the best website builder software.
One thing that's lacking in the newest Squarespace version is the export tools. This makes it challenging to switch platforms if you decide it's not for you. This a pretty cheap tactic to lock in users, and it's a significant disadvantage.
Squarespace also lacks options to add advanced navigation features to a website. While you can add as many pages as you want, this makes it a bit restrictive for massive websites or stores. This is mostly a non-issue for small businesses, but it's something to be aware of.
Design Tools
Squarespace never had too many templates, but the ones you do get are splendidly designed. You get some excellent designs out-of-the-box, which you can then customize to your liking.
Speaking of, Squarespace has something of a drag-and-drop web page builder. This is a more sectioned-based tool, though, so you can't get fully custom layouts. I would typically categorize this as a con, but with Squarespace's design, you're not missing out on much.
The builder relies on large, high-resolution images to achieve that Squarespace signature look. The designs you get by using lots of images look modern, and they are simply gorgeous.
That said, you will need some photos to upload. That's why entrepreneurs who work with photography or art do so well with Squarespace—they already have the material they need.
Of course, that is not to say other types of businesses can't do well with Squarespace—just look at Keanu Reeves's ARCH Motorcycle website. You just might need a product photographer to take some nice shots for you.
An alternative is to use a stock photography site (Squarespace is partnered with a few so you can access images directly). That said, using trendy photos may get you generic results, so do be careful.
Apart from that, the website builder software lets you make decent styling changes, even without knowing code. If you are a CSS enthusiast, you can also use Squarespace's code editor. Even without that, though, you get excellent results.
All in all, Squarespace gets you some of the best-looking websites among builders, as long as you can get some attractive photos.
Ease of use
Squarespace features a frontend editor. It means you can preview the changes you make to your site in real-time—a significant step up from backend editor solutions like WordPress.com.
There is no true drag-and-drop, so you can't get a truly custom layout for your business web page. Getting the designs you want is still fairly straightforward, though. Also, most users find the interface very easy to navigate and have no issues making all the features work.
Squarespace also implements a smart design feature. You can enter your preferences into the builder, and it will design a basic website based on that.
This makes it even easier to get a site up and running and saves even more time.
All in all, Squarespace is a reasonably straightforward solution for small business web development. A couple of builders like WiX might be a tad easier but only by a hair's breadth.
Pricing
Squarespace has four plans:
Personal—$12/month
Business—$18/month
Basic Commerce—$26/month
Advanced Commerce—$40/month
The plans include a free domain if you go for an annual subscription. They are also a bit more expensive with month-to-month payments.
The personal plan is more for designing basic websites, while each plan after that adds more powerful ecommerce functionality. The commerce plans also let you integrate Squarespace with a physical store.
As for the business plan, it's pretty standard to have a more expensive variant for selling products. You can go for the Personal plan until you get everything ready and start attracting an audience. Then, you can upgrade to business and add some products.
One issue with Squarespace is it reserves features involving email marketing and analytics for the Business plan as well. Unlike ecommerce, these features are useful from the get-go. The Personal plan just isn't ideal for small business website design.
Another thing to keep in mind is that Squarespace tacks on a 3% transaction fee for Business plan users. This isn't an issue, but you'll notice you should only use the plan until you start earning over $260/month. After that, you can upgrade to the Basic Commerce plan and lower your expenses.
| | |
| --- | --- |
| Pros | Cons |
| Excellent features | Transaction fee with the Business plan |
| Excellent point of sale | No export feature |
| Gorgeous designs | |
| Relatively easy to use | |
Verdict
Squarespace has an attractive offer for entrepreneurs in the art world and businesses that want a compact website. Also, the point of sale functionality makes it one of the best website software for small business to integrate with a brick-and-mortar retail business. You might have to go for the Business or Commerce plan eventually, but it's well worth it.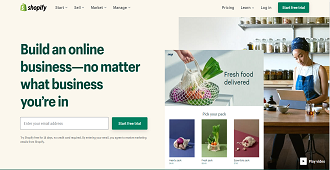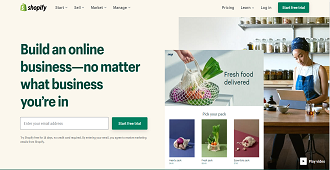 MOST SUITED FOR
Most ecommerce websites
Visit Website
Scalable ecommerce platform
User-friendly interface
Reasonably affordable plans, albeit with a transaction fee
Excellent 24-hour support
Shopify is a website builder and a hosted ecommerce platform in one. Its primary focus is on letting businesses sell products, either online or offline.
Here's what it can do for you.
Features
Shopify's primary function is creating ecommerce websites. There is functionality for building blogs as well, though, so you can run one as part of your store. However, trying to use Shopify as a standard website builder would yield poor results, so it's best to only use it for ecommerce.
As you'd expect, Shopify's main options are all about selling products. You can add items with a ton of options for product details, do inventory and order management, and a lot more.
There are also many features to help you get the best conversion rates possible. This includes coupons, abandoned shopping cart emails, discount codes, gift cards, and a lot more. There are some excellent advanced features to experiment with and improve your sales numbers.
The features above make it pretty much the best online website builder for retail. Still, that's not all.
Another area where Shopify excels is in calculating shipping rates and VAT. Among other things, you can adjust shipping rates based on product weight or location, which comes in handy if you sell physical goods.
You can also connect Shopify to numerous other platforms, including Amazon, eBay, and Facebook. The Lite version also lets you use Shopify as a shopping cart, hosted on your own website. In other words, you get several channels where you can connect with potential customers.
One pretty outstanding feature is the Shopify POS. This lets you use Shopify's system to process payments in your own physical store (or anywhere else, for that matter). The service is very advanced and has so many features it deserves a review of its own (perhaps we'll even do one in the future).
You can use an Android phone or an iPhone to make use of this service. Alternatively, you can rent out hardware from Shopify. The price is affordable, and the overall service gets solid reviews from business owners, so it may be worth a try.
Those are just the key parts of Shopify's offer. It's one of the best website builders for small business if you want to sell products online.
Design Tools
Shopify comes 74 themes, 10 of which are free. It may seem like a limited offer, but the templates come in multiple styles, which adds more variety. Plus, all designs are responsive and stylish, meaning you'll have decent options. You can also set up AMP for faster load times on mobile, but this requires using an integration.
Available features depend on the theme, so it's worth it to take your time picking one. Some themes are built to capture leads, while others may be more focused toward ecommerce.
You can customize all themes by moving the sections around. That way, you can get a custom layout effortlessly. You can also use features like color palettes to make style changes without writing your own CSS. A drag-and-drop feature is available through a paid plugin.
All in all, you get a decent small business website design, but there's no true drag-and-drop out-of-the-box.
Ease of Use
Shopify's interface is rather clean, and it's pretty easy to find all the options.
Creating a website isn't as fast as with, let's say, WiX. Still, if you're building an online store, this is expected. If you compare Shopify to direct competitors like BigCommerce, it's actually more straightforward.
One thing that's a bit of a pain is uploading images. Shopify doesn't let you crop or resize images in-app (nor do it automatically). You have to edit them yourself before uploading.
If you skip this step, Shopify ends up displaying product images of different sizes, which simply looks ridiculous. This can obviously slow you down when you're selling a lot of products and want at least three images per item.
Shopify is generally going to be an easy website builder for any small business. That said, you should consider the time it'll take you to optimize all the images you intend to upload.
Pricing
Shopify has four pricing tiers plus a quoted Shopify Plus plan that's meant for enterprise-grade stores. The standard plans are:
Shopify Lite—$9/month
Basic Shopify—$29/month
Shopify—$79/month
Advanced Shopify—$299/month
The Shopify Lite plan doesn't get you a website. Instead, it lets you set up a Shopify storefront on an existing website, which is handy if you already have a strong online presence.
The other plans do give you a hosted website and are decently priced. All the critical features are included in the Basic Shopify plan, which is a fair way to structure the pricing.
Larger plans get you more advanced functions like custom reports and multiple staff accounts, and you can use Shopify POS in multiple physical stores. Also, higher-tier plans get you better transaction rates and larger shipping discounts with companies like UPS. They are simply worth more money as you grow your website.
Speaking of transactions, Shopify lets you use its own gateway called Shopify Payments. Otherwise, it will charge you a transaction fee (from 2% to 0.5%) for using a third-party gateway.
The Shopify Payments rates are decent, especially on the higher-tier plans. That said, the gateway doesn't work in all countries, so whether you can use it depends on your location. Plus, if you prefer a different gateway, Shopify is a bit problematic.
If you can make use of Shopify Payments, though, Shopify offers solid value for money.
| | |
| --- | --- |
| Pros | Cons |
| Excellent for ecommerce | Few free themes |
| Lots of relevant features | Transaction fee for third-party gateways |
| Reasonably easy to use | |
| Great value deals | |
Verdict
Shopify's specialty is letting you sell products, and that's where it excels. If you want to set up a retail business or take an existing store online, Shopify is likely the best website builder for your small business.
MOST SUITED FOR
Low-demanding webistes
Visit Website
Very beginner-friendly
Works well for marketing
Follows some outdated practices
Intuitive interface
Weebly is another immensely popular platform. It got acquired by Square back in 2018, which did cause a few changes, but it's still just as strong.
This is what it can do for small business owners.
Features
Weebly has a decent feature offer.
For starters, it lets you handle things like lead capture, email marketing, analytics, and SEO out-of-the-box.
One handy addon is Weebly Promote, which lets you manage marketing campaigns. You can use it to create emails via drag-and-drop, schedule emails for a specific time, and do in-depth campaign analysis. The add-on is free to try and starts at $8/month, which is decent value if you want to expand your online presence down the road.
One issue is that the website builder software is not exactly SEO-optimized. It adds a subsection to the URLs for practically all pages and uses H2 for all headings. You can correct these with an extension, but having your SEO efforts undermined can be annoying.
Weebly also lets you sell products and includes many features for shipping, tax calculation, and promotion. Like WiX, though, Weebly stores aren't really that scalable. You can make products available online, but it's best to use Weebly for marketing rather than building a 7-figure online store.
All in all, Weebly qualifies as the best website builder for small business. Still, the SEO problems are something to take into account.
Design Tools
Some time back, Weebly dropped many of its outdated themes. Consequently, the templates available now are few, but all are sleek and modern.
Weebly does have a drag-and-drop editor, but the software fits the sections in a predetermined grid. This makes it easier to get a balanced design, but it doesn't give you 100% control of the layout.
Weebly adds a bunch of other tools that help you customize website appearance. This includes popular effects like video backgrounds, parallax scrolling, custom fonts, and more. You can also work with images in-app, which is something builders like Shopify don't offer.
Unfortunately, some are rather clunky. For instance, trying to change the color of one element may introduce changes in unrelated places.
If you want genuinely custom styles, Weebly is fairly developer-friendly. The dev options include adding your own CSS (among other things).
All in all, Weebly runs one of the best website design software, though the layout editor can be a bit stiff.
Ease of Use
Weebly adds a lot of features to help make your journey easier.
It has drag-and-drop functionality, but the editor is grid-based. Basically, you can drag page elements where you want them, and the editor will position them where they'll look good.
The advantage is you can freely edit your design, and you won't have elements lapping over or being awkwardly positioned closer to one margin. This simply saves you time you'd otherwise spend positioning each element and makes the editor easier to handle.
Weebly also does its best to help beginners navigate the interface. Once you log in, the software gives you a brief tour and breaks down notable functions. After the fact, it occasionally displays reminders to help you find the right tool. This makes a world of difference to beginners, though it might bug more advanced users.
Apart from that, the software is cleanly designed and easy to get a grip on. Weebly is one of the easiest website builders out there, so it's the right choice if you want a website with little effort.
Pricing
Weebly offers numerous plans, ranging from a free one to the very advanced $38/month plan. The most notable ones for business are the $12/month Pro plan and the $25/month Business plan.
The Pro plan adds much of the most important functionality for creating a website, so it's a decent place to start. You can use it to create a website to your liking and get it off the ground.
The Business plan adds many key features for promotion and analytics. It also allows you to start selling products. It's the best choice once you're ready to attract more viewership or start making money through your site.
| | |
| --- | --- |
| Pros | Cons |
| Decent features | Some aspects of the editor are clunky |
| Very easy to use | Not the best for SEO |
| Robust email marketing tools | Mediocre value deals |
Verdict
Weebly is a decent online business website builder, though not without its issues. The Business plan is also more expensive than what other builders charge, making Weebly have pretty average value. It's a decent choice if you want an extremely easy time setting up and managing everything, but struggles in other departments.
MOST SUITED FOR
High revenue retailers
Visit Website
No transaction fee on any of the plans
Lower PayPal rates
SEO-friendly
A bit limited on the templates
As the name suggests, BigCommerce is a popular ecommerce solution. Its focus is on creating robust online stores.
Here's how it handles itself in our website builder comparison.
Features
BigCommerce is an ecommerce platform, first and foremost. It has all the stuff you'd expect, like support for numerous payment providers, inventory management, order management, tax and shipping calculators, and more.
One massive advantage BigCommerce has when building larger stores is it supports up to 250 product variants out-of-the-box. For reference, without a paid integration, Shopify only supports three.
This makes BigCommerce the best website builder for small business if you want to run a more complex store.
There's also a lot to love about BigCommerce's advanced functionality. For one, it offers one-step checkout, which minimizes the chance of customers changing their minds about a purchase. As for those who leave their carts before checking out, you can get them back using abandoned cart recovery. Numerous other features add further ways to improve your profits – you can handle coupons and gift vouchers, study the analytics and reporting module, and much, much more.
BigCommerce has solid SEO tools as well, so you can get that extra influx of traffic. One feature it has that most other builders charge for is image optimization. This is a pretty big deal, as optimizing images can dramatically cut down page load times and improve SEO and UX.
BigCommerce also supports functionality like accepting multiple currencies, dropshipping, point of sale (via Square), and more. You can run a blog alongside your store, which is always handy for getting more visitors. BigCommerce isn't really a blogging platform, though, so this is only a supplementary feature.
All things considered, BigCommerce has an exciting offer if you want to take your products online. It's the best business website builder here and even outperforms Shopify in many respects.
Design tools
BigCommerce has a decent number of themes, but only 12 are free, and the free ones kind of look similar. Plus, the paid templates start at around $150, which is something to factor into the overall cost.
BigCommerce did a major overhaul of its customization tools recently. The company presents this as a major advantage. Although a massive improvement, it's nothing other builders don't offer as well.
You can make some styling changes from the app. These can be applied to pretty much any element, which is a big plus. For truly custom styles, you can use your own CSS as well.
BigCommerce's design features are fine but not really on par with the top website builders for small business.
Ease of Use
BigCommerce is generally user-friendly and has made many changes over the years to get to this point. Unfortunately, it's still kind of clunky compared to many of the solutions on this list.
The issue is all the features can be a bit overwhelming for first-time users. Plus, BigCommerce doesn't really go out of its way to explain what they are or even give them descriptive names.
Now, is BigCommerce difficult? Definitely not—beginners won't take more than a few days to get the hang of the core features. However, it's not as easy to use as some of the competitors in these website builder reviews.
Pricing
BigCommerce has three core pricing plans plus a quoted plan in case you outgrow the original three.
Standard—$29.95/month, up to $50,000 revenue
Plus—$79.95/month, up to $180,000 revenue
Pro—$299.95/month, up to $400,000 revenue
If your annual revenue goes over $400,000, you can pay $150 more for additional $200,000.
BigCommerce does reserve some features, like shopping cart recovery and using a custom SSL for bigger plans. This is the case with most HTML website builders, though, and BigCommerce doesn't go overboard with it.
As you can see, the pricing is pretty much the same as Shopify's. That said, unlike its competitor, BigCommerce doesn't charge you a transaction fee, regardless of the payment gateway. It even offers you special rates if you use PayPal. Both can make the builder much more affordable, especially as your revenue grows.
| | |
| --- | --- |
| Pros | Cons |
| Lots of available features | Limited free themes and design features |
| Great for SEO | Kind of clunky |
| No transaction fees | |
| Special rates for PayPal | |
Verdict
BigCommerce is one of the top choices if you want to sell products online. It's fairly robust while not taking a cut of your earnings, unlike many other platforms. It does have its kinks, but, if you can live with them, it can be the best web platform for small business.
MOST SUITED FOR
Quickly setting up simpler websites
Visit Website
Fast website creation
Very straightforward
Best-suited for more basic sites
A premium plan will give you up to 270 GB of storage
Site123 isn't the most popular site builder out there, but it's one that shouldn't be overlooked. It promises an effortless way for individuals and business owners to run a website.
Here's how it delivers.
Features
Site123 looks to remain fairly lean, so you have to enable most things through integrations. You can do things like send out email newsletters, integrate with social media channels, use Google Analytics, and many more tools useful for business.
The email marketing features are decent. You can send out up to 10,000 emails per month, depending on the plan. This is enough for most small businesses to send out a few newsletters per month, perhaps even once per week, and connect with customers.
One thing that's lacking is the availability of any advanced SEO tools. That said, Site123 is still SEO-friendly enough to let you compete with other local or niche businesses. If you want to build a household brand for an entire country, though, it's not the best website maker.
Speaking of conquering countries, Site123 has solid multilingual capabilities. The backend is available in numerous languages, and you can translate your website and make up to five versions available (something like changing languages in Wikipedia).
You can also take advantage of ecommerce functionality, complete with more advanced features like wish lists and coupons. You can run a full-on online store, though Site123 can't really scale as far as Shopify.
The bottom line is Site123 is solid for building more compact websites—ideal for small businesses.
Design Tools
Site123 offers a good number of templates, but they are all more-or-less similar. You'll have to do your own customization to get a specific layout rather than relying on a template.
You can also choose between a single-page and a multi-page site. The single-page websites are a good choice for simple business-card websites. Site123 is fairly unique here as well, since the typical website builder software for small business isn't really optimized for single-page sites. The only other solution that goes into this functionality is Strikingly.
There is no drag-and-drop, though. Instead, you can insert different preset sections onto your page and then customize them.
You can also use features like color palettes or fonts to change the style of your website or add effects like parallax scrolling.
Site123 also supports adding your own CSS.
You have to be on a paid plan to use most styling features, but this is sort of expected.
Ease of Use
Site123 starts off easy enough. All you need to do is answer a few questions, and the builder will select a template for you—as easy as it gets, right?
Just keep in mind you can't change the template once you publish your site. You should settle on a small business website design before publishing.
After you get your template, you get a guided tour of the interface.  This includes tips on using the features as well as video guides. You get all the help needed to learn the platform.
From there, the interface is straightforward. Site123 doesn't overwhelm you with features, and using even the more advanced tools feels intuitive.
All in all, Site123 makes building and managing a website as easy as one-two-three.
Pricing
Site123's pricing is a bit complicated.
The thing to look out for is you can get outrageous discounts if you subscribe for three years. For instance, the largest plan offers 270GB of storage and a domain name for only $9.73/month. The plan goes up to $19.45 afterward, but you're still getting one heck of a deal.
The thing to look out for is the plans have somewhat limited bandwidth (it's always half the storage you get). It's not a huge issue, but something to remember.
The software gets you good value overall, though. Site123 offers relatively inexpensive website design for small business.
| | |
| --- | --- |
| Pros | Cons |
| Decent features for smaller sites | Not the most scalable |
| Solid design tools | Limited bandwidth |
| One of the easiest builders to use | |
| Massive discounts | |
Verdict
Site123 is an extremely intuitive and affordable site builder. If you want a simple website to boost your online presence and sell a few products, it can be the right one for you. If you want to create even a mid-sized business operation through their builder – it's not the optimal choice. It just isn't scalable enough. It can be the best website builder for a small business if you're not out for aggressive expansion, though.
MOST SUITED FOR
One-page sites and stores
Visit Website
Best for one-page websites
Very easy to use
Pretty affordable
Limited to one website type
Strikingly is one of the newer tools out there. It looks to fit a narrow niche and help solopreneurs and small businesses.
Here's what it offers specifically.
Features
Strikingly's main focus is on single-page websites. This is a trendy design now, and it can make for excellent business card sites. And, Strikingly is pretty much the only website builder for small business pooling as much resources into that specific format.
If you're freelancing or doing any sort of solopreneurship, this can be a valuable asset. All you need to do is throw in a few high-resolution images, and you can have an online portfolio, complete with examples of your work. Potential customers can discover you through it, or you can showcase your business personally.
Strikingly also lets you connect your site to social media channels and adds analytics tools, which can help connect with more customers. There's also an SEO checklist you can follow. This helps you get acquainted with the best SEO practices if it's your first website.
You can also use Strikingly to set up a single-page shop. The plans can take you up to 500 products, though this might be a bit much for the software. If you want to set up a store that sells a few dozen niche products, though, it does the job.
It's the best website builder for small business if you want to set up a single-page site or store.
Design Tools
Strikingly has a solid range of attractive templates. These cover a broad variety of niches, so you should have little trouble picking one that fits you.
The editor is section-based, and each template includes its own preset sections. You should check out a couple of templates and see if you can build what you want. This is simply to avoid a template that's too restrictive for you.
Unfortunately, styling changes are almost non-existent without dwelling into CSS. If you'd like to change certain colors or add borders to an element, you'd either have to look into CSS or have a developer do it.
The design options are decent. Still, you should ensure you're satisfied with the styling before settling on this particular website builder software.
Ease of Use
Strikingly makes it relatively easy to start. After picking a template, you'll get a tour of the dashboard, which makes it easy to find all the features.
The actual navigation is about average. Strikingly doesn't have too many tools, though, so you should be able to find all the options quickly.
You can just add the content and some attractive images, and you're good to go. Setting up a store can take a bit longer, but that's expected.
Strikingly is a fairly beginner-friendly website builder company, all-in-all.
Pricing
Strikingly has three plans:
Limited—one site, $8/month
Pro—three sites, $16/month
VIP—five sites, $49/month
The higher-tier plans also let you sell more products, have bigger mailing lists, enable collaborators, and add more advanced functionality.
The Pro plan has all the essential features, so it's usually the best starting choice for businesses.
The prices apply if you pay on an annual basis. You can prepay for up to five years, though, and take advantage of hefty discounts.
All in all, the plans are relatively affordable, especially if you want to run multiple simple sites.
| | |
| --- | --- |
| Pros | Cons |
| Attractive designs | Limited styling changes without custom CSS |
| Fairly beginner-friendly | Very limited niche |
| Decent discounts on long-term offers | |
| Multisite supported | |
Verdict
Strikingly is unique in that it specializes in single-page websites. If you want something minimalistic for your business, this one is definitely a contender for the best website builder of 2020.
What Are Website Builders
Quite simply, website builders are one of the common ways to create a website.
The traditional way of building a website can be quite grueling. It takes a lot of coding knowledge to both build a website from the ground up and maintain it. So, you either have to be a developer or, more likely, hire one.
Now, it's obvious pretty much every business can benefit from a website. In fact, for the vast majority of companies, a website is a must-have. That said, hiring a developer is often too much for smaller businesses.
This is where website builders come helpful.
A website builder software lets you quickly build a full-on website from scratch. Even beginners can easily set up completely custom pages and run a website without prior experience.
You can also set up a ton of standard functions. The exact ones you get depend on the builder, but many have tools useful for businesses. For instance, pretty much all modern website builders have some sort of marketing tools or ecommerce functionality.
To top it off, most site builders are affordable. This eliminates the need to pay an arm and a leg to get a functional website.
All in all, a website builder lets beginners build and manage a completely functional website. It's particularly handy for smaller or newer businesses that can't dedicate much capital towards creating a website. With a builder, pretty much anyone can create a website design for small business without hiring an additional employee or paying outrageous fees.
Wait, isn't that what WordPress Is For?
A lot of the advantages I mentioned so far are what WordPress actually offers. True, WordPress and site builders have a lot of overlap and offer some of the same technologies.
So, what's the difference, and which one should you choose?
For one, WordPress relies heavily on its plugin architecture for most advanced functions. In other words, whenever you want to add something to the website, you can do it by installing a plugin. This gives you a lot of freedom in mixing and matching features and getting exactly what you want.
Site builders, on the other hand, usually have some extensions. Still, they have most key features available out-of-the-box. This takes away some control, but it makes it easier to create a professional website. Also, it removes much of the guesswork for beginners.
The core WordPress software is free, which can be both a blessing and a curse.
To explain, you have to purchase hosting for WordPress, which usually ends up being cheaper than a site builder. (Of course, you should still factor in the premium themes and plugins.) However, it's up to the hosting provider to choose what kind of support to provide.
Usually, much of the maintenance of a WordPress site is up to you. You have to take care of security, plugin updates, speed optimization, etc.
Website builders, on the other hand, are a hosted solution—meaning the software comes bundled with its own hosting. This is an advantage because the provider is responsible for maintaining both the servers and the installed software.
Also, if anything goes wrong with the website, the support is responsible for fixing it. Builders are much less of a do it yourself website solution than WordPress, making them easier to handle.
What's left to you, more or less, is designing the website and updating its content. You don't have to worry about software updates, security practices (other than having strong passwords), speed optimization, etc.
This can be particularly useful for smaller businesses that can't dedicate excessive time and money to website maintenance. Running a WordPress site can be a full-time job, especially if you don't have lots of experience with it.
A website builder's tech team takes a lot of this off your shoulders, so you can focus on more important aspects of running your business.
To sum up, WordPress can be a bit cheaper, and it leaves more control in how you design everything. A professional website builder, on the other hand, is usually more beginner-friendly and saves you time doing many menial tasks.
Should I Get a Website Builder for My Business?
There are platforms of all shapes and sizes. It can be tough choosing how to get your website online. Let's cover what a website builder can do for your business, and when it's a good idea to use one.
Website Builder Benefits for Small Business
For one, website builders let you spread the word about your business online. This goes beyond setting up a simple website, though. You'll usually get some lead capturing tools, email marketing functionality, SEO optimization, integrations with social channels, and more.
All is meant to help draw attention to your website and business, which is crucial for growth. Plus, a website can get incredible results while being much more affordable than traditional marketing.
Now, some business owners don't think small local businesses can benefit from this.
Nothing could be further from the truth. Businesses like family-run restaurants, ice-cream shops, etc. can see even greater effect if they create a professional website.
It's pretty simple. All you have to do is set up a representative website and add the info to Google Maps. Everyone in the area searching for a similar business will be able to easily find you. Also, if competing companies near you haven't done this already, you'll get a massive edge.
Another massive benefit is being able to sell products online, especially if you want to make a digital product available. Many site builders have some sort of ecommerce functionality, and some even let you connect the site to your brick-and-mortar shop.
Some are better-suited towards sole-proprietorship businesses and any others, which sell a small number of products. For instance, Squarespace is the best website building software if you want to sell art prints or photographs. Shopify, on the other hand, can work well if you want to set up a larger store with dozens or hundreds of products. Some software can even let users order takeout through your site.
All in all, there's something for everyone. You can use the business website builder to promote your enterprise or place a product online.
Website Builders vs. Other Platforms
The most prominent advantage website builders have over other platforms (especially when we're talking about small businesses) is the time they save you.
For one, most are extremely easy to use. These are almost always template-based platforms, meaning you can use themes to set up a base for your website. From there, it only takes minimal effort to get a unique design. You can easily set up a functional website within a day, especially if you're not new to computers.
Website builders also free up most of the time you would have to spend doing maintenance. For instance, CMSs like WordPress require you to put in some effort into things like speed and security optimization. With site builders, the company behind the software takes care of it.
Pretty much the only meaningful effort you have to put in is toward creating the actual content for your website.
This can be a particular advantage for smaller businesses since they typically can't afford to hire an in-house developer to manage everything. In such cases, somebody has to handle the website alongside their everyday work.
If you're a solopreneur, for instance, you'll likely have to be the CEO, website designer, and developer – all in one. This also means taking the time to learn a new platform – and then build and maintain everything.
A website builder frees up as much time as possible, so you can dedicate your efforts to more important activities. It's fairly easy to learn all the ins and outs of a site builder, and software maintenance will take much less time.
The price may be marginally higher than WordPress or Joomla hosting. That said, the time you save with website platforms for small business can pay dividends.
Bottom Line
Mostly every business out there can benefit from a dedicated website. A website builder can help get a website online, while being beginner-friendly and requiring very little time. It can be an awesome asset for businesses that can't dedicate much manpower to running a website.
If you're interested, you can check out the best picks for small business website builders above. I also outlined explicitly what to look for in a website builder below, so you can pick the right one.
How the Choose the Right Website Builder
The reviews above outline the best website designers for small business. That said, you might be looking at a different solution or want to evaluate the providers for yourself.
Here's what to do if you want to go about picking a site builder the right way.
Plan out Your Budget
Since you're getting a site builder for your business, it's good practice to plan out spending in advance.
This comes down to how much you can spend on getting a site without putting a dent in your business's budget. The cost should cover the website builder and a domain name, as well as some premium features (if you need any).
A reasonable price for a website building platform would be from $50/year to $150/year – nothing over the top. A .com domain name costs around $10-15/year, which is affordable as well.
The price does depend on what you need, though. If you want to sell products online, you'll likely have to pay a bit more.
Your best bet is to pick a price range and see what fits. It will save you a lot of time looking at things you won't really purchase. Once you know what's available, you can start comparing offers.
Check out Features
Key things to look out for when picking the best DIY website builder for small business are sales and marketing features. Things like email marketing functionality, SEO tools, engagement features, etc. can all help draw attention to your business.
Having lots of great features should be a priority. That said, many first-time buyers make the mistake of going for the builder with the fanciest and flashiest offer.
Website builders make many features available out-of-the-box. This is, on the one hand, useful since you don't have to install a host of plugins. On the other hand, you're sort of stuck with the features you get.
That's why you should think about the tools you really need and go for the builder that matches the list as well as possible. And, if the provider offers a couple of features you don't need, it's not really a tragedy.
If a builder has dozens of features you won't really use, though, you can try to find a better fit. One benefit of more bare-bones solutions is that it's likely cheaper and also faster. Features you don't use can still spend resources, so it's better to find a more appropriate fit.
Another tip is that, if a web page builder doesn't have a feature you need by default, you can check the plugin library. Many builders have free extensions you can install. Some even make their API public so you can connect custom apps.
Plus, relying on extensions a bit more can be a benefit, since all the extra features won't bog down site performance.
Responsiveness
Responsiveness is simply a must-have in 2020. Most traffic now comes from mobile devices, so it's paramount to have a website that works and looks attractive on phones and tablets. Otherwise, you risk driving away more than half your users.
Pretty much all modern site builders create fully responsive websites. If you run into one that doesn't, you're most likely dealing with outdated technology and should find a more modern solution.
Is it User-friendly?
The best business website builder should be easy enough for complete beginners to handle. This just saves you time. Plus, you'll be more likely to get the results you want.
The thing to look out for is easy navigation. You should be able to quickly reach all features from the dashboard. The more obvious everything is, the better.
Fortunately, this is pretty easy to check. Just refer to our last step in this section.
What about the Designs?
Everybody wants a website that looks sleek and attractive. The first thing to check out is the templates and the editor.
The templates provide a starting point. It's good to have more modern templates, since this saves you some time customizing your website.
The editor is the more important part, though. Ideally, you'll want a drag-and-drop WYSIWYG web builder. The drag-and-drop gives you complete freedom in how you design page layouts.
Some editors are based on sections, though, and they only let you move around preset parts of a page. This can work too—it just depends on how much customization you need.
As for the WYSIWYG part, it lets you see what your page looks like as you're making the changes, as opposed to hitting the "preview" button. This just saves you a lot of guesswork and lets you produce the design you want faster.
It's also worth thinking about how in-depth you want to go with the design. Can you apply some CSS styling changes, or do you have to use high-res images to get a unique look?
All options can work, so you should think about your desired design and how particular you want to be.
Test the Support
This is arguably one of the most important factors to check about any service. However, it's even more important with something that works only if the tech team does its job correctly—like a website builder for small business.
Ideally, support should be available 24/7 and have fast reply times round-the-clock. The agents should also be eager to help and knowledgeable about their platform—how else are they going to help you?
Feel free to contact the support before you settle on any software. Contacting it a couple of times should give you a pretty good idea about the speed and quality of service you can expect. It might seem obvious, but it's what thousands of users overlook.
Try it Out
This is probably the most crucial step on the list. Trying out a website builder software is the only sure-fire way to know it's for you.
It pays off to be careful here.
With regular hosting, it's possible to transfer an entire website if you pick a wrong provider. With website builders, though, you're kind of locked in.
There's simply no way to transfer an entire website built with a website builder, since no other provider hosts the same application. You can only transfer your data to a different platform, which can be a long and expensive process.
That's why it can pay off to put thought into your choice of a website building tool before actually settling for a platform.
Fortunately, most website builders offer some sort of limited-time trial or money-back period. This lets you safely try out the platform without loss if it doesn't work out. Your best bet is to try out a platform you think is the right fit and back out if it's not right.
Just check the exact length of the money-back period and decide before the time is up. As long as you can keep that in mind, you can test out the software without risk.
Wrap Up
Those were top picks for the best website builder for small business.
You now know what the top solutions are. This covers the best options for marketing and ecommerce, as well as the best free site builder.
You also know the basics of site builders and how they can boost your business. You can refer to the list above when testing a builder yourself.
You are now ready to try a solution for yourself and get your site up and running.
FAQ
What is the best free website builder for small business?
Finding the best free website builder for small business can be tricky.
Site builders like Weebly and Site123 have a decent free tier. However, it's not the best idea to use free offers for small business purposes.
To explain, most free plans are missing some functionality, which is intended to push you toward upgrading. Most notably, free builders give you a subdomain instead of letting you connect a domain name.
Thing is, not using your own domain makes you look unprofessional. It's better to at least pay for the cheapest plan and set up your own domain.
Which website builder is the easiest to use?
If an intuitive site builder is what you're looking for, you're in luck. Being easy to use is the main selling point of practically all website builders, so many are competing for the top spot here.
WiX and Weebly are reasonably straightforward, while still being robust enough for most individuals and businesses. Site123 is probably the easiest website builder, but it's more suitable for smaller sites. Still, most other solutions are also easy to handle.
How much does it cost to build a website for small business?
It really depends since website builders have very different pricing structures. Some are cheaper, but have fewer features, and some charge you a transaction fee.
You can get a fairly decent start for around $5-10 per month. This might go up if you want to sell products or use more advanced marketing and analytics functionality—which should be the eventual goal with most businesses.
Is Weebly good for small business?
Weebly is a reasonably practical solution to create a professional website.
It's SEO-friendly and features many marketing tools, so it can help you spread the word about your business. It's also ecommerce-ready, and you can use it to set up quite an online store.
Weebly is also reasonably easy to use, though it lacks WiX's quick setup. The higher-end plans also add features that make ecommerce easier. This includes things like tax and shipping calculators and inventory and order management.
All things considered, Weebly is a pretty decent tool. It can work, both if you want a simple business website or something more advanced.
How do I set up a small business website?
An accessible way is to go for a website builder. Many solutions, like WiX and Shopify, let complete beginners handle small business web development. In turn, this helps boost their business and even sell a few products.
If you're interested, check out the best site builders for businesses above.
What is the best and cheapest website builder?
Those should really be two questions. Joking aside, though, some builders are cheap while still being reasonably robust.
Builders like WiX, Weebly, and Site123 are all affordable but still get you some bang for your buck. If you're interested in good-value deals, check out the top picks for the best website builder for small business above.