Affiliate Disclosure
We aim to provide you with the best tech news and reviews. To sustain our site, we may earn a commission when you buy from our affiliate links. Read our full Affiliate Disclosure.
Computer requirements: 512 MB RAM, 1 GB HDD
Data backup and recovery: Yes
Versatile data management: Yes
Selective file transfer: Yes
Multiple-device management: Yes
Wi-Fi connection to a computer: Yes
works on:
Windows
Mac OS
Managing and recovering phone data
STRENGTHS
Straightforward to use
Simplified data backup and recovery
Powerful phone data management
Works with nearly all Android devices
WEAKNESSES
You need to buy a license code to access all the features
The UI could use some improvements
PRICING PLANS:
Unit Price
$29.95/per unit
All kinds of unexpected issues may arise when you're using a mobile phone, so it's good to have a software tool for managing your device's data, keeping it secure, and recovering it if you ever delete anything by accident.
As many other MobiKin reviews point out too, the software made by the company is precisely such a tool.
So, if you want to learn more about it, keep scrolling!
What Is MobiKin Assistant for Android?
MobiKin's Assistant for Android is a software product that simplifies the process of creating, deleting, transferring, and restoring data on your Android device.
Additionally, it improves the process of data management by creating a versatile connection between your phone and computer.
The software has versions for Windows and MacOS and works with almost any mobile device running the Android operating system.
Features
MobiKin has many great features that are designed to make your life easier. We'll cover some of them in the following sections.
Backup and Restore Data
Once you've set up the program, you can back up your phone's data directly on your computer. If you need to restore data, the program will clean the destination mobile device and perform the restoration.
Android Data Management
The MobiKin app allows you to efficiently manage your phone's data, and even some of its apps, through a connected computer.
For example, you can add photos, videos, and other types of media from your computer to the destination mobile device and copy or move them from one album to another. You can also create new contacts, modify existing ones, and keep track of e-books and music.
Additionally, you can even install and uninstall Android apps directly from your computer.
Selective Transfer
Usually, most people don't transfer all of their data at once but save specific files and folders and later modify or add to them. With MobiKin, you can work with your files and folders selectively, and the software will never change the format and quality of your data.
Other Highlights
MobiKin is an excellent option for those who need a tool compatible with as many devices as possible. It performs equally well with Android phones from any major brand, including Samsung, HTC, Sony, LG, Huawei, and others.
The MobiKin Assistant for Android can manage data stored on a phone's hard drive or its external SD card. It can capture screenshots and save them on your computer. And you can have multiple Android devices connected at once.
You can use either a USB cable or Wi-Fi. However, to connect wirelessly, you have to download the software on your mobile device as well.
Plans and Pricing
The software doesn't have specific price plans, so you'll be presented with only two options when you're ready to buy it:
1-Year license — $29.95 for one PC
Lifetime license — $39.95 for one PC
After making a purchase, you'll receive your license code within minutes, and you'll be eligible for a 90-day money-back guarantee and free technical support.
Disclaimer: All prices above are based on the company's current offerings. MobiKin may change them without prior notice.
Customer Support
MobiKin Assistant is backed by a customer support team, and the company's help center can assist you with answers to common questions about purchases, refunds, and the product itself.
If you can't find the answer you need, you can contact the support team directly at [email protected].
Currently, the company doesn't offer phone or live chat support, which are the fastest ways to get help immediately. Despite this flaw, many users note their top-tier customer support.
Plus, the wait time for a response is usually one business day, which is good enough for most non-urgent issues.
Ease of Use
MobiKin offers a solid solution whose key upside is its simplicity. Once you get your registration code, you need to paste it into the appropriate field after the installation, and you'll be all set.
The efficiency that we've experienced completely matches what other reviews of this tool say. For example, both the USB and the Wi-Fi connection options performed equally well. The data migration doesn't take long and can be done with a single click.
All in all, after testing the software first-hand, our MobiKin Assistant for Android review can confirm that it performs as promised. It's also quick, lightweight, and extremely practical.
Furthermore, remember that MobiKin's efficient support team adds an extra layer of security for users of their product, making it a strong contender on the market that we definitely think is worth its price.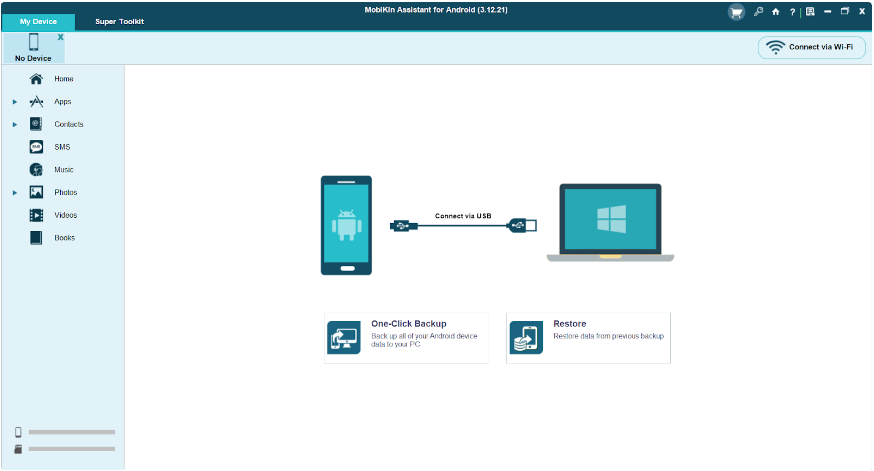 MobiKin Alternatives
Unlike other products, such as TunesKit System Recovery, which is built for iOS, or the cloud storage service, Polarbackup, MobiKin combines data management and backup in a single tool.
Let's see how it compares to two of its prominent direct competitors.
MobiKin vs Mobile Trans
The most important difference between the two is that MobileTrans focuses primarily on mobile-to-mobile transfers and can retrieve WhatsApp data.
Their price points are somewhat similar, with MobileTrans being the cheaper option per PC. And it also offers more flexibility, with plans for Business and for Education, alongside their Individuals plan.
MobiKin vs Samsung Switch
Samsung's Smart Switch is a solution mostly exclusive to Samsung devices, although it's also compatible with some models from other popular brands. It helps users manage their multimedia, contacts, notes, messages, etc.
While Smart Switch is Samsung's own tool, MobiKin works very well not only with Samsung phones but also with other brands.
If you're a Samsung owner, the right choice for you would depend only on your preferences. However, if you think there's a chance you might try another brand in the future, using MobiKin is a good idea.
Verdict
Having an easy-to-use software tool that would provide a backup and restore solution if things go wrong with your mobile device is priceless, as it brings an additional layer of security.
Hopefully, our MobiKin Assistant for Android review has convinced you that this mobile assistant and data recovery tool is perfectly suitable for managing your phone's data and keeping it securely backed up.
We've strived to be as thorough as possible, since we know that online reviews influence the purchasing decisions of 97% of people.
FAQ
Is MobiKin trustworthy?
Yes, it is. MobiKin has been in operation since 2007 and has decades of research and development under its belt. Its products are used by over a million happy users worldwide, and the positive customer reviews online attest to that as well.
Is MobiKin safe?
The software is fairly simple in its design and straightforward in terms of what it's meant to do. Therefore, there's no reason for any concerns regarding the safety of your data or the chance of getting malware while downloading it from MobiKin's official website.
Is MobiKin Transfer free?
Many MobiKin reviews, including ours, will tell you that MobiKin's software isn't completely free to use, but the company does offer a free trial. However, to unlock this tool's full potential, you'll need a registration code, which you'll get when you purchase one of the two available plans.