9 Cheapest WordPress Hosting of 2021
[BEST VALUE HOSTING]
Sometimes, cheap WordPress hosting is exactly what you need.
When you're starting out, or if your website is fairly lightweight, it is tempting to go for the cheapest WordPress hosting option.
Unfortunately, companies tend to skimp on crucial features when it comes to cheaper plans. Users are going to have a bad time visiting your website if your host is not up to scratch.
That said, there are few exceptions that offer a good service.
To help you make the right choice, we reviewed the top providers under $5/month. Scroll down to discover the best places to host your WordPress site without breaking the bank.
Last Updated: November 25, 2020
Advertiser disclosure
This page may contain links to our partners' products and services, which allows us to keep our website sustainable. This means that websitebuilder.org may receive a compensation when you sign up and / or purchase a product or a service using our links. However, all opinions expressed in this article are solely ours, and this content is in no way provided or influenced by any of our partners.
Top 9 Cheapest WordPress Hosting 2021

Top performer
Lots of proprietary tech
Industry-leading support
Try Now
Full Review

Fixed-price deals
Awesome support team
Fantastic WordPress optimization
Try Now
Full Review

Fast and reliable
Reasonable pricing
Generous resource allocations
Try Now
Full Review
How We Found the Best among the Cheapest WordPress Hosts – Our Ranking Process
WordPress is an immensely popular technology, so there are many hosts available. Here's how we tested the platforms to ensure only the best cheap WordPress hosting companies made it to the reviews below.
Check out what's in the market—This is where the review process starts. We checked which reputable platforms offer decent features while still being reasonably affordable. We selected a range of platforms to test from there.
Go through user reviews—User reviews are a massive, readily available repository of data. Going through, with a critical eye, what real users experienced can provide incredible insights into what works and what doesn't.
Inspect the legalities—Purchasing hosting means you and the provider enter into a legal contract. You ought to know the specifics of what you're signing up for. Now, we do realize reading terms of service is no one's idea of fun. That's why we went through the documentation for you and looked out for any sneaky clauses.
Review the features—This is the reason to purchase a hosting plan. We tested how well the hosting companies handle WordPress and if all the features work as intended. This had a major part in how we ranked the platforms.
Test performance—A proper platform should be fast and reliable. We hooked up the services to several testing tools. We did multiple site load tests and monitored the uptime for several months. This helped us ensure the platforms would help you keep your site blazing-fast and always available.
Reach out to the support—Support is a major part of hosting. You'll want a support team that's fast, available 24/7, and helpful. It's also critical for the agents to have experience with WordPress and resolving common issues. We contacted the support numerous times to ensure it fits all the criteria.
Put it all together—We ranked the providers based on all the factors above. The price played a significant part here, but we also ensured the platforms perform well in other aspects as well. You can check out the best-value cheap WordPress web hosting providers just below.
Detailed Reviews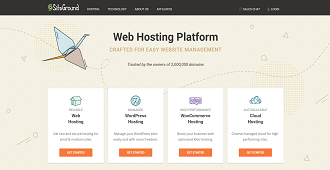 SiteGround Review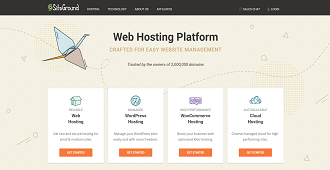 BEST FOR
Robust, high-performance projects
Visit Website
Lots of proprietary tech
Top performer
Industry-leading support
Somewhat higher-end than most shared hosts
SiteGround is one of the most adored providers out there. It comes recommended by thousands of users, dozens of experts, and WordPress itself.
It offers some relatively affordable plans to boot. A portfolio like that warrants a review.
Features
SiteGround's WordPress hosting is known for its robust proprietary tools. Many of these are designed specifically for WordPress website owners.
A big feature is the automatic updates. You can let SiteGround update the core WordPress software as well as the plugins for you. You can also delay or skip specific updates, which adds a level of control that can be useful.
It's usually good practice to keep everything updated, but some scenarios might be an exception. SiteGround is one of the few providers that offers both automatic updates while accounting for special cases.
The tech team also manages your security patches and the firewall. They dedicate special attention to handling known WordPress vulnerabilities, so SiteGround is one of the most reliable WordPress hosting providers.
You can get another solution that monitors your specific website and notifies you of any issues. This is a paid service, though.
The support can also handle one migration for you free of charge. Subsequent migrations are paid, but you can also use SiteGround's migration plugin. This lets you easily migrate as many sites as you want. I'll cover how migration plugins work below, but the key part is that this is a rather decent solution.
If you're a more advanced user, you can also use tools like WP-CLI. This is the command line which gives you more direct access to files and can make it faster to perform WordPress functions.
The WordPress hosting plans are rather developer-friendly to boot. You can do things like run different versions of PHP for specific folders. If you work with other developers, you can easily add collaborators and use the Git integration for version control.
The service also comes with a Wildcard SSL (which can secure more complex sites with multiple subdomains). Daily backups are also in the mix, and SiteGround saves the versions for 30 days. You can also use SiteGround's emailing solution.
All things summed up, it's an excellent platform with lots of robust features.
Performance
SiteGround sports awesome performance.
The platform now runs on Google Cloud, which is one of the most reliable WordPress hosting platforms out there (along with, perhaps, AWS).
The uptime has been at 100% for well over a year now, so there's little to talk about there. The tech team does an awesome job of maintaining the virtual servers and the software, so there's virtually no unscheduled downtime.
The servers are also fast. A basic WordPress installation fully loads in well under a second, without any additional caching or speed optimization.
The service also includes a proprietary plugin called WP Optimizer. It is an all-in-one speed optimization solution. The tool covers things like multiple layers of server-side caching, GZIP compression, script minification, image compression and lazy loading, and more.
Combined with Cloudflare CDN, this achieves awesome results. You can get blazing-fast load times with minimal effort.
SiteGround is easily one of the best WordPress hosts overall.
User Reviews
SiteGround might just be the most popular WordPress host in the world. For starters, it's difficult to find any WordPress hosting thread on the internet not recommending or at least mentioning it. Even better, it was voted the best WordPress host in a poll of thousands of website owners.
The negative reviews are sparse, and mostly have to do with highly technical details that don't apply to most users. A high-quality platform just breeds high expectations.
One valid point, though, is that the plans become relatively pricey on renewal. This is a fair point—the renewal is about three times the initial cost.
Plus, SiteGround tacks on a setup fee if you decide for month-to-month WordPress hosting payments. Most users go for a longer subscription to take advantage of the discount, but this is still something to keep in mind.
It's just the cost of using one of the best platforms out there. It's worth it to leverage the low initial cost till you can get your site off the ground and make it profitable.
Support
Poor support is something plaguing way too many hosting providers. Luckily for everyone, SiteGround is a massive exception.
The support team is lightning-fast, for starters. I am yet to wait over a minute for a reply from one of the provider's well-trained support agents.
Even more importantly, the agents are remarkably well-versed in resolving WordPress issues. They can quickly do things other cheap WordPress hosting providers would take weeks to accomplish.
To top it off, the agents are courteous and have an excellent attitude. It's refreshing to see a provider handle support so splendidly when many support teams don't even know the way around their own platforms.
| | |
| --- | --- |
| Pros | Cons |
| Awesome proprietary tools | More expensive on renewal |
| Fast and stable platform | Setup fee if you pay monthly |
| Comprehensive speed optimization tools | |
| Stellar support | |
Verdict
SiteGround's offer starts at just $3.95/month, which is more than reasonable for one of the best platforms out there. The plans do get more expensive on renewal, though, so your best bet is to extend the discounted period by prepaying for longer.
If you can prepare for the more expensive renewals and make your website profitable before the hosting term is up, SiteGround is definitely worth it. It's one of the absolute best platforms out there.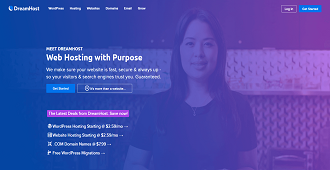 DreamHost Review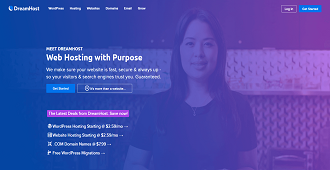 BEST FOR
Getting the most affordable long-term deal
Visit Website
Fixed-price deals
Fantastic WordPress optimization
Awesome support team
Migrations are a tad pricey
DreamHost is one of the oldest providers in the industry. It's also one of the recommended WordPress hosts, and it strives to offer a platform worthy of that.
Here's how it does that.
Features
DreamHost offers many useful features, so let's dig right in.
Probably the best feature is DreamHost's new WordPress website builder (and I'm not just saying that because I love site builders).
Joking aside, the solution is pretty robust. It lets you pick from over 200 templates, which provide an excellent place to start. You can use its drag-and-drop frontend editor to completely customize these to your liking.
The builder even helps you with SEO. It's a nice touch, though you still might want to run a separate SEO plugin.
It's a completely different experience from WordPress's standard Gutenberg editor. WordPress site builders can be pricey otherwise, so it's fantastic DreamHost offers one free of charge.
Like other managed WordPress hosting providers, DreamHost handles your WordPress updates and security patches—which always saves time and boosts security.
DreamHost also offers a WP migration service, but this is paid. It's $99, which is pretty costly, especially since most WordPress hosts do at least one migration for free.
Emailing is also paid, but it is much more affordable, at only $1.67/month. The service works like a charm, so it's worth it if you need an email inbox to go with your hosting.
Other than that, you get daily backups, SSL security, and a bunch of other features.
There are, in particular, many tools for developers. The platform gives you cron access, uses SVN for versioning, and supports many technologies like Rails, Python, Perl, and SSI.
Put it all together, and there's a lot for both beginners and developers to like about DreamHost. It sports excellent features, even though it's among the cheapest WordPress hosting solutions.
Performance
DreamHost boasts about its servers being optimized for WordPress specifically. To its credit, the servers are some of the best-performing out there.
A basic site loads in about 0.75 seconds, which is just brilliant. Plus, the servers perform excellently even under high traffic—they can handle well over 200 concurrent connections with little to no performance loss.
The uptime is not too shabby either. The host consistently records excellent uptime of above 99.95%. This is less than 20 minutes of monthly downtime, which is mostly unnoticeable and well above industry standard.
All in all, DreamHost offers fast and reliable WordPress hosting.
User Reviews
No end of users praise DreamHost for being an excellent WordPress host. Everybody loves the blazing-fast platform and the helpful support—and deservedly so.
A few users did complain about the lack of cPanel. DreamHost does run its own control panel.
The control panel is kind of hit-and-miss. It does lack some features of cPanel (like the direct access to website files). If you're already used to cPanel, you might find the solution a bit clunky.
Other than that comment, the reviews are mostly positive.
Support
DreamHost runs one of the best support teams among cheap WordPress website hosting providers.
For starters, the agents tend to answer all queries quickly. Live chat gets near-instant responses, and email tickets tend to get resolved quickly as well.
The agents are well-versed in WordPress and other open-source technologies. They can help with every issue you might face and optimize your environment perfectly. They have helped numerous customers with their WordPress sites—as is illustrated by the stellar reviews.
The provider's knowledge base is also decent. DreamHost frequently updates its WordPress guides, and you can find instructions on pretty much everything you need to know to become an independent website owner.
| | |
| --- | --- |
| Pros | Cons |
| Great WP site builder | Pricy migration service |
| Decent features | Control panel lacks some functionality |
| Solid support | |
| Affordable long-term | |
Verdict
DreamHost does require you to prepay for three years to get the cheapest WordPress hosting deal. However, this gets you hosting for $2.59/month forever, and not just for the first term. Plus, you get a free domain name registration.
Since most providers ramp up their prices once you have to renew, DreamHost has one of the best long-term deals. Best of all, DreamHost's money-back guarantee is the longest in the business—97 days.
You have plenty of time to make sure the platform works for you. If you can afford to prepay for three years, the value you can get is through the roof.
Bluehost Review
BEST FOR
Robust, yet affordable plans
Visit Website
Fast and reliable
Reasonable pricing
Generous resource allocations
Shady SLA policies
Bluehost is one of the biggest names in hosting today. It hosts 2 million websites and counting, and it is one of the WordPress-recommended hosts.
Here's how it justifies the attention.
Features
Bluehost's optimization starts with the install.
Many website owners don't bother to change the default WordPress logins right in the beginning. Unfortunately, attackers know this and use it to exploit new WordPress sites.
Bluehost closes this small window of vulnerability by changing the default logins on installation. It's a minor detail that can save new users a lot of heartache.
After the setup phase, Bluehost handles the WordPress updates and security patches, like most providers. It also lets you set up a WordPress staging environment, which is always helpful when you make significant website changes. You can make adjustments in a safe environment and only push them to production once you're certain everything works.
Bluehost also adds a bunch of attractive freebies to the cheap WordPress hosting offer. These include an SSL certificate, domain name registration, emailing, Cloudflare CDN, and $200 worth of ad credits. All can be pretty handy, so it's an advantage for Bluehost.
Bluehost does present you with a ton of upsells once you try to purchase a plan. These are Codeguard backups, SiteLock security, proprietary SEO tools, Office 365 email, and domain privacy.
Even more annoyingly, Bluehost preselects some of these for purchase in the shopping cart. The tools aren't that pricy, and things like domain privacy can be a big plus, but the way the provider goes about it is just annoying.
The starter plan costs $3.95/month, if you prepay for three years, and renews at $7.99/month. This limits the storage to 50Gb and 200,000 inodes, which is generous for an inexpensive WordPress hosting plan.
You can only host one site, which is standard for a starting offer.
Bluehost did raise its price recently, which now puts it in a similar price range as SiteGround. This is fair, considering they have similar feature sets. Still, Bluehost is slightly more affordable long-term and doesn't require you to purchase a domain name, though.
If SiteGround's WordPress hosting pricing is a bit much for you, Bluehost is an excellent alternative.
Performance
Bluehost's monthly uptime averages around 99.98%, according to long-term testing. This ends up being around eight minutes of total downtime per month, which you likely won't even notice.
Yet, Bluehost is one of the few remaining providers without an uptime guarantee. This is just a small matter, given the provider's solid uptime record, but it is still strange. Having an official guarantee in the legal documents would have provided some peace of mind.
Bluehost's speed is respectable as well. The host consistently ranks in the top five fastest providers, taking just under a second to fully load a basic WordPress site.
One thing is that Bluehost lacks are speed optimization features, save for Cloudflare CDN. You should be ready to install things like a caching plugin and speed up the WordPress site yourself. A plugin like W3 Total Cache or WP Rocket can do the job here.
User Reviews
Bluehost gets enough negative reviews to raise some eyebrows. There's indeed a stigma attached to EIG, but the amount of negative attention is still concerning.
Most Bluehost user reviews complain about the support taking too long to fix an issue or the emailing not working. This certainly isn't how the provider performed during testing, but it's still something to be wary of.
Support
The support performs rather well. You'd usually expect an EIG-brand to have declining support quality, but Bluehost is a pleasant surprise here. The support has actually improved in the recent period and is getting even better by the year.
The support gives prompt answers, even to tough WordPress-related questions. They have no trouble guiding users or optimizing their websites for them. It's one of the best support teams among cheap WordPress hosting companies.
The knowledge base offers an extensive array of WordPress guides. There's also a search bar that works well—and you'd be surprised how many hosts don't have one. You can also organize articles according to various criteria like most viewed or most relevant to your search, which just helps quickly find what you need.
| | |
| --- | --- |
| Pros | Cons |
| Decent features | Lots of upsells |
| Solid performance | No uptime guarantee |
| Respectable support and knowledge base | Shoddy reputation |
Verdict
Bluehost is one of the more robust solutions in these reviews. It offers solid features while still being a relatively affordable WordPress hosting provider, both in the short and long-term. It's a decent choice, though there are a few things to keep an eye on.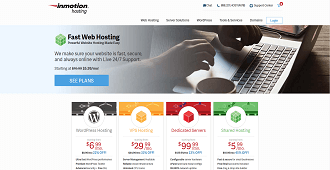 InMotion Hosting Review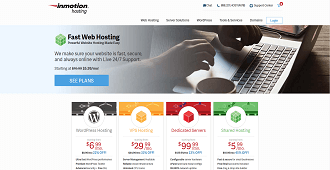 BEST FOR
Hosting sites in the US
Visit Website
Lightning-fast
Lots of features
Well-trained support team
No servers outside the US
InMotion Hosting is an independent provider, but it's by no means small. In fact, it's one of the largest independent hosts out there.
Its shared plans are WordPress-ready as well. Here's what's in the packages.
Features
InMotion Hosting preinstalls WordPress for you and handles updates. There is no instant account activation, though, as the provider requires you to confirm your identity via phone. This is a bit of an unnecessary step, and many of the best hosting sites for WordPress skip the authorization.
The core part of the offers is the BoldGrid WP website builder. It features 200 pre-made templates you can use or edit through a frontend editor. The solution offers an easy way to create completely custom pages and layouts, which is impossible with the standard Gutenberg editor.
BoldGrid comes with a Total Upkeep plugin, which is how InMotion handles backups. It lets you easily set up automated offsite backups on your own schedule. It's best to time backups for low traffic periods, so WordPress won't start backing up files in the middle of peak hours.
It even lets you set up exceptions if, for some reason, you don't want specific files to get backed up. Likewise, you can restore specific files to their previous condition, or roll back the entire website. This makes it pretty much the most advanced backup tool you can get from one of the cheapest WordPress hosting providers.
The starter plan also comes with a free version of Jetpack preinstalled. This is a generally handy plugin, so you might as well keep it.
If you decide to upgrade down the road, though, InMotion will throw in a premium Jetpack license. This adds more power to the monitoring and security features and ends up being a rather good deal.
Speaking of security, InMotion Hosting offers a full suite of tools, complete with a firewall, malware scanning, and spam protection.
The WordPress hosting plans also support WP-CLI and include a staging environment you can use. This makes InMotion suitable for more advanced users.
Of course, you get a bunch of other handy features, like SSL security, a proprietary caching solution, cPanel, and advertising credits.
The platform costs $4.99/month if you go for a three-year subscription, which is right at our price limit.
However, you do get awesome features, and InMotion throws in free domain registration. The solution can handle up to 20,000 unique monthly visits, so you can grow your site more popular than usual while staying on the starter plan.
Plus, the renewal cost is $7.99/month, which is a very cheap WordPress hosting price for such features.
Performance
InMotion hosting's average uptime is 99.95%, which is decent. Although the percentage fluctuates a bit month-to-month, it never fell below 99.9%—and that's what you should look for.
The speed, on the other hand, depends on the visitor location.
The thing is that InMotion only runs data centers in the US—one on the East and one on the West Coast. It does use a technology called Max Speed Zones, which should help speed up your WordPress site's load times in remote locations. However, there is definitely a measurable response time difference as you move further from North America.
The hosting is fast in the US, and it can work even if you have a few outlying visitors. If you target an audience outside the US, though, it might be better to go with a more international provider.
User Reviews
InMotion Hosting gets mostly positive user reviews from WordPress website owners. Many love the decent performance and top-notch features. Some also praise the support for fixing various issues.
There are a few recent negative reviews as well. Some users complained about declining security and support quality. The testing points to the contrary, but there's enough negative attention to cause concern. It's worth keeping in mind, even if InMotion's cheap blog hosting does its job in most cases.
Support
The support is available through the standard channels—email, live chat, and phone. You can also use Skype. This is a helpful alternative if you want to get the support team on call, but you're outside the US.
The live chat feature is sort of clunky, however. It takes the support some time to answer, especially if you try it during peak hours. Plus, the chat opens in a new browser window and does a sloppy job of notifying you when the support answers. I'll admit I missed the agent's message a couple of times.
That said, the actual quality of the support more than redeems this. The agents are proper WordPress experts and courteous to boot. They do a fantastic job of both providing assistance to clients and maintaining the overall platform and software. All things considered, it's one of the top WordPress hosting support teams.
The knowledge base is equally as good. There's a range of helpful articles, many of which are on WordPress and using some related features. The knowledge base has decent navigation, though the search feature is clunky. You're better off scanning the articles yourself if you need something.
The overall support is decent, though it could be a little more efficient.
| | |
| --- | --- |
| Pros | Cons |
| Top-of-the-line features | Performance suffers outside North America |
| Decent performance | Support can be a bit slow |
| Top-notch tech team | |
| Extensive knowledge base | |
Verdict
InMotion Hosting is a tad pricier than some solutions I covered. However, the provider adds a range of excellent features and freebies that add massive value. Plus, the long-term price is fantastic for the quality of the platform. It offers some of the best hosting for WordPress of 2020, as long as you target the US or Canada.
InterServer Review
BEST FOR
Long-term projects in the US
Visit Website
Lots of WordPress features
Affordable deals
Price-lock guarantee
Free hosting for students and NGOs
InterServer is an independent, US-based hosting provider. It's not the largest company in the industry, but it comes well-recommended by experts and ordinary users alike.
Let's jump right into the features.
Features
You can use a 1-click installer to set up WordPress. Like other managed WordPress hosting providers, InterServer can handle core WordPress and plugin updates for you.
One awesome service is that InterServer's tech team guarantees to fix any exploited accounts. If your website falls to malware or any other attack, which is a real danger, InterServer's tech team will get your site back to a functional condition. They'll even clean up any existing issues if you transfer from another provider—the migration is free, as long as you have a cPanel backup, by the way.
From there, InterServer offers various proprietary tools you can use.
One of them is InterShield, which is a security suite that includes a virus scanner and firewall software. It uses machine learning technology to analyze the data from all sites hosted with the provider. This helps it design custom rules to prevent and contain any future attacks.
InterServer WordPress hosting also comes with many other useful features, including:
SSL security
Caching
Cloudflare CDN
cPanel
Raid-10 redundancy
… and more.
There is no free domain name, but you can register one for only $1.99, which is still pretty affordable.
The plan is affordable as well—only $4/month. The price is fixed, so you can avoid steeper renewal fees down the road.
In fact, InterServer takes it even further and guarantees the price will remain $4/month for as long as you're using the service. If you're looking for a long-term host, this means you won't have to deal with any unpleasant price changes in a few years.
If you're a student, you can even get a year of free hosting. Admittedly, most people can't use this, but it's an awesome offer nonetheless.
Even without the free hosting, though, it's one of the best cheap WordPress hosting offers for the long haul.
Performance
InterServer's uptime averages at 99.95%, which is what you'd expect from a decent provider. This fluctuates a bit month-to-month, but was always above 99.9% so far, as per the uptime guarantee.
InterServer's speed is even better. A basic WordPress site takes, on average, less than 0.75 seconds to load. This puts InterServer in the same speed range as SiteGround and Hostinger, i.e., the fastest WordPress providers.
Keep in mind InterServer's data centers are in the US. The speed may suffer if users are visiting your website from Europe or Asia.
In North America, though, InterServer's cheap blog hosting sports top-notch performance.
User Reviews
You won't be surprised InterServer gets a lot of praise for its effectiveness. The platform simply outperforms most other providers and for a very affordable price.
The negative comments are rare. A few users did mention the things I already discussed—like that the service is fastest in the US.
Most users understand the strengths and weaknesses of the platform and make it work splendidly.
Support
InterServer has a well-trained support team personally run by one of the founders. The agents have an above-and-beyond approach, and they're willing to help any problem, even things like website optimization that are usually up to the webmaster.
The support is also fast and courteous, so you can expect to get proper assistance when you need it. It's an incredibly reliable service, making InterServer one of the best WordPress hosts here.
Unfortunately, the knowledge base articles are kind of sparse. If you need help learning your way around WordPress, you'll either have to ask the support or find a guide elsewhere.
| | |
| --- | --- |
| Pros | Cons |
| Awesome features | Only has datacenters in the US |
| Affordable long-term price | Slim knowledgebase |
| Free year of hosting for students | |
| Price-lock guarantee | |
| Solid support | |
Verdict
InterServer has one of the best deals if you need a site hosted in North America. The hosting is robust, affordable, and maintained by a strong technical team—what more could you want? And, if you're a student, you can get a year of free hosting—it's about as low-cost as cheap WordPress web hosting gets.
Overall, you can be sure InterServer is a safe bet.
eUKhost Review
BEST FOR
UK WordPress hosting
Visit Website
Lots of handy features
Strong offer for UK-based sites
Respectable support
Free Migration
eUKhost is one of the UK's few remaining independent providers. It's one of the oldest hosts out there, and it successfully handles over 150,000 domains.
It also says its platform is WordPress-friendly, which is a claim I checked.
Features
eUKhost lets you install WordPress in one click. Alternatively, the support offers a free migration.
If you need to transfer multiple sites, you can pay extra or use eUKhost's proprietary migration tool. This is a pretty standard tool for transferring a WordPress site to a new host, and it works well. Plus, the support can assist you if you need a bit of extra help.
The core part of the eUKhost's service is the WordPress toolkit. This is a WordPress plugin that helps you handle updates and security and manage multiple WordPress sites, all from one place.
As for the updates, you can let the plugin update everything automatically or selectively pick which aspects to update. The plugin also includes a monitoring tool, so it can notify you if there are any updates available (or if it detects any other issues).
It's also relatively easy to clone your site to a WordPress staging environment or switch it to maintenance mode. There are also daily backups, and you can take on-demand snapshots. You can stay safe and make a backup before any significant change.
You also get a security advisor tool, which suggests how to bolster your website's defenses. This is excellent for beginners who need a bit of guidance. It just adds value to the already affordable WordPress hosting offer.
There's also an option to auto-optimize the security. This rarely works perfectly, though, so it's usually better to handle everything manually.
You can also get access to things like server-side caching, free SSL security, emailing with spam filtering, and a .com, .uk, or .net domain name.
eUKhost is relatively unique in that its starter plan lets you host up to five websites. This is also where the WordPress multisite management tool comes in handy.
However, the plan is limited to only 5GB of storage. It would be tough to set up five fully-fledged websites.
The more likely use is to set up one legitimate website and use the other four open spots for testing. It's a low-cost WordPress hosting platform, after all, so you can't really expect miracles.
The end price is $4.33/month + VAT (3.33/month in Pound sterling). The price is fair, considering the features.
Performance
eUKhost has a 99.95% service-level agreement. The provider does state it offers hosting credits based on the amount of downtime. However, it doesn't really specify a percentage of the money back.
The average uptime stays above the industry standard 99.9%. That said, the monthly WordPress hosting uptime can fall below the promised 99.95% and even 99.9%.
The speed is a bit better. eUKhost takes a little over a second to fully load a basic WordPress page, which is fine. It's a decently fast platform, though not as high-performing as, let's say, Hostinger or SiteGround.
You definitely get the best load times in the UK. eUKhost simply focuses on the UK market, which is where all of its data centers are. If you need a more international host, there are better choices.
All in all, the results are decent, though there are a couple of better-performing providers.
User Reviews
eUKhost gets mostly favorable reviews from WordPress users. Most positive reviews praise the support for their assistance and the provider for letting them set up a cheap WordPress website.
eUKhost is a bit pushy when asking for such reviews. It's not really a con, but it's what many users have noticed as well. If you do go for this host, don't be surprised when the support asks for a review on most interactions.
As for the negatives, a few eUKhost's clients did recently complain about outages spanning several hours. The testing tools certainly didn't record anything that dramatic, but the provider does have a shoddy track record here. A few servers might have suffered outages, which is something to take into account.
Other than that, most eUKhost WordPress hosting reviews lean to the positive.
Support
eUKhost takes a lot of pride in its support. It even provides info on all the certifications held by its employees—and some are impressive.
Now, I tried hitting the support with a few curveball questions, and the answers were always spot-on. The agents are as professional and knowledgeable as the provider maintains, and they do a fantastic job of providing round-the-clock assistance.
The knowledge base also offers many WordPress resources and makes a solid reference point for newer WordPress users.
If any provider gets the support right, it's eUKhost.
| | |
| --- | --- |
| Pros | Cons |
| Robust proprietary features | Mediocre performance |
| WordPress multisite support with the starter plan | Only works for the UK |
| Excellent support | |
Verdict
eUKhost takes the title of the best cheap WordPress hosting in the UK. It offers an array of strong proprietary tech and has an excellent support team backing it. It's an excellent solution, even though the performance could be just a bit better.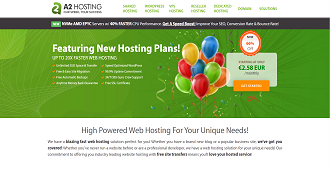 A2 Hosting Review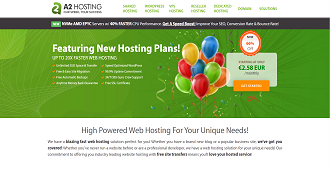 BEST FOR
Getting the best performance
Visit Website
Plenty of features
Fast with lots of speed optimization tools
Decent features
Lacks backups on the smallest plan
A2 Hosting is a smaller provider that promises a blazing-fast, carbon-neutral platform. At first glance, the host does run powerful technologies.
Being small can be an advantage—smaller providers do sometimes outperform giants of hosting, especially when it comes to support. Let's see if A2 Hosting manages this as well.
Features
To start off, A2 installs WordPress for you and provides automatic updates after the fact—a standard start.
A2 Hosting takes similar precautions to Bluehost and automatically changes your login URL and sets up ReCaptcha. This ensures no malicious programs can take advantage of you before you change the logins yourself.
The WordPress hosting plans are optimized to play well with LiteSpeed Cache. This is a free plugin that comes preinstalled with the plans, and your best move is to use it (unless you have a legitimate reason not to).
The plans also support WP-CLI and let you create a WordPress staging environment–both useful for advanced users. The plans support numerous web programming technologies, so A2 is a great choice for developers.
The plans offer many other decent tools like SSL, cPanel, security, emailing, and a lot more.
One big thing the starter plans lacks is automated backups. You have to either pay extra or upgrade your plan for these—neither being ideal if you're looking for cheap hosting. You would have to set up your own backups until you can upgrade.
Other than that, the feature offer is solid. The cheapest WordPress hosting plan starts at $3.92/month, and it goes up to $7.99/month once you renew. This is about standard for the features and CPU/RAM allocation, so the price is fair.
Performance
A2 Hosting's uptime remains at 100% for most of the year. After months of testing, the lowest monthly uptime was 99.98%, which is absolutely brilliant. The provider's team does an excellent job of maintaining the whole infrastructure, and outages are highly unlikely.
A2 does a decent job where speed is concerned too. It lags just a little behind the fastest providers, but the speed difference is measured in milliseconds.
A2 Hosting also offers many speed optimization technologies like Cloudflare CDN. Some of these are exclusive to higher-tier plans or are available for an additional fee, though.
To be fair, you likely won't need the premium tools when you're just starting out. Once your website grows more demanding, though, they'll be a handy way to get more speed optimization.
Even without those, though, A2 can tousle with the best WordPress hosting sites.
User Reviews
A2's hosting platform is very flexible, so it gets positive user reviews from a range of diverse sources. Beginners praise it for how eager the support is to help, while devs like how well the platform works with all the technologies.
A few users did complain about A2 throttling their resources. This is unpleasant, but it's a common complaint whenever a provider offers "unlimited resources."
Providers obviously can't offer infinite RAM or storage, meaning they have to somehow stop users from overspending. This either means cutting off resources or forcing you to upgrade.
A2 does actually state some resource limits like the RAM and CPU availability. You aren't that likely to overstep storage, so it's your best bet to keep an eye on those two. Optimizing your site will let you stay on the cheapest WordPress hosting plan for as long as possible.
Support
A massive pro for smaller providers is being able to focus a;; attention on a small customer pool. It's much easier to train a support team and give each customer the service they're paying for.
A2 Hosting takes advantage of this. It's support team seldom takes over a minute to respond and is very courteous. The agents know their way around the platform and, more importantly, WordPress. You can rely on them to find the best solution for most problems.
If you need a bit of help getting started, you can also consult the knowledge base. It's packed with useful video guides tailored for beginners.
| | |
| --- | --- |
| Pros | Cons |
| Solid features | No automated backups with the starter plan |
| Developer-friendly | Some resource limits are unclear |
| Decent performance | |
| Excellent support | |
Verdict
A2 Hosting is one of the cheap WordPress hosting providers that work well for both beginners and pros. The feature offer is solid, and the price is fair, though the lack of automated backups drives down the value. If you are willing to set up your own backup plugin, though, the solution can work just fine.
Hostinger Review
BEST FOR
Insanely affordable deals
Visit Website
Fantastic price
Free domain included
One of the fastest WP hosts
Iffy support
Hostinger was built on affordable deals. Its paid and free platforms today have a combined 29 million users, making it one of the world's largest providers.
It offers inexpensive WordPress hosting plans as well, and I checked them out.
Features
Hostinger lets you install WordPress in one click. Besides that and WordPress-optimized servers, though, there are only a couple of WP-specific features to talk about.
The notable ones include a WP-CLI and a Git integration—both useful for technical users. You can also schedule cron jobs, but you are limited to just one cron job with the starting plan.
Other than that, the service mostly consists of general features, like a free SSL certificate.
Weekly backups are on the table. Daily backups are paid $0.99/month, though, which is a shame. It would cost the provider next to nothing to provide daily backups, and it is a free service with many of the cheapest blog hosting providers.
BitNinja security is included as well. This is a robust security suite (though the company behind it tends to be rather pushy with its sales tactics).
Hostinger's main strength, however, is in the price. If you go for a four-year subscription, the starter plan will only set you back $0.99/month and get you a free domain registration.
This is beyond affordable. Most companies charge that much for a single year of hosting without a domain name. Hostinger is definitely the most budget-friendly provider out there.
The price of the WordPress service does go up on renewal, but only slightly. The starter plan costs only $2.15/month to renew, which is still more affordable than the vast majority of hosting services.
Performance
Hostinger's uptime falls above the 99.9% industry standard. It's 100% most months, but the host did have an occasional outage over the years.
Still, there is a 99.9% uptime guarantee. If Hostinger breaches the agreement, you'll get some hosting credits.
With speed, Hostinger performs even better. In fact, it exceeds all expectations. It recorded faster load times than any provider in these reviews. If you want a fast platform, this is it.
Unfortunately, Hostinger struggles a little under heavy load. The service is rather low-end, so the starter plan can't really handle a massive flux of traffic like more premium WordPress hosting providers. It's a decent enough platform to start with, but you might need an upgrade once your site attracts more attention.
User Reviews
Hostinger gets about 95% approval from its users. The provider delivers a fast and affordable platform that works—it's as simple as that.
That said, Hostinger does employ some uncanny practices here. More specifically, the company uses its own employees and the so-called "brand ambassadors" to write its own reviews.
Hostinger also tends to cherry-pick negative reviews of other providers to compare itself favorably (even when the other provider has a better rating).
This activity drew a lot of negative attention toward it a few years back and. Funnily enough, this got it banned from the WordPress Hosting Facebook group.
Now, that's not to say all the reviews Hostinger gets are bogus. Most of the customers are satisfied with its cheap WordPress hosting. Otherwise, there would be a whole slew of bad reviews out there. Still, shady marketing is always a negative.
Support
Unfortunately, Hostinger's support is, well, unremarkable.
The provider makes it a bit of an uphill battle to even contact an agent. There's no dedicated phone number, and the live chat doesn't really work all the time.
There is a premium support option which costs $1.99/month and guarantees instant responses. This is not really worth the extra money, though, especially since many providers do have near-instant response times.
The agents do their job, but they aren't really WordPress experts. You can make a support ticket if you have a complicated problem. Still, the support isn't as comprehensive as that of providers like DreamHost.
The support could be improved, all things considered.
| | |
| --- | --- |
| Pros | Cons |
| Ridiculously affordable | Few WordPress features |
| Free domain name | Not the most generous resource allocation |
| Lightning-fast | Mediocre support |
Verdict
Hostinger may not have the strongest feature offer in the industry. However, it's one of the fastest and cheapest WordPress hosting providers.
If you're looking for an extremely budget-friendly platform to start with, Hostinger checks off all the boxes.
NameCheap Review
BEST FOR
Hosting a single WordPress site affordably
Visit Website
Affordable single-site plans
User-friendly management area
Plenty of resources
Mediocre support and performance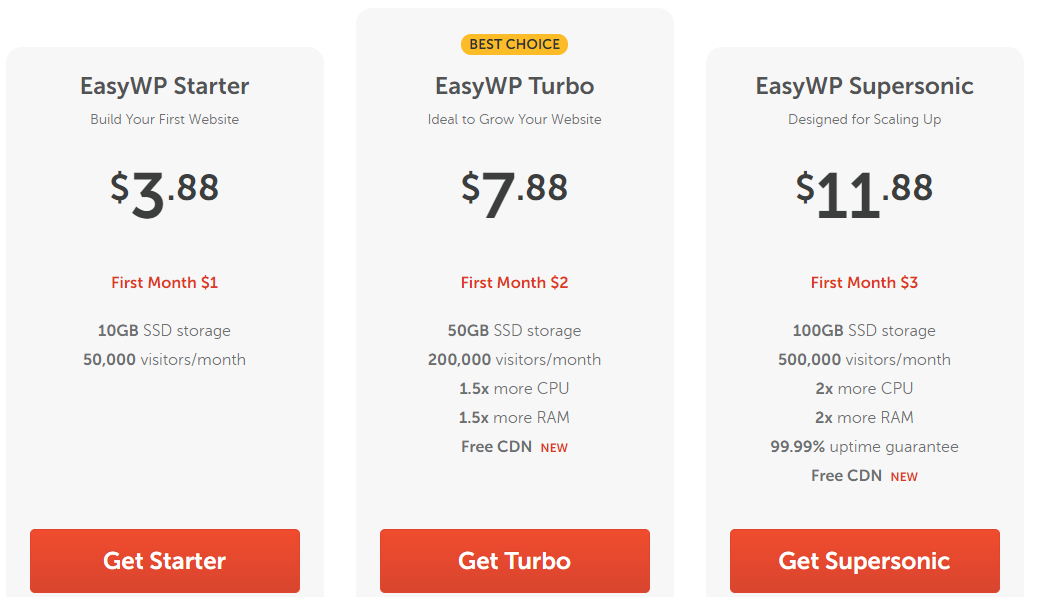 Many domain hosts double as web hosting providers as well. The two services go hand in hand, after all.
NameCheap is no exception. Fortunately, it has a WordPress plan with an affordable price tag and some interesting features. I checked it out.
Features
NameCheap's EasyWP plans that are optimized for WordPress. The plans come with WordPress preinstalled, as well as the proprietary EasyWP plugin. There's also an easy setup feature that can help you set up a few basic WordPress tools.
The EasyWP plugin lets you handle a range of things. For one, you can enable automatic updates for the WordPress software. You can also monitor important info about your website, like whether any plugins need an update.
You can also do one-click server snapshots and restore the backup if needed. The plugin lacks an automated backup functionality, though, so you would need a separate plugin for that.
This is relatively easy to set up. Still, virtually all other cheap WordPress web hosting comes with automated backups, making NameCheap a little less reliable.
The plugin also handles all three levels of server-side caching. You can combine this with the recently added CDN feature for impressive speed optimization.
One thing NameCheap fails to mention is that it won't install a free SSL for you. You can either purchase a certificate or install Let's Encrypt SSL yourself. There is a guide on doing this, but it's still misleading that the provider fails to state so on the main product page.
The plans are very affordable. The starter plan costs you $1 for the first month and $3.88/month afterward, if you go for month-to-month WordPress hosting. This is one of the best short-term deals out there.
If you decide to prepay for a year, the cost goes down. In that case, it's $1.90/month for the first year and $2.49/month each year after that. The monthly price is solid in and of itself, but this is ridiculously affordable for the features.
The starter plan comes with 10GB of SSD storage, which is pretty standard. The provider claims it should be able to handle up to 50,000 monthly visitors, but this might be an overestimation. The real number will depend on your website, but don't expect to reach the full 50,000.
Keep in mind the plans only support one website. If you need to host multiple sites, you need to purchase multiple plans. Many other providers offer multisite support at much more affordable rates, so this is not ideal.
Still, NameCheap has one of the most affordable WordPress hosting deals, both for the short and the long-term.
Performance
NameCheap's performance could be a tad better.
The uptime is erratic at best. It's decent most of the time, but it fell below monthly 99.9% more than once.
It's a similar story with speed. The provider isn't the fastest but isn't the slowest either. It's somewhere in the middle, which is fine, but hardly excellent.
It all amounts to a somewhat mediocre performance.
User Reviews
NameCheap's reputation could go both ways.
Many customers praise it as both a web hosting and a domain hosting provider. Plenty of users also like the low-end WordPress hosting pricing.
Several EasyWP users complained about shoddy support. NameCheap does focus on domain names, so hosting support is kind of subpar, as you're about to see.
Support
Like performance, the support is about average as well.
The agents struggle to find even simple information, like server uptime logs. Getting help with more complicated issues creates even more of a mess. The agents just tend to bounce you around till you reach someone who can actually fix the problem.
NameCheap's support is better by far than some out there, but hardly the best. It's not the best support experience, even among cheap providers.
| | |
| --- | --- |
| Pros | Cons |
| Decent features | No free SSL out-of-the-box |
| Generous resources | Mediocre performance |
| Both annual and monthly WordPress hosting deals are affordable | Shoddy support |
Verdict
NameCheap is a budget-friendly choice if you need to host a single website. Whether you go for monthly or annual payments is up to you, since both are very affordable. It's a decent option overall, though there are a few clunky aspects to the service.
Honorable Mentions
These are the providers that almost made it to the top nine. They are still decent services that are worth trying, but something prevented them from getting ranked in the best of the best—be it a slightly higher cost or an issue with the service.
TMDHosting
TMDHosting is actually a solid provider, and I was on the fence about including it. However, it's $5.95/month price tag is a bit above the $5 WordPress hosting cost limit.
If your budget allows it, though, TMDHosting is worth a try.
1&1 IONOS
1&1 IONOS is a decent provider, albeit not without its own set of issues. It offers one of the best starting deals—for only $12, you can get a full year of hosting, domain name included.
That said, there are few unique features, and the support is a bit lackluster. Still, if you need an incredibly cheap deal, this is about as affordable as it gets.
AccuWeb Hosting
AccuWeb offers rather affordable WordPress hosting with a fixed price. Plus, the plans are rather robust for the money.
The issue is that AccuWeb focuses a bit too much on sales gimmicks rather than offering value to WordPress users. There are just too few features to justify picking it over one of the top WordPress hosting providers.
GreenGeeks
GreenGeeks is an excellent provider that offers many attractive features at a low price. Unfortunately, the lack of some features, like manual backups and poor uptime, drive down the value.
GreenGeeks just can't compete with the top names yet, even though parts of the offer are rock-solid.
iPage
iPage is affordable, but that's about it. The plans are sort of bare-bones, and the starter plan is even more limited. Even though it's one of the cheapest WordPress hosts out there, the provider lacks the value some of the competition provide.
GoDaddy
GoDaddy is affordable to start with and has an excellent marketing team. Yet, this takes its toll. The platform doesn't perform all that well, and the support is subpar.
I can't wholeheartedly recommend GoDaddy, despite its popularity.
What is WordPress Hosting?
This is a bit of a complex topic, but I'll break it down in simpler terms.
The plans tagged "WordPress hosting" can differ greatly in their capabilities. Some companies offer a magnificent range of tools to help WordPress website owners. Others, however, just slap a WordPress sticker on their regular hosting plans because they know it'll make them money.
So, what distinguishes a proper WordPress hosting plan from the standard one?
For starters, managed WordPress hosting usually means the servers are optimized specifically for WordPress. Usually, this means a specifically configured server stack, with PHP 7.3 or above, and a somewhat higher PHP memory limit.
Some hosts even run entire servers with only WordPress sites hosted on them. This makes it much easier to configure the environment, scan for issues, implement WordPress-specific security measures, or just implement technology updates faster.
Speaking of updates, managed hosting usually also includes automatic core software and plugin updates.
This can be invaluable, especially if you're looking for the best WordPress hosting for small business. Keeping everything updated is critical for security, and automatic updates give you peace of mind here.
Yes, you can always do updates manually, but having instant updates adds an extra layer of protection. Humans make mistakes or just can't do everything perfectly, but having this function automated solves this easily.
Some providers also train their support specifically to fix and optimize WordPress. This means you get real expert help when you need it. WordPress is the most popular CMS out there, which is why there is a range of providers with such specialized and well-trained support teams.
Some providers really take this to the next level, though. Companies with the best WordPress hosting in 2020 often include proprietary WordPress plugins to give extra value. These can be speed optimization plugins, migrations tools, or a range of other options.
Is WordPress Hosting Worth It?
Managed hosting comes with a range of advantages. Sometimes, they are significant, like proprietary tools or automatic updates; others, they are a nice gesture but pretty pointless, like preinstalling free plugins for you.
It's important to realize, however, you can get many of the managed hosting advantages on a regular platform. If you have enough resources, you can design a completely custom environment and handle everything the support otherwise does for you.
Rather than getting unique advantages, then, WordPress-specific hosting is about getting more for less. A hosting provider can offer you the tools that would otherwise require you to pay hundreds of dollars or hire a professional developer (usually both).
In that sense, managed WordPress hosting is definitely worth the few extra bucks. Many of the lower end platforms have a similar price tag to regular hosting, so it's definitely worth it to grab the extra features.
Newcomers to WordPress can definitely use every advantage they can get here, and a managed platform can save them a lot of heartache in the long run. Plus, it's great to have a well-trained support team at your beck and call, especially if you're a beginner.
On the other hand, some platforms specialize exclusively in WordPress. Some of these are ludicrously well-optimized, but also pricey.
They are really in a category of their own. The service tends to be at a whole different level to cheap WordPress hosting, but the price is as well.
There is a bit of a law of diminishing returns at play with these platforms, however. You are getting a world-class platform, but this is really only worth it if you can leverage its advantages. If you know how to optimize your website speed perfectly and need near 100% uptime each month, such a service can be worth the extra $10 or $20 per month.
More inexperienced users, on the other hand, can often find a more suitable way to invest the extra money and get better results. For instance, a premium theme or plugin or even advertising credits can do much more for you than a $25/month platform that's just slightly faster.
If you're interested in cheap WordPress hosting providers that are still well-optimized, feel free to check out the reviews above. These cover the best offers for WordPress that don't require you to break the bank.
Is Cheap WordPress Hosting Worth It?
This is a pretty big debate in the hosting world. Many higher-end providers have articles on why you should avoid cheap hosting. Meanwhile, hosts with lower-end plans all explain why cheaper plans work well.
Unsurprisingly, both sides can be a bit biased.
So, the question is whether cheap hosting works. And, if it does, why would anyone purchase more expensive hosting? Let's start by explaining why more premium WordPress hosting plans are more expensive.
Cheap vs. Premium Hosting
The primary factor determining the end price of hosting is the actual server resources. Purchasing and maintaining the servers can be pricey for a hosting company. That's why the more CPU, RAM, or storage availability you need, the more it costs.
Shared hosting plans usually have a hundred users, or more, sharing one server. This makes a single plan affordable, but it also only gets you a small share of server resources.
So, if you have a massive web application that needs 100GB of storage or several gigabytes of RAM, you'll have to pay a bit more. The same goes if you have a site with thousands of daily visitors. There's just no getting around this.
To clarify another thing, you might have noticed some unlimited cheap WordPress hosting offers. This can appear as a very attractive option if you need lots of resources but are on a tight budget.
Unfortunately, there's no such thing as unlimited hosting. All such providers have some provisions in the ToS that allow them to throttle your resources or force you to upgrade your plan.
In practice, unlimited plans get you about the same amount of resources as limited ones. Otherwise, everybody would jump at the opportunity to use them.
That's it for the resources. The second big factor that determines the end price of WordPress hosting is the actual features you get.
The more unique and powerful features a provider offers, the more the plans cost—it's as simple as that. That's why hosting providers that are hard specialists and offer very specific tools tend to be more expensive.
That is not to say low-cost WordPress hosting providers don't come with decent tools. You can get an awesomely optimized platform for just a few bucks. Still, providers with more features usually cost a bit extra.
For the most part, that's all there is to it. The more resources you get and the more effort went into building the platform, the pricier the hosting plan.
Still, that is not to say there's no place for cheaper hosting platforms. So, let's cover a few cases where cheap hosting can work well.
When Does Cheap WordPress Hosting Work?
One instance where cheaper hosting is a no-brainer is when you want to host a smaller website.
A simpler site that doesn't get updated that frequently and doesn't receive insane traffic can run on a small plan for years.
The resources you need depend on the complexity of your website. Still, small sites don't typically have a ton of elements running. A low-cost WordPress hosting plan is usually more than enough.
One neat thing about smaller websites is that it's also relatively easy to handle the speed and security. The backend can quickly turn into a mess with massive WordPress sites, but smaller ones don't have this problem.
You only have to do minimal work to get tight security and load times under those famous three seconds.
This, in turn, means you don't have to rely on a more expensive solution for things like an extra performance boost. Your site can do just fine on a smaller plan.
Another place where low-cost WordPress hosting providers come in useful is as a starting off point for websites.
New websites don't typically make much money, or generate leads, or do much of anything—at least for the first few months. It doesn't make sense to blow a lot of money on hosting before a website gains traction.
You'll get similar performance (and for cheaper) if you start small and build up your website without pressure. Unless you're building something extraordinarily complicated, the hosting platform won't play much of a difference until you get more traffic.
Once your site is too much for your starting plan or you want to do a big marketing campaign, you can upgrade. At that point, you should have the experience to decide between going for a more premium WordPress hosting platform like Kinsta or perhaps jumping straight into VPS hosting.
What to Look for in a WordPress Hosting Provider
Hosting providers do a lot of work to pack their hosting plans with as many tools as they can. The more features, the better, right?
Well, some things are more important than others. I'll break down what things to watch out for and what aren't as critical as they might seem.
Features
All the available technologies are pretty much why users go to managed WordPress hosting providers.
Some of the notable ones include a one-click WordPress installation, plugin updates, optimized WordPress stack, WordPress security, caching, etc. Of course, you'll still want general-use features, like an SSL certificate installation, daily backups, emailing, etc.
You should think about the features you really need and the ones you kind of don't. Having many tools at your disposal can be smart, but the tools you don't even use can also weigh you down.
Performance
This is one of the most critical things with any type of hosting. This is because it's pretty much impossible to get around extensive server downtime or a poor setup.
In other words, if the server is too slow or keeps crashing, there's not much you can do. You can try to speed up your WordPress site, but this can only get you decent results if the server is already fast. It can't compensate for poor hosting.
One thing to check out is whether the provider fulfills at least the recommended WordPress system requirements. This means MySQL 5.6+ or MariaDB 10.1+ database.
One key point is to check whether the host runs PHP 7.3+ or the older 5.x.
PHP 7 lets you handle three times the requests with the same resources. This goes a long way toward making the platform faster.
You can also easily check the speed of your platform. Tools like GTMetrix let you do a site load test and accurately tell how well it's performing.
So, if the provider is a bit slow or you notice excessive downtime, you might want to use the money-back guarantee.
If you're interested, we checked how the providers above perform. You can also run your own testing if you'd like to confirm.
Resources
Storage capacity is the main thing to think about with new websites. The WordPress installation by itself doesn't take up too much space. However, everything you install and use (including all the photos) can pile up. It's worth it to go for a provider that offers a bit of extra storage if you post regularly.
Some cheap blog hosting providers can offer unlimited storage, but be sneaky and set an inode cap (which is a limit on the number of files). A 30,000 inode limit can seem like a lot, but WordPress can blow through this rapidly. Be wary of any providers that offer unlimited storage.
CPU and RAM usage usually isn't something you have to worry about until you get to the VPS range. All the users on a shared server actually draw from the same resource pool, so the provider might not even state these limits.
You should still optimize your site to spend as little as possible, though. This will make it faster, and you'll be able to run it on shared hosting for longer.
You can also look out for the PHP memory limit. Most providers set this at well above 128MB, which is more than enough for WordPress on its own. If you do, by any chance, run into a provider with a lower limit, it's probably not the right choice.
Scaling
Getting a robust starter plan is great and all, but it's important to know what your options are for scaling up. You should check how much resources higher-tier plans have, if the features are different (which they usually are), and how much it all costs.
If anything, it's to prepare for the higher WordPress hosting prices if you scale up. It's entirely possible your site will outgrow its first platform, especially after a few years. Some providers have VPS plans that are significantly costlier than shared hosting—which is not necessarily a negative but is something to be aware of.
Sometimes, a provider assists you on shared hosting but has completely unmanaged VPS plans. This is the case with many providers—for instance, Hostinger. In such cases, scaling up means not only higher costs but also a massive learning curve.
You should only go for such a provider if your site isn't likely to outgrow shared hosting, or you are confident in managing a server yourself. Otherwise, you might need to transfer the WordPress site to a new host (more on that later).
Reputation
In some cases, it's tough to gather info yourself. For instance, it's pretty much impossible to check how a provider handles website transfer without actually purchasing a plan.
In such cases, the most reliable way to collect intel is to rely on online reviews. You can usually find a lot of info on how the support performs and how the techies handle various processes.
This is pretty simple. You can easily find many experts and real user experiences on sites like TrustPilot. You can also search Reddit for the cheapest WordPress hosting reviews and see what users have to say. Every provider gets some positive and some negative reactions, so look for one that gets a decent ratio of positive to negative reviews.
Support
If there's one complaint I see most often, it's that a provider's support is awful.
People purchasing hosting most often look at the features, but fail to check out the support. Unfortunately, the odds of the support being bad are high, especially if you're looking for the cheapest WordPress host.
And, chances are, you'll need the support sooner or later. Once you need help, though, it's too late.
Feel free to message the support a couple of times and see how fast you get a response. A support team that's trained properly and well-staffed should be able to respond accurately to all queries, even if they come after midnight or during peak hours.
Price
These are cheap hosting reviews, after all. You should mind the WordPress hosting prices, but also be careful they're balanced with the features.
It's pretty reasonable to pay $3-5 per month for a solid starter plan. This should fit most people's budget, but still get you a functional platform.
There are lower-end solutions than this if you're on a super tight budget. These are usually more bare-bones, though. Of course, there are more expensive solutions as well, if your budget can handle it.
Mind the Extra Fluff
This is where we get into dubious tactics. Many of the cheapest WordPress hosts cram their hosting plans with tools that don't do much. Flaunting dozens of such features can make plans look amazing to beginners without the provider needing to put in any special effort.
One feature that recently became very popular is the extended WordPress setup (also called setup assistance and probably a dozen other names). Many providers, besides installing the software itself, have a wizard help you select a theme and install some commonly used plugins, like WPForms.
This is a nice gesture, and it can help introduce complete beginners to WordPress. Still, in the long-run, this brings virtually zero value.
Some providers also present common tools as though they are awesome and unique features. For instance, GoDaddy lists "Access to thousands of free WordPress themes and plugins" and a temporary domain name as advantages. The former is an inherent ability of WordPress, and the latter is one of the most generic aspects of any hosting service.
It's alright to have these features, and it's fine to have them listed on the product page. As long as you're not getting any crazy, non removable bloatware, there's no reason to worry.
Still, it's key to consider what technologies you actually need and not pick a platform based on the ones you don't.
Bottom Line
All in all, there are many things to watch out for when picking a hosting provider. You can use the items above as a checklist if you're not sure what to do first.
The providers in the reviews above all do well in the said categories—and are particularly budget-friendly. They're a solid place to begin.
How to Transfer a WordPress Site
Window shopping for the best hosting company can be fun when you're starting a brand-new WordPress website.
However, what if you already picked a provider that's just not cutting it? Transferring a WordPress site to a new host can be a proper nightmare.
Still, sometimes there's no avoiding changing hosts. To help you out, here are some tips to make the transfer as painless as possible.
Have the Host Handle It for You
Many hosting providers offer a migration service. This is by far the simplest way to go about it, since you don't have to do any work.
This is often free, especially with shared hosting. Providers are just confident that they can handle most simpler WordPress website migrations, so they throw in the one-time service as a bonus.
That said, the service isn't free with all providers. For instance, DreamHost charges $99 for migrations, and Bluehost asks for $149. It's worth checking whether the migrations are paid before settling on a host.
Still, this is often the best option, especially if you're a newcomer to hosting. You can sit back and let the provider's team of pros handle everything.
Use a Plugin
There are many migration plugins available. These simply let you transfer a WordPress site to a new host, nothing more. Some WordPress hosting providers like SiteGround even offer proprietary solutions you can use.
Webmasters used to have qualms about such solutions, but, today, they work remarkably well. You just need to install the plugin on the existing site and on a blank WordPress installation at your target host.
Most plugins require you to make some manual changes (usually updating the .htaccess file). The plugin usually includes a guide on what exactly to do, so you should be able to handle it.
This is definitely more complicated than letting the provider handle the migration, but it's easier than the next option.
Do It Manually
The last option is to handle the migration yourself.
The process involves either using WordPress's import/export feature or an FTP client to back up databases and files. You may also have to do some troubleshooting to make everything work.
Transferring a WordPress site to a new host often entails many steps that complicate the entire endeavour unexpectedly much.
It might not be that tough if you're technically savvy. However, whether you can make it work depends both on the technologies you use and how well you know your way around a web server, the core WordPress installation, and the theme and plugins used.
Doing it by yourself is definitely the toughest way to go about doing a migration. You're essentially doing everything by hand, so you have a lot of work to do. That said, you also have complete control over the end result, and this is what some users prefer.
Be Careful
A migration is a major change. It goes without saying there are numerous complex factors at play, and many things could go wrong. In fact, the more complex your website, the more likely you are to have problems.
The first precaution you should take before any change is to back up everything. This leaves you something to fall back on in case of an issue.
One mistake many users make is waiting until the very end of their hosting term to start a migration to a new host.
In most cases, this isn't a problem. However, sometimes, a migration can really drag out. If the hosting plan with your first company expires before you've completed the migration, you're in trouble.
You'd either have to pay extra to keep your site online or shut it down until you complete the migration process. The first can easily double your WordPress hosting cost, and the second is just a disaster.
All in all, it pays off to be cautious. Try not to put all your eggs in one basket and have a backup plan just in case. Sometimes, the best move is to back out of a migration that's not going according to plan.
Wrap Up
That concludes our reviews of the best cheap WordPress hosting companies.
You now know who the top-value choices are. We covered top-notch providers for every pocket, starting at only $0.80/month and going up to more robust solutions.
You also know more specifics about WordPress hosting, when cheaper plans work well, and how to pick the best provider for you. We also touched upon a few common ways to handle a WordPress website migration.
Keep the information above in mind, and you'll be well on your way to becoming a WordPress expert yourself.
FAQ
What is the best hosting site for WordPress?
SiteGround offers extraordinarily good-value deals. For only $3.95/month, you can get an insanely well-optimized WordPress platform.
Of course, there are other platforms to choose from. Some are higher-end, like Kinsta or WP Engine, and there are more bare-bones ones like Hostinger. It depends on your needs and your budget.
If you'd like to check out the best cheap WordPress hosting providers, you can find them in the reviews above.
Is WordPress hosting free?
Unfortunately, it is not. The core software is published under a general public license, meaning it's open-source and completely free. However, you still need to host it somewhere, like any other weblog software.
Unlike the software, web hosting is paid.
Now, you might have seen some free platforms out there. However, these are universally limited to pressure clients into upgrading into a paid plan. You can use these for some basic testing, but it's best to get a paid plan to host a proper website.
If you're concerned about WordPress hosting costs, you can check out a bunch of affordable providers above.
How much does it cost to host a WordPress site?
It depends on your needs, but you can find some pretty affordable starter plans that still get you bang for your buck. You can reasonably expect to pay only a few bucks per month for a new website. Furthermore, there are some super cheap platforms like Hostinger that go for as low as $0.80/month.
As your site grows, though, you can expect to pay a bit more. WordPress hosting prices don't usually skyrocket, unless your site blows up overnight, but it's something to plan for.
Is managed WordPress worth it?
It depends on your circumstances. There are also different levels of management, which is something to consider as well.
For one, platforms like WP Engine are insanely well-optimized for WordPress, but they are also costly. The price only tends to be worth it if you have WordPress experience, and you can leverage their advantages.
A provider like SiteGround, on the other hand, offers solid optimization while still being reasonably budget-friendly. This is definitely worth it if you're just starting out and want a decent platform for your WordPress site.
If you're interested, you'll find more of the cheapest WordPress hosting platforms above.
Can you create a WordPress site without hosting?
You could set up self-hosted WordPress either on a hosting platform or locally (the latter being free). You can run XAMPP (which is an open-source app that works on Windows, Mac, and Linux). This lets you easily set up LAMP stack on your home computer, which is the standard stack for running WordPress.
One of the biggest problems here, however, is that WordPress's plugin architecture isn't really designed to be compatible with localhost. In other words, many WordPress plugins don't really work when you do this. It's usually more viable to use a free platform if you want to do development or testing.
Does WordPress host your website?
Yes, and no.
WordPress.com offers a hosted version of WordPress. There is a free plan, but this is severely limited—you can't even set up your own domain name or use many of the free WordPress themes or plugins from the plugin repository. There are also paid plans, but these are much more expensive than regular hosting.
WordPress.org offers a downloadable version of WordPress. You can install it on pretty much any hosting service you choose.
If you're setting up self-hosted WordPress, though, you have to pay for your own hosting. That said, many hosting providers offer all the same advantages of WordPress.com and then some, while also being much more affordable for the features.
Like any free platform, WordPress.com is best reserved for some basic testing or trying out the WordPress software. If you want to set up a legitimate site, it's best to get paid hosting.
You can check out the best cheap WordPress hosting providers above if you're interested.
Where can I host my WordPress site for free?
You can set up a free WordPress site on WordPress.com. Unfortunately, this type of service is extremely limited. There are severe resource restrictions, and you can't even use many of the themes and plugins you would otherwise be able to.
It's best to use this if you just want to try out WordPress and get paid hosting for an actual site. If you're looking for something budget-friendly, you can check out WebsiteBuilder.org's choice of best cheapest WordPress hosting companies above.