10 Best VPS Hosting Solutions for Great Websites in 2022
[EXPERT REVIEWS]
We tested and reviewed the best VPS hosting solutions to help you find the one that will suit you most. There's no shortage of options out there, but not all are worth your time and money.
Our team used a data-driven approach to analyze and compare all the top VPS providers and hand-picked the best ones for more detailed reviews.
Published: February 20, 2022
Affiliate Disclosure
We aim to provide you with the best tech news and reviews. To sustain our site, we may earn a commission when you buy from our affiliate links. Read our full Affiliate Disclosure.
Top VPS of 2022
Best-Rated VPS Hosting Reviews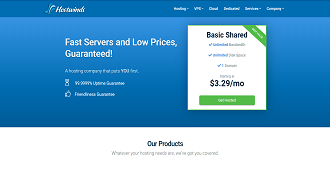 Hostwinds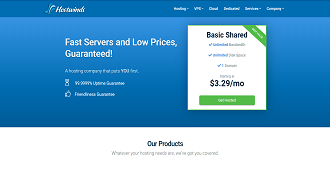 MOST SUITED FOR
Linux and Windows-based sites that need smooth scaling
Visit Website
Rating:: 10
Customer Reviews: Above average
Customer Support: Via email, live chat, online ticket
Pricing: From $4.99/month
Hostwinds has over 12 years of experience, and it continues to expand its user base. The provider prides itself on its services and a "100% satisfaction guarantee."
Hostwinds offers a range of VPS tiers. You can get both unmanaged and managed VPS hosting with a Linux or Windows OS. 
The cheapest unmanaged plan starts at $4.99/month, while its managed hosting counterpart costs twice as much. The plans go up to a few hundred dollars a month. Cited as the best VPS provider by many, Hostwinds offers fair pricing.
All VPS plans come with offsite nightly backups. You can also use the solution to take server snapshots at any time. Backups cost $1/month plus $0.03/GB of offsite storage, which is very affordable.
Hostwinds gets plenty of positive reviews from both Linux and Windows users. Clients like how smoothly everything runs. However, a few users did complain about the tedious cancellation process.
Nevertheless, Hostwinds is indeed one of the top VPS hosting solutions with a well-trained support team. Its agents are available 24/7 via all standard channels, including live chat for more immediate answers.
| | |
| --- | --- |
| Pros | Cons |
| A broad range of both Linux and Windows-based VPS | Tedious cancelation process |
| Decent features | Dedicated servers may provide better value than the larger VPS plans |
| Expert support with managed VPS | |
| Fair price across the board | |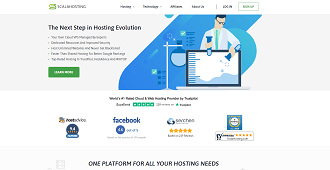 Scala Hosting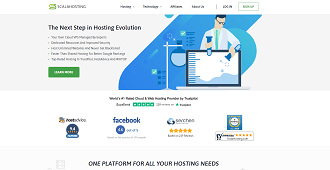 MOST SUITED FOR
Website owners and resellers
Visit Website
Rating:: 10
Customer Reviews: Excellent
Customer Support: Phone, email, live chat
Pricing: From $29.95/month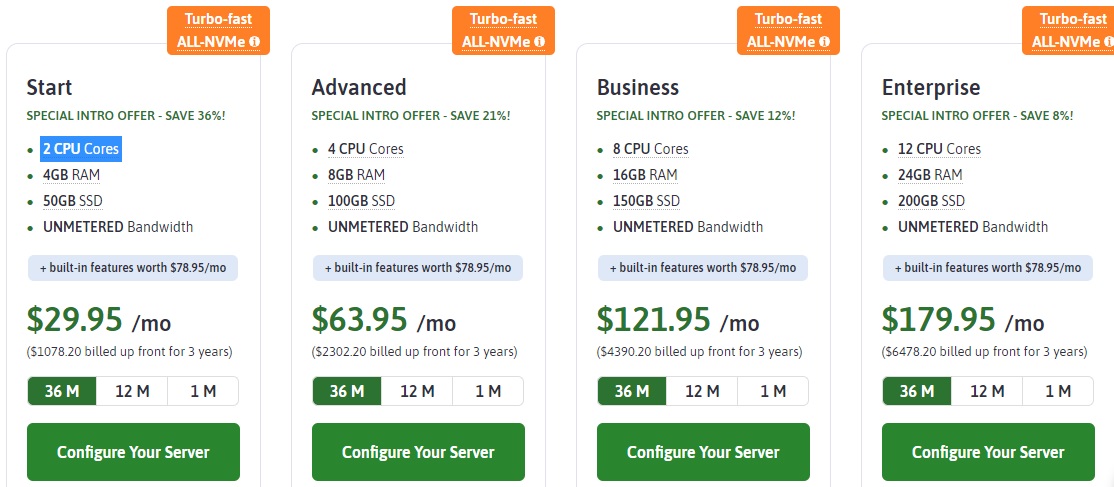 Scala Hosting started as a small reseller business 15 years ago, and it quickly went from zero to hero. Today, it supports over 700,000 websites,  and it is crazy about robust proprietary technologies.
Scala Hosting offers fully customizable VPS plans. 
Managed plans start at $29.95/monthly for 2 CPU cores, with the highest-priced plan at $179.95 for 12 CPU cores. In comparison, self-managed plans start at $59.00/monthly for 4 CPU cores, with the highest-priced plan at $467.00/monthly for 24 CPU cores.
Scala Hosting is one of the best VPS hosting offers that relies on three unique core technologies — SPanel, SShield, and SWordPress Manager.
SPanel is Scala's alternative to cPanel and Plesk. SShield is Scala's proprietary security system. The software is robust and uses machine learning to boost productivity. SWordPress Manager adds a bunch of features for WordPress users. It lets you install WordPress in one click, handles automatic updates safely, increases security, and a lot more.
Overall, Scala Hosting is one of the best VPS hosts that offers excellent in-house technologies. Whether you're a WordPress enthusiast, a reseller, or just an average user, it will work perfectly for you.
| | |
| --- | --- |
| Pros | Cons |
| Fully customizable plans | A few services (like monitoring) are paid |
| Very affordable for the features | Only keeps backups for 24h by default |
| Superb proprietary technologies | |
| Excellent support | |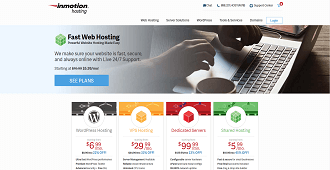 InMotion Hosting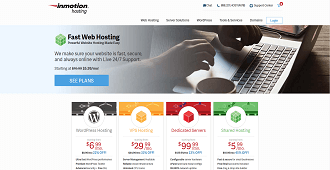 MOST SUITED FOR
Ecommerce websites
Visit Website
Rating:: 9.9
Customer Reviews: Above average
Customer Support: Via email, live chat, phone, and Skype (for Sales only)
Pricing: From $19.99/month

InMotion Hosting is one of the best VPS service providers with the strongest presence in the US. It built its reputation on robust technologies and highly trained staff.
With InMotion's setup, all users get access to all the server's cores. In theory, it should make it easier to run simultaneous processes, but some users might prefer dedicated CPU resources.
InMotion's plans are slightly on the pricey side, with the lowest-priced plan at $49.99 a month. That's if you go for the monthly subscription with 4GB RAM. Otherwise, it's $19.99 with the 3-year subscription. But they do offer discounts from time to time.
All InMotion Hosting plans include a free cPanel/WHM license, which is handy.
The good thing about InMotion, despite the slightly expensive plans, is that it also offers a 90-day money-back guarantee, which is three times the standard. It should give you sufficient time to test out the platform and make sure it works for you.
InMotion Hosting's VPS server reviews from users often praise the provider for its helpful support. A lot of customers also like that everything works like a well-oiled machine. A few users did complain about speed issues, though. The problem is that all InMotion's servers are in the US.
| | |
| --- | --- |
| Pros | Cons |
| Decent value for money | No smaller plans |
| Useful features and freebies | Only runs data centers in the US |
| Excellent support | |
| Great server management | |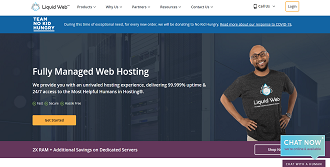 Liquid Web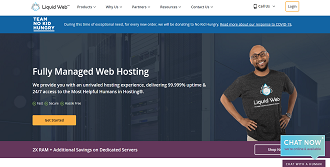 MOST SUITED FOR
WordPress sites
Visit Website
Rating:: 9.9
Customer Reviews: Excellent
Customer Support: Via phone and live chat
Pricing: From $25.00/month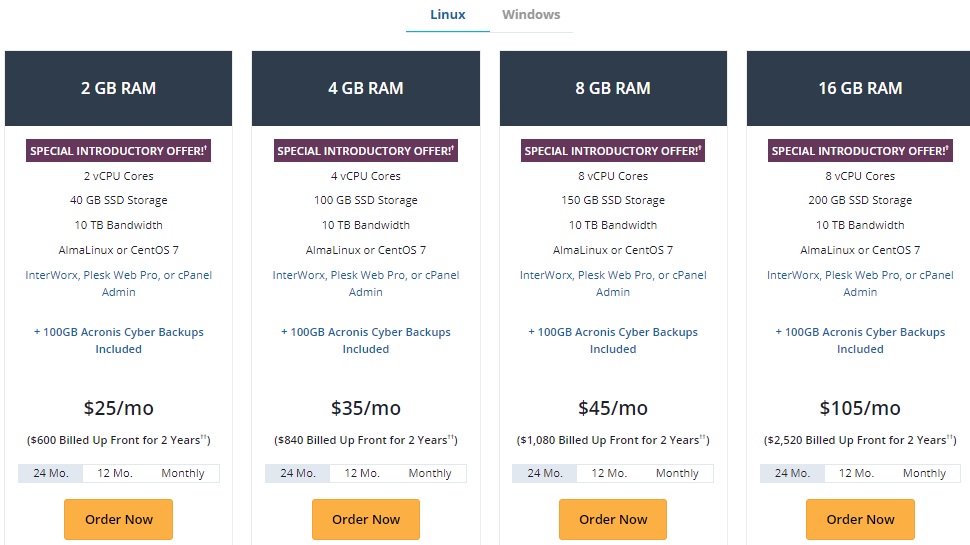 Liquid Web is one of the best VPS hosting companies that specialize in high-end plans. It even went as far as sacrificing its shared service entirely and focusing on more high-powered types of hosting.
Liquid Web's pricing and plans start at $25.00/month ($600.00 billed upfront for two years) for Linux with 2GB RAM and $65.00/month ($1,560.00 billed upfront for two years) for Windows with 4GB RAM. Of course, the higher the price is, the better the specs are.
Liquid Web offers plenty of features with its best VPS hosting plans. For starters, you can get ServerSecure, which is Liquid Web's robust security system. Considering that a malicious hacking attack happens every 39 seconds, a solid security system is a must in this day and age. What's more, it comes with an integrated firewall and DDoS protection.
Liquid Web cites its support team as one of its best assets as it does an excellent job. However, you can only contact them through phone and live chat. With over 4 billion people having email accounts worldwide, Liquid Web might want to consider adding this communication channel.
That being said, Liquid Web did take on a lot of users in the past few years. While it's evident that the support team is stretched a bit too thin, Liquid Web is still one of the best VPS service providers out there.
| | |
| --- | --- |
| Pros | Cons |
| Comprehensive plans with a couple of freebies | No entry-level Windows plan |
| Great features and management services | Many advertised services are actually paid add-ons |
| Decent support | |
| Backup storage is included | |
InterServer
MOST SUITED FOR
Mid-range Linux and Windows projects
Visit Website
Rating:: 9.8
Customer Reviews: Excellent
Customer Support: Via online ticket, email, phone, and live chat
Pricing: From $6.00/month
InterServer prioritizes development over marketing. Its VPS with compelling features is a significant part of the offer.
You can choose from sixteen settings that make up for a relatively broad range of plans. One core costs as little as $6.00/month. Most VPS hosting reviews find it pretty affordable for small servers. 
However, while many hosts get you better deals as you scale, InterServer's value drops as you add cores. That being said, InterServer offers a 30-day money-back guarantee on all shared hosting accounts if need be. 
InterServer user reviews are mostly positive. Most users praise the support for providing efficient assistance and an overall pleasant user experience. Many customers also like the top-notch performance of the servers. 
Negative reviews are few and far between. The users complain about the customer area interface having a few clunky elements. While this is a fair remark, it's a minor detail in this feature-packed service.
Our VPS hosting review finds InterServer's support decent. The provider has a strong tech team that can assist with most virtual server hosting issues. In addition, tech support is available 24/7 via multiple channels.
Overall, while it's not perfect, Interserver leaves very little to complain about its VPS services.
| | |
| --- | --- |
| Pros | Cons |
| Affordable lower-end plans | Managed support reserved for 4+ server slices |
| A broad range of Linux and Windows VPS | Live chat is a bit clunky |
| Best price with month-to-month payments | |
| Price lock guarantee | |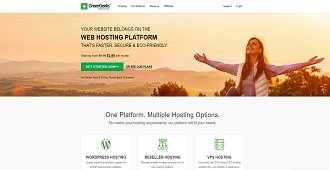 GreenGeeks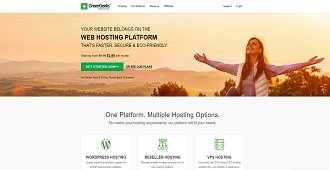 MOST SUITED FOR
Eco-conscious consumers
Visit Website
Rating:: 9.8
Customer Reviews: Above average
Customer Support: Via phone, email, and live chatDecent support team
Pricing: From $39.95/month

Do you want environmentally friendly hosting? Look no further than GreenGeeks. The provider offers a robust technological platform with 300% carbon offsetting.
GreenGeeks comes with three VPS plans at $39.95/month with 2GB RAM, $59.95/month with 4GB RAM, and $109.95/month with 8GB RAM. VPS server reviews emphasize that you can get the best price without going for a longer subscription.
All plans include an SSL certificate and a cPanel license. You can also get a free transfer if you already have a website. What's more, you can cancel the service during the first month and get a refund.
However, the setup takes a bit of know-how. Hence, GreenGeeks isn't that suitable for complete beginners.
Additionally, a few users complained about requesting full refunds — it turns out that getting a full refund might be somewhat tricky.
Despite these flaws, GreenGeeks has a pretty good support team. The agents are always attentive and fast. You can reach them by phone or live chat, which is great since these are the fastest channels to get a response. 
To conclude, GreenGeeks is one of the best VPS service providers across the board. Moreover, it comes with powerful and reasonably priced mid-range plans for more experienced users.
| | |
| --- | --- |
| Pros | Cons |
| 300% green hosting | Not beginner-friendly |
| Decent value plans | Slightly pricier |
| Includes a few freebies | |
| Excellent support | |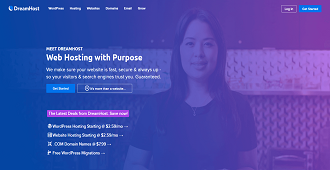 DreamHost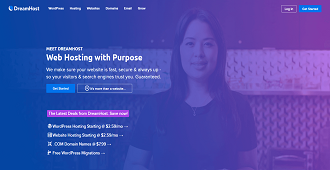 MOST SUITED FOR
WordPress beginners
Visit Website
Rating:: 9.7
Customer Reviews: Above average
Customer Support: Via email and live chat
Rating:: From $10.00/month
DreamHost is among the best VPS and WordPress hosting providers and one of the contributors to open source. Its platform alone houses 750,000 WordPress sites.
DreamHost offers WordPress-optimized VPS plans ranging from $10/month to $80/month. In addition, all users share the CPU resources, which is what some providers opt for. What's more, DreamHost's VPS comes with pre-installed Ubuntu. 
Our best Windows VPS hosting review found that DreamHost has its own control panel, which unifies the server management and billing. The control panel makes you access files through FTP, though. 
As for the user reviews, many customers praise the blazing-fast support responses and the platform's power. Unsurprisingly, most users who set up WordPress websites witness success. 
Additionally, customer support agents and the tech agents maintaining the VPS hosting service do a superb job. The hosting environment is fast and reliable, particularly for WordPress sites. 
However, the live chat is a bit clunky, but you can request a callback if need be. A few callbacks a month are covered by the plan of your choice or you can also send them emails.
All in all, according to VPS hosting reviews and our thorough research, DreamHost is a solid provider that offers proper server management and a user-friendly platform, especially for those just starting in WordPress. 
| | |
| --- | --- |
| Pros | Cons |
| Competitive pricing | No root access |
| Lots of supported technologies | Control panel lacks some functions |
| Great for WordPress | |
| Excellent support | |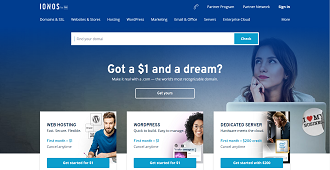 1&1 IONOS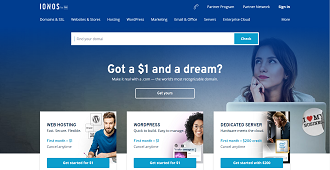 MOST SUITED FOR
Cheap Windows and Linux VPS
Visit Website
Rating:: 9.7
Customer Reviews: Average
Customer Support: Via phone and live chat
Pricing: From $2.00/month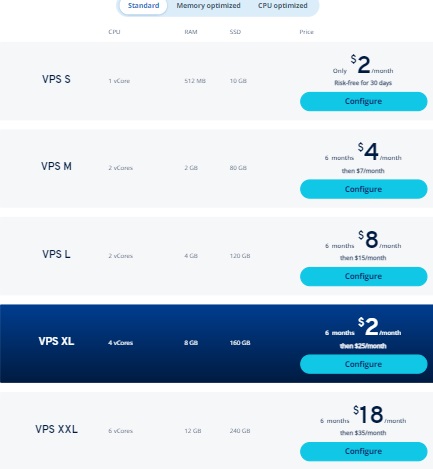 1&1 IONOS is one of the household names in hosting. It offers both Linux and Windows VPS. Its fully customizable plans start at $2.00/month for 512MB RAM. The one with 12GB RAM costs only $18.00/month for six months, then $35.00/month.
Five Linux distros are available: Ubuntu, CentOS, Debian, CoreOS, and OpenSuse. 
Our best virtual private server review confirms that the plans are unmanaged. That means you get root access, but you have to handle most maintenance and customization yourself.
The plans include a user-friendly server administration panel with a monitoring system. What's more, Plesk Onyx licenses are available on-demand.
1&1 IONOS gets mainly positive reactions. That said, a few users complain about the lack of support. It's important to remember that this is an unmanaged solution tailored for independent users.
The customer support team gets back to users promptly and can resolve most issues with the platform. 1&1's support team is among the best in cheap VPS hosting.
Overall, 1&1 IONOS is your go-to if you want to start small and eventually scale up. Plus, you get way more help than you would with the usual unmanaged solution.
Pros
Cons
Decent scaling
Customer support cannot be reached via email
Fair price
Additional IP addresses are expensive
More features than you'd expect in an unmanaged solution

Great

support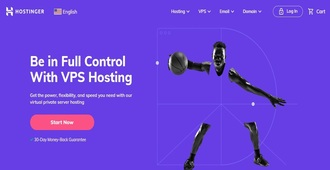 Hostinger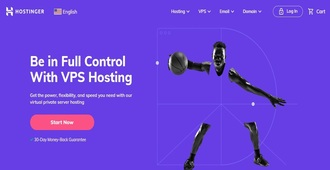 MOST SUITED FOR
Unmanaged hosting
Visit Website
Rating:: 9.6
Customer Reviews: Excellent
Customer Support: Via email and live chat
Pricing: From $3.49/month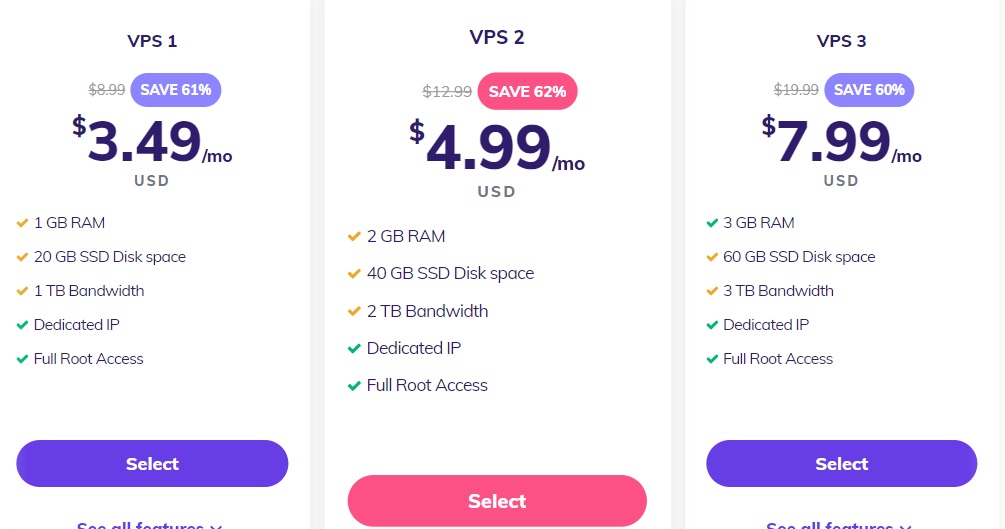 Hostinger is one of the best cheap VPS providers with some of the most attractive discounts. One of the first things that stand out about its VPS plans is their affordability.
Hostinger has eight plans. They start at $3.49/month for 1GB RAM, 20GB SSD storage, and 1TB bandwidth. Note that the plans are unmanaged. The deals are worth it if you are confident in managing your server.
Hostinger throws a few nifty tools into the mix. For example, it lets you automatically install the LAMP stack, speeding up the setup. There are also a number of OS and control panel combinations to choose from.
Hostinger VPS hosting reviews only take a quick Google search to find thousands of them are positive. Negative reviews mainly complain about not getting a full refund. However, complaints like that are few and far between.
Hostinger also prides itself on having a solid support team. Most tickets get a reply in under half an hour. The team does go above and beyond to help each customer. However, Hostinger doesn't provide phone support. 
Still, if you need unmanaged hosting immediately and if you are on a tight budget, Hostinger is one of the best VPS providers you can find out there.
| | |
| --- | --- |
| Pros | Cons |
| Huge discounts | Storage cap is a bit low across the board |
| Easy setup with lots of templates | Above-average cost on renewal |
| Decent proprietary control panel | |
| Fast support | |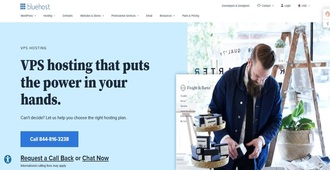 Bluehost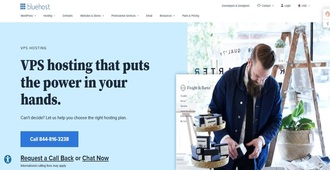 MOST SUITED FOR
Lower-end projects and WordPress
Visit Website
Rating:: 9.6
Customer Reviews: Average
Customer Support: Via phone and live chat
Pricing: From $19.99/month
With over 2 million hosted websites, Bluehost is especially popular among lower-end projects and WordPress website owners.
The cost of its plans is in the middle range, starting at $19.99/month for the standard plan with 2GB RAM and 2 cores. However, the said price is promotional for the first term of hosting. It then renews at a regular rate of $29.99.
Our VPS hosting review also found that you can customize some resources like storage. The plans come with CentOS pre-installed and Bluehost's modified version of cPanel. Bluehost also includes relatively advanced management tools. 
For example, you can grant access to specific controls if you're working with others on virtual private servers. All in all, you get a handful of freebies that drive up the value.
As for the user reviews, they are somewhat mixed. Many users, especially WordPress website owners, claim that the hosting works well. However, at the same time, many users complain about the quality of tech and billing support. 
According to VPS hosting reviews, Bluehost has recently made a couple of changes in its customer support. As a result, it's now much more proficient, and the core tech agents resolve issues a lot faster. Plus, the knowledge base got updated with a lot of content.
Overall, Bluehost is a good provider, though not the best in our books. 
Pros
Cons
Decent lower-end plans
Steep renewal cost
Freebies increase value
Some upsells

can be annoying

Improved support quality

30-day money-back guarantee
How Do I Choose a VPS — A Buyer's Guide
Determining what type of hosting you need before trying out the options can be challenging. Here's a buyer's guide to help you determine what type of hosting you need and when to get it.
Upgrading From Shared Hosting
Once you start getting more traffic, you might see issues with a shared platform. Most VPS hosting platforms usually have fewer tenants per server, meaning you can get more resources to handle your website. 
So, if your site is outgrowing your current hosting, it might be time to upgrade to the best VPS servers.
Accumulating Resources
A lot of the time, though, web admins might skip shared hosting entirely. Some website applications, like Magento, are too demanding for most shared platforms. A shared platform may struggle to keep up even if you only get 100 visitors a day. 
In such cases, it might be worth starting with any providers we have here instead of going for a shared server.
Scaling and Customizing
One of the main benefits of VPS is that you can scale up or down as needed. You can just run a bigger plan for the high-traffic period and scale down later to avoid overpaying. 
It's also relatively easy to get the exact resources you need. Many of the best VPS providers let you customize the CPU/RAM/storage availability, so you're only paying for the resources you need.
Saving Money
A final reason to go for a VPS hosting service is that you get all of the advantages above at a reasonable price. Yes, VPS tends to be pricier than shared hosting, but it's also a lot more powerful. 
On top of that, there are some relatively budget-friendly solutions from our list of the best VPS providers. For instance, you can get the 1&1 IONOS starter pack for $2 or the Hostinger's for $3.95. Of course, you can always upgrade later if need be.
Wrap Up
We've covered providers with different levels of management and found the best offers for beginners, developers, and even resellers. So now you know the best platforms to find one that suits your VPS hosting needs.
Hopefully, now you also know what VPS brings to the table, what you can use it for, and when to get one for yourself or your business. 
The cases defined in this article cover the most common things you can do with your VPS, but you can certainly go further than that to discover all the possibilities. Good luck on your hosting journey!
FAQ
What can I do with VPS?
You can do almost anything you'd do with a physical server. Most users go to virtual hosting providers to set up a website. Some of the best cloud hosting providers know this, so they optimize their plans accordingly. 
You can also use VPS to run other applications. What's more, many businesses like setting up a private email server or a collaboration system on a VPS.
Of course, you can do many other things with VPS, like creating a VoIP server, setting up a VPN, gaming server, cryptocurrency mining, and many other things. 
How much is a good VPS?
A VPS could cost anywhere from a few dollars to a few hundred per month. A reasonable price for a VPS entry plan is around $10/month. That would get you server management with a decent amount of starting resources. 
Why is VPS so expensive?
On the contrary, VPS is not that expensive as you may get one for as little as $2.00/month. Keep in mind that it uses a massive amount of computing resources.
In many cases, having VPS means having multiple processors and unlimited hard drives. In addition, some of the plans can be costly because of the advanced technology and quality they provide or because their license is pricier.
Can you get a free VPS server?
Yes, you can. Some providers do offer free VPS website hosting. However, we advise going for an established host with a free trial period or an extended money-back guarantee for a low-risk start.
What is the best free VPS?
We doubt there is a free hosting service that will meet all your needs. So instead, we recommend some of the best platforms that are highly affordable. They are 1&1 IONOS (starts at only $2/month), Hostinger ($3.95/month), Hostwinds ($4.95/month), and InterServer ($6/month).
Which is better, VPS or a dedicated server?
Both are highly customizable, though dedicated plans may give you access to some hardware customization. Dedicated hosting can also be a bit more secure since you're not sharing it with other users.
Best VPS hosting, on the other hand, tends to be more affordable and way easier to scale.