11 Best VPS Hosting Solutions in 2021
[EXPERT REVIEWS]
Is your shared host too small for you?
Do you need more speed and special setup?
Welcome to the world of virtual private servers!
We tested and reviewed the best VPS hosting solutions to help you find the one that suits you best. There's no shortage of options out there, but not all are worth your time (and money).
We at WebsiteBuilder.org used a data-driven approach to analyze and compare all the top VPS providers and hand-picked the best of the best for the reviews that follow.
You can find out what the top providers have in store below.
Last Updated: November 25, 2020
Advertiser disclosure
This page may contain links to our partners' products and services, which allows us to keep our website sustainable. This means that websitebuilder.org may receive a compensation when you sign up and / or purchase a product or a service using our links. However, all opinions expressed in this article are solely ours, and this content is in no way provided or influenced by any of our partners.
Top 11 VPS Hosting Solutions 2021

Excellent support
Has both Linux and Windows plans
Offers both managed and unmanaged servers
Try Now
Full Review

Free control panel
In-house security
Very affordable
Try Now
Full Review

90-day money-back guarantee
Robust plans with lots of resources
Comes with lots of helpful features
Try Now
Full Review
How We Ranked the Best VPS Hosting Providers
Lots of features go into the making of a quality VPS solution. Here's how we tested the platforms to get the info for our reviews:
Research the market—We checked what kind of specs and features respected names in the market have. We shortlisted the VPS providers with solid offers and scrapped the rest.
Inspect the features—The setup you get is the core part of each VPS plan. We ensured the providers offer all the features you'd expect and dug to see if there are any pleasant (or less pleasant) surprises.
Test the performance—Nobody wants a slow hosting or a server that keeps going down. This comes down to the hardware getup and maintenance. Of course, the software installed on the actual servers plays a part as well. We hooked the plans up to our benchmarking tools and monitored for any performance issues.
Probe the support—Most of our job is testing if things work properly. Support, on the other hand, should be there if something does go wrong. We contacted the support teams with a few tough questions to check how quickly and accurately they could respond in a pinch.
See what the users have to say—Studying the personal experiences of long-time users of VPS servers reveal a lot about their current state, any potential problems, as well as the company culture. We sifted through numerous user reviews and testimonials to see what a provider's reputation can tell us.
Check the legalities—Many hosting companies present themselves fairly. However, there are a few bad apples that put nasty clauses in their contracts and hope you won't notice. Not to worry—we saved you the time and trouble and went through the terms of service ourselves.
Determine value—Providers price their services differently. We crunched the numbers to determine whether the end cost is fair for the quality of the service. Only the hosts with the best value made it to the VPS hosting reviews below.
Detailed Reviews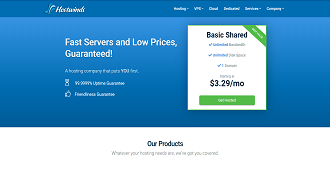 Hostwinds Review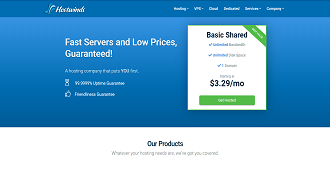 BEST FOR
Linux and Windows-based sites that need smooth scaling
Visit Website
Has both Linux and Windows plans
Offers both managed and unmanaged servers
Excellent support
Affordable Pricing
Hostwinds is a new-ish provider with a fast-expanding user base. The provider also likes boasting about its services and extends a "100% satisfaction guarantee."
Let's see how the features justify this.
Hostwinds Specs
Hostwinds has an enormous range of VPS tiers.
You can pick out a VPS starting with 1 CPU core, 1GB RAM, 30GB SSD storage, and 1TB bandwidth. The largest plan goes as high as 16 CPU cores, 96GB RAM, 750GB storage, and 9TB bandwidth, with eight different tiers in-between.
You can get both unmanaged and managed VPS hosting with a Linux or Windows OS. Unmanaged plans are more affordable than managed ones, and Linux VPS is slightly cheaper than Windows.
The smallest unmanaged plan starts at $4.49/month, while managed hosting costs about double that. The plans go up to a few hundred bucks per month. The pricing is pretty fair across the board, though.
One thing to point out is that it might be more affordable to get a dedicated server than upgrade to the two largest VPS plans. The resources are in dedicated server range anyway, and Hostwinds offers dedicated solutions with about the same benefits.
To get back on topic, this is probably the broadest choice of both Linux and Windows VPS plans out there. If you want a provider that does it all, it's Hostwinds.
Hostwinds Features
The only real difference between Linux and Windows VPS service is the operating system. You can install any technology on either, and they have pretty much the same features. You can also perform a 1-click install for a bunch of server stacks and CMSs.
You can get a robust firewall solution. A monitoring system scans for issues 24/7. If you're an unmanaged user, you will be notified of the issue. With managed hosting, the system creates a support ticket automatically.
All VPS plans come with offsite nightly backups. You can also use the solution to take server snapshots at any time. Backups cost $1/month + $0.03/GB offsite storage, which is relatively affordable.
You can get a server migration with all plans.
The difference between unmanaged and managed VPS website hosting is that managed gets you 24/7 tech support. This covers services like server updates, virus scans, general troubleshooting, speed optimization and a lot more. Unmanaged plans are more for users with server administration experience.
Hostwinds User Reviews
Hostwinds gets plenty of positive reviews from both Linux and Windows users. Clients like how smoothly everything runs, and the support team has resolved complicated problems for quite a few of them.
A few users did complain about the cancellation process. Namely, to cancel a service, you need to first do it from the dashboard, which opens a support ticket. Then, you have to paste a specific phrase as a response to the ticket.
This is a bit of a pain. Hostwinds claims it is to avoid unwanted cancellations, but many VPS hosts get by with a simpler cancelation process.
Hostwinds Support
Hostwinds has a swift and well-trained support team. The support is available 24/7 via all the standard channels.
It's also helpful that Hostwinds makes it obvious how to contact the support, especially with the huge chat icon that frequently pops up. It might seem like a minor detail, but many providers do their darndest to hide the contact info, especially the phone number. It signals Hostwinds is concerned about more than just making money off its customers.
The support agents are helpful in all interactions and tend to swiftly resolve any issues. Plus, you have access to an extensive knowledge base covering a variety of topics and common issues.
It's important to keep in mind you can only take advantage of technical and administrative support with the managed plans. Hostwinds makes this clear on the virtual server hosting product page, but it's worth repeating one more time.
| | |
| --- | --- |
| Pros | Cons |
| A broad range of both Linux and Windows-based VPS | Annoying cancelation process |
| Decent features | Dedicated servers may provide better value than the larger VPS plans |
| Expert support with managed VPS | |
| Fair price across the board | |
WebsiteBuilder Verdict
Hostwinds is one of the top names among VPS providers. It offers unmanaged and managed Linux and Windows plans and has numerous tiers in each section. Plus, it offers solid features and a fair price across the board. It's all-round one of the best VPS hosting deals that can fit any user.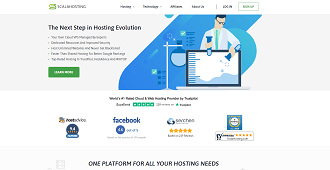 Scala Hosting Review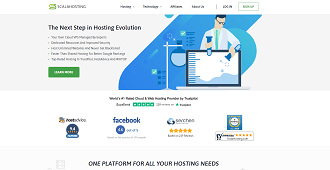 BEST FOR
WordPress website owners and resellers
Visit Website
Free control panel
In-house security
WordPress management software
Very affordable
Scala Hosting started as a small reseller business thirteen years ago and quickly went from zero to hero. Today, it supports over 700,000 websites and is crazy about robust proprietary technologies.
This is what its VPS web hosting offer covers.
Scala Hosting Specs
Scala Hosting offers fully customizable VPS plans. You can pick any amount of resources while maintaining the same rates.
The rates are:
1 CPU core—$6/month
1GB RAM (2GB minimum)—$2/month
10GB SSD storage (20GB minimum)—$2/month
Unlimited bandwidth—$10/month
You can go up to 24 CPU cores, 32GB RAM, and 500GB SSD storage, which is pretty massive for a VPS.
If you're unsure of what to pick, Scala Hosting offers a few preconfigured plans. You can also prepay for a longer period. This gets you the same rates, though, so there's no real reason not to pay month-to-month.
If you design a custom server, you also get the same affordable managed VPS hosting. Also, customizability helps you not overpay for resources.
Scala Hosting Features
Scala Hosting's offer relies on three core technologies—SPanel, SShield, and SWordPress Manager.
SPanel is Scala's alternative to cPanel and Plesk. cPanel is industry standard, and it works splendidly, but there's an issue with some recent pricing changes. Hosting companies now either charge separately for cPanel or ramp up the price of hosting to compensate for the licensing fees.
There are other options out there. That said, most proprietary control panels usually don't perform well or lack certain functions.
SPanel, on the other hand, is free with the VPS hosting service. Plus, it does pretty much everything cPanel can—backups, SSL setup, email and database management, etc.
The solution is also rather lightweight. It runs in its own separate environment, so it doesn't eat up your own resources (unlike cPanel).
You can even white label it and use it to resell hosting, which is where most proprietary panels fail. This can be very expensive with cPanel/WHM (as the licensing fee goes up the more cPanel accounts you have), but SPanel doesn't cost extra.
There are certain extensions you can get for SPanel, but these are relatively budget-friendly. For instance, you can pay an extra $7 for the provider to keep your backups for a week instead of the usual 24 hours.
Scala's VPS services typically run on free LiteSpeed tier or Nginx, but you can also get a premium LiteSpeed license.
Moving on, SShield is Scala's proprietary security system. The software is robust and uses machine learning to boost productivity. It's excellent at catching any potential cyber-attacks.
You can get proactive server monitoring, but this is a paid service. It's usually free with server management, but you might want to get it anyway. It's just $5/month extra, but it can help you catch any potential issues much sooner.
Finally, SWordPress Manager adds a bunch of features for WordPress users. It lets you install WordPress in one click, handles automatic updates safely, boosts security, and a lot more. Cloning/staging and WordPress backup tools are also in the works. It can be a fabulous asset for WP users.
All in all, Scala Hosting developed technologies that make a world of difference. They make VPS hosting faster, more secure, and much more affordable.
Scala Hosting User Reviews
Scala Hosting isn't as massive as some providers, and it doesn't have thousands of reviews. That said, the user reviews it does get are just stellar.
An overwhelming majority of users praise the platform and the support. Many love how the proprietary technologies compare against the standard tools. It goes a long way in showing the platform works well for just about everyone.
Scala Hosting Support
Scala Hosting's tech support is available 24/7 by phone, live chat, and email. Billing is only available about 14h on weekdays, so plan to contact it at appropriate times.
The support agents are all quick to respond and take their time to understand your issues and give you a thorough response. They can handle most virtual private server hosting issues with relative ease.
One sort of unique policy is that all agents have to be very polite, but the same is expected of you. The provider reserves the right to fine you $100 if you are rude to the support. Just mind your language while talking to the agents and you should be fine, though.
| | |
| --- | --- |
| Pros | Cons |
| Fully customizable plans | A few services (like monitoring) are paid |
| Very affordable for the features | Only keeps backups for 24h by default |
| Superb proprietary technologies | |
| Excellent support | |
WebsiteBuilder Verdict
Scala Hosting offers excellent in-house technologies. Whether you're a WordPress enthusiast, a reseller, or just the average user, you can get powerful yet budget-friendly VPS here. It's an all-round amazing and unique VPS hosting provider.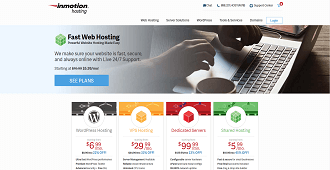 InMotion Hosting Review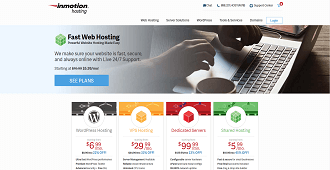 BEST FOR
US-based businesses
Visit Website
Robust plans with lots of resources
Comes with lots of helpful features
90-day money-back guarantee
No servers outside the US
InMotion Hosting is one of the providers with the strongest presence in the US. It built its reputation on robust technologies and highly trained staff.
Its broad range of services includes VPS, so let's get right into the specifics.
InMotion Hosting Specs
InMotion Hosting offers three VPS plans:
VPS-1000HA-S—4GB RAM, 75GB storage, 4TB bandwidth, starts at $22.99/month, renews at $64.99/month
VPS-2000HA-S—6GB RAM, 150GB storage, 5TB bandwidth, starts at $34.99/month, renews at $104.99/month
VPS-3000HA-S—8GB RAM, 260GB storage, 6TB bandwidth, starts at $54.99/month, renews at $184.99/month
InMotion has a strange setup where instead of giving you access to one core, all users get access to all the cores of the server. In theory, it should make it easier to run simultaneous processes, but some users might prefer dedicated CPU resources as well.
As for the configuration, the VM hosting comes with preinstalled CentOS 7.3, Apache 2.4.25, MySQL 5.6.35, and PHP 5.6.30. You can request PHP 7 or PHP 7.1 before purchasing a plan, if you need it.
It's a standard LAMP stack config. If you'd like a different setup, though, you have root access.
Alternatively, InMotion Hosting gives each user two hours of one-on-one time with a server admin. You can use this time to have them set up any technologies.
InMotion also offers a 90-day money-back guarantee, which is three times the standard. This gives you sufficient time to test out the platform and make sure it works for you.
The resources are decent, and the price is fair. It's also useful that you can get a custom configuration, though InMotion among midrange rather than entry-level VPS providers.
InMotion Hosting Features
All InMotion Hosting plans come included a free cPanel/WHM license, which is handy.
InMotion also offers three IP addresses with the starter plan and adds one more for each following plan. It's a useful freebie if you want to register multiple SSL certificates or run complex email marketing campaigns.
You can also take advantage of an advanced backup solution. It'll take automated daily backups, but you can also take a server snapshot at any time. You also get other handy tools like an emailing solution and a monitoring tool.
All in all, you get pretty decent features. InMotion sort of assumes you can handle most things after the initial setup, though. The tech team still performs updates and maintains the systems, but the provider doesn't hold your hand like some others.
If you need extra help, you can get more time with the server admin. The service is only free for the first time, though. Still, it has one of the best VPS hosting onboarding services.
InMotion Hosting User Reviews
InMotion Hosting user reviews often praise the provider for its helpful support. A lot of customers also like that everything works like a well-oiled machine.
A few users did complain about speed issues, though. The problem is that all InMotion's servers are in the US.
It does have technologies in place to ensure decent speeds outside the US. However, the latency is noticeably better in North America, which is something to keep in mind. If you target Europe or Asia, InMotion might not have the fastest VPS hosting.
InMotion Hosting Support
InMotion Hosting runs a tight in-house support team. All the agents go through at least 160 hours of training before even talking to the customers (which is a lot more training than most providers require).
The support is relatively quick to respond and very helpful. A nice touch is that VPS onboarding includes a two-hour call with a system administrator. You can have them implement a custom setup or just get advice on any topic you think is useful.
The support is available through Skype in addition to the usual channels. It's great for those who prefer calls but don't want to phone in.
All in all, InMotion is a VPS provider with an enviable support team.
| | |
| --- | --- |
| Pros | Cons |
| Decent value for money | No smaller plans |
| Useful features and freebies | Only runs data centers in the US |
| Excellent support | More suitable for experienced users |
| Great server management | |
| Generous money-back guarantee | |
WebsiteBuilder Verdict
InMotion Hosting is an excellent choice if you need a midrange solution for the US. It does have a couple of quirks, but it more than compensates with the generous plans and freebies.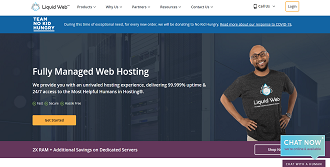 Liquid Web Review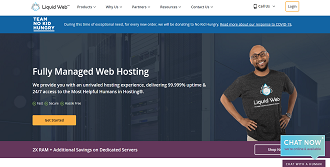 BEST FOR
Hosting WordPress sites
Visit Website
Advanced Security
Excellent customer support
Windows and Linux VPS
100GB free backup storage
Liquid Web specializes in high-end plans. It even went as far as sacrificing its shared service entirely and focusing everything on more high-powered types of hosting.
Its VPS offers and its quality of service are a reflection of that.
Liquid Web Specs
Liquid Web offers four tiers of managed virtual private servers, but the smallest plan supports only Linux and not Windows. The plans get you:
2 CPU cores, 2GB RAM, 40GB SSD storage, 10TB bandwidth—$29/month
4 CPU cores, 4GB RAM, 100GB storage, 10TB bandwidth—$49/month ($74 with Windows)
8 CPU cores, 8GB RAM, 150GB storage, 10TB bandwidth—$69/month ($94 with Windows)
8 CPU cores, 16GB RAM, 200GB storage, 10TB bandwidth—$129/month ($169/month with Windows)
Keep in mind the price applies if you go for an annual subscription. It is significantly higher when paying month-to-month, which is inconvenient if you're on a tight budget.
The total price also includes a control panel license, which drives up the value a bit. You can choose from cPanel Pro, Plesk Web Pro, and InterWorx. Directadmin. Webmin and CentOS Web Panel are also supported.
You also get 100GB of free backup storage. This is helpful, but additional storage is available for $0.12/GB/month, which is a tad pricy. It's worth considering how much backup storage you might need.
Liquid Web's VPS server hosting is suitable for midrange applications, though, and it has enough bandwidth to handle most things you throw at it.
Liquid Web Features
Liquid Web offers plenty of features with its VPS.
For starters, you can get ServerSecure, which is Liquid Web's robust security system. It can protect you against things like ransomware (which is a particularly big issue with Windows). This is supplemented by an integrated firewall and DDoS protection. It should be pointed out that the security system is available as a paid add-on, though, as are a couple of other services like PCI-compliance scanning.
Cloudflare CDN is also included in the overall plans, which is always a handy feature. You also get a backup tool that takes automatic full-server snapshots.
The servers also have root access. This is superuser-level access, meaning the virtual server is completely in your control and you can install any technology.
The management covers pretty much everything that you get from Liquid Web. The tech team manages the firewall, CDN, does updates, and even performs PCI-compliance scanning. That said, if you use the root access to instal your own technologies, the tech support may not cover it.
All in all, you get decent features and particularly powerful security. Plus, it's one of the best managed VPS hosting platforms in terms of the assistance you get.
Liquid Web User Reviews
Liquid Web user reviews often praise the powerful platform and extremely helpful support. Many state the support helped them resolve massive issues, even when it was beyond their call of duty.
There are a handful of recent negative reviews concerning billing. Liquid Web did update its pricing a few months back, which did not sit well with some customers. Still, unpleasant as they may be, pricing changes are a reality with any properly maintained hosting service.
For the most part, the VPS reviews are positive.
Liquid Web Support
Liquid Web flaunts its support team as one of its best qualities.
To give credit where credit is due, the support does an awesome job. The agents take their time to understand every problem and provide the best possible solution.
That said, Liquid Web did take on a lot of users in the past few years. It's obvious that the support is stretched a bit too thin and is struggling to keep up. Liquid Web's staff is still one of the best in VPS hosting, but the quality has diminished as of late.
| | |
| --- | --- |
| Pros | Cons |
| Robust plans with a couple of freebies | No entry-level Windows plan |
| Great features and management services | Many advertised services are actually paid add-ons |
| Decent support | Extra backup storage is a bit pricy |
| Backup storage is included | |
WebsiteBuilder Verdict
Liquid Web is a fantastic higher-end provider. Both its Linux and Windows offers are robust, but this comes at a somewhat higher price. If the plans fit your price range, though, you can get excellent value.
RoseHosting Review
BEST FOR
Hosting on servers with a custom tech stack
Visit Website
Short money-back guarantee
Free CDN has a setup fee
VPSs with custom resources are pricier
Weekly backups for free
RoseHosting is the host that pioneered Linux VPS. Fortunately, it has kept up with the times and now has the VPS expected from modern virtual hosting providers.
I'd be remiss if I didn't check out its offer.
RoseHosting Specs
RoseHosting lets you choose from either nine preset plans or design a VPS according to your own specifications.
Going for a preset is more affordable since you can get additional discounts. The custom VPS also tacks on a $25 fee. This is why designing a custom plan only really pays off if you need an unusual combination of CPU/RAM/storage.
To give you an idea, an entry-level plan with 1 CPU core, 1GB RAM, and 30GB SSD storage would cost you $22.45/month paid annually—pretty affordable for a managed plan.
All plans offer decent value, though, and if you go for a plan that costs over $100/month, you get a free control panel to boot.
One thing to note is that RoseHosting's money-back period lasts only a week. This is pretty short, since most VPS providers offer at least a month.
RoseHosting does somewhat compensate for this with a 99.99% uptime guarantee, which is more than most hosts offer. It gives some peace of mind you'll have great performance with your VPS.
All things taken into account, the offer is solid.
RoseHosting Features
For starters, RoseHosting offers cool freebies like an SSL certificate and a CDN. The CDN has a setup fee of $10, though.
You can also use weekly backups for free. Still, you should consider either paying a bit extra for daily backups or setting up a backup solution.
VPS hosting management includes installation services for a range of software. When starting out, you can choose from various Linux distros, including CentOS, Debian, Ubuntu, and Elastix.
Control panel licenses are available for $5/month, which is standard. You can also get one for free with the $100+/month plans.
You can also set up a bunch of other stacks like LAMP and LEMP and a range of other development technologies. If there's no installer for the tech you want, the support can set it up for you.
You do have full root access, though, which gives more freedom to technically apt users.
Finally, you can also get a free website migration, which can save you a bit of trouble if you already have a site.
All in all, RoseHosting's VPS was and still is excellent.
RoseHosting User Reviews
RoseHosting gets fantastic user reviews pretty much anywhere you look. Everybody loves the platform, especially developers who can get tons of help for a vast range of technologies. Of course, non-technical people still praise it for being user-friendly.
One RoseHosting VPS review did complain about the provider deleting their data after the hosting plan had expired. This would be a red flag, but the host clarified that it actually kept the data for a month after suspending the plan. This is standard practice and is in all the legal documents, so your data is safe even if you miss a payment.
The provider will send email reminders in case the recurring payment doesn't go through. Still, it pays off to keep track of payments, just in case.
RoseHosting Support
RoseHosting runs a top-notch support team. They are fast, well-trained, and efficient,
An added benefit for beginners is that the support's duties cover, well… pretty much everything. The support team will set up the entire server according to your needs and will manage and regularly optimize it. The support is even available for one hour each month to help you troubleshoot your website's code—which is a very rare service and is seldom free.
It's one of the best managed VPS hosting services in the industry.
| | |
| --- | --- |
| Pros | Cons |
| Affordable preset plans | Only 7-day money-back period |
| Offers completely custom VPS | CDN has a setup fee |
| 99.99% uptime guarantee | Custom-resource servers cost extra |
| Both beginner and developer-friendly | |
| Excellent support | |
WebsiteBuilder Verdict
RoseHosting is an all-round excellent choice. It provides lots of assistance to beginners while supporting many technologies developers love. Additionally, you can get completely custom plans and thorough VPS management. All of that is available at a very reasonable price. RoseHosting just does it all.
InterServer Review
BEST FOR
Midrange Linux and Windows projects
Visit Website
Affordable rates for the resources
No price hikes, ever
Excellent infrastructure
Only somewhat larger servers are managed
InterServer is a VPS provider that prioritizes development over-aggressive marketing. Its VPS, with its interesting features, is a major part of its offer.
Let's dig right into the specifics and see what kind of value it brings.
InterServer Specs
InterServer lets you select the VPS resources through a slice system. One server slice equals 1 CPU core, 2GB RAM, 30GB SSD, and 2TB bandwidth. You can choose anywhere from one to sixteen slices, which offers a rather broad range of plans.
One server slice costs $6/month, or $10/month with a Windows license, which is pretty affordable for small servers. That said, many hosts get you better deals relative to the resources as you scale—meaning InterServer's value actually drops as you add slices.
It's worth pointing out the plans start unmanaged, but InterServer adds managed support with four slices or more. This balances things out, but the lower-end plans still have the best value.
InterServer also lacks a money-back guarantee, which is just odd. It does play it fair, though, and gives the best VPS price when paying month-to-month.
Managed offsite backups are available, but they'll cost you a few extra bucks per month (the exact rates depend on how much backup storage you need). Taking a server snapshot and downloading it locally is free, though.
InterServer also has a price lock guarantee, which is a rare benefit. Your monthly fee will stay the same as long as you're hosted with InterServer, which is awesome if you're worried about price increases.
InterServer Features
InterServer offers a few neat tools to go with its VPS service.
All servers come with a free Webuzo control panel, which is a decent enough solution. You can use it to install a bunch of other apps or technologies in one click.
cPanel, Plesk, and DirectAdmin panels are available for an additional fee. You'll need to install one if you want managed support (along with purchasing at least four server slices).
InterServer uses some rather robust technologies and has recently integrated Virtuozzo 7 hypervisor into its repertoire. Suffice it to say, this puts it among the fastest VPS hosting platforms while maintaining airtight security.
All in all, the platform is decent, but it more caters to users who can handle setting up their own environment.
InterServer User Reviews
InterServer user reviews heavily lean to the positive. Most praise the support for providing fast and effective assistance. Many also like the top-notch performance of the servers.
Negative reviews are few, especially fresh ones. One user did complain the customer area interface has a few clunky elements. It's a fair point, but it's a very minor detail in the overall service.
InterServer Support
InterServer's support is decent. The provider runs a strong tech team that can provide assistance with most virtual server hosting issues.
Tech support is available 24/7 via various channels, including AIM and corresponding mobile apps.
It's a pleasant surprise that InterServer recently added live chat. Unfortunately, the response times on it are still quite slow, which can be annoying. If you have a significant issue, it's best to create a ticket immediately. Complicated queries go through email anyway, so it makes sense to just bypass live chat.
| | |
| --- | --- |
| Pros | Cons |
| Affordable lower-end plans | No money-back guarantee |
| A broad range of Linux and Windows VPS | Managed support reserved for 4+ server slices |
| Offers the best price with month-to-month payments | Live chat is a bit clunky |
| Price lock guarantee | |
| Decent features | |
| Ultra-fast and reliable | |
| Decent support | |
WebsiteBuilder Verdict
InterServer is an awesome provider for users who can leverage its advantages. It offers benefits that make for easier management as well as more manageable hosting costs. It's one of the best VPS hosting choices if you want a powerful platform without committing for several years.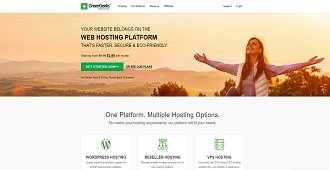 GreenGeeks Review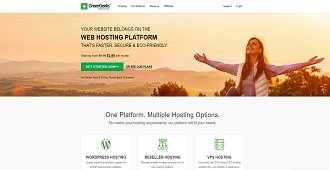 BEST FOR
Environmentally friendly hosting
Visit Website
Green hosting
Managed plans
Decent support team
Uneventful feature offer
Do you want environmentally friendly hosting? Look no further than GreenGeeks. The provider offers a strong technological platform with 300% carbon offsetting.
Let's see how well it fares against the best VPS hosting providers.
GreenGeeks Specs
GreenGeeks has three VPS plans:
4 CPU cores, 2GB RAM, 50GB SSD storage, 10TB bandwidth—$39.95/month
4 CPU cores, 4GB RAM, 75GB SSD storage, 10TB bandwidth—$59.95/month
6 CPU cores, 8GB RAM, 150GB SSD storage, 10TB bandwidth—$109.95/month
You can get the best price without going for a longer subscription. You can also cancel the service during the first month and get a refund.
Keep in mind services like domain name registrations are non-refundable. This is standard practice, but GreenGeeks is unclear about it on its website.
There is also a $15 setup fee, however, which is subtracted from the refund. Unlike the domain name, this is a bit problematic and is a disadvantage for GreenGeeks.
GreenGeeks offers managed VPS, but it has a "we install it, we manage it" policy. The support handles things like updates and speed optimization for cPanel and supported integrations. The VM hosting allows root access, but if you install custom software, the support might not be obliged to assist you.
All in all, GreenGeeks offers rather standard midrange plans. If you have a medium-sized project that isn't likely to blow up overnight, it's the right choice.
GreenGeeks Features
All plans include an SSL certificate and a cPanel license in the price. It lets you handle most things like backups and 1-click installs through cPanel.
You can also get a free transfer if you already have a website.
The VPS comes with a free IP address. Additional dedicated IPs are only sold in pairs, though, which is strange. The price of a pair is $8, which is standard. It's not really worth it if you need just one extra address, though.
Aside from that, GreenGeeks leaves most of the virtual dedicated server configuration up to you. You need to pick the server stack you want to run, and all the applications (which the provider will manage if they're supported by cPanel).
The setup takes a bit of know-how. GreenGeeks isn't that suitable for complete beginners, though it's a managed platform—which the provider itself confirms.
GreenGeeks User Reviews
GreenGeeks is one of the most popular hosting companies out there.
A bunch of users say they came for green hosting but stayed for the awesome features. Most also love the helpful and proficient support.
A few managed VPS hosting reviews did complain about GreenGeeks misleading them about full refunds. It's true GreenGeeks doesn't make it clear domain names are non-refundable. What's more, GreenGeeks has such transparency issues across all hosting plans, which is a bit concerning.
GreenGeeks Support
GreenGeeks has a decent support team. The agents are always attentive and fast to resolve any problems. You'll get assistance when you need it.
GreenGeeks also packed its knowledge base with articles. It has solid materials on running a VPS properly.
All in all, it's a solid service.
| | |
| --- | --- |
| Pros | Cons |
| Decent value plans | Not very beginner-friendly |
| Includes a few freebies | Few unique features |
| Excellent support | Transparency issues |
WebsiteBuilder Verdict
GreenGeeks offers one of the best VPS services across the board. It includes powerful and reasonably priced midrange plans for more experienced users. The management services can save you a lot of time with menial tasks, but you can still min-max the key aspects of your VPS setup.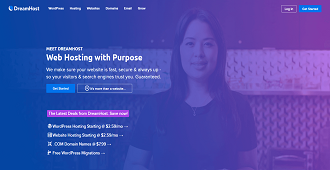 DreamHost Review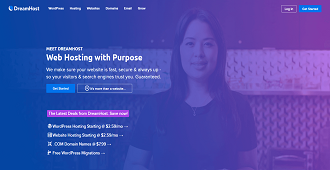 BEST FOR
WordPress beginners
Visit Website
WordPress-ready servers
Excellent long-term deals
Dev-friendly
Sort of clunky control panel
DreamHost is among the most recognizable WordPress providers as well as one of the biggest contributors to open source. Its platform alone houses 750,000 WordPress sites.
It offers a range of VPS plans which are also WordPress-optimized. Let's see if they are for you.
DreamHost Specs
DreamHost offers four fully managed virtual server price tiers:
VPS Basic—1GB RAM, 30GB SSD storage, $10/month
VPS Business—2GB RAM, 60GB SSD storage, $20/month
VPS Professional—4GB RAM, 120GB SSD storage, $40/month
VPS Enterprise—8GM RAM, 240GB SSD storage, $80/month
All users share the CPU resources, which is what some providers opt for. On one hand, this is okay, since it can help you handle traffic spikes easier. On the other, the provider may force you to upgrade if you spend too much CPU.
The pricing is competitive for managed VPS. However, you have to prepay for three years to get the best price. Paying month-to-month would cost you 50% more, which makes DreamHost more of a long-term investment. If you're looking for a platform that works for both short and long-term projects, check out the InterServer VPS review above.
DreamHost Features
DreamHost's VPS comes with Ubuntu preinstalled. You can also choose between Apache and Nginx.
It also has its own control panel, which unifies the server management and billing areas. The control panel forces you to access files through FTP, though.
Unfortunately for some users, DreamHost doesn't offer root access. The support handles management things like software updates, but you can't install whatever you want.
Developers can still make use of a lot of handy features. For starters, you can deploy Phusion Passenger on top of Apache or Nginx, which can do wonders if you use Python, Ruby, or Node.js. You can even use different versions of Ruby through RVM.
The VPS hosting platform also supports PHP 7 and Perl. You also get access to Cron, server logs, and a bunch of other features developers love.
You can also add auto-scaling for MySQL. This is free for the first week, but it costs $15/month afterward.
If you want to host WordPress, the CMS experts on the tech team can fine-tune your platform to perfection. DreamHost is one of the most experienced providers when it comes to WordPress, so it's one of the top WP platforms you can choose.
You also get a couple of nice features like an emailing system and an SSL certificate.
All in all, it's a respectable platform, though DreamHost is one of the few VPS providers that don't allow root access.
DreamHost User Reviews
A lot of customers praise the blazing-fast support responses and the power of the platform. Unsurprisingly, most users actually set up WordPress websites and have great success.
A few complaints are about DreamHost's emailing system not working properly. Some of these are a bit old, though, and DreamHost just put forth a new and updated email client. The solution works like a charm, so DreamHost is a great provider if you need emailing to go with your hosting.
Most users say only positive things about the platform, though.
DreamHost Support
Both the customer support agents and the techies maintaining the VPS hosting service do a superb job. The hosting environment is fast and reliable, particularly for WordPress sites. You can get assistance from one of the attentive agents at any time.
The support provides helpful and speedy assistance once you contact it. However, DreamHost makes contacting the support a bit more difficult than other providers. The live chat feature is a bit clunky, and the provider downright charges you for phone callbacks, which is not ideal.
You can always use emails, but having a fast support channel would save users some time.
| | |
| --- | --- |
| Pros | Cons |
| Competitive pricing | No root access |
| Lots of supported technologies | Control panel lacks some functions |
| Great for WordPress | |
| Excellent support | |
WebsiteBuilder Verdict
DreamHost is a solid provider that offers decent server management. It offers a user-friendly platform for beginners and WordPress users. There are also some developer technologies, though technical users might disagree with the lack of root access. It's one of the top ten VPS providers, though it lacks a few usual features.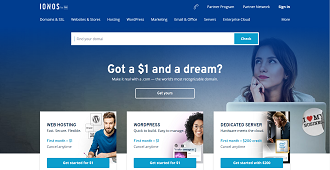 1&1 IONOS Review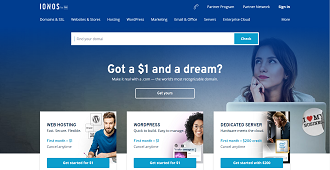 BEST FOR
Cheap Linux VPS
Visit Website
Scales well
Fair price for Linux plans
Kind of pricey for Windows
Backups are paid
1&1 IONOS is one of the oldest and most popular names in hosting. It's also one of the most respected providers in the market.
This is what its VPS tier brings to the table.
1&1 IONOS Specs
1&1 IONOS offers both Linux and Windows VPS. Windows licensing is fairly expensive with this provider, though, so let's focus Linux plans which have way better value.
You can choose from five VPS price tiers:
VPS S—1 Intel® Xeon E5 CPU core, 512MB RAM, 10GB SSD storage, $2/month
VPS M—2 CPU cores, 2GB RAM, 80GB storage, $10/month
VPS L—2 CPU cores, 4GB RAM, 120 GB storage, $20/month, $2 for the first month
VPS XL—4 CPU cores, 8GB RAM, 160 GB storage, $30/month
VPS XXL—6 CPU cores, 12GB RAM, 240GB storage, $40/month
Five Linux distros are available—Ubuntu, CentOS, Debian, CoreOS, and Open Suse. You can get many technologies set up by default, including databases like MySQL/MariaDB. There are also one-click installations for a variety of software like WordPress and PrestaShop.
The plans are unmanaged, though. That means you get root access, and you have to handle most of the maintenance and installation of any custom technologies yourself.
All in all, the virtual server price is appropriate for unmanaged plans.
1&1 IONOS Features
1&1 recently upgraded its VPS plans, so you now get a rather advanced security suite, complete with a managed firewall. You do have to handle malware scans, though.
Backups are paid, but they cost around 6.5 cents a month per gigabyte. This is rather fair for offsite storage. You can also create and upload server images for $7.20/month per 100GB of storage.
The plans include a straightforward server administration panel with a monitoring system. If you prefer, Plesk Onyx licenses are available on-demand.
1&1 throws a wildcard SSL certificate into the mix. As opposed to standard SSL, this lets you encrypt a domain with all underlying subdomains, which is excellent for more complex sites.
Finally, you get an emailing solution that includes spam and phishing protection. You also get one free dedicated IP address. More are available for $5.
All in all, 1&1 IONOS offers many more tools than your run-of-the-mill unmanaged VPS web hosting.
1&1 IONOS User Reviews
1&1 IONOS gets mostly positive reactions, but there are more than a few bad reviews in the mix as well.
Many users complain about lacking support.
It's important to remember this is an unmanaged solution. It's more affordable, but it's tailored for independent users. 1&1 gets no points for making this clear on the product page, though, so the reviews are sort of justified.
Most of the advanced users have no complaints about the actual platform, though.
1&1 IONOS Support
1&1's support team is among the best in VPS server hosting. It gets back to users promptly and can resolve most issues with the platform. The service is unmanaged, though, so you can't really rely on the support to troubleshoot things on your end.
1&1 does lack live chat, which is a bit odd. It's not really a dealbreaker, though, since you won't be contacting the support that often if you go for this type of solution.
| | |
| --- | --- |
| Pros | Cons |
| Starts small but has decent scaling | No live chat |
| Fair price | Additional IP addresses are expensive |
| More features than you'd expect in an unmanaged solution | |
| Decent support | |
WebsiteBuilder Verdict
1&1 IONOS offers a solid opportunity if you want to start very small and eventually scale up. Plus, you get way more help than you would with the usual unmanaged solution. It offers some of the best VPS web hosting if you need an unmanaged plan, even though there are a couple of kinks in the service.
Hostinger Review
BEST FOR
Highly affordable hosting for technical users
Visit Website
Very affordable
Easy server setup
In-house panel
No managed plans
Hostinger is a massive provider with a reputation for outrageous discounts. One of the first things that stand out about its VPS plans is the affordable price.
Let's see what Hostinger offers aside from the low price tag.
Hostinger Specs
Hostinger has six plans. They start at 1 Intel Xeon Silver CPU core at 2.20GHz, 1GB RAM, 20GB SSD storage, and 1TB bandwidth.  The resources grow linearly, so you can get two, three, four, six, or eight times the starting resources.
Hostinger's VPS hosting has decent scaling, though a maximum of 160GB storage is not ideal for hosting lots of data.
Hostinger doesn't state this clearly enough, but the plans are unmanaged. This only makes the deals worth it if you are confident in managing your own server.
The standard price is a bit above average for unmanaged hosting. That said, Hostinger does offer some sweet initial discounts you can take advantage of.
For instance, the starter plan would cost you $3.95/month with a four-year plan. With the same commitment, eight times the resources would cost you only $29.95/month, which is just a steal.
It's important to remember the price goes back to standard once the initial subscription expires. However, if you need an extremely cheap deal for the time being, Hostinger is one of the cheaper VPS providers.
Hostinger Features
Although the plans are unmanaged, Hostinger throws a few nifty tools into the mix. When starting out, you can use one of its templates. This lets you automatically install things like the LAMP stack, speeding up the setup phase. There's also a variety of OS and control panel combinations to choose from.
Antivirus software is also in the mix, along with DDoS protection and a monitoring tool. You can access the latter from hPanel—Hostinger's proprietary control panel. It's a decent solution in its own right, and it can save you a few bucks on a panel license.
Hostinger also offers a backup solution. This is paid $1.89/month, which is fine, but you can also set up your own offsite backups.
Hostinger's VPS services are unmanaged, so that's about it. The tools are decent for an unmanaged offer, though nothing extraordinary.
Hostinger User Reviews
It only takes a quick Google search to find thousands upon thousands of positive Hostinger user reviews. Many love how fast the servers are, and most also praise the support for help with this or that issue.
Some negative reviews complain about not getting a full refund. Indeed, while hosting is refundable, some services have a shorter refund period or aren't refundable at all. For instance, new domain names are only refundable for four days, while renewed domain names are non-refundable. It's something to watch out for.
It's also nice to see Hostinger's team replying to many of the VPS reviews. In many cases, the provider has even made improvements based on negative attention. This is about as good a sign as you can get that the provider is looking to create the best environment for its clients.
Hostinger Support
Hostinger runs a solid support team. Most tickets get a reply in under half an hour, and the team goes above and beyond to help each customer.
Hostinger does opt out of phone support, though, which is sort of expected out of a massive provider with very cheap plans. The issue is that live chat can be buggy as well, which can leave it without a channel for quick, simple queries.
Since the plans are unmanaged, however, you probably won't rely on the support too much.
| | |
| --- | --- |
| Pros | Cons |
| Huge discounts | Clunky support center |
| Easy setup with lots of templates | Storage cap is a bit low across the board |
| Decent proprietary control panel | Above-average cost on renewal |
| Fast support | |
WebsiteBuilder Verdict
Hostinger is one of the best VPS providers you need unmanaged hosting immediately and are on a tight budget. The plans are very affordable to start with and have a couple of handy features to boot. The overall service has a few kinks and does become more expensive on renewal, but you'll have plenty of time to plan for that.
Bluehost Review
BEST FOR
Lower-end projects and WordPress
Visit Website
Affordable deals with a few freebies
Decent support
Kind of pricey on renewal
30 day money-back guarantee
Bluehost is a massive provider with over two million hosted websites. It's also one of the most popular choices among WordPress website owners.
Let's see how well its virtual private server hosting performs.
Bluehost Specs
Bluehost offers three Linux VPS plans:
Standard—2 CPU cores, 2GB RAM, 30GB SSD storage, 1TB bandwidth, $19.99/month, $29.99/month on renewal
Enhanced—2 CPU cores, 4GB RAM, 60GB SSD storage, 2TB bandwidth, $29.99/month, $59.99/month on renewal
Ultimate—4 CPU cores, 8GB RAM, 120GB SSD storage, 3TB bandwidth, $59.99/month, $119.99/month on renewal
The initial price is only valid for the first term of hosting, and you have to prepay for three years to get it. This means Bluehost is not ideal if you want a small initial fee. The starting prices are also attractive, but be aware of the steeper renewal fees.
You can also customize some resources like storage. You can't yet add CPU and RAM, but this feature is in the works. The plans are in the lower end of VPS servers, though, so it's best to use them for projects that won't grow massive in a few years.
You should also remember that Bluehost tries to sneak a few upsells into the purchasing process. Make sure to uncheck the features you don't want—for instance, domain privacy—to avoid being charged unnecessarily.
Bluehost Features
The plans come with CentOS preinstalled and Bluehost's modified version of cPanel.
The provider offers a few other freebies, like an SSL certificate and domain name registration. The Enhanced and Ultimate plans also add two IP addresses instead of the usual one. All of the freebies justify the somewhat higher price tag.
Bluehost also includes rather advanced management tools. If you're working with others on virtual private servers, you can grant them access to only specific controls.
Bluehost also offers things like SiteLock and CodeGuard, but these are paid add-ons. One addon that can be worth purchasing is Bluehost's SEO tools, since they are rather affordable—only $1.99/month. These are helpful for beginners who need a bit of assistance keeping an eye on their website. They aren't really a must-have since there are other ways to learn about SEO out there.
All in all, you get a handful of freebies that drive up the value, but it's hardly the best VPS service in terms of power.
Bluehost User Reviews
Bluehost gets somewhat mixed reviews. Many users, especially WordPress website owners, like that the hosting works well.
Many, however, complain about the quality of tech and billing support. Indeed, EIG-owned brands are notorious for declining support quality, so it's easy to see where this one is coming from.
Bluehost Support
Speaking of, Bluehost has recently made a couple of changes in the support department.
The support is now much more proficient, and the core techies are a lot faster to resolve any issues related to VPS hosting. Plus, the knowledge base got updated with plenty of informative content.
That said, Bluehost still outsources its frontline support. This makes it sort of unlikely to get the same quality as you would from a fully in-house team.  Still, Bluehost is lightyears ahead of other EIG-owned brands.
| | |
| --- | --- |
| Pros | Cons |
| Decent lower-end plans | Steep renewal cost |
| Freebies increase value | Some upsells |
| Improving support quality | Unimpressive features |
WebsiteBuilder Verdict
Bluehost is a decent provider, but not really the best. You can get a good-value three-year deal, but the price afterward is a bit much for the features. It made it to our top picks for the best VPS hosting of 2020, but it does struggle against other providers.
What Is a VPS?
VPSs are similar to shared servers in that several users are using the same physical machine. However, while shared servers have everyone sharing the OS and technologies, VPS works a bit differently.
To create a VPS, providers use a virtualization technology like VMware. These are solutions that let you create multiple virtual machines on one physical device.
If you'd like to try this out, it's pretty easy. All you need to do is to get a Type 2 hypervisor like VMWare Workstation. This will let you set up a virtual machine on your personal computer.
Type 2 Hypervisors are virtualization software that work on top of an existing operating system. This is incredibly useful if you want to run multiple operating systems simultaneously or if you want to use your computer to test out a piece of software in a safe environment.
That said, all functions a Type 2 hypervisor does has to go through the existing operating system. That's why all the best VPS hosting companies actually use type 1 hypervisors.
Instead of installing it on top of an OS like any other program, this software works directly on existing hardware. This makes the platform much faster, since the virtualization layer can communicate directly with the hardware. It's also safer, since running an OS introduces a potential risk factor.
Going back to virtual servers—the machines work independently from each other, like dedicated servers. Using one virtual machine doesn't affect the others on the same physical device, hence the name—virtual private server.
Each server is assigned a set amount of resources—CPU, RAM, storage capacity, and sometimes bandwidth. This means the applications running on separate servers don't have to fight over resources, which makes it much easier to plan resource upgrades.
Perhaps even more importantly, each virtual machine can run its own operating system and technologies like web servers, databases, etc. The setup won't interfere with the other virtual servers, so you could have one server running, let's say, SharePoint on Windows and another with a LAMP stack.
In simple words, virtualization lets you partition a server machine into many independent virtual servers. This is commonly seen in VPS hosts, where a provider rents out individual VPSs to its customers.
The explanation so far was sort of theoretical. However, a VPS infrastructure can bring significant, real-life benefits compared to traditional servers. Let's cover what it does differently.
What Are the Advantages of VPS?
In the traditional setups, each physical server would run one operating system utilized by one user at a time. This is a pretty standard system—you likely use something similar on your personal computer (though computers have come a long way).
The problem, however, is that, in many cases, the whole machine is just too much for one user. Oftentimes, the bulk of resources is just used in short bursts and is idle in most cases.
This is why the system of time-sharing was invented in the early days of computing. Computer multitasking would let several users draw from the same computer's resources concurrently.
It's important to understand that this is an ancient system that wouldn't be viable today. However, modern-day VPS servers are based on some of the same principles—they let many users share the same physical server to get some of the same advantages.
This is how it works:
Server Virtualization
Instead of just sharing the same environment, virtual servers are based on hypervisors. Hypervisors are virtualization systems, which can create a virtual layer and partition the physical server.
If it sounds a bit technical, don't worry. A hypervisor essentially splits the actual server into multiple virtual servers. Each virtual device (or a virtual private server) acts as a completely independent computer.
The first advantage here is that you can run completely unrelated technologies on separate virtual devices, including different operating systems.
It's pretty obvious how this translates to VPS server hosting. As a client, the provider can give you superuser-level access to your VPS.
This means you can run pretty much any server setup you want, independent of other users on the same physical device. For instance, one user could run a Windows-based emailing server while another could set up, let's say, Linux and a VPN node on another.
Second, virtualization software can easily dedicate a certain amount of server resources to each server. The resources you purchase are yours and yours alone, and they will be available to you no matter what.
Third, a VPS tends to be very secure. Unlike a standard shared platform, where one compromised account can create security issues for others, virtual servers are much better isolated.
This depends on the virtualization software, of course. However, most modern software like VMWare or Virtuozzo leave basically no security gaps, making VPS services nearly as secure as a dedicated device.
Resource Scalability and Failover
One advantage virtual platforms have over physical ones is insane scalability.
For example, if you run a dedicated server, options for increasing available resources are somewhat limited. You can only do one of three things:
Scale horizontally by adding more hardware to the server
Scale vertically by adding another device
Transfer your application to a new, bigger server
All three options are pretty traumatic, technically challenging, and can lead to lots of downtime.
With a virtual server, though, the resources depend only on the amount allocated by the virtualization software. You can get access to more resources in just a few clicks. Likewise, you can always downgrade your plan, meaning you'll never overspend on VM hosting.
But, you might ask, what if I want to upgrade and the physical server is already running at full capacity? Where will I get the resources?
Well, I'm glad you asked.
Many virtualization software let you transfer an entire virtual machine to a new device without ever switching it off. You can move to a server with more free resources automatically and scale up there. This means you can almost always upgrade with zero downtime.
A similar system is in place to enable automatic failover. If a virtual instance fails for some reason, the same instance can automatically boot up on another computer. This provides automated protection against outages.
Note that this isn't true failover clustering. The ideal solution would be to have two or more identical virtual servers running simultaneously. That way, if one fails, the other can pick up the slack instantly.
However, this can easily double or triple the price of hosting. Only very premium VPS or cloud hosting companies use this. Most hosts settle for the more affordable system as the next best option.
Bottom Line
VPS solutions essentially get you most of the advantages of a dedicated machine, like superuser privileges, set resource availability, and excellent security. Plus, virtual servers tend to be budget-friendly, while allowing on-demand scaling and automated failover. They are the perfect middle ground between shared and dedicated hosting, with a couple of unique advantages to boot.
What Can a VPS Be Used For?
VPS machines can be used for mostly anything you'd do with a physical server. Let's cover a couple of common and fun use cases, though.
Website Hosting
The bulk of users go to virtual hosting providers to set up a website. Every hosting provider knows this, and they take special care to optimize their plans accordingly.
Many VPS plans let you set up a bunch of commonly used CMS and support a range of technologies used in web development. Plus, many also offer domain names, SSL certificates, and other services useful for setting up a website.
Pretty much any VPS you can find is ready for web hosting, excluding perhaps some providers that specialize in a specific service.
Reseller Hosting
Many hosting providers offer special reseller plans, but a VPS provider can do the job here as well. You can split up a server into many smaller plans and sell them to clients.
One thing to note is you'll need a control panel with customizable branding (if you don't have a proprietary solution already). cPanel/WHM and Plesk are pretty common choices here, but the licensing can get a bit pricy, especially if you resell many plans.
Scala Hosting is one of the very few providers that offers a proprietary panel that can be fully white-labeled. You can check out its VPS review above if you're interested in minimizing costs this way.
File Hosting/Collaboration
Many businesses might want to keep all their files in one place. A VPS provides a decent opportunity to let all employees access the necessary files.
There are also plenty of collaboration solutions out there. These can streamline workflow and let coworkers communicate and work on files simultaneously. They are relatively easy to set up on a VPS, so they can be excellent for smaller or mid-sized companies.
Email Hosting
Many providers throw in a basic email solution into their VPS offer. You can use these to receive and send emails using a custom address.
That said, you can take it up a notch and set up a full-on email server. Software like Microsoft Exchange Server can easily handle emailing for an entire company.
Keep in mind that VPS providers might not be that lenient if you use their servers for aggressive email marketing. If you want to send out thousands of emails daily, you might need a solution that specializes in such services.
Setting up a Private VPN
VPNs are excellent for making data transfers private, but, let's face it, some of them are pretty pricy, especially if you want to connect a bunch of devices. Fortunately, you can just get a low-end VPS and set up an open-source software like Outline VPN.
This can be a decent (and fun) way to protect your privacy online and shield yourself from all sorts of information collecting attacks.
Seedboxes
Do you want to upload/download torrents extremely quickly and securely? Setting up a seedbox can be an excellent asset. You can seed or leech torrents without engaging your personal computer in peer-to-peer file sharing.
Keep in mind that you'll usually want virtual server hosting with a high upload/download bandwidth for this. There are specialized solutions that can do this.
Also, you should be careful what you use your seedbox for. Ultra-fast file sharing can be a great asset, as long as you're not using it for any illegal activities.
Virtual Game Servers
Public servers are great and all, but setting up a private game server can be awesome fun as well. VPS is incredibly popular for private Minecraft servers, but no game with a private server option is off the table.
VoIP
VoIP is slowly pushing out traditional telephony. The protocol is used by some of the giants like WhatsApp to provide free phone calls to anyone with an internet connection.
That said, so many hyper-popular services already offer free or very cheap calls that setting up a VoIP server is sometimes unnecessary.
There are some use cases where a VoIP server can be viable—for instance, gamers like setting up Mumble because it can support over 100 participants with little lag. For most people, though, a regular service like WhatsApp does the trick.
Bottom Line
VPS hosting can be used for any number of purposes. You can try thousands of applications, and there are always new ways to put your server to good use. I've outlined some interesting and handy things you might want to take a swing at. If you have your mind set on something else, though, a VPS might support that too.
When to Get VPS Hosting
Determining what type of hosting you need before trying out the options can be tough. A VPS can be a giant asset, but, in some cases, it might not have enough power to work for you. Alternatively, a VPS might work, but you might be able to get the job done with a more minimalistic solution like shared hosting.
Let's cover a few cases where a VPS hosting provider is just right.
Upgrading from Shared Hosting
Once you start getting more traffic, you might see issues with a shared platform. You might notice performance issues or frequent server errors.
In such cases, the provider itself often recommends an upgrade to VPS. VPS platforms usually have fewer tenants per server, meaning you can get more resources to handle your website.
So, if your site is outgrowing your current hosting, it might be time to upgrade.
The Need for Resources
A lot of the time, though, webmasters might skip shared hosting completely.
Some applications, like Magento are too demanding for most shared platforms. Even if you only get 100 visitors a day, a shared platform may struggle to keep up.
Another scenario might be that you already have an established brand or a business. You might expect a lot of people to access your application as soon as it's live.
In such scenarios, it might be worth it to start out with a VPS service instead of going for shared.
Mind that modern VPSs are very scalable, so it usually matters very little where you start (unless you prepay for a long-term contract). However, once you need 16+ CPU cores and 32+ GB RAM, you kind of start running out of options. If you need a massive solution, public cloud platforms may offer similar scalability with more power.
Running Specific Applications & Technologies
Many developers go for VPS because of the control.
Smaller platforms force you to share both the server hardware and software. Yes, developer-friendly shared hosting usually supports programming languages like Ruby. However, if you want to use Python or Node.js or more obscure technologies, it's slim pickings out there.
VPS, on the other hand, can grant you root access and let you act as a superuser. This means you can install any technology you want.
The benefit of setting up any combination of technologies you need can't be understated. For one, you're not stuck with the webserver and database technologies your hosting provider chooses. Plus, you can fine-tune the server stack to your specific needs. You can optimize VPS hosting services perfectly, which is one of the most significant benefits.
Looking for Reliability
If you're earning money through a website or need to run an application for business, you'll want a server that remains online for as much time as possible. This means protection from any outages or security breaches.
Even though it's affordable, VPS performs well here. The servers are well-isolated from each other. The system usually also includes virtual network encryption that protects the servers from any unforeseen attacks.
A great feature of virtual machines are failover clusters, meaning another machine picks up the slack if one fails. This minimizes any downtime in case of a virtual server going down. The way a provider handles failover typically separates premium VPS platforms from more budget ones.
Basically, VPSs are very reliable, so they are a solid choice if you need near 100% server uptime.
Adding Scalability and Customizability
One of the main benefits of VPS is that you can scale up or down as needed.
Let's say your server has to push out a massive workload for a couple of months but then has nothing to do for a month or two. Well, you can just run a bigger plan for the high-traffic period and scale down later to avoid overpaying.
It's also relatively easy to get the exact resources you need. Many of the best VPS hosting providers let you customize the CPU/RAM/storage availability, so you're only paying for the resources your specific application needs.
With VPS, you can mostly change this on a month-to-month basis (or however long you sign the contract for). Most companies let you scale up at any time, but you'll have to wait till the end of the month to scale down.
If you want more day-to-day or even hour-to-hour scalability, you should look into cloud platforms. These can let you scale resources dynamically at any time and only pay for whatever you spend.
Saving Money
A final reason to go for a VPS hosting service is that you get all of the advantages above at a reasonable price. Yes, VPS tends to be pricier than shared hosting, but it's also a lot more powerful. On top of that, there are some rather budget-friendly solutions.
The average managed starter plan goes for as little as $10/month. This gets you all the benefits of having your own server while being affordable enough for just about anyone's budget.
Wrap Up
That concludes the reviews of the top virtual server providers.
You now know who has the best VPS hosting offers. We've covered providers with different levels of management, support for both Linux and Windows, and found the best choices for beginners, developers, and even resellers.
You also know what VPS brings to the table, what you can use it for, and when to get a VPS for yourself or your business. The use cases above cover the most common things you can do with your VPS, but it's up to you to discover all the possibilities (spoiler alert: they are pretty much endless).
Good luck on your hosting journey.
FAQ
What are the benefits of VPS hosting?
VPS is somewhere between shared and dedicated hosting in terms of available resources. It provides excellent middle ground if you want economical hosting but have a website or app that's too demanding for a shared plan.
Since you're using a virtual server, the resources are usually very easily scalable. You can upgrade or downgrade your plan without spending ages transferring all the data to a different server.
Another pretty fantastic benefit is that VPS web hosting can give you full control over the server environment, which is not an option with shared hosting. You have the freedom to run the exact setup and apps you want.
That's the short answer. You can read more about the benefits of a VPS above.
What is VPS hosting used for?
A VPS can be used for most things you would use a regular, physical server for. Probably the most common application is hosting a website too demanding for shared hosting.
You can also use the VPS to run other applications. Many businesses like setting up a private email server or a collaboration system on a VPS.
Of course, there are many other uses, like creating a VoIP server, setting up a VPN, gaming server, cryptocurrency mining, and many other things. You get a broad range of options, so pick your favorite.
Is VPS better than shared hosting?
VPS, in comparison to shared hosting, usually performs better. That said, it depends on what you need.
VPS tends to have a lot more resources than shared, meaning you can use it to handle much larger projects. It also gives you way more control, so you can set up an environment more optimized for your particular application.
With shared hosting, you can't really choose the technologies installed on the server. Many users also share the same resource pool, which can mean performance troubles. Still, shared hosting tends to be a lot cheaper than VPS.
Shared hosting is usually more than enough for budding websites. VPS provides more power and control, which is a welcome shift as your needs grow. You need to assess your needs and pick the solution that will get you the best value.
Where can I get a free VPS?
There are some providers that claim to offer free VPS website hosting. That said, I would urge you against going for those platforms.
A hosting company has to make money somehow, so dishing out virtual servers for free is a major red flag. The best-case scenario is it collects your email address for marketing and doesn't even give you a server. There are even more malicious things that could be behind a free offer, though.
If you want a low-risk start, it's better to go for an established host with a free trial period or a long money-back guarantee. If you just want to test out some code, there are free testing platforms out there you can try as well—though these are no replacement for paid hosting.
If you want a robust yet affordable platform, you can check out Hostwinds and InterServer in our VPS hosting reviews above.
Which is better, VPS or a dedicated server?
VPS and dedicated servers share a lot of similar features. Dedicated hosting gives you an entire machine to yourself, so you usually get more resources, though there are no hard and fast rules here.
Both are highly customizable, though dedicated plans may give you access to some hardware customization as well. Dedicated hosting can also be a bit more secure since you're not sharing a physical machine with other users. VPS, on the other hand, tends to be more affordable and way easier to scale.
Both are solid choices, but dedicated hosting is complete overkill for most users and even smaller companies. In most cases, a VPS is more than enough. Still, if you need a massive amount of resources or are working with extremely sensitive info, you can give dedicated plans a try.
How much does VPS hosting cost?
There's a broad range of options here. A VPS could cost anywhere from a few bucks per month to a few hundred.
A decent price for a VPS entry plan is around $10/month. This would let you get server management with a decent amount of starting resources. Plus, $10 is low enough for the majority of users. As you need more and more resources, though, the cost will go up, which is something to keep in mind.