10 Top Cloud Storage Solutions You Can Rely on in 2022
Years ago, it was a toss-up whether using cloud storage for your business or even personal use makes sense. But these days, with so many options, it's effortless to find one that suits your needs. However, having numerous options also gives you many chances to make a wrong choice. 
Thus, we compiled the best cloud storage services available to help you find the perfect one.
Published: November 19, 2020
Affiliate Disclosure
We aim to provide you with the best tech news and reviews. To sustain our site, we may earn a commission when you buy from our affiliate links. Read our full Affiliate Disclosure.
Best Cloud Storage Services for 2022
Our Top-Rated Cloud Storage Reviews
Microsoft OneDrive
MOST SUITED FOR
Large businesses
Visit Website
Rating: 10
Free storage: 5 GB
Pricing: From $1.99/month
File size limit: 100 GB
Security: Malware protection, end-to-end encryption, ransomware detection and recovery, personal vault
Customer Support: Via help center, phone, and email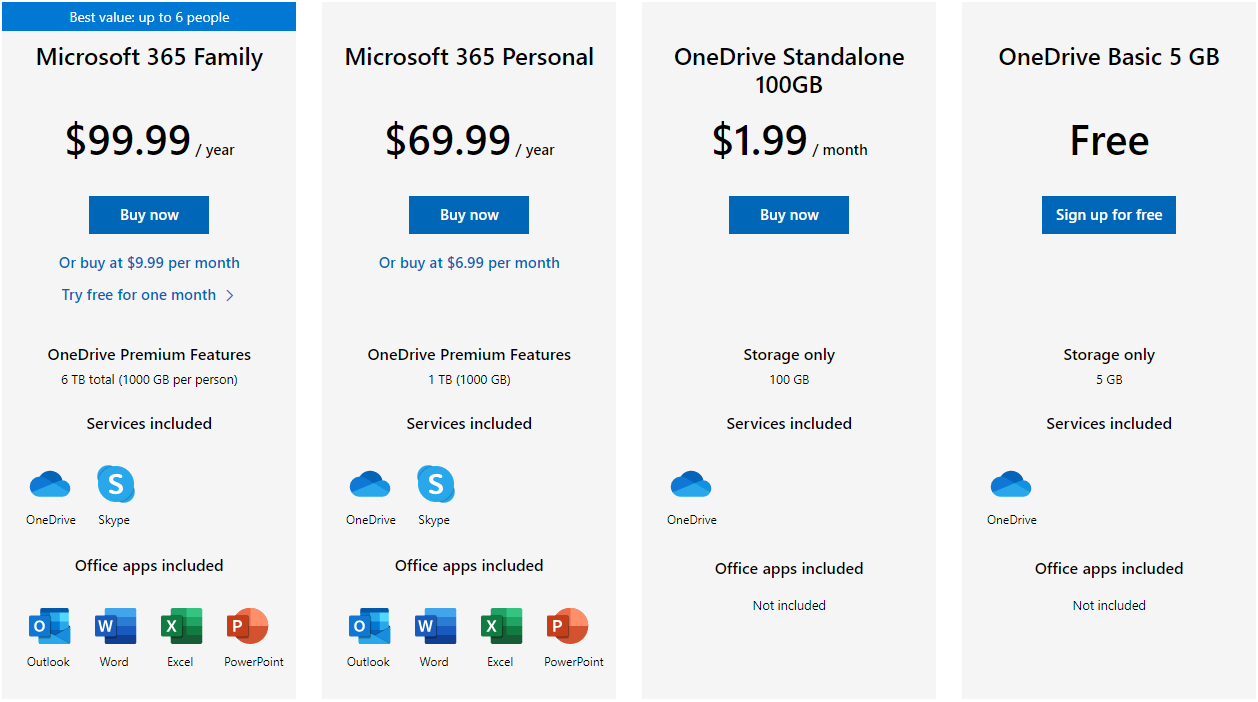 If you're a fan of the Windows ecosystem, then you'll be happy with how we start our cloud storage reviews. Microsoft's OneDrive is the best choice on this list for you. But even if you're not, it's the top-rated cloud storage option on this list. 
The extensive features and flexible options make it an excellent choice both for home and business users. And with OneDrive clients available on all major platforms, you'll never need to worry about access.
The standout feature is its integration with Microsoft 365. You and your team can work simultaneously on files using Word, Outlook, and other Microsoft products, making it a serious contender for the best cloud storage for 2020. 
Security is all top-of-the-line, and Microsoft even helps you recover files compromised by ransomware attacks. Additionally, OneDrive offers a "personal vault" feature where you can store files behind extra layers of authentication and protection.
Business users will also love the integration with Microsoft Teams. Plus, several pricing tiers for businesses make it easy to optimize and scale as you grow. Moreover, Microsoft is highly active in adding features to OneDrive consistently. They update productivity and collaboration tools frequently and implement AI that helps you organize files and projects. 
| | |
| --- | --- |
| Pros  | Cons |
| Clients available on all platforms | Only 5GB of free storage |
| Outstanding collaboration tools | Some syncing issues when saving from desktop apps |
| Office 365 subscription included | |
| Easy-to-use interface | |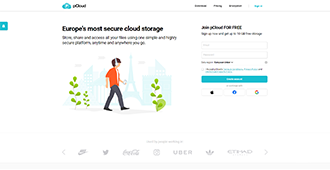 pCloud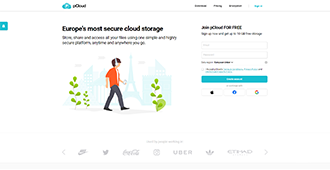 MOST SUITED FOR
Businesses in need of strong encryption
Visit Website
Rating: 9.9
Free storage: 10 GB
Pricing: From $49.99/year
File size limit: Unlimited
Security: TLS/SSL channel protection, 256-bit AES end-to-end encryption, extra layer of client-side encryption for a fee
Customer Support: Via email
pCloud's big claim to fame is its top-of-the-line security features. It claims to be "Europe's most secure cloud storage," and it lives up to the hype. It uses a 256-bit advanced encryption standard to secure files. That's the same level of encryption used by the US government to safeguard classified information. 
The company is based in Switzerland, and all its servers are in European Union member nations. Moreover, pCloud stores every file on at least three server locations to ensure continuity if a server is compromised. It even offers additional client-side encryption, so your files are encrypted before sending them into the cloud. And only you can decrypt them.
At first glance, pCloud seems relatively expensive. And it's undoubtedly among the most expensive options on this list. But it has an ace up its sleeve—a lifetime storage plan. For a one-time payment, you can have 2TB of cloud storage for life. It's a terrific deal if you frequently use cloud storage to share files and don't like monthly payments. And they also have annual plans if you're not ready to commit to lifetime access. 
pCloud has both mobile and desktop applications that allow easy file sharing across all major platforms. And another cool feature is built-in audio and video players, making it the best cloud storage for streaming video.
| | |
| --- | --- |
| Pros | Cons |
| Military-grade encryption | The free version lacks features |
| Built-in video and audio players | Poor support options |
| Lifetime plan | |
| File versioning for up to 30 days | |
Google Drive
MOST SUITED FOR
Android users
Visit Website
Rating: 9.9
Free Storage: 15 GB
Pricing: From $1.99/month
File Size Limit: 5 TB
Security: 256-bit SSL/TLS encryption while files are in transit and 128-bit AES for files stored on your drive.
Customer Support: Via help center, forums, and phone
If you've used cloud storage before, chances are you were using Google Drive (now called Google One). 
After all, Google offers 15 GB of cloud storage for free, along with its G Suite family of products. Besides that, it also provides excellent UX features. You can designate backup folders on your device and sync across all devices instantly. 
In addition to being the gold-standard free storage plan, Google cloud storage has exceptional paid options. You can get up to 200 GB for $2.99 a month or $29.99 a year, including the possibility of adding family members and getting 10% money back in the Google store. 
But its most recommended plan is for only $1.99 a month or $19.99 a year, where you'll get up to 100 GB storage and the same option to add family members.
But to reiterate, Google's free storage is exceptionally generous. You can use the free tier for files that don't require high security and an additional service that gives you more security features for other data. 
| | |
| --- | --- |
| Pros | Cons |
| 15GB free storage | Some issues viewing PDFs |
| Plays well with most file types | Privacy issues |
| Desktop-to-desktop syncing | |
| Mark files to keep version history forever | |
Icedrive
MOST SUITED FOR
Collaborative projects
Visit Website
Rating: 9.8
Free storage: 10 GB
Price: From $1.67/month
File size limit: 100 TB
Security: Twofish algorithm encryption; full client-side zero-knowledge encryption
Customer Support: Via an online ticket, Skype, and phone
Icedrive bills itself as the best cloud service for those after top-notch encryption. And to prove it, it eschews the standard AES encryption that most other cloud storage providers use. Instead, Icedrive uses the Twofish encryption algorithm. It's an encryption protocol at least as safe as AES, if not more. 
Besides being a contender for the best encrypted cloud storage on the market, Icedrive offers a decent set of features at affordable price points. As a relative newcomer to the cloud storage game, Icedrive is trying hard to set itself apart. One of the ways it's doing so is with a commendable 10GB of free storage. 
Furthermore, it has some of the cheapest paid plans to back up the free tier. Besides the rock-bottom monthly pricing options, it also has some of the most affordable lifetime plans on the market. 
Its Lite plan offers 150GB of storage for life for a one-time payment of $59. That's The best value for cloud storage you'll find anywhere. It also features a streamlined and easy-to-use interface with outstanding design elements. And you can access your drive via the Icedrive website, a desktop app, a mobile app, and a virtual drive. 
Unfortunately, it's still a little sparse in some areas. Sharing options are limited to either email or a link, and it doesn't have fantastic customer support. 
| | |
| --- | --- |
| Pros | Cons |
| Stellar privacy and security | Doesn't create a sync folder |
| Affordable | |
| Excellent interface | |
| Excellent mobile app | |
Sync
MOST SUITED FOR
Small teams
Visit Website
Rating: 9.6
Free storage: 5 GB
Price: From $5.00/user/month
File size limit: Unlimited
Security: 256-bit AES end-to-end encryption, two-factor authentication
Customer Support: Via a support ticket and help center
Sync specifically targets users who are dissatisfied with loose privacy policies. 
Dropbox, Google Drive, and many others allow themselves to peek at and share your files. The same can't be said for Sync. It's one of the best cloud storage providers in terms of privacy. The company made a point of legally locking itself out of your data in the TOS. That approach has a twofold benefit for you. 
Conversely, you can rest easy knowing your data is safe from prying eyes. But it also allows Sync to comply with privacy regulations, such as HIPAA, GDPR, and PIPEDA, making it the best cloud storage service for privacy compliance. 
All that privacy stuff aside, Sync does exactly what it says on the box. You get reliable and secure cloud storage at a fair price. 
Some of the nice things Sync offers is 265-day file versioning, easy installation, and selective syncing. However, it's a relatively bare-bones option. It's the best secure cloud storage for people who need just that and not much more. 
Even the pricing plans are relatively basic. There are three tiers for teams, and each scales per user, with the most expensive plan (10TB) costing $15 per user per month. 
One of the few standout features of Sync outside of privacy compliance is its data vault. Files you put in the data vault exist only there and don't sync up anywhere else. However, whether or not this makes Sync the perfect online cloud storage for you depends solely on your individual needs. 
| | |
| --- | --- |
| Pros | Cons |
| Privacy regulation compliance | Bare-bones feature set |
| File versioning for a year | Annual billing only |
| Excellent plans for teams | |
| Great security features | |
MEGA
MOST SUITED FOR
Linux users
Visit Website
Free storage: 50 GB
Price: From $5.70/month
File size limit: Unlimited
Security: 128-bit AES end-to-end encryption, client-side encryption, encrypted chat
Customer Support: Via help center and email
If you even glance over what MEGA offers, the first thing that stands out is the 50GB of free storage.  Even the most generous cloud storage services don't go beyond 15GB. Does that make MEGA the best free cloud backup? Not exactly.
If something sounds too good to be true, that's because it usually is. To get the 50GB of free storage, you have to play MEGA's "achievements" game. Achievements include getting other people to sign up and installing their mobile app. And, the extra storage you accrue is temporary. 
As far as security goes, MEGA seems relatively airtight on paper. It offers good encryption through-and-through, and an open-source client your team can examine freely. But there's an asterisk next to that, as well.  
Mega is a New Zealand-based company with an admittedly shaky past. Its founder, Kim Dotcom, has had some run-ins with the law, including money laundering, racketeering, and wire-fraud charges. He has since severed ties with the company, but it's still worth mentioning. 
In most other respects, MEGA is one of the top cloud storage companies. It has competitively priced plans, a clean interface, and an encrypted chat client. MEGA's enterprise pricing plan is among the simplest. There's only one tier, and you can add users or expand the storage limits as needed within that tier. 
One glaring drawback MEGA has is monthly transfer limits. The limits are generous, but it's something to look out for if you need to transfer large amounts of data every month. 
| | |
| --- | --- |
| Pros | Cons |
| Excellent mobile app | File transfer limits |
| Secure voice and video calls | Poor customer support |
| Client available on all major platforms | |
| Excellent free tier | |
Zoolz
MOST SUITED FOR
Storing photos and videos
Visit Website
Rating: 9.5
Free storage: 10 GB for 14 days only
Price: From $15/month
File size limit: Unlimited
Security: 256-bit AES end-to-end encryption, multiple backups and redundancy measures, GDPR compliant
Customer Support: Via help center and email support
Zoolz's marquee feature is an ample amount of "cold storage," which competes with Amazon's Glacier service. In a nutshell, cold storage is a cloud backup model that limits when you can access your data. Typically, you'll have to wait three to five hours before your download can start. It's probably the best cloud storage for photos and videos you just need to store and forget.
The obvious drawback is you won't have instant access to your files. The big upside is that you get a lot of storage space for relatively little money. For $40/month, you can purchase 1TB of cold storage, and yearly payment plans can bring that price even lower. 
Moving on to features—Zoolz has few, and of the ones it has, some are poorly executed. Its desktop application is functional but looks and feels dated. Its mobile application leaves a lot to be desired, as well. You can manage file access privileges and many other details well enough, but it's not going to feel streamlined. 
Perhaps most egregious is the complete lack of a free tier from Zoolz. You can create a trial account with all the features of a full-fledged one, but it expires in 14 days. 
Overall, Zoolz appeals most to people who need the best cloud storage plans for a heck of a lot of data over long periods without accessing it. So it's small wonder it has attracted the likes of Dell and the Harvard Library into its client list.
| | |
| --- | --- |
| Pros | Cons |
| Supports many users | Dated applications |
| Cold storage feature | Slow cold storage file recovery |
| Fast uploads and downloads | |
| Allows granular control over backups | |
iCloud Drive
MOST SUITED FOR
Apple users
Visit Website
Rating: 9.4
Free Storage: 5 GB
Pricing: From $0.99/month
File size limit: 50 GB
Security: 256-bit AES end-to-end encryption for particular data, two-factor authentication
Customer Support: Phone support, Apple support app, support communities, email support
Apple is a company fully dedicated to a seamless user experience. And that mandate holds for the iCloud Drive, possibly the best cloud storage for Mac users. 
It has the sleek, modern interface and accessible features characteristic of Apple's products. If you already use Apple's devices, including the iCloud Drive into your suite of products is a no-brainer. But it's not limited to Apple's devices alone. You can sign in to your iCloud account from Windows devices as well and enable syncing. However, Android devices remain excluded. 
Surprisingly, it's also one of the best cloud storage deals, with many affordable price tiers. It's completely integrated with the iOS ecosystem and makes it easy to collaborate with Apple's productivity apps. 
Since it's part of a more extensive system, it's fair to compare it to Google Drive and Microsoft's OneDrive. In a broad sense, it falls short compared to those two, but it's undoubtedly the best cloud storage for iPhone users and Apple fans.  
Syncing with iCloud is effortless for iOS devices, so effortless, you may not even notice it's happening. That's great for a worry-free experience, but it tends to use up your cloud storage faster than you might like. You'll find it's worth tinkering with the backup settings to make the best use of your space.
One of its most significant flaws is the lack of a search feature in the browser interface of iCloud. It's hard to imagine why this is missing, but it's a huge oversight, so iCloud might not be the best cloud storage for photos or videos to which you need fast access.
| | |
| --- | --- |
| Pros | Cons |
| Intuitive app and interface | No Android compatibility |
| Free storage with Apple devices | No client-side encryption |
| Competitive pricing | |
| Instant sync across multiple devices | |
IDrive
MOST SUITED FOR
Photographers
Visit Website
Rating: 9.2
Free storage: 5 GB
Pricing: From 59.62/year
File size limit: 2 GB
Security: 256-bit AES end-to-end encryption with a user-defined key
Customer Support: Via phone, email, support form, and live chat
IDrive is a good cloud storage option for most users. It has decent features, competitive pricing, and it's easy to use. However, it stands out in several ways, as well. For one, it's simple and easy to set up on Linux machines and servers. 
IDrive syncs all devices linked to your account instantly. Furthermore, business accounts allow unlimited users, computers, and servers. You can also request a physical shipment of your data on a temporary storage device for free once a year.
Moreover, it has an excellent auto-upload feature for photos. The Auto Camera Upload can be set up on your device to back up all photos and videos as soon as they're created. You can also backup live video captures automatically. 
In terms of personal cloud storage, it's hard to beat IDrive on pricing. For $69.50, you get access to 5TB of storage for a whole year. That's a better price-to-storage ratio than most of the contenders on this list and makes it the best home cloud storage option. Although IDrive claims it doesn't voluntarily share personally identifiable information, it allows itself to collect it in the privacy policy.  
| | |
| --- | --- |
| Pros | Cons |
| File versioning keeps 30 latest versions | Small maximum file size |
| Compatible with all major platforms | Dated web client |
| Lightning-fast upload speeds | |
| Unlimited users and devices | |
Dropbox
MOST SUITED FOR
Windows users
Visit Website
Rating: 9.0
Free storage: 2 GB
Pricing: From $9.99/month
File size limit: 50 GB
Security: 256-bit AES end-to-end encryption at rest, 128-bit SSL/TLS transit protection, two-step verification
Customer Support: Help center, email support, 24/7 live chat, phone support available for business users
Dropbox is one of the first big names in cloud storage and has been among the top cloud storage providers for decades. And although it went through a few privacy concerns and data breach scares, it's still as strong as ever. 
One of Dropbox's standout features is its comprehensive collaboration tools. It syncs seamlessly with Dropbox Paper, the company's collaborative document-editing service. 
Dropbox is one of the most popular cloud storage providers. Although the upload limit is 50GB via the website, there are no limits for files uploaded via desktop or mobile apps. 
The pricing for Dropbox's storage isn't stellar, but it scales well. Dropbox is willing to work with you to create customized plans if you need enterprise-level solutions.  
As far as integration goes, Dropbox plays well with just about everyone. There are Dropbox apps for every imaginable platform, including Amazon's Kindle Fire. 
And when you use Dropbox on a Windows machine, it practically blends into the background. It's among the best cloud storage options in terms of compatibility. 
Dropbox has a few more neat features, such as digital document signing via HelloSign. But overall, it's a comprehensive solution for any business or individual. 
If there's one glaring drawback Dropbox has, it's the paltry 2GB of storage it offers in the free tier. 
| | |
| --- | --- |
| Pros | Cons |
| Veteran cloud storage provider | Only 2GB free storage |
| Excellent collaboration tools | Privacy concerns |
| Seamless Windows integration | |
| Custom enterprise plans | |
How to Choose the Best Cloud Storage Service in 2020
To be clear, the proverbial "cloud" is just a server where someone else allows you to store your files. Accordingly, many things can go wrong when you choose a cloud storage provider. 
Where its servers are located, who's controlling it, and how well its infrastructure works with yours are all crucial elements. What follows are the key things you want to get right when looking for the best online cloud storage. 
A Decent Free Tier
What could go wrong with your cloud storage? The answer is a whole lot. And even the tech-savviest of tech-savvy pros can't guarantee it's going to work right for you. The only real way to put a service through the test is to start employing it in your daily operations and see how it fares. If a company doesn't offer a degree of free storage, you need to commit before you're sure it will deliver. 
When you compare online storage options, look for ones with a good free tier. Even 2GB of free storage (which Dropbox offers) can be enough to judge the merits of a service. Alternatively, some services offer a free trial period. That can work if you know you'll use it often from the get-go, but it's not ideal otherwise. 
Security 
It should go without saying that it's important to keep your data safe. Maybe you're not keeping any valuable trade secrets, but even family photos should be secure. 
In terms of encryption, most cloud storage solutions on this list are top-notch. Even modest encryption standards used today will take thousands of years to crack via brute force attacks. That's not typically a concern. The problems tend to arise when a service doesn't have zero-knowledge encryption. In other words, it doesn't allow user-controlled encryption. 
If a service has control over the encryption, there's always a chance your data could end up in the wrong hands. If you control your encryption key, no one other than you (not even the cloud storage provider) can decrypt it. The upshot is, the best secure cloud storage providers give you control of your encryption key. 
Privacy
Security is just one side of the coin; the other is privacy. Even if your data is secure, someone could use it in ways that invade your privacy. And that's typically written into a storage provider's terms of service. 
The best private cloud storage providers are entirely transparent about how they manage your data. And the best measure of how safe your data will be is the provider's historical behavior. Dropbox is a good example. There are numerous instances when Dropbox has proven to be a less-than-reliable steward of people's data. 
That doesn't mean Dropbox is a lousy service provider or that your data will necessarily be used to harm you. But it does mean someone down the line might get access to it without your consent. If privacy is a major concern, comb through the provider's terms of service. Make sure it doesn't suggest employees have ownership of your data. 
Price and Scalability
For business users, the top cloud storage service is the one that ideally marries function with the cost. A very accessible way to save money, in the long run, is to choose a service offering lifetime plans. That way, you can turn your cloud storage into a one-time payment rather than a fixed cost. 
The problem is you may end up with more (or less) storage than you need. An approach that suits growing businesses is opting for scalable cloud storage. A cloud storage provider that allows you to pay per user gives you a lot of flexibility. 
As your business and storage needs grow, you can scale up your plan as needed and save money initially. There are also unlimited storage space providers. But unlimited storage never really means unconstrained and doesn't make sense for the vast majority of users.
Collaboration and Compatibility
Ideally, you want a service that has built-in collaboration tools. Google Drive is an example of a service with outstanding collaboration options. It's fully integrated with the G Suite family of products to enable workflows. 
Moreover, any files created in Google's family of products don't count toward your storage limits. Any cloud storage services comparison needs to consider collaboration seriously. 
But collaboration aside, you want a service that works well with your current ecosystem. For instance, iOS users will find it easiest to use iCloud Drive because it offers seamless integration. It's seldom a good idea to adapt your system to a storage provider since so many good options exist. 
Conclusion
Whatever your cloud storage needs are, you'll find a service that's compatible with them on this cloud storage reviews list. Just keep the following in mind when you're searching:
Try it before you buy it

—It's worth investing a week to see how the cloud storage service fits your needs

Read the terms of service

—That's where the red flags will appear if there are any

Swim with the current

—If you're already invested in a larger ecosystem, integrating its cloud storage is usually the easiest way forward
FAQ
What is the best unlimited cloud storage?
Box offers all the features of a top-tier cloud storage provider along with unlimited storage plans. It's a little pricier than some of the options on this list, but it may be worth it if you don't want to worry about storage size.
However, it's worth pointing out that when most people look for the best unlimited cloud storage, they don't really need unlimited cloud storage. Most of us use a fraction of the cloud storage we ultimately pay for. It's usually a better choice to look for great features with a reasonable cap than unlimited for the sake of it.
What is the best-value cloud storage?
In terms of pure storage for money, Icedrive is the best paid cloud storage for individual users. Its Lite lifetime plan will pay for itself many times over in time. However, if you look at everything included with the price, Microsoft OneDrive has the best value proposition. You get both massive cloud storage and an Office 365 subscription for one relatively low price.
How much does 1TB of cloud storage cost?
Around $100 for a year. Of course, that's a ballpark figure with a lot of asterisks around it. The cheapest cloud storage will cost around $60 for 1TB of data per year, and the most expensive will be in the hundreds, depending on the features you need.
What is the best cloud storage?
For our money, the best cloud storage is Microsoft OneDrive has the best feature set and the best value for money. It offers best-in-class cloud storage at a reasonable price. And you get access to Office 365 in the same package. That's hard to beat.