6 Best Cloud Storage Solutions of 2023
We compiled the best cloud storage services available to help you find the perfect one.
Years ago, whether using cloud storage for your business or even personal use made sense was a toss-up. But these days, with so many options, finding one that suits your needs is effortless. But unfortunately, having numerous options also gives you many chances to make the wrong choice. 
So, go ahead and make the right choice from our list below.
Published: January 13, 2022
Affiliate Disclosure
We aim to provide you with the best tech news and reviews. To sustain our site, we may earn a commission when you buy from our affiliate links. Read our full Affiliate Disclosure.
Top Cloud Storage Services for 2023
Our Top-Rated Cloud Storage Reviews
Microsoft OneDrive
MOST SUITED FOR
Home and business use
Visit Website
Rating: 10
Free storage: 5 GB
Pricing: From $0.00/month
File size limit: 100 GB
Security: Malware protection, end-to-end encryption, ransomware detection and recovery, personal vault
Customer Support: Via help center, phone, and email
If you're a fan of the Windows ecosystem, you'll be happy with how we start our cloud storage reviews. We chose Microsoft OneDrive as the top cloud storage solution for many reasons. 
The extensive features and flexible options make it an excellent choice for both home and business users. And with OneDrive clients available on all major platforms, you'll never need to worry about access.
The standout feature is integration with Microsoft 365. You and your team can work simultaneously on files using Word, Outlook, and other Microsoft Office 365 products.
Security is all top-of-the-line, and Microsoft even helps you recover files compromised by ransomware attacks. No wonder it's the most popular cloud storage today.
And the best thing about it is that you can use it for free. But, of course, if you want more features, Microsoft offers three paid plans for home use ranging from $19.99 a year to $99.99 a year. It also has four business plans from $5.00/user/month to $12.50/user/month.
Overall, Microsoft is highly active in adding features to OneDrive consistently. For example, they update productivity and collaboration tools frequently and implement AI that helps you organize files and projects. 
| | |
| --- | --- |
| Pros  | Cons |
| Clients available on all platforms | Only 5GB of free storage |
| Outstanding collaboration tools | Some syncing issues when saving from desktop apps |
| Office 365 subscription included | |
| Easy-to-use interface | |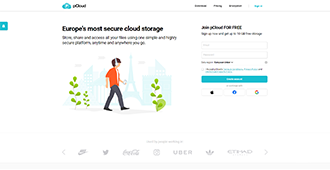 pCloud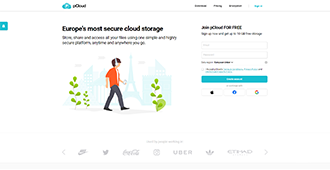 MOST SUITED FOR
Businesses in need of strong encryption
Visit Website
Rating: 9.9
Free storage: 10 GB
Pricing: From $49.99/year
File size limit: Unlimited
Security: TLS/SSL channel protection, 256-bit AES end-to-end encryption, extra layer of client-side encryption for a fee
Customer Support: Via email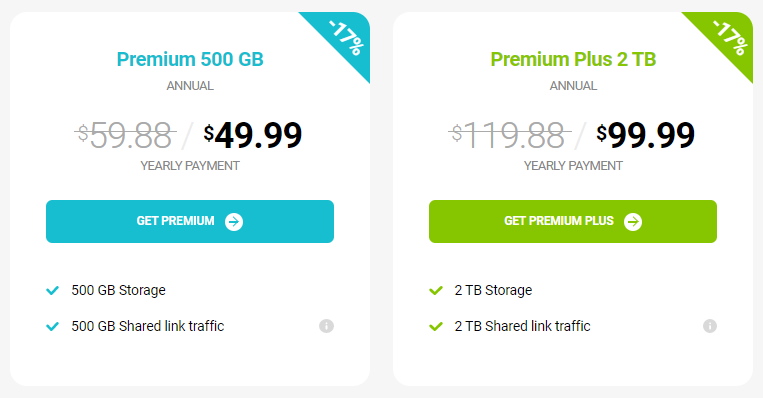 pCloud's big claim to fame is its top-of-the-line security features. It claims to be "Europe's most secure cloud storage," and it lives up to the hype, as we discovered in our pCloud Review.
It uses a 256-bit advanced encryption standard to secure files. That's the same level of encryption used by the US government to safeguard classified information. The company is based in Switzerland, and all its servers are located in the EU member nations. 
Moreover, pCloud stores every file on at least three server locations to ensure continuity in case one of the servers gets compromised.
However, at first glance, pCloud seems relatively expensive. And it's undoubtedly among the most costly options on this list, with $49.99 a year as the cheapest plan and $990.00 for a lifetime plan as the most expensive. 
But these are terrific deals if you frequently use cloud storage to share files and don't like monthly payments.
pCloud has both mobile and desktop applications that allow easy file sharing across all major platforms. And another cool feature is built-in audio and video players, which is why pCloud is also the best cloud storage for streaming video content.
| | |
| --- | --- |
| Pros | Cons |
| Military-grade encryption | The free version lacks features |
| Built-in video and audio players | Poor support options |
| Lifetime plan | |
| File versioning for up to 30 days | |
Icedrive
MOST SUITED FOR
Collaborative projects
Visit Website
Rating: 9.8
Free storage: 10 GB
Price: From $1.67/month
File size limit: 100 TB
Security: Twofish algorithm encryption; full client-side zero-knowledge encryption
Customer Support: Via an online ticket, Skype, and phone
Icedrive bills itself as the best cloud service for those after top-notch encryption. And to prove it, it eschews the standard AES encryption most other cloud storage providers use. 
Instead, Icedrive uses the Twofish encryption algorithm. It's an encryption protocol at least as safe as AES, if not more. 
Icedrive offers a decent set of features at an affordable price, starting at only $1.67/month, paid annually. As a relative newcomer to the cloud storage game, Icedrive is trying hard to set itself apart. One of the ways it's doing so is by offering a commendable 10 GB of free storage. 
Besides the monthly pricing options you can get for a song, it also provides some of the most affordable lifetime plans on the market. 
Its Lite plan provides 150 GB of lifetime storage for a one-time payment of $99. That's the best value for cloud storage you'll find anywhere. It also features a streamlined and easy-to-use interface with outstanding design elements. 
Plus, you can access your drive via the Icedrive website, a desktop app, a mobile app, and a virtual drive. 
Unfortunately, this cloud storage provider is still a little sparse in some areas. Sharing options are limited to either email or a link, and customer support leaves a lot to be desired. 
| | |
| --- | --- |
| Pros | Cons |
| Stellar privacy and security | Doesn't create a sync folder |
| Affordable | No business plans |
| Excellent interface | |
| Excellent mobile app | |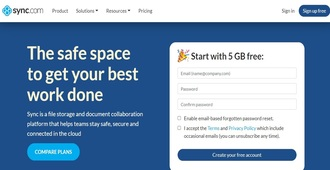 Sync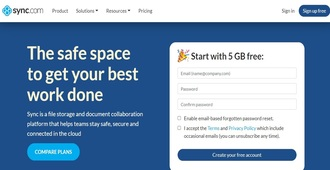 MOST SUITED FOR
Budget-conscious small teams
Visit Website
Rating: 9.6
Free storage: 5 GB
Price: From $0.00/user/month
File size limit: Unlimited
Security: 256-bit AES end-to-end encryption, two-factor authentication
Customer Support: Via a support ticket and help center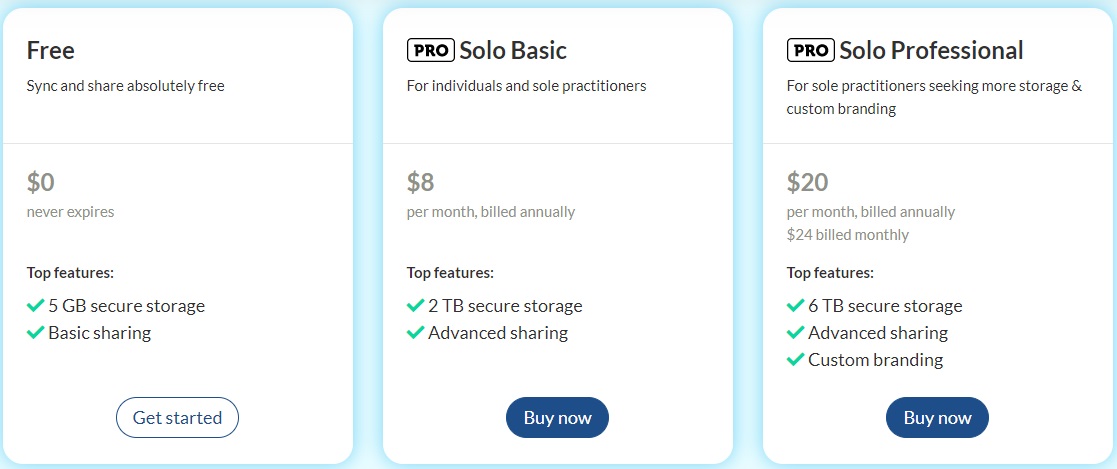 Sync specifically targets users dissatisfied with loose privacy policies. Dropbox, Google Drive, and many others allow themselves to peek at and share your files. We can't say the same for Sync. 
This storage provider is the best cloud storage service for privacy compliance. In addition, the company made a point of legally locking itself out of your data in the TOS, so you can rest easy knowing your data is safe from prying eyes. 
Sync also complies with privacy regulations like HIPAA, GDPR, and PIPEDA.
One of the few standout features of Sync outside of privacy compliance is its data vault. Files you put in the data vault exist only there and don't sync up anywhere else. 
Furthermore, Sync offers other excellent features, such as 265-day file versioning, easy installation, and selective syncing. However, it's a relatively bare-bones option. That's why it's highly recommended for people who need just that and not much more. 
Even the pricing plans are relatively basic. There are three tiers for teams, and each scales per user, the most expensive plan (10 TB) amounting to $15 per user per month. So, this is a good cloud storage solution for you if you have a small team and are budget-conscious.
| | |
| --- | --- |
| Pros | Cons |
| Privacy regulation compliance | Bare-bones feature set |
| File versioning for a year | Annual billing only |
| Excellent plans for teams | |
| Great security features | |
MEGA
MOST SUITED FOR
Linux users
Visit Website
Free storage: 50 GB
Price: From $5.07/month
File size limit: Unlimited
Security: 128-bit AES end-to-end encryption, client-side encryption, encrypted chat
Customer Support: Via help center and email
If you even glance over what MEGA offers, likely the first thing you'll notice is the 20 GB of free storage they'll give when you create an account. Even the most generous cloud storage services don't go beyond 15 GB. So, does that make MEGA the best free cloud backup? You decide.
To get 50 GB of free storage, you must play MEGA's "achievements" game. Achievements include getting other people to sign up and installing its mobile app. And, the extra storage you accrue is temporary. 
But as far as security goes, MEGA seems relatively airtight on paper. It offers good encryption throughout and an open-source client your team can examine freely. 
However, one glaring drawback MEGA has is monthly transfer limits. The limits are generous, but it's something to look out for if you need to transfer large amounts of data every month. 
Otherwise, it provides competitively priced plans, ranging from $5.09/month to $30.59/month. MEGA's Business plan is among the simplest. There's only one tier, and you can add users or expand the storage limits as needed within that tier. 
Moreover, the platform also has a clean interface and an encrypted chat client. In many aspects, MEGA is one of the top cloud storage companies.
| | |
| --- | --- |
| Pros | Cons |
| Excellent mobile app | File transfer limits |
| Secure voice and video calls | Poor customer support |
| Client available on all major platforms | |
| Excellent free tier | |
Zoolz
MOST SUITED FOR
Storing photos and videos
Visit Website
Rating: 9.5
Free storage: 10 GB for 14 days only
Price: From $15.00/month
File size limit: Unlimited
Security: 256-bit AES end-to-end encryption, multiple backups and redundancy measures, GDPR compliant
Customer Support: Via help center. live chat. and email support

Zoolz's marquee feature is ample "cold storage," which competes with Amazon's Glacier service. In a nutshell, cold storage is a cloud backup model that limits when you can access your data. 
Typically, you'll have to wait three to five hours before your download can start. It's probably the best cloud storage for photos and videos you just need to store and forget.
The apparent drawback is you won't have instant access to your files. On the other hand, the significant upside is that you get a lot of storage space for relatively little money. For $19.99/month, you can purchase 1 TB of cold storage, and yearly payment plans can bring that price even lower. 
Moving on to features—Zoolz has few, and of the ones it has, some are poorly executed. Its desktop application is functional but looks and feels dated. Its mobile application leaves a lot to be desired, as well. 
You can manage file access privileges and many other details well enough, but it's not going to feel streamlined. But perhaps most egregious is the complete lack of a free tier from Zoolz. You can create a trial account with all the features of a full-fledged one, but it expires in 14 days. 
Overall, Zoolz is one of the best cloud storage plans for people in need of storing a heck of a lot of data over long periods without accessing it. So it's a small wonder it has attracted the likes of Dell and the Harvard Library into its client list. 
| | |
| --- | --- |
| Pros | Cons |
| Supports many users | Dated applications |
| Cold storage feature | Slow cold storage file recovery |
| Fast uploads and downloads | |
| Allows granular control over backups | |
How to Choose the Best Cloud Storage Service in 2022
To be clear, the proverbial "cloud" is just a server where someone else allows you to store your files. Accordingly, many things can go wrong when choosing a cloud storage provider. 
The crucial elements are where its servers are located, who's controlling it, and how well its infrastructure works with yours. 
What follows are the key things you want to get right when looking for the best one.
A Decent Free Tier
When you compare online storage options, look for ones with a good free tier. Even 2 GB of free storage (which Dropbox offers) can be enough to judge the merits of a service. 
Alternatively, some services offer a free trial period. That can work if you know you'll use it often from the get-go, but it's not ideal otherwise. 
Security 
It should go without saying that keeping your data safe is essential. Maybe you're not keeping any valuable trade secrets, but even family photos should be secure. 
Most cloud storage solutions on this list are top-notch in terms of encryption. Even today's modest encryption standards will take thousands of years to crack via brute force attacks.
Privacy
Security is just one side of the coin—the other is privacy. 
Even if your data is secure, someone could use it in ways that invade your privacy. And that's typically written into a storage provider's terms of service. 
If privacy is a major concern for you, as it should be, comb through the provider's terms of service. Make sure it doesn't suggest employees have ownership of your data. 
The best private cloud storage providers are entirely transparent about how they manage your data. And the best measure of how safe your data will be is the provider's historical behavior. 
Price and Scalability
For business users, the right solution is the one that ideally marries function with the cost. 
A very accessible way to save money, in the long run, is to choose a service offering lifetime plans. That way, you can turn your cloud storage into a one-time payment rather than a fixed cost. 
The problem is you may end up with more (or less) storage than you need. 
An approach that suits growing businesses is opting for scalable cloud storage. A cloud storage provider that allows you to pay per user gives you a lot of flexibility. 
As your business and storage needs grow, you can scale up your plan as needed and save money initially. 
Conclusion
Whatever your cloud storage needs are, you'll find a service that's compatible with them on this cloud storage reviews list. 
Just keep the following in mind when searching:
Try it before you buy it

—It's worth investing a week to see how the cloud storage service fits your needs. 

Read the terms of service

—That's where the red flags will appear if there are any. 

Swim with the current

—If you're already invested in a larger ecosystem, integrating its cloud storage is usually the easiest way forward. 
FAQ
What is the best-value cloud storage?
In terms of pure storage for money, Icedrive is the best-paid cloud storage for individual users. In addition, its Lite lifetime plan will pay for itself many times over time. 
However, if you look at everything included with the price, Microsoft OneDrive has the best value proposition. You get both massive cloud storage and an Office 365 subscription for one relatively low cost. 
But it still depends on your needs and budget for cloud storage. So, at the end of the day, the decision is yours to make.
How much does 1TB of cloud storage cost?
Around $100 for a year. Of course, that's a ballpark figure with a lot of asterisks around it. The cheapest one costs approximately $60 for 1 TB of data per year, and the most expensive is in the hundreds, depending on the features you need. 
What is the best cloud storage?
We believe Microsoft OneDrive has the best feature set and offers the best value for money. 
It offers best-in-class cloud storage at a reasonable price. And you get access to Office 365 in the same package. That's hard to beat.