4 Best Photo Editing Apps for Pros and Newbies in 2023
[EXPERT REVIEWS]
The best photo editing apps are no longer just for professional photographers, and they're no longer only available for PCs. Because of smartphones' internal computing power, they can easily handle taking and editing photos.
The best apps should provide powerful tools to allow you to customize your photos how you want. 
So, keep reading to learn which ones attracted our attention the most.
Published: November 18, 2022
Affiliate Disclosure
We aim to provide you with the best tech news and reviews. To sustain our site, we may earn a commission when you buy from our affiliate links. Read our full Affiliate Disclosure.
4 Top Photo Editing Apps 2023
Leading Editing Apps Detailed Reviews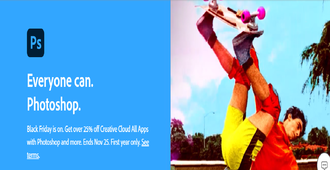 Adobe Photoshop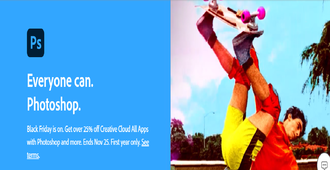 MOST SUITED FOR
Graphic designers
Visit Website
Rating: 9.9
Pricing: From $20.99/month
Customer support: Via video tutorials, user guide, blog, online help center, and chatbot
Customer reviews: Excellent
Free trial: Yes
Video editing Yes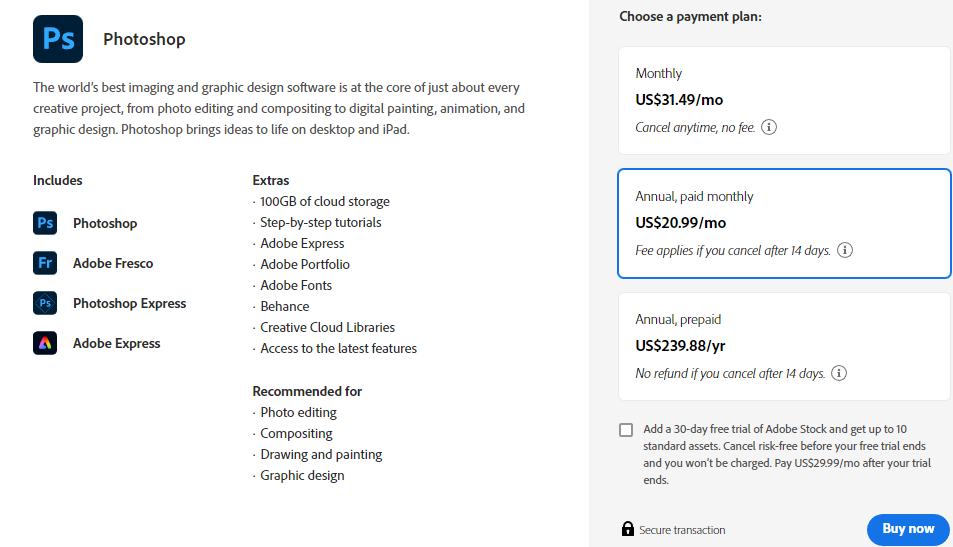 Adobe Photoshop is the world's most powerful graphic design software. It features impressive AI-powered Neural Filters, Sky Replacement, Landscape Mixer, and unrivaled, cutting-edge selection tools, all housed in a polished and user-friendly interface.
Photoshop has the advanced masking, layer, gradient, text, and shape tools, and filters required by professional photographers and designers. In addition, you can supplement it with a plethora of third-party plugins for more power.
Photoshop is designed for professionals and serious image editors. Likewise, it is very easy to make a logo in Photoshop. It's absolutely one of the quality photo editing apps you can find in the market.
It has many tools, but its interface has become more user-friendly in recent versions, with features such as a customizable Home screen, help tips, and a search box at the top. 
Adobe Photoshop comes with a 7-day free trial, after which, you'll have to pay a subscription fee to continue using it. 
If you want an even better deal and think you could benefit from other Adobe's tools like Acrobat Pro, Illustrator, Adobe Express, and Premiere Pro, you can get them bundled with Photoshop for $54.99 per month.
But since Photoshop is widely considered the best photo editing app around, the subscription price of $20.99 per month is not too high considering all the features it has.
| | |
| --- | --- |
| Pros | Cons |
| Efficient interface with a lot of guidance | Steep learning curve for beginners |
| Synced Cloud documents and libraries | No perpetual license option |
| Lens profile corrections | |
| Layer editing | |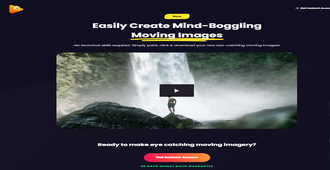 PhotoVibrance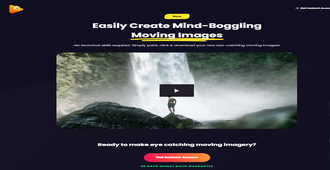 MOST SUITED FOR
Marketers
Visit Website
Rating: 9.7
Pricing: From $69.00/annually
Customer support: Via website form, tutorials, and online help center
Customer reviews: Above average
Free trial No
Video editing Yes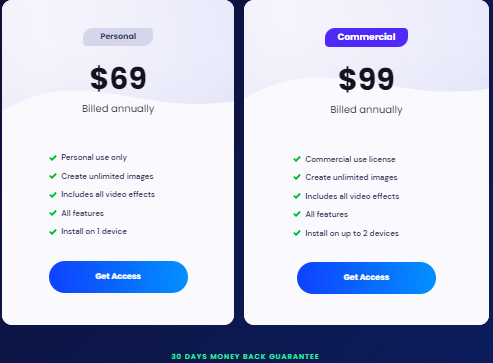 PhotoVibrance is an excellent photo editing app for PC. It's a desktop software application that works on macOS and Windows operating systems, used to generate simple magic motion images and advanced 3D parallax animation.
With its unique overlays, visual parallax effects, sky replacement, and 3D particles, you can transform any still picture into a moving image, even if you lack technical and design skills.
If you're a marketer, you should consider PhotoVibrance for creating engaging social media content, such as 3D animation images and short video ads. 
Alternatively, if you just want to satisfy your artistic side and share your creations with the world, this app and a versatile website builder for artists are pretty much all that you'll need to get started.
While there is a lot of demand for them, there aren't that many good editing apps out there that can assist you in engaging your audience with animated images, and this is where PhotoVibrance shines. 
They offer two plans with a 30-day money-back guarantee — both of them billed annually.
The Personal Plan costs $69.00 per year and is for personal use only, while the Commercial Plan is $99.00 per year, includes a commercial use license, and allows you to install the app on up to two devices. 
| | |
| --- | --- |
| Pros | Cons |
| Manually set custom dimensions | Limited range of features |
| Every image is exported with seamless loops | Can't use on a phone |
| Add particles and overlays | |
| Intuitive controls | |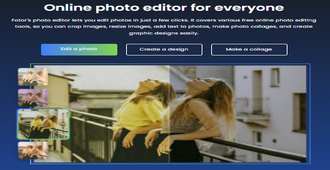 Fotor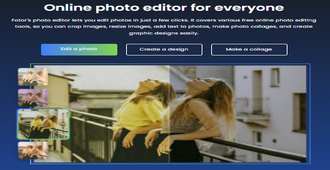 MOST SUITED FOR
Those looking for free editing apps
Visit Website
Rating: 9.5
Pricing: From $0.00/month
Customer support: Via online help center, blog, tutorials, WhatsApp, and online ticket
Customer reviews: Great
Free trial Yes
Video editing No

Fotor allows you to edit photos in seconds. It offers a variety of free online photo editing tools, allowing you to easily resize, crop, add text to images, create graphic designs, and make photo collages.
Blur tools, fine-tuning, exposure, straighten, curve, clone, red-eye removal, reshape photos, wrinkle remover, teeth whitening, and batch photo editor are just some of the tools available in this free online app. 
Thanks to such a wide range of features, Fotor is probably the best free photo editing app for iPhone, regardless if it's the cheapest iPhone. It also has photo editor app versions for Android and programs for macOS and Windows. All of these versions are available for free. 
Fotor also supports memberships and data synchronization, allowing you to edit images from anywhere and at any time using a single account. Of course, if you want to make the most of this freedom, you might also need a reliable cloud storage solution. 
You can also buy two Premium plans or test the editing app out with a 3-day free trial. Fotor Pro costs $8.99/month, and it's ideal for small businesses, freelancers, and designers. Fotor Pro+ is $19.99/month, and it's perfect for larger startups and agencies.
| | |
| --- | --- |
| Pros | Cons |
| Robust free version | Short free trial period for Pro plans |
| Batch image editing | Web app sometimes freezes |
| Add particles and overlays | |
| Intuitive controls | |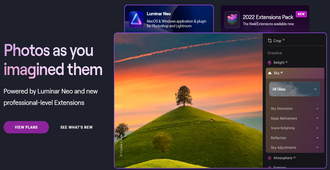 Luminar Neo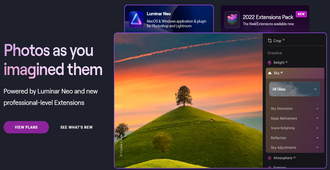 MOST SUITED FOR
Beginners
Visit Website
Rating: 9.4
Pricing: From $9.95/month
Customer support: Via user guide, forum, and chatbot
Customer reviews: Above average
Free trial No
Video editing No

Luminar Neo's interface is split into three major sections: Catalog, where you can view your photos; Presets, where you can apply presets to the images; and Edit, where you can use the available tools. 
It offers all the essential image editing tools you can expect to find in good photo editing apps. Crop your images, use layers, and experiment with smart contrast, exposure, highlights, saturation, shadows, sharpness, optics, noise reduction, etc.
However, it's the specially designed Artificial Narrow Design (ANI) tools that make Luminar Neo unique. They can be a huge time saver and even help you achieve previously impossible things, making this app perfect for beginners.
You can remove power lines with intuitive AI tools in a single click. Likewise, SkinAI and FaceAI can correct skin flaws and highlight certain facial features, making Luminar Neo one of the best photo editing apps for selfies.
You can choose between three paid plans, available with a 30-day money-back guarantee. 
The Explore Plan costs $9.95/month, and you'll get a license for one computer. The Pro Plan, with which you get two licenses for two PCs, costs $14.95 at the moment. Finally, there's the lifetime offer, which costs $119.00. 
| | |
| --- | --- |
| Pros | Cons |
| Unique AI photo-fixing tools | Occasional performance issues |
| Automatically remove distracting elements | High RAM requirements |
| Master portrait retouching | |
| Straightforward interface | |
How to Choose the Best Photo Editing Apps
There are many factors to consider when looking for the best app for your needs. Pay attention to the following things: 
Price 
The price of an app depends on service quality, meaning the more advanced the app is, the more expensive it'll be.
Though some apps offer free plans, if you really want to make the most of them and get access to their advanced features, chances are, you'll have to pay for one of their premium versions. 
In other words, while many tools provide free versions, paid options offer more features and a better photo editing process. As a result, you should always compare the prices of plans that include all the features you need and not just be swayed by free offers. 
Features
Best photo editing apps allow you to improve on what you've already captured, from moving to stationary objects. Whatever you want to photograph, the apps mentioned above can handle it.
While a feature-rich app can benefit any photographer, you should know what you're looking for in an app, so you won't spend a fortune on a tool with numerous features if you only require a few. Besides, 98% of app revenue comes from free apps.
Find the software that meets all of your requirements. Think about what different apps offer and choose one that can do everything you need.
Ease of Use
Even the best photo editing apps for photographers should be as easy to use as possible. However, due to their complexity, some of them do require previous experience. Luckily, most apps offer plenty of tutorials to help you.
We made sure to include a couple of apps that complete beginners can use. Likewise, since 90% of people stop using an app due to poor performance, we only reviewed the apps that were well-received by most of the people who tried them.
Customer Reviews
It is estimated that 97% of consumers check online reviews before buying something online to get additional insight. We hope you do the same since customer reviews can be invaluable. 
So, look at what others say about the apps that have caught your attention.
They might highlight some details that will be important to you, or they might make you feel more confident about your purchase.
Wrapping Up
Using these popular photo editing apps, you can transform your photos, improve the look and feel of your marketing campaigns or your Instagram feed, and impress your audience. 
With so many paid and free options, deciding which app is the best fit for you shouldn't be a problem.
So, whether you're a novice photographer, an influencer with a large following, or a professional marketer, these apps can help you edit photos and make them look spectacular.
FAQ
Is Photoshop free to use?
No, it isn't
But you can download a 7-day free trial, giving you temporary access to all the features and updates available with the paid version.
Which is the No 1 photo editing app for Android?
Adobe Lightroom is probably the best app of this kind for Android. It has a pro-level camera and photo editing features. But keep in mind that it might not be suitable for beginners. 
What are the best photo editing apps for iPad?
One of the best photo editing apps you can use on an iPad is Adobe Photoshop. 
Photoshop on the iPad uses cloud technology, so you can easily use it to continue working on files you started editing on your desktop (macOS or Windows), allowing you to stay in sync across all your devices. 
Additionally, the app for iPad also includes core tools optimized for Apple Pencil and touch.