Published: April 25, 2022
Affiliate Disclosure
We aim to provide you with the best tech news and reviews. To sustain our site, we may earn a commission when you buy from our affiliate links. Read our full Affiliate Disclosure.
AI-powered editor: Yes
Creates branded marketing materials: Yes
Multiple file formats: SVG, PNG, EPS, PDF
Templates available: Yes, over 300
Multiple asset types: Yes, 20 asset types
Free plan available: Yes, but very limited
works on:
Chrome
Firefox
New businesses looking for affordable branding without much effort.
STRENGTHS
Quick and easy to use
Affordable
Hundreds of AI-generated logo templates
Top-notch customer support
WEAKNESSES
The website can be slow at times
Downloading designs available only on a Premium plan
PRICING PLANS:
Basic Logo Package
$20.00/one-time purchase
Premium Logo Package
$65.00/one-time purchase
Brand Kit Subscription
$96.00/year
Brand Kit Web Subscription
$192.00/year
One of the essential elements of any brand is its logo. And the good news is that it's no longer necessary to hire a graphic designer to create one for you. 
In fact, according to many Looka reviews, this AI-powered graphic design company can help you build a brand identity in no time. 
Continue scrolling to find out if Looka is right for you!
What is Looka?
Looka, formerly known as Logojoy, is an online platform that can help businesses of all sizes create logos and build a brand identity as effortlessly as possible.
This unique service doesn't just offer pre-made templates to its users. Instead, it creates them from scratch, using machine learning to apply appropriate design principles and make a visually appealing logo.
Plus, you can use your logo design elements as a foundation for everything you create on the platform — including business cards, invoices, flyers, social media content, etc.
Features and Services
Next, we'll discuss some of the features and services that might make Looka the perfect choice for your business.
Logo designs
The first and, arguably, the main feature of this platform is its unique Looka logo maker. With its AI-powered code, it generates hundreds of designs for your brand that are functional and visually appealing.
A logo created this way consists of four main elements — symbols, fonts, colors, and layouts. These four integral parts are then combined in numerous ways to generate many designs from the same or similar elements.
After exporting your logo, you'll get over 15 files that you can use on any medium. All of which are high-resolution, available in SVG, PNG, EPS, and PDF, and can be either black and white, transparent, or with a colored background.
Brand Kit
Making a logo is one thing, but creating a solid brand identity can be challenging. Fortunately, this feature grants you access to over 300 templates generated using your Looka logo design, including fonts, colors, and photos to get you started.
It's like having your own personal graphic design team to help you customize images for flyers, business cards, letterheads, invoices, business proposals, advertisements, and much more.
Social Media Templates
Nowadays, having a strong social media presence is essential. And in order to stay relevant, you'll need professional-looking profile pictures, header images, and good content photos to add to your posts.
Luckily, with the Looka website, you can create all of these in just a few simple clicks. Plus, you'll immediately get social media-optimized versions of your logo for your Facebook, Twitter, and YouTube profiles.
Brand Info
According to statistics, choosing the right color for your logo can boost your brand recognition by 80%. Therefore, Looka provides its "Getting Started" guide to help you use the elements of your logo in other branding strategies.
This feature also provides valuable tips on building a consistent and easily recognizable brand across many different mediums. Additionally, Looka's blog is an excellent source of information regarding graphic design, branding, and entrepreneurship.
Pricing and Plans
Now that you know more about this AI-based logo maker, let's discuss how much it will cost if you decide to use its services.
Brand Kit Package
For this Looka pricing option, you'll get a logo and the Brand Kit. You'll be able to make unlimited changes to your logo, download high-resolution files, and fully own the design even after your subscription has ended.
You'll also get business card designs, email signatures, over 10 branded letterheads optimized for print and email, invoices, and 300+ unique branded assets. On top of that, you'll receive branding guidelines for a detailed overview of the best way to use your logo.
This plan also offers a slightly enhanced version with an option to build an AI-generated website.
The prices are as follows:
Brand Kit Subscription — $96.00/year
Brand Kit Web Subscription — $192.00/year
Logo Package
You can also choose between one more set of Looka prices. The Basic Logo Package is more limited, as it only offers a single PNG file with a colored background. It's great for showing it to a designer for inspiration or proof of concept.
The latter plan is more inclusive. You'll get multiple high-resolution file types and color options (including transparent backgrounds). Plus, you can make unlimited changes and have full ownership of your design and lifetime technical support.
Basic Logo Package — $20.00
Premium Logo Package — $65.00
Disclaimer: All the prices above are based on the company's current offerings. Looka may change them without prior notice.
Customer Support
Whether you've come across something unfamiliar or have any questions that haven't been answered in the blog or on the help page, Looka's customer service is there to assist you.
Looka logo maker has a top-notch customer support team. As a matter of fact, they're known for being responsive to inquiries and efficiently solving customers' problems quickly.
Therefore, if you can't find a solution to your problem in the existing Looka resources, feel free to contact the support team directly. The quickest way to do so is by using their live chat support.
Alternatively, you can also send an email to [email protected]. This option is better for those who don't need help right away.
The support team's working hours are between 9 AM and 5 PM EST every Monday through Friday.
Ease of Use
In this section of our Looka review, we will discuss our experiences using the platform. We're happy to report that although it has limited features, it makes up for it with its no-nonsense approach.
In fact, it's perfect for beginners, as it doesn't require you to have any previous graphic design experience. Essentially, all we had to do was input the name of our business and a few basic details, and Looka did the rest.
Creating a design with the Looka.com logo maker is a breeze! Since it's AI-based, all we did was scroll through the provided images the platform generated for us using our input and choose the one we liked best.
Although there aren't any drag-and-drop functions, if you need to make a specific change to your design, simply click on one of the categories on the left side of the screen. 
As we already mentioned, you'll definitely save time and end up with a quality design, despite its limitations.
Once we were satisfied with our logo, we used the Brand Kit to try our hand at making some Looka business cards, flyers, invoices, and even some social media content. We're not exaggerating when we say that we achieved all of this in under 30 minutes.
Pretty much anyone, no matter their area of work or experience level, can create a professional-looking logo and marketing materials in minutes without hiring a professional.
Overall, it's a quality platform to build a brand or enhance your business, as it's affordable, fun to use, and very intuitive. 
In order to demonstrate the power of its AI engine, we decided to run an experiment and create a new logo for our website from scratch. We achieved some pretty impressive results — Take a look for yourself!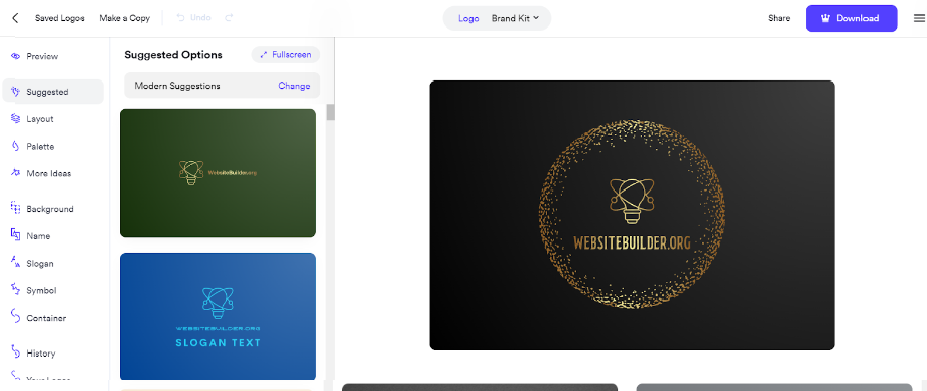 Looka Alternatives
Below, we'll check out some alternatives to Looka and how it stands up to the current competition.
Tailor Brands Logo Maker vs. Looka
With a two-year head start, Tailor Brands is one of the pioneers of AI-powered logo makers. Both it and Looka offer a similar set of services, including a logo editor and a tool for creating marketing ideas.
When it comes to logo making, these two perform almost the same. However, Looka offers more customization when changing different aspects of the logo without choosing a completely new one.
The pricing, however, may be a dealbreaker for some. Tailor Brands offers three price plans which are all monthly-based. At the same time, the Looka price plans involve choosing either annual billing or one-time payments.
Looka vs. Canva
Canva is a great and highly intuitive design platform but lacks something that potentially makes Looka a better option for some. Unlike Looka, Canva's editor isn't really AI-powered, so users have to do more of the actual design work themselves.
That's not an issue for those more familiar with graphic design. However, for those who want a simple logo and some branding tools without any previous knowledge, Looka is a solid option.
One major plus of using Canva is that it offers an entirely free plan, while Looka requires purchasing one of the logo maker premium plans to download files and other advanced features.
DesignEvo Logo Maker vs. Looka
DesignEvo is a user-friendly platform that lets you create and customize your logo by using one of their templates and tweaking it a bit. The overall workflow is pretty smooth and straightforward, just like with Looka.
However, while giving the users a lot more flexibility in modifying almost any logo element, DesignEvo also requires more leg work. Being AI-powered, Looka doesn't need any outside inputs aside from choosing one of its generated templates.
Ultimately, both DesignEvo and Looka logos will do the trick for you and your business. The final decision will depend on your budget and personal preferences. We recommend online reviews, such as ours, to determine if Looka is the best logo maker for you.
Verdict
We know that designing a logo and branding your business or product can be stressful, especially if you don't have much experience. 
Because of that, with all factors considered, we think that Looka is a solid choice for people just starting. It's a solution that has the potential to create the appropriate professional design for your million-dollar idea with minimal time and effort.
FAQ
Is Looka legit?
Looka is a 100% legit online tool with many satisfied customers. Plus, being completely AI-powered, it's an appealing solution, especially for those who don't know much about graphic design or marketing.
How does Looka work?
Looka's design process is very simple. You need to answer a few basic questions about your brand and simply choose one of the many options its editor generates with a single click.
Is Looka free?
Looka's online editor is completely free to use and try out. However, you'll need to purchase one of its premium plans to actually download the designs you've created.
Do I own my logo with Looka?
After creating the logo and purchasing the plan, you can use your logo and files wherever and however you choose. And, as many Looka reviews, including ours, point out, your ownership also continues even after your subscription plan expires.