11 Best Church Website Builders to Spread the Faith in 2021
Today, we are going to take a look at the most exquisite church website builder tools that will help you grow your congregation. We have prepared detailed reviews about the best platforms with church-specific features as well as helpful tips on how to build the holiest of websites.
By the end of this article, you won't be equipped to take on site-building by yourself. You'll be able to create a masterpiece that will put everyone in awe.
Let's start off with our process.
Diving into the niche, we expected there wouldn't be that many church-specific site builders. After all, there are lots of excellent general-purpose tools for building all kinds of websites out there. Such a distinct market should not be that saturated.
We were so wrong.
Turns out, finding the most versatile church app builder might require some digging around. And that's exactly we did…
Last Updated: April 17, 2021
Advertiser disclosure
This page may contain links to our partners' products and services, which allows us to keep our website sustainable. This means that websitebuilder.org may receive a compensation when you sign up and / or purchase a product or a service using our links. However, all opinions expressed in this article are solely ours, and this content is in no way provided or influenced by any of our partners.
Church Website Builders 2021
Simple website management
Event calendar
Podcasting options
Try Now
Full Review

Dynamic event system
Full control of customizations
Live stream your sermons
Try Now
Full Review

Easily archive your sermons
Beautiful design options
Integration with other Faithlife products
Try Now
Full Review
How We Ranked the Best Church Website Builders – Our Methodology
Leave it to Google to introduce us to a new market. After some topic-specific searches, we managed to find 38 site builders that have been supercharged to develop amazing pages for churches and ministries around the world.
We looked around the web for more insights – company information, client reviews, websites built with each platform.
The next step was researching the websites of shortlisted providers, and seeing if they had the needed features and add-ons to build a church website.
Then it was time to sign up with the candidates left. We ranked how smooth and secure our checkout process was, as well as the whole "new client" experience.
UI and UX tests were in place. We navigated around our account dashboard and checked how comprehensive all the options were for a first-time user.
Once our page was up, we performed extensive server performance checks — after all, speed and uptime are detrimental for any project.
Third-party tools can often enrich and optimize our online experience even further. The top church website builders should be able to integrate easily with useful add-ons. These, in turn, can help your church reach new heights.
Great customer support is surprisingly hard to find these days, so this factor also weighed in our final decision.
Price was crucial here. Churches are non-profit organizations, and they often run on a very tight budget. This is why we had to pick the most affordable solutions only.
After a long and careful process, we managed to bring down the list of 38 to just 11 names. These are the providers that proved most impressive and versatile in this specific niche.
Let's analyze them one by one.
Best Church Website Builder Tools
Detailed Reviews
MOST SUITED FOR
Quick church building
Visit Website
Simple website management
Event calendar
Podcasting options
Animation integration
Even if you dig deep, you will struggle to find detailed information about FinalWeb online. The company website has no About Us section to get you better acquainted with the team. This is a technique that more progressive church providers tend to employ.
From what we gathered from FinalWeb's Facebook and Linkedin pages, it first started operating on the church builder market in 2000, after choosing Santa Clarita, CA, for its headquarters. Apart from religious organizations, the company also serves schools, universities, and various types of businesses and non-profit organizations.
There is even a reseller program for anyone looking to sell the FinalWeb solutions to others.
Looking to be a reseller yourself? Jump to our extensive guide of the best reseller services.
Back on topic, the lack of company information might be alarming. Still, don't let that put you off FinalWeb. The California-based provider has proven to be a top-quality Christian web builder, and here's why.
| | |
| --- | --- |
| Pros | Cons |
| Quick and easy navigation | Scarce company info |
| Sub-sites | No multilingual features |
| Pixabay image gallery access | Lack of info about integrations |
FinalWeb Ease of Use
The FinalWeb wizard starts you off with a choice between eight beautiful church templates. You can then choose if you want to quickly set up a page and put it online right away, or to take the long route, tweaking all the little elements.
FinalWeb's dashboard offers a modern look and smooth navigation across menus and settings. Adding and editing pages is a breeze, and there are plenty of customizability options to work with.
All in all, FW looks like the best website builder for churches in terms of UI and UX.
FinalWeb Features
Even before you start designing your first page, FinalWeb greets you with a 5-minute video that offers a quick tour, explaining all the key features. No need to figure out which package is the best for you, as FW gives churches a single, all-encompassing plan.
The deal really looks to cover it all — you get unmetered space and bandwidth, as well as the ability to create sub-sites for different ministries. The plan supports up to 50 email addresses and a free SSL certificate for extra security.
Churches have a lot going for them.
Event Registration
Here we have a wonderful church web builder that lets members subscribe and participate in open events. It might not sound like a big deal, but you will be surprised by how many people find such an option useful. Especially if they don't live close to your church.
Podcast Feeds
Your followers will never miss a sermon again if you integrate a podcasting feature into your site. FinalWeb allows users to subscribe to your feeds and view lectures in video and audio format. There's even an in-built media player that lets you stream sermons directly from your web page.
FinalWeb Integrations
Donations and tithing make up a good chunk of any church's budget. That's why, among other things, FinalWeb's tool integrates easily with PayPal. This allows you to take full advantage of online payments.
Other useful plugins include an online form builder and data tracking through Google Analytics.
FinalWeb Support
When you're using FinalWeb, you're never building church web sites on your own.
Self-learners can take advantage of extensive documentation and tutorial-rich knowledge base. Those resources can walk you through all the details surrounding the church app. Additionally, there's a tips section, that gives you insights on the most popular integrations.
As for live assistance, you won't find any chat support with FinalWeb. Still, there are phone operators available during business hours, between 8 am — 5 pm Pacific time. Ticketing is open for you 24/7.
Our church website builder review revealed that not a lot of companies actually offer live assistance. This is why we had to test the email support more extensively. We sent an email to all contenders with a few sales and basic tech questions, grading the response times and the usefulness of replies.
FinalWeb was one of the fast responders and gave us the most detailed information. We bugged them with a few more emails, just to be sure, but the operators always replied within a couple of hours.
Overall, FinalWeb is a trustworthy choice with well-trained support.
FinalWeb Plans and Pricing
Church Website Plan — $29/mo
Building affordable church websites is one of FinalWeb's main goals. And they give you all the tools to do it.
Every new premium client can benefit from free domain registration, so you can keep the site's name and hosting in one place for easy management. This bonus is valid for the first year, after which the annual fee comes between $15-$18, depending on whether it is .com, .org, or another extension.
Тhe $29/mo rate for the site builder is fixed for all billing periods and doesn't require you to prepay.
Simple, clear, cost-effective — that's the FinalWeb church plan for you.
FinalWeb Verdict
A magnificent choice if this your first time building websites for churches. The FinalWeb platform is very user-friendly and offers stunning design options. If you take advantage of those, you can effortlessly put your ministry on the map (quite literally, too). There are plenty of customization options to go around, and even if you need extra help — assistance is always round the corner.
MOST SUITED FOR
Ministries on a budget
Visit Website
Live stream your sermons
Dynamic event system
Full control of customizations
A rich library of stock photos
The Church Co was founded in 2015 by one Paul Cox. He has close ties with religion himself, having spent some time in the Hillsong Church in Sydney.
He started with a fundamental question — what do churches need online?
Out of all the answers he got, he managed to outline four essential categories of content — Pages, Blogs, Events, and Podcasts.
This is how it all started, but let's see how far this church website builder has come.
| | |
| --- | --- |
| Pros | Cons |
| Podcasting and a sermon manager | No free plan |
| Use your own domain | Not many advanced features |
| Prayer wall | |
The Church Co Ease of Use
TCC's visual interface is nothing flashy, but it's well-suited for beginners. Unlike the standard left-side menu, your main options here hide behind boxes (literally).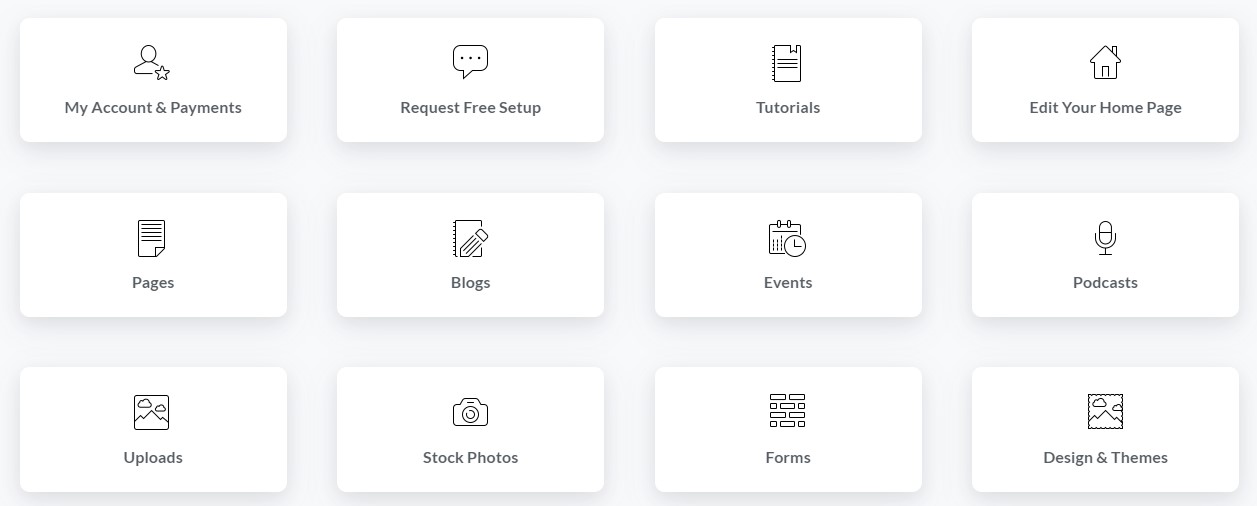 It might look a bit cluttered at first, but nothing is overly complicated, and we quickly got the hang of what's what.
You can easily tell that The Church Co entered the market recently — the platform looks very modern and up to the latest trends. If you are planning to build more than just a plain informational page, this church app builder can shine a heavenly light.
The Church Co Features
The Church Co offers three paid plans, and they all come with unlimited storage, unlimited monthly traffic, and… you guessed it, an unlimited number of pages.
You can start your site-building journey with a TCC subdomain, or you can use a domain name of your own. It's smooth sailing from there on, with great options like online form builders, popup announcements, and a breathtaking stock photo image gallery for your designs.
And just when you think that might be enough — even more features are coming your way.
Small Group Builder
You can easily call The Church Co's solution, "a community church builder."
On the TCC Premium and Ultimate plans, you can take advantage of a feature called Small Groups Builders. It lets any individual church member find a perfect community to fit in, according to their interests.
Maybe you want to learn more about theology? Or discuss Bible verses with people?
Small Groups lets you see group locations all over the map, not just where your church is. This way, you can connect with like-minded individuals, even when you're on the road.
Prayer Wall
Prayers can give us peace, comfort, and hope for a better tomorrow. If anything is stronger than our invocation to God, it's the prayers of many.
The Church Co helps you build great church websites that allow followers to submit a prayer request. Upon approval, it lets everyone join in and pray with you.
It takes so little to make someone feel better.
The Church Co Integrations
There are about ten different third-party app integrations available, with new ones added regularly. This includes top tools like MailChimp (email services), Google Analytics (data tracking), as well as church-specific add-ons like Tithely and Church Community Builder.
You can also try TCC's very own Planning Center — plan events, create groups, allow for online giving — all these can be automatically integrated into your site.
The Church Co Support
You can easily find the chat messenger popup on the TCC's website. The few times we tried that option, we never waited more than a couple of minutes to connect. As we found out later, the support promises a first response time of less than 30 minutes, so our tests were more than positive.
The company website can also point you to a phone and email contact. The operators admitted there are fewer people monitoring client requests on Sundays, but we never found any significant delays.
On the contrary, The Church Co was second-best in terms of first email reply. Their response came within minutes, addressing each of our questions with on-point information.
Hands down, the best church app builder in 2020, in terms of support assistance.
The Church Co Plans and Pricing
Basic — $20/mo
Premium — $50/mo
Ultimate — $199/mo
TCC's entry-level prices are on the low side, requiring a $20/mo investment. This Basic plan carries enough features to satisfy the needs of most church sites. Still, some of the advanced features require at least the Premium package and monthly rates there are much steeper.
All three deals come with no setup fees, but there aren't any free trials either.
As for add-ons, there are a bunch of professional services with The Church Co, but they are quite costly:
Strategy session — $1,499
Template development — $4,999
Extended SEO setup — $299
You can reach great heights without these options, but if you can afford them — the results are out of this world.
The Church Co Verdict
TCC is one of the reliable church builders that seem to have everything going for them. It's site builder packages are robust and carry enough church-specific benefits to be among our top choices.
Customer care is of the highest standards as well, offering timely support at any time of the day.
MOST SUITED FOR
Building a church community
Visit Website
Easily archive your sermons
Send out emails newsletters to the congregation
Beautiful design options
Integration with other Faithlife products
Faithlife is more than your run-of-the-mill church builder. Founded way back in 1992 by two ex-Microsoft employees, the company spent over 20 years developing and diversifying its portfolio of Christian software.
Today, the Faithlife corporation is a huge organization, serving 4+ million clients from 190+ countries. Among the provider's most prominent products you can find:
Logos Bible software — electronic Bible studies
Faithlife Giving — online donations
Faithlife Sites — church website builder
Proclaim — church presentation software
Biblia — Bible translations and different versions
And that's not even half of it.
But let's focus on the site builder as this is why we're here.
| | |
| --- | --- |
| Pros | Cons |
| Sermon archive | Free plan very limited |
| Choose your Bible version | No online booking tools |
| Great set of in-house apps | |
Faithlife Ease of Use
Once we signed up with Faithlife, we hurried to log in and start building our page. The screen took a couple of second to load and:
Error 500 — Internal Server Error
Uh-oh. Not the greatest of first impressions.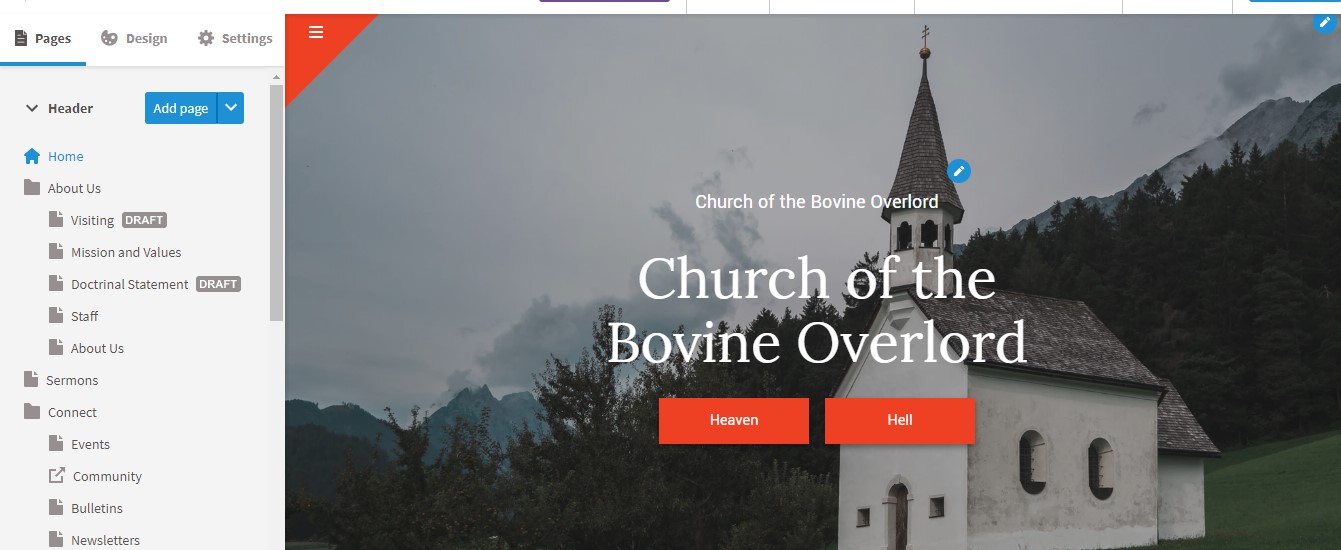 It seems this was a minor glitch, though, as a minute later we were already in. It was smooth sailing from there. We picked between seven free church website templates and structured our pages with the convenient drag-and-drop tool.
There are a few pre-built church pages, but you have the full freedom to customize new ones to your liking.
Faithlife Features
It's very easy to get a website going with Faithlife Sites. The platform has one free and one paid plan. You can start your journey with the cost-free deal, and upgrade once you need more server power.
The amount of system resources is the main difference between the two church web builder plans. The free package comes with 4GB of file storage and a 1GB sermon archive. When you upgrade to premium, both limits go as high as 50GB.
Both plans are rich in features, but a couple of them really manage to stand out.
Live Streaming
Faithlife gives congregation members a fantastic option to listen and participate in sermons from a distance. The video streaming quality is of the highest standard, and you can easily store your past streams in the 50GB sermon archive.
Overall, this is an ideal way to engage more people in your church's mission.
Digital Bulletins
Stay connected with your visitors and always let them know the latest news and events about your church.
Faithlife's stunning visuals extend far beyond the website templates for churches. You can also design beautiful bulletins and newsletters with the user-friendly editor. Send news out automatically on a weekly or monthly basis, or simply choose a time of your liking.
Faithlife Integrations
You won't find any FL integrations with popular apps, but that doesn't mean the site builder cannot scale upwards.
The best thing about Faithlife's products and services is you can easily pair them together and maximize your church's exposure and reach new heights.
Take online donations, for example. Why waste time integrating with PayPal or Stripe, when you can use Faithlife Giving?
Building a YouTube channel? Not when you have Faithlife TV.
In short, for every popular functionality, FL has already built a solution of its own.
Faithlife Support
You can feel almighty when you're building Faithlife sites, but what if things go wrong?
For starters, the product documentation is not that extensive, covering no more than 20-ish essential topics.
As for live support, we also struggled to find adequate assistance. The company seems to cover all communication channels — chat, phone, and email — but the availability is not 24/7. The live chat, for example, promises available online operators Mon-Sat, between 6 am — 6 pm PDT. However, our tests at 7 in the morning found no one on shift.
The email communication was our next point of testing, and, we have to say, Faithlife's initial reply arrived fairly quickly.
But what a reply it was…
The "answer" to all five of our sales queries was a single link to the church website builder page. Not only were there no direct solutions to our questions, but the operator even tried to sneak in a promotional offer, trying to seal the deal.
Not the best if you feel you'd need more hands-on assistance.
Faithlife Plans and Pricing
Free — $0/mo
Standard — $19.99/mo
Faithlife is a great tool for churches on a budget. The free plan tends to cover all your essential needs. If you don't need a lot of file storage, you can build amazing ministry websites at no cost.
The paid plan is affordable as well, valued at $19.99/month. That said, if you choose to prepay the whole year, you will save two full months in fees.
No add-ons are available during upgrade — each FL product has a different pricing structure, so you have to check for further info about each desired integration.
Faithlife Verdict
Would we recommend Faithlife as a top church website builder in 2020? Definitely yes!
The platform is very versatile and caters to the specific needs of churches and other religious organizations. But there is so much more to it. The Faithlife Corporation has been devoted to bringing accessible and useful Christian software for nearly three decades. You better believe they're in this for the long run.
MOST SUITED FOR
Better online exposure
Visit Website
Build SEO-ready church websites
Onboarding videos for new members
Publish Podcasts to iTunes
Lightning-fast web hosting
Mission is a platform that serves a noble purpose — helping churches and ministries put their name online and reach a broader audience with the word of God.
Online information for this website builder for churches is pretty scarce. The company website lacks an About Us section, and social media channels share no word regarding provider history or milestones.
We managed to find some organizations that already utilize Mission for their church websites, and they do look inspiring — check out Harvest Ridge Church, Life Mission Church, and Mission 2535, just to name a few.
| | |
| --- | --- |
| Pros | Cons |
| Advanced sermons manager | Few template options |
| Great tutorial documentation | Not very affordable |
| Google Analytics insights | No email services |
Mission Ease of Use
We signed up for Mission's 14-day trial and got a choice of four church website templates for the visual outlook of our page. While they were all eye-pleasing, a bit more variety would've been even better.
We had a minor hiccup with a timeout error, but once we got in our account, all doubts were cast aside.
Mission's dashboard is a gem for first-time site builders. It shows detailed support documentation along with a Getting Started video tutorial.
If you're familiar with WordPress, then you'll have no trouble with Mission as the backend looks almost identical. You have a left-side menu with sections like Posts, Media, Pages, but also some church-oriented features like the Sermon Builder.
Editing and customizing websites for church organizations with Mission is fast, smooth, and error-free.
Nothing to fault here.
Mission Features
Mission's church builder comes in a single plan with all features included. Looking at it, it seems to pack everything you need to promote your church or ministry.

All Mission templates and designs are fully responsive, so you won't have to worry how your website looks on different screens.
You can choose to put your page on a Mission subdomain, but if you already have a domain — you can go ahead and connect it to your new site. There are no limits on pages and posts you can publish.
But that's not all.
Sermon Builder
Sermons are a big part of your church website development. So Mission equips you with a separate tool dedicated to your pastor's speeches only.
Through the sermon manager, you can upload audio in .mp3 format, embed YouTube and Vimeo videos, or share your podcasts to iTunes.
Talk about getting friendly with technology.
Cloud Hosted
One of the best feats is undoubtedly the cloud hosting storage, offering a much faster and more secure way of keeping your data.
Instead of your site and storage files residing on a single physical server, your information gets copied in the globally interconnected network that is the cloud. This way, you can access, share, and edit it easily from any location with an internet connection.
Mission Integrations
Mission lets you pair up with third-party tools for an enhanced experience, but doesn't really give any specific information about the supported apps. According to our detailed church website builder reviews, the platform supports addons for ministry management, code embedding, and link creation.
But if you have a particular add-on in mind, you should best check with the customer care team if it will work on their system.
Mission Support
As we mentioned, Mission offers rich support documentation and video guides for first-time users. This adds a much-needed comfort and confidence that site-building is not an impossible task.
Philippians 4:13 — I can do all this through him who gives me strength.
The Mission website does not have a Contact Us page, and, according to the FAQ, the company offers email and chat support only. We only managed to find the latter.
The few times we had a chat conversation, the Mission operators were quite friendly and ready to help. The reps showed more than a basic understanding of the product, assuring us that building a church app is no biggie with their platform.
Still, supporting more than one communication channel would certainly do Mission well.
Mission Plans and Pricing
Mission's package is quite robust, but that comes at a price. Valued at $47/mo, it's the second most expensive deal in our review.
The price remains the same come renewal, and no upfront payments are needed — all billing is month-to-month.
Mission invites you to try out the platform for free for 14 days before making a final decision. That's plenty of time to test the service and see if it fits your needs.
Mission Verdict
Mission doesn't give out much information about its team and values — it lets its product speak for itself. Some of the best church websites today utilize this site builder for their holy needs. First-timers and WordPress users will find Mission particularly easy to use, letting you focus on the fine details that will help your congregation grow.
MOST SUITED FOR
Big ministries and congregations
Visit Website
Suitable for every skill level
Translate your site in different languages
Responsive designs for mobile users
Cool video backgrounds
Ministry Designs is a company that prides itself on its love for God.
The provider has been operating in the church niche for over 20 years, and you can tell that experience has been put in good use.
Ministry is committed to helping local churches find more exposure and better promote their vision, services, and events.
Let's see how that's working for them.
| | |
| --- | --- |
| Pros | Cons |
| Great visuals | High setup fee |
| Professional support training | No free plan |
| User-friendly interface | |
Ministry Designs Ease of Use
Just one glance at the Ministry website, and you can tell the company knows a lot about trendy church web design.
We got to pick between 21 stunning templates, and new ones seem to keep coming. Additionally, there is a gallery of 10,000+ modern-looking visuals you can use for your pages, newsletters, and media content.
The interface, unsurprisingly, looks magnificent as well. Overall, this ensures a smooth site-building experience.
Ministry Designs Features
Ministry offers one plan for churches and religious organizations, but it has plenty of features to go around.
It's super easy to create a church website when you have the right tools. And Ministry Designs has them all.
Hosting-wise, the provider equips you with unmetered space and bandwidth, daily backups, SSL certificate, and email services.
As for the drag-and-drop builder, you have the full freedom to inspect and change every little detail. You get a built-in media player, options for audio and video podcasts, an event calendar.
There's a strong focus on SEO as well — your church can get maximum exposure through RSS feeds, search-friendly URLs, and metatag generators.
Here are some fascinating statistics about the importance of SEO for your websites.
As for your mission-specific features…
Multilingual Websites
God is omnipresent, and He doesn't divide us by age, gender, race, or the way we speak.
If you serve a multilingual community, offering your sermons and site content in more than one language is a great idea. This way, everyone that shares the same moral and religious beliefs can feel welcome and well-accepted in the House of God.
Easy Social Sharing
Ministry Designs also employs the power of social networks.
We get it, Facebook and Instagram might not sound like the best places for a church to try and spread God's word. Still, with the right strategy, you can attract a lot of younger followers.
Churches like Fresh Life and Waters Edge are already rocking social media channels, and your organization could be next.
Ministry Designs Integrations
Our research found no information about possible third-party integrations, and we are yet to receive a reply from Ministry at the time of writing this church website builder review.
Update: As the reply came, it turns out the platform has in-built integrations with Disqus, Google Maps, Google reCAPTCHA, and Google Search. Strange the company doesn't mention that anywhere, as any such add-ons can be good selling points.
Ministry Designs Support
Ministry's support services are a bit iffy.
Some pages on the website advertise 24/7 chat and email assistance. And yet, the Contact Us page reveals working hours between 8 am to 5 pm EST.
Out of five chats that we've had with Ministry Designs, two failed to connect in the first ten minutes and forwarded us to email. In one case, the operator appeared after a while, but each reply was taking way too long.
On a positive note, we tested the screen share support feature, and it worked just fine. The rep managed to show us around and teach us a thing or two about the best practices for church websites.
All in all, we managed to get some proper help with Ministry, but it did require a lot of patience.
Ministry Designs Plans and Pricing
Church Website Plan — $20/mo ($1,000 setup fee)
Ministry reveals a very affordable monthly rate, but the setup fee is far from fitting every pocket. Not every small town church can spare $1,000 for setup fees alone, especially with so many similar tools that don't carry any extra cost.
Still, if the price is not a deal-breaker, you can seriously consider this deal.
You can also schedule a live demo, but there is no option for a free trial to test the Ministry platform for yourself.
Some of the best web templates for churches are just waiting around the corner, ready to help you build an inspiring website.
Ministry Designs Verdict
If you're looking to bring a modern outlook for your church and reach a wider audience, you can trust Ministry Designs to do a good job. The navigation is smooth and intuitive, barely complicated even for the novice user.
Customer care is not a strong suit for Ministry, but if the case is not urgent — you can still get a proper resolution.
MOST SUITED FOR
Smaller ministries
Visit Website
Based on the most popular CMS
Incorporate fly-ins, parallaxes, and other effects
Premium page layouts for a modern site look
Communicate with members via newsletters
OurChurch was founded in 1996 with the mission to become one of the best website builders for nonprofits.
In 2003, the company added web design to its services and started building a portfolio of beautiful WordPress-based websites for churches, ministries, schools, businesses, and even online shops.
OurChurch saw another expansion in 2005 — search engine optimization (SEO) was added to the mix of solutions, making the provider a one-stop-shop for Christian organizations.
Today, the platform is a proud partner and recommended solution of the United Methodist Church.
| | |
| --- | --- |
| Pros | Cons |
| WP-based builder | Limited account resources |
| All plans reasonably-priced | You need a long-term contract to get the best prices |
| 20 pre-installed plugins | |
OurChurch Ease of Use
Navigating around the OurChurch website was rather clunky and laggy, so we didn't have much hope for the backend of this church app builder.
But what a pleasant surprise!
The insides of this tool look almost identical to WordPress. So, if you've ever had a glimpse of how the most popular CMS operates, you'll have zero trouble working with this one. Even if you haven't — the learning curve is as smooth as they get.
The left-side options contain all the needed tools to help you add and edit menus, pages, media, and much more.
Who can turn down the full power of WP in such a simple package? With no setups and no installations to take care of, just choose one of the many ready-made WordPress templates and take it from there.
OurChurch Features
You don't have to be an expert in church website design to make a stunning website with OurChurch. That's the whole beauty of it — through various themes, plugins, and in-built features, you can make a page that looks like the handiwork of a professional developer.
OurChurch made a smart choice by taking advantage of the endless capabilities of WordPress. Simply put, the built-in features by themselves are not that impressive or unique.
Unlike many similar platforms, OC has strict limits on space (from 5GB), monthly bandwidth (from 20GB), and even email accounts (starting from 100).
In terms of security, however, you seem to be fully backed on all ends — OurChurch performs daily RAID and account backups, storing them on an offsite location. You don't have to worry about updates either, as the system regularly checks your core application and plugins for new versions. I can then apply any changes automatically, whenever it is necessary.
A few other things might help your church domain become even more recognizable.
Custom Online Forms
OurChurch includes an online form builder that will help you get more personal with your congregation members.
Want to send out personalized invites for your next fundraiser?
Or maybe want to have people sign up their kids for the Sunday School curriculum?
How about making a unified point-of-contact with your church's administration?
All possible with OC's custom form builder.
E-newsletter
You want to keep your church out there as much as possible. An active church means an engaged community, and that's the ultimate goal.
Let your members bask in the glory of God for more than just Sunday service. Send out regular newsletters with interesting information about sermons, weekly activities, donation campaigns, and see how your subscribers respond.
Such feedback is priceless and can even help you with great church website content ideas.
OurChurch Integrations
As we mentioned, WordPress can take a website builder to unprecedented heights.
Apart from OurChurch's default choice of about 20 add-ons, you have the whole WP plugin repository at your disposal. This library contains over 50,000 plugins that make your church website look better, feel better, and perform better.
Some of the most prominent WP plugins include:
WP Super Cache (caching)
Wordfence (security)
Yoast (SEO)
Elementor (page builder)
Smush (image compression)
As with any other plugin-powered website, make sure to keep add-ons to a minimum and always properly updated. That way, you can avoid any performance and security risks.
OurChurch Support
OurChurch mainly relies on an extensive knowledge base to assist all clients with the platform. We have to say, the sheer volume of text and video guides is absolutely impressive, compared to most other Christian website builders in this review.
As for live assistance, though, you are pretty much on your own.
The Contact Us page reveals email as a primary form of contact, with a phone line also available at Mon-Fri, 9 am — 5 pm EST.
Ok, let's try the email then.
Some church builder providers responded to our questions within an hour or two. Others took a day. OurChurch never responded. We never got a reply, neither in the inbox nor the spam folder.
On the other hand, we got a daily dose of spam from OurChurch, in the form of beginner guides on how to do things in your OC account. Most were self-explanatory and not really of much help.
OurChurch Plans and Pricing
Bronze — $6.97/mo
Silver — $10.97/mo
Gold — $16.97/mo
OurChurch is not exactly a free church website builder, but it's as close as you can get to having one.
As the standard market prices often start from $20/mo and up, OC offers its robust solutions for as low as $6.97/mo.
Those lucrative rates do come with a catch — a three-year prepayment. But even if you can commit to a month-to-month billing only, you are still paying no more than $10.90/mo for the Bronze package.
There is a running deal on domains as well. Every new church or ministry can start with their own domain registered for free for the first year. This one looks like a limited-time offer, but such deals often run much longer after their alleged "expiration."
OurChurch Verdict
This church website builder has what it takes to be among the top in its niche. It carries all ministry essentials and provides enough resources to run such a project.
Using WordPress as a core for its site builder is undoubtedly OurChurch's greatest strength. The versatility of the CMS, paired with the simplicity of the OC framework, makes the tool an excellent choice for beginners and smaller organizations.
MOST SUITED FOR
Connecting to a large community
Visit Website
Reach churchgoers from all over the world
Auto-updating podcast feeds
Customize every detail of your online presence
Access to 4k stock video downloads
Nucleus is a solution that helps you create an online presence for your church. It is a part of an even bigger platform called Pro Church Tools.
PCT is the brainchild of Brady Shearer, who has an interesting question for all religious organizations:
There are 168 hours in each week. If your church service is 1 hour a week, what is your church doing to reach people the other 167?
Asking the right questions and keeping a close relation to God has helped Brady make Nucleus a preferred church platform for over 115,000 clients worldwide.
| | |
| --- | --- |
| Pros | Cons |
| Central church hub | Not beginner-friendly |
| Sermon storage | No pre-built themes |
| Stunning images | High monthly cost |
Nucleus Ease of Use
The Nucleus website often makes a parallel between the Old and the New ways when it comes to church site-building – it combines service announcements, sermons, and social sharing features. That's great as it gives you a perspective of how far we've come and how much more we can do today.
This strive for modernization affected the ease of use, though.


First-time users can find the interface confusing, though. The account dashboard feels a little scattered, and the actual church website development takes much more time than the simplistic drag-and-drop environment with most similar tools.
Still, if you already know your way around website building tools, you can quickly get used to Nucleus as well.
Nucleus Features
As a centralized church and ministry platform, Nucleus offers sets of tools that help churches cover five of the key aspects of their online presence.
Nucleus Web
This was the main focus of our review. The Nucleus church builder makes you forget about the printed brochures or the complicated ways of getting your church found. It packs advanced features and customizability options that just make life easier.
Nucleus Sermons
The place to share the word of God with everyone. You can build custom playlists with your past services, add transcripts and scriptures, create podcasts — there is a lot you can do with the platform. Self-hosted sermons can even boost your SEO exposure.
Nucleus Social
Churches and social networks are not a common combination, but when done right — they can bring great results. Wow your visitors with engaging content, and set up regular posting to show visitors that going to a church is not only a Sunday activity.
Nucleus Giving
Even the best church websites suffer from unnecessary fees and donation cuts when they rely on third-party vendors. Nucleus's very own online giving solution aims to maximize your church's profits so they can see good use. It gives your members a quick and easy way to donate from every mobile device. In turn, you get an intuitive dashboard to manage all the processes.
Nucleus Media
Forget about the boring stock footage you can find on every other church website. Nucleus supports an ever-growing library of stunning 4k multimedia footage that will really bring out the progressive approach of your church.
These five aspects make up the core of Nucleus… its nucleus, if you will. Utilize each one, and you'll make the most out of this church website builder.
Nucleus Integrations
You can find detailed information about third-party integrations in the Nucleus Help Center.
We found 16 tools that pair up well with this church-friendly solution. Among them were industry-leading names like Dropbox, MailChimp, and Hubspot. The specific needs of churches and ministries are also taken into account with integrations like Tithely (donations), Elvanto (church management), and RockRMS (community builder).
First-time Nucleus users can benefit from a helpful step-by-step tutorial for each add-on, walking you through the whole setup and activation process.
Nucleus Support
Finding assistance for your Nucleus church website is not exactly the easiest thing in the world.
There is no Contact page on the company website, nor are there any signs of email and phone contacts.
The answer required scrolling to almost to the footer of the homepage, where we found the small section saying: "Have a question or need help?" The short information there confirms the lack of other means of contact and reveals 9 am — 5 pm EST working hours for the support team.
We've had a few chats with Ryland and Mitchel, and we were positively impressed with their understanding of the platform, which they managed to present in a very newbie-friendly way for us.
Still, the lack of proper support at all times is a little concerning when you're facing issues that require immediate attention.
Nucleus Plans and Pricing
Nucleus is by no means a platform for building cheap church websites.
The all-in-one solution packs everything you need to boost your ministry's online presence and, as such — cannot fit every budget. The $99/mo price tag can prove too much for many small and local churches, but the value for money for growing congregations is unmatchable.
And that's the rate if you're willing to pay for the whole year in advance. The month-by-month billing will bring your costs up to the whopping $125/mo.
Nucleus Verdict
The Nucleus mission is not just about putting a church page online. The software aims to build the best church websites in 2020 and help everyone find them easily. It's a platform full of amazing features, but the high price tag and limited support make Nucleus less than ideal for smaller congregations.
MOST SUITED FOR
Mobile church websites
Visit Website
Create a website in minutes
Put up to 100 pages
Event calendar
Integrate your social media accounts
Churchikon is a bright example that when something works, you don't need to try and fix it.
It's incredible, really. There is little to no information about Churchikon online. The website looks dated. Support seems to be missing.
Yet, the tool continues to be a preferred website-building solution to this day. Especially when it comes to non-profit businesses, churches, and schools.
How does Churchikon manage to stay afloat? Let's have a look.
| | |
| --- | --- |
| Pros | Cons |
| Affordable plans | Looks dated and abandoned |
| Easy social media integration | Not very feature-rich |
| Beginner-friendly interface | Lacks church-oriented options |
Churchikon Ease of Use
If there is one thing that can set Churchikon apart from other church builders, it is the enhanced simplicity of the tool.
Logging in for the first time might be a little shocking. For a website that seems so abandoned, the actual backend interface feels very modern and attractive.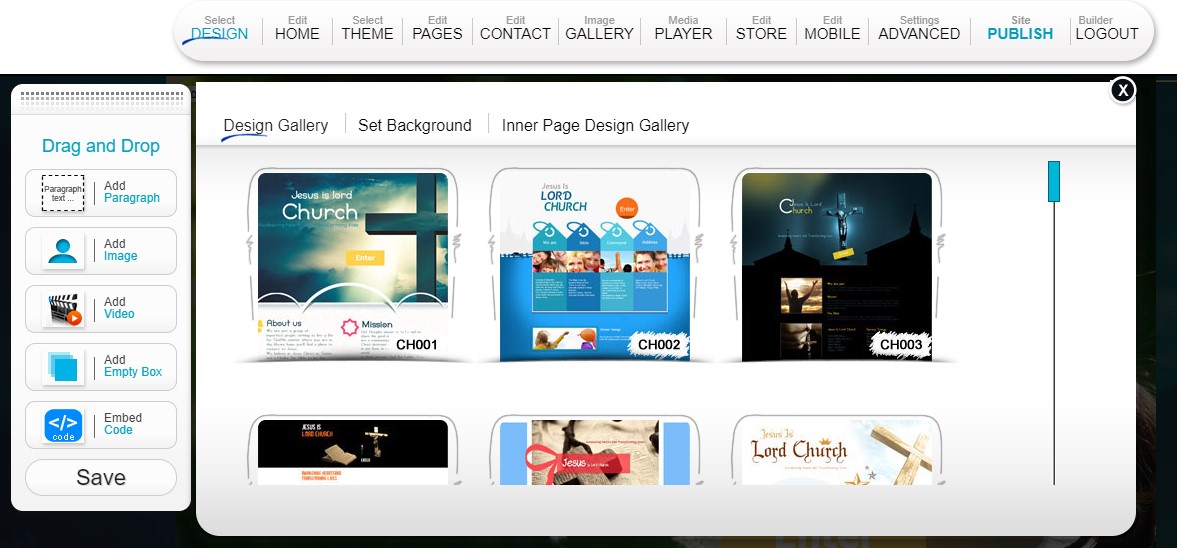 There are top and left-side menus for every step of your page building — template design, new pages and functionalities, content structure.
The 30 pre-built themes offer great design variety and give church pages a unique Churchikon look and feel.
Churchikon Features
Depending on the scale of your project, you can choose one of two Churchikon packages — Basic and Premium.
The Basic plan is a little bare-boned. It only gives you the option to build a five-pager website, among which an image gallery and a contact page.
The Premium package offers many more opportunities to build great church websites. You can now connect your site to social networks, integrate a media player, or even an online store.
The big problem here is the lack of church-specific features. The most notable options here are:
Events Tool
This is your all-in-one calendar, where you can share valuable information, schedules, and upcoming activities around your ministry. Let your churchgoers know in advance about:
Bible studies
Choir practice
Sunday school and service schedule
Charity events and fundraisers
There is a built-in Maps widget in the Events tool, giving your members directions and coordinates on how to get to your church easily.
Mobile Website Builder
In 2020, this should be a given, but Churchikon puts a strong emphasis on responsive websites and making pages look great on all screens.
With the optimized church website builder, you can ensure your site will get optimal performance on all Android and iOS devices.
Our recent mobile marketing statistics reveal that 81% of online users own a smartphone. What's more – by 2025, 72% of the total internet usage will come from mobile.
Those are opportunities your church doesn't want to miss.
Churchikon Integrations
Churchikon doesn't give out any information about possible integrations with third-party add-ons.
Instead, you can only find a way to add Facebook and Twitter sharing, as well as the Events Tool.
That's it.
To add salt to the wound, all these options are only available for clients on the Premium plan.
Churchikon Support
Similar to their competitors at OurChurch, Churchikon is another one of those "ghost" providers that seem to have abandoned support services altogether.
The Contact page of this church app builder contains nothing more than an online form.
Sending an email through it goes God-knows-where, but our test results were rather conclusive — three support requests and zero responses.
Digging around Churchikon reviews confirms that our experience was not a one-off thing. Reaching the support team is virtually impossible.
Churchikon Plans and Pricing
Basic website — $59/year
Premium website — $89/year
It would be unfair to charge a lot for your services when there are countless feature-rich solutions on the market, so Churchikon is as reasonable as they come.
Both plans require a one-time annual payment, but the monthly rates translate to roughly $6-$8, a conveniently-low price to build a church website.
To start, you can go ahead and sign up for the 30-day free trial. Afterward, you can easily upgrade at any time from your newly-created user account.
Churchikon Verdict
Churchikon is a simple, yet effective tool for churches to reach out to their followers online. Small ministries and organizations on a tight budget might find this solution especially suitable, but there are alarming signs.
Platform development seems largely abandoned, and there is no support assistance in sight.
Therefore, you'd be wise to approach with caution.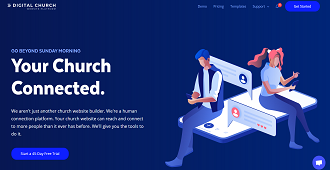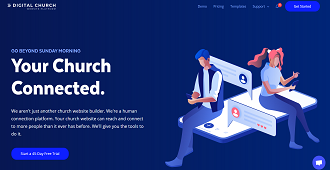 MOST SUITED FOR
Local churches
Visit Website
Automatically link to latest sermon
Live stream your videos
Wow visitors with amazing artworks and designs
Promote recurring events
DigitalChurch doesn't just want to be the next church website builder — it advertises its software as a "human connection platform."
That all sounds great, but DC doesn't seem so keen to share and build a relationship with clients. The company website has no "About Us" section, some of the pages contain little to no information, and a couple of links lead nowhere.
It seems we have to do our own quest for the truth.
John 8:32 — And ye shall know the truth, and the truth shall make you free.
| | |
| --- | --- |
| Pros | Cons |
| Reasonably-priced | No company information |
| SEO tools | Only one template you can start with |
| Visitor statistics | Confusing for beginners |
DigitalChurch Ease of Use
Getting started with DigitalChurch, you can take advantage of a free church website builder and hosting for 14 days before you decide if you want to jump on a paid plan.
Our first steps with DC were less than impressive.
The platform is unnecessarily confusing, and even simple options like the login/logout button are well-hidden at first glance.
Once inside, things are not getting much better.
Even though the DigitalChurch tool is similar to WordPress, managing it is far from beginner-friendly.
We thought that having some previous experience gives us grounds for success. Surprisingly, that wasn't the case here, not by a long shot. Navigating around the dashboard felt a little laggy at times, and we even had a couple of timeouts while editing.
To make things even worse, there is only one template to start with, and your church web design options are pretty basic.
Bad UX in 2020 can bring a lot of headaches – here is our detailed review on the subject.
DigitalChurch Features
Choosing between the three DigitalChurch premium deals strongly depends on your current needs.
If your church is small and doesn't need anything flashy — the Basic plan is more than suitable to start. But if you are already expanding and want to grow your congregation further, the Standard and Premium packages will be a better match.
Starting from the bottom, your account comes with a drag-and-drop church site builder, equipped with some helpful SEO options and detailed visitor statistics.
The only church-specific feature seems to be the online giving platform you can easily add to your website.
Going up the ladder, DigitalChurch opens a new pool of opportunities for non-profits — building portfolio pages, event ticketing, member-only areas are all part of the growing set of features.
What else do we have here?
Online Learning
Spreading the Word of God is one of the primary reasons to create a church website in the first place. While having your own archive of sermons is great, you can do so much more when you have an online presence.
How about building your own online learning platform? This way, you can reach kids and adults alike, helping them learn more about the Bible and God's ways.
It's only available on the Premium plan, though.
User Groups
Believers are like one big family — you just have to find a way to bring them together. DigitalChurch shares that sentiment – it is all about building and expanding your online community.
Your website can encourage social interactions by building small, focused groups and sparking inspirational discussions among members. Users can create their own profiles and easily connect through social media channels.
It's a big world, and we can always use a new friend.
DigitalChurch Integrations
We learned very little about possible integrations with the DigitalChurch platform. The company website revealed you could add a live streaming feature to your page, but that's just about it.
No further information can be found in the help center or on third-party websites.
DigitalChurch Support
Just like many of the other picks in our church website builder rankings, your best helpers with DigitalChurch would be the online tutorials and the community support.
Regretfully, most of the offline help is rather useless. The forum page is empty, and the documentation contained a single article about emails, which leads to an error page. A couple of recent changes from December 2019 are the only sign that DigitalChurch is still operational.
The only way to reach a live person is through the chat messenger. The operators there were quite friendly and explained the option is mostly active during weekdays, in the EST business hours.
One thing we found particularly helpful is the fact that the DigitalChurch system keeps all past conversations. Just like in Skype or Viber, you can just scroll up and find previous instructions, links, or troubleshoot instructions.
DigitalChurch Plans and Pricing
Basic — $16/mo or $144/year
Standard — $29/mo or $312/year
Premium — $49/mo or $540/year
For what it's worth, the DigitalChurch community church builder offers some reasonable prices and billing plans that should be able to fit any budget.
You can start an account on a monthly or yearly subscription. The latter carries a further discount, shaving off about two months in website costs.
DigitalChurch Verdict
DigitalChurch offers a robust tool with enough essentials for a smooth site-building experience. You can find a place for sermons, prayers, baptisms, christenings, weddings, and other important events.
A bit more support and a couple of unique features would do this provider a favor. Still, DC tries to make up for its shortcomings with affordable and flexible pricing.
MOST SUITED FOR
Pastors and ministers with no technical skills
Visit Website
Advance design tips
Easily promote your church website
Get your own church email addresses
Hosting + site builder in one package
Church123 was established in 2001 by two Christian directors. The founders had the firm belief that websites were just as much about people as they were about technology – a philosophy they still follow today.
Church123 evolved steadily through the years, adding services like church website design, custom site development, domain names, and web hosting.
Can the provider stack well against the top names in 2020, though?
Let's see what our tests had to say.
| | |
| --- | --- |
| Pros | Cons |
| Over 200 pre-built templates | Lacks advanced features |
| Publish a website in minutes | Limited customization |
| Use your own domain | Does not support European clients anymore |
Church123 Ease of Use
In terms of usability, Church123's tool is quite comprehensive and easy to utilize for your needs.
Signing up for a 30-day free trial and logging in takes no more than a minute. The backend looks a bit like a cPanel — nothing flashy, but extremely functional.
Church123 offers over 200 website templates for churches, more than any other platform on our list. The problem is they mostly look the same. There is very little design creativity involved — the themes contain a bunch of old stock images and various menu positions.
All in all, it's easy to use, but a bit too basic for 2020.
Church123 Features
Just like we are all equal to God, all Church123 clients get equal server resources and site-building opportunities.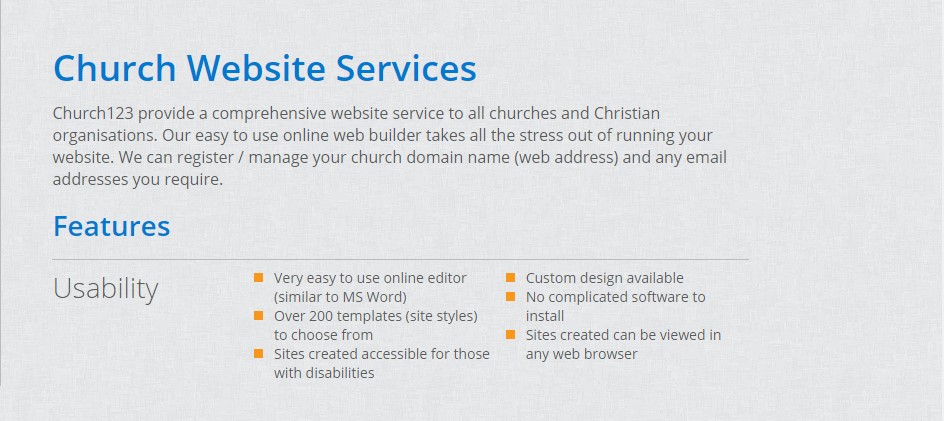 You can create unlimited pages on the Christian platform, and their customization is effortless. You can even use your own images to replace the boring stock footage outlook.
Church123 was probably the fastest church website builder in terms of the time it took us from the initial login to publishing our finished website.
A few other things also worked in its favor.
Podcast Storage
Church123 is very clear and honest about its storage policies.
Podcasts and audio sermons are getting increasingly popular today, and more churches are taking advantage of this format every day. You get a fixed amount of web space, worth about six years of Sunday service audio.
Should you need more — you can always contact Church123 and get additional space for a reasonable fee.
Member Pages
All modern church websites give followers a dedicated space – their own little confessional, so to speak.
You can do the same with Church123, creating member-only pages and protecting them with a user password. Choose exactly what the users see inside and what options they can access.
The more time people spend on your website — the more chances you have to turn them into loyal followers.
Church123 Integrations
Third-party integrations are where Church123 strongly excels.
It turns out the seemingly rudimentary tool is very flexible when it comes to add-on synchronization. There are useful instructions about pairing the ministry web builder with popular software like PayPal, iTunes, Amazon, Google Maps, and many more.
In short, what Church123 can't do by itself is already covered by a backup plan.
Church123 Support
Church123 operates from the UK, and phone contact is available for clients from the Albion.
We didn't find any chat contact, so we went ahead and sent an email full of sales questions. Church123's reply was the fastest among all church domain sites, which would've helped the platform rank even higher.
Unfortunately, the answer wasn't what we expected:
I'm sorry to say that we are still suffering from the impact of the Brexit decisions and the legislation that is coming into force. Due to the requirements that we understand are necessary to continue serving clients within the EU we are now ceasing all EU operations. Which is a sad situation to be in but I hope you manage to find a local host who is able to meet your needs.
We certainly appreciated the fast and honest response, and hopefully, Church123 can find a better solution soon.
Church123 Plans and Pricing
Web Builder — $95/quarterly or $370 annually
The UK provider has a very unique approach to billing. Instead of a fixed rate for all clients, Church 123 applies regional billing. This means that prices might differ, depending on whether you're coming from:
the UK
the US
Canada
EU
Non-EU
Asia
Australasia
Africa
South America
Church123 is surprisingly offering only quarterly and annual billing, but if you have to break down the fee to a monthly cost, it would be around $30/mo.
Church123 Verdict
Church123 is ideal if you're looking to build simple church websites and quickly publish them online. The interface is intuitive, and operations are simple… a bit too simple, at times.
Overall, it's well-suited for UK clients and local congregations.
Notable Church Site Builder Mentions
The above website builders might be our top picks for this particular analysis, but we'd like to mention a few more names. These tools all came really close to making the final cut. Still, for one reason or another, they fell short just before the finish line.
Here are the best alternatives to help you build a church website:
Normally, no list of great site builders is complete without the Wix name in one of the top spots. The cloud-based platform is one of the most accomplished tools when it comes to web building.
You can use Wix for churches or any kind of new websites — the app comes with so many features and add-ons, that you are limited only by your imagination. Through its user-friendly interface, you can create blogs, online shops, membership pages, or even tie different functionalities together.
Still, Wix's biggest advantage was its greatest downfall in this case — we were looking for church-specific tools only, so the most popular web builder wasn't exactly the most suitable pick.
Squarespace, just like Wix, is another platform that often tops church website builder rankings. That comes as no surprise — the platform offers a wide variety of features and excellent support assistance for both novice and more advanced users.
The stunning designs and templates are undoubtedly one of Squarespace's best selling points. They're also the reason for millions of stylish websites around the Web.
Again, we were looking for more church-oriented solutions for this list. This is why the award-winning site builder can only get an honorable mention here.
ChurchWebBuilder, as you can tell by the name, is developed with a single purpose in mind — to help churches and ministries put their names online and connect better with their congregation.
We can't argue CWB is doing a lousy job at it. On the contrary, this ministry website builder seems to check all the boxes — announcements, event calendars, newsletter options.
The thing that ChurchWebBuilder is failing big time is site design.
It's 2020, and CWB's templates look dated by at least a decade. Sure, there is a great deal of free themes available. That said, they all look very similar, with only minor changes in colors and header images.
ChurchWebBuilder is very similar to one of our other contenders, Church123. Nevertheless, the latter won the battle with its better UI and more church-oriented features.
Here is one church platform that has a strong connection with God.
You can find only committed Christians in the ChurchEdit core team. The company entered the niche way back in 2002 when founder Kyle Cottington realized the growing need of churches and other religious organizations to be better represented online.
Church Edit does its job with as little effort from you as possible. You can easily build modern church websites and add useful functionalities like calendars, audio sermons, a member-only area, and more.
Sounds perfect, so where's the catch?
Unfortunately, as ChurchEdit is a UK-based company and all its servers are there, the performance for clients outside Europe is not great. It seems the provider is trying to keep things local, which is unfortunate as their product looks very promising.
One thing is for sure — there isn't a single universal solution that works best for every ministry. You have to first outline the specific needs of your project, and then look around to see which church website builder can best address them.
Here are a few tips to aid you in the process.
How to Choose the Best Church Website Builder
It took us several weeks to compile this church site builder list, but you can shorten this process once you outline your main needs and requirements. Make sure to keep an eye on:
Performance — becoming a client is the best way to check your website builder's speed and uptime, but luckily, most providers offer a risk-free answer in the form of a free trial or demo.
Use your time wisely. Put up a simple page for starters and run tests with popular tools like GTMetrix, UptimeRobot, and StatusCake. Compare results from a few providers to find the best church app builder for your ministry.
Features — there are a lot of general-purpose web builders that pack a rich set of features. Some of them are ideal for portfolio websites, while others can supercharge online shops to reach the best sales numbers.
But you don't care about any of that.
Your church needs specific functionalities for audio and video sermons, as well as information about worship services, weddings, funerals, and baptisms. You want to reach as many believers as possible, show them an easy way to your church, and welcome them in the warmest of ways.
The best church software solutions have one thing in common — they focus on features and add-ons that help religious organizations get an easy entry into the online world.
Ease of Use — most churches cannot afford to keep a developer or an IT person for their online representation. In fact, the local pastor or minister is often solely responsible for keeping things afloat.
That's why providers have to consider most of their clients have little to no experience in website building and give them a tool anyone can efficiently utilize.
The tree trial can again prove helpful in this situation. From the smooth navigation to the comprehensive dashboard and convenient drag-and-drop functionality — you can always test if your choice is up to the task in terms of UX.
Support — another great sign that you might have found a suitable platform for your church's web page is the level of customer care that accompanies the service.
Does the provider offer live assistance?
Are the services 24/7?
Do the company operators know enough about the software to provide adequate help?
You can tell a lot about a service provider by its support team. Reach out to your potential choices with some simple sales queries. The answers will tell you if they can take good care of your church or they're just aiming for a quick sale.
Price — religious organizations often rely on donations and fundraisers to keep themselves afloat. That's why a large budget for building a church website is often out of the question. Many clients look for reasonable pricing, and that goes double for the representatives of a church.
Niche site builders often operate on a month-to-month billing term. Still, there are plenty of solutions you can prepay for on an annual basis.
Unlike shared or VPS hosting solutions (check our VPS list here), church CMS platforms may include a setup fee more often. Make sure to also check if the renewal prices are higher or if a flat rate is in place.
Now that you know how to find the best way to spread God's will, let's see some of the most significant benefits of having a page for your church.
Benefits of a Church Website Builder
You might be thinking — that's all good, but do I really NEED a website for our church? After all, God didn't need the internet to share his revelations.
Well, since you probably don't have divine powers yourself, going online might easily be the next best thing for your church?
Why? Here are a few reasons:
Bring your congregation together — you probably already have a tight community, but there's always room for more devoted followers. There are a lot of church website examples where a simple online page brings much more exposure and interest in the religious services
Always keep people informed — whether it's the Sunday School curriculum, a Bible study invitation, or information about an upcoming fundraiser — your followers can always keep track of what is going on and never miss an important event.
Get found easily — if you are not a small-town church, chances are not everybody knows how to find you easily. A website will let you share maps and GPS coordinates, so getting to your church will no longer be a problem.
Full control over your image — how you represent your mission, beliefs, and core values is entirely in your hands. Third-party channels like Facebook and Youtube can also complement your efforts, but you have no power of any updates or algorithm changes they decide to enforce.
Accept donations from everywhere — not all devoted members of your church have the physical ability to help your organization. But you can offer them a quick and easy way to make online donations. Any decent church website builder in 2020 will give you the ability to set up a payment gateway and connect it to your web page with no hassle.
And that's just scratching the surface — there are plenty more benefits you will find in the process of building your first church website.
Speaking of which, we have a few suggestions that can further ease the process.
Tips and Tricks for Building a Church Website
The beauty of a reliable site builder is you can always customize and modify your website to perfection. Still, there are some key sections that churches (and their members) often find valuable.
Homepage — keep it clutter-free, avoid stock footage, display only the most important and relevant info there.
About Us — use it as a chance to introduce your church to the community — talk about its history, current members, core beliefs.
Calendar — share information about Bible studies, choir practice, Sunday service, weddings, baptisms, and more.
Sermons — keep an archive of all past sermons, be it in a video or audio format. A download option is a good idea here.
Donations — tithing is often the primary source of income for church websites, so you have to offer convenient options for followers to do that from any device.
Newsletter — prepare a weekly/monthly newsletter and keep your followers engaged at all times.
Contact Us — don't just use this to outline your hours of operation, give directions to your visitors via maps and coordinates.
Of course, you can add plenty more pages, but those basics are the foundation of building a long-lasting and devoted community.
Conclusion
See, religion and technology don't have to be enemies. In fact, they can work great together.
If you've been with us for the whole trip, you should now have the answers to essential questions like:
Does a church need a website?
How to build one?
What should it include?
Which is the best provider on the market?
How to do my own research?
So, even if you are a pastor of a small church and have the seemingly burdensome task to build a website for your organization, help is on the way.
Matthew 7:7 — Knock, and it shall be opened unto you, seek and ye shall find.
We hope you found exactly what you were looking for.
FAQ
What is the purpose of a church website?
Digitizing your church brings some clear benefits.
First of all, you can reach a much wider audience and let them know about your mission and goals.
Another great use of the web page is you can always keep your followers informed about the church schedule, events, fundraisers, and more.
Most of all, your website acts as a hub for the whole congregation, bringing everyone together and sharing valuable resources.
What should a church website include?
The majority of site builders for churches offer enough freedom to build all kinds of pages. That said, there are a few key sections you'd want to have:
homepage with beautiful visuals and essential info about your church
a section, titled About Us, that reveals the church's history, mission, and key staff
a page with contact information and directions to the church
a section for donations, where everyone can easily pitch in for the church budget
an event calendar with details about services, Bible studies, Sunday school, and more
You can also consider adding helpful content like a media library with sermons, a prayer wall, or maybe even a podcast.
Is Wix good for church websites?
Wix currently houses over 150 million sites, making it the firm leader on the site builder market. You can build all kinds of pages with the help of this user-friendly tool — business websites, online shops, blogs, and, of course, church sites.
The problem with general-purpose platforms like Wix is the lack of mission-specific features and services. Sure, you might be able to find all the needed functionality with such a tool as well. However, it will require some digging around and further testing.
Still, you can always try Wix with a free account, and if you find it insufficient — move to a more church-friendly solution.
How much does it cost to build a church website?
There are a few costs to consider when dedicating a budget for a church page.
First of all — are you going to build the site yourself or hire a developer? Depending on the complexity of your project, such fees could be anywhere between a few hundred to a few thousand dollars.
Then you have web hosting. Luckily, any reputable church website builder has hosting included in its deals. You can expect anything between $15 and $100 as a monthly rate, and some solutions carry a one-time setup fee as well.
Make sure to consider all costs beforehand, so you don't go overboard with an already tight budget.