10 Best Free Website Builder Providers of 2023
Here, you'll get all the information you need to find the best free website builder for your business or personal site. 
Building a website can be as easy as dragging and dropping a few elements into the right place. But expectations have changed recently, and making it on a budget is a challenge.
That's why we've created this list to help you find a free website builder without compromising quality.
Let's jump right into the rankings.
Published: January 5, 2022
Affiliate Disclosure
We aim to provide you with the best tech news and reviews. To sustain our site, we may earn a commission when you buy from our affiliate links. Read our full Affiliate Disclosure.
Top 10 Free Website Builders for 2023
Free Website Builder Reviews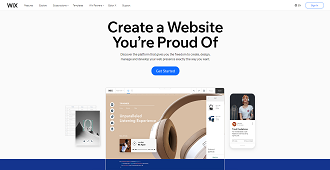 Wix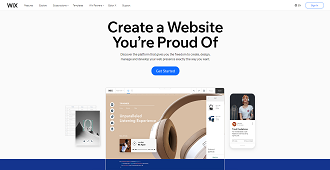 MOST SUITED FOR
Quick website creation
Visit Website
Rating: 10
Templates: 900+
Premium Plans Pricing: From $4.50/month
Customer Support: Via help center and chatbot
Customer Reviews: Excellent

As so many of the in-depth Wix reviews are positive, it's only fair to drop all pretense from the start. For most people, Wix is the best website builder available right now.
Wix also offers world-class hosting services and has more users than any other site builder. It's so easy to use that you can have a site up and running within minutes. You start by answering a few basic questions, and the site builder crafts a site for you. 
Moreover, Wix is intuitive and straightforward to use. You can drag and drop elements as you need them. However, the site builder has a lot of options. So, if you're entirely new to the web design game, expect to spend about an hour learning the ins and outs.
Wix's free tier gives you 500 MB and 100 pages to play around with. That's plenty to get started, and the lowest-priced premium tier is only $4.50 per month. So if you choose to upgrade, it'll be easy on the wallet. 
The obvious drawback is a big banner at the top of your site. While this may be a deal-breaker for some, for many, it's the best free website builder for their small business.
| | |
| --- | --- |
| Pros  | Cons |
| Super flexible and intuitive interface | Obvious ad banner |
| Plenty of excellent themes | The site template can't be changed once published |
| Responsive site design | |
| Huge app selection | |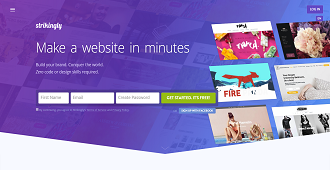 Strikingly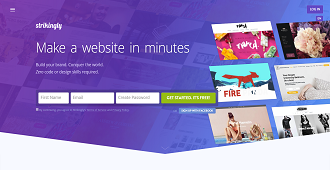 MOST SUITED FOR
Beginners who want to create a professional website
Visit Website
Rating: 9.8
Templates: 200+
Premium Plans Pricing: From $8.00/month
Customer Support: Via help center, online ticket, and live chat
Customer Reviews: Above average

Strikingly's tagline is "The easiest website editor possible," and it's fair to say it delivers on that promise. Its free website creator is your most straightforward path to creating a functional and attractive single-page layout. 
It's also probably the best free website builder for beginners. You get a quick onboarding tour and jump right into the action with minimal fanfare.
Some advanced users might even find it too simple. Particular features you'd expect on a website builder are intentionally left out to make the experience as streamlined as possible.   
While it's not ideal for businesses, it's arguably perfect for those that need a quick and easy solution. The free version only allows you to create a single-page website. You'll have to spring for any premium plans to add more pages. 
And if you do, Strikingly's paid plans are pretty affordable, starting with $8.00 a month if you prefer to pay annually. It gets even lower if you pay for five years, starting at $6.00 monthly. 
Finally, this best free website maker doesn't have as many templates as Wix, but it has enough to choose from, and they're all excellent and well-designed, as many Strikingly reviews would agree.
Pros
Cons

Most user-friendly website builder

Single-page websites

Well-designed templates

No SSL encryption

24/7 live chat support

even for free users

Comfortable editor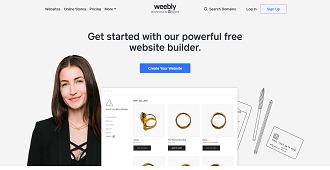 Weebly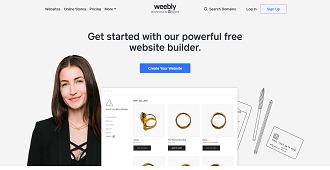 MOST SUITED FOR
US-based ecommerce stores
Visit Website
Rating: 9.7
Templates: 60+
Premium Plans Pricing: From $5.00/month
Customer Support: Via help center, online ticket, and email
Customer Reviews: Average
Weebly is a strong contender for the top-rated free website builder title. The only thing Wix has over it is more templates and apps. 
Weebly's drag-and-drop builder is among the easiest to use. Even a complete novice can compose a good-looking website without a hitch. However, it's a bit limiting. If you have a precise vision of how your site needs to look, Weebly might come up short. 
Weebly opts for quality over quantity when it comes to templates. It has a relatively small selection, but they're top-notch in both design and responsiveness. If your goal is to build a free site for your business, Weebly is an excellent choice. 
Weebly's free version allows you to sell unlimited products. However, you'll be limited to selling in the US. Or you can opt for a paid plan that ranges from $5.00/month to $25.00/month, paid annually.
Weebly also helps you with SEO. It provides SSL encryption, site indexing, and several other technical SEO processes.
Overall, it's among the best free website builders to test the ecommerce waters before you jump in with a paid plan. If you want to go for a paid plan, reading some of the extensive Weebly reviews can help you make a more informed decision. 
| | |
| --- | --- |
| Pros | Cons |
| Unlimited product sales on the free plan | Can't turn off cookie notice |
| SEO tools available | Lacks design features |
| Good selection of apps | |
| Highly responsive sites | |
Webnode
MOST SUITED FOR
People on a tight schedule
Visit Website
Rating: 9.6
Templates: 100+
Premium Plans Pricing: From $3.90/month
Customer Support: Via online ticket and email
Customer Reviews: Above average
Webnode is the website builder for people who don't have time to build a website. It's an excellent choice if you need to get something up and running fast. 
However, this zero-frills approach is a double-edged sword. On the one hand, it makes Webnode an excellent free website creator for events and one-offs. But it does away with a lot of creative freedom to accomplish that. 
Once you set up your account, your website can be ready to go in as little as five minutes. There are plenty of templates to choose from, but the builder is relatively restrictive about what you can do with them.
If there's one take-home message about Webnode, it's to choose your template carefully. Once you commit to one, you can't change it. Use the preview feature extensively until you find one you love.  
Although it's not the best website builder for business projects with complex web design architecture, Webnode is very simple and easy to use. And its pricing for the premium plans is pretty competitive, ranging from only $3.90 a month to $22.90 a month.
Overall, if you need a quick and easy website that won't require a lot of time to set up, Webnode is your best option.
| | |
| --- | --- |
| Pros | Cons |
| Tiny ad banner | The free plan has limited features |
| Creates a site in minutes | No app store |
| Unlimited pages | |
| Affordable premium plans | |
WordPress.com
MOST SUITED FOR
Quick blog publishing
Visit Website
Rating: 9.5
Templates: Several thousand
Premium Plans Pricing: From $4.00/month
Customer Support: Via help center and forums
Customer Reviews: Above average

Before getting into the specifics of WordPress, we should make the distinction between WordPress.org and WordPress.com. WordPress.org is the "real one" that offers web hosting and a bunch of other goodies. 
WordPress.com is the baby brother, and it's perfect if you want to publish a blog quickly. As one of the oldest blogging platforms, it's a contender for the best free website builder for blogging. Analytics, categories, archiving, and a whole host of other blogging features all rolled into one.
The drawback of being so blog-friendly is that it's a bit everything-else-unfriendly. Many features you'd probably like to see aren't there. It's also not designed for complete beginners. If you're coming into it with a bit of technical know-how, it'll make your life a lot easier. 
Besides those, WordPress.com has a lot to boast about, starting with a whole 3 GB of free storage and unlimited sites. The premium plans are not bad either, cost-wise, as it starts at only $4.00/month, so it's one of the cheapest website builders you can find.
What's missing are some SEO tools you get on their premium plan and customer support. But in all other aspects, the features are good, making it one of the top free website builders today.
| | |
| --- | --- |
| Pros | Cons |
| Popular and recognizable | Difficult to use |
| Excellent free templates | Not suitable for business sites |
| Massive free storage | |
| Domain name format | |
GoDaddy
MOST SUITED FOR
Beginners
Visit Website
Rating: 9.5
Templates: 300+
Premium Plans Pricing: From $9.99/month
Customer Support: Via phone and live chat
Customer Reviews: Above average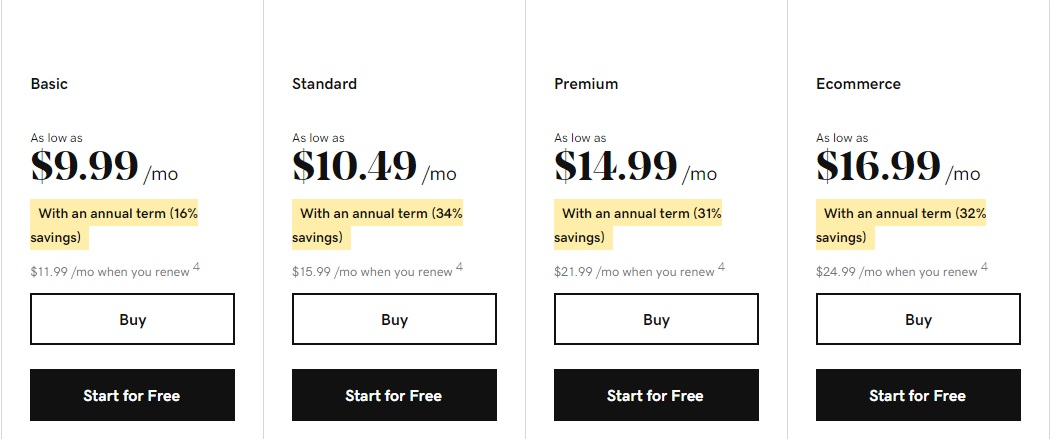 GoDaddy was initially a web hosting company and domain name registrar. That's why it's hailed as one of the best domain registrars today.
Internet veterans will recognize it from the ubiquitous ads from magazines to billboards. Nowadays, it's still one of the best web hosting companies, and they offer the top free online website builder to boot. 
It's user-friendly, and it goes beyond just being easy to use. GoDaddy provides an AI-driven tool to help you build your website. All you need are goals. If you know what you want to get out of your website, GoDaddy's InSight will help you achieve it. 
GoDaddy includes email marketing and social media tools in the free version. In most respects, it's the most generous free website maker on the market.  
But you can always upgrade to its premium plans to get everything you want. The prices range from $9.99/month to $16.99/month, and these have massive discounts since they are paid annually.
Overall, it's the perfect option for a personal website with a modest amount of outreach. If you have broader ecommerce goals, it's still good. In fact, it's also one of the best reseller hosting companies. But it'll serve you best to set the stage before committing to one of the paid plans. 
| | |
| --- | --- |
| Pros | Cons |
| Mobile-friendly templates | Missing crucial SEO features |
| Email marketing tools | Cannot sell products |
| Social media integration | |
| 24/7 customer support | |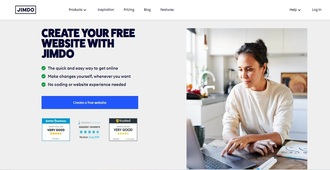 Jimdo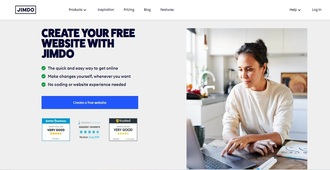 MOST SUITED FOR
Nonprofits
Visit Website
Rating: 9.4
Templates: 100+
Premium Plans Pricing: From $9.00/month
Customer Support: Via online form, chatbot, and help center
Customer Reviews: Above average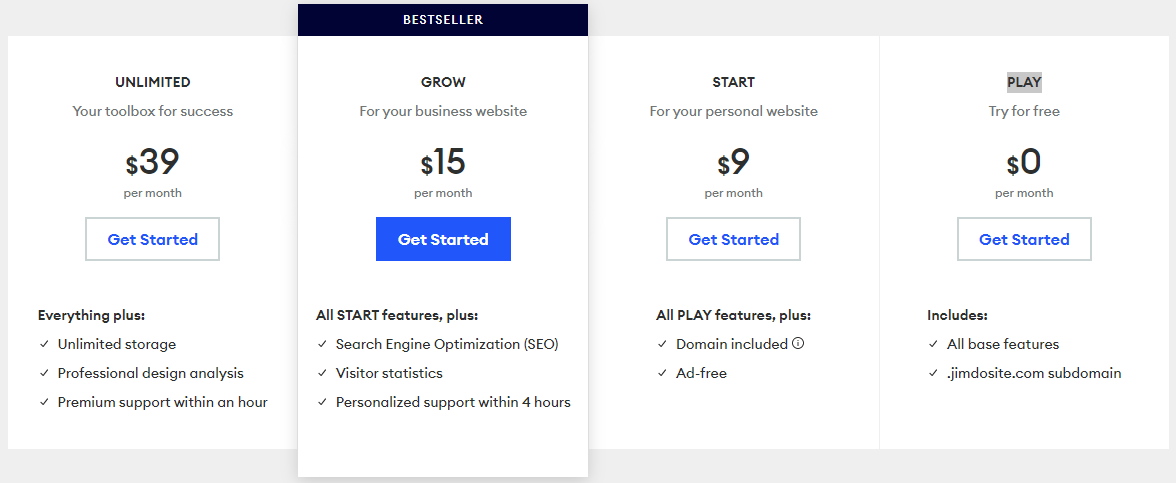 Jimdo is an excellent choice for setting up an online presence with a small sales component. On Jimdo's free plan, you can sell up to five products and keep your free site forever. 
That makes it the perfect free website builder for nonprofits, as it can help you raise money through merchandise without investing in an expensive web design. 
Alternatively, if you have a Facebook store or similar endeavor and want to complement it with a website, Jimdo is an excellent way to do so. You can choose between an artificial AI-assisted builder and one for experts. 
But upon review, neither requires much expertise or knowledge of coding. That said, Jimdo's website builder does offer drag-and-drop functionality, but it's a little clunkier than most competitors. 
It still deserves to be among the top 10 free website builders, but it'll come up short in meaningful ways. 
However, if you don't need to reformat the template heavily, it gets the job done quickly and efficiently. Moreover, Jimdo's mobile app is equally easy to use and just as effective. 
While Jimdo has a lot of templates, their quality varies. Many of the templates feel too generic and don't convey much about the site's character. 
The overall verdict for Jimdo is that it's a great free website builder, but it could use a little more creative control.  
| | |
| --- | --- |
| Pros | Cons |
| Sells up to five products free | Limited creative freedom |
| Effortless to use | No app store |
| Google Analytics integration | |
| Minimal advertising | |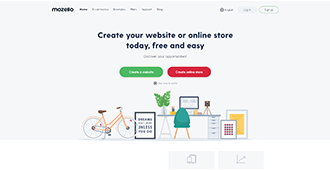 Mozello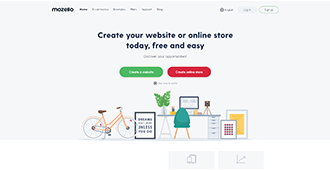 MOST SUITED FOR
E-commerce websites
Visit Website
Rating: 9.3
Templates: 100+
Premium Plans Pricing: From $8.00/month
Customer Support: Via help center, email, and chatbot
Customer Reviews: Average
Mozello, the company, hails from Latvia. And although it hasn't been around for long, its team has cemented a position among the top free website platforms. 
Mozello's website builder is as beginner-friendly as you'd expect, but it also caters to experienced developers. If you know your way around CSS, HTML, and JavaScript, Mozello lets you put that knowledge to work. 
It's simple enough to use once you get the hang of it. However, the absence of drag-and-drop functionality sets it back quite a bit. Among its main selling points is multi-language support in the free version. That's rare among the top free online website builders we found.
Additionally, you can swap themes at any time, which makes a massive difference if you aren't sure about the best template for your site. 
It also offers decent SEO functions and has built-in e-commerce support. With the free version, you're able to sell up to five products on a Mozello site. However, if you want to go for the paid plans, they have two for $8.00/month and $18.00/month for the Premium Plus.
Mozello's team specializes in e-commerce platforms, which comes through in this editor. So, if you're getting ready to launch an online store, Mozello is one of the best free website creators for you. 
| | |
| --- | --- |
| Pros | Cons |
| Supports custom CSS and HTML | Missing drag-and-drop |
| Swap templates while you build | No SSL encryption |
| E-commerce functionality for up to five products | |
| SEO tools and Google Analytics integration | |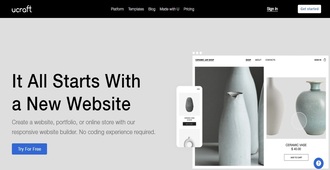 Ucraft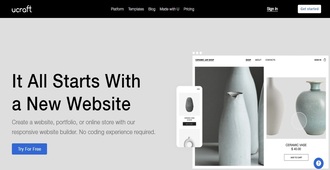 MOST SUITED FOR
Crating online portfolios
Visit Website
Rating: 9.2
Templates: 120+
Premium Plans Pricing: From $10.00/month
Customer Support: Via help center and community forums
Customer Reviews: Above average
Ucraft is a middle-of-the-road website builder. But it has a massive ace up its sleeve. It lets you connect an existing domain name with the free builder. 
That's not only generous but also almost unheard of, making it deserving of a spot on any list of best free website builders. Another standout feature is multilingual support. But sadly, you'll need to be on a paid plan to access it. 
But their paid plans can still give you a bang for your buck if you want to get that feature. It starts at only $10.00 a month when paid annually. Other higher plans cost $21.00/monthly and $69.00/monthly.
And Ucraft is reasonably easy to use. It offers many valuable features that fit nicely into the available templates, such as contact forms, newsletters, and the like.
However, it doesn't let you move elements around—you can only edit what's in them. That's a big drawback if you want a highly customized look, so it's not great for e-commerce sites.
Despite the lack of freedom, the templates are professionally designed and functional. They tend to focus on making images stand out, making it excellent for creating catchy online portfolios. 
Overall, Ucraft is among the best free website makers, mainly because it allows you to connect external domains. 
| | |
| --- | --- |
| Pros | Cons |
| Connect custom domain | Missing some important features |
| Unlimited storage and bandwidth | Not the right choice for complex websites |
| Templates spotlight pictures nicely | |
| Google Analytics integration and SSL security | |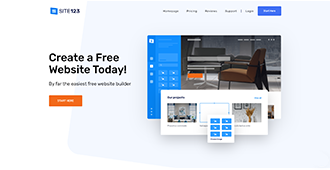 Site123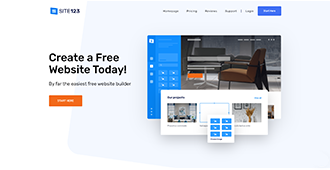 MOST SUITED FOR
Users with no design skills
Visit Website
Rating: 9.1
Templates: 190+
Premium Plans Pricing: From $5.80/month
Customer Support: Via help center and live chat
Customer Reviews: Above average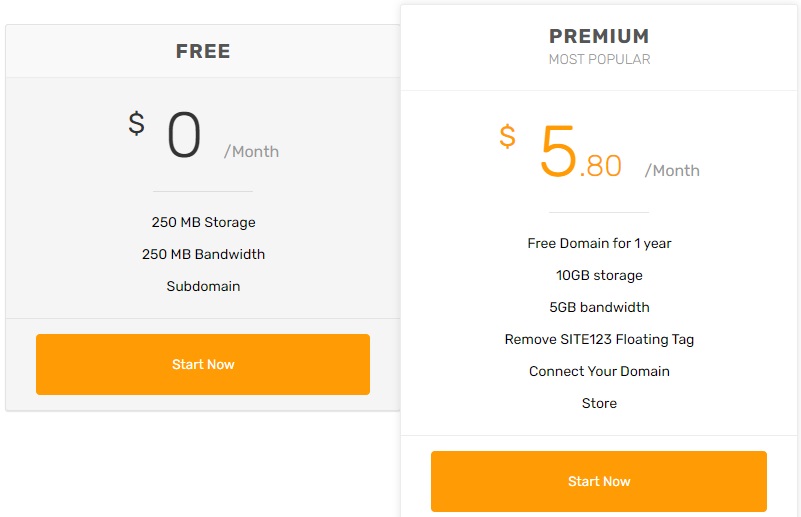 Site123 claims to be the easiest builder on the block. Whether that's true or not is somewhat subjective. Fortunately, there are many thorough Site123 reviews you can turn to. 
And for us, Site123's builder is indeed super-easy to use and practically builds the website for you. You'll only need to make basic choices, and the rest will take care of itself. 
Pick the type of website you want to build, and the design assistant will pick one to suit your choice. It's the best free website builder for business owners lacking advanced web design skills. 
You'll even get font and color suggestions. However, that accessibility comes at a price. But for $5.80 a month, it's still pretty affordable.
Site123 also boasts a respectable library of templates, and they're all functional but maybe a little bland. Some templates look old in terms of design. On the technical side, free sites made with Site123 have SSL security. Additionally, you get full access to its SEO tools, which is a big bonus.  
Like most top website builders with free plans, this one has a glaring caveat. Site123's free version gives you a random domain name, so it's something to keep in mind.
| | |
| --- | --- |
| Pros | Cons |
| Decent plugin options | Conspicuously branded URL |
| Simplistic templates | Not the right choice for complex websites |
| SSL and SEO tools | |
| Subtle advertising | |
How to Choose the Right Free Website Builder for You
When you compare free website builders, it's important to remember that no matter how good a deal you're getting, you'll never get even a fraction of what the paid version gets you. Still, they may come in handy if you want to test the waters.
In the following paragraphs, you can learn about what you want to look out for when choosing the right free website editor. 
An SSL Certificate
In a nutshell, an SSL certificate verifies your website's identity and encrypts the data sent to servers. It announces to visitors that your site has the expected security standards in place and that they can trust it. 
At this point, major search engines don't like sites they deem insecure. If you're missing basic security features, your site will have a much harder time ranking in searches, and it may torpedo your SEO efforts. 
Ease of Use 
You'll likely need to make changes to your site consistently, so if you're dealing with an awkward builder, it'll become a hassle. All good free website builders should make ease of use a priority. And you can safely ignore those that don't.  
You may want to focus on e-commerce, landing pages, or anything in between. Chances are, there's a builder out there that's designed to meet your specific needs. And it's worth taking the time to find it. 
Decent Paid Plans
Free is great. Everyone loves free. But eventually, there's a good chance you'll want to move up to something more substantial. Maybe it's to expand your store, add marketing tools, or just get more storage space. 
Whatever the case may be, you'll want to consider what paid options each website builder offers. It's good to have a plan for expanding your site once you've tested the waters and are ready to commit. 
When looking through reviews of free website builders, don't become too infatuated with the free part. 
Clean URL
You want to have a URL that's as close as possible to what it would be on a domain you own. By default, just about every free website builder will give you a branded subdomain. The key is to find the most subtle one that doesn't draw the eye. 
Of course, it'll still be evident to anyone paying attention that you're using a free version. But it doesn't have to be too obvious. 
The best-case scenario is finding one that allows you to connect to an external domain, such as Ucraft. Those are rare exceptions and should be considered seriously.
Unobtrusive Advertising
Like the branded domain, a giant floating banner can ruin visitor trust. Most free website builder software options want to showcase that you used them to create your site. Your goal is to find the one that does so as unobtrusively as possible. 
In addition to eroding trust, it's an aesthetic nuisance. You're stuck with a design element that may not be at all compatible with your site's appearance. 
Developer Options
You may not be a professional web designer, and that's fine. But at some point, you may gain the skills to make substantive changes to your site. Or, you may hire a professional to maintain your site. 
Then it's a good idea to pick a builder that offers some design flexibility. Ideally, you want to find the best free website builder software that's accessible and simple to use while still allowing in-depth customization, should you ever need it. 
Conclusion
Hopefully, these free website builder reviews helped you find the perfect fit for your website. There are more free builder options out there, but their quality and feature sets are questionable, at best. 
The most important thing is to start with a solid understanding of what you need. To do that, be honest about your abilities and ask yourself these simple questions:
What do I hope my site will achieve? 

How do I want my site to look?

What unique capabilities does my site need?
With so many great options to choose from, you can build it if you can dream it.  
FAQ
Which website builder is the easiest to use?
For most people, it's GoDaddy. 
GoDaddy uses a comprehensive Artificial Design Intelligence assistant that helps you build a site by just answering questions. Moreover, the InSight system gives you tailored recommendations for what to do next in your building journey. 
But it's fair to say the answer is a bit of a toss-up. Wix, Weebly, and GoDaddy are reasonably even in terms of ease of use. So, you can pick one from those with the best feature set for you. 
Is a Wix website completely free?
It can be, with certain limitations. 
Wix has a free plan that lets you build and publish a website in exchange for creating an account. You won't even have to input your credit card information. 
But there's no such thing as a free lunch, at least not if you want to accomplish something. The free plan is considerably restricted compared to paid ones. You can read all about those restrictions in the article above. 
How can I create a website free of cost?
Pick one of the site builders on this list, create an account, and follow the on-screen instructions. 
We chose these free website builders because they offer the best feature set with no hidden costs. The website you create with most of them will have certain limitations, but it won't cost you a dime. 
Which is the best free website builder?
Wix. Many can argue about specific scenarios in which this builder or that would work better. However, the best free website builder overall is powered by Wix, hands down. 
It has more templates than any other builder (not including third-party templates). Moreover, it's a cinch to use and has an excellent app market. Perhaps the only drawback is that Wix hosts sites exclusively on Wix servers, and you can't export them.