9 Best Reseller Hosting Companies for 2023
[EXPERT REVIEWS]
The hosting market has been saturated for years. There are many things to consider — setting up and optimizing your servers, licensing your software, taking care of a growing customer base. 
If you're not a tech-savvy entrepreneur, you might want to outsource some processes. Or, you could find the best reseller hosting and go from there. 
We've scrutinized the best offers on the market today to help you make an informed decision. So let's not waste any more precious time and dive right in.
Published: September 22, 2021
Affiliate Disclosure
We aim to provide you with the best tech news and reviews. To sustain our site, we may earn a commission when you buy from our affiliate links. Read our full Affiliate Disclosure.
Top Reseller Hosting to Consider in 2023
Best Reseller Hosting Detailed Reviews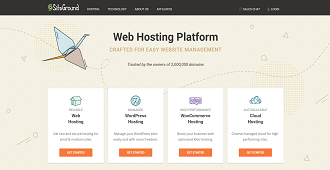 SiteGround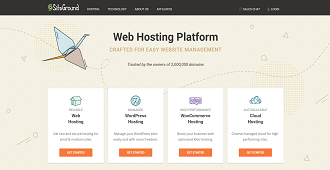 MOST SUITED FOR
WordPress resellers
Visit Website
Rating:: 10
Pricing: From $6.69 a month
Customer Reviews: Excellent
Customer Support: Via phone, email, live chat, and online ticket
SiteGround has built a stellar reputation since 2004 and quickly grew to an enterprise that employs 500+ people in four international offices. 
It is one of the top choices for WordPress users, according to our best reseller hosting review. The company has partnered with the most popular WP sites, developing plugins and hosting WP-related events. 
SiteGround offers three plans now: GrowBig for $6.69 a month, GoGeek for $10.69 a month, and Cloud for $100.00 a month. Overall, SiteGround is quite generous when it comes to its reseller features. For example, each account includes a free SSL certificate, Cloudflare CDN, and daily backups, among other things.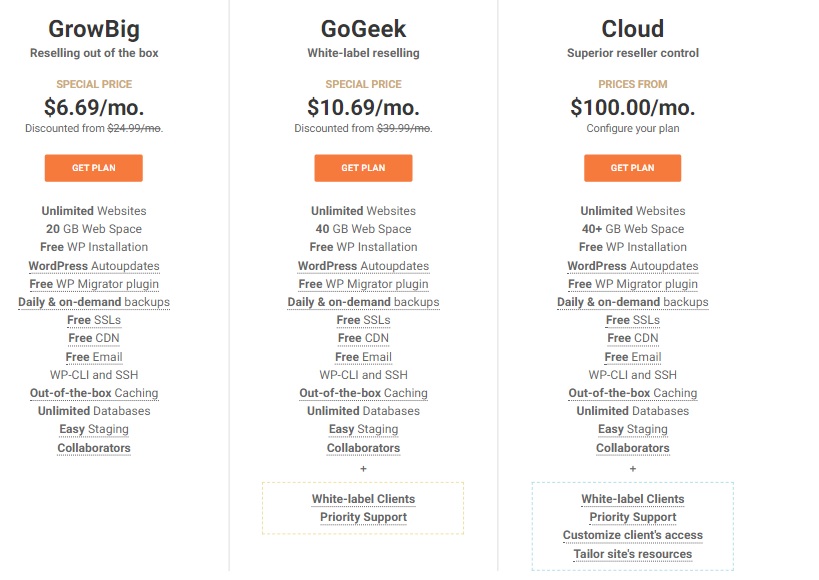 SiteGround and WordPress go together like peanut butter and jelly. That's why the brand is considered one of the cheapest (yet high-quality) WordPress hosting solutions on the market. 
Deemed the best Windows reseller hosting company by many, it has a lot to offer to WP developers:
WP-optimized servers

One-click site staging

Automatic WordPress and WooCommerce installation

Core and plugin auto-updates

Advanced caching
As for its customer support, SiteGround offers 24/7 assistance via multiple communication channels: live chat, phone, email, and ticketing system. In addition, the provider is famous for its fast and polite operators. 
The said support has earned SiteGround high reseller ratings and a positive online reputation. That is not surprising, considering the company has been advocating a client-centric approach for years. But it's not just the industry-leading support that clients are praising — plaudits often go to the fast servers and user-friendly interface as well.
SiteGround doesn't leave any negative reseller hosting reviews unattended. Company representatives offer extra assistance within a day to dissatisfied clients.
Overall, SiteGround has a lot to offer to those who want to use their services to become a host. Notably, its comprehensive reseller deals come with some unique features and security enhancements. 
On top of that, SiteGroud customer support is supreme, as confirmed by multiple reseller web hosting reviews. In addition, the clients often praise its swift and professional assistance in times of need. Finally, it is cited as the top choice for WordPress users.
| | |
| --- | --- |
| Pros | Cons |
| Industry-leading support | Limited space |
| WordPress-optimized | No free Private DNS |
| Wide range of tools | |
| Advanced security | |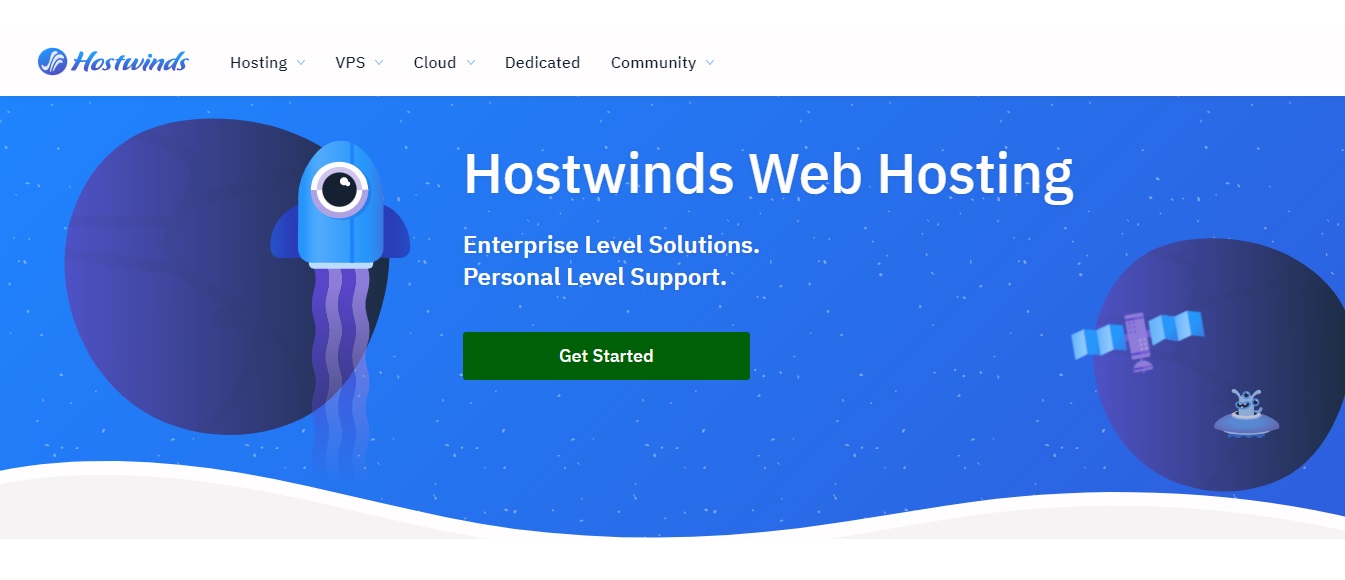 Hostwinds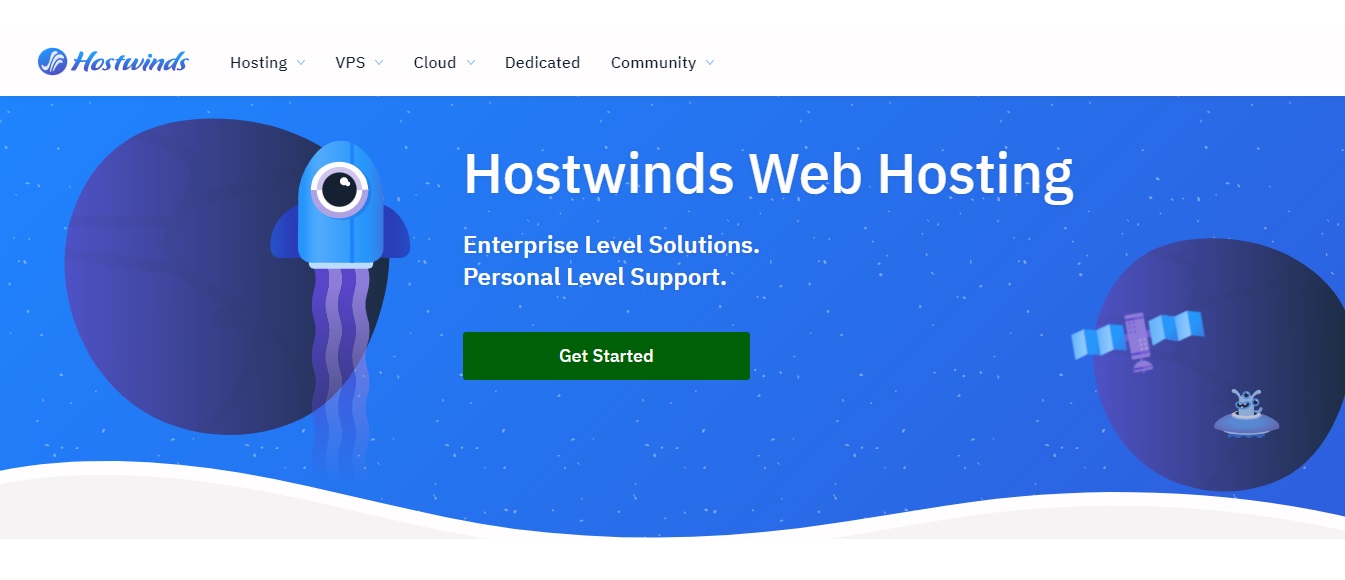 MOST SUITED FOR
Startup resellers
Visit Website
Rating:: 10
Pricing: From $5.24 a month
Customer Reviews: Excellent
Customer Support: Via phone, live chat, email, and online ticket
Hostwinds was founded back in 2010. Since then, the company has expanded its product portfolio by adding cloud hosting, Windows/Linux VPS solutions, dedicated servers, and some of the best reseller hosting deals.
The packages mainly vary in the number of domains you can add under the control panel. Apart from that, all plans let you enjoy the following perks: SSD space, free SSL certificate, no-cost website transfers. 
All in all, Hostwinds tries to tackle the saturated reseller market by offering its services at low prices. Entry-level deals start from $5.24, and the top-tier package is only $8.24 a month — a price that easily beats many other best reseller hosting providers out there.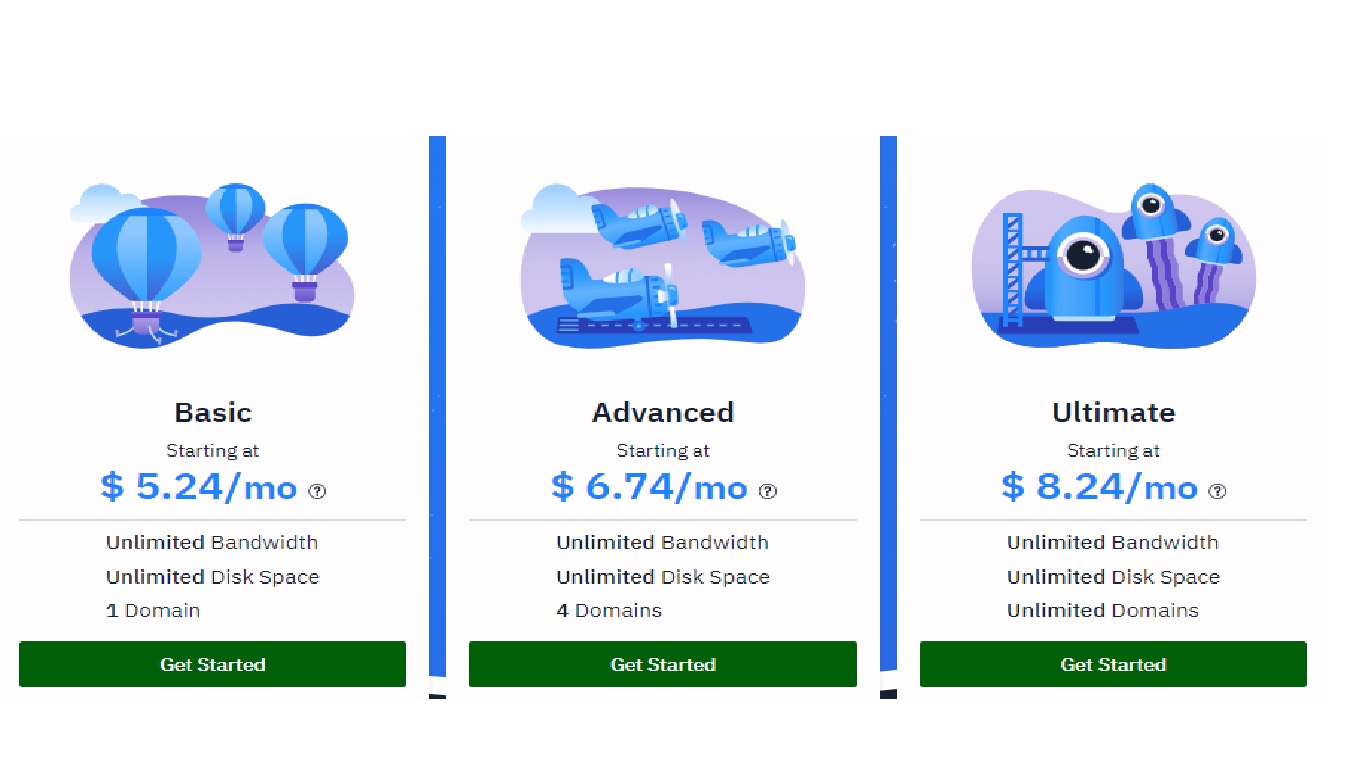 Plus, Hostwinds comes with some bold promises — 99.9999% uptime and 100% customer satisfaction guarantee.
You can never go overboard when it comes to the security of your reseller hosting account. Having acknowledged that, Hostwinds has been utilizing Cloud Backups to guarantee the security of your data.
Our reseller hosting review confirms that problem resolution is yet another area Hostwinds excels in, making it one of the best hosting services in the eyes of many. That's undoubtedly praiseworthy as cheap reseller hosting and excellent support rarely go hand in hand. 
To our delight, all support channels are easy to find on the company's website. What's more, you can access them with a simple mouse click. Namely, you can request help through the Hostwinds live chat, phone line, and ticketing system.
We tried the live chat on a few occasions. Initial connection and operator replies rarely took more than a minute or two, which is the average response time in live chats.
All in all, Hostwinds is an excellent choice for startup reseller companies and more support-demanding clients. Following that, the company's high scores across all review platforms are anything but surprising.
However, billing issues seem to be its Achilles heel. Disgruntled customers report unauthorized fees and problems with refunds. Of course, the company has to pay attention to negative reviews since they will affect customers' purchasing decisions.
Overall, Hostwinds is among the best reseller hosting companies offering irresistibly affordable hosting for new and existing resellers. So whether you want to fix your clients up with Hostwinds accounts or operate as a separate hosting entity — there is always a fitting solution.
| | |
| --- | --- |
| Pros | Cons |
| Highly affordable | Monitoring is a paid feature |
| Unlimited space and bandwidth | Insufficient company information |
| Instant provision | |
| Nightly backup service | |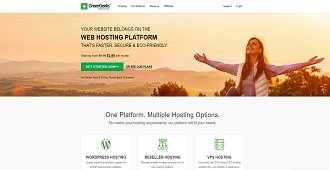 GreenGeeks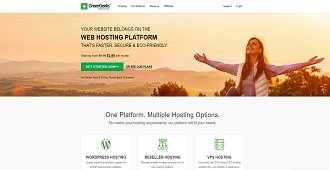 MOST SUITED FOR
Green hosting resellers
Visit Website
Rating:: 9.9
Pricing: From $19.95 a month prepaid or regular $29.95 a month
Customer Reviews: Above average
Customer Support: Via phone, email, and live chat
Trey Gardner founded GreenGeeks back in 2008, marking the start of its success story. Now, according to web hosting reseller reviews, GreenGeeks is one of the most environmentally friendly providers out there. 
Vouching for a cleaner and greener future, the company gives back 300% of its energy consumption in the form of renewable energy. As a result, GreenGeeks is among the best reseller hosting suppliers today.
GreenGeeks flaunts three reseller plans, varying in the number of cPanel accounts you can utilize — 25 on the lowest up to 80 on the highest plan. Prices range from $19.95 to $34.95 a month. Additionally, these reseller hosting plans are all-unlimited, meaning there is no cap on your space and traffic allocation.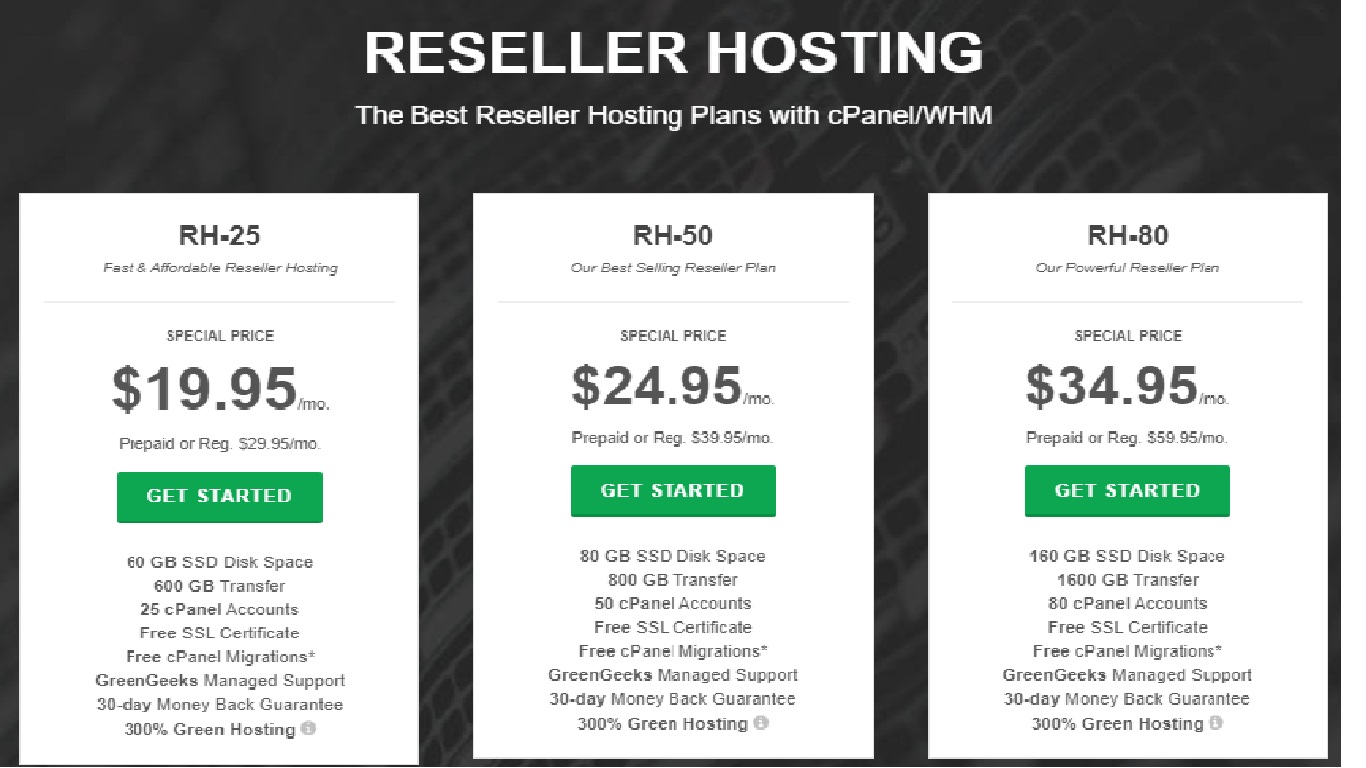 The Geeks make great efforts to support eCommerce businesses that want to benefit from their cPanel reseller hosting. Here are some significant features we found for this GreenGeeks reseller hosting review:
Instant access to a variety of webshop apps

Free Wildcard SSL

PCI compliance

S

calability
You can reach GreenGeeks 24/7 via its live chat. As for its phone line, it is available Mon–Sun, from 9 A.M. to 12 A.M. EST. You can also send an email if you're not in a hurry. 
It often took hours to hear back from GG, and our questions usually needed several replies to be resolved. But the live chat worked well on several occasions, giving us a good idea of the support's level of expertise. 
Reseller hosting reviews of GreenGeeks are mostly positive. The US company has a well-earned reputation as a host that fulfills its promises. Our speed and uptime tests confirmed this reseller hosting service is of the highest standard.  
A good number of negative reviews are pretty recent. Some concern higher renewal prices, while others unveil more pressing matters like lack of GDPR compliance and improper server setup. As a few Reddit reviewers pointed out, a more hands-on approach to billing and support matters would only do GreenGeeks good.
GreenGeeks covers all bases to rank among the best. You can grow your business by accommodating new clients on a first-class hosting platform. What's more, if you're an eco-conscious entrepreneur, this top 10 reseller hosting company should be right up your alley.
Pros
Cons
Free Wildcard SSL
Limited number of cPanel accounts
Enhanced scalability
Backups kept for 24hrs only

Environmentally-friendly solutions

y E

Expert support staff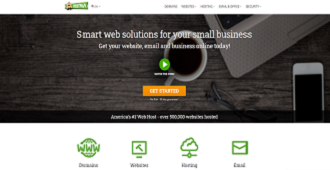 HostPapa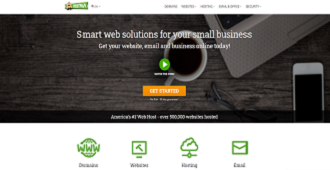 MOST SUITED FOR
Growing resellers
Visit Website
Rating:: 9.9
Pricing: $29.99 a month
Customer Reviews: Above average
Customer Support: Via email, phone, fax, and live chat
Founded in Ontario, HostPapa first entered the market as a dedicated server and hosting provider. The year 2006 marked the official start of its web hosting venture.
Placed among the top 10 reseller hosting companies, HostPapa is actively supporting the green cause. Namely, it offsets 100% of the consumed energy in the form of renewable Green Tag energy.
As for its plans, you can choose one of the five reseller packages  — Bronze, Silver, Gold, Platinum, Titanium. They cost $29.99, $39.99, $64.99, $89.99, and $119.99 a month, respectively.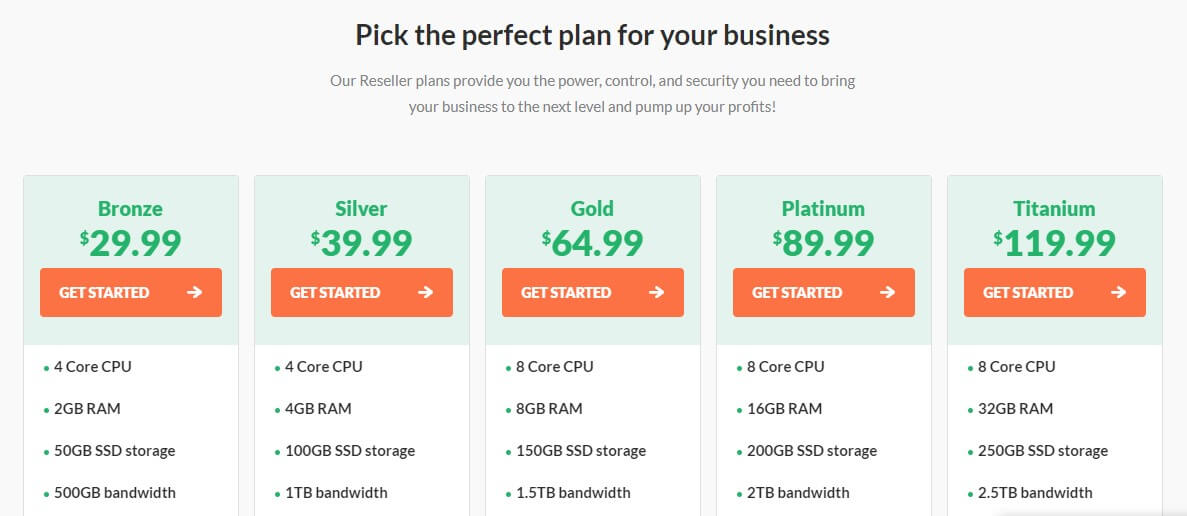 All clients get a fair share of resources — starting from 4 CPU cores, 2GB RAM, 50GB SSD storage, and 500GB bandwidth. Our hosting reseller review confirmed that you could host unlimited websites if they fall within the allocated number of client cPanels.
Now, let's talk about the HostPapa customer support. For starters, there is a convenient chat popup on the website. That means that you can try out its support even before you become a client. Apart from the live chat, members of the reseller program can also find assistance via phone, email, and fax.
As one of the top reseller hosting companies, HostPapa prides itself on its agents for a good reason. Support representatives were very friendly, and our conversations didn't feel forced or automated.
What's more, HostPapa's knowledge base contains over 2,500 tutorials that cover all kinds of hosting topics. Likewise, its YouTube channel has tons of video tutorials, too.
All in all, HostPapa passed our speed and reliability tests with flying colors — the result fitting of the best-rated reseller website. Hosting reviews from users also commend its excellent customer service and comprehensive packages.
Naturally, however, not all customers agree. A few people were unhappy with the change in pricing after cPanel hiked its license fees, but that's not something HostPapa can control.
That being said, bad reviews are not left unattended. Instead, company representatives try to examine each case and turn the situation around.
To conclude, HostPapa is the best reseller hosting for web developers, web designers, and agencies expanding their businesses and looking to minimize their carbon footprint.
| | |
| --- | --- |
| Pros | Cons |
| Good resource allocation | Less affordable than it first appears |
| Custom cPanel branding | Somewhat nnoying upsells |
| 30-days money-back guarantee | |
| Fast loads | |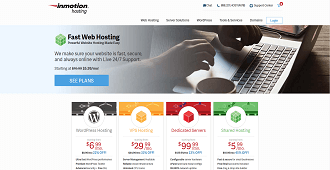 InMotion Hosting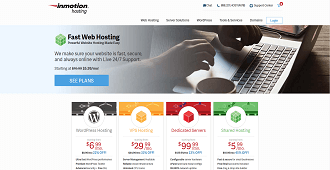 MOST SUITED FOR
Shared hosting resellers
Visit Website
Rating:: 9.8
Pricing: From $15.39 a month
Customer Reviews: Average
Customer Support: Via email, live chat, phone, and Skype (for sales and web design services only)
InMotion Hosting, one of the best reseller hosting companies, has been in business for over two decades. Notably, each staff member undergoes at least 160 hours of training on various subjects like LAMP stack, CentOS, email clients, CMS software, and more.
Kicking off your journey as a reseller, you can choose from 1-month, 6-month, 1-year, and 2-year plans. The best price comes with signing up for the 2-year one:
R–1000S for $15.39 a month (saving around $350)

R–2000S for $15.39 a month (saving around $590)

R–3000S for $30.24 a month (saving $666)

Reseller VPS for $39.99 a month (saving $408)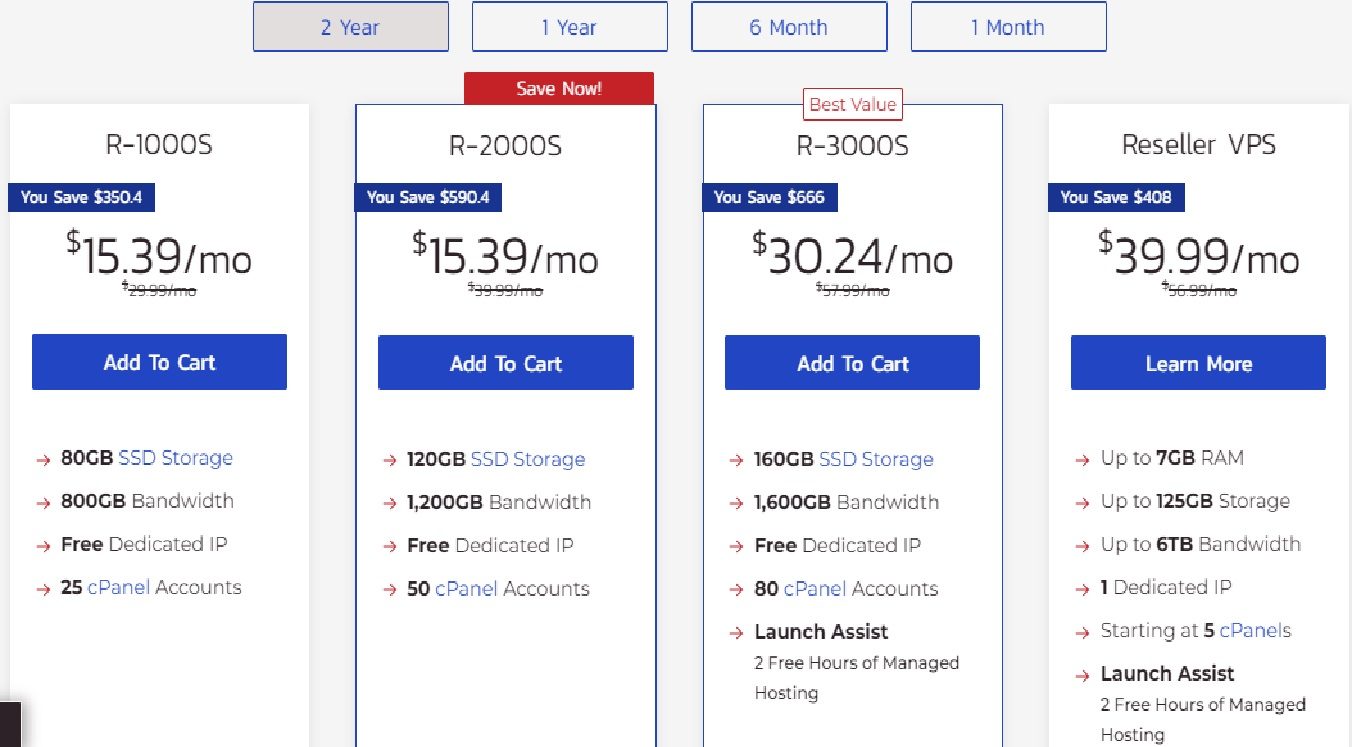 InMotion supports shared reselling and offers some of the best-unlimited reseller hosting packages. Moreover, its shared packages are some of the most resource-packed in the business. Notably, its lowest-tier package comes with 80GB SSD storage and 800GB monthly bandwidth.
There's also a good number of freebies to pamper InMotion resellers. As confirmed by our review, the company offers SSL, a dedicated IP address, and Launch Assist.
InMotion's customer support is available 24/7 via phone, chat, email, and Skype. That being said, the support of web design services is accessible Mon–Fri, 9 A.M. – 6 P.M. EST via phone and email.
Even though the support agents are fast, they might resort to pushing links that don't address the client's questions about a reseller website. Hosting reviews point out that the chat is only suitable for basic queries. That being said, the agents are overall very polite and professional.
Our opinion of this Virginia-based provider seems to be in unison with that of the existing clients. Namely, while the server speed and uptime are excellent, you might want to look into some other hosting company reseller if you need help more frequently.
Overall, InMotion is a trustworthy provider with comprehensive plans and plenty of freebies for resellers. In addition, its good reseller hosting solutions are fully white-labeled and instantly provisioned, letting you operate freely. 
| | |
| --- | --- |
| Pros | Cons |
| Lots of freebies | Data centers are in the US only |
| Polite and professional customer support | Pricing could be more affordable |
| 90-day money-back guarantee | |
| Easy client billing | |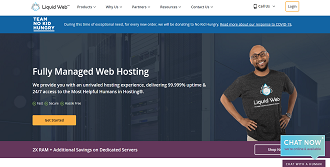 Liquid Web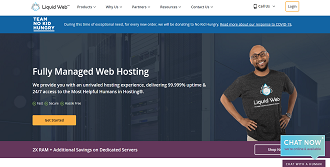 MOST SUITED FOR
VPS and Cloud resellers
Visit Website
Rating:: 9.8
Pricing: From $99.00 a month
Customer Reviews: Reviews: Excellent
Customer Support: Via phone, email, live chat, and online ticket
Liquid Web is a provider with over 22 years of experience in cloud, VPS, and dedicated hosting. It focuses on technology and product innovation, gradually adding services like managed WordPress, private cloud, and cloud dedicated servers.
A Liquid Web hosting company reseller should start by choosing a server — be it a VPS, dedicated, or cloud server. 
Let's look into the VPS, the most affordable solution. Its price starts at $15 a month for a basic Linux plan. Note that the plan's price differs depending on the selected frequency of billing. 
In other words, the basic 2GB RAM plan for Linux will cost $59 if billed monthly and $35 if billed yearly ($420 billed upfront for one year). The $15 option can be unlocked when $360 is billed upfront for two years.
Your entry-level deal on Windows is plentiful — 4 CPU cores, 4GB RAM, 100GB SSD space, and 10TB bandwidth. On top of that, you get a free SSL, Cloudflare CDN, and an integrated firewall for extra security.

Here are more features we found for the Windows reseller hosting review:
Control panel variety

Free 100GB backups

Extra 100GB for data backups

Instant access and easy recovery 

White-labeling
Once you take up the reseller service, the provider will fix you up with a free WHMCS license. That enables you to bill and manage your hosting clients with ease, making LW the best reseller hosting with WHMCS.
The company offers easy access to a 24/7 live chat, phone line, and ticketing system. However, our live chat conversations were hit or miss. On a few occasions, support agents gave us somewhat generic answers. 
That being said, Liquid Web's online reputation remains positive. The LW team has always been a prime example of an industry-leading technology setup. To its credit, the Liquid Web reps are looking out for any negative feedback, trying to mitigate the damage.
All in all, choosing this top reseller hosting means going with powerful servers and optimized security. 
Pros
Cons
Top-class hardware
Pricing could be made clearer
High-end services
No shared reseller
Great scalability and customization

Free

WHMCS

license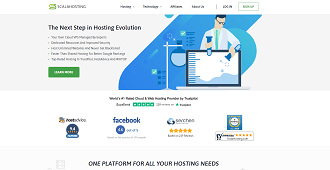 Scala Hosting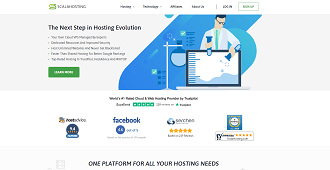 MOST SUITED FOR
VPS resellers
Visit Website
Rating:: 9.8
Rating:: From $9.95 a month
Pricing: Excellent
Customer Support: Via phone, email, and live chat
The company started operating in 2007 as a VPS provider, eventually dabbling in shared and reseller solutions. Today, Scala Hosting is the best reseller web hosting company in the eyes of over 50,000 customers.
There are four shared packages and one managed VPS deal. The entry-level deal is only $12.95 a month. With it, you can manage up to 20 accounts. All plans come with free migration, SSL, CDN, domain reseller, and a 30-day money-back guarantee.
According to countless VPS reseller hosting reviews, the VPS plan is the most feature-rich of them all. So, should you go for that, you will get some impressive benefits, like proprietary SPanel, proprietary SShield, daily backups, and more — all for $9.95 a month.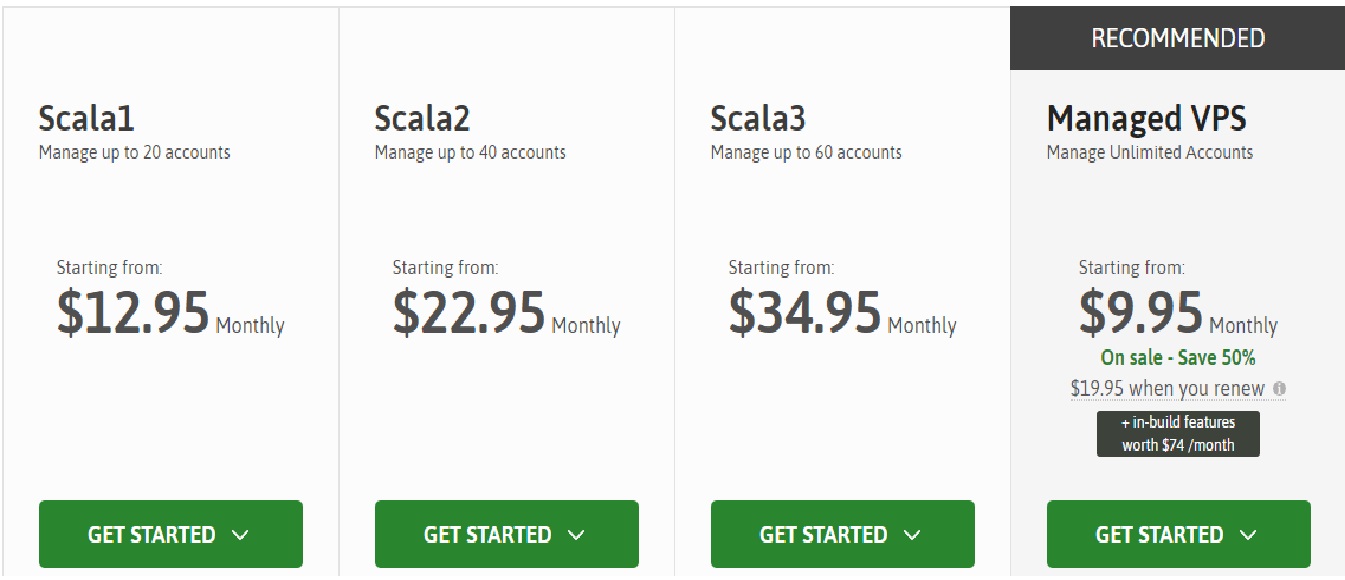 Other features for resellers include:
Unlimited site migrations

One-click installer

White labeling
You can contact Scala's customer support via phone, email, and live chat. We got in touch with the company's representatives for this reseller hosting review. The operators were polite and responded promptly. However, their answers felt templated at times. But, in the end, they always got the job done. 
Scala Hosting has a jaw-dropping 4.9/5 rating and 98% excellent reviews on Trustpilot. Clients praise the provider for its reliability and exceptional customer care.
Overall, Scala is one of the top 10 reseller hosting companies for a reason. It scored high for performance and client support. In addition, its affordable pricing is undoubtedly one of its selling points. To conclude, by partaking in the Scala reseller hosting program, you can turn reseller hosting into a profitable endeavor.
| | |
| --- | --- |
| Pros | Cons |
| Reasonably-priced | No choice of data centers upon signup |
| Affordable VPS reseller plan | Backups are only for 24h by default |
| 100% white-label services | |
| Award-winning 24/7 hosting support | |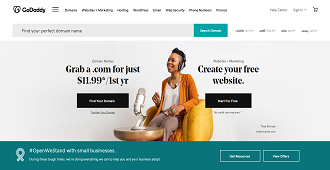 GoDaddy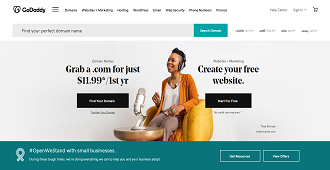 MOST SUITED FOR
Small and mid-size resellers
Visit Website
Rating:: 9.7
Pricing: From $8.99 a month
Customer Reviews: Average
Customer Support: Via phone and live chat
What is a GoDaddy reseller hosting company?
GoDaddy is a versatile company offering comprehensive solutions for resellers. It was founded in 1997 by an entrepreneur Bob Parsons. Over two decades later, the company is the biggest hosting provider and domain registrar, with over 20 million clients and 82 million registered domains.
GoDaddy offers two plans for your consideration: 
Basic Reseller — best for up to 25 customers — starting at $107.88 a year ($8.99 a month) 

Pro Reseller — best for unlimited customers — starting at $179.88 a year ($14.99 a month)

Our GoDaddy reseller review discovered that each reseller gets access to the intuitive web hosting manager (WHM) and cPanel. In other words, you can easily add new clients, adjust their resources, and include extras.
Other perks include:
Free

SSL certificate

Free

WHMCS

Unmetered

bandwidth

White labeling
Speaking of support, as confirmed by countless GoDaddy reseller reviews, you can contact the support anytime via live chat and phone. In addition, apart from the primary, toll-free number, you can call GD from a local number in over 50 countries.
That being said, we, at times, struggled to get a prompt response from customer support. Having left the ticket, we received an automatic email saying we would be given a response within 72 hours. However, it took more time to get it. Following that, GoDaddy might not be the best pick for those who need more or less constant assistance. 
Generally, GoDaddy reseller hosting reviews from users are positive. In addition, they all seem to agree that if you decide to sign up with the company, you will access an extensive portfolio of hosting solutions.
| | |
| --- | --- |
| Pros | Cons |
| Lightning-fast hosting | Response times could be better |
| Good storage space limits | Getting in touch with customer support might be difficult |
| Free SSL certificate | |
| Website Security powered by Sucuri | |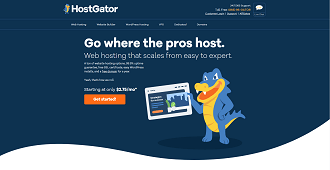 HostGator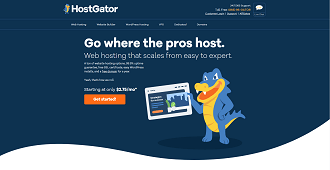 MOST SUITED FOR
Web agencies
Visit Website
Rating:: 9.7
Pricing: From $19.95 a month
Customer Reviews: Average
Customer Support: Via live chat, email, and phone
Founded in 2002, HostGator had about 1,000 clients in its first year of existence. Today, the company is hosting over 2.5 million websites. To put it differently, HostGator is one of the largest reseller hosting companies in the industry.
Take your pick from the Aluminum, Copper, and Silver packages priced at $19.95, $24.95, and $24.95 a month, respectively.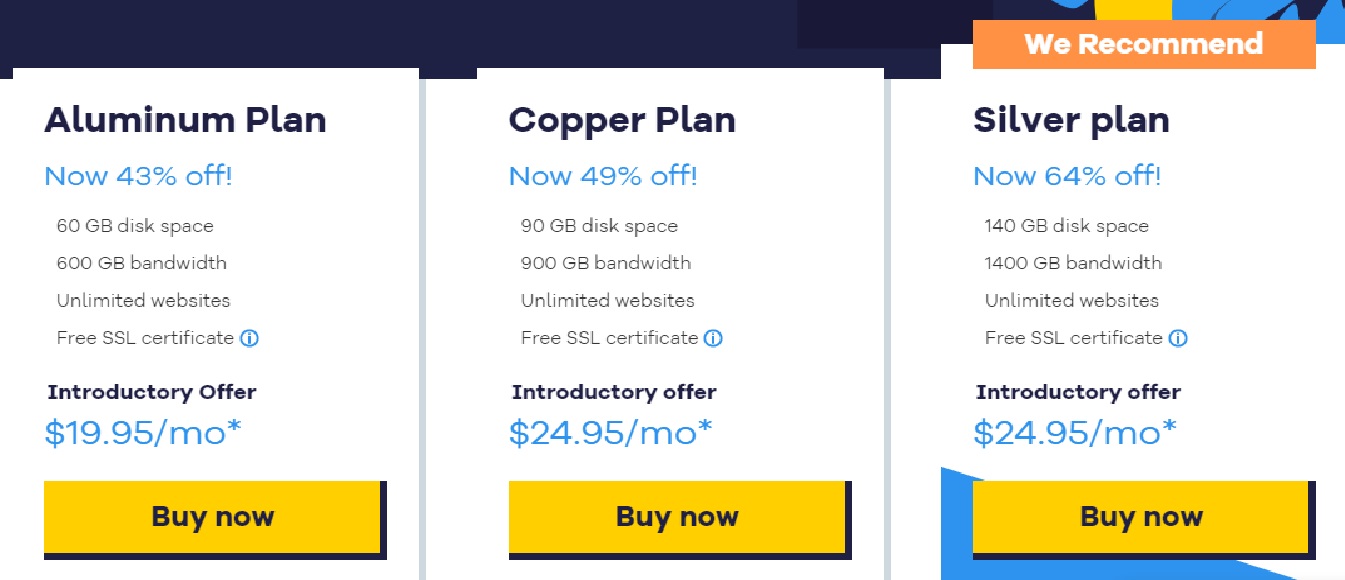 An unlimited number of cPanels seems to be most users' favorite. Other highly praised features are WHM, unlimited email, FTP accounts, and MySQL databases. 
If you go for the Silver plan, you'll get 140GB disk space and 1400GB bandwidth. That's a good value for money.
HostGator threw in a few more features:
Private

SSL certificate

45-day

money-back guarantee

White labeling
Reaching the HostGator support is relatively seamless. As for the response time, it is often under a minute (2–3 minutes at peak time). The level of assistance, however, is average.
According to our reseller hosting comparison, the same operators seem to provide support for all EIG's hosting brands. We found that, in most cases, support agents give heavily templated answers. 
To our delight, HostGator's representatives reply to all client feedback, be it negative or positive. It shows the company's dedication to customer satisfaction.
To conclude, according to our HostGator reseller review, the company is one of the most renowned and highly experienced web service providers to date. 
| | |
| --- | --- |
| Pros | Cons |
| Round-the-clock support | Response times could be better |
| 45-day guarantee | Support representatives often give heavily templated responses |
| Built-in billing | |
| Complete control over every aspect of your business | |
How to Choose a Reseller Hosting Provider
Here is a list of things you should look into when locating the best offers:
Account Management

— Your hosting should provide you with a user-friendly

dashboard

, as well as a billing option to charge your clients.

WHMCS

and cPanel are neat additions, too.

Features and System Resources

— These are the foundations of the

top reseller hosting companies

. It all starts with

CPU cores

,

RAM

, storage space, and

bandwidth

— the resources.

Speed and Uptime

— Your clients will demand the best possible website performance, and rightfully so. Almost every

reseller hosting

provider offers a free trial or

money-back guarantee

, so you can sign up and test the speeds for yourself.

White-Labeling

— Focus on reseller-oriented features like

private DNS

, brandable

control panels

,

WHMCS

licensing. Many

best reseller hosting reviews

would agree that those are the things that mask all connections with your provider, establishing you as a host of your own. 

Support

— Does the provider offer round-the-clock support? How fast and efficient are the operators when you need help? A few simple conversations can tell you a lot about the level of support you can expect from a host.

Pricing

— Low prices are always welcome when choosing a new

quality reseller hosting

partner. But don't just go for the low rates when making your decision. Try to look at the big picture. In other words, you might want to look into prepayment options, the cost of adding new accounts, and renewals. Often, the devil is in the details, and hidden fees can start piling up quickly. 

Reputation

— This holds exceptional value in the reseller hosting niche. That's why it's always helpful to check the

hosting reseller reviews

and see what existing clients have to say about the host. 
Conclusion
Hopefully, this article helped you understand the ins and outs of the niche. We also hope you have a clearer idea of how you can benefit from reseller hosting and which providers could be the perfect fit for your business.
Learn more about the fundamentals to skyrocket your business when the time is right. Then, the only thing left to decide is what to do with all the extra monthly revenue.
FAQ
What is reseller hosting?
A reseller hosting is when a company, often referred to as a hosting provider, rents out its hard drive space and bandwidth to other businesses, referred to as resellers. These resellers buy services from the hosting provider then resell them to their customers for a profit.
Is reseller hosting worth it?
In many ways, yes, reseller hosting is worth it. First of all, it's an excellent source of income for small to medium-size businesses. Second, as a reseller, you control what to include in the hosting packages you're reselling. Finally, it's cheap for users, and they don't have to buy any more than what they need.
That being said, do note that reseller hosting requires being knowledgeable about the business. So, it's worth taking the time to learn more about it before becoming a reseller.
How do I start my own reseller hosting?
Here is what you could do to start reseller hosting:
Make a business plan and define your brand, ideas, and goals.

Do thorough research and choose a fitting dedicated server provider.

Configure your servers and set them up with a billing system.

Focus on security — firewalls, antispam and antivirus software,

SSL certificate

s, monitoring, and alert systems.

Figure out the best pricing that will be cost-effective for both you and your clients.

Go out there and spread the word.
Is reseller hosting profitable?
Reseller hosting is a profitable business because you don't need much initial capital to jumpstart it. Once you've signed up for a plan, you don't need extensive maintenance because your hosting provider will do most of the legwork.
What are the benefits of reseller hosting?
Reseller hosting comes with many benefits. The most notable is that it's generally cheaper. What's more, a reseller can make a profit by selling to multiple smaller clients while also running their own websites with more hosting accounts. Plus, of course, it saves you time, effort, and money since the root host is the one handling the physical maintenance.
How do I host a free reseller account?
The first thing you need to do is find a provider that offers hosting for free. Essentially, it means that you can resell their hosting services and pay them only once you've sold them. Typically, it's on a per-customer basis, and you don't have to make any advanced purchases.
Which is the best reselling company?
Every user might have a different answer for this one. While many factors influence the client's buying decisions, a few of them stand out the most:
Company reputation

Features

Ease of use

Security

Support

Price
A reseller that checks all these boxes (and more) will be the optimal choice for your next provider. 
As for our opinion, our team has concluded that the best reseller hosting is provided by SiteGround, with Hostwinds being a runner-up.