5 Best SEO Audit Tools for Pros and Beginners in 2023
[EXPERT REVIEWS]
We've tested and reviewed the five best SEO audit tools that are currently available. Google's algorithm is becoming more complicated and uses over 200 ranking factors. That's why these tools have become essential, regardless of how good you are at SEO.
So, we'll go over each tool's key features in our list and how they can help improve your search engine performance.
Keep reading.
Published: September 29, 2022
Affiliate Disclosure
We aim to provide you with the best tech news and reviews. To sustain our site, we may earn a commission when you buy from our affiliate links. Read our full Affiliate Disclosure.
Top 5 SEO Audit Tools 2023
Top Tools for Website Audit Reviews
Semrush
MOST SUITED FOR
Large businesses
Visit Website
Rating: 9.9
Pricing: From $0.00/month
Customer support: Via email or online help center
Customer reviews: Excellent
Free trial: Lifetime plan
Keyword research tool: Yes
Semrush is an all-in-one SEO monitor tool that helps you improve your online visibility and discover marketing insights. While we'll focus on its auditing features, it should be noted that many marketers also consider it a premium rank-tracking software solution.
Reports provided by more than 40 intel tools in this versatile website optimization kit assist marketers in the following areas: SMM, PPC, SEO, competitive research, keyword research, content marketing, marketing insights, campaign management, and PR.
You can use certain Semrush tools and features for free for as long as you want. For instance, a free account allows you to perform keyword research and competitor analysis, track keyword ranking, manage your social media, run technical site audits, and more.
You can also access all the features paid users get by signing up for the Pro or Guru free seven-day trial. 
The Pro plan costs $119.95/month, and it's ideal for small teams or beginners, while the Guru is $229.95/month and is most suited for mid-size businesses and agencies.
However, Semrush is the best SEO report tool for large businesses because it also offers a Business plan, which is $449.95 monthly. It's perfect for enterprises and large agencies since it allows you to track 5,000 keywords and 50,000 results per report.
| | |
| --- | --- |
| Pros | Cons |
| Reliable page speed analysis | Difficult to use on a mobile device |
| Scans sites for over 140 SEO and technical errors | Most of the tools provide data only for Google search engine |
| Integrates with your Google Analytics | |
| Provides actionable and detailed insights | |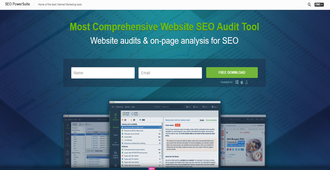 SEO PowerSuite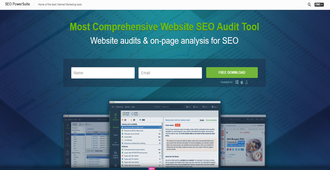 MOST SUITED FOR
SEO newbies and small businesses
Visit Website
Rating: 9.8
Pricing: From $0.00/month
Customer support: Via website, the software itself, online help center, chatbot, and social media
Customer reviews: Above average
Free trial: Lifetime plan
Keyword research tool: Yes
SEO PowerSuite is a toolkit that includes four desktop apps that cover every aspect of SEO. Rank Tracker is used for keyword audit, rank tracking, and analyzing competitors. It helps you find useful new keywords and gives information on how difficult it is to get ranked. 
WebSite Auditor helps run on-page and technical SEO audits, optimizing your website's performance and security. It also points out issues and gives you advice on what to do. The LinkAssistant app helps with link building, while SEO SpyGlass is for backlink research.
The apps are compatible with Windows, Linux, or Mac. Together, they provide all the essential SEO auditing capabilities, from tracking rankings, keywords, and backlinks, to helping you with local and mobile SEO, and providing on-page and content data.
Despite the versatility of this all-rounder SEO auditing software, its intuitive and straightforward interface will guide you in every task, meaning that even beginners can benefit from it. 
You can use the software for free as long as you like, or you can upgrade to the Professional plan ($299.00/year), which is great for promoting businesses and websites, or the Enterprise plan ($499.00/year), which is especially suitable for internet marketing agencies.
| | |
| --- | --- |
| Pros | Cons |
| SERP rank tracking | Not a web-based app |
| Content and HTML optimization | Domain Strength report could include more insights |
| Categorizes the backlink prospects | |
| TF-IDF feature helps create semantic-search-optimized content | |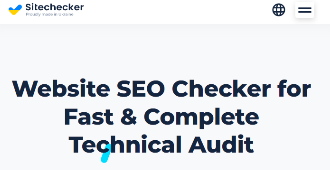 Sitechecker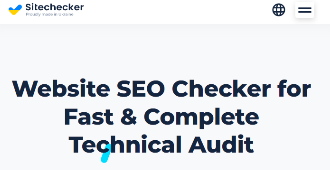 MOST SUITED FOR
SEO Agencies and in-house marketers
Visit Website
Rating: 9.8
Pricing: From $23.00/month
Customer support: Via website, live chat, and online help center
Customer reviews: Above average
Free trial: 7 days
Keyword research tool: Yes

Sitechecker is a cloud-based web crawler that identifies technical SEO issues with your websites. It also includes site monitoring, as well as backlink and rank tracking, and it's widely considered one of the most versatile tools for SEO audit.
Crawls can be scheduled in advance, and you can use numerous filters to remove specific pages and categories from the audit. Each audit gives you a site score and a detailed list of issues at both the site and the page levels. 
If there are serious issues with your website, Sitechecker will send you an email with the details. 
In addition, it monitors your performance constantly and tells you which changes to make. While the tool keeps track of these issues, you might also benefit from using reliable task management software to organize the implementation of the updates.
You can try Sitechecker for free, so you should test it out to see if it fits your needs. Its Basic plan costs $23.00 a month if billed annually and offers excellent features. The Startup plan costs $39.00/month/year, which is the best value since you'll get 1,000 keywords and 5,000 backlinks. 
The Growing plan costs $79.00/month/year, while the Enterprise plan for this extremely versatile SEO agency tool starts at $499.00 a month, customizable, and billed annually.
| | |
| --- | --- |
| Pros | Cons |
| Clear keyword reports with an accurate rank tracker | Some of the features could be explained better |
| Personalized checklist on how to improve your website | Some users would prefer it if the backlink tool was automatic |
| It monitors all your website's changes 24/7 | |
| Allows you to export branded PDF reports | |
Seobility
MOST SUITED FOR
Those looking for a free SEO audit tool
Visit Website
Rating: 9.7
Pricing: From $0.00/month
Customer support: Via phone or email
Customer reviews: Above average
Free trial: Free plan
Keyword research tool: Yes

Seobility is website audit software that examines your site by crawling all the linked pages. The pages with on-page optimization or content issues are grouped together in each check section. 
The crawlers analyze each project constantly to monitor the sites' progress, while the tracking service will notify you via email if server errors or other issues occur.
Seobility also allows you to check your site's desktop and mobile rankings for any keyword in different countries or at a city level. Combined with top-notch web design software, this tool would allow you to create perfectly optimized websites and get them to rank in no time.
Using the TF*IDF tool, you can analyze the top-ranked content on Google and optimize your pages. In addition, you can track backlinks and spy on your competitors so that you can find link-building ideas.
Seobility is widely considered one of the best free SEO audit tools. If you have a small website with up to 1,000 pages, you can use it for free because you'll get all the needed features. 
The Premium plan is for professional websites, and it costs $50.00 a month, but you get a 30-day free trial, while the Agency plan is suitable for large websites and agencies, and it costs $200.00 a month.
| | |
| --- | --- |
| Pros | Cons |
| Change tracking and alerts | Users on the free plan have to wait 24 hours between crawls |
| White-label reporting options | More advice on fixing the identified issues would be welcome |
| Convenient web-based app | |
| Easy and intuitive to set up new projects | |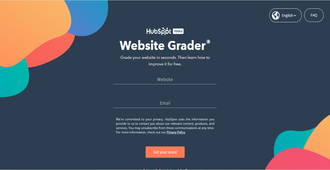 HubSpot Website Grader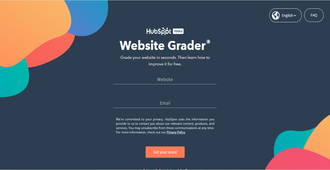 MOST SUITED FOR
Beginners in web marketing and development
Visit Website
Rating: 9.6
Pricing: From $0.00/month
Customer support: FAQ section
Customer reviews: Above average
Free trial: The tool is completely free
Keyword research tool: No
HubSpot Website Grader is a free tool allowing you to monitor the SEO performance of your site. It's very simple to use since you just need to enter your email address and URL, and the tool will crawl your website and provide you with the results. 
Website Grader will assess your site in four areas: SEO, performance, security, and mobile friendliness, allowing you to improve the identified issues and benefit more from search traffic. 
You'll get an overall score on your website. It even offers short, free lessons on improving site performance. This tool is fantastic if you aren't an expert marketer and want clear insights because its reports are very straightforward.
So even if you're new to web development and marketing, it'll be beneficial because it's visually appealing and it works fast. That being said, the amount of info you can get from this tool is not nearly as extensive as what other tools on this list offer.
You can use it as often as you want to review SEO on as many sites as you need for free. While it won't be able to replace a more rounded and versatile auditing tool, it can give you valuable insights into your site's performance and serve as a quick health-check solution.
Click this link to go directly to the Website Grader's page.
| | |
| --- | --- |
| Pros | Cons |
| Easily compare your site to the competitors | No additional on-page information to dive deeper into the issues |
| Quick results | Very limited range of features |
| Simple to use | |
| Free lessons on improving website performance | |
How to Choose the Best SEO Audit Tools
When it comes to SEO audit tools, there are a lot of choices out there. So how do you decide which one is the best for you? 
Here are some things to consider:
Usability
Since 93% of online experiences start with a search engine, you must ensure that your website is compatible with the most used browsers and devices. 
So, always select a tool that can audit any website, no matter how many pages it has. You need a clutter-free, minimalistic and clean interface. A good SEO audit tool should be easy to use, and it should improve the user experience offered by your website.
Price
Although SEO audit report tools are well worth the investment, many people and businesses are on a tight budget. While you can find many tools offering free trials or even free versions, paid options offer more features and better website optimization.
So, you should always compare the prices of different tools to find the one with the best value for your needs.
Features Offered
You must keep track of the performance of your SEO efforts. When an issue arises or you fail to meet your benchmarks, a good SEO audit tool is supposed to suggest what should be done. These are some of the features to which you should pay attention:
Keyword analysis

— Keywords are the core of your website's overall search optimization strategy, making keyword research features essential when selecting

site audit software

.

Mobile optimization

— Google highly values mobile responsiveness when crawling website pages, which is why mistakes in this segment of your site optimization can be critical.

Site crawling

— Among many other issues, a detailed site crawl can detect duplicate content, faulty elements, and indexing problems that might impede site crawling by search engines.
Customer Reviews
Reading reviews from customers who have used the SEO audit tools you're interested in trying is a good way to determine if that particular software solution is right for you. 
The best thing is that you can find many good suggestions through online reviews. After all,  97% of consumers check online reviews before buying a product to get additional insight. Also, most of these tools offer free trials or even free versions, so you can test them before deciding. 
Wrapping Up
Using an SEO audit tool is vital in this competitive world. The right SEO audit software can let you know what you need to do to optimize your business' website and achieve high rankings in search engines. 
However, there are many tools for website audit out there, so try to consider all the main points we mentioned before making your decision.
FAQ
What is an SEO audit?
An SEO audit inspects how well your website aligns with best practices. SEO audit is a thorough examination of all the factors influencing a website's visibility in search engines, determining its strengths and weaknesses in terms of SEO.
An SEO audit aims to identify all the foundational issues affecting organic search performance.
How much does an SEO audit cost?
Roughly, an SEO audit can cost you between $299.00 and $14,000.00 annually, depending on whether you are a small-to-medium-sized business or an enterprise. Of course, the SEO audit costs will be higher for bigger companies with larger websites.
However, the cost of an SEO audit is determined by several factors, including your website size, audited elements, audit implementation, turnaround time, and more.
Are SEO audit tools useful?
Yes, they are.
The best SEO audit tools are extremely useful for agencies and digital marketers looking to identify and resolve website issues. In addition, SEO audit tools can assist in improving the performance of websites and gaining insight into the competitors' marketing strategies.
Resolving issues with your website makes it operate optimally and efficiently, ultimately making businesses more money.