7 Best Web Design Software to Create Stunning Websites in 2023
We've researched and reviewed some of the most popular services to compile a list of the best web design software companies available.
Nowadays, with so many types of software available, you don't have to hire a professional web designer to create your site. However, finding the perfect one to use can be a bit tricky.
Continue reading to find out which one will work for you!
Published: March 29, 2022
Affiliate Disclosure
We aim to provide you with the best tech news and reviews. To sustain our site, we may earn a commission when you buy from our affiliate links. Read our full Affiliate Disclosure.
The Top 7 Best Web Design Software Solutions 2023
Web Design Software Reviews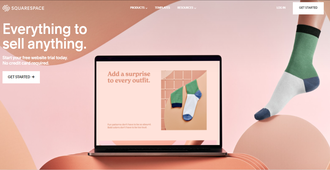 Squarespace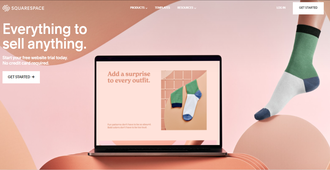 MOST SUITED FOR
Creating a unique online presence
Visit Website
Rating: 10
Pricing: From $14.00/month
Templates: 110+ templates available
Customer Support: Via email or live chat
Free Trial: Yes

Regardless of whether you need a personal site or you want to build an online business, this software is worth looking into.
Squarespace has specifically tailored templates  to meet your needs, no matter what kind of website you want to make. Moreover, you can customize the templates using the platform's powerful website editor.
Websites created with Squarespace can be fully SEO-optimized. And not only that, but you're also given complete access to detailed statistics regarding your visitors, such as the general demographics, location, and other valuable stats.
According to many best web design software reviews, Squarespace provides opportunities for its customers to create a unique online presence that will set their brand apart from the rest.
Furthermore, Squarespace is a great choice for photographers and other artists, as it can help them build a unique online presence with creativity and a think-outside-the-box mindset.
If you choose to employ this design software, you can also create an online store. Squarespace has all the essential features and a variety of extensions to get your digital shop up and running.
| | |
| --- | --- |
| Pros | Cons |
| Easy to navigate | A bit pricier than its competitors |
| No coding skills required | Doesn't support multiple currencies |
| Hundreds of beautiful templates | |
| Powerful SEO tools | |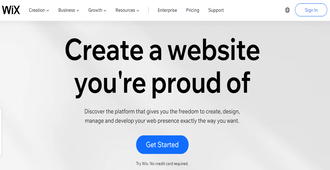 Wix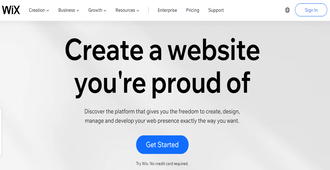 MOST SUITED FOR
Beginners on a budget
Visit Website
Rating: 9.9
Pricing: From $0.00/month
Templates: 800+ templates available
Customer Support: Via chatbot, email, and phone
Free Trial: No, but a full refund is available after the first 14 days (Premium Plan)

Wix is yet another popular web design software that made our list. It's a top-rated platform that allows users to create different types of websites using one of their 800+ fully customizable templates.
Like most of the companies on our list, Wix offers a free plan. However, as you might have expected, it's quite limited compared to its paid tiers. But, it can provide a great introduction to using the platform.
Wix is very user-friendly and crafted with absolute beginners in mind. Just about anyone can quickly and efficiently create a fully functional website no matter their skill level.
When you purchase one of the Premium plans, you'll also get a custom domain name. That's a common practice for every top web design software out there, and with Wix, it will only cost you as little as a few dollars per month.
Wix also offers you a variety of apps that you can incorporate into your website to add even more functionalities. Additionally, it provides great tools for e-mail marketing and SEO to promote your site and help it rank higher on search results.
| | |
| --- | --- |
| Pros | Cons |
| Easy to use | Can't change the template once the site is live |
| Hundreds of SEO-optimized templates | |
| Free plan | |
| Excellent customer service | |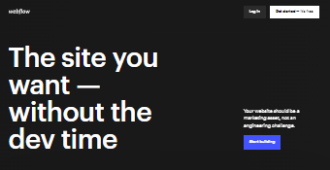 Webflow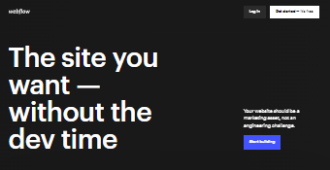 MOST SUITED FOR
Web designers without previous coding experience
Visit Website
Rating: 9.7
Pricing: From $0.00/month
Templates: 1,000+ templates available
Customer Support: Via email
Free Trial: No

Webflow is one of the best free web design software solutions for web designers without previous coding experience.
Its powerful SEO tools allow for a very advanced level of fine-tuning, which can help in modifying meta tags, redirections, indexing, and more. Now there's no need for a specialist to do this for you, and you can easily publish any changes on your own.
All of Webflow's pre-made templates are modern-looking and highly responsive. Moreover, you can use them to create any type of website — from small personal portfolios to an entire online business presence.
Aside from the free templates, many will cost you some cash, ranging from $24.00 to over $100.00.
What also makes this such a good web design software is that if you already have a published web page, it's possible to connect it to your Webflow site. That way, you can sync your CMS and capture information properly.
| | |
| --- | --- |
| Pros | Cons |
| Easy to use | Free plan is limited |
| No coding knowledge needed | Customer Support only reachable via email |
| 1,000+ responsive templates | |
| Supports login and members-only content | |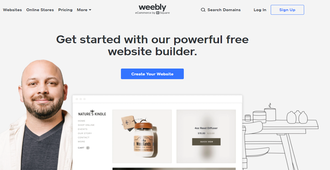 Weebly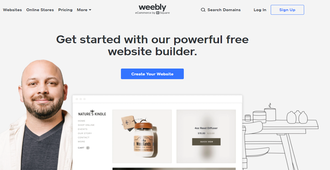 MOST SUITED FOR
Small businesses
Visit Website
Rating: 9.7
Pricing: From $0.00/month
Templates: 50+ templates available
Customer Support: Via email, live chat, and phone
Free Trial: No
Weebly is another top company that we felt deserved to be on our list of the best web design software companies. It was founded in 2006 and now powers over 30 million websites on the internet.
Weebly scores extra points with us by having a free plan and making its templates free to use. What's more, the templates are both flexible and easy to customize.
Every template offers advanced settings that let you modify HTML and CSS codes, giving you total control over every step of the process. Furthermore, this software also offers a pretty impressive gallery of stock background images that you can edit.
Weebly's website builder provides a drag-and-drop interface, thereby catering to the beginners of its customer base. And if you're looking for powerful marketing tools to create visually stunning and responsive promotional emails, this platform has got you covered.
Additionally, if you're searching for the best web design software for small businesses, Weebly's features and services are an excellent option.
| | |
| --- | --- |
| Pros | Cons |
| Easy to use | Not many templates |
| Drag and drop editor | Limited amount of photo editing features |
| Customizable responsive templates | |
| Allows HTML and CSS editing | |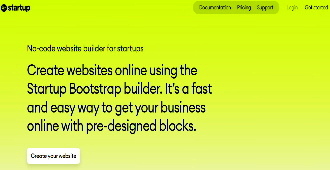 Startup by Designmodo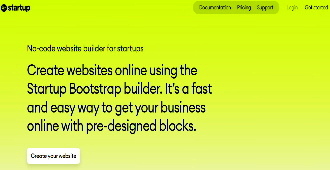 MOST SUITED FOR
Web designing without coding
Visit Website
Rating: 9.9
Pricing: From $0.00/month
Templates: 150+ pre-designed elements available
Customer Support: Via email, via the online form
Free Trial: Online demo available

Startup by Designmodo's website builder is most definitely one of the easiest to use on our list of the best web design software programs.
It's a great solution if you want to build your site from scratch. Moreover, you can choose from its many pre-made element blocks, drag-and-drop them directly into your project, and seamlessly edit them.
Designers, entrepreneurs, and even developers use this platform to create visually appealing websites. It's equipped with unique fonts, colors, and animations, and every style setting is applied to each page of your website.
Startup is quite possibly the best free website builder software without coding. The entire process of creating a website is done using its Bootstrap 5 editor. Therefore you won't need any backend content systems.
Projects are easily saved, and it's possible to preview them to see how they'd look on your server or with full hosting. Plus, once you're done designing it, you can export and publish your site within minutes.
| | |
| --- | --- |
| Pros | Cons |
| Easy to use | Free version is limited |
| Great customer support | |
| A no-code design | |
| Easily customizable | |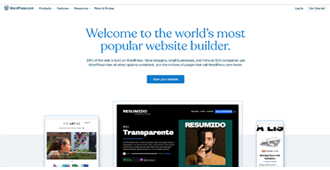 Wordpress.com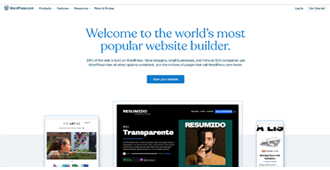 MOST SUITED FOR
Advanced SEO web designing
Visit Website
Rating: 9.9
Pricing: From $0.00/month
Templates: 11,000+ templates available
Customer Support: Via help center, via support forums, via live chat
Free Trial: No

The focus of our next web design software review is WordPress. It's one of the most popular platforms with plenty of satisfied clients and a long history.
Moreover, it boasts the largest library of templates available, and not only are there more than 11,000 of them, but over 9,000 are completely free to use.
Along with its free plan, WordPress offers four paid tiers that will cost you around $7 to $60 per month, depending on your requirements.
Like the rest of our top picks, you don't need programming skills to create a fully functional professional-looking site using a WordPress template. Also, aside from its templates, users can integrate various plug-ins into their sites.
When you sign-up with WordPress, you'll automatically gain access to the most common plug-ins. However, like every great web design software company, it also offers eCommerce and advanced SEO tools for around $30 a month through its business plan.
| | |
| --- | --- |
| Pros | Cons |
| Easy to use admin panel | The Free version is limited |
| Great community and constant updates | Plug-ins might conflict with each other |
| Lots of responsive templates and plug-ins | |
| Website security and management | |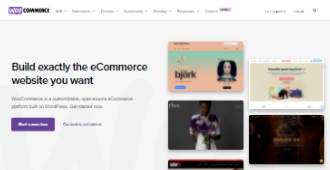 WooCommerce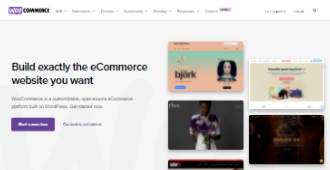 MOST SUITED FOR
Ecommerce web developers
Visit Website
Rating: 9.8
Pricing: From $0.00/month (base plug-in)
Templates: 46 themes
Customer Support: Via Support Forum, live chat, and email
Free trial: No
Our best web design software of 2022 list wouldn't be complete without mentioning WooCommerce. It's a flexible open-source eCommerce solution with over 123 million all-time downloads, built entirely on WordPress.
The company's mission is to democratize commerce by putting its users in control of their own livelihood.
Doing so by providing extremely customizable features and extensions for your specific business needs. So, whether you want to sell clothing items, luxury products, ebooks, or subscriptions, WooCommerce can help you get it done.
Furthermore, this software is an excellent choice for developers, as it's easily scalable and integrable.
Overall, it's a good solution for businesses of all sizes — from startups and small local shops to large enterprises. Its community is large and growing daily, thanks to an abundance of online resources.
Although you can technically install and use this website design software for free, you'll need to pay for hosting, a domain name, and any of WooCommerce's advanced features and services.
Pros
Cons

Easy and free to use

Only works with WordPress

A variety of useful extensions

No central customer support

No coding knowledge required

Highly scalable
How to Choose the Best Web Design Software
Now that we've gone over our top picks, let's take a quick look at what makes a web design software solution a good option. This decision will ultimately be yours to make, but a few general factors are important to consider.
Price
Price is an important factor to consider when choosing the right web design software. While many platforms, such as Wix and WordPress offer free plans as a separate tier, those plans tend to be limited.
If the free plan is too limited to meet your specific needs, you may want to consider upgrading to a paid plan that fits your budget.
Features
The Best–rated web design software is often packed with many useful features. These features come in the form of native ones or an extensive list of plug-ins and extensions you can add to your website later.
Choosing a website builder based on the number of features is a smart decision, namely for scalability and overall efficiency.
Themes
Web design software solutions often offer a library of professionally designed and developed templates. These libraries can have as few as tens of themes or thousands of them.
Choosing the right one among the available options greatly depends on the category of your website. For example, if you want to build an eCommerce site, you won't want to use a template created for blogs and vice versa.
Therefore, it's crucial to keep this in mind when choosing a software company.
User Reviews
Positive reviews and consumer reports on the best web design software can be a real game-changer for many customers. In fact, a staggering 97% of people said online reviews influence their purchases.
Therefore, before choosing your preferred web design software, especially when making a Premium plan purchase, it can be beneficial to consult online reviews.
Final Thoughts
With the immense growth of the web design software industry in recent years, it's no longer necessary to hire a professional to get a great finished product without any coding knowledge.
We hope our review will help you find the perfect platform for designing a professional-looking website to promote your brand or business.
Thanks for reading!
FAQ
How much does a web design software cost?
Web design software doesn't have to cost a cent. In fact, there are plenty of great free solutions and many cheap website builders available. However, to get their complete list of features and services, the majority will require that you pay for a premium plan.
What web design software should I use?
That entirely depends on the purpose your website will serve. If you need a blog, using a platform like Squarespace, Wix or WordPress can be a great choice.
However, if you're a business owner that wants to sell goods or services online, then WooCommerce could be what you're looking for.
What is the best web design software?
Although we've created a top-7 list of what we believe to be the best web design software companies, it all depends on which one can fulfill your needs and expectations.
Therefore, we believe there's no definitive black-or-white answer to this question. Nonetheless, we gave our highest grade to Squarespace, and Wix is considered the best according to many online reviews.