Published: September 7, 2022
Affiliate Disclosure
We aim to provide you with the best tech news and reviews. To sustain our site, we may earn a commission when you buy from our affiliate links. Read our full Affiliate Disclosure.
Free trial:: 7 days
GDPR compliant:: Yes
Privacy & Security:: 256-bit SSL encryption
Platforms Integrations:: 29 services
Availability:: Windows, Mac, iOS, Android
Subscription Options:: Free and paid
Businesses that wish to automate their chats
STRENGTHS
Live chat and chatbots
Available in multiple languages
35+ pre-designed templates
Easy to use
WEAKNESSES
No WhatsApp integrations
No phone support
PRICING PLANS:
Communicator Plan
$19.00/month
Tidio+ Plan
$289.00/month
If you're a business owner, you've probably come across many live chat software options. Tidio is one such option. But how does Tidio compare to other live chat software solutions? And is it the right choice for your business?
Take a look at our in-depth Tidio chat review to find out.
What is Tidio Chat?
Tidio (headquartered in Szczecin, Poland) was founded in 2013 by Titus Gołas and Martin Wiktor.
The duo specifically built this software for small business owners that want to streamline their communications and automate their conversations.
Namely, Tidio helps you by unifying your customer messages, from Facebook Messenger and email to web-based chat widgets, into a single interface so you can respond to them with the same ease and efficiency regardless of which channel they come in on.
Tidio offers two main features — the live chat that allows customers to reach your business 24/7 and AI-powered chatbots that interact with your consumers in real-time, providing them with relevant information or predetermined answers.
Tidio app is available for desktop (Windows and Mac) and mobile devices (iOS 9.0 and higher and Android 4.1 and higher).
In addition to that, Tidio can be integrated with 29 different ecommerce platforms, such as Shopify, WordPress, Squarespace, and Wix, as well as FB Messenger, Instagram, Zapier, Zendesk, Google Analytics, and Hubspot.
Tidio Features and Services
As mentioned above, the software's main features are its live chat and chatbots. Here are some more details on each:
Live Chat
The live chat feature allows you to communicate with your customers in real-time. You can use it to provide customer support, answer questions, and resolve problems.
Another thing you can do with a live chat window is change its appearance, for example, by moving it and changing its color.
For a friendly touch, you can also add a picture of the live chat operator along with a welcome message. This could be anything from customer discount codes to simply saying hello.
The Tidio chat app is translated into multiple languages so you can attend to customers in their native language — some of these include German, French, Portuguese, Italian, Spanish, and, of course, English.
To integrate the live chat button onto your website, you need to add a JavaScript code snippet. If you're unsure how to do this, you can always ask a web developer for help.
While this feature is free to use (both mobile and desktop), you'll have to upgrade your basic plan if you want to get additional features. Some of the features you can get by upgrading to a premium plan are:
Visitor list

(see how many people are on your website, what pages

they view

, etc.)

Team departments

(route the messages to the correct operators)

Live typing

(you'll be able to see what your clients are typing in real-time before they hit the send button)

Permissions

(restrict the access of your operators)

Analytics

(see how well your staff is performing, schedule their shifts, and understand why some conversations are rated more highly than others)
Tidio Chatbots
The chatbot comes with 35+ pre-designed templates sorted into three categories: Increase Sales, Generate Leads, and Solve Problems.
However, you can also create your custom template.
The chatbot will not only automate FAQ responses, but it can also deal with more complex problems. For example, it might collect user information such as order numbers and email addresses before sending them to a support staff member.
Moreover, it comes with something called a trigger. There are three types of triggers:
User-initiated (action taken by visitors on your page)

Operator-initiated (when you start it as the operator)

Interacting with the bot or by clicking buttons
After establishing the trigger point, you can program the chatbot to automatically message your website visitors when they perform a specific action.
That said, you can customize your Tidio chat bot even further by adding conditions. For example,  you can use a condition to change the bot's behavior depending on the visitor's browser, day, language, chat status, etc.
You can create a bot that only appears on weekdays or one that sends a different message depending on whether the visitor is using Chrome or Firefox.
Additional chatbot features include:
Actions

(a chatbot node telling the chatbot to execute a certain action)

Transfer to operator message

(once the bot has completed its task, it will transfer the conversation to a human operator)
While the live chat application is free, chatbots come with a limit of 100 uses per month. Once you reach the monthly limit, the chatbots will stop sending new messages to visitors.
However, this applies only to the basic users. Premium users get 40,000 unique website visitors per month, which leads us to the next section.
Tidio Pricing and Plans
When it comes to the Tidio pricing options, you can choose between four plans: Free, Communicator, Chatbots, and Tidio+. Each plan has different features and price points.
Free Plan
The free plan offers:
Live Chat with 50 users

Chatbots conversations with 100 users

Email support
You'll also get full access to visitor data and any third-party app integrations, and you can use a 7-day trial (Communicator plan and the chatbots). After your free trial expires, you can sign up for a subscription or downgrade to the Basic plan.
Communicator Plan
The communicator plan offers:
Unlimited live chat conversations

Five operators

Email support

24/5 Live Chat support
Tidio's cost starts at $19.00 per month (billed monthly) or $15.83 per month (billed annually). You'll get two free months if you opt for an annual subscription.
When it comes to Communicator plan features, you'll get to use:
Team departments

Analytics

Native Shopify Integration

Live Typing

Viewed Pages

Live Visitors List

Permissions

Notes
Chatbots
As mentioned above, you can use chatbots for free, but limited to 100 uses per month. On the other hand, for $39.00 per month ($32.50 per month if billed annually), you get:
Conversations with 40,000 users

Email support

24/5 Live Chat support
In addition to that, you get to use:
35+ Chatbot templates

Visual chatbot editor

Zapier integration
Tidio+ price plan starts at $289 per month or $240.83 per month if billed annually. The Tidio+ plan offers:
Unlimited Live Chat conversations

Custom number of operators

Chatbots – custom number of engagements

Email support

24/5 Live Chat support

24/7 emergency phone support
With this plan, you'll get all features from both the Chatbot and Communicator plans, plus:
AI Response Bots

Multisite support

Custom integrations

Email marketing
Tidio will also offer you:
Customer success manager services

Implementation specialist services

Chatbot building assistance

Account reviews

Training sessions
"Disclaimer: All the prices above are based on the company's current offerings. Tidio may change them without prior notice."
Customer Support
Next, in our Tidio review, we'll discuss the company's customer support. You can contact Tidio via a 24/5 live chat (no bots here) during the workdays or via email at [email protected] during the weekends.
Next, in our Tidio reviews, we'll discuss the company's customer support. You can contact Tidio via a 24/5 live chat (no bots here) during the workdays or via email at [email protected] during the weekends.
The live chat operatives will respond to your query within minutes, while you might wait up to 24 hours to get an email response.
Unfortunately, there's no phone support, which could have made it even better since billions of people are using smartphones. Another downside is that you won't be able to check the status of your feature request.
Ease of Use
Setting up Tidio is quite easy. All you have to do is create a Tidio account (click on the Get started button, provide your email, password, and website link), hit the Tidio download button to install the app, and connect the chat to your website.
You can also sign up via your FB, WIX, or Shopify account.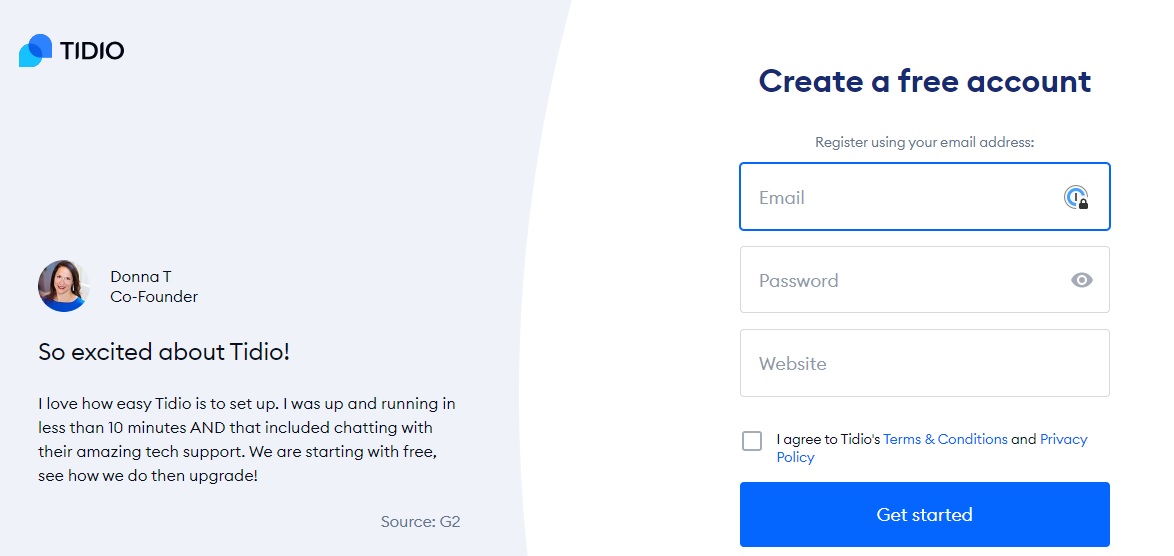 Once you create an account, you can then connect it to your website. You can also download the app on your desktop or mobile device.
To download the app on your PC, go to Tidio's Desktop & Mobile section and select Settings. From there, you can choose to download the app for Windows, Linus, or macOS.
To download the mobile app, head to your chat panel's Dashboard (or Settings) and select Download for iOS or Android.
Tidio Alternatives
There are plenty of options if you're looking for an alternative to Tidio. Some popular ones include Crisp, Intercom, and Tawk.to. What makes these platforms similar to Tidio, and what sets them apart?
Let's take a closer look.
Tidio vs. Crisp
Tidio and Crisp offer live chat features that allow you to communicate with your website visitors in real time. While both companies offer a free trial, Crisp's trial is more extended (14 days vs. seven days).
On the other hand, Crisp offers only three subscription plans — free, Pro ($25.00/month), and Unlimited ($95.00/month).
While Crisp offers you to send audio messages to your clients and make video calls that Tidio doesn't, you can see that the main difference here is how the latter is much more affordable.
Tidio vs. Intercom
The main difference between Tidio and Intercom are their chatbots. While Tidio has only one type of chatbots, Intercom's chatbots are divided into three categories:
task bots

(they take over conversations when there are no assigned teammates or when the conversation is closed by the chat operator)

custom bots

(customized with particular flows and components)

resolution bots

(automatically answers questions from your consumers based on keywords)
However, Intercom offers confusing pricing plans. e.g., the company calculates its price based on your teammate's seats and the number of unique people you want to reach. To get more information about the pricing, you'd have to contact Intercom's customer service.
Tidio vs. Tawk.to
The key difference between Tidio and Tawk.to is that the latter offers only one free subscription plan. It includes live chats, ticketing, a knowledge base, chat pages, and team chats.
Tawk.to also allows you to hire 24/7 chat agents for $1.00 per hour and virtual assistants for $7.00 per hour, and you can use video and voice add-ons.
Despite that, Tidio has a significant advantage over Tawk.to. Why? Because Tawk.to doesn't have the chatbot feature.
Verdict
As you can see, this software is an excellent choice for small and large businesses. It's user-friendly, offers a free 7-day trial, and has reasonable pricing plans.
Moreover, besides chatbots and live chats, Tidio offers numerous fantastic features, such as live typing, analytics, and transfer to operator messages. You can also customize your chat button and use the platform on multiple devices (desktop and mobile).
FAQ
What is Tidio?
Tidio is a software that helps businesses communicate with their customers in real time. It offers a live chat service that you can use to talk to customers on your website and a chatbot builder that allows you to create and automate conversations.
Tidio also offers integrations with third-party applications, such as WordPress, Shopify, Squarespace, and Wix.
Is Tidio any good?
Yes, Tidio is a fantastic software for small to large-sized businesses. It has a lot of features and a decent number of integrations. 
However, you'd have to upgrade your basic subscription to a paid plan to get the most out of the app. The good news is that Tidio offers a free trial, so you can test all features before deciding whether to commit to a paid subscription.
Is Tidio secure?
Yes, all Tidio Chat connections use the 256-bit SSL protocol for encryption. The company encrypts the most sensitive data in its database, like passwords and credit card numbers, using one-way hash algorithms. It makes it impossible for anyone to decrypt them. Tidio is also GDPR compliant.
Is Tidio really free?
Yes, Tidio offers a free basic plan which includes Live Chat with 50 users, Chatbots conversations with 100 users, and email support. As we mentioned in our Tidio chat review, the free plan will give you full access to visitor data and third-party app integrations.