7 Best Webinar Hosting Platforms of 2021
[EXPERT REVIEWS]
Hosting a webinar through your website builder just doesn't cut it.
Unless you want to see annoyed audience members dropping off because of latency issues, among other possible missteps, a decent webinar solution can be an awesome asset to a small business and great supplement your website builder.
A good webinar hosting solution and a robust website builder often have many similar traits. To give you a few examples—a modern webinar solution is easy enough for a beginner to handle, allows plenty of customization, and offers fantastic tools for capturing leads.
All that said, there are many platforms to choose from, but finding software that will lift you up instead of weighing you down can prove a challenge.
To help you out, we analyzed the top solutions in the market. We tested and picked the best of the best for the reviews below.
Keep reading to find out what companies offer the best value for your business.
Last Updated: November 25, 2020
Advertiser disclosure
This page may contain links to our partners' products and services, which allows us to keep our website sustainable. This means that websitebuilder.org may receive a compensation when you sign up and / or purchase a product or a service using our links. However, all opinions expressed in this article are solely ours, and this content is in no way provided or influenced by any of our partners.
Top 7 Webinar Hosting Platforms 2021
Flexible offer
Easy to use
White-label option available
Try Now
Full Review

Zero-delay streaming engine
Extensive marketing features
Allows multiple simultaneous webinars
Try Now
Full Review
Fast streaming engine
Can handle massive live events
Works splendidly with EverWebinar
Try Now
Full Review
How We Found the Best Webinar Hosts – Our Аpproach

Webinar solutions come with a diverse range of features and capabilities. We tested the platforms to find out what they can do and who they work best for. Here's what our process looked like:
Shortlist the platforms—There are scores of webinar solutions out there, all competing for the top spot. We researched which platforms offer the best tools and can help get the most out of your webinars.
Check out the UI—Some platforms out there make a real mess of navigation and using all the features. We checked out how well the platforms are designed for both the presenter and attendees. We took note of whether they are straightforward enough for non-technical users.
Test the features—Having the latest and most powerful tech at your disposal is only worth it if the features actually work as intended. We ensured all the tools do their job without breaking or being buggy.
Check what users have to say—A good way to find out whether a webinar platform works for everyone is to see what hundreds of other users have to say. We checked out sites like Reddit and TrustPilot to see if real business owners found the platforms user-friendly and reliable. Real users go through countless scenarios and can point out problems that are difficult to detect even by the most thorough webinar reviewer.
Get on the support's case—This is what most people neglect to check before purchasing a platform. It might seem like a minor detail at first. However, if you use any platform for several years, you'll need the support's help sooner or later. When that time comes, you'll want support that's fast, responsive, and, most of all, skillful. We contacted the agents with a few toughies to see if they fit the criteria.
Put it all together—We took all that info and put it into comprehensive reports. This let us rank all the providers of webinars hosting based on what they can do and how much assistance they provide. We outlined the key features of the best webinar platforms of 2020 in the reviews below. Feel free to check them out.
Detailed Reviews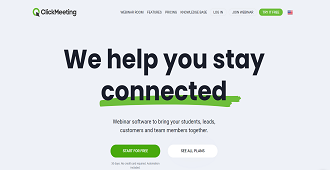 ClickMeeting Review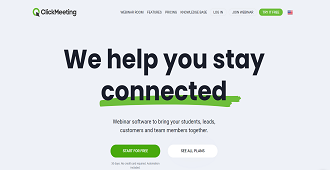 BEST FOR
Doing a range of different event types
Visit Website
Flexible offer
Easy to use
White-label option available
Lacks 24/7 support
ClickMeeting is something of a jack-of-all-trades platform. The company behind it likes to boast about the software's ability to generate leads.
This is what the platform looks like in reality.
ClickMeeting Features
Besides handling both live and automated webinars, ClickMeeting offers a lot of options to help you along the way.
For one, you have a choice of interactive elements to engage the users and collect data. You can easily set up polls and surveys in both live and automated events. There's also a whiteboard feature. Finally, you can display a call to action once you feel the attendees are ready to give you their contact info, purchase a product, or whatever else your goal is.
It's exceptionally convenient how the webinar hosting site handles Q&A. There is a separate mode that shows you all the questions, and you won't have to scroll through the chat to answer them.
The platform includes screen sharing capabilities. That said, you might get away with not using screen sharing altogether. You can display things like slides and video files directly from the platform, meaning you don't have to run them on your own screen.
One great feature about screen sharing, though, is that users can take control of your desktop. This can be a mind-blowing asset if you're doing a software demonstration. Potential clients absolutely love trying out a piece of software during a webinar.
If you'd like to make webinars your business, though, ClickMeeting also lets you monetize them. It does limit your options for collecting money in-app, though, since the only payment integration is PayPal. Still, many webinar hosting services don't support such functionality at all, so ClickMeeting is way ahead.
And that's just scratching the surface. Toll-free numbers, email and SMS integrations, advanced analytics, robust security, and even reseller options are all part of ClickMeeting's offer. It's one of the most comprehensive packages out there.
Plans
ClickMeeting offers a 30-day free webinar hosting trial and three paid tiers.
The Live tier lets you host live events and includes all the essential features. The Automated tier also lets you record live webinars, turn them into automated events, and includes many other options—like send recordings to your cloud storage account or make them available via email. There is also a Custom tier, but this is a quoted plan that you can go for if you'll have a massive number of attendees or over three presenters.
The end price depends on how many attendees you have. For instance, the Live plan costs $25/month for 25 attendees, while the Automated plan raises this to $40/month. The prices apply if you pay annually, and are about 25% more expensive with monthly payments.
It's worth pointing out ClickMeeting's offer isn't as customizable as it might seem. To explain, a 30-attendee plan costs the same as a 50-attendee plan. This essentially gives you six tiers to choose from, with the largest being able to handle up to 1,000 attendees.
This is still a massive range of webinar hosting plans. However, your best bet is to pick the maximum number of attendees for your price bracket—you're paying for it, after all.
You should also keep in mind the number of presenters depends on the bracket as well. If you have multiple presenters, you might need to pay a bit extra.
ClickMeeting User Interface
ClickMeeting offers a ton of options, but they are all laid out clearly. The design is sleek and intuitive, so you can get around fairly easily. Also, the transition from live to automated events is smooth, so you won't have to learn a whole different process.
On the attendees' end, things are looking even better. You have lots of options to design attractive landing pages, send out invitations, and even add custom branding.
If you prefer streaming across multiple channels, you can embed the webinar into your website or stream on YouTube or Facebook. After the webinar is over, you can direct users to a specific page automatically.
If you opt for recorded webinars, the webinar website lets you send recordings via email, auto-publish them, or just send them to your Dropbox account. All the options help you get the most people you can to see your webinars.
Everything happens in the browser, which makes the whole process a lot faster. ClickMeeting even lets you use a browser extension for screen sharing—which was not always possible and is a welcome change.
It's worth pointing out there is a desktop app for the presenters. This adds a couple of advanced screen sharing options, like only showing a section of your screen. The client has caused problems for a few users, though, so you should test it beforehand.
All in all, ClickMeeting is a straightforward webinar hosting service on all fronts. It offers plenty of features that both speed things up and make users more likely to visit your events.
ClickMeeting Support
ClickMeeting runs a well-trained support team. Each live chat and email interaction gets a quick response, and the agents do a solid job of answering all questions. They know the platform well and can easily assist you with most problems.
Contacting the support can also be a good move when selecting a plan. Since ClickMeeting's attendance caps are customizable, there are a lot of options to choose from. The support can recommend the best tier and attendance range for your particular needs.
That said, the support isn't available 24/7, which is a bit of a problem. It's only open for 14h on workdays and 8h over the weekends, which is not ideal if you need help outside business hours.
Still, the support is among the better ones in the webinar hosting industry.
| | |
| --- | --- |
| Pros | Cons |
| Versatile platform | Screen sharing desktop client can be buggy |
| A range of powerful features | No 24/7 support |
| Flexible plans | Charges extra for automated webinars |
| Sleek and easy to use | |
| Solid support team | |
Verdict
ClickMeeting has one of the most complete offers out there. You can do both live and automated events with pretty much the same features, do on-demand events, monetize webinars, and even resell webinar services. It's one of the best webinar software of 2020, and it can cater to just about anyone.
Demio Review
BEST FOR
Extremely high-quality streams
Visit Website
Zero-delay streaming engine
Allows multiple simultaneous webinars
Extensive marketing features
Some clunky features
Demio is a young, but fast-growing solution. With new, flashy tools being added by the update, it's taking the webinar world by storm.
This is what it can do today.
Demio Features
Let's start with Demio's best feature—the proprietary streaming engine.
I should preface this by pointing out most webinar technologies use YouTube's engine to stream video. The reason is simple—it lets you stream very high-quality video. Ask any professional YouTuber, though, and they'll tell you horror stories of compression scrambling the video.
And, if you've ever caught a Q&A on YouTube Live, you know streamers usually take some time to answer questions from the chat. Well, actually, the streamer is probably answering the questions immediately, but the streaming engine introduces 15-25 seconds of delay.
This is where Demio comes in. The webinar platform runs on its own streaming engine, which eliminates both the compression artifacts and the delay issue. This may seem like a minor improvement, but YouTube's engine can be a massive pain, especially if you do a live Q&A or use a lot of interactive elements.
Of course, Demio has a lot of other tools in its offer. For instance, you get lots of marketing features. You can present attendees with CTAs, coupons, handouts, gifts, or just direct them to a specific page.
In fact, I recommend you always set up the tool to automatically forward the attendees to your website once the webinar is over. The reason being that Demio otherwise tries to convert some of your attendees by pushing them to its own landing page. Needless to say, you don't want clients thinking about Demio's offer, so it's best to avoid this.
Other features include analytics, advanced scheduling, polls, and numerous mailing integrations. All in all, it's one of the best webinar platforms in terms of features.
Plans
Demio offers three tiers:
Starter—$34/month
Growth—$69/month
Business—$163/month
The plans have a 50, 150, and 500 attendee caps, respectively. This pegs Demio in among low to midrange solutions. If you need something more robust, you may prefer a service like WebinarJam.
The Starter plan only lets you do live events. The Growth plan enables scheduling of automated events and adds email and webinar room white-labeling. It's a bit odd Demio doesn't let you use your own branding with the starter plan, though.
And speaking of scheduling, the system can be a bit clunky. Yes, you have plenty of options for setting up an automated event whenever you want it. However, Demio only displays the time of the event in your time zone.
This makes it less than ideal if most of your audience are from different locations. If you're interested in an automated webinar system that handles scheduling a bit better, check out EverWebinar.
The Business plan adds the possibility to run simultaneous events, which only a few solutions allow. You can have three sub-users, meaning you can do up to four webinars at the same time—excellent if your business operates on a tight schedule.
You also get more extensive onboarding and a dedicated account rep, which can always come useful.
Demio User Interface
Demio's design is clean, so you can find all features with relative ease. There's also no need to download anything, as you can perform all functions from the browser-based app.
Demio styles itself a webinar hosting site for marketers. One of the main selling points is guiding attendees through a full sales funnel from the app.
This means there are some options to design a landing page. However, these are pretty slim.
A better alternative is to build a contact form through Demio and then embed it into a landing page you built yourself. This will give you a unique design while maintaining the same functionality.
As for the actual event, you do have some styling options, like white-labeling the webinar page. You can do the usual useful things like branding it with your logo, though the options here are a bit stiff too.
There's also a lot to like about the way you can handle live webinars. Your attendees see the exact same thing you do, which eliminates a lot of the guesswork of other webinar platforms. You'll always know exactly what you're showing to your audience.
One thing that's lacking, though, is choosing which element gets the priority. If you want attendees to pay attention to the webcam feed, you can't really enlarge it. The only option is to close other feeds altogether, which is just annoying.
Other than that detail, though, the app is sleek and easy to use, though not the most customizable.
Demio Support
Demio claims to be obsessed with providing great user experience. There might be a bit of marketing lingo at play here, true, but the agents actually do an astonishingly good job.
Support is available 24/7 via email and phone. The agents typically get back to any queries quickly and thoroughly examine and address each question.
The webinar hosting Business plan also includes a special onboarding procedure to help you learn your way around the software. This plan is pretty pricy. Still, if you need a larger solution, you'll be in good hands.
If you're on one of the lower tiers, resources are available for you as well. Demio has a bunch of articles on using the platform as well as a full-on weekly podcast on SaaS marketing. It provides some good insights, so be sure to check it out.
| | |
| --- | --- |
| Pros | Cons |
| Proprietary streaming engine | Scheduling system doesn't account for time zone differences |
| Simultaneous webinars | Demio tries to convert your attendees |
| Excellent for marketers | Limited landing page designs |
| Great support | |
| Lots of learning materials and great onboarding for businesses | |
Verdict
Demio is one of the best webinar solutions for marketers and businesses. You get amazing features, quite a few unique tools, and solid support to help you along the way. It's an excellent choice, as long as you watch out for the quirks I mentioned.
WebinarJam Review
BEST FOR
Massive live events
Visit Website
Can handle massive live events
Fast streaming engine
Works splendidly with EverWebinar
Affordable for large events, but a bit much for smaller ones
WebinarJam is widely considered the best tool for live webinars. The solution has sparked incredibly positive reactions since coming into the market and is one of the most adored platforms among its users.
These are its key features.
WebinarJam Features
Let's preface this by saying WebinarJam only does live webinars. The company behind it offers a different solution—EverWebinar—for automated ones. Both platforms include much of the same features and have the same advantages, so it's only a matter of what type of event you need.
Still, if you want to do both kinds, you can get both webinar platforms. They are made to work well together, and you can get a bundled deal at a much lower price.
Digging right into the features, WebinarJam's strongpoint is marketing and sales.
First off, it has hands-down the best options for designing landing pages.
Admittedly, most platforms let you set up some sort of landing page out of the app. However, the customization usually stops at picking a background and setting up a form in the middle.
WebinarJam, on the other hand, offers a full WYSIWYG editor. Several templates provide only the starting point here. You can easily edit each element and design a responsive page with a fully custom layout and style.
As for engaging attendees, you get a ton of features as well. WebinarJam lets you display CTAs, limited time offers, or even unit counts.
The webinar platform can even deduct a unit automatically each time you make a sale, or you can do it manually. And that's not all—you can actually use the buyer alert feature to notify the attendees every time someone from the webinar makes a purchase. That way you can use social proof to your advantage.
All in all, WebinarJam has some of the best tools to help you add urgency and push for sales a bit more aggressively.
At the end of the presentation, you can send the entire audience to a specific link automatically—which always adds more value than leaving them on the webinar page.
If you prefer engaging users more softly, though, WebinarJam has the usual features—you can set up polls and surveys, play videos, and use a whiteboard.
One nifty tool is the feedback flow. This lets you display highlighted chat comments in the video feed.
This sort of supplements the existing Q&A tool. If you expect a specific question will be repeated over and over again, you can just highlight the answer so it is visible at all times. It's an excellent way to both engage the attendees and save yourself a bit of effort.
Those are the key aspects of the webinar host. WebinarJam is packed with other features like email and SMS autoresponders, mailing integrations, robust analytics, file sharing, password protection, pay-per-view tools, social media sharing, YouTube Live support, and many, many others.
Plans
WebinarJam has three price tiers to choose from:
Basic—$479/year
Pro—$783/year
Premium—$997/year
The plans can handle 500 attendees/3 presenters, 1000 attendees/4 presenters, or 5000 attendees/presenters, respectively.
All plans have the same features.
The annual price is more than reasonable, considering the high attendee caps. Still, WebinarJam is obviously a high-end platform, so you can get a better deal if you expect only 50 to 100 attendees.
If you need a more robust solution, though, this is one of the best webinar software.
It's also worth mentioning you can get a $200 discount on EverWebinar once you purchase WebinarJam. This makes for crazy value, so check out the EverWebinar review below if you want to run both live and automated events.
WebinarJam User Interface
A great thing about WebinarJam is it works on pretty much all devices and browsers. The techs behind it put in a lot of resources into making it platform-agnostic, and they do an awesome job. The software works splendidly—no downloads required.
I've also already touched upon WebinarJam's landing page builder. It doesn't hurt to repeat it one more time, though—it's one of the best design tools in the industry.
In fact, the overall webinar hosting software looks very attractive. The designs are fantastic for both the presenters and the attendees.
One handy feature is that attendees see a live countdown if they arrive to the webinar page before the webinar starts. This minimizes the chance that any early arrivals will get impatient and leave.
WebinarJam is also very easy to use, despite being feature-packed.
It's best to go through all the features beforehand to ensure you have a grip on the platform. Another time-saving feature, though, is the express setup option. This lets you create a webinar in literally seconds—excellent if you're in a hurry and want to start presenting as quickly as possible.
WebinarJam recently also made a massive improvement with a proprietary streaming engine. One of the biggest grievances about WebinarJam used to be YouTube Live latency issues, but, I'm happy to report, that's out the window.
Bottom line—everything about the webinar technology is clean, easy to use, and attractive.
WebinarJam Support
WebinarJam runs a knowledgeable support team that tends to answer all queries relatively quickly. The support is available through live chat and emails.
One issue a few users complained about is with email tickets. The ticketing system sends an email notification when you open a ticket, but might not notify you when the support updates it. This means you have to keep checking the ticketing system while waiting for a response, which is just a pain.
One positive here is that WebinarJam (as well as EverWebinar) comes with a massive range of materials to help you with your business. These cover things from using the platform, over creating a successful webinar, to online marketing in general. These add awesome value if you're yet to break through on the interwebs.
| | |
| --- | --- |
| Pros | Cons |
| Insanely good for sales and marketing | Unsuitable for smaller events |
| New proprietary streaming engine | Buggy ticketing system |
| Fantastic price for the features | |
| Decent support | |
| Tons of bonus materials included | |
Verdict
WebinarJam is among the best webinar tools for marketers or really just about anyone who needs a higher-end solution.
Its focus is on creating excellent live webinars. If you want automated events, though, you can get it bundled with EverWebinar for a very affordable deal.
All in all, it's one of the best platforms out there.
EverWebinar Review
BEST FOR
Automated and evergreen webinars
Visit Website
Simulated live streaming capabilities
Very intuitive dashboard
Works splendidly with WebinarJam
Decent support team
EverWebinar is a solution by the creators of WebinarJam. It's yet to catch up with the other platform in popularity, but it is just as robust.
Here's what it can do.
EverWebinar Features
Let's start off by saying EverWebinar only lets you do automated webinars. If you want to stream events in real-time, WebinarJam is the webinar platform that can let you do it. The two are made to work together, though, so you might want to get both at a discounted price.
EverWebinar's main selling point is simulating live webinars. Many of the tools available are meant to help you make automated webinars seem like they're happening live.
This can help you get the best of both worlds. Automated webinars get you recurring benefits while also letting you get better production value. Simulating live events, though, can help you get more engagement, which is particularly useful for sales or marketing.
As for the actual simulation tools, you can do things like setting up interactive polls with preset results.  You can also simulate realistic attendance numbers. You can even have chat display preconfigured lines at specific times.
All are meant to simulate the feeling of attending a live event. EverWebinar probably has more options here than all other webinar hosting platforms.
One thing to point out is that EverWebinar actually embeds the entire prerecorded video on the webinar page. This basically means it tries to trick the attendees that a webinar is being streamed live, but it doesn't trick the browser. A technically inclined user might mess with the browser and discover you're actually simulating the event. This is unlikely to happen unless a programmer is really out to get you, but it's worth mentioning.
EverWebinar also has scheduling tools more advanced than what most webinar services offer. You can run one-time events, scheduled webinars at various custom intervals, or make the webinars available on-demand.
One awesome feature are so-called "just in time" webinars. If you're simulating a live event, you can have the platform automatically schedule a webinar to start a couple of minutes after someone signs up. This makes many attendees feel incredibly lucky to have made it just in time—which, in turn, makes them more open to your marketing.
The scheduling system lets you block out nighttime webinars if you do this. This can help you avoid looking suspicious if an attendee signs up for a webinar in the middle of the night.
Those were some unique advantages of EverWebinar. The webinar host also includes a lot of the tools you can use with WebinarJam—CTAs, emailing, analytics, and custom branding are all part of the deal.
Plans
EverWebinar really has one tier that gets you all the features and lets you host unlimited webinars. The end price only depends on how long you prepay for.
The "monthly" plan has you pay $597/year in 3 payments, spread evenly. The annual plan costs $497, which is a hefty decrease. You get the best price with the biannual plan, which costs $799 for two years, or about $399/year.
The pricing is fair, especially if you prepay for an extended period. You do get a 30-day no-questions-asked money-back guarantee, so you can test out the online webinar hosting service without risk.
If you use WebinarJam, you can get a further $200 discount on EverWebinar. This brings even more value, especially since the two platforms work best when used in tandem. WebinarJam is sort of high-end, though, so it might not be the ideal option for small-time events.
EverWebinar User Interface
EverWebinar's design looks great on both ends. There's no need to download anything—everything happens in the browser.
EverWebinar lets you choose from a bunch of attractive designs. You can white-label them all with your logo and promote your own brand.
One handy thing about the online webinar platform design is the waiting room page. Many attendees tend to get to the webinar early and then get bored or anxious and leave. EverWebinar can help you avoid this with a video played on the welcome page. You can even display something as simple as a countdown timer. It's excellent for keeping users engaged and maximizing attendance.
Now, a lot of the features of EverWebinar would be a bit of a pain to set up (especially the preloaded chat messages). That's why the platform lets you reuse such things. You can just export things like poll data, attendance numbers, and chat histories from a previous webinar and load them up for future events.
This is why EverWebinar works so well with WebinarJam. You can do a massive live event with WebinarJam and then export all the data (including the video feed and everything else). This way, you can turn a live webinar into an automated one and keep converting new visitors to leads.
All in all, it's a rather unique and useful design for hosting webinars.
EverWebinar Support
EverWebinar runs a decent support team. In fact, it's the same team that's behind WebinarJam, so you get pretty much the same service—24/7 support with quick response times and awesome knowledge of the platform.
Much like with WebinarJam, the email tickets aren't ideal. Namely, the system doesn't always notify you when a ticket updates, meaning you have to check manually if you got an answer.
Purchasing EverWebinar also gets you a bunch of learning materials. This is presented as a limited-time thing, but the offer is pretty much always on the table. The materials include many videos on how to do webinars and promote your business online—which can be useful for anyone getting into webinars.
All in all, the support is excellent, though having the ticketing issue fixed would be a welcome change.
| | |
| --- | --- |
| Pros | Cons |
| Live webinar simulation | Technical users may figure out you're simulating a live event |
| Extensive scheduling | Clunky ticketing system |
| Reusable videos and interactive data | Requires you to prepay for two years to get the best price |
| Great value with WebinarJam | |
| Decent support | |
| Lots of learning materials | |
Verdict
EverWebinar is one of the best webinar solutions for simulating live events and a powerful automated webinar tool overall. You have some of the best features in the game, and you can get smooth integration and great ongoing value if you combine it with WebinarJam.
Even on its own, though, EverWebinar is an excellent choice for its use case.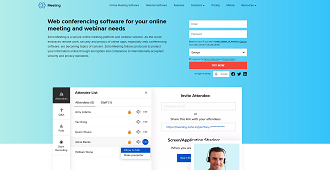 Zoho Meetings Review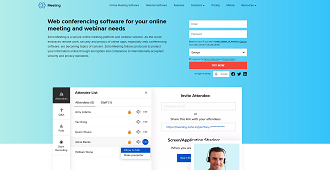 BEST FOR
Smaller collaborative events
Visit Website
Fantastic for small events
Collaborative capabilities
Easy to manage
Pricy if you want multiple presenters
Zoho is a popular provider of SaaS solutions. It recently started expanding into webinars with its Zoho Meetings platform.
Here's what the tool can do.
Zoho Meetings Features
Zoho Meetings is a solution for hosting webinars and peer-level web meetings in one. It is more geared toward smaller, more personal meetings, and it only supports live events.
You can record live events and make them available on-demand, however, which is always useful. You can always at least send the videos to the registrants who didn't attend.
The solution works well on pretty much all devices. You'll have to pay a bit extra if you want attendees to be able to phone in, but this is standard.
One thing is that Zoho supports multiple presenters, but you can only have one webcam feed at a time. It's not ideal for larger events with many presenters.
You can let attendees register in a variety of ways. The most prominent ones are setting up a sign-up form on your site or inviting users through email.
It's pretty nifty that you can automatically add calendar holds for attendees if they accept through email. This way, they won't forget about the webinar and miss it.
Zoho Meetings kind of lacks powerful marketing tools here, and you get few options to collect meaningful info. If you want the best lead generation, a webinar platform like ClickMeeting might be better.
Setting up a meeting adds many other ways to start an event (for instance, through Zoho CRM). Meetings are more for collaboration than webinars, though.
Zoho Meetings integrates with all other Zoho solutions. This includes emailing and CRM, among other handy tools.
It's a bit of an issue that Zoho Meetings doesn't really integrate with third-party mailing software. There's also no payment integration, so you'd have to find a different way to charge for events.
Apart from that, Zoho Meetings includes the usual features like polling, Q&As, analytics, screen sharing, etc. It's a pretty standard offer among online webinar platforms, all in all.
Plans
Zoho Meetings has four webinar pricing plans:
25 Attendees—$19/month
50 Attendees—$29/month
100 Attendees—$39/month
250 Attendees—$79/month
The service is rather affordable, but the monthly cost is actually per host. Since Zoho only allows one webcam feed at a time, it's best to avoid the higher fee and stick with one-presenter webinars.
There is a free trial, but it only lasts two weeks. If you can test out the platform in this time, it's worth a try.
The plans are definitely more suitable for smaller events. It's best to use them for things like classes, coaching, product demonstrations, or smaller conferences. Zoho Meetings does lack powerful lead-generation features, so you can find a better webinar hosting solution if you're interested in online marketing.
Zoho Meetings User Interface
The platform looks great on both ends. The interface isn't cluttered, and it's pretty easy to find all the options.
One thing the software fails to tell you is to install the screen sharing browser extension. Just remember to do this before you start a webinar, and you should be fine, though.
One pretty awesome feature here is the dual monitor support. Zoho lets you share just one screen, which means you can use the other one for things you don't want the attendees to see—like your webinar script.
The options for customizing the layouts are pretty bare-bones, though. You can set up your own branding and move some things around, but that's about it. For the most part, you're stuck with Zoho Meetings' default design.
This should be fine for most users. Still, you should be aware you're missing out on the customizability of the best webinar platforms.
Zoho Meetings Support
Zoho Meetings has a decent support team. The agents have a solid knowledge of the platform and fixing any issues. They are only available on workdays, though, which is something to keep in mind.
The company has lots of resources on using the platform, which is great for beginners. There are numerous pre-recorded webinars, with live events happening about once a week. If you're just getting into doing webinars, this can be a great help.
| | |
| --- | --- |
| Pros | Cons |
| Decent feature offer | Price scales with the number of presenters |
| Affordable smaller plans | Stiff customization |
| Lots of help for beginners | Support not available 24/7 |
Verdict
In terms of features, Zoho Meetings is a pretty standard online webinar platform. Its main benefit is that you can get a very affordable plan for compact events. Other than that, all works well, and there are few outstanding features too.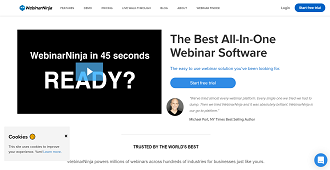 WebinarNinja Review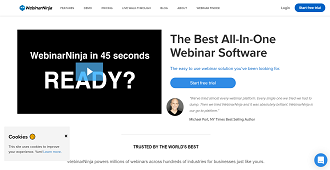 BEST FOR
Setting up webinars affordably
Visit Website
Affordable plans
Beginner-friendly
The features could be better
Live chat system
WebinarNinja is a platform with numerous promising features. Here's how well it performs in practice.
WebinarNinja Features
WebinarNinja lets you do live, automated, or hybrid webinars. One limitation is that you can only make a two-hour recording of a live event, but this should be enough for most people.
Unfortunately, the video quality is pretty poor. You can have top-notch hardware and a blazing-fast internet connection, but the end result may be unattractive. This is a significant issue and one that's difficult to get around.
The video upload tool actually lets you play YouTube videos. This feature has its problems as well, since it just opens YouTube for the attendees. There's no guarantee the attendees will even play the video.
One handy tool of the webinar website is the question feature. All attendee questions get neatly organized. You can even select which question you're answering, and the recording will attach a timestamp to it. That way, users watching the video later will have a way easier time navigating it.
One nice addition is that attendees can subscribe to a presenter within the WebinarNinja platform. This way, they'll get notified of any upcoming webinars you do. This can help you get some recurring value.
WebinarNinja also includes elements like polls and CTAs. These are pretty poorly implemented, though. They are just attached to the bottom of the video feed, and you have no control over their position. All you can do is instruct attendees to scroll down and take your poll.
This is pretty unfortunate for marketers. If you're doing a CTA, you'll want it as obvious as possible. It's just not possible with WebinarNinja.
WebinarNinja does throw in other tools and integrations for emailing, analytics, etc. You can also use Stripe if you want to charge for attendance. Still, the webinar hosting site is mediocre at best.
Plans
WebinarNinja offers four pricing plans:
Starter—100 attendees, $39/month
Pro—300 attendees, $79/month
Plus—500 attendees, $129/month
Power—1000 attendees, $199/month
Most features are available across the board. However, hybrid webinars are reserved for the Plus plan, which is a bit odd. There's no real reason not to enable hybrid webinars if both live and automated events are available (except to squeeze out a few bucks).
The range of plans is decent, especially since the pro plan offers a nice middle ground between 100 and 500-attendee webinars. The price is also pretty budget-friendly compared to most platforms.
WebinarNinja User Interface
Despite its pitfalls, WebinarNinja performs well here.
It's relatively easy to get the hang of all the webinar tools. The interface was designed intelligently, so it presents you with all the choices at the right time.
It's also pretty easy to change the event page layout during the webinar. If you want to prioritize one window over the others, you just need to double-click it.
The actual appearance of all pages is also solid. You have few customization options, which might be a problem for some users, especially if you want a specific landing page design. Still, the defaults can do the job.
The interface is overall well-designed.
WebinarNinja Support
The support team is well-trained, though not the fastest in webinar hosting. The agents usually take a few minutes to get back to you, but they do provide decent help resolving issues.
The support does tend to be a bit unnecessarily vague about some aspects of the platform. It's not that they don't understand it, so I can only assume there are company policies at play. It's only a minor detail, though, and the support will help with any practical matters.
| | |
| --- | --- |
| Pros | Cons |
| Sleek and intuitive interface | Often poor video quality |
| Competitively priced | Badly implemented features |
| Decent support | Hybrid webinars are reserved for a high-tier plan |
Verdict
I realize I came down a bit hard on WebinarNinja in the review. The platform actually offers decent value for money, and a lot of the features would be very useful with a minor design change.
Still, many platforms avoid the problems that plague WebinarNinja. While it's one of the top webinar platforms, it's not the absolute best.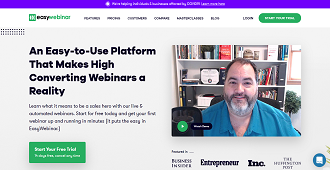 EasyWebinar Review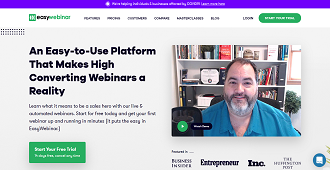 BEST FOR
Low-delay streams with easy marketing
Visit Website
Attractive designs
Makes it easy to market events
HD ScreenSharing
The overall offer could be better
EasyWebinar is a platform that promises rather impressive features. Let's see what it does to deliver.
EasyWebinar Features
EasyWebinar handles both live and automated events.
One cool feature is that EasyWebinar uses its own streaming engine. This ensures no delay, unlike webinar hosting platforms using YouTube Live's engine for streaming.
The streams are exceptional. EasyWebinar even uses special tech to help stream high-quality audio, so you can even have two people talking over each other without quality loss.
One odd thing is that you can't really upload an entire webinar to the platform and create an automated event. You can only record a live webinar and stream that recording. Otherwise, you would have to upload the video to a service like YouTube or AWS S3 and stream from there, which complicates hosting webinars.
The automated events have advanced scheduling options. You can create custom schedules, block out specific days for recurring webinars, do "just in time" events, and much more. One handy feature is that EasyWebinar streams automated webinars in real-time, which is a step up from embedding a video onto the page like EverWebinar.
EasyWebinar comes with various marketing features. It can help you design entire sales funnels, display multiple offers, limited countdown times, etc. The offers are eye-catching but unobtrusive to the actual webinar, which is excellent.
One missing feature is the Q&A, which is odd since it's mentioned on the product page. The support clarified that this actually means you can do Q&A in live chat, which is ridiculously misleading, especially since many webinar hosting services offer robust Q&A tools.
You can also get access to powerful analytics and connect EasyWebinar to your favorite autoresponder.
One handy integration is the WordPress plugin. If you own a WordPress site, you can do the webinar right there. I should warn you the EasyWebinar plugin might not play well with some other WordPress tools. If you decide to use it, it's best to set it up on a blank subdomain and test if everything is working.
All in all, EasyWebinar has a couple of unique and useful features, though some key pieces are missing.
Plans
EasyWebinar lacks a trial, so you can't host a webinar for free. You can only use the 30-day money-back guarantee.
EasyWebinar has three pricing plans:
Personal—100 attendees, $59/month, billed annually
Pro—500 attendees, $90/month, billed annually
Enterprise—2000 attendees, $349/month, billed annually
The pricing is competitive if you go for an annual deal. Paying month-to-month raises the price a bit too high, though.
The plans are okay, though the difference between attendee caps tends to be too wide. It's not ideal for those who have only barely outgrown the pro or personal webinar hosting plans.
EasyWebinar User Interface
Let's start with the good stuff. EasyWebinar offers a lot of options for designing webinar pages, landing pages, thank you pages, etc.
The main webinar window is also very sleek. Attendees have a good view of everything going on. Also, all the marketing elements are very obvious but don't interfere with the flow of the webinar.
That said, setting up events feels a bit clunky. The options are all over the place, so it'll take some time to get the hang of the platform.
It's also tough to make some integrations work. You have to sift through many tabs to use them.
Changing preset page designs also feels awkward. Yes, you can make some decent changes, but the editor is very abstract. You'll have to keep going back and forth from the editor to the actual page to see what everything looks like.
All things considered, EasyWebinar is not the best-designed webinar technology out there.
EasyWebinar Support
EasyWebinar's support is available through phone, email, and live chat, though the platform only makes the latter option obvious.
The support team is okay, though a little slow. The first time I opened live chat, I was presented with a caption saying, "The team typically replies in under 2h"— not the most promising.
A lot of the time, you'll get an answer in about 15minutes, which isn't too terrible, though not exceptional either. Sometimes, though, the support leaves users waiting for hours—a significant issue for one of the best webinar tools.
The bottom line—the answer times could be faster.
| | |
| --- | --- |
| Pros | Cons |
| Great stream quality | Lacks common features like a Q&A tool |
| Solid marketing tools | Not the most optimal range of plans |
| WordPress plugin available | Clunky and unintuitive |
| Sleek event page | Slow support |
Verdict
EasyWebinar is a bit hit-and-miss. There are plenty of handy features, and there's some solid thinking behind the designs. However, there are many kinks that drive the value down. You can find a better platform for a similar price—for instance, ClickMeeting.
What Is Webinar Hosting?
Webinar hosting does what its name suggests—it lets you run webinars.
In case you're unfamiliar with them, webinars are online events akin to real-world seminars. I'll go into the specifics of webinars in one of the following sections, but you can use these for anything you'd use an actual seminar for—you can do teaching, marketing, product demonstrations, or charge people for coaching.
The term makes people associate webinars with web hosting. There are some similarities here, but traditional hosting usually only provides the infrastructure or the platform. You still have to set up and manage your own app on top of it.
Webinar solutions, on the other hand, usually fall in the software as a service category, which makes them more like website builders. The company behind the webinar program takes care of everything regarding software maintenance. You only need to use the software to create an awesome product—in this case, the webinar itself.
On a side-note, webinar platforms actually fit into various deployment models. You can find software you can install on your own server and use it for multicast communication.
That said, most popular solutions today fall into SaaS. This is because there are really few advantages to maintaining software yourself, and such solutions are way more convenient for non-technical users.
And that's about it. The platforms essentially let you easily set up webinars. A decent platform has all the features you might need and is easy enough for a complete beginner to handle. More on that in one of the following sections.
Now, let's get into what these platforms actually do once you start using them.
How Does Webinar Hosting Work?
There are a variety of online webinar platforms out there. The ones we recommend are all SaaS, meaning the company sells you a subscription for the software. The software is hosted on the company's servers, and its tech team is responsible for all the maintenance. This means you can focus exclusively on creating an excellent webinar.
Now, online collaborative services aren't exactly standardized. There are many blurred lines, and the solutions greatly vary in capabilities.
One unifying feature of webinar hosting services is offering multicast communication through video and audio. In simple words, you can simultaneously communicate with a large number of people
Let's start with the video. The solutions typically let you stream a video feed to all attendees. This is a key aspect of webinars, and it would be tough to present without it.
The solution you pick will have some mechanism to handle video upload and conversion, so it can broadcast it in HD quality. Most solutions use YouTube Live's streaming engine for this purpose.
That said, this engine does have its problems—most notably the compression fragments introduced into the video and the delay. ClickMeeting, Demio, and WebinarJam are platforms with their own streaming engines that solve this. You should look into those if you want to avoid the above issues.
As for the audio, webinar hosting software implement VoIP (sometimes supplemented with another technology). This is the standard protocol for voice communication, and it's what apps like WhatsApp and Skype use.
It's the same deal as with video. You can have real-time point-to-point communication with numerous attendees. Unlike video, most applications handle audio remarkably well.
Of course, this is just the main characteristic. The typical webinar solution has dozens of other features. The common ones include polls, analytics, emailing features, payment integrations, etc. It all depends on what the platform is designed to do.
Those are the technicalities behind doing a webinar. Let's cover different types of events and see what this looks like in practice.
Webcasts vs. Webinars vs. Web Meetings
As I've said, online collaborative services aren't standardized. There is a lot of overlap between the terms, and not everyone agrees on the definitions. Still, let's mention the different types of events you can do with a webinar platform.
Webcasts imply the presenter is broadcasting to the attendees. This is one-to-many communication, meaning it only goes in one way. You can stream content to attendees, but the information doesn't flow back.
This is something you could do with a webinar software, though it usually isn't considered a true webinar.
Webinars, in the narrow sense of the word, still mean you're presenting, but there is a bit of two-way communication. The audience can answer polls and ask questions, at the very least. Webinar hosting platforms usually include interactive elements for this precise reason.
There is also a chatbox, so attendees can talk to each other (and you) like in a regular conference. This moves webinars into many-to-many communication, unlike webcasts.
Then, there are peer-level web meetings. These are all about many-to-many communication. All attendees can stream their feeds to each other. Someone usually takes charge of the event, but this comes close to an actual meeting. The attendees all participate equally, more or less, instead of just one person providing the input for most of the event.
These are usually done with web conferencing software. The solutions tend to have many collaboration mechanisms that help attendees interact, which is the whole point of a meeting.
However, many webinar hosting systems now include conferencing features. Users can usually turn on their feeds and present for a while. Many solutions, like Zoom, even handle both meetings and webinars.
So, while it's tough to describe everything webinar tools can do, there are some unifying elements. They enable communication between the presenters and the audience and have a lot of tools to help here.
So, let's cover the common types of webinars and what they are good for.
Live vs. Automated Webinars
It's a massive debate which type of webinar is better. Even though live and automated webinars do the same thing, they do it very differently, and a case can be made for using both.
Live Webinars
Let's start with live webinars. As the name suggests, you can create a webinar that's streamed live.
Live events have the advantage of real-time communication. The presenter can discuss things with the audience and answer their questions. Audience members also have more opportunities to participate either by taking the spotlight or just talking to others in chat.
Unsurprisingly, live webinars tend to be much more engaging than prerecorded ones. It's pretty obvious why—addressing your attendees by name is alone enough to make them more receptive.
However, live webinars come with their set of challenges. For one, it takes a lot more preparation to do a live event. All presenters have to rehearse time and time again, and you have to double and triple-check all the materials and equipment.
Even though many webinar providers let you do unlimited events, everyone tends to be spent by the time a webinar is done. So, if you think you can do five live webinars per day, think again.
And with all that work, live events almost exclusively end up having lower production value. Plus, any mistakes (and there are always at least minor mistakes) are visible to everyone.
Automated Webinars
Automated webinars reverse this. There's no stage fright, you can go back as many times as you want, and you can up the production value as much as you'd like.
Plus, once you record a webinar, you can keep reusing it time and time again and get as much value as you can. Most webinar sites even let you make the webinar available on-demand, so everyone interested gets a taste.
On the flip side, automated webinars may be more flexible, but they feel less personal than live events. It depends on how you handle everything, but live webinars typically have greater potential to engage attendees.
Hybrid Webinars
These are live webinars that, to some extent, rely on prerecorded video. This can be a great tactic for getting the most out of live webinars.
You can start the webinar by introducing it and greeting the attendees personally. You can then switch to the prerecorded presentation. This section is always similar, so it's a good time to capitalize on the production value of prerecorded video. Plus, you can sit back and focus on answering questions in chat. You can then handle the Q&A personally to get the maximum engagement boost before your CTA.
All in all, hybrid webinars can be an excellent compromise. Most webinar websites let you play videos in one way or another, so you can try this out pretty easily.
Simulated Live Webinars
This is a bit of a controversial topic. A few platforms out there, like EverWebinar and Stealth Seminar, let you run automated events, but make them seem like they're live.
The debatable part is the morality of tricking attendees. Plus, if an attendee notices the webinar is actually automated, they might not be too happy about it.
Still, such platforms undeniably come with a powerful set of features. If you'd like to try something a bit different, it could be the right move.
Bottom Line
Webinars solutions come in all shapes and sizes. One common characteristic is that webinar providers let you communicate with a large audience—like in a regular seminar.
Other than that, you can host many different events and use various tools to help you on the way. It's up to you to pick the best solution for your needs.
Let's cover what you can expect with your first webinar.
How to Host a Webinar?
Till here, I've discussed webinars in more technical and theoretical terms. Let's come back to the real world, then, and cover what you can expect if you want to host your own webinar. You can use this as a basic checklist if it's your first time and you're unsure if you've done everything.
Should You Host a Webinar
Powerful as they may be, hosting webinars is not for everyone. You should be at the right stage of your journey to do a webinar.
The main things to think about are whether you have the time and resources to do a webinar. Also, consider if your brand would benefit from one.
Webinars can be kind of costly. Plus, planning out even a simple webinar can be time-consuming. If you're just starting out, you might want to dedicate resources to more pressing matters and leave webinars for later.
It's also worth considering if you leverage a webinar host to promote your brand or products. Webinars can be effective here, so it's tempting to use them early on.
Still, you should think about your long-term strategy. How will you turn the leads your webinar generates into loyal customers? It's good practice to set up other tools—like emailing software—before starting a webinar.
Once you have a few ideas and are comfortable spending a few bucks, online webinar hosting is worth a try.
Pick the Tech
This is mostly about the actual software you'll use to set up a webinar. There are many platforms out there, and many have their unique advantages.
One thing you'll have to decide is if you want to do live events, automated webinars, or both. Many platforms cover both options, and they let you do a live webinar that you record and turn into an automated event.
Still, some webinar hosts can only do live events. These can be fine if you're only interested in doing, let's say, corporate meetings or coaching. However, most individuals and businesses find a use for both live and automated webinars.
Another thing to consider is the actual hardware you need. Your laptop's integrated webcam and mic might do for Skype calls, but they probably produce pretty mediocre results.
You should at least consider getting a decent microphone. It's a one-time investment that can last you hundreds of webinars.
Also, make sure your internet connection is reliable enough to handle the audio/video stream. This is not much of an issue with automated webinars, but is massively important for live ones.
Also, a webinar system can help you out here by letting you import HD video and other important things like slides. Still, you don't want to go offline in the middle of your webinar, so check if the solution can handle your video stream.
Of course, there are other things to consider, like network cables, additional computer screens, lighting equipment, video editing software, marketing, etc. Whether you need these varies on an individual basis, and you'll have to plan out that part of the budget yourself.
Once you're confident you can secure everything you need, webinar hosting software especially, you can begin preparing for the event.
Schedule an Event
This is a bit trickier than it may seem.
It's not much of an issue with automated webinars. You can easily schedule automated events to repeat every hour. You can even make them available on-demand, so no one misses out.
Live webinars are a different matter. Most individuals or smaller companies won't be able to do more than one webinar per week or even several weeks. Which is why it pays off to schedule your webinar at the optimal time.
First off, you should schedule your webinar according to the time zone of most of the attendees. It's simply to get the best attendance you can.
Apart from that, the exact best time to host a webinar depends on a bunch of factors. This includes things like if you're advertising B2C or B2B, or the continent and country of the attendees, etc.
In general, the best time to host a webinar is around noon or a bit earlier. Still, you should research the best time for your area and niche.
Spread the Word
It's usually best to start promoting your webinar a couple of weeks in advance. This gives you enough time to get plenty of registrants. You can also send a few reminders in the meantime, which boost attendance but also helps the audience remember your brand.
The top webinar platforms can help you design a landing page for your webinar. Ideally, you'll want to get some new faces to register. Whether you do this organically or through paid advertising is up to your personal strategy.
You should plan to add anyone who signs up to your emailing list. This will let you market your brand afterward as well as promote any future webinars.
Prepare the Webinar
Preparing the event can take quite a bit of effort, so it's best to start this a few weeks in advance as well.
For one, you should ensure all the tech is working and have backups, if possible. Do a test of the webinar platform as well, just to ensure everything is working properly, and you have the hang of the controls.
You should also prepare a script if you're doing a live webinar. Make sure to rehearse the whole thing at least once, especially if you have guest speakers.
One thing many presenters overlook is preparing questions for the Q&A portion. You may get unlucky and not get enough questions from the attendees. In such cases, it's good to have a couple of your own to fall back on.
Of course, it's important to get all the slides and the videos you'll use ready at least a few days in advance. Make sure to upload them to the webinar platform to check if everything is working (if the platform supports it).
Also, prepare any interactive elements like surveys. Plan when to display your CTA and make sure to send the attendees to the right web page after the webinar. This can be your website or a simple "thank you" page—it's just free real estate that shouldn't go to waste.
If the webinar solution supports it, make sure to change the design of your waiting room. Some solutions let you add things like videos. This makes attendees who arrive early less likely to leave before the event kicks off.
Once you have everything ready to go in a few clicks, you'll be able to dedicate the last few days to polishing out the details and rehearsing.
Do the Event
Once the webinar technology, hardware, and materials are ready, you can get started. Make sure to be ready early and start the event on time. If you've prepared well, the event should go without a hitch.
Just remember to start recording the webinar from the beginning. This is not the default setting with many solutions, so it's good practice to check.
Follow Up
Once the event is over, you still have a bit of work to do.
First, you should send out follow-up emails, though you can automate this well before the webinar. Webinar tools usually let you customize the email based on whether the attendee showed up or not and how they engaged with the webinar. Make use of these, since they are one of the best assets you can get.
You should also check the recording. You can make this available on-demand to everyone who registered. It's also useful to review it, especially if it's your first event. You can use shorter parts of the video as promo material too.
You should also use the in-build analytics (which pretty much every decent solution has) to collect data about attendee behavior. You can review various factors, including activity during the event and poll and survey results. This can give you an idea of how to make webinars more effective.
All in all, there's plenty of work to be done after the webinar. That part is key to convert the most attendees to a loyal audience and to get better results in the future. Don't neglect it.
Wrap Up
That concludes our webinar software reviews.
You now know the top names in the industry. We found the best software overall, as well as the best solutions for live and automated webinars and decent tools that are closer to conferencing.
You now also know the specifics of how webinars work and what kind of online collaborative services are in the market. You also have an idea of what to expect and what to do when setting up your first webinar.
FAQ
How can I host a webinar for free?
This is a bit tricky.
Some solutions offer a free trial period or have a limited free plan. So, yes, to some capacity, you can host a webinar for free. However, these aren't really a long-term solution to doing successful webinars.
There are also open-source web conferencing solutions, like BigBlueButton, that you can download and install. However, you will need the hardware to run this, and you'll have to pay someone for maintenance or fixing any issues. Plus, you'll need a blazing-fast internet connection.
If you think you can handle a more technically demanding solution, you can try a self-hosted software. That said, most users get better performance out of a paid, hosted tool.
Are webinars free?
Webinars can be either free or paid—there are no hard and fast rules. There can be many reasons someone would host free webinars—like education, product demonstrations, promotion, and marketing.
If you want to present at a webinar, there can be various benefits of doing it for free. For one, free webinars tend to have a lot more people attend. You can leverage this to generate leads or try to sell a product during a webinar.
Paid webinars do get you money right away. However, you'll need content valuable enough to justify the price tag (though I recommend always focusing on providing value).
Do webinars make money?
Webinars can make money.
An obvious way to make some cash with webinar hosting is to charge for attendance. You'll make a bit of money for every person who attends, but you'll have to put extra effort into creating the webinars to have people come back. With the right audience, though, this can be quite profitable.
Of course, there are other ways to capitalize on free webinars as well. You can draw attendees in with free content and then push for sales, display affiliate links, collect email addresses, or build your brand identity. There are a lot of effective strategies where webinars can make you money even though you're not charging anything.
So, to cut a long story short, yes, webinars can definitely make money, if you play your cards right.
What is a webinar, and how does it work?
A webinar is an online seminar. It's essentially a seminar that happens in an online meeting room—attendees can join in, listen to a presentation, ask questions, and do pretty much anything you could do in a regular conference.
All you need is a webinar hosting service. Such tools include pretty much all the features you need, and you don't have to worry about handling any maintenance.
That said, you have to do a bit of work promoting a webinar. The software typically includes some features to help you out, but you'll need to set up a landing page and get users to sign up.
If you're interested in learning more, you can check out a more in-depth explanation above. If you're interested in trying out a platform, though, most offer a free trial. You can check out our webinar platform reviews above as well.
How long should a webinar last?
There's a lot of variation here. A simple product demonstration can last as little as 15 minutes, while large business conferences can span several hours.
The bulk of the webinars fall somewhere in the 30-minute to one-hour range, which is about the optimal time.
If you're just starting out, you can shoot for the 45-minute mark, give or take a few. This gives you enough time to do an informative presentation, sprinkled with a few interactive elements like polls. You can follow this by a solid Q&A session, with a CTA to conclude—a cookie-cutter effective webinar.
Where can I host a webinar?
All you really need is an appropriate webinar system. Most platforms today offer you all the tools you need to do an engaging event and then some.
If you're just starting out, you can check out ClickMeeting. It's a versatile platform, simple enough for beginners to handle.
If you'd like something more powerful, though, WebinarJam and EverWebinar are good learning platforms. They also come with a lot of resources you can use in the beginning.
All in all, there are many webinar hosting options to choose from. If you're interested, check out our reviews of the best platforms above and pick the one that fits you best.