5 Best Webinar Hosting Platforms to Boost Your Business in 2023
[EXPERT REVIEWS]
A decent webinar hosting can be an excellent asset to a small business. 
There are many platforms to choose from, but finding the one that will lift you instead of weighing you down can be challenging. To help you out, we analyzed the best webinar hosting services on the market.
Read on to find the platform to satisfy your business needs.
Published: September 1, 2021
Affiliate Disclosure
We aim to provide you with the best tech news and reviews. To sustain our site, we may earn a commission when you buy from our affiliate links. Read our full Affiliate Disclosure.
Top Webinar Hosting of 2023
Reviews of the Best Webinar Hosting Platforms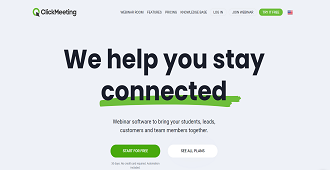 ClickMeeting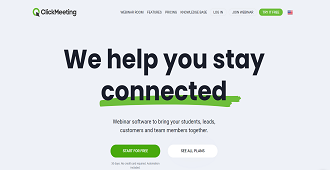 MOST SUITED FOR
Best webinar platform for education, conference calls, and webinars
Visit Website
Rating:: 10
Customer Reviews: Above average
Customer Support : Email, live chat, and online tickets
Price:: From $25/month

Besides handling both live and automated webinars, ClickMeeting offers many options to help you along the way.
Our webinar platform review would love to point out its exceptionally convenient Q&A. A separate mode shows you all the questions, and you won't have to scroll through the chat to answer them.
The platform also includes screen sharing. What's more, toll-free numbers, email and SMS integrations, advanced analytics, robust security, and reseller options are all part of the ClickMeeting offer. It's one of the most comprehensive packages out there.
When it comes to the best webinar platforms free of charge, reviews feature ClickMeeting for a reason. It offers a 30-day free webinar-hosting trial along with three paid tiers.
The Live plan costs $25 a month, the Automated plan is $30/month, and you'll have to contact them to get a quote for the Custom plan.
Note that these are the prices if you are billed annually — up to 20% off. If you go for monthly payments, the rates will be slightly bigger.
Should you need any assistance, the ClickMeeting customer support team is easy to reach. You can submit an online ticket, send an email, or use its live chat support during office hours.
As for the webinar platform reviews, despite being mixed, they still result in above-average ratings. It has 3.9/5 stars on both Capterra and G2.
All in all, ClickMeeting is an easy-to-use webinar hosting service. It offers plenty of features that speed things up and make users more likely to visit your events.
Pros
Cons

Solid support team

Lacks 24/7 support

Plenty of

webinar tools

A bit pricey

Range of notable features

Sleek and easy to use
Demio
MOST SUITED FOR
High-quality streams
Visit Website
Rating:: 10
Customer Reviews: Excellent
Customer Support: Email via an online form & phone
Pricing: From $34/month

Let's start with Demio's best feature — the proprietary streaming engine.
Most webinar technologies use YouTube's engine to stream video. The reason is simple — it lets you stream high-quality video.
That's where Demio comes in. Deemed one of the top webinar hosting platforms, Demio runs on its own streaming engine. Notably, the engine eliminates both the compression artifacts and delays. Of course, Demio has many other tools to offer, including analytics, advanced scheduling, polls, and multiple mailing integrations.
Demio offers three pricing plans at $34, $69, and you'll have to call them for a quote for 500 or 1,000 attendees, respectively. This lands Demio among low- to mid-range solutions. 
Demio's design is clean, making a good first impression. Webinar platform reviews also point out that there's no need to download anything, as you can perform all functions in the browser-based app, which is sleek and easy to use, though not the most customizable.
Support is available 24/7 via email and phone. The agents typically get back to any queries quickly and thoroughly examine and address each question. Unfortunately, it doesn't have live chat support.
Overall, Demio is one of the best webinar hosting platforms with excellent customer reviews. The user ratings of five stars emphasize how efficient both the service and support are.
| | |
| --- | --- |
| Pros | Cons |
| Lots of learning materials and great onboarding for businesses | Not the best fit for smaller events |
| New proprietary streaming engine | Somewhat buggy ticketing system |
| Great for sales and marketing | |
| Tons of bonus materials | |
| Lots of learning materials and great onboarding for businesses | |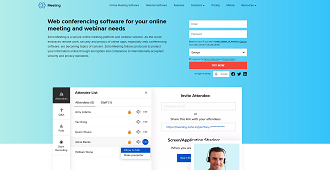 Zoho Meeting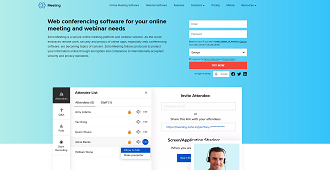 MOST SUITED FOR
Best webinar platform for small business
Visit Website
Rating:: 9.8
Customer Reviews: Outstanding
Customer Support: Online ticket or email
Pricing: From $18.63/month
Zoho Meeting is a solution for hosting webinars and meetings geared toward smaller audiences. It only supports live events. 
The solution works well on pretty much all devices. You'll have to pay a bit extra if you want attendees to be able to phone in, but this is standard.
One thing that makes Zoho one of the best webinar hosting platforms for super small businesses is that it supports multiple presenters, but you can only have one webcam feed at a time.
Zoho Meeting includes the usual features like polling, Q&As, analytics, screen sharing, etc. All in all, it's a pretty standard offer among online webinar platforms.
Zoho Meetings has seven webinar pricing plans:
25 attendees —

$19.00

/month billed annually

50 attendees —

$29.00

/month billed annually

100 attendees —

$39.00

/month billed annually

250 attendees —

$79.00

/month billed annually

500 attendees —

$125.00/

month billed annually

1,000 attendees —

$200

/month billed annually

3,000 attendees  —

$360

/month billed annually
Webinar platform reviews agree that the service is relatively affordable. There is also a 2-week free trial.
The platform looks great on both ends. The interface isn't cluttered, and it's pretty easy to find all the options.
Zoho Meeting offers a decent support team with its agents having a solid knowledge of the platform. You can contact them via email or online ticket. What's more, Zoho Meeting has outstanding reviews from users, with ratings no lower than 4.5 out of 5 stars.
The bottom line — Zoho is one of the best webinar tools for a small business looking for a more affordable solution.
| | |
| --- | --- |
| Pros | Cons |
| User-friendly interface | Lacks integration with Outlook and other office apps |
| Quality audio | Doesn't support HD video quality |
| RSVP scheduling feature | |
| Notification reminders | |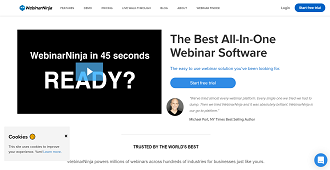 WebinarNinja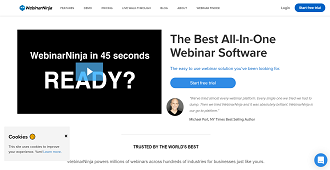 MOST SUITED FOR
Setting up affordable webinars
Visit Website
Rating:: 9.7
Customer Reviews: Average
Customer Support: Via email
Pricing: From $39/month
Cited as the best video site for webinar hosting by satisfied customers, WebinarNinja lets you do live, automated, and hybrid webinars. The only limitation is that you can only make a 2-hour recording of a live event, but this should be enough for most people.
The video uploading tool lets you play YouTube videos. This feature has its problems since it just opens YouTube for the attendees. There's no guarantee the attendees will actually play the video. 
Our review of the best webinar hosting discovered that WebinarNinja also includes polls and CTAs. These are pretty poorly implemented, though. They are just attached to the bottom of the video feed, and you have no control over their position. All you can do is instruct attendees to scroll down to take a poll.
WebinarNinja does throw in other tools and integrations for emailing, analytics, etc. You can also use Stripe if you want to charge for attendance. 
Overall, the webinar hosting site is more or less average, as most webinar hosting services reviews point out.
WebinarNinja offers four pricing plans:
Starter

— 100 attendees, $39/month billed annually

Pro

— 300 attendees, $79/month billed annually

Plus

— 500 attendees, $129/month billed annually

Power

— 1,000 attendees, $199/month billed annually
The range of plans is decent, especially since the Pro plan offers a middle ground between 100- and 500-attendee webinars. The price is also reasonable compared to most platforms.
What's more, we found out for this webinar platform review that WebinarNinja's support team is well-trained, though not the fastest in the field. The agents usually take a few minutes to get back to you, but they efficiently resolve issues. 
User reviews are mixed, ranging from 2.8 out of 5 stars on G2 to 4.5 out of 5 stars on Software Advice.
Overall, the value for money makes it worth trying out.
| | |
| --- | --- |
| Pros | Cons |
| Multiple kinds of webinars | Dashboard cannot be rearranged |
| Excellent cross-platform integration | Setup process can be somewhat counterintuitive |
| Customizable landing page | Hybrid webinars are reserved for a high-tier plan |
| Built-in marketing strategies | |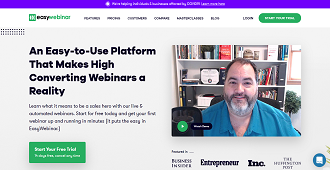 EasyWebinar Webinar Software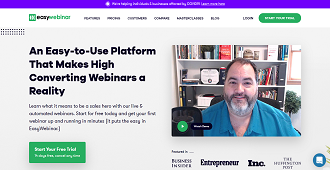 MOST SUITED FOR
Low-delay streams with easy marketing
Visit Website
Rating:: 9.6
Customer Reviews: Above average
Customer Support: Via live chat, phone, email
Pricing: From $59/month
EasyWebinar uses its own streaming engine. As a result, it ensures no delay, unlike webinar hosting platforms using YouTube Live's engine for streaming.
Webinar hosting reviews found out that EasyWebinar comes with various marketing features. For example, it can help you design entire sales funnels, display multiple offers, limited countdown times, etc. You can also access analytics and connect EasyWebinar to your favorite autoresponder.
One handy integration is the WordPress plugin. So if you own a WordPress site, you can do the webinar right there, making EasyWebinar the best webinar platform for WordPress. 
Note that EasyWebinar doesn't offer a trial, so you can't host a webinar for free. That said, if you decide to commit by purchasing one of the plans, you can always opt for the 30-day money-back guarantee if need be.
EasyWebinar has three pricing plans:
Personal

— 100 attendees, $59/month billed annually

Pro

— 500 attendees, $90/month billed annually

Enterprise

— 2,000 attendees, $349/month billed annually 
The main webinar window is also very sleek. As a result, attendees get a good view of everything. However, based on our experience for this webinar services review, setting up events might be somewhat buggy. In addition, the options aren't well-organized, so it might take some time to get the hang of the platform.
EasyWebinar's support is available through phone, email, and live chat, with the platform advertising the live chat option the most. 
A lot of the time, you'll get an answer in about 15 minutes, which is an average response time. Sometimes, though, the support leaves users waiting for hours — a significant issue for one of the best webinar tools on the market.
Overall, there are plenty of handy features, and there's some solid thinking behind the designs. However, it might take time to get a grasp of the platform and navigate it effortlessly.
| | |
| --- | --- |
| Pros | Cons |
| Great stream quality | No internal payment options |
| Solid marketing tools | Slow customer support |
| WordPress plugin available | |
| HD screen sharing | |
How to Select the Best Webinar Hosting?
—
A Buyer's Guide 
There are various online webinar platforms out there. We recommend all SaaS, meaning the company sells you a subscription for the software.
The software is hosted on the company's servers, and its tech team is responsible for all the maintenance. It means you can focus on creating a webinar.
Let's cover different events and see which top webinar platforms will most likely meet your needs.
Webcasts vs. Webinars vs. Web Meetings
Webcasts are one-to-many communication, meaning it only goes one way. You can stream content to attendees, but the information doesn't flow back.
Webinars still mean you're presenting, but there is a bit of two-way communication. The audience can answer polls and ask questions. The best webinar platforms usually include interactive elements.
Web meetings are all about many-to-many communication. All attendees can stream their feeds to each other, with someone usually taking charge of the event. 
Now, let's cover the common types of webinars and what they are suitable for.
Live vs. Automated Webinars
Live Webinars
Live events have the advantage of real-time communication. The presenter can discuss things with the audience and answer their questions. Attendees also have more opportunities to participate, either by taking the spotlight or talking to others in chat.
However, live webinars come with some challenges. For one, it takes a lot more preparation to do a live event. Even when using one of the best webinar solutions, all presenters have to rehearse time and time again, and they have to double- and triple-check all the materials and equipment.
Automated Webinars
Automated webinars reverse this. There's no stage fright, you can go back as many times as you want, and you can up the production value as much as you'd like.
Plus, once you record a webinar, you can keep reusing it and get as much value as you can. Most of the best free webinar and paid hosting software even lets you make the webinar available on-demand, so everyone interested gets a taste.
On the flip side, while automated webinars may be more flexible, they feel less personal than live events. All in all, live webinars are much more likely to engage attendees.
Hybrid Webinars
These are live webinars that, to some extent, rely on pre-recorded video. Nevertheless, it can be an excellent tactic for getting the most out of live webinars while using the best webinar hosting services.
You can start the webinar by greeting the attendees. Then, you can switch to the pre-recorded presentation — sit back and focus on answering questions in chat. You can then handle the Q&A personally to get the maximum engagement before your CTA.
All in all, hybrid webinars can be an excellent solution. Most of the best webinar hosting sites will let you play videos in one way or another so that you can try this out pretty quickly, as confirmed by our webinar platform review.
Simulated Live Webinars
Simulated live webinars, also known as recorded webinars, help repurpose your events and content to garner additional leads. It is one of the easiest ways to run demos and presentations regularly.
What you do is record a webinar and replay it as many times as you want or need. Then, you can either set a scheduled time or go for the so-called "on-demand" webinars and have them open. If you go for the latter, the attendees will be able to join in right after the registration.
Wrapping Up Webinar Hosting Reviews
Webinar solutions come in all shapes and sizes. However, one common characteristic is that webinar providers let you communicate with a large audience, like in a regular seminar.
Other than that, you can host many different events and use various tools to help you on the way. It's up to you to pick the best solution for your needs.
FAQ
What is the best webinar hosting platform?
With the abundance of webinar hosting platforms out there, it can be exhausting to find the best one. To help you out, we've filtered them down to seven solutions. Each bears unique features that may be specific to your needs and budget. Refer to our extensive reviews above for more.
How to set up webinar hosting for free?
Some solutions offer a free trial period or have a limited free plan. So, yes, to some capacity, you can host a webinar for free. However, these aren't really a long-term solution to doing successful webinars. If you think you can handle a more technically demanding solution, you can try self-hosted software. That said, most users get better performance out of a paid hosting tool.  
How much does a webinar host cost?
A webinar host can cost anywhere from $25 to $500. Keep in mind that prices vary depending on their features and performance. When deciding which one to use, your budget is one of the factors to consider. Be careful in weighing which one is the cheapest against which one can offer you a comprehensive solution for your webinar requirements. 
Where can I host a webinar?
All you need is an appropriate webinar system. Most platforms today offer you all the tools you need to do an engaging event and then some.
If you're just starting, you can check out ClickMeeting. It's a versatile platform, simple enough for beginners to handle.
If you'd like something more powerful, though, WebinarJam and EverWebinar are good learning platforms. They also come with a lot of resources you can use in the beginning.
All in all, there are many webinar hosting options to choose from. If you're interested, check out our review of the best webinar hosting above and pick the one that fits you best.