Published: September 22, 2022
Affiliate Disclosure
We aim to provide you with the best tech news and reviews. To sustain our site, we may earn a commission when you buy from our affiliate links. Read our full Affiliate Disclosure.
Shared web hosting : Yes
Business web hosting: Yes
VPS hosting: Yes
Cloud servers: Yes
Guaranteed redundancy: Yes
Free website migration: Yes
works on:
Chrome
Firefox
Windows
Linux
Anyone looking for robust and high-speed hosting services
STRENGTHS
Easy to use
Robust and reliable
Affordable, with freebies
Top-notch support
WEAKNESSES
Occasional response delays
Limited data centers
PRICING PLANS:
Basic Shared and Reseller
From $5.24/month
Basic Business Web
From $8.99/month
Advanced Shared and Reseller
From $6.74/month
Advanced Business Web
From $10.49/month
Ultimate Shared and Reseller Hosting
From $8.24/month
Ultimate Business Web Hosting
From $12.74/month
Unmanaged Windows VPS
From $10.99/month
Managed Windows VPS
From $12.47/month
Unmanaged Linux VPS
From $4.99/month
Managed Linux VPS
From $8.24/month
Every website needs hosting to be available online. For a hosting service to be a good choice, it must provide reliability, security, and as much uptime as possible while being affordable. Our Hostwinds review will introduce you to one such option and tell you more about our own experience with it.
Finding the best solution that ticks all the boxes is the ultimate goal. But sometimes it's not easy to make a choice. So, we hope we can help you with your decision. 
Keep scrolling.
What is Hostwinds?
Hostwinds is a company that provides various types of hosting and cloud solutions. From shared hosting and business hosting to VPS for Windows and Linux, it's guaranteed to satisfy your hosting needs. 
The company's products allow you to even build a whole website from scratch with the help of a Weebly Website Builder and have it up online in minutes. Hostwinds's support also allows easy website integration, completely free of charge.
Features and Services
Here are some hosting features Hostwinds can offer you:
Shared Hosting
With shared hosting, this company provides you with constant website monitoring, and immediate reaction from the support should anything go wrong. 
Hostwinds also grants you nightly backups and full management, made possible by their engineering team available at all times.
The platform provides its users free SSL certificates, unlimited FTP accounts and subdomains, unlimited databases and email addresses, and free dedicated IP. 
The setup is simple and instant, and you can use Weebly to create your website in minutes.
Business Hosting
Although it contains most of the features of Shared Hosting, this plan also offers some additions. It operates under the latest version of PHP and Litespeed web servers which provide great security and speed.
Everything within these services is route-optimized, which, along with Cloudflare's CDN, increases the website's loading speed.
Reseller Hosting
This feature is most useful to those interested in becoming a hosting provider. Hostwinds provides the entire spectrum of their hosting services to resellers without requesting any references to the brand itself.
Therefore, this service allows companies to become independent hosting service providers while the original company does all the work behind the curtains. Hence, it's absolutely one of the best reseller hosting companies to look out for.
VPS
Hostwinds VPS service is designed for Windows and Linux operating systems and can be either unmanaged or fully managed. The core difference between the two modes is the depth of support you're getting from the service.
Managed VPS ensures great redundant networks, nightly backups, and proactive server monitoring. The scalability is instant and only requires a simple plan upgrade. Hostwinds's servers operate on the best enterprise hardware and ensure 99.9999% of uptime.
Overall, we think Hostwinds is the best VPS hosting provider, and a strong contender for the best Windows VPS hosting.
Hostwinds Pricing and Plans
The pricing and plans are pretty straightforward. They are generally separated into three categories, with the actual numbers changing depending on the specific service.
Basic
The Basic tier offers unlimited bandwidth and disk space for personal or business needs and allows you one domain. The prices are as follows:
Starting at

$5.24/month

for Shared and Reseller web hosting

Starting at

$8.99/month

for Business web hosting
Advanced
The Advanced tier, like the Basic one, offers you unlimited bandwidth and disk space, but you'll be able to have up to four different domains. The price points go as follows:
Starting at

$6.74/month

for Shared and Reseller web hosting

Starting at

$10.49/month

for Business web hosting
Ultimate
The Ultimate tier allows its users complete limitlessness in terms of everything, including the number of domains. Its price points are:
Starting at

$8.24/month

for Shared and Reseller web hosting

Starting at

$12.74/month

for Business web hosting
Windows VPS
With the Windows virtual private server, your company is all set. Regardless of how many CPUs the server will work with, you get all of the essential features, from impeccable uptime to an enterprise firewall. The Hostwinds VPS price plans for Windows are as follows:
Starting at

$10.99/month

for Unmanaged Windows VPS

Starting at

$12.47/month

for Managed Windows VPS
Linux VPS
Linux VPS plans operate in the same manner as Windows ones. To start using these, however, you'll have to pay different numbers:
Starting at

$4.99/month

for Unmanaged Linux VPS

Starting at

$8.24/month

for Managed Linux VPS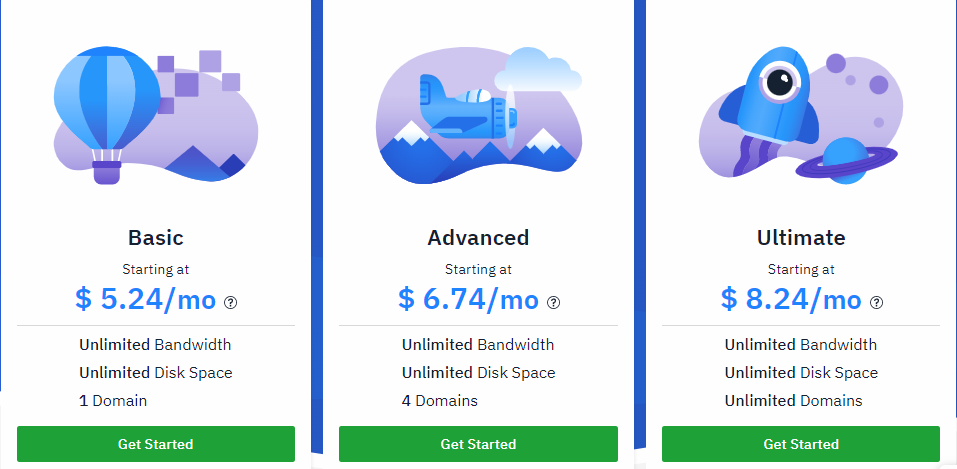 Disclaimer: All the prices above are based on the company's current offerings. Hostwinds may change them without prior notice.
Customer Support
Like every other great company, Hostwinds has a top-notch support team. Aside from their Docs, Blog, and various tutorials, you'll also be able to get in touch with the support agents directly.
To do so, you can send them an email at [email protected] or open up a new support ticket. Alternatively, you can use their Live chat and get a response within minutes on average. 
Ease of Use
Overall, we found Hostwinds simple to work with. After creating the website and logging into cPanel, we started our Hostwinds web hosting by creating our website with the efficient and intuitive Weebly Website Builder.
The builder was simple, and it ended up creating a good website product in the end. The editor itself was drag-and-drop, so we were able to build the website using building blocks within minutes. Finally, all it took was a simple click on the "Publish" button, and our test site went live. 
Hostwinds's website creation and hosting process was very intuitive, and the service is accessible to everyone, regardless of their experience in the tech field. 
All in all, the service has an extensive list of strong features and ironclad support to whom we were also able to reach out and ensure that our website constantly performed at its best. 
Hostwinds Alternatives
Virtually everything has alternatives on the market, and Hostwinds is no different. So, here's how it performs in comparison with other companies.
Hostwinds vs. Bluehost
Bluehost is seen in the industry as the leading hosting service with affordable prices and a long list of satisfied customers. Hostwinds entered the market years later, but its sophisticated service and powerful infrastructures are still enough to compete with others.
Nonetheless, both are strong contenders as the best cheap hosting competitors. 
Furthermore, Hostwinds makes a great option for resellers and those looking to start using hosting services quickly, with ample storage and lightning speeds. Bluehost is a good option for those looking for a more standardized solution, being a staple for almost three decades.
Hostwinds vs. HostGator
When comparing the two, it's clear that Hostwinds offers a more flexible pricing system than its competitor. They both offer free additions, such as free SSL certificates, but ultimately, Hostwinds gives a greater bang for your buck due to its flexibility,
In terms of features, they both offer very similar services. Although, loading speeds tend to be just a little faster with HostGator, while Hostwinds offers better security options. Still, both compete for the best cloud hosting title.
All in all, there's no clear winner in this race. However, many customer reviews point to Hostwinds as a great solution, which can ultimately be a selling point, considering around 97% of customers turn to online reviews for their purchasing decisions.
Verdict
As many Hostwinds reviews online will tell you, the service provides its users with excellence, despite being relatively new in the industry. The sophisticated set of services and top-quality infrastructure can easily set the provider among the top names in the industry.
We hope our review helped introduce you to a strong option you would eventually consider for your brand.
FAQ
Is Hostwinds free?
While it does offer some free bonuses and freebie features, the hosting service itself doesn't have a completely free plan. Regardless, the prices of Hostwinds are among the most affordable ones in the industry.
Where is Hostwinds located?
The company was first founded in Tulsa, Oklahoma. Its headquarters are now based outside Seattle, Washington.
Who owns Hostwinds?
The company was built to be completely customer-centered. The CEO, Peter Holden, founded the company in 2010 as a response to his less-than-satisfying experience with hosting services.
Is Hostwinds reliable?
As discussed earlier in our Hostwinds review, the service is completely safe and reliable. 
It has great security protocols that protect your website from cyber-attacks, great redundancy in case of any technical issues or disasters, and an excellent support team that monitors the website and is ready to assist you with anything.