How to Start an Online Boutique – A Guide for Success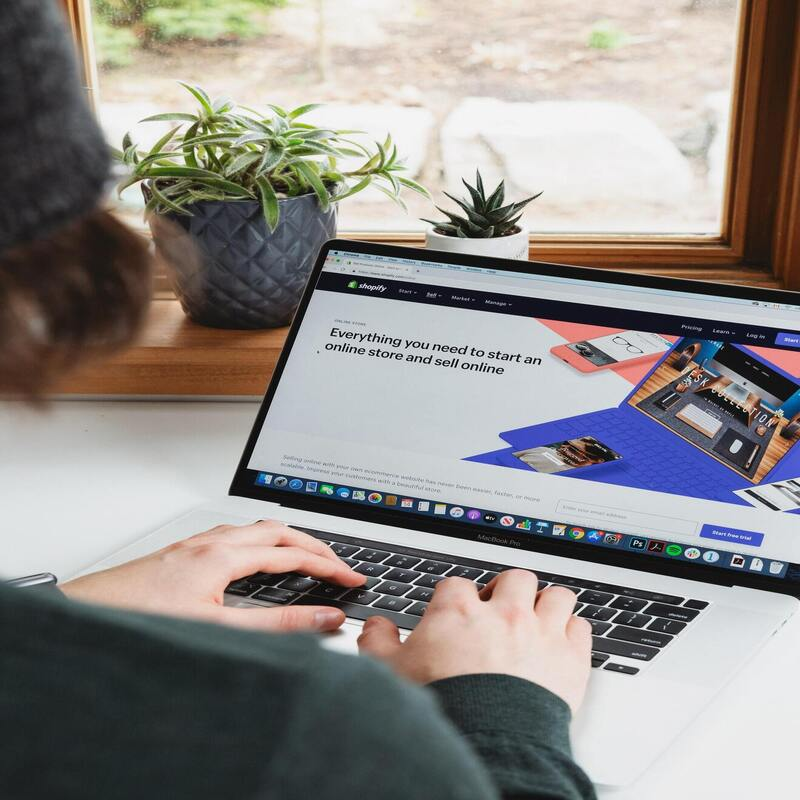 Our detailed guide will show you how to start an online boutique by going through all the steps and the most important considerations when making those first business decisions.
As more people shop online for clothing, shoes, and accessories, it's a perfect time to open an online boutique. Although starting an online business can be intimidating, taking it one step at a time can make the process much more manageable.
So, let's go ahead and get started!
What Is an Online Boutique?
An online boutique is a small shop that usually sells trendy clothing, accessories, or shoes over the internet.
An online clothing boutique may sell fashionable, high-end products at the same or even lower price than department stores or traditional retail businesses.
It mostly stems from the fact that the cost of opening and running a physical store can be quite high while starting an online business doesn't require a substantial financial investment.
Is Opening an Online Boutique Profitable?
The changing buyer habits make online boutiques highly profitable. Fortunately, widely available ecommerce platforms make it much easier to start a business and profit without the additional costs of a physical store.
Actually, right now, ecommerce businesses are the most profitable small businesses. With the convenience and security that online business provides, it's no surprise that customers prefer to use the internet rather than drive to a physical store.
Technology and digital innovation have given online boutiques a competitive advantage over big retail businesses. As a result, corporate retailers can no longer dominate industries and devour online businesses.
The online retail market is expanding rapidly, and it seems that it isn't going to stop. And fashion is the largest segment in the ecommerce market. So, owning an online boutique can be highly profitable.
But that doesn't mean you won't have to put quite a bit of effort into getting your new business off the ground.
Steps to Starting an Online Boutique
When opening a store of this kind, you must follow a set of specific steps. Let's go over the fundamentals and show you how to avoid common mistakes in the fashion industry.
Keep reading.
Step 1 — Choose a Niche and a Name
You must first decide what your online boutique will sell. You shouldn't try to appeal to everyone. It's best to start small and focus on a single niche.
Whether it's custom jewelry, children's clothing, or men's hats, you want to target a specialized section of the population.
If you want to sell formal designer clothing for your online boutique startup, consider offering only men's or only women's clothing. And in that case, avoid selling random leggings or anything else that doesn't fit the established concept.
When it comes to the name, ensure it's easy to remember and that it doesn't already exist in the social media world. You could be held liable for violating someone's trademarked name if you don't check.
Step 2 — Choose an Ecommerce Platform
Many excellent platforms make it simple to create an ecommerce website — even if you don't have experience.
You can narrow down your choices by focusing on the most important factors, like pricing, design options, features, and ease of use. Most of these platforms offer hosting, but if the one you have your eye on doesn't, it's easy to find reliable cheap hosting providers.
Before starting an online boutique, it's critical to select the right ecommerce platform so that you can run your store successfully. The shopping cart software acts as a storefront for the buyers while giving you the tools to run your business efficiently.
The most popular ecommerce platforms include:
Shopify
The available ecommerce statistics show that most online stores in the US use Shopify. You can create an online store and sell physical products on this platform. It offers many templates for your online boutique.
Setting up an account is free, and they take a commission on each sale.
Wix 
As one of the top ecommerce website builders, Wix has a number of tools that can help with ecommerce functionality, especially when you're starting an online boutique business.
For example, you can use the platform to accept payments, sell products across multiple channels, track orders, and make abandoned cart campaigns. It's a critical component for any online store since the average cart abandonment rate is 65.23%.
WooCommerce 
This platform, which holds 27.86% of the ecommerce market as of January 2021, is familiar to those who use WordPress, as it's an add-on to the most-used blogging platform.
PrestaShop 
It's a low-cost open-source platform ideal for new businesses, which requires a bit of technical background. Among its tools and features are an online shopping cart, inventory tracking, analytics reporting, and international selling.
Step 3 — Make an Online Boutique Business Plan
Before you launch your online boutique, take the time to create your strategy, identify potential challenges, and understand exactly what resources are needed.
Don't overlook the importance of developing a business plan, as it will guide you through the process and help you think more efficiently. 
Things like tracking your progress, determining the feasibility of the boutique, understanding your competition and customers, pivoting, and securing financing are all made easier with a business plan. 
Then, when seeking additional financial help, you can present the plan to banks and investors. Sections of your business plan may include:
Business description

Market research

Marketing plan

Keyword research 

Financial plan

SWOT analysis 

Products and services

Executive summary

Ownership

Legal requirements
Step 4 — Source Suppliers 
Finding a dependable product supplier at a reasonable price is essential when creating an online boutique. So, find a wholesaler or supplier who provides high-quality products, prompt delivery, and exceptional customer service.
To quickly find suppliers, search for terms like "product suppliers" or "wholesale" and the type of products you plan to sell, like "baby clothes supplier." You can also attend trade shows in your niche to meet with suppliers.
Just be careful to choose a company or person with whom you can have a good working relationship.
Step 5 — Register Your Business
Before you begin selling, one of the legal steps to starting an online boutique is registering your company. The process is simple.
Select a Business Structure
You can function as a limited liability company (LLC) or a sole proprietorship. People can operate a sole proprietorship without having to file any paperwork. 
Take Care of Finances 
You must first obtain a federal tax ID number before you can begin earning money. You can use your Social Security Number if you are a single-member LLC or sole proprietor.
Comply with Sales Tax 
You must pay sales tax on transactions that take place within your state. Call your state tax department to learn more about the requirements in your state.
Establish Shipping Logistics
Before starting an online clothing boutique, you must decide whether to ship only within the US or internationally. Then, determine whether you'll charge a flat rate or by weight. 
Lastly, determine whether people will be able to select from multiple shipping options or if you'll only offer one choice. Research the costs, consider the alternatives, and make a decision.
Step 6 — Market Your Boutique
It's time to start marketing your online store. There are several marketing approaches; what will be the best one depends on your target market and budget. Many ecommerce platforms include marketing tools that you can use.
One of the most effective online marketing strategies is creating social media channels. As a matter of fact, 73% of small businesses use social media for marketing since it can raise brand awareness and increase traffic and conversions.
There are other ways to promote your business without spending a lot of money upfront, from investing in a strong SEO strategy to word-of-mouth marketing.
Wrapping Up 
Starting an online boutique requires hard work, strategic budgeting, and careful planning.
Create your brand and site, choose high-quality products, and learn about local regulations, and you'll be well on your way to becoming a successful entrepreneur.
So what are you waiting for? Start realizing your goal of launching an online boutique soon.
FAQ
How much inventory do I need to start a boutique?
There isn't a set formula for determining the optimal inventory quantity needed to launch an online boutique. However, it's best to begin small to understand what customers want. 
It takes research and planning to get to the optimal inventory figure. But with the right information, any retailer can ace it. To begin with, you should:
determine your

budget

find a good

vendor
establish a clothing store storage area
What do boutiques sell?
Online boutiques sell limited types of products. They usually sell clothing or accessories through the internet.
Is owning a boutique profitable?
With people shopping online more than ever, owning an online boutique is a fantastic idea. It can be highly profitable but takes a lot of effort and time. 
For reference, the online clothing, footwear, and accessories sector is expected to generate an estimated $295.7 billion in revenue by 2025 in the US.
WHAT WE HAVE ON THIS PAGE